The toaster is a much-loved kitchen staple – but it can take up a lot of space in small, cramped kitchens. In the fifth of BBC Future's Imagineering redesigns, a London team transforms the breakfast basic.
W
We have a Scottish inventor called Alan MacMasters to thank for the electric appliance that makes our breakfasts more bearable. In the late 1890s, the Scottish inventor came up with an electrically powered toast-maker; the initial design wasn't a success, but it did lead to the first pop-up toaster, which launched in 1919.
The toasters of today have changed little – they may be more pleasing in shape and colour (and less likely to burn you) but the design itself has kept very much to that initial form – a box which toasts bread with electric wires, and pops them up when they're done. Times have changed, and so have housing costs, and as a result many people are living in cosier spaces, with cramped kitchens.
London designer Harrison Williams from Ausen Design led a team who wanted to transform the toaster. Their main concerns were to cut down the space the toaster took up, as well as allowing it to toast food thicker than a slice of bread.
Alongside fellow designers Jermaine Legg and Thomas Maltby, Williams has designed a much slimmer device which lies flat to toast the food but can be stored standing up – freeing up space. There's little in the way of controls too – just a dial to select toasting levels and pop the lid open.
As Williams tells BBC Future: "The concept aims to reduce the occupation of counter space, increase user friendliness, break the stereotypical design format and it's safer, no need to stick a knife in there!"
Why the toaster?
Even compared to the early 20th Century, toasters have not evolved greatly. They have been a convenient kitchen appliance that almost every household contains. We decided to take on this as a challenge, usually designs that have been reproduced with different aesthetics, rather than functionality, have found a system that works and are reluctant to change from this because it is too daunting. As a designer, the concept of "if it ain't broke don't fix it" is the antithesis of how I work. Design is about improving and developing even such mundane and functional items as the toaster.
The current models are standardised to the extent that we barely notice them, although they are commonly ungainly, inefficient, oversized and limited. We regularly toast morning delights such as crumpets, baguettes and toasties. The current designs simply do not accommodate any of these. Offering a product which could add the toasting of these baked goodies with the simplicity of the current toaster, will improve the morning meal.
And what about kitchen chic? The focus on creating "cool" accessories is limited to things such as sounds systems, lighting and television. Why not create original ideas to grab attention? The toaster will do this better than a new speaker which, like the current design of toaster, has been revamped and redesigned over and over again.
What were the flaws in the original design?
We focused on four areas. Primarily, the occupation of kitchen counter space. Unfortunately some of us who live in big cities can suffer from reduced living space. One of the worst-affected areas is the kitchen and subsequently, the counter space. Toasters take a lot of the blame for this.
As mentioned previously, the lack of flexibility in items that you can toast is a real disappointment. Some bold manufacturers have branched out into toasting hot dogs, but I can't say that seems overly appealing.
From an aesthetic perspective, there are various designs that try and push what a toaster can look like, but they generally fall rely on the top loading, pop-up toaster format – and to be honest that just seems a bit boring.
Lastly, the toaster has been using wire heating elements since its creation. Admittedly, these wire filaments have moved on and it has been a huge success, but should we not look to find a more multifunctional, efficient and effective means to toast our food?
How did you address them?
We looked at products that effectively reduce their surface area, such as the folding bed or foldaway ironing board. We focused on other cooking appliances and what they were capable of cooking and how the design facilitated this. From this, we tried to find ways to tackle our problem. 
What do you think the improvements are?
We minimised user interface; to switch the toaster on, just pull it down. There is a large simple knob with two ultimate settings; lightly toasted to very toasted, allowing you the variety in between. To cancel the toasting simply lift up the top. The same applies to checking on your toast – just lift up the top. We also have reduced the counter space usage to less than a third of the average small toaster. This design would also accommodate for anything you could want to toast. It has two non-stick hotplates to sandwich your preferred item, whether it's a cheese baguette or a crumpet. We utilised a simple hinging system that allows the height between the plate to be varied, accommodating thicker foods such as crumpets or bagels. 
For almost everyone the removal of crumbs is high on the list of toaster irritations, so we designed an exit for them. When upright, the toaster has an outlet or mouth into which the crumbs are funnelled. This also gave us the opportunity to add a bit of character and personality to the design; an element that makes it seem a little more friendly. 
What other products designs – not necessarily related – influenced your redesign?
The George Foreman Grill offered the aspiration of what could/should be toastable. A multitude of Braun/Dieter Rams products influenced our thinking with interface and aesthetics. However, we tried to keep it light-hearted, introducing a tiny bit of drama into making some toast. We drew some ideals from the way Bang & Olufsen and Alessi's products are executed.  
What was the most challenging part of the redesign?
While reducing the footprint, we had attempted to have the bread/baked goods toast vertically to keep the counter space usage to a minimum. Unfortunately investigating this further revealed that the crumbs from the bread could easily prove to be a fire risk, so vertical toasting was scrapped. We wanted to keep the minimal use of space, the height adjustment between plates, and the multifaceted toasting ability. Combining all of these while maintaining a simple aesthetic was the greatest challenge.
How radically do your changes alter the design? 
It no longer looks like a toaster, and it functions in a unique way due to its storage capabilities. I would suggest it is a fairly radical change.
How easy will this be to produce?
The concept is made from aluminium because it looks great. The finish can be perfected and it has useful heat conductance properties. Much like the aluminium foil used for baking, it will dissipate heat quickly. Is milling metals easier than injection moulding? No. Is the final product nicer? Definitely. 
What new technologies, if any, would it require? 
We have put a magnetic strip at the top of the plates to hold the top in place. Aside from this, most elements of the design can be found in other household kitchen appliances. 
What has this process taught you?
A great deal about the riveting and lucrative world of toasters!
There is good reason for the current design that has held on for so long. Whether this concept is worthy of progression remains to be seen. I would love to see a new level of evolution for the toaster. The current design entrenchment is dull and boring but it does work, even if only in a limited fashion. Maybe that's all we need – I hope not.
What do you think of the toaster design? If you would like to comment on this or anything else you have seen on Future, head over to our Facebook page or message us on Twitter.
Harrison Williams and other designers at Ausen Design came up with a trim redesign of the toaster which takes up much less space when not in use. (Copyright: Ausen Design)
Harrison Williams and other designers at Ausen Design came up with a trim redesign of the toaster which takes up much less space when not in use. (Copyright: Ausen Design)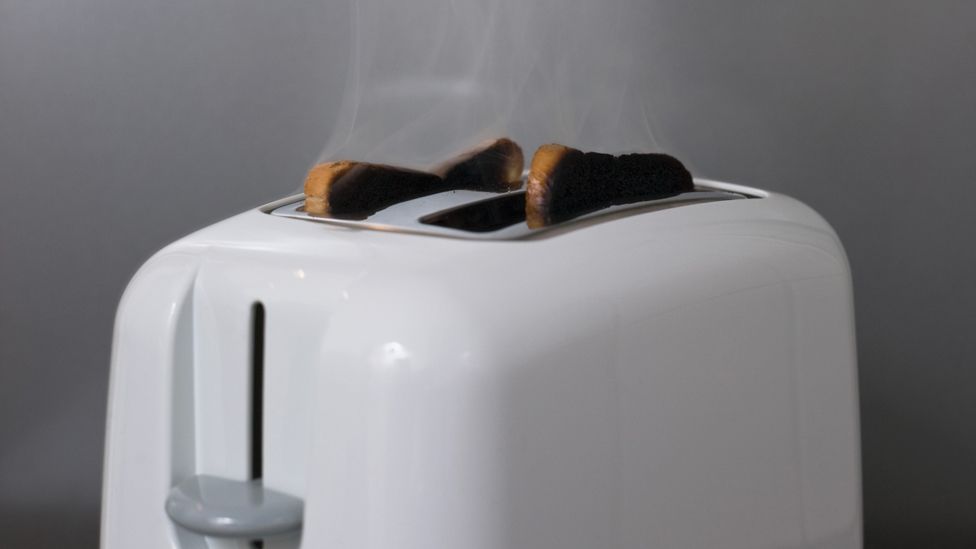 The toaster has been refined over the last century, but the basic form remains the same – and thin or thick foods can be difficult to cook evenly. (Copyright: Thinkstock)
The toaster has been refined over the last century, but the basic form remains the same – and thin or thick foods can be difficult to cook evenly. (Copyright: Thinkstock)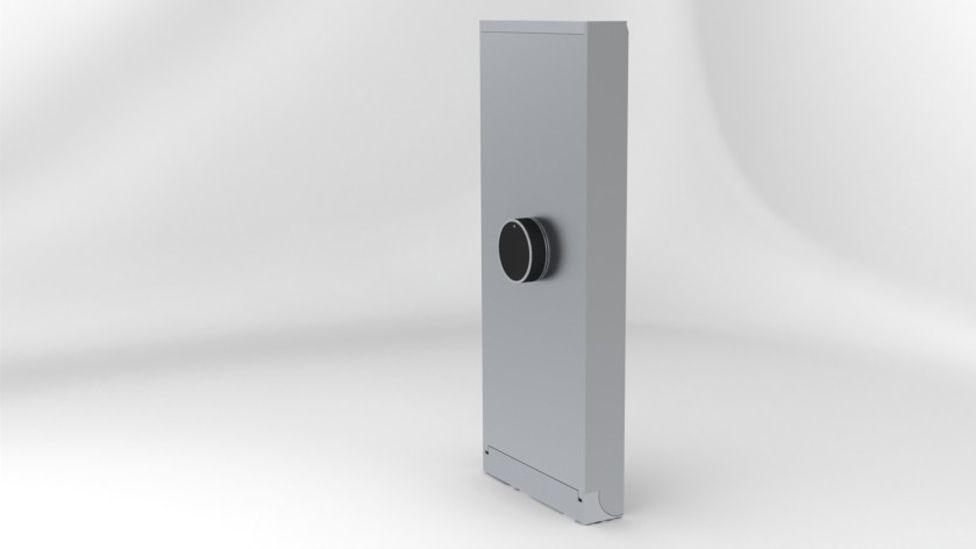 Compared to conventional toasters – some of which can be surprisingly bulky – Ausen's design takes up only a fraction of the space. (Copyright: Ausen Design)
Compared to conventional toasters – some of which can be surprisingly bulky – Ausen's design takes up only a fraction of the space. (Copyright: Ausen Design)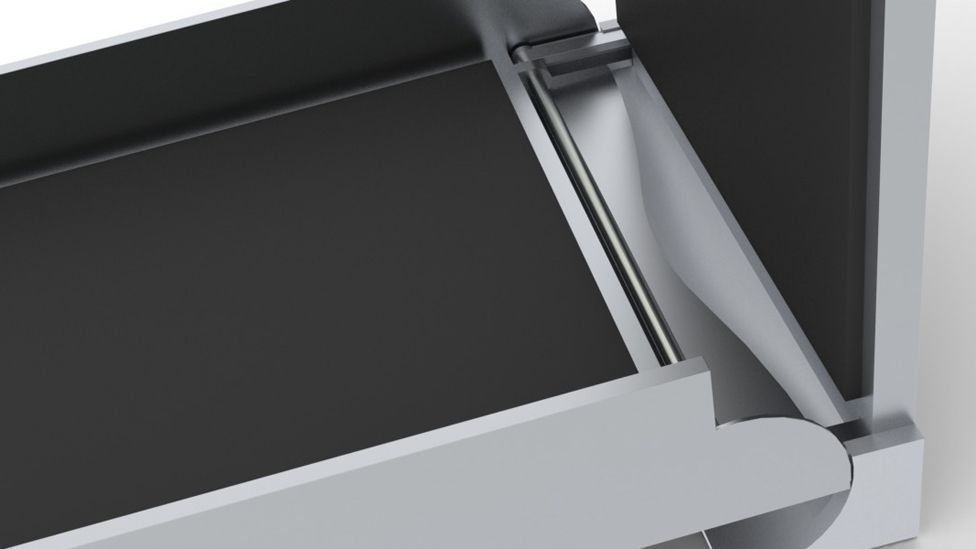 The design uses a folding principle, much like occasional beds or ironing tables. (Copyright: Ausen Design)
The design uses a folding principle, much like occasional beds or ironing tables. (Copyright: Ausen Design)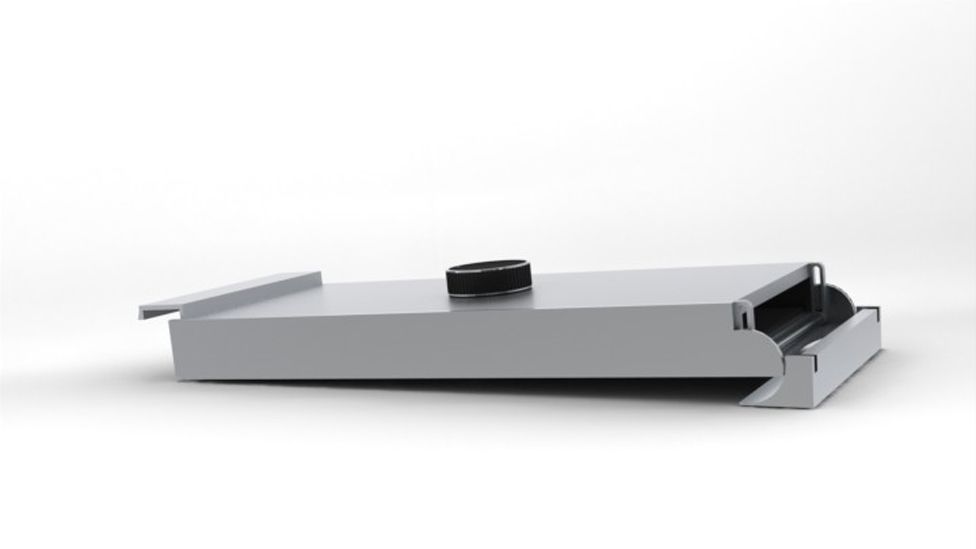 Williams says cooking in the upright position might have caused fire safety issues because of crumbs, so the toaster is laid flat for toasting. (Copyright: Ausen Design)
Williams says cooking in the upright position might have caused fire safety issues because of crumbs, so the toaster is laid flat for toasting. (Copyright: Ausen Design)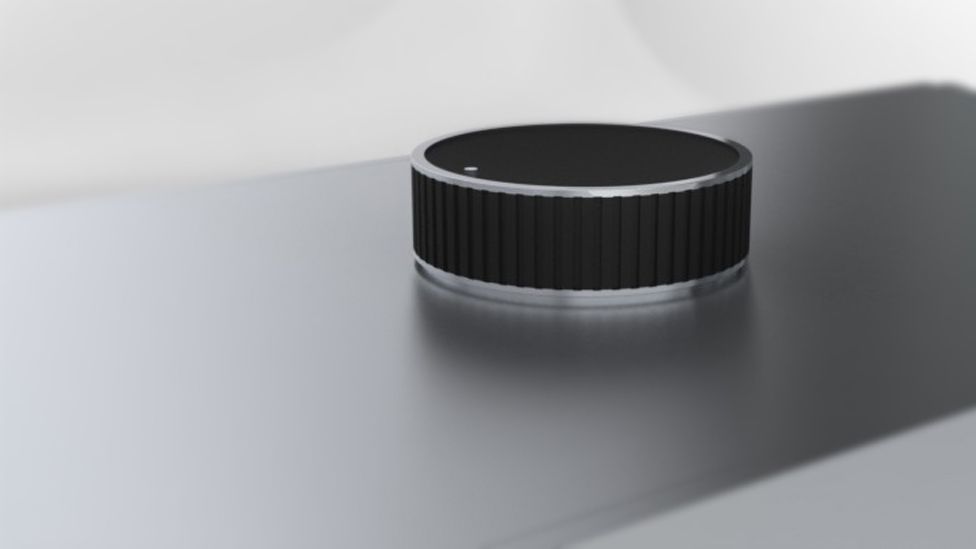 The designers wanted to make the design as clean as possible – the single dial allows people to tweak the power settings as needed. (Copyright: Ausen Design)
The designers wanted to make the design as clean as possible – the single dial allows people to tweak the power settings as needed. (Copyright: Ausen Design)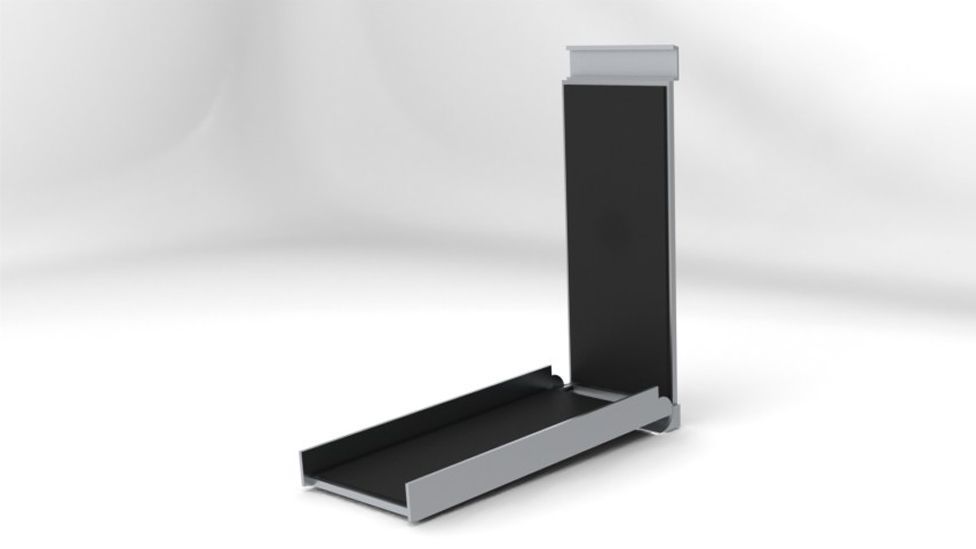 Williams says products like the George Foreman grill influenced the concept, as did pieces by noted German designer Dieter Rams. (Copyright: Ausen Design)
Williams says products like the George Foreman grill influenced the concept, as did pieces by noted German designer Dieter Rams. (Copyright: Ausen Design)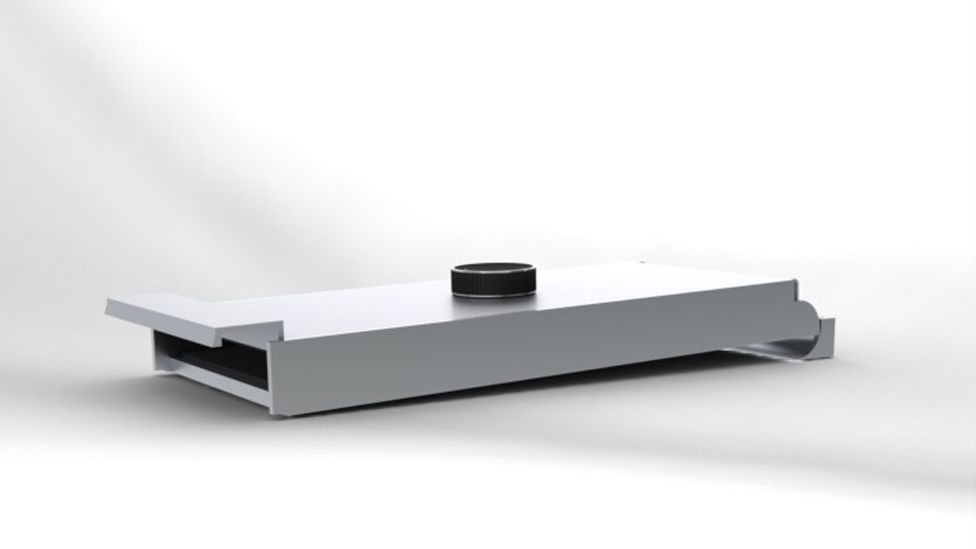 The concept, says Williams, taught them much about "riveting and lucrative world of toasters" – and they may take the design further. (Copyright: Ausen Design)
The concept, says Williams, taught them much about "riveting and lucrative world of toasters" – and they may take the design further. (Copyright: Ausen Design)