Fighter jets, like the Lockheed F-35, are becoming increasingly expensive. Is it possible to make something much cheaper? Angus Batey reports on a new breed of plane poised to take to the skies.
A
At this summer's Farnborough Air Show in England, the talk was dominated by the mishaps of one plane: the Lockheed Martin F-35 Lightning II, also known as the Joint Strike Fighter. Due to be adopted by major air forces in the decades to come, it was supposed to be the star of the show. But in the end, the $100m-a-unit jet failed to turn up to its coming-out party after an engine fire in one of the production models grounded the fleet.
But another new jet fighter, which had taken less than two years to design, build and fly, did make it to Farnborough. The Textron Scorpion costs $20m, still not exactly a bargain by most people's standards, but a fifth of the cost of the F-35. It suggests that not every advanced defence project has to necessarily come in years late and billions over budget – and points to a new twist in not only the future of fighter-jet design, but also in more humanitarian roles that a budget jet could carry out.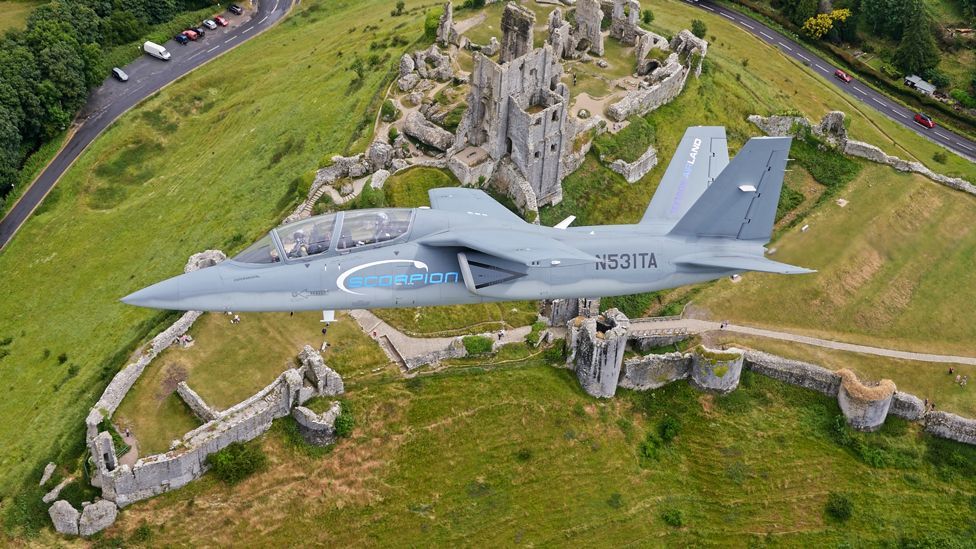 The Scorpion took only two years to go from concept to its first flight (Textron)
As Textron AirLand president Bill Anderson has said, the majority of work devoted to designing and developing fighters over the last several decades has focused on creating expensive, sophisticated machines. Whether it's Lockheed's F-35 and F-22 Raptor, the Eurofighter Typhoon or the Boeing F/A-18, the designs have reflected the desire for advanced performance over affordability. Yet in today's economic environment, cost is becoming an unavoidably compelling issue for even the richest western nations.
Budget busters

Textron aren't the only ones creating the tech to address this issue. The single jet fighter JF-17 is a Chinese design, currently being built in collaboration with its sole export customer, Pakistan, and is said to be available for around the same per-plane price of US$20m. Meanwhile, a Russian design, the Yak-130, has also been touted as a low-cost plane to carry out everything from air combat to reconnaissance, as well as train pilots.
This isn't the first time plane-makers have offered cheaper designs. The list of current and former operators of the Russian MiG-21 – a 1950s design still going strong today - reads like a who's who of the former Soviet bloc. And other nations who have more recently bought China's modern upgrades of this old Soviet model show that cheap fighter planes are still a prized purchase for cash-strapped air forces.
The US used to create such designs as well; in the 1960s and 70s, air forces that couldn't afford the heavy, twin-engined F-4 Phantom were offered the light, adaptable F-5 Freedom Fighter. The F-5 ended up serving in more than 30 air forces, and a reverse-engineered version built in Iran has just entered service with the Iranian Air Force.
There are three main classes of potential customers for planes like the Scorpion, which has a top speed of around 520mph. The first are air forces who want a small jet aircraft capable of carrying out a range of strike and intelligence-gathering missions, and who have either never flown combat jets before or are looking to replace older aircraft. The second are countries who already have, or are developing, high-end fighter forces, but who might buy fewer of the more expensive jets to obtain a larger number of cheaper aircraft. The third are the major military powers who will need the advanced jets for simpler missions in low-risk environments.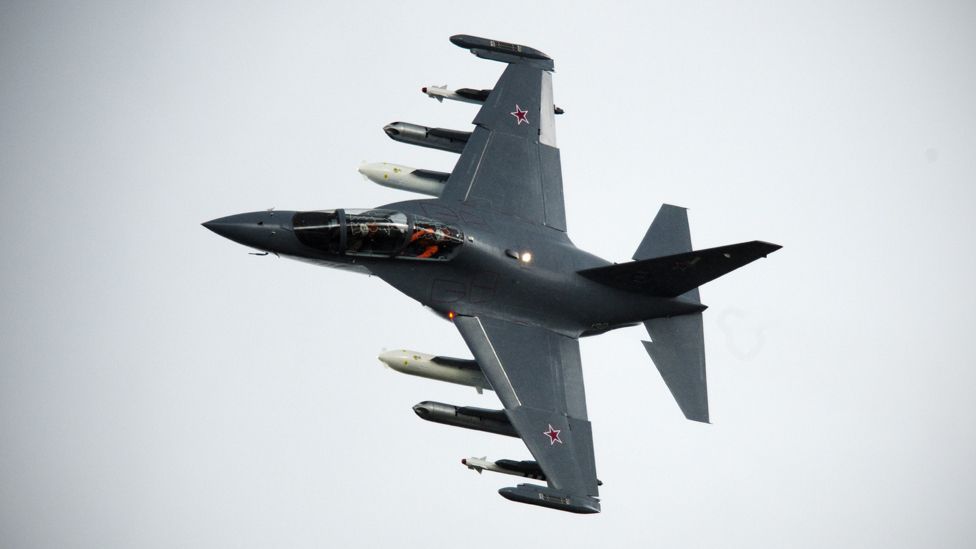 The Russian Yak-130 is being marketed as a light strike fighter as well as a training aircraft (AFP/Getty Images)
But how exactly do you make something as complex and technologically challenging as a fighter plane cheaper? Textron looked to its existing suppliers and used components that were already in production, rather than designing everything from scratch (the F-35, for example, uses an engine which was developed especially for the aircraft). The development team was deliberately kept very small, so Anderson and Scorpion chief designer, Dale Tutt, could make decisions quickly.
"Once we'd developed the initial design concept we set high-level design requirements for the team, and we didn't overburden them with a lot of detailed requirements," Tutt says. "We didn't have to invest time in developing, for example, a new engine or ejection seat. We were able to focus on putting those components together for the airplane and get it flying."
Patrol role
Textron also had the advantage of not having to meet the requirements of a specific nation or an air force. This meant that the development team could make changes to the design if they felt it would help the overall project.
"A great example is [British ejection-seat specialists] Martin Baker," says Anderson. "They sent a group of engineers over and they looked at our cockpit cup design, and they said, 'Well, our seat's not gonna work. It'll be several million dollars and 18 months for us to redesign it. But if you can give us about five more inches of volume - three in length and two in width – it will work.' So guess what we did? We made the cockpit tub a little bigger."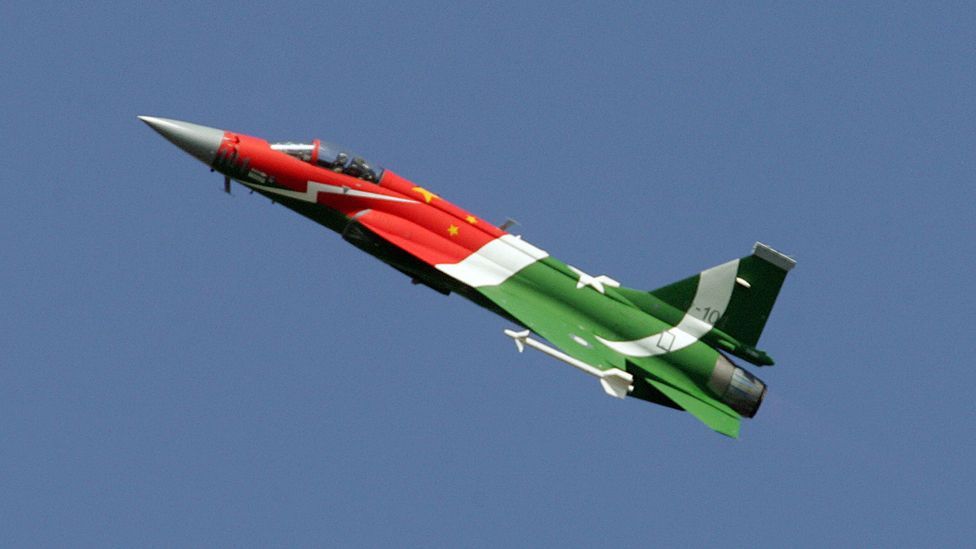 The Chinese JF-17 is a supersonic fighter plane with a price tag the same as the slower Scorpion (AFP/Getty Images)
The Scorpion followed its Farnborough appearance with a demonstration at an exercise in Textron's home state of Kansas, designed to simulate the aftermath of a natural disaster (a major tornado strike) on the region. The jet wasn't used in a fighter role: instead it supplied full-motion video surveillance footage to ground commanders, in a role much like the one carried out today by drones in Afghanistan. Textron wants to enter the Scorpion in the competition the US Air Force will run next year to buy 350 jet trainers to replace its obsolete fleet of T-38s, which have been serving since the 1960s. It also points to additional roles, such as border surveillance, humanitarian assistance and maritime patrol, as jobs the jet can also comfortably carry out.
"Even among the very wealthy countries we're speaking to, everyone is recognising we have to become more economical," Anderson stresses. "No doubt we need high-end fighters: but pilots need to fly, and we can't afford the airplanes we have and to fly the pilots enough to make them combat-sufficient. I think most countries recognise that you don't always need a high-end aircraft."
If you would like to comment on this article, or anything else you have seen on Future, head over to our Facebook or Google+ page, or message us on Twitter.