Is ageing an inevitable decline – or are there unexpected perks to getting older? David Robson reports.
D
Do you ever worry that the prime of your life has already passed you by – and it didn't even have the courtesy to let you know as it flew overhead?
They say that life begins at 40, or that 60 is the new 50 – but what's the truth? What's the best age to be?
To find out, BBC Future scoured the medical literature, examining how everything from your memory to your sex drive changes across the lifetime. And we were pleasantly surprised by what we found.
Consider physical fitness.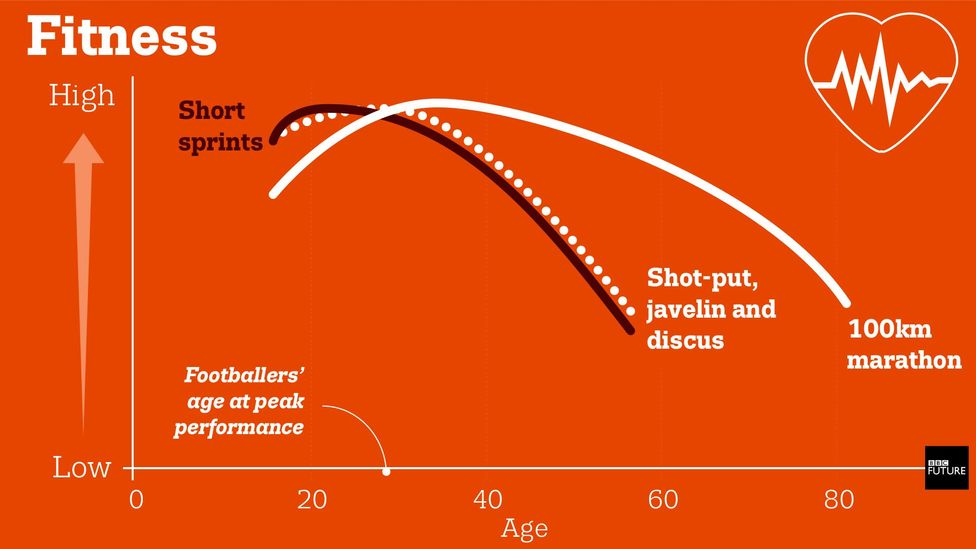 For activities that require short and sudden bursts of energy – like the 100m sprint, shot-put, or javelin – the starting pistol should have fired by your mid-20s, since there is a rapid decline thereafter. Footballers hit their stride even younger.
 Some sports suit older athletes better
Yet older athletes perform much better in gruelling "ultra-endurance" events, such as 100km, or 1000km, marathons. Even after your 30s and 40s, the decline is gradual. Sunny McKee, for instance, celebrated her 61st birthday by competing in her first Ironman Triathlon, which involved a 180-kilometre (112-mile) cycle ride, combined with a marathon and 4km (2.5-mile) swim. Indeed, many competitors are so addicted to these punishing sports that they push on into their 70s.
At first glance, the mind's fate is less cheering.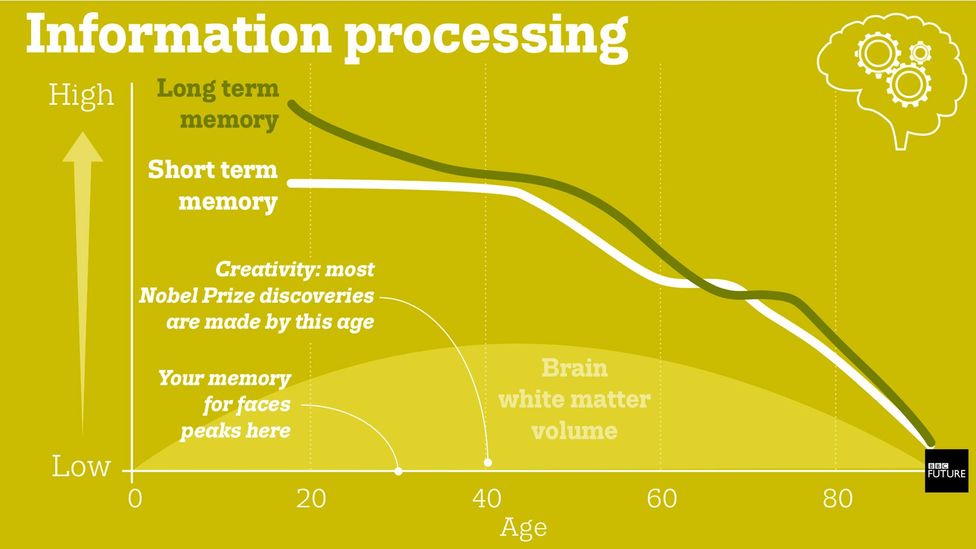 Past your 20s, your ability to commit new facts to memory has already seen better days. In fact, it had probably started losing its shine even by the time you'd left school. Our capacity to hold information in the "working" memory – such as a round of drinks in the pub – plateaus for a little longer, but it too steadily drops in our 40s.
You hit your creative peak young
Even more depressingly, you may have also passed the zenith of your creativity – most Nobel-prize winning discoveries have been made by around 40 – and our white matter, the long distance connections that form the brain's information super-highways, tend to start dwindling too. That could make the brain slower, over all.
Yet there is a silver lining (and I'm not talking about your hair).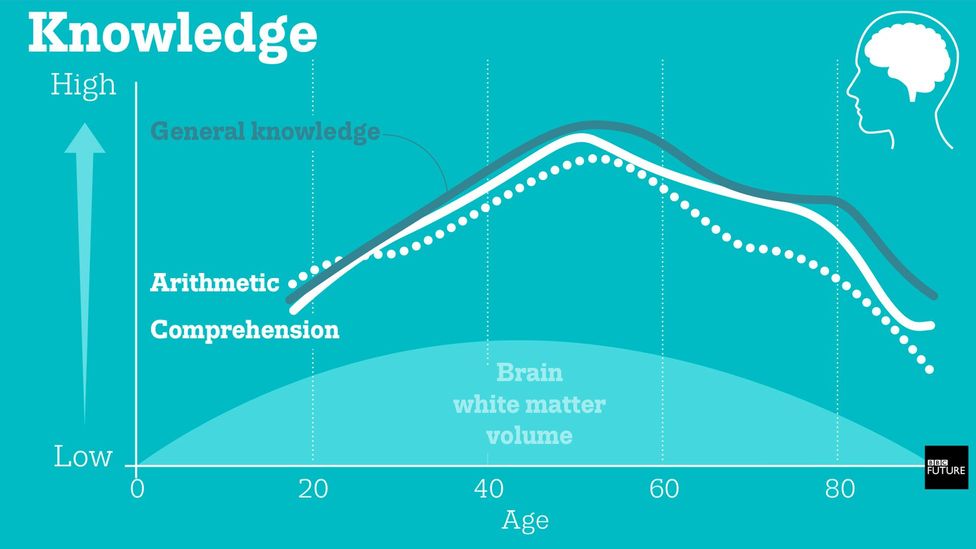 Our mental abilities rise and fall in waves
Although facts may take a little longer to stick, other skills keeps on developing – reading comprehension and arithmetic, for instance, continue to improve into middle age. Social reasoning – our ability to manoeuvre our way through the complexities of our friendships – peaks even later. In other words, our mental abilities rise and fall in waves – as one crest has passed, another is on its way. "There's no age at which we are best at everything – or even most things," says Josh Hartshorne at Harvard University, who conducted much of the research.
There could even be an upside to your flagging libido.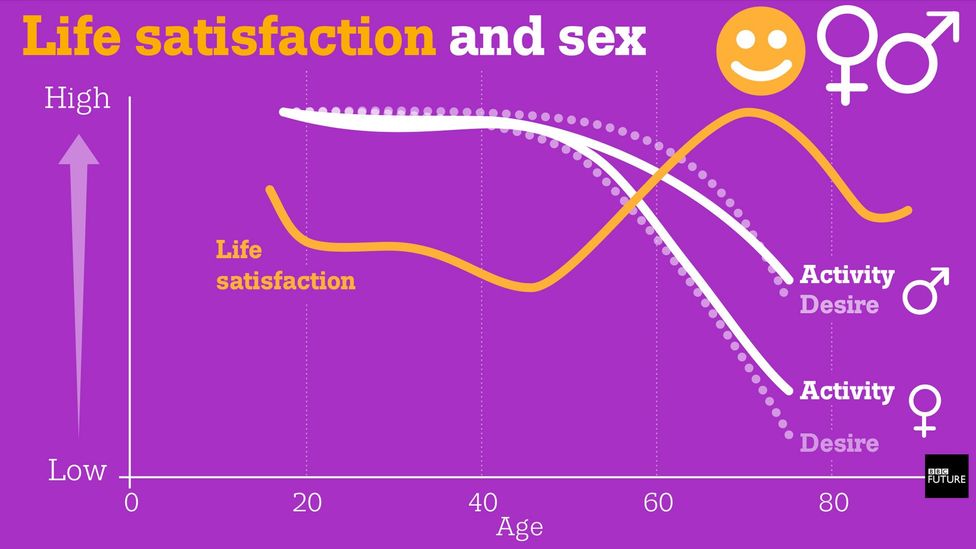 30% of healthy people aged 65-74 have sex at least once a week  
If sitcoms and movies are to be believed, your 20s and 30s are something of an ongoing orgy. In fact, neither sexual desire, nor sexual activity, fall off very quickly until well into your 50s. And even then the decline is far from precipitous. According to one paper examining "sexually active life expectancy", men who are 55 today can expect another 15 or so years of relatively frequent sex; women of that age can expect slightly more than a decade. Intercourse may not be quite as regular or vigorous as it once was, but according to that study, 30% of healthy people aged 65-74 still enjoy sex at least once a week. 
What's more, the falling sex drive may have other compensations – just as your libido starts falling, your zest for life rises. This is something of a paradox, given the physical complaints that come with age, but it could be partly down to the fact that you have finally learnt to balance your emotions after the tumult of the previous decades.
Elixir of youth?
So what are we to take away from these findings? Crudely speaking, you may conclude that you are at your sexual peak in your 20s, your physical peak in your 30s, your mental peak in your 40s and 50s and at your happiest in your 60s – but these are just averages, so your own trajectories may follow very different paths. Perhaps more important is the general recognition that age brings its equal shares of ups and downs; there is no, overall, prime of your life.
The secret to peaking later? Unfortunately it requires effort