Will wi-fi change how airlines keep us entertained above the clouds? Katia Moskvitch reports.
I
In 1936, just over a decade after long-distance passenger air travel started in earnest, the Zeppelin Hindenburg sported a full-blown piano, along with a lounge, dining room, smoking room, and bar. Before that, it was common for airships to have musicians playing on smaller instruments such as accordions to help passengers while away the hours (and days). Long flights, it seems, have always needed entertainment to stop people getting bored.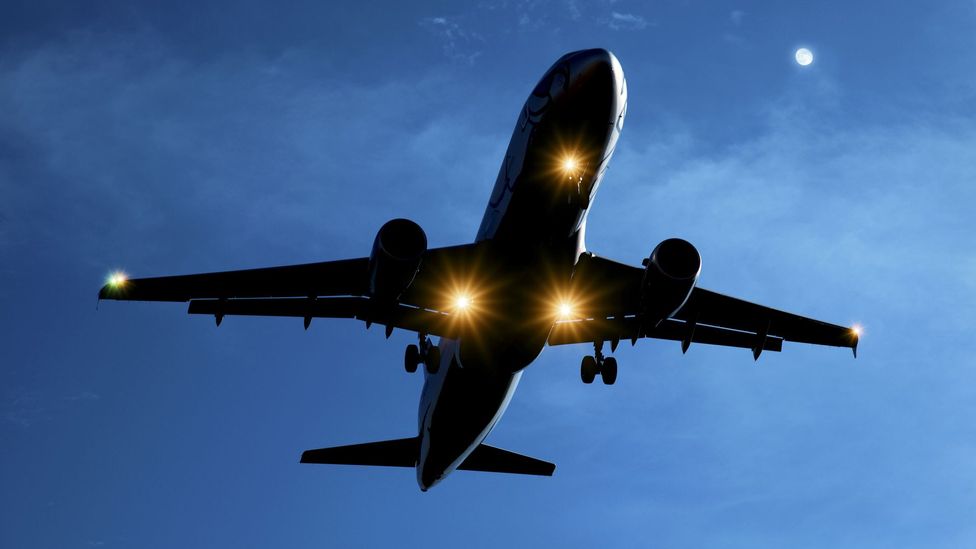 Smaller aircraft like the Airbus A320 don't have comprehensive entertainment systems due to cost and weight (Credit: Science Photo Library)
After World War II and until the 1990s, the most plane passengers could expect was a movie at the front of a cabin: first using a projector, and later shown on a few sparse TV screens lowered from the ceiling. Some airlines also offered music to passengers, first through little airtubes blowing sound into your ears, and then later via some proper electric headphones plugged into a socket in the seat's armrest.
Now of course, keeping passengers entertained is a serious business. And this doesn't come cheap – airlines spend as much as $15,000 on seats featuring on-demand TV, movies or games as we tick off the miles. But in-flight entertainment is about to go through another transformation, now that planes are connected up to the internet and passengers can stream content right to their personal gadgets. How will this change your flight experience?
On-demand streaming
One of the biggest game-changers for in-flight entertainment is the fact that much faster internet connection is now available via satellite.
On board wi-fi has now become routine on many US flights, and other parts of the globe are catching up. In many cases, though, it's not free: passengers have to fork out around $5 (£3.20) per hour, or $16 (£10.25) for a full day's access – but more and more flights are providing the service. In the past five years, more than 60 airlines using Airbus planes have committed to it, says Gregor Dirks from Airbus.
Giving passengers wi-fi access in the air is about more than just satisfying their hunger to stay connected
Despite the cost, access to inflight wi-fi does influence which aircraft and airline passengers choose to fly, suggests a 2014 report by Honeywell Aerospace. "Two-thirds of our respondents are shopping for wi-fi-equipped aircraft so they can remain productive, entertained and connected while in flight. We also identified that passengers are willing to make sacrifices to ensure their flight has wi-fi, including enduring airport security twice, and early airport check in, if it meant faster wi-fi speeds," says Steven Brecken of Honeywell Aerospace.
Often though, passengers are only able to browse the web, check emails and do other low-bandwidth activities; streaming video services such as Netflix and Amazon are blocked on many flights because of worries over bandwidth and capacity.
But giving passengers wi-fi access in the air is about more than just satisfying their hunger to stay connected. Fast, reliable on-board wi-fi can be a boon to airlines: "It may not be obvious to most, but the reason smaller, narrow body aircrafts like B737s and A320s don't have fancy in-flight systems is weight and cost," says Anahita Poonegar of InterTrust Technologies Corporation, which makes inflight entertainment systems.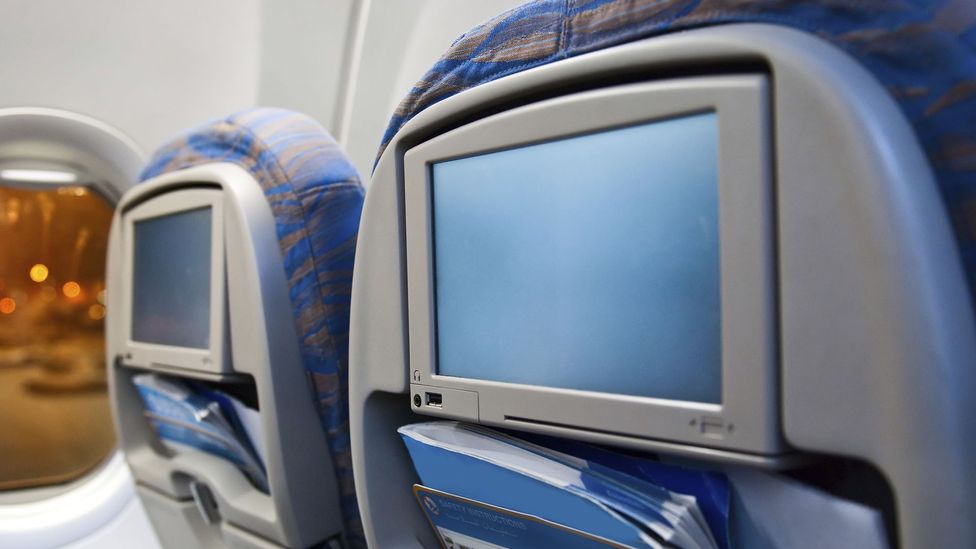 Seats kitted out with entertainment systems can cost up to $15,000 each (Credit: Getty Images)
And they are costly all right – IFE system maintenance was the third-largest expense for Air France in 2011, for example – after paying for the maintenance of the engines and landing gear. They can cost "up to $7.8m per aircraft, depending on the type and configuration" says Koen Spaanderman, engineer at Amsterdam University of Applied Sciences. That means each seat costs up to $15,000 to kit out.
Getting rid of these cost-hungry seats is already happening. In 2012, French airline OpenSkies decided against wiring its fleet of Boeing 757s with a traditional seat-back video system, but distributed to passengers 500 iPads instead, each preloaded with an array of videos. This way, it spent about $250,000 per plane – instead of $3m (£2m).
Content doesn't have to be limited to what's been preloaded by the airline
Since then, the technology has moved on, and now airlines want to take it a step further – aiming to deliver VOD (video on demand) that streams directly to the passengers' own devices using in-flight wi-fi. In North America, Southwest Airlines, United, Delta and Jetstar are among companies allowing passengers to stream videos to personal devices. Similar services are offered, among others, by Australia's Qantas, Norwegian Air, Monarch and Germany's Lufthansa.
But the content doesn't have to be limited to what's been preloaded by the airline. In early June, JetBlue Airways offered Amazon Prime to members while in the air. 
Roadblocks ahead
There are challenges, however,that stand in the way of industry-wide adoption, not least finding enough bandwidth for fast enough speeds to allow seamless streaming.
But companies are certain that this issue is temporary. Inmarsat's Global Xpress satellite network, the UK's biggest commercial space project, is scheduled to become operational later this year; two of its three satellites are already in orbit. Instead of the most often offered Ku-band and L-band satellites, GX will use the higher-frequency Ka-band that will boost in-flight internet speeds significantly.
GX will be "a dedicated satellite constellation" for planes, says Brecken, and "with wi-fi speeds that will allow [passengers] to download movies, play video games and stay connected just as they would on the ground.".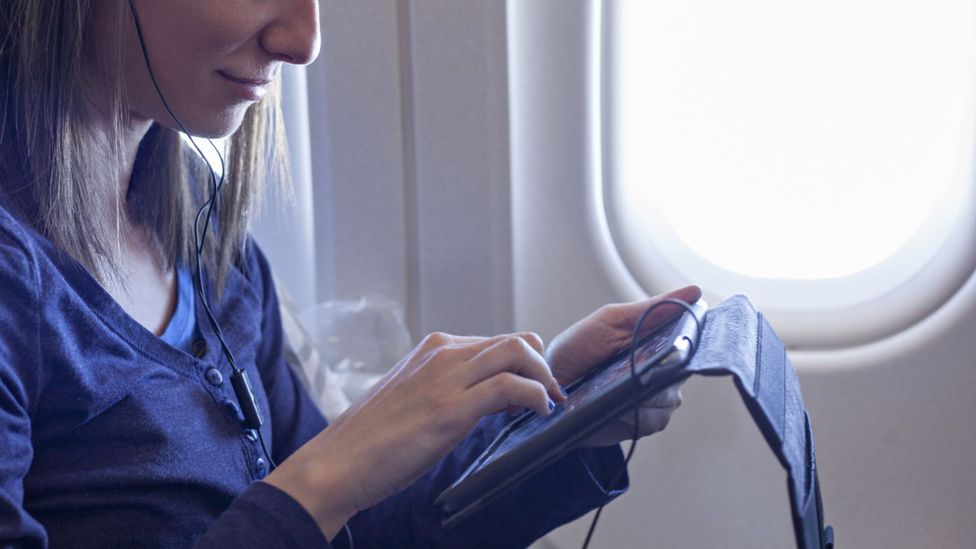 Some airlines have already begun replacing seat-based systems with iPads pre-loaded with content (Credit: Getty Images)
Beyond bandwidth issues, there are challenges such as battery life, stowage, limited content options, and placement and viewing angles (some planes now offer seat-back tablet-holders). And then there are the security risks of having wi-fi that can be hacked onboard.
Another major problem is how to certify and roll-out such services across the fleet, says Norbert Muller, a senior vice president at Lufthansa Systems. "In many cases the services are not free and the fees, especially for connectivity, are usually much higher than you would expect them to be on ground."
Now passengers in the US are upset when their flight doesn't have wi-fi – Al St Germain, Spafax
So what does the future hold for air travellers? Malleable HD screens that can bend, and 3D or virtual reality environments are all currently being looked into. For instance, Transavia airline has recently started testing Oculus Rift headsets in the air, offering them to passengers flying from Schiphol Airport in Amsterdam to Barcelona.
And soon we may have holographic screens on board to talk to loved ones hundreds of miles away, and even use special gloves to touch them.
Sounds far-fetched? These technologies are "already with us," says Martin Raymond, co-founder of The Future Laboratory that teamed up with travel search engine Skyscanner to produce "Future of Travel 2024 Report". Prototypes exist – "hugely expensive now, but expected to fall in price as they hit the mass market," says Raymond.
Yet it is always-on connectivity that may bring the biggest change in the near future. "Now passengers in the US are upset when their flight doesn't have wi-fi," says Al St Germain, senior vice president USA at inflight marketing company Spafax ."The biggest challenge for any carrier is managing these passenger expectations. Airlines often have to make very expensive decisions on products and services years in advance – how do you know what passengers will be demanding next year or in 2017?"
Terri Potratz, editor of APEX Experience magazine, agrees. "Many treat their in-flight experience as the last bastion of privacy, an opportunity to unplug; though I think we're right on the tipping point of what passengers expect and the shift towards constant connectivity is in motion," she says.