In a city of skyscrapers built on oil and gold, inventors have been competing for a million-dollar prize to build the next generation of drones – but there's much more to this unusual contest than first appears.
O
Over the PA system a voice tells us not to be alarmed. What we are about to see is just a demonstration, courtesy of the United Arab Emirates' Ministry of the Interior.
Two men wander onto the circular stage, wearing soccer shirts and jeans. At first they seem good natured, perhaps a little over excited, maybe a bit drunk. Then voices are raised. A punch is thrown. The two men begin to wrestle.
From seemingly out of nowhere, a large quad-rotor drone drops out the cloudless sky over Dubai Internet City, hovering insect-like just above the heads of the men, watching them with camera-eyes.
Before they can even notice, a squad of policemen – wearing helmets, body armour, and carrying assault rifles – rush them from the side of the stage. With military precision they pull the men apart, pin them face-down to the floor, and restrain them at gunpoint, all while the drone watches from above.
There's a stunned silence from the largely international crowd, broken by enthusiastic applause from the Emiratis in the audience.
Dubai's reserves of oil and gas will soon run dry… it's looking for the next big thing to invest in
Welcome to Dubai, and to one of the more awkward moments of an already odd competition called Drones For Good. We're here to watch teams compete for a million-dollar prize, by demonstrating how drone technology can benefit civilians. It's an unusual setting for such an event: in the US, similar drone and robotics competitions take place all the time in sports stadiums or on the grounds of a college campus. But this is the Middle East – and the backdrop is a city already looking to build itself into the sky. It began with its vertiginous skyscrapers; now the UAE wants to exploit the airspace with flying machines too. The UAE government predicts the civilian drone industry could to be worth as much as $10bn by 2025. It's a young and potentially very lucrative market, and the UAE is determined to grab a slice of it.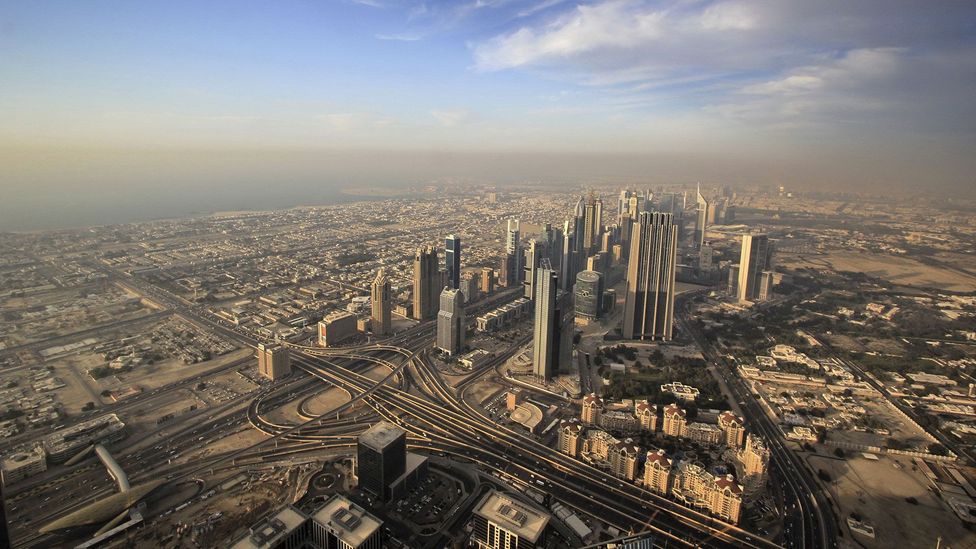 The UAE is investing heavily in drones, in the hope that it could replace oil revenues (Credit: Thinkstock)
Spend a few days in Dubai and you start to understand why. As a young city, Dubai has an affinity for the future – many of the men that make up its unelected government can remember when oil was first discovered in the late 1960s, and have watched how it transformed a small trade port in to one of the world's most high-tech cities in just a few decades. But behind the extravagant architecture and performance cars there's a palpable fragility to Dubai's success. Long before the end of the century, the oil and gas revenue will run out. Most of the money made here these days is in construction and property deals, and even that took a big hit when the global markets crashed in 2008. Modern Dubai is fuelled more by potential than oil; there's a sense it's constantly looking for the next big thing, for a new future to invest in.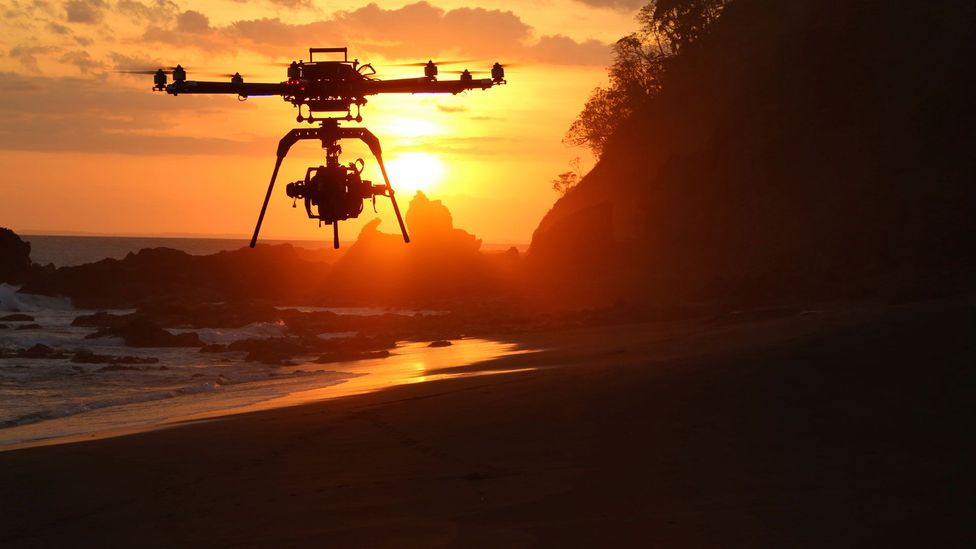 Dubai is betting that drones will bring a hugely profitable industry (Credit: iStock)
As such, Dubai Internet City seems the perfect place to host the Drones For Good awards. DIC is a high-tech industrial park, where glass and steel office blocks are populated by the likes of Microsoft, Nokia, Sun, and IBM, all nestling around a fountain-filled artificial lake. They're here because the rules in this small park are different – it's what's known as a Free Zone, where foreign companies are guaranteed decades of tax breaks, cheap property, and low cost immigrant labour in exchange for opening operations here. Dubai is full of these parks, just nearby there's Dubai Media City, Dubai Industrial City, Dubai Health Care City, and Dubai Knowledge Village, to name but a few. Presumably the hope is for a Dubai Drone City in the not too distant future.
On the first morning of the competition the atmosphere backstage is thick with nervous excitement
But for now it's the lake at DIC that's the focus. For two days, more than 20 teams from the UAE and around the globe will compete to grab a huge cash prize – $1m for the international winners, and 1m AED (almost $267,000) for the national – by proving they've got the best idea. The rules seem pretty straightforward: they've got five minutes up on the lakeside stage to demonstrate a service or application that could be made reality within three years, while the audience – and most importantly the panel of expert judges – look on.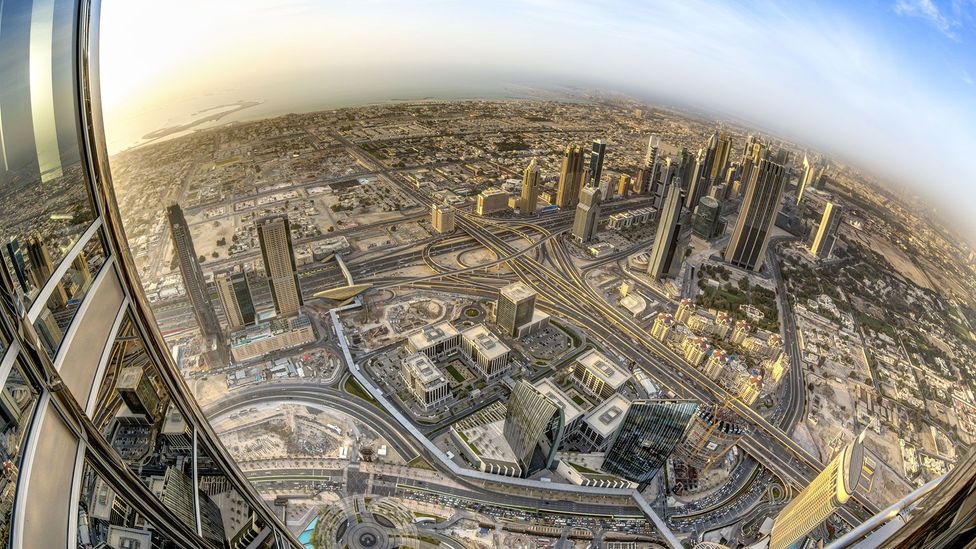 One drone promised to clean skyscraper windows (Credit: Thinkstock)
On the first morning of the competition the atmosphere backstage is thick with nervous excitement. Teams crowd together under tarpaulin shades, hiding from the unforgiving Gulf sun as they anxiously tweak and prepare their flying robots. There's an undeniable air of DIY hacker culture in the competitors' zone – a stark contrast from the prestigious, ultra-sleek sheen of the arena. Out front it's all government VIPs, media, and potential investors sipping coffee and networking, while back here it's students, engineers, and hobbyists staring worriedly at laptop screens and trying to fix broken rotor blades with sticky tape.
I've slipped back here to catch up with Kenyan activist David Kiarie, who with his small multinational team is entering an idea for how drones could be used to improve the lives of slum residents in Nairobi. "Right now their greatest problem is land tenancy. This is why the slums cannot develop," Kiarie tells me. "There are people who have been living there for many decades, but they do not own the land – they own it, it they say this is my piece, but they do not have any title deeds. Which means they can't get access to credit.
"What we want to do is develop a terrain model of the slum, which we will make available to the government. They'll use that model to plan development, but most importantly to sub-divide the land and allocate it to the owners so they can be given title deeds."
This data wouldn't just be for government use though, as German team member Philip Strauch is keen to point out. "We aim to make the data essentially available to everyone. It's not going to be hidden in some document in a government office – it's going to be open to NGOs, to community leaders, it's clear and transparent."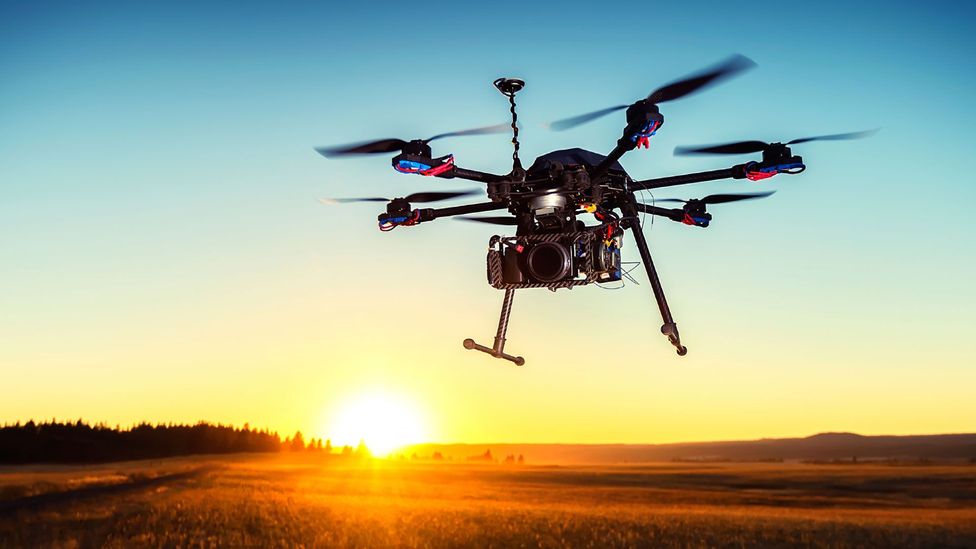 How many jobs can a single drone replace? (Credit: iStock)
Like many of the entrants, Kiarie's team is using off-the-shelf drones – it's the application of the technology, rather than the technology itself, that's innovative. "Because of the clutter of the slums, it's very difficult to do a traditional survey," Strauch explains. "Aerial mapping is very expensive to do with helicopters or planes, doing it with drones is far cheaper. This is a German off-the-shelf system, and it gives us fully autonomous mapping with millimetre precision."
Despite their professionalism, with a few hours before they take the stage, they seem understandably nervous. "We have done our rehearsals." Kiarie says. "We'll see from the scores how the judges felt it went."
I'm waiting for someone to hit the water, I joke.
"It's not going to be us!" he laughs.
Suddenly the drone leaps off the stage and lurches sickeningly, rotors first, into the water
And he's right, it's not them. It's the team from the National University of Singapore. Even before their demonstration has started, while they sit huddled around a laptop with their backs to their drone, it suddenly leaps off the stage and lurches sickeningly, rotors first, into the water. The crowd around me runs over to gawp at the wreckage through the – suddenly much appreciated – protective netting that separates the audience from the drones, as the distraught team gaze on in disbelief. We never get to see how what their 'Fully autonomous cargo transportation unmanned helicopter system' consists of exactly.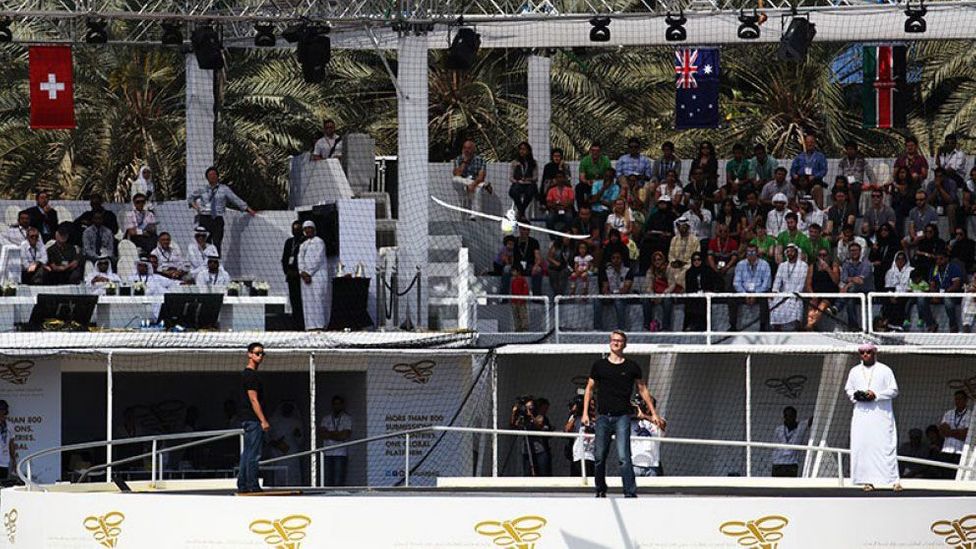 A safety net protected the audience from wayward drones (Credit: Drones For Good)
It's not even the most spectacular failure of the contest. That honour goes to the Waterfly team from MIT, whose 'swarm' of three amphibious water testing drones – following a super-slick, Silicon Valley start-up style presentation – malfunction as soon as they're turned on. One does nothing, the second flips over on to its back, while the third shoots up about 30 feet in the air before losing all power and falling like a stone, only failing to maim a cameraman because he's just quick enough to get out of the way. Competitive drone-demonstrating is clearly a potentially dangerous sport.
Before Kiarie and his team can take to the stage, we sit through a couple of hours of the competition, which ranges from the ingenious to the unlikely. Dronlife, an all-female team of industrial design students from Italy, give a very slick presentation of their transplant organ delivery system for hospitals by flying a plastic heart around the lake and back again. There's a British team that wants to boost reforestation efforts by using drones to plant trees, which – as unlikely as it sounds – they claim will allow them to plant one billion new trees a year. More accurately the drone doesn't as much plant trees as drop seeds in biodegradable plastic shells as it flies above targeted land. The team claims it's vastly more effective than the usual method of using manual labour.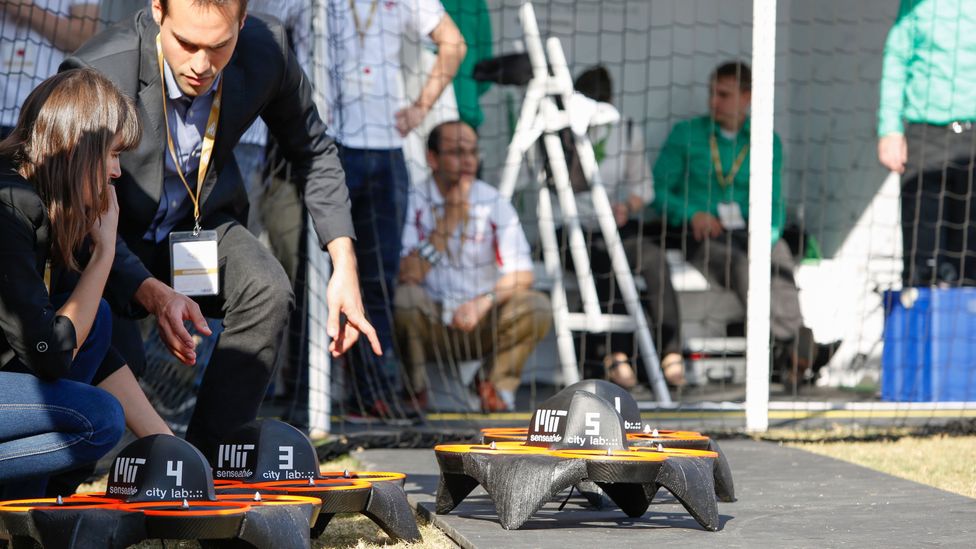 The drones from MIT malfunctioned at launch (Credit: Drones For Good)
Nobody seems to be asking what would happen to the people losing their jobs
A couple of other entries sell themselves heavily on replacing human labour: one team wants to use autonomous drones to replace parking inspectors, while another wants to use them to clean the windows on skyscrapers. Both go down well with the local crowds and judges – mainly because if there's one thing Dubai has a lot of it is cars and skyscrapers – but while they both make a big deal of how much money they could save replacing humans, nobody seems to be asking what would happen to the people losing their jobs. Employment is a tricky subject in Dubai, and although as much as 85% of the population is estimated to be migrant workers, the audience at Drones For Good was clearly not representative of that demographic. As the state transitions into a post-oil, post-property economy it's easy to imagine it investing heavily in automation and robotics in order to lower its labour costs, but what that means for so much of the population seems to be an issue few people want to address.
Finally, after hours of sitting in the sun, Kiarie and the rest of the team are up. Their video presentation might be lacking the sophisticated, corporate slickness of some of the competitors, but they look good in their high-viz jackets, and as Kiarie explains their idea he's as friendly, earnest, and committed as he was when I talked with him beforehand. Vitaly, their large hexacopter drone, works fine, taking off, buzzing around the lake, and landing back on the stage perfectly. Tensely we wait as the judges make their decision.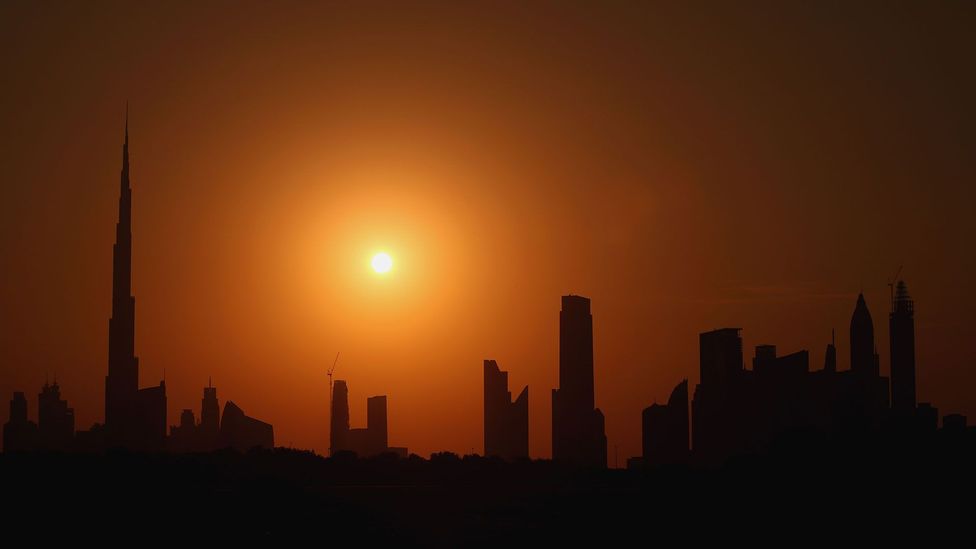 Dubai is already building into the sky in other ways (Credit: Getty Images)
Kiarie's team seemed to be the one of the few that wanted to make a difference
Sadly, despite getting a respectable 59.9% from the judges, it's not enough to get them through to the next round. I can't help but feel disappointed. Among all the teams focused on profit forecasts and pursuing the tech start-up dream, Kiarie's seemed to be the one of the few that wanted to make a difference rather than just money. As such they embodied what I'd, perhaps naively, thought 'drones for good' stood for.
We have to wait until the next day to find out who has actually won. The national award, and the 1m AED, goes to the Wadi Drones team from NYU Abu Dhabi, for a fixed-wing drone that wirelessly collects photos from 120 camera traps scattered around the UAE's Wadi Wurayah National Park. Normally these would have to be retrieved by Pakistani and Ugandan rangers on foot, and part of me can't help wondering if it's not going to put some migrants out of work again, but the team explains the hiking is particularly dangerous, as temperatures in the park can reach 47C during the peak of summer and put them at extreme risk of dehydration.
The big $1m prize is taken by Flyability, with what they claim is 'the world's first collision resistant drone'. They're one of the few teams that demonstrated a truly new piece of technology that they've built themselves – basically a small quadcopter drone protected by a geodesic ball that it's attached to via a gimbal (or 'GimBall' as they call it.) Combined with some clever software this allows the drone to smash into things – walls, doorways, even people – without not only damaging itself or the environment, but also staying airborne.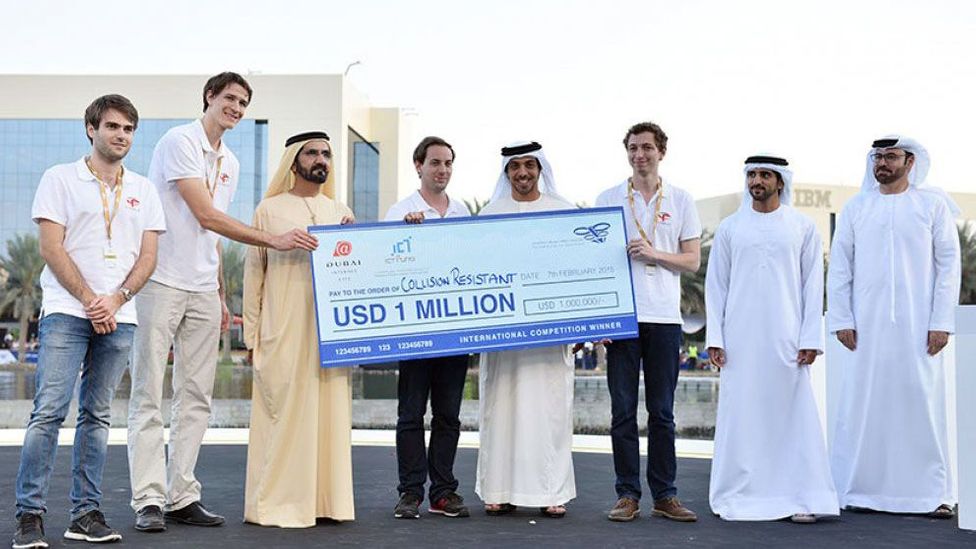 Flyability built the the 'world's first collision resistant drone' (Credit: Drones For Good)
It just bounces off whatever it hits, while the software corrects its flightpath and it carries on to its destination. Flyability sees it as a simple-to-operate, inexpensive and robust tool for rescuers or industrial inspectors, useful in the aftermath of a building collapse or earthquake. To show how effective it is they fly it around a mock-up of a house on the other side of the lake, the images being fed back to the giant TV screens at the main stage, as well as showing us footage of it effortlessly bouncing around inside industrial scaffolding. It's hard not to be impressed, especially at the ingenuity and practicality of the design.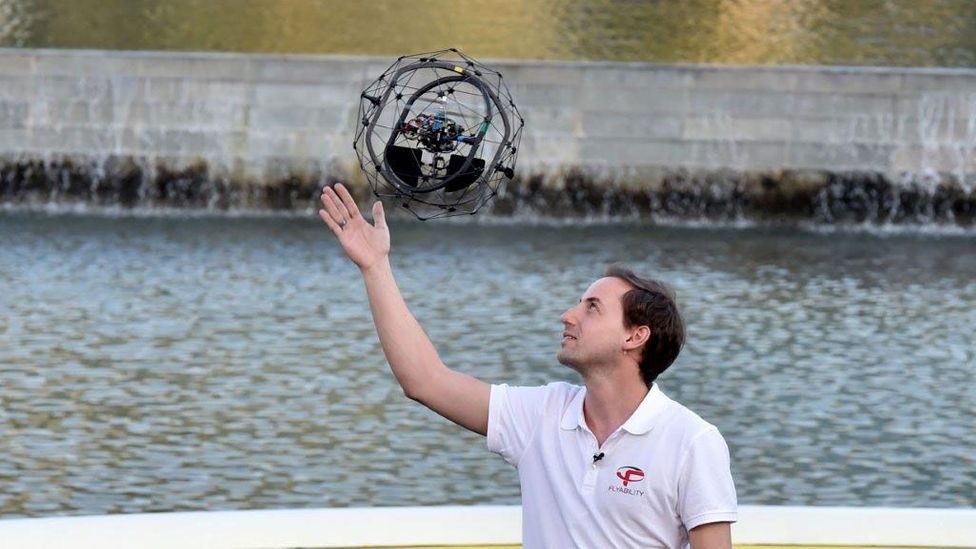 Flyability's collision-resistant drone took the top prize (Credit: Drones for Good)
As the two days event draws to a close I'm still feeling a little disappointed to see the slum-mapping project fail to make the finishing line, which is why it's a pleasant surprise to find out that Kiarie and his crew aren't going away empty-handed after all – they've won the Drones For Good International Community Award, voted for by social media users around the world. There's no money attached, but the team will get help and advice from industry experts, and they'll win some wider recognition for their idea. Maybe the attention was just fleeting, and nearly lost among all the PR stunts and corporate aspirations, but Kiarie seems as optimistic as always.
"It felt good," he tells me afterwards. "It felt good that I presented an idea. It felt good that I was stood on a global platform presenting an idea and that people were listening."
Which, at its heart, is what Drones For Good is all about – giving a global platform not just to people like Kiarie and his team, but also to Dubai itself. This is a city that has built itself from scratch, with land reclaimed from the sea becoming a forest of skyscrapers. Now it's reaching for the skies again for a new kind of real estate – betting hard on being a new centre of excellence for drones, and the future in general. It remains to be seen whether it will pull it off, whether it can convince the world to take notice, and what it means for that 85% of its population that still work down on the ground.
The Drones For Good award will run again in 2016.
BBC Click was also at Drones For Good. Spencer Kelly met some of the teams, including Flyability and others. Watch them in action below:
The prototype drones aimed at improving lives