Dubai is planning to equip firefighters with jetpacks, according to reports. But is this a good idea, or, indeed, safe?
F
For a long time, jetpacks have been regarded as the most futuristic personal mode of transport imaginable. Even James Bond has had one. But in recent years there has been increasing interest in making the devices a reality. And now, firefighters in Dubai may be among the first humans to gain jetpacks as part of their standard equipment.
The first thing to note is that these "jetpacks", by New Zealand company Martin Jetpack, don't work by firing streams of gas to achieve lift. Instead, they have rotary helicopter blades fixed within a special housing. Rudders beneath these can be angled in order to control airflow and, therefore, movement in flight.
But why does Dubai want to give these devices to its firefighters? And is it a good idea?
The contract between Dubai's civil defence force and Martin Jetpack is a multi-million dollar one, though no precise figures for the contract have been revealed. A total of 20 jetpacks, each of which can fly at a top speed of 45mph (72km/h) and to an altitude of 1,000ft (330m), may eventually be delivered. They will be used for search and rescue missions by first responders – peering into blazing skyscrapers for signs of survivors, perhaps.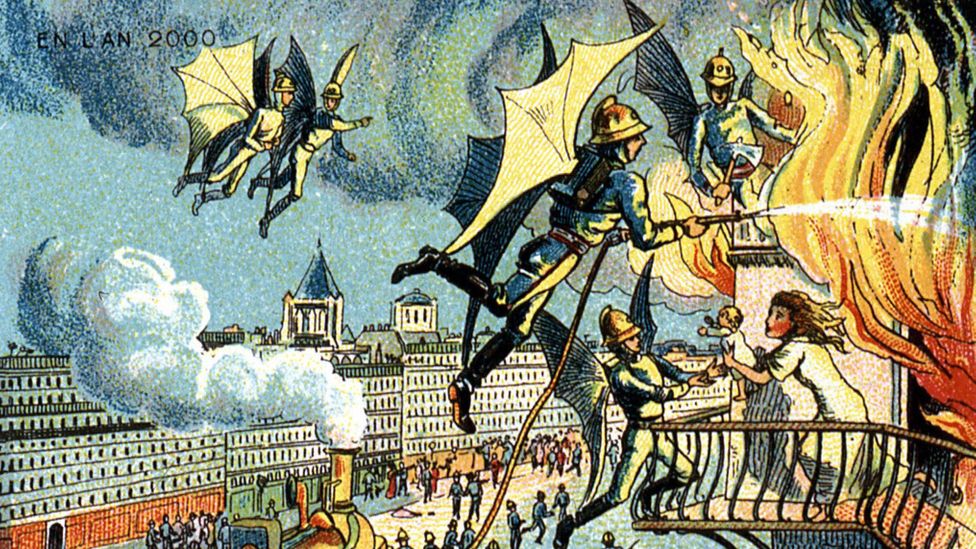 One of Jean-Marc Côté's Visions of the Year 2000 predicted flying firemen, although not jetpacks (Credit: Alamy)
The idea of flying firemen was, curiously enough, depicted in a futuristic French postcard design in 1910, but there hasn't been much precedent for the concept in reality until now. Drones, though, are being used by Manchester firefighters in the UK to take images of an inferno so that responders on the ground know where best to direct flows of water.
But flying humans up there to have a look is a whole other ball game. According to Jim Krane at Rice University, who is the author of Dubai: The World's Fastest City,  it's not surprising that the metropolis has considered this approach to tackling building fires.
"They have a need for this – they don't really have the firefighting capabilities to handle high skyscraper fires and high-angle rescues," he says. "It's been a huge problem for them."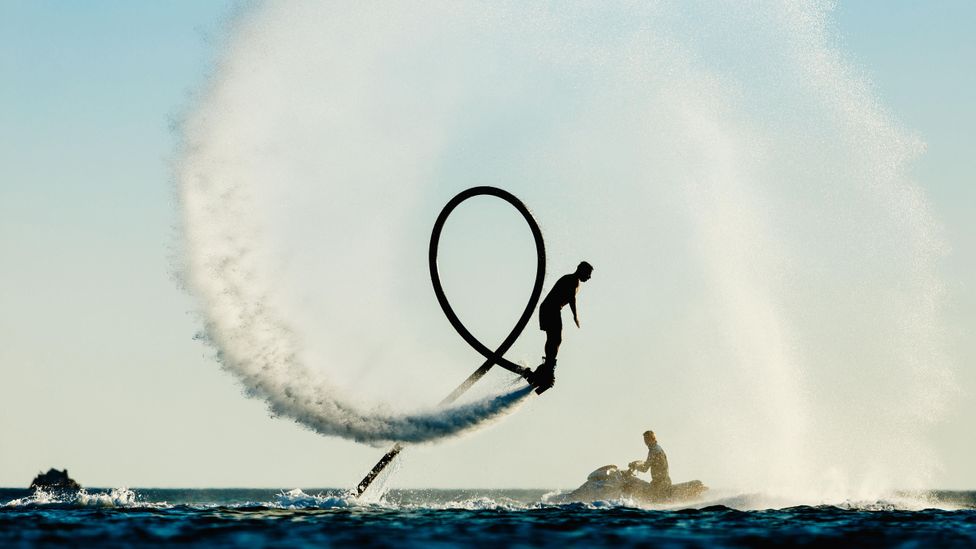 Water-powered flyboards like this one might look like they'd be good in a fire but practically aren't very useful (Credit: Alamy)
Krane adds that in 2007 he witnessed a fatal fire which enveloped a skyscraper under construction. One worker fell to his death, another died inside and many were trapped before being rescued.
"They were stuck on these tiny ledges on the exterior of the building that was burning because they couldn't escape and the firefighters couldn't do anything about it," says Dr Krane.
He says it remains to be seen whether having jetpacks in their arsenal of firefighting tools will really help Dubai's firemen deal with serious blazes. Either way, the venture certainly fits into Dubai's image as an innovative city.
"This is their modus operandi, they like to take the first-mover advantage in just about anything," explains Dr Krane. "If something looks kind of crazy and you need a testbed or market to try it, Dubai's your place."
The Martin Jetpack is far from the only one vying for attention from potential buyers and investors. There's also the Australian firm Jetpack Aviation's device, which flew around the Statue of Liberty recently during a stunt.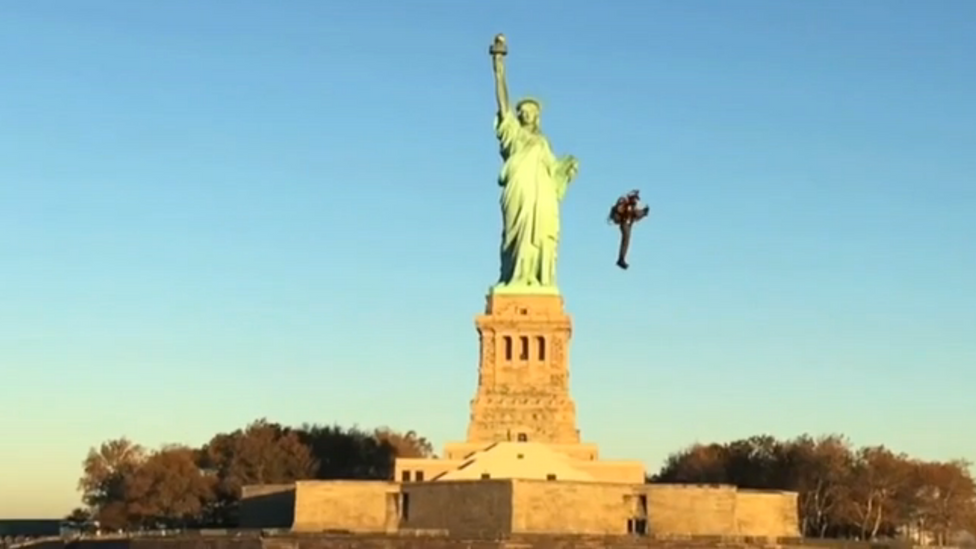 David Mayman flew the JB-9 jetpack, which is "powerful enough to fly thousands of feet" around the Statue of Liberty (Credit: Buzz60)
And, returning to Dubai, there is the jet-powered wingsuit of Yves Rossy which also hit headlines recently after helping the Frenchman to whizz alongside a giant Airbus airliner.
Jetpacks are still so futuristic that many aviation authorities have not even had to consider their use yet. The UK's Civil Aviation Authority (CAA) is one example. "It's not something we've been asked to take an opinion on," a spokesman said.
"Anything that flies in airspace is subject to what's known as the rules of the air and that includes things like hang gliders and paragliders," he added. But it was also pointed out that quite how those rules might be interpreted in relation to jetpacks – either in the UK or the EU generally – is not very clear.
"While we do not foresee jetpacks being part of firefighting kit anytime soon in the UK, it will be interesting to see how they are used," said a spokeswoman for the Chief Fire Officers Association in the UK. "Especially taking Dubai's skyline into account and the problems high rise buildings can cause firefighters and responding to emergencies."
Similar uncertainty faced, and to some extent still faces, drones, but that continues to be addressed thanks to the fact they have become so popular. While the sky may not be the limit in reality, perhaps it's time we started taking jetpacks a little more seriously.
Follow us on Facebook, Twitter, Google+, LinkedIn and Instagram.