Your seatmate on that flight from London to Singapore might be a total mystery – until they sit next to you. But what if you could choose the perfect flying companion?
I
If I could choose whom to sit next to on a long-haul plane journey, I'd pick Albert Einstein. I'd chat to him about general relativity, quantum entanglement, wormholes, you name it. The problem is, not only would Einstein have to travel in time, he'd also have to create a LinkedIn or Facebook account, and then book the same flight with one of the few airlines  currently experimenting with a concept called 'social seating'.
This is the concept programme offered by just a handful of companies allowing passengers to choose a seat buddy based on interests. "A lot of people travel alone, and it's typically a very unsocial experience," says Nick Martin, founder of social seating start-up Planely. "What people don't like is meeting and talking to people they don't have anything in common with. What they love is spending time with someone who is like-minded."
Some, however, find that very thought abhorrent; they fear becoming "victims of a social colonisation of what used to be private," says Danish behavioural scientist Pelle Guldborg Hansen. And Lotte Bailyn, a management professor at the MIT Sloan School of Management, agrees. She believes that constantly seeking to connect with others, especially when it has to do with work, "makes us rigid… and incapable of creative out-of-the-box thinking".
Is this what conversation-starved passengers have been waiting for? Or is the idea of an algorithm choosing who we sit next to from London to Singapore a social experiment too far?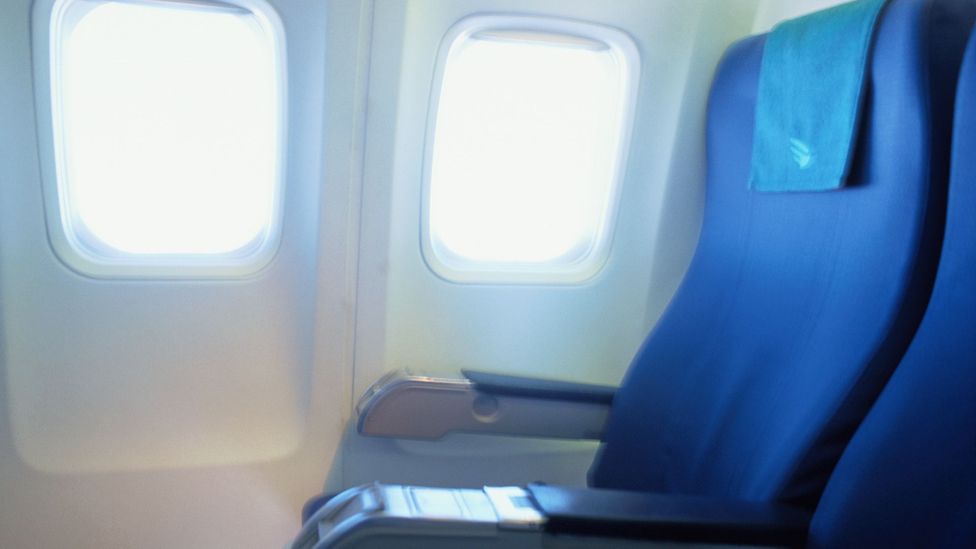 Some travellers used the social seating apps to make sure they were on their own (Credit: Getty Images)
Right now, most of us are at the mercy (or grace) of the serendipity of discovery. Getting on board, evaluating your neighbour, wondering who will take the empty seat next to you. Will they be charming, chatty, or the kind that close their laptop with a sigh whenever you need to stretch your legs? "Pleasant encounters with seat mates have only ever been driven by serendipity. We wanted to increase the chances of meeting a like-minded person while trapped in an aluminium can," says Sergio Mello, co-founder of another start-up Satisfly.
When these services first appeared in 2010-11, they triggered a media frenzy. Yet four years on, few of us ever had the option. What happened?
Well, Planely no longer exists; it ran out of funding after three years in business. Another example, SeatID, has become BookingDirection.com and now deals with hotel bookings. Satisfly was bought by online travel agency Travelstart. "Maybe we were too early with it or maybe it just doesn't have enough people willing to give it a go," says Martin. "Maybe if the airlines themselves positioned it correctly, it could work."
If you get on well with your fellow passengers, this only makes the journey more pleasant – Joost Ruimpol, KLM
Speaking of airlines, one of the first offering the option to choose your seatmate was Malaysia Airlines, back in 2011. Its project, MHBuddy, integrated booking, check-in, and picking your seat on Malaysia's Facebook page – automatically showing you which of your Facebook friends would also be on the same flight. "At the time of the launch, we had more than 3,000 users accessing the apps in a single month," says the company's spokesman. But, he adds, it was a proof of concept to see how effectively social media works – and the airline has since abandoned it. Iberia, AirBaltic and Finnair also toyed with social seating but no longer offer it.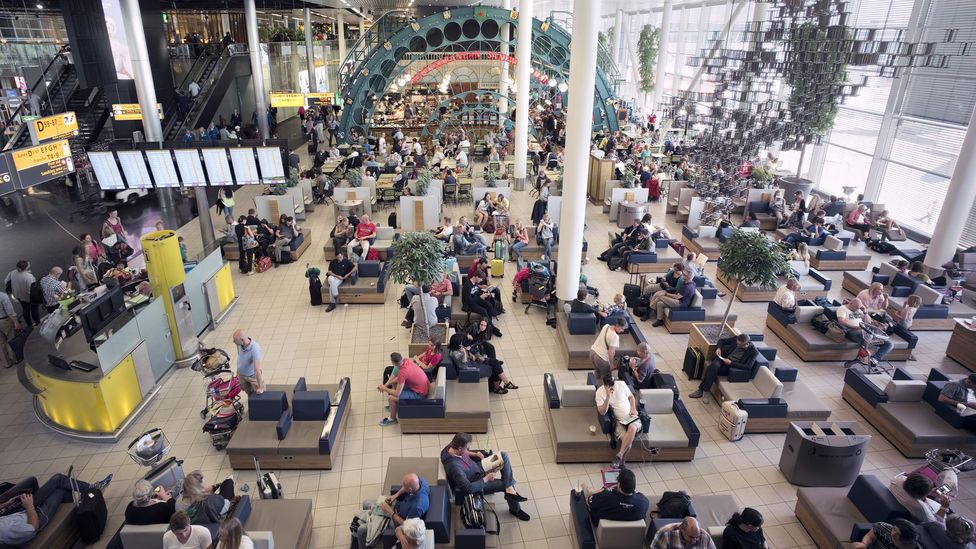 Some airlines think social seating could take some of the pain out of long-haul flying (Credit: Getty Images)
Dutch airline KLM also launched Meet & Seat in 2011: it is one of the few social seating programmes still running. "If you get on well with your fellow passengers, this only makes the journey more pleasant," says KLM's spokesman Joost Ruempol. Up to one hour before the flight you can see the LinkedIn and Facebook profiles of other passengers, and then chose to sit next to those who might be interesting for a spot of networking. Some airlines think that if you have fun on the flight, you're more likely to book with them again.
Also sticking with innovation is South African Airways. The idea behind its Social Check-In service, a spokesman says, was to reach a broader audience, introduce something not seen before in Africa, allowing passengers to have a more enjoyable flight.
Business networks
But would many of us go through the effort of choosing a seat neighbour, sacrificing the opportunity of not having to talk to anyone?
Since SAA's Social Check-In launched in 2013, about 400 passengers a month have been using it. During the three years of its existence, Planely acquired 25,000 registered users. As for KLM, more than 65,000 travellers have used Meet & Seat since launch (and more than 30,000 in 2014 alone). It's of course a trickle compared to the more than 26 million passengers KLM carries annually, but it still prompted the airline to expand the service to all of its flights from and to Amsterdam Airport Schiphol.
Jennifer Deal from the Center for Creative Leadership, an executive education agency, argues the concept should appeal particularly to business people. "They could be more effective at what they are already doing if they could choose who to sit next to on the plane. They would both enjoy it and it would help them with their business."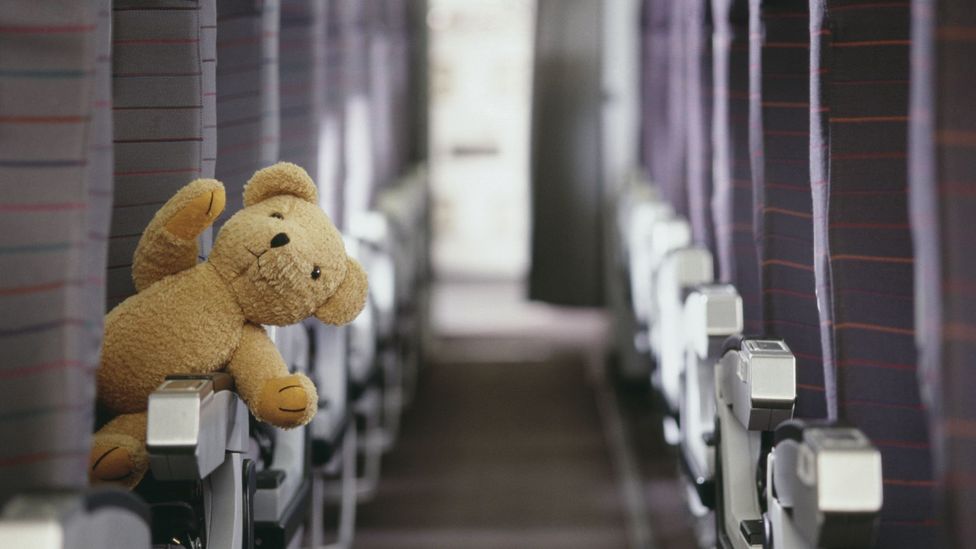 Would you change seats to talk to someone more fun? (Credit: Getty Images)
Delta has launched its Innovation Class project as a mentoring programme that uses social networking to pair passengers with industry leaders – although there have been just a few Innovation Class flights so far. Also extending the idea of business networking is Virgin America, who last year launched an in-flight business social network, Here on Biz. So if you happen to be sitting next to a truly boring person, you can still network with the rest of the cabin – virtually (provided you're willing to pay for using the network). Or get up and seek them out in their seat.
Permanent connectivity and networking that we're going towards is as natural as being fed and watered – Ivo Vlaev, psychologist
Ivo Vlaev, an experimental psychologist at Imperial College London, believes that the appeal of in-flight networking goes beyond business travellers. "Being connected to others is innately rewarding – it is part of our genome and also the genome of human society," he says. "Permanent connectivity and networking that we're going towards is as natural as being fed and watered – it is what makes us human and what makes us happy." Sticking to these norms triggers a rewarding feeling of belonging. "Recent evidence reveals that those processes are reinforced by dopamine reward networks in the brain," says Vlaev. "The impact on our behaviour is that we thus become more like each other... Therefore, becoming more 'connected' – on flights, on weekends, at a beach resort – is good for us."
Some companies go even beyond offering the ubiquitous connectivity of small talk networking. When you upload your social profile onto AirBaltic's website and see other passengers' profiles too, you can choose to surprise someone with roses delivered to their seat – even if you don't know them. Virgin America has something similar – using its in-flight entertainment system, it allows passengers to order and send a drink to someone else in the cabin, and use the seat-to-seat chat service via the in-flight entertainment system (although some could find themselves overwhelmed with attention). Meanwhile, Emirates A380 has a much-used on-board bar in the Upper Class cabin, just like Virgin Atlantic's Boeing 787-9, which also has a 'wander wall' in Premium Economy so passengers can grab a snack and talk to each other.
Late adopters?
But all these quirks are still limited to a few innovative airlines, and are seen by many just as that – quirks. So why hasn't in-flight networking pervaded the whole of airline industry? "We had been dealing with and signing agreements with a number of airlines, but only a few took all the steps to bring the social seating experience to life," says Mello of Satisfly. "Passengers liked the option of adding a degree of control over the like-mindedness of their seat neighbour, but airlines are gatekeepers to passenger experience. And their interests are not always aligned."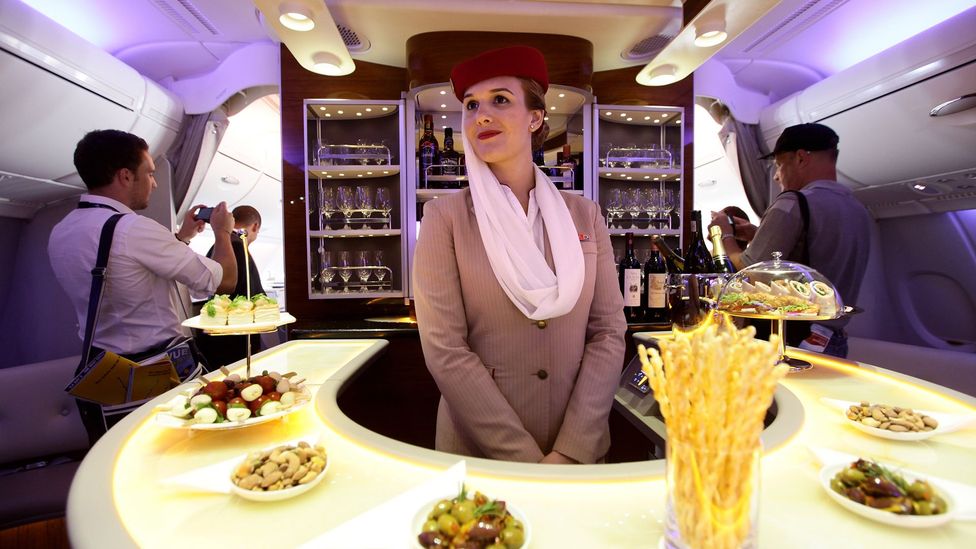 Emirates' Upper Class bar has proven a popular draw already (Credit: Getty Images)
Eran Savir, founder of SeatID who is now at BookingDirection, says airlines are often late adopters of new technologies. "Airlines in most cases are struggling to keep their heads up, so if that technology is not proven to be generating new revenues, most airlines would just sit and wait."
Not everyone thinks this social experiment is good news. What if you happen to be one of a person's 1,567 Facebook friends, and receive a message asking to sit together on a 12-hour flight to Johannesburg? Does that put you in the awkward situation of having to say "yes" and hope the 'friend' won't bore you too much? And would a 'no' come across as rude?
What used to be a journey has become a matter of logistics – Pelle Guldborg Hansen
"You have people calling you up, writing you and now even people sitting next to you approaching you with expectations that you didn't ask for – it's like all the bad aspects of being famous, without the good things," says Hansen. "Social connectivity becomes indiscriminately intrusive to our private space and time, which we often use to go into what is called the mind-wandering mode, when on a conscious and a non-conscious level we relax, reflect on and manage our daily experiences, information, and thoughts for future use.
"Personally, I've arrived at the point where what used to be a journey has become a matter of logistics, where a beautiful train trip along the coast may be ruined because the wi-fi doesn't work. If you add to that an annoying business-contact popping up on the seat next to me, I would much rather stay at home and Skype."
Perhaps the most important thing Satisfly got right during its brief existence was the option of choosing between a social zone and a quiet area, where passengers could expect solitude. Ironically, says Mello, the in-flight social networking's killer feature was the option to be on their own.
Follow us on Facebook, Twitter, Google+, LinkedIn and Instagram.
If you liked this story, sign up for the weekly bbc.com features newsletter, called "If You Only Read 6 Things This Week". A handpicked selection of stories from BBC Future, Earth, Culture, Capital, Travel and Autos, delivered to your inbox every Friday.