The British drink more than 60 billion cups of tea a year – so what is it about this humble brew that refreshes them so?
W
Whether they take their tea with milk, sugar, lemon or just plain, it's clear that the British have a fondness for its flavour. There's something about that firm bitterness that sparks devotion: the British consume 60 billion cups per year, according to the Tea and Infusions Organisation. That's more than 900 cups a year for every man, woman and child in Great Britain – though we no doubt all know someone who likes many more than that.
Tea has become entrenched in the British way of life, from the humble tea break to the afternoon tea to be enjoyed – in a jacket and tie, of course, gentlemen – at the very swankiest of London hotels.
But what are the molecules behind the taste of this beloved beverage? And does how you take your tea say something about who you are?
To answer that, it's worth first trying to work out what it is exactly that makes tea taste the way it does. Tea's flavour is intimately affected by how it is grown, processed, and brewed – beginning with the light. Tea bushes – Latin name camellia sinesis – are grown in terraces all over the tropics and subtropics. But if the intent is to make certain kinds of green tea from them, like matcha, growers will make sure they are carefully shaded with nets or mats. Less sun causes them to produce more chlorophyll as well as fewer polyphenols, a class of molecules that imparts tea's singular astringency.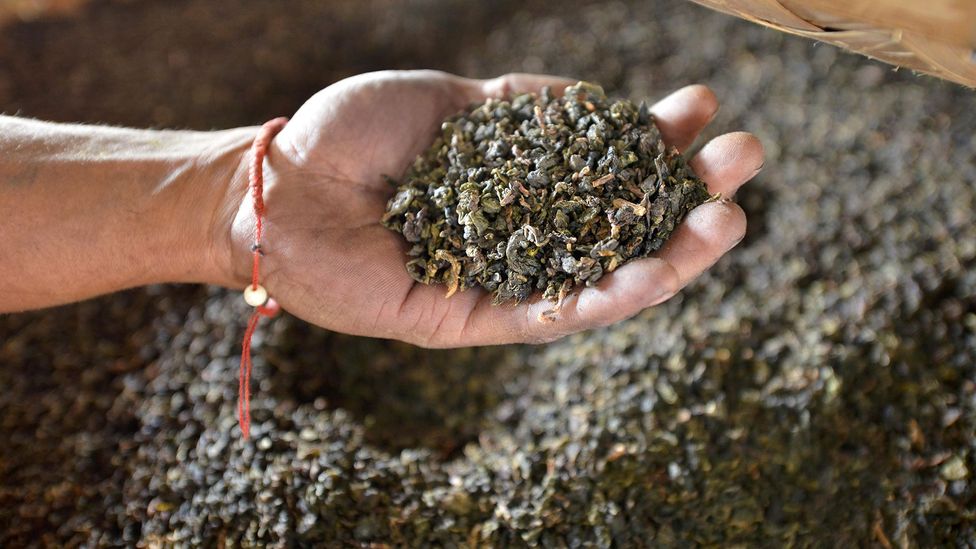 The leaves used to make tea are cooked to help release the complex mix of flavours (Credit: Alamy)
Of course, some of us may like that taste, and tea processing can amp it up. After the new leaves and buds have been plucked from a bush, they are laid out to dry. How long they lie again depends on the kind of tea intended. For green teas, the leaves are almost immediately tossed in a hot pan or steamed (tea might look like the rawest of edibles, but it is actually cooked, or at least heat-treated). An oolong results when the leaves are dried a little, bruised and only then cooked. And a black tea – the most popular variant, accounting for 78% of the tea drunk world-wide – results when the bruised leaves dry quite a long while before being finished in the pan.
What's behind all this is that as the tea leaves are drying, enzymes native to the tea plant are busily transforming simple molecules into more complex ones. The longer the tea spends drying, the longer those enzymes have to work – and the more these molecules build up in the tea leaves. The most famous in tea-chemistry circles is probably theaflavin, a tangle of carbon rings responsible for some of the ruddy colour of black teas as well as some of the astringency.
Firing the tea leaves calls the process to a halt by destroying the enzymes. As a result, there's very little theaflavin and related molecules in, say, green teas. But aside from polyphenols, hundreds of other compounds build up in the tea over time; their roles in crafting tea's bouquet and taste are not yet clear. Regardless, the end result is a different chemical profile for each kind of tea.
Given how much tea people drink, there's growing interest in understanding whether this habit has any medical benefits
Given how much tea people drink, there's growing interest in understanding whether this habit has any medical benefits. It appears that molecules found in tea can protect cells in a dish from some kinds of damage, but despite copious research, there is conflicting evidence on whether tea-drinking provides benefits beyond warm hands and an alert mind.
Because, of course, there are the stimulants. Brewed tea has roughly half the caffeine of an equivalent volume of coffee, but it is still plenty for a mid-afternoon pick-me-up. You might have heard that caffeine in tea gives a different high from the caffeine in coffee. Many studies have found that if this is the case, it's because of an amino acid called theanine, which occurs in tea. When volunteers consume both caffeine and theanine – versus caffeine and other tea molecules – they show moderately more alertness and better ability to switch between tasks than with caffeine alone. The amount in a given cuppa may not be the same as the doses given during a study, however, and the effect of theanine is not enormous. But all on its own, the caffeine will give you a nice lift.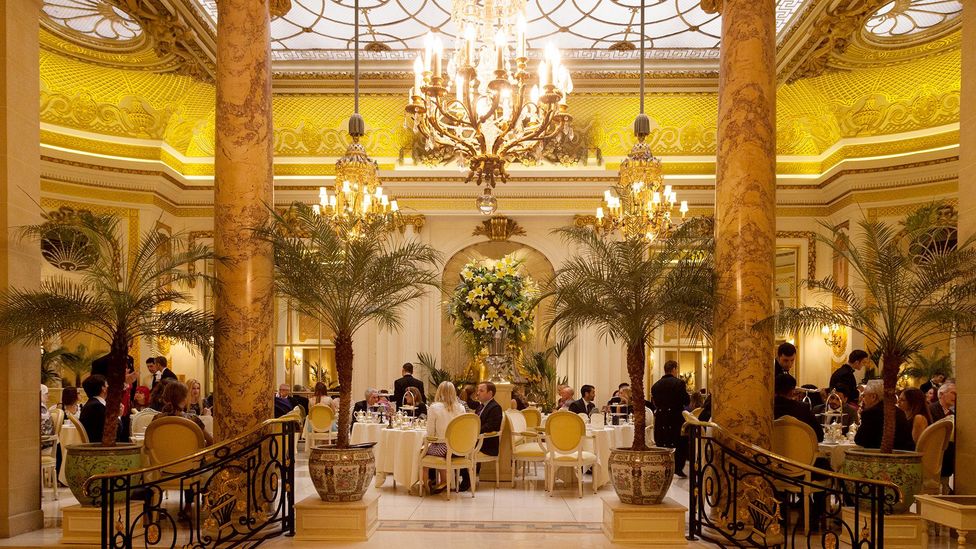 The humble cup of tea is celebrated in the poshest London hotels (Credit: Alamy)
So that's what makes tea taste how it does (not to mention energise its drinkers). But why do these melanges of molecules mean so much to British people? And what does your preference, in terms of tea type and how you drink it, mean about you?
Anthropologist Kate Fox writes in her book Watching the English that there are several clear messages sent whenever a Brit makes a cuppa. She observes that the strongest brews of black tea – with the largest doses of these molecules – are typically drunk by the working class. The brew gets progressively weaker as one goes up the social ladder.
Milk and sweetener have their own codes. "Taking sugar in your tea is regarded by many as an infallible lower-class indicator: even one spoonful is a bit suspect (unless you were born before about 1955); more than one and you are lower-middle at best; more than two and you are definitely working class," she writes. Other rules involve when and how milk is added, if any. Making a point of drinking smoky Lapsang Souchong with no sugar or milk can be a sign of class anxiety in the middle class, Fox suggests: it's as far as possible as one can get from sweet, strong, milky mugs of the no-nonsense 'builder's tea'.
Alongside its chemical properties, tea is an infallible social space-filler
As for why the British drink an infusion of imported dried leaves at all, there are historical reasons aplenty for why tea came to wash up on Britain's shores. And one could come up with any number of rationales for why the current state of affairs was inevitable (boiling water to make tea, for instance, made it less likely to give you a stomach bug).
A food scientist I once corresponded with pointed out something that seems to apply here. "In my opinion, food choices are driven by one's environment – the context," he wrote. You like what you like not necessarily because of any intrinsic quality, though obviously one can develop a taste for almost anything. A food or drink's real importance in your life may be because of everything the surrounds it – the culture of it.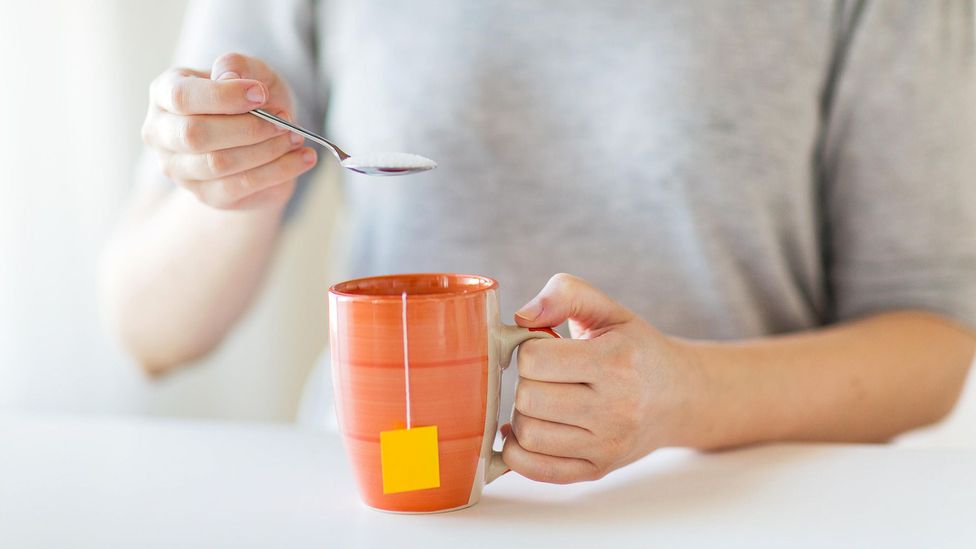 Whether you take sugar in your tea could say something about your social standing, some believe (Credit: Alamy)

Fox observes that in truth, alongside its chemical properties, tea is an infallible social space-filler. After having detailed the cultural meanings behind different methods of tea preparation, Fox writes, "Tea-making is the perfect displacement activity: whenever the English feel awkward or uncomfortable in a social situation (that is, almost all the time), they make tea."

It's also interesting to note that some of the molecules involved in the flavour of teas likely evolved as defenses against being eaten by birds, insects and other creatures. That is somewhat ironic, given how vigorously we humans seek it out – and how many social meanings we've attached to it.

This story is a part of BBC Britain – a series focused on exploring this extraordinary island, one story at a time. Readers outside of the UK can see every BBC Britain story by heading to the Britain homepage; you also can see our latest stories by following us on Facebook and Twitter.

Join 600,000+ Future fans by liking us on Facebook, or follow us on Twitter, Google+, LinkedIn and Instagram.

If you liked this story, sign up for the weekly bbc.com features newsletter, called "If You Only Read 6 Things This Week". A handpicked selection of stories from BBC Future, Earth, Culture, Capital, Travel and Autos, delivered to your inbox every Friday.

;