In response to the new, devastating weapons of industrialised warfare came equally advanced medical innovations – many of which we still use today
O
On 1 July 1916, the Battle of the Somme broke out. On the first day alone, 57,000 British soldiers were killed or injured; when it ended 140 days later, the total number of casualties had reached more than one million.
The battle was just part of what would be, in its time, the bloodiest war in modern history: by World War One's end, the total number of combatant deaths reached 10 million.
It wasn't just deaths that exceeded anything people had seen before. The industrialised nature of the war, and its first-time use of weapons ranging from machine guns to tanks to poison gases, meant that injuries were brutal, too. In fact, by the war's end, twice as many combatants were injured as were killed. "Wounding occurred on an unprecedented scale, and the wounds being created were of an unprecedented severity," said Stewart Emmens, curator of the new exhibition Wounded: Conflict, Casualties and Care.
In response, the medical establishment was pushed to create an equally unprecedented number of life-saving innovations – explored in the Wounded exhibition which opened at London's Science Museum this week.
Not every development was successful. Post-traumatic stress disorder, for example, was recognised in WWI for the first time under the diagnosis of 'shell shock'. The British government paid out more than 30,000 war pensions to those suffering from the condition, but many often went misdiagnosed or treated with less-than-helpful care like electromagnetic therapy. Even so, from blood transfusion to artificial oxygen to even the simple idea of getting medical help to injured combatants right on the front lines, many of the war's developments shaped the future of care for not only soldiers, but civilians. "When you think about rushing people somewhere to get them very expert care, that didn't really exist before 1914," said Emily Mayhew, military medical historian at Imperial College London. "This is the foundation of modern military medicine in this country, and it's why we're so good at it. And we're really good at it."
Here are 10 of the most innovative – and important – objects from the exhibition, which runs until 15 January 2017.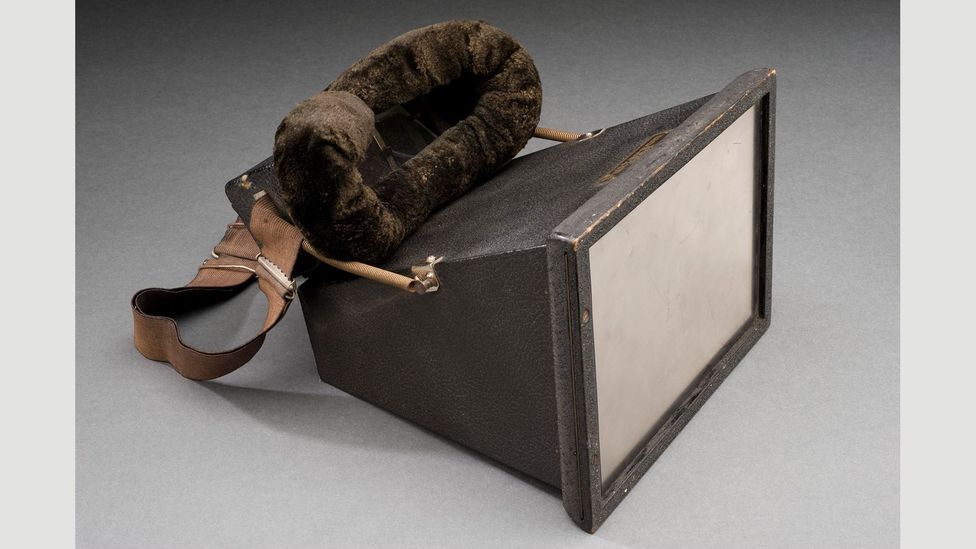 Portable fluoroscope, by Pattersons X-ray screens, 1917 (Credit: Science Museum/SSPL)
The injuries of soldiers on the Western Front were often far more complicated than those seen in previous wars. "Before, the wounds weren't as bad. And most people died of diseases. The industrial nature of this war really demanded that everything changed," said Mayhew.
One reason the new wounds were so hard to treat was that fragments of bombs and bullets could bury themselves deep into tissue. If left, they could cause infection and death. But knowing where they were located in order to remove them was extremely difficult – and exploring in the tissue could cause even more extensive damage.
X-rays, which were first discovered in 1895 and used medically for the first time the following year, help the doctors pinpoint the shrapnel – as with this portable fluoroscope used by field surgeons at the front. These two-dimensional images alone did not completely solve the problem, however, as they showed the fragments' positions, but not their depth.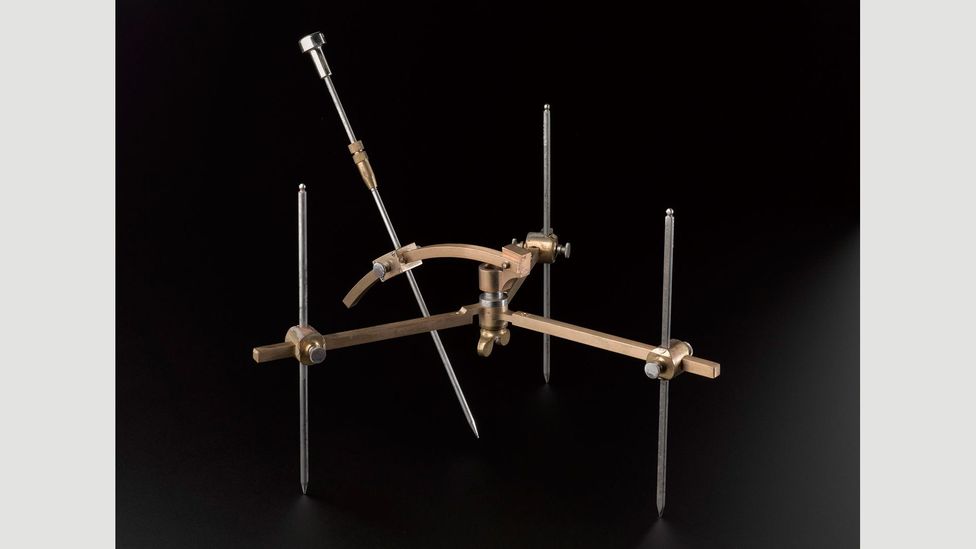 Hirtz's compass, 1915 (Credit: Science Museum/SSPL)
Used in conjunction with X-ray imaging, the device above allowed medics to locate projectiles within a millimetre or two. Developed by French radiologist E. J. Hirtz and used extensively in WWI, the compass would give the projectile's depth and direction, and when inserted accordingly, the needle would end at the fragment. In terms of removing projectiles, wrote the surgeon-general's office of the US in a 1924 medical review of the war, "No instrument gave as much help as did this by its precision and accuracy."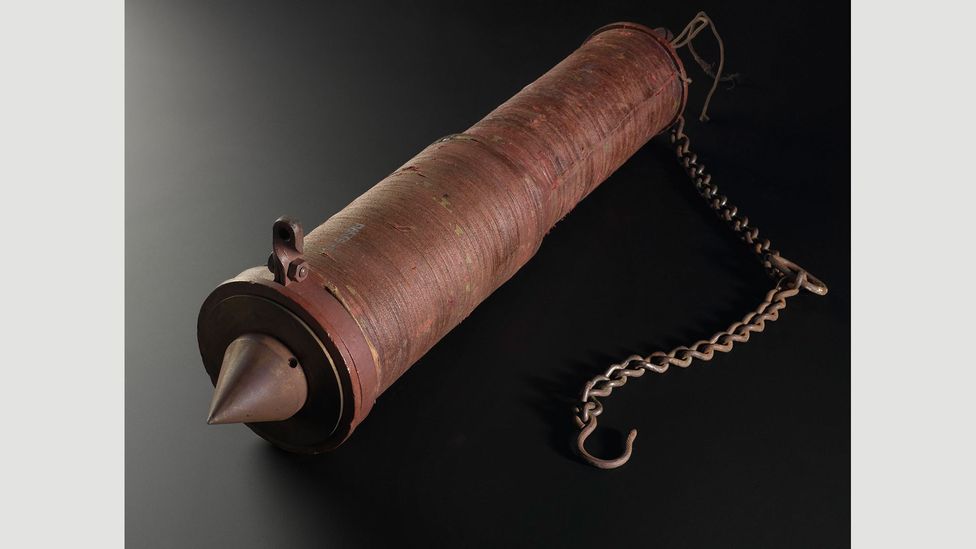 Electromagnet, 1914-18 (Credit: Science Museum/SSPL)
When locating buried bullets and shrapnel, another part of a front medic's toolkit was an electromagnet like this one: when applied to a patient's side, it would make metal debris vibrate. That made any projectiles easier for a surgeon's finger, or a probe, to feel.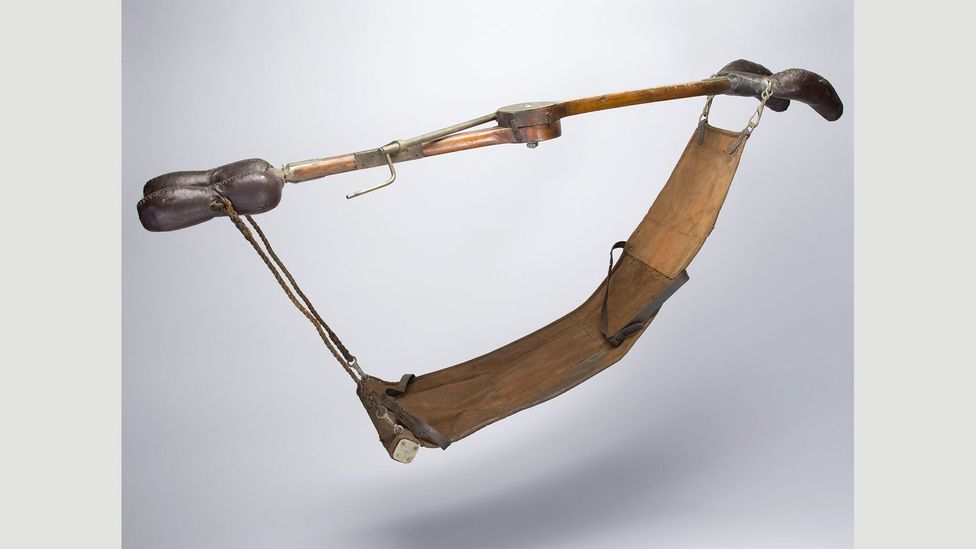 A Colt's stretcher, British design for use in narrow trenches, 1916 (Credit: Science Museum/SSPL)
Not all of the medical innovations of WWI were as high-tech as Hirtz's compass or a portable fluoroscope. "The ground-breaking ones are the most simple: the idea of a stretcher-bearer, the idea of a paramedic," said Mayhew. "That's the underlying principle of modern military medicine – of sending somebody out to literally the place where somebody fell and stopping a bleed."
Stretcher-bearers who went out to collect the wounded were the most crucial part of a chain that carried casualties from the front to a Regimental Aid Post, followed by a Dressing Station, Casualty Clearing Station (often located several miles from the front line), and if necessary on to hospital. A stretcher-bearer's work could be as lethal as being a soldier and it was complicated by the nature of trench warfare: rescue teams used hand-drawn maps of the often labyrinthine routes they'd have to take to get to a wounded person and back. Also difficult was the structure of a traditional stretcher itself, which proved too wide and cumbersome for the narrow, zig-zagging trenches.
By allowing the wounded to partly sit rather than lie prone, this type of flexible stretcher was more maneuverable. The yokes at each end, meanwhile, allowed the bearer's shoulders to carry the brunt of the weight, keeping their hands free and the patient low – all of which helped to prevent further injury from explosions or attacks.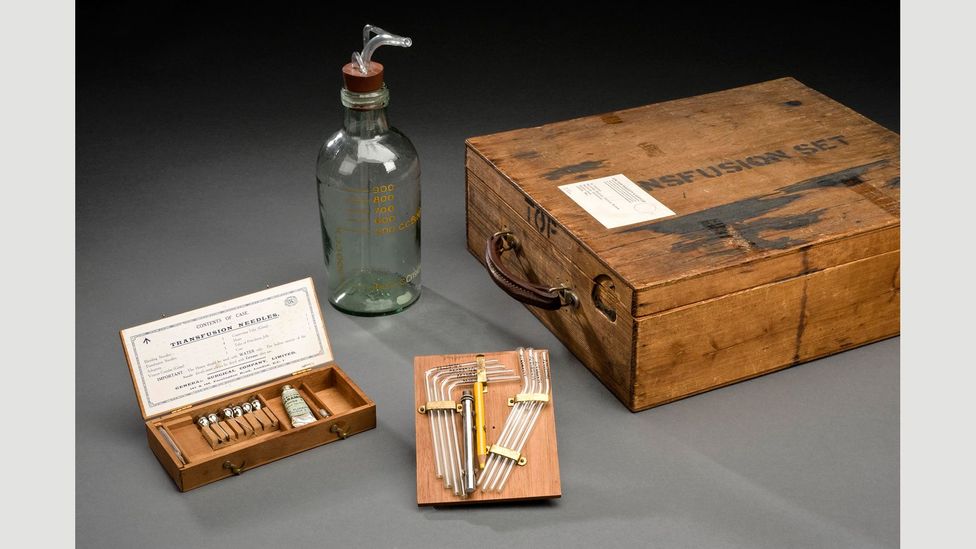 Robertson's blood transfusion kit, 1917-18 (Credit: Science Museum/SSPL)
Doctors had been experimenting with blood transfusion as early as Sir Christopher Wren – now better known for his architecture – who demonstrated the procedure on animals in 1665. In the 20th Century, medical professionals understood blood types and began to perform successful transfusions in humans. The massive amounts of blood loss seen in the casualties of WWI, however, required more dependable and faster techniques.
The invention of the apparatus shown here marks a watershed. Before the war, most blood transfusions required a direct person-to-person process, which was cumbersome and high-risk – not to mention difficult in the high-pressure situation of the front. The first major breakthrough, developed by Canadian Lawrence Bruce Robertson at the western front in 1917, allowed instead for blood to be removed with one needle, pumped through a bottle, and then out through another needle. But it was another Robertson, British-born American Oswald Hope Robertson, who pioneered the system pictured, which allowed not only for indirect transfusion, but for blood to be stored safely (on ice) for up to 26 days.
The Royal Army Medical Corps later called the development of safe blood transfusion techniques "the most important medical advance of the war."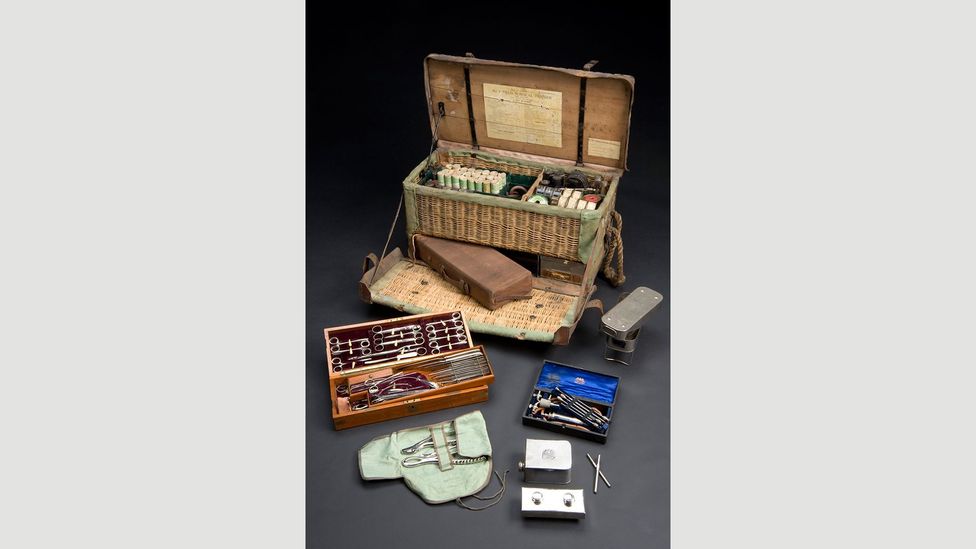 British field surgical pannier, 1914-16 (Credit: Science Museum/SSPL)
As part of their goal of getting as close to the injured as possible, and delivering treatment as quickly as possible, medical units on the front were given panniers like this one. They included instruments for surgery as well as other items meant for processes like caring for wounds, anaesthetising and sterilising.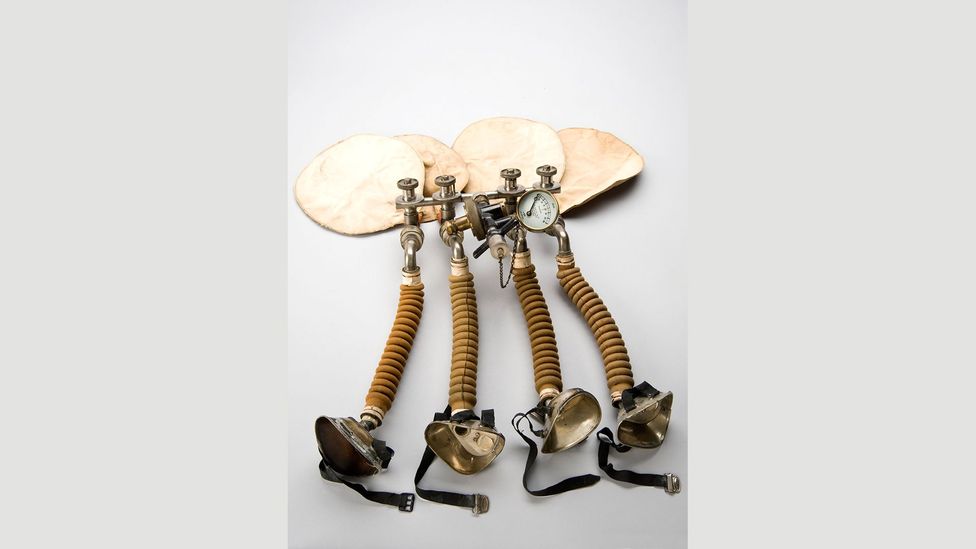 Oxygen therapy apparatus by John Haldane Scott, 1917-18 (Credit: Science Museum/SSPL)
Most of the medical innovations developed during WWI were in response to equally advanced military innovations. One such weapon was poison gas, used for the first time in a large-scale assault by the Germans in 1915. While already considered a war crime – poison or poison weapons were forbidden under both the Hague Declaration of 1899 and the 1907 Hague Convention – the use of gas was also, in some ways, a predictable result of a type of warfare that confounded commanders with how to attack beyond an entrenched front line.
But when Germans first used chlorine gas against the Allies in spring 1915, British medical personnel weren't prepared to respond to the new weapon, which destroyed a victim's lungs and respiratory system over a matter of hours. Shortly after the first attacks, scientist John Scott Haldane travelled to the front to research what the gases were and how to prevent their worst effects.
One of his inventions was this oxygen apparatus, which was based on the finding that increasing the blood's concentration of oxygen was one of the best way to work against the deadly gases as they damaged the lungs. It could treat four people simultaneously. The apparatus became a crucial innovation for the gas treatment units that were soon stationed near the front lines.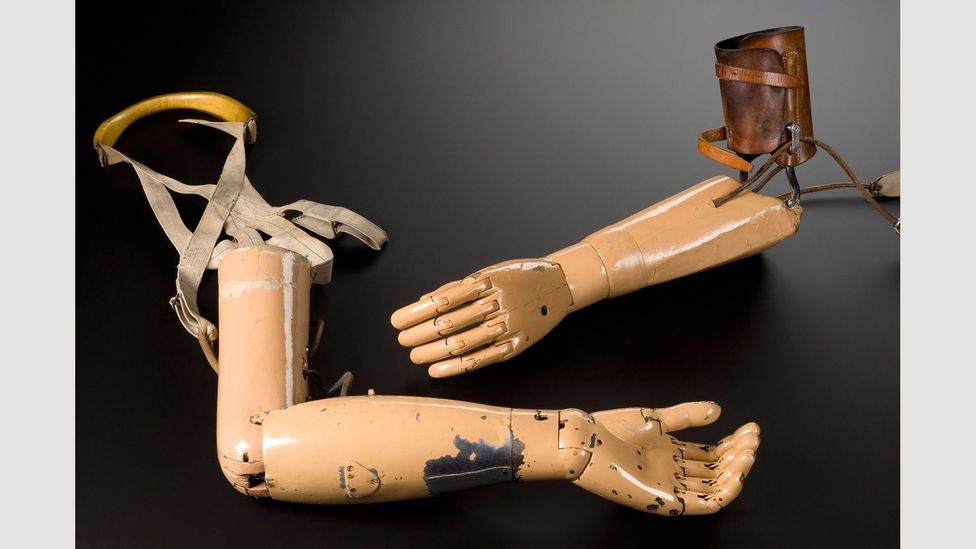 Artificial arms by Carne Artificial Arm Co, 1915 (Credit: Science Museum/SSPL)
One common casualty of the war was the loss of a limb. More than 10,000 British servicemen alone lost an arm. While all of them were entitled to receive replacements, some of these were considered of better quality than others: the one shown here, made by the Carne Artificial Limb Co. in the US, were especially coveted. They were nicknamed 'the officer's arm', since only officers, who were allowed to top up a set allowance, could afford them.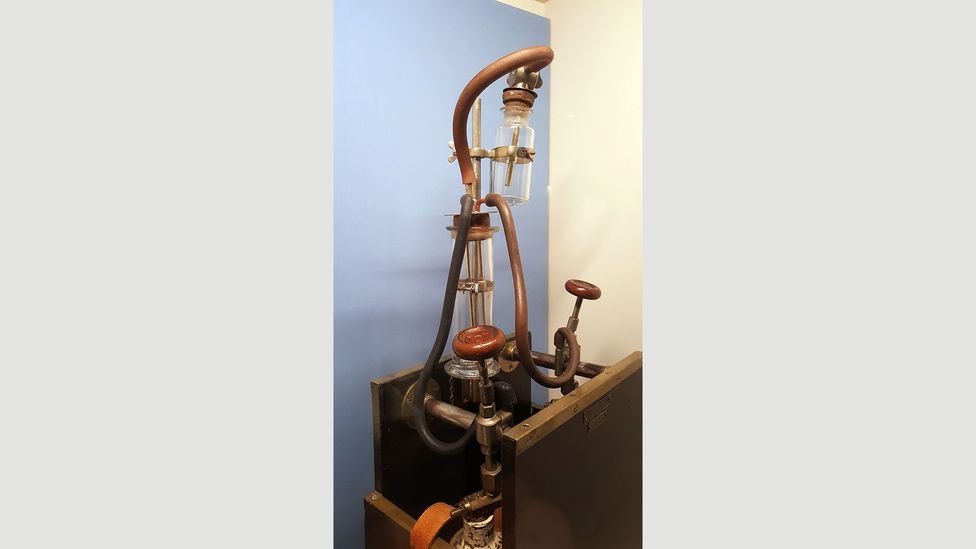 Boyle's apparatus, 1918 (Credit: Science Museum/SSPL)
A wound had to be debrided – removed of infected or damaged tissue – in order to recover. Although this had been done in the 18th Century, it fell out of favour by the early 20th Century, when doctors instead would sterilise it with a solution. The Belgian surgeon Antoine Depage called for debridement's return during the war, and it's still a key aspect of controlling infection in trauma medicine.
A patient had to be unconscious, however, to undergo the procedure, which led to developments in anaesthesia – like this apparatus, invented in 1917 by anaesthetist Henry Boyle. The first machine to provide a continuous, accurate flow of a mix of oxygen, nitrous oxide and ether, it has provided the basis for all anaesthesia machines to follow.
Artificial eyes (Credit: Science Museum)
Explosives, poison gases, bullets and even venereal diseases all could cause sight loss. While medical advancements of the time didn't allow for soldiers to rehabilitate their vision, they could at least provide artificial eyes. From December 1916 to August 1919, the Army Spectacle Depot provided more than 22,000 eyes to victims across Britain.
Correction: An earlier version of this story stated that that there were one million dead in the Battle of the Somme, with 57,000 British killed on the first day; these numbers instead referred to casualties, including both deaths and injuries. The copy has been updated.

This story is a part of BBC Britain – a series focused on exploring this extraordinary island, one story at a time. Readers outside of the UK can see every BBC Britain story by heading to the Britain homepage; you also can see our latest stories by following us on Facebook and Twitter.
Join 600,000+ Future fans by liking us on Facebook, or follow us on Twitter, Google+, LinkedIn and Instagram.
If you liked this story, sign up for the weekly bbc.com features newsletter, called "If You Only Read 6 Things This Week". A handpicked selection of stories from BBC Future, Earth, Culture, Capital, Travel and Autos, delivered to your inbox every Friday.