The success story of a beloved, cuddly Japanese character reveals more about human nature than you might realise. Neil Steinberg explores the science and cultural impact of cuteness.
O
On 14 April 2016, a 6.2 magnitude earthquake hit Japan's southernmost island of Kyushu, toppling buildings and sending residents rushing into the streets. Hundreds of aftershocks – one an even stronger 7.0 quake – continued for days, killing 49 people, injuring 1,500 and forcing tens of thousands from their homes.
News spread immediately around the globe on social media.
"Earthquake just happened," Margie Tam posted from Hong Kong. "R u ok kumamon?"
"Are Kumamon and his friends safe?" wondered Eric Tang, a college student.
"Pray for Kumamoto & Kumamon," wrote Ming Jang Lee from Thailand, a phrase that would be repeated thousands of times.
Kumamoto is a city of 700,000 in a largely agricultural province in south-western Japan.
But what, or more precisely who, is Kumamon? And why in the wake of an immense natural disaster did concern for earthquake victims focus on him, specifically?
That's a bit more complicated.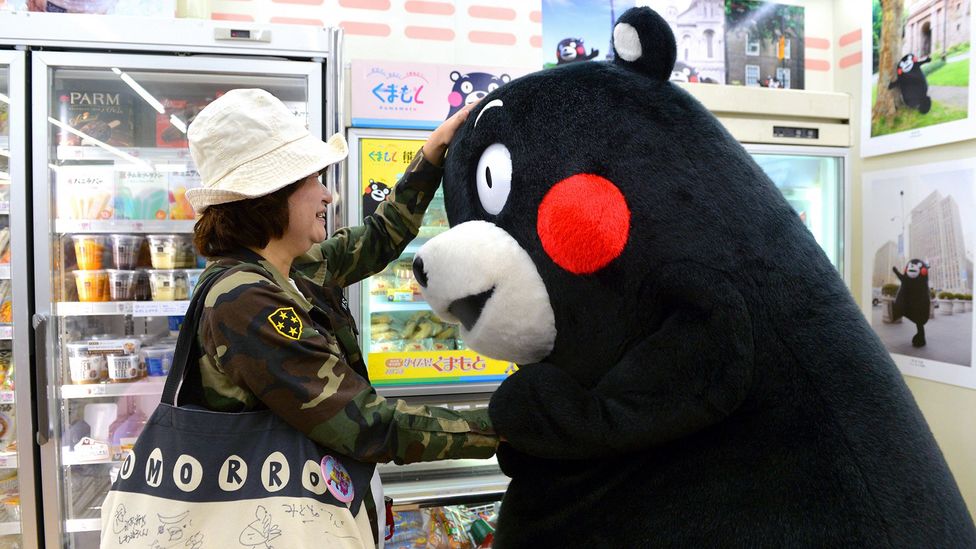 Kumamon is neither a cartoon character nor a brand icon (Credit: Getty Images)
It is 12 March 2016, one month before the earthquake. Kumamon bounds onto an outdoor stage at the opening event of his birthday party in Kumamoto. About 150 guests – mostly women – cheer, clap and whistle.
He has black glossy fur, circular red cheeks and wide, staring eyes
Kumamon waves and bows. He is about 1.5 metres (5ft) tall, with black glossy fur, circular red cheeks and wide, staring eyes. He's dressed for the occasion in a white satin dinner jacket trimmed in silver and a red bow tie.
One woman in the crowd holds a Kumamon doll swaddled in a baby blanket. Another has dressed her doll in a grey outfit matching her own. She says it took her a month to sew. A number of fans have pasted red paper circles on their cheeks to mimic his. Those in the first row arrived at 3am to snag their prime spots to greet the object of their intense though difficult-to-explain affection.
"Actually, I have no idea why I love him so much," says Milkinikio Mew, who flew from Hong Kong. She slept in, showing up at 6am for the 10am kick-off, so had to settle for a seat in the last row.
Kumamon is… well, he's not exactly a cartoon character, though he does appear in a daily newspaper comic strip. He's not a brand icon either, like Hello Kitty, though like her, he does not speak and, also like her, his image certainly moves merchandise.
He's not sexy, but when the Empress Michiko met Kumamon – at her request – during the imperial couple's visit to Kumamoto in 2013, she asked him: "Are you single?"
But what is Kumamon? Well, he's sort of a…
But first, the big moment is here. A birthday cake is rolled out, and the crowd sings 'Happy Birthday'. Then presents. A representative from Honda, which has a motorbike factory nearby, gives him its Kumamon-themed scooter. An Italian bicycle maker unveils a custom Kumamon racing cycle. Plus a new exercise DVD, on which Kumamon leads the workout.
Kumamon is a yuru-kyara, or 'loose character'
The Italian bicycle is not for sale, yet. But the other two items are, joining the more than 100,000 products that feature Kumamon's image, from stickers and notebooks to cars and aeroplanes (a budget Japanese airline flies a Kumamon 737). When Steiff offered 1,500 special edition Kumamon plush toys at $300 (£228) each, they sold out online in five seconds according to the German toymaker. Last year Leica created a $3,300 (£2,285) Kumamon camera, a bargain compared to the solid gold statue of Kumamon crafted by a Tokyo jeweller, which retails for $1m (£761,000).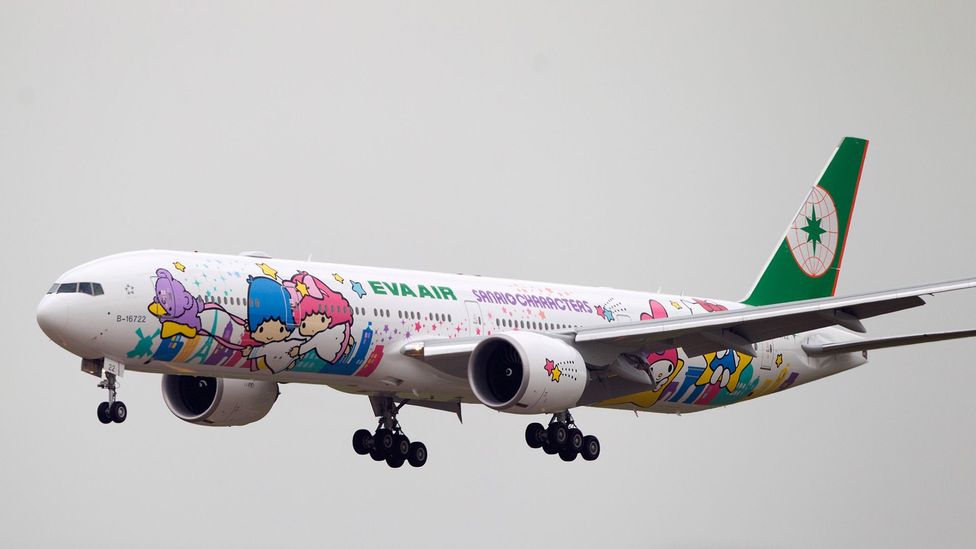 Cute characters adorn planes, and various other forms of transport (Credit: Getty Images)
So what is he then? Kumamon is a yuru-kyara, or 'loose character', one of the cuddly creatures in Japan that represent everything from towns and cities to airports and prisons. The word is sometimes translated as 'mascot', but yuru-kyara are significantly different from mascots in the West, such as those associated with professional sports teams, which tend to be benign, prankish one-dimensional court jesters that operate in the narrow realm of the sidelines during game time.
Kumamon has a far wider field of operation as the yuru-kyara for Kumamoto Prefecture (a prefecture is like a state in the US or a county in England). He has become more than a symbol for that region, more than merely a strategy to push its tourism and farm products. He is almost regarded as a living entity, a kind of funky ursine household god (it is perhaps significant that the very first licensed Kumamon product was a full-sized Buddhist shrine emblazoned with his face). He hovers in a realm of fantasy like a character from children's literature, a cross between the Cat in the Hat and a teddy bear.
Kumamon has personality. "Cute and naughty," Tam explains, later, when I ask what about Kumamon made her care about him enough to be concerned immediately after the earthquake.
She wasn't alone. After the April quake, Kumamon's Twitter feed, which has 494,000 followers and is typically updated at least three times a day, stopped issuing communications.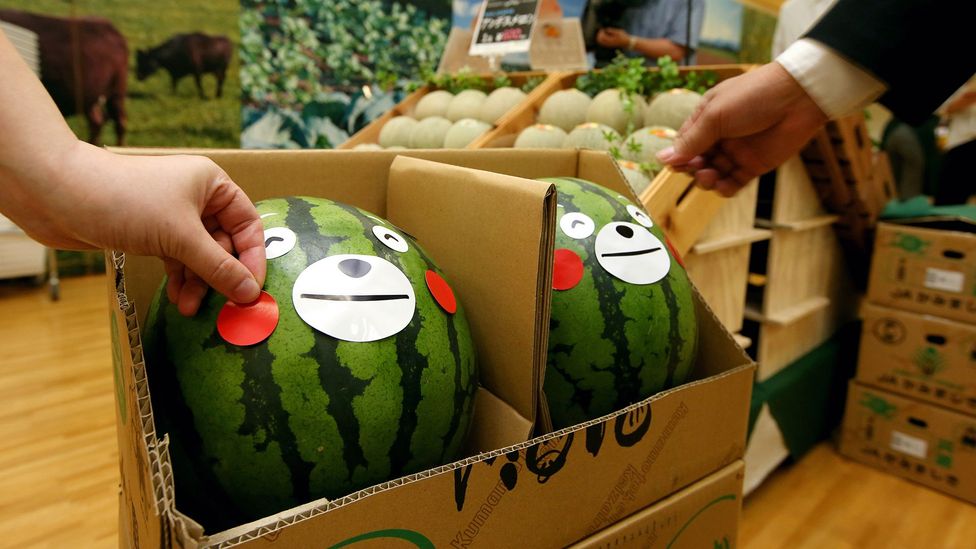 Go into a grocery store in some parts of Japan and Kumamon smiles from every fruit aisle (Credit: Getty Images)
"People are asking why Kumamon's Twitter account has gone silent when the prefecture needs its mascot bear more than ever," the Japan Times noted on its Facebook page on 19 April.
Into the vacuum came hundreds, then thousands of drawings, posted by everyone from children to professional manga artists, not only from Japan, but from Thailand, Hong Kong, China. They waged an impromptu campaign of drumming up support for earthquake relief using the bear. Kumamon was depicted leading the rescue efforts, his head bandaged, lifting stones to rebuild the tumbled walls of Kumamoto Castle, propping up tottering foundations, enfolding children in his arms.
"Ganbatte Kumamon!" many wrote, using a term that means something between 'don't give up' and 'do your best'.
Is appreciation for cuteness hardwired in human beings? What does it say about our society?
What is happening here? Kumamon is kawaii – the word is translated as 'cute', but it has broad, multi-layered meanings, encompassing a range of sweetly alluring images and behaviours. Not only does kawaii include the army of Japanese mascots, but a world of fashion that has adult women dressing as schoolgirls and schoolgirls dressing as goth heroines or Lolita seductresses, giving rise to ero-kawaii,or erotic kawaii, a mash-up of cute and sexy.
We eagerly spend fortunes on cute avatars – Kumamon earned $1bn (£761m) in 2015, Hello Kitty four or five times that – without ever wondering: what is cute? What about it causes us to open our wallets and our hearts? Is appreciation for cuteness hardwired in human beings? What does it say about our society? And where do our concepts of cuteness originate?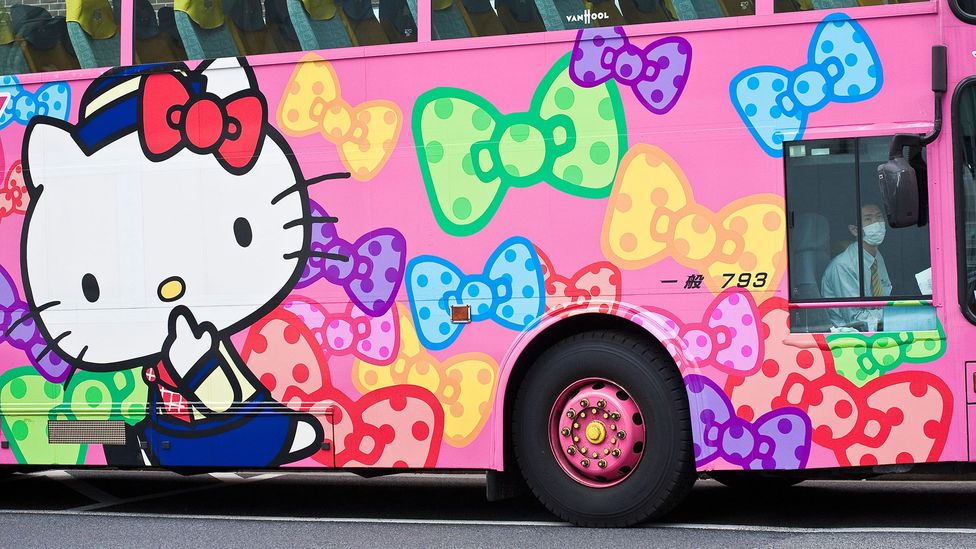 Today, about $5 billion worth of Hello Kitty merchandise is sold annually (Credit: Alamy)
Babies are our model for cuteness. The big cheeks and big eyes seen in many fictional cute characters are straight out of Konrad Lorenz's Kindchenschema, or 'baby schema', as defined in the Nobel Prize-winning scientist's 1943 paper on the 'innate releasing mechanisms' that prompt affection and nurture in human beings: fat cheeks, large eyes set low on the face, a high forehead, a small nose and jaw, and stubby arms and legs that move in a clumsy fashion. Not just humans: puppies, baby ducks and other young animals are covered by Lorenz's theory.
Lorenz's paper did not produce an immediate reaction among the scientific community. He was a Nazi psychologist writing during wartime, exploring their loathsome eugenic theories – a reminder that the shiny face of cuteness invariably conceals a thornier side.
For decades, scientists focused on what babies perceive, what they think. But in the 21st Century, attention turned to how babies themselves are perceived, as cuteness started taking its first wobbly steps toward becoming a cohesive realm of research.
Experiments have demonstrated that viewing cute faces improves concentration and hones fine motor skills – useful modifications for handling an infant. A pair of Yale studies suggest that when people say they want to 'eat up' babies, it's prompted by overwhelming emotions – caused, one researcher has speculated, by frustration at not being able to care for the cute thing, channelled into aggressiveness.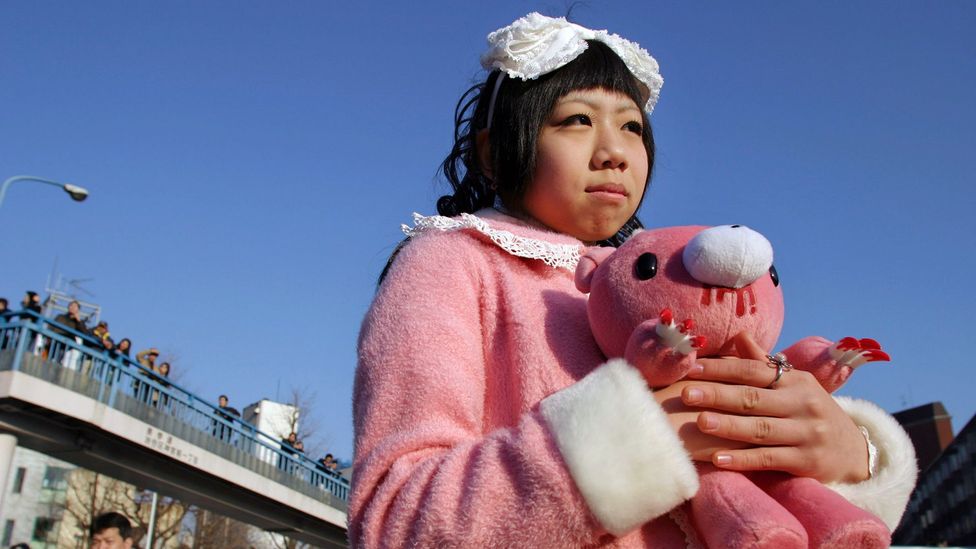 The sub-genre of kimo-kawaii, or 'gross-cute', is epitomised by Gloomy, a cuddly bear whose claws are red with the blood of his owner (Credit: Rex Features)
These emotions are triggered chemically, deep within the brain. Experiments hooking up volunteers to magnetic resonance imaging (MRI) scanners have shown how seeing cute creatures stimulates the brain's pleasure centre, the nucleus accumbens, causing a release of dopamine, in a way similar to what happens when eating chocolate or having sex.
Experiments have demonstrated that viewing cute faces improves concentration
Women appear to feel this reaction more strongly than men. While biologically this is explained by the need to care for infants, society's larger embrace of cuteness has led academics in gender studies to wonder whether cute culture is the sugar pill that sexism comes in – training women to be childlike – or whether it could instead be a form of empowerment in which young women take control of their own sexuality.
More recent experiments have tried to separate cuteness from its biological roots to see if there are general aesthetic standards that can make an inanimate object 'cute'.
In a study at the University of Michigan in 2012, visual information expert Sookyung Cho asked subjects "to design a cute rectangle by adjusting the size, proportion, roundness, rotation, and colour of the figure".
What she found supported the idea that "smallness, roundness, tiltedness, and lightness of colour can serve as determinants of perceived cuteness in artifact design". It mattered, she found, whether the person designing the rectangle was in the US or South Korea. Cuteness is nothing if not culturally specific, and that itself has become a rich focus of inquiry.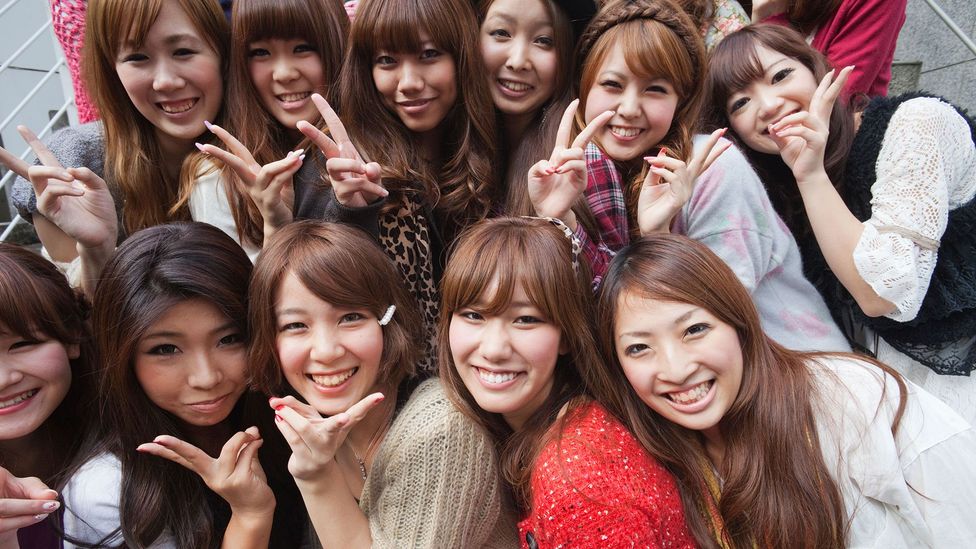 Some studies suggest that women appear to feel a reaction to cuteness more strongly than men (Credit: Alamy)
Cuteness is so associated with Japan that the actual country – mile after mile of unadorned concrete buildings alternating with rolling green fields and periodic densely packed cities – can come as something of a surprise. The Tokyo subway is jammed with hurrying businessmen in dark suits, rushing women in paper masks, racing kids in plain school uniforms. Cute characters such as Kumamon can be hard to spot, and to expect otherwise is like going to America and expecting everyone to be a cowboy.
Still, there are pockets of cuteness to be found: tiny yuru-kyara charms dangling off backpacks or peeking from posters or construction barriers in the form of baby ducks.
But not everywhere, not even in most places.
Six years ago, Kumamoto wasn't known for much – but that all changed…
Even in Kumamoto during Kumamon's birthday weekend. Exit from the Shinkansen bullet train at Kumamoto station and there is nothing special on the platform. Not so much as a banner. Not until you take the escalator down and catch a glimpse of the enormous head of Kumamon set up downstairs, along with a mock stationmaster's office built for him. The train station shop is filled with Kumamon items, from bottles of sake to stuffed animals including, somewhat disturbingly, a plush set that pairs him with Hello Kitty, the wide-eyed bear directly behind the kneeling kitty in such a way as to suggest… well, you wonder if it's deliberate.
In the city, his face is spread across the sides of an office building, with birthday banners hanging from the semi-enclosed shopping arcades that are a feature of every Japanese city.
Six years ago, Kumamoto wasn't known for much. There is an active volcano, Mt Aso, nearby, and a 1960s reproduction of a dramatic 1600s-era castle that burned down in 1877. Kumamoto residents believed there was nothing in their city that anyone would want to visit. The region is largely agricultural, growing melons and strawberries.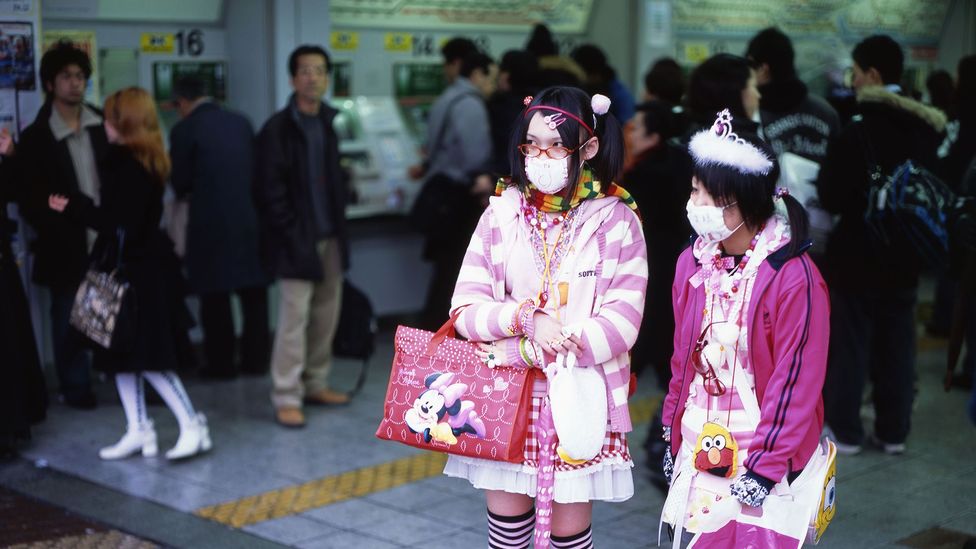 Anecdotally, some Japanese women say that they wear face-masks 'date masuku' – 'just for show' - in some cases because they don't consider themselves cute enough (Credit: Alamy)
But in 2010, Japan Railways was working to extend the Shinkansen bullet train to Kumamoto, and the city fathers were eager for tourists to use it. So they commissioned a logo to promote the area, hiring a designer who offered a stylised exclamation point (their official slogan, 'Kumamoto Surprise', was a bright spin on the fact that many Japanese would be surprised to find anything in Kumamoto worth seeing).
The exclamation point logo was a red blotch, resembling the sole of a shoe. The designer, seeking to embellish it, and knowing the popularity of yuru-kyara, added a surprised black bear. Kuma is Japanese for bear. Mon is local slang for 'man'.
Paired with a mischievous personality – Mew calls him "very naughty" – Kumamon made headlines after Kumamoto held a press conference to report that he was missing from his post, having run off to Osaka to urge residents there to take the train. The stunt worked. Kumamon was voted the most popular yuru-kyara in 2011. (Japan has a national contest, the Yuru-kyara Grand Prix, held in November. The most recent one was attended by 1,727 different mascots and nearly 77,000 spectators. Millions of votes were cast.)
A few Kumamoto officials resisted Kumamon – their concern was he would scare off potential tourists, who'd worry about encountering wild bears, of which there are none in the prefecture. But the Kumamoto governor was a fan and cannily waived licensing fees for Kumamon, encouraging manufacturers to use him royalty-free.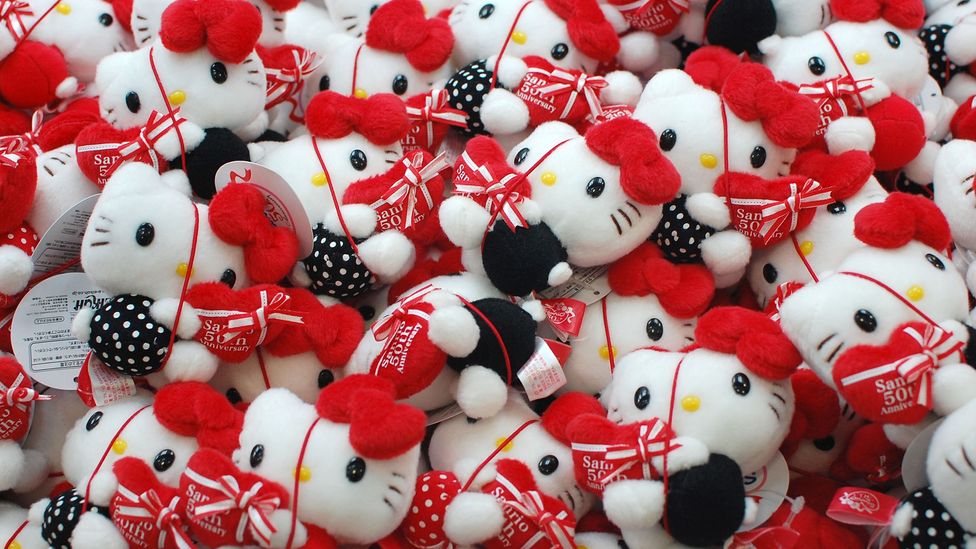 Hello Kitty's full name is Kitty White, and she has a family and lives in London (a fad for all things British hit Japan in the mid-1970s) (Credit: Alamy)
Rather than pay up front, in order to get approval to use the bear's image, companies are required to support Kumamoto, either by using locally manufactured parts or ingredients, or by promoting the area on their packaging. It's as if Mickey Mouse were continually hawking California oranges.
In 2014, Kumamon gave a news conference at the Foreign Correspondents' Club of Japan
The side of the box of the Tamiya radio-controlled 'Kumamon Version Buggy', for instance, has photos of the region's top tourist destinations. In one of the songs on the exercise DVD released on Kumamon's birthday, as he leads his fans through their exertions, they grunt, "Toh-MAY-toes… straw-BEAR-ies… wah-TER-melons" – all agricultural products that are specialties of Kumamoto. Go into a grocery store and Kumamon smiles from every punnet of strawberries and honeydew wrapper.
The bullet train began service to Kumamoto on 12 March, so the date is now used as Kumamon's official birthday. He was there to greet the first scheduled train, a moment recreated during his birthday fest.
Fans line up to hug him, often reaching back for a lingering last touch as they're led off to make way for the next waiting fan. There is a tacit agreement to never allude to anything as crass as him being a man in a bear suit, to, if not accept Kumamon's reality, pretend that he exists.
In 2014, Kumamon gave a news conference at the Foreign Correspondents' Club of Japan, where his title was given as 'Director of PR'. The journalists posed respectful questions. "How many staff do you have, to help you out with your activities?" one asked. The answer – "we have about 20 staff members in our section" – was delivered by one of those subordinates, Masataka Naruo, who enjoys telling people that Kumamon is his boss.
Being cute isn't always enough, however.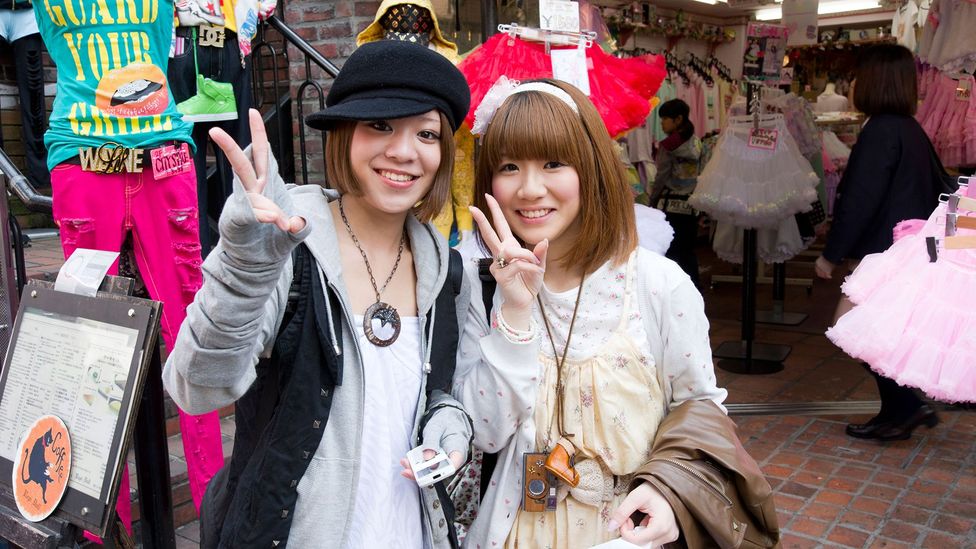 Japan has uniquely embraced cuteness as a reflection of its national character (Credit: Alamy)
For every Kumamon, for every popular yuru-kyara, there are a hundred Harajuku Miccolos. A 5ft-tall yellow-and-brown bee, Harajuku Miccolo stands on the pavement, celebrating Honey Bee Day by finishing up three hours of loitering in front of the Colombin Bakery and Cafe, greeting passers-by – or trying to. Most barely glance in his direction and do not break stride, though some do come over and happily pose for the inevitable picture. There is no line.
Harajuku Miccolo is cute yet obscure, the common fate for most yuru-kyara. The city of Osaka has 45 different characters promoting its various aspects, who must fend off periodic calls for them to be culled in the name of efficiency; one administrator piteously argued that the government officials who create these characters work hard on them and so would feel bad if they were discontinued.
Harajuku Miccolo is trying to avoid that fate.
"He is not a success yet," admits one of his handlers, distributing cubes of the café's trademark honey cake. "Many are not as successful…"
"…as Kumamon?"
"We're trying…"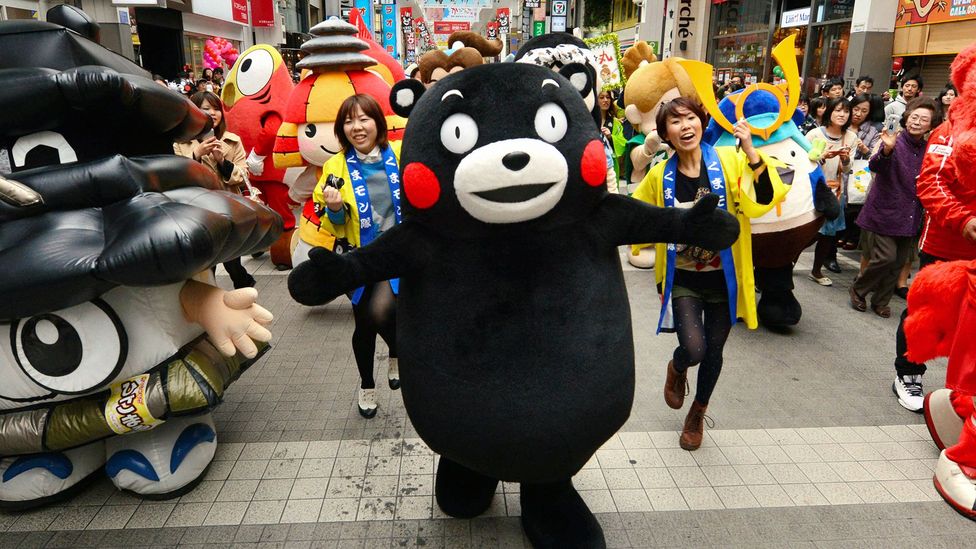 Meet Kumamon (Credit: Getty Images)
Humanity has always embraced household gods: not the world-creating universal deity, but minor, more personal allies to soften what can be a harsh and lonely life. Not everyone has the friends they deserve or the baby they'd cherish. Often people of both sexes are alone in the world.
Teddy bears exist because the night is dark and long and at some point your parents have to go to bed and leave you. There is real comfort in cuteness.
It fills an emotional need, writes Christine R Yano, a professor of anthropology at the University of Hawaii at Manoa and the author of Pink Globalization: Hello Kitty's trek across the Pacific.
Cuteness fills an emotional need; there's a real comfort
"Even in America, journalist Nicholas Kristof has written of an 'empathy gap' in today's society," states Yano. "He points to the place of objects that may be considered promoters of 'happiness', 'solace', 'comfort'. When a society needs to heal, it seeks comfort in the familiar. And often the familiar may reside in 'cute'. Witness the use of teddy bears as sources of comfort for firefighters in the wake of NYC's 9-11."
Kumamon is a power station of empathy generation. In the weeks after the Kumamoto earthquake, Kumamon was so necessary that in his absence his fans simply conjured him up themselves, independently, as an object of sympathy, a tireless saviour, an obvious hero.
Three weeks after the 14 April earthquake, Kumamon visited the convention hall of the hard-hit town of Mashiki, where residents were still sleeping in their cars for protection as 1,200 tremors continued to rumble across the area. The visit was reported on TV and in the papers as news, as if a long-sought survivor had stumbled out of the wreckage alive.
The children, many of whom had lost their homes in the earthquake, flocked around him, squealing, hugging, taking pictures. Their friend had returned.
Join 600,000+ Future fans by liking us on Facebook, or follow us onTwitter,Google+,LinkedInandInstagram.
If you liked this story, sign up for the weekly bbc.com features newsletter, called "If You Only Read 6 Things This Week". A handpicked selection of stories from BBC Future, Earth, Culture, Capital, Travel and Autos, delivered to your inbox every Friday.