We may soon be able to edit people's DNA to cure diseases like cancer, but will this lead to designer babies? If so, bioethicist G Owen Schaefer argues that China will lead the way.
W
Would you want to alter your future children's genes to make them smarter, stronger or better-looking? As the state of the science brings prospects like these closer to reality, an international debate has been raging over the ethics of enhancing human capacities with biotechnologies such as so-called smart pills, brain implants and gene editing. This discussion has only intensified in the past year with the advent of the CRISPR-cas9 gene editing tool, which raises the specter of tinkering with our DNA to improve traits like intelligence, athleticism and even moral reasoning.
So are we on the brink of a brave new world of genetically enhanced humanity? Perhaps. And there's an interesting wrinkle: It's reasonable to believe that any seismic shift toward genetic enhancement will not be centered in Western countries like the US or the UK, where many modern technologies are pioneered. Instead, genetic enhancement is more likely to emerge out of China.
A recent study of 4,726 Americans found that most would not want to use a brain chip to improve their memory
Numerous surveys among Western populations have found significant opposition to many forms of human enhancement. For example, a recent Pew study of 4,726 Americans found that most would not want to use a brain chip to improve their memory, and a plurality view such interventions as morally unacceptable.
Designer babies
A broader review of public opinion studies found significant opposition in countries like Germany, the U.S. and the U.K. to selecting the best embryos for implantation based on nonmedical traits like appearance or intelligence. There is even less support for editing genes directly to improve traits in so-called designer babies.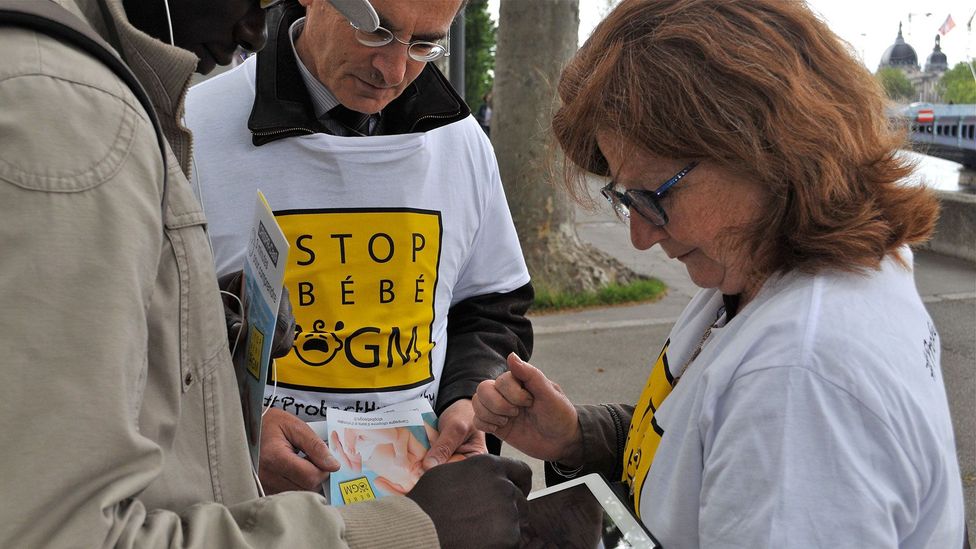 Gene editing techniques such as CRISPR has provoked protests in the West as activists fear that parents will be able to create "designer babiers" (Credit: Getty Images)
Opposition to enhancement, especially genetic enhancement, has several sources. The above-mentioned Pew poll found that safety is a big concern – in line with experts who say that tinkering with the human genome carries significant risks. These risks may be accepted when treating medical conditions, but less so for enhancing nonmedical traits like intelligence and appearance. At the same time, ethical objections often arise. Scientists can be seen as "playing God" and tampering with nature. There are also worries about inequality, creating a new generation of enhanced individuals who are heavily advantaged over others. Brave New World is a dystopia, after all.
In China, there are more generally approving attitudes toward old-fashioned eugenics programs
However, those studies have focused on Western attitudes. There has been much less polling in non-Western countries. There is some evidence that in Japan there is similar opposition to enhancement as in the West. Other countries, such as China and India, are more positive toward enhancement. In China, this may be linked to more generally approving attitudes toward old-fashioned eugenics programs such as selective abortion of fetuses with severe genetic disorders, though more research is needed to fully explain the difference. This has led Darryl Macer of the Eubios Ethics Institute to posit that Asia will be at the forefront of expansion of human enhancement.
In the meantime, the biggest barrier to genetic enhancement will be broader statutes banning gene editing. A recent study found bans on germline genetic modification – that is, those that are passed on to descendants – are in effect throughout Europe, Canada and Australia. China, India and other non-Western countries, however, have laxer regulatory regimes – restrictions, if they exist, are often in the form of guidelines rather than statutes.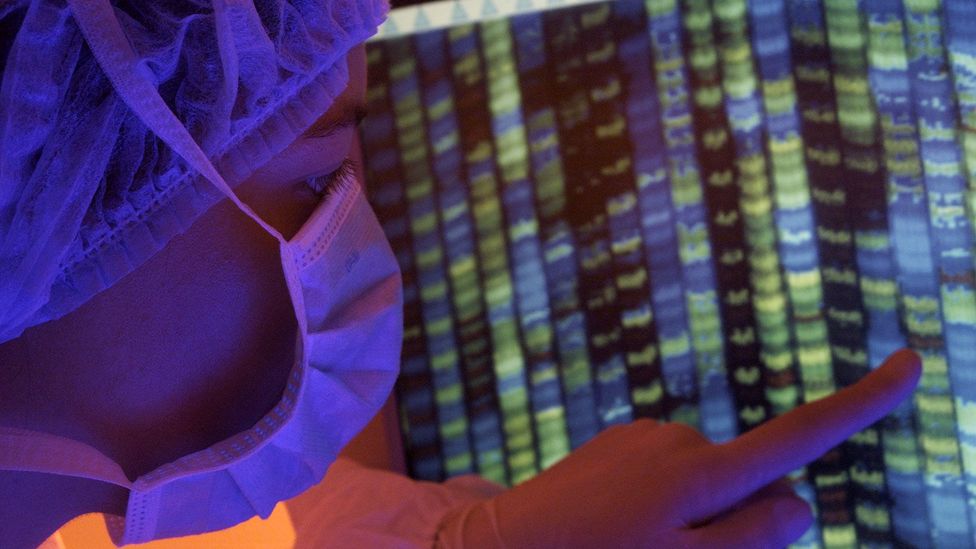 It is now possible to identify the genes that make someone smarter, physically fitter - or more violent (Credit: Science Photo Library)
The US may appear to be an exception to this trend. It lacks legal restriction of gene editing; however, federal funding of germline gene editing research is prohibited. Because most geneticists rely on government grants for their research, this acts as a significant restriction on germline editing studies.
By contrast, it was Chinese government funding that led China to be the first to edit the genes of human embryos using the CRISPR-cas9 tool in 2015. China has also been leading the way in using CRISPR-cas9 for non-germline genetic modifications of human tissue cells for use in treatment of cancer patients.
There are, then, two primary factors contributing to emergence of genetic enhancement technologies – research to develop the technologies and popular opinion to support their deployment. In both areas, Western countries are well behind China.
A further, more political factor may be at play. Western democracies are, by design, sensitive to popular opinion. Elected politicians will be less likely to fund controversial projects, and more likely to restrict them. By contrast, countries like China that lack direct democratic systems are thereby less sensitive to opinion, and officials can play an outsize role in shaping public opinion to align with government priorities. This would include residual opposition to human enhancement, even if it were present. International norms are arguably emerging against genetic enhancement, but in other arenas China has proven willing to reject international norms in order to promote its own interests.
Some genes may have an effect on violent tendencies, suggesting genetic engineering could reduce crime rates
Indeed, if we set ethical and safety objections aside, genetic enhancement has the potential to bring about significant national advantages. Even marginal increases in intelligence via gene editing could have significant effects on a nation's economic growth. Certain genes could give some athletes an edge in intense international competitions. Other genes may have an effect on violent tendencies, suggesting genetic engineering could reduce crime rates.
Many of these potential benefits of enhancement are speculative, but as research advances they may move into the realm of reality. If further studies bear out the reliability of gene editing in improving such traits, China is well-poised to become a leader in the area of human enhancement.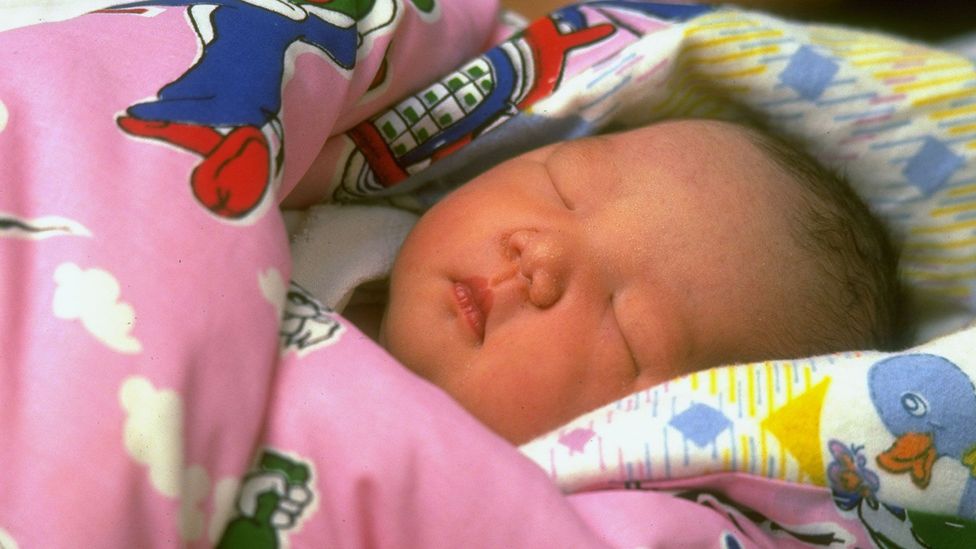 For good or for ill, China is set to lead the way for human enhancement (Credit: Getty Images)

Aside from a preoccupation with being the best in everything, is there reason for Westerners to be concerned by the likelihood that genetic enhancement is apt to emerge out of China?

If the critics are correct that human enhancement is unethical, dangerous or both, then yes, emergence in China would be worrying. From this critical perspective, the Chinese people would be subject to an unethical and dangerous intervention – a cause for international concern. Given China's human rights record in other areas, it is questionable whether international pressure would have much effect. In turn, enhancement of its population may make China more competitive on the world stage. An unenviable dilemma for opponents of enhancement could emerge – fail to enhance and fall behind, or enhance and suffer the moral and physical consequences.

Conversely, if one believes that human enhancement is actually desirable, this trend should be welcomed. As Western governments hem and haw, delaying development of potentially great advances for humanity, China leads the way forward. Their increased competitiveness, in turn, would pressure Western countries to relax restrictions and thereby allow humanity as a whole to progress – becoming healthier, more productive and generally capable.

Either way, this trend is an important development. We will see if it is sustained – public opinion in the US and other countries could shift, or funding could dry up in China. But for now, it appears that China holds the future of genetic enhancement in its hands.

--

This article originally appeared on The Conversation, and is republished under a Creative Commons licence. G. Owen Schaefer is a research fellow in biomedical ethics at the National University of Singapore

Join 600,000+ Future fans by liking us on Facebook, or follow us on Twitter, Google+, LinkedIn and Instagram

If you liked this story, sign up for the weekly bbc.com features newsletter, called "If You Only Read 6 Things This Week". A handpicked selection of stories from BBC Future, Earth, Culture, Capital, Travel and Autos, delivered to your inbox every Friday.

;