The North Sea's oil wells are starting to run dry. So how do we pull them up? It's a massively complex task, writes Paul Marks.
T
They sound like the kind of arsenal controlled by a Bond villain – twin-hulled megaships, underwater lasers, robot submarines and diamond saws.
But they are, in fact, the kind of tools that engineers will need to dispose of hundreds of the soon-to-be-derelict oil and gas platforms littering the North Sea.
While clean, green offshore wind farms increasingly begin to populate the North Sea – there are now 3,000 of them there – the area's once-mighty oil and gas platforms, which helped fuel Europe's economy for the best part of 40 years, are facing an ignominious end in the breaker's yards. But getting them there is going to be hellishly difficult.
At issue is the fact that North Sea hydrocarbon reserves are depleting, and many hundreds of oil and gas rigs are approaching the end of their productive lives. And the emptier their wells get, the more the rigs cost to keep running, says Richard Neilson, a physicist specialising in offshore technologies at the University of Aberdeen.
The platforms can weigh more than 50 London Eyes - and have to be dismantled while at sea (Credit: Getty Images)
Helping fuel this downward economic spiral is the enduringly low oil price, which now has one-third of oil fields operating at a loss. Add in the uncertainties following Britain's vote to leave the EU, and the result, says business newswire Bloomberg, is a slump that is fuelling a rash of North Sea platform shutdowns.
But there's just one problem: rigs cannot just be shut down.
The rig's support structure has to be completely removed if it weighs less than 10,000 tonnes
Under a 15-nation protocol called the Convention for the Protection of the Marine Environment of the North East Atlantic, known simply as Ospar, which came into force in March 1998, offshore platforms cannot be disposed of at sea or simply be left to rust and fall to pieces, as they risk damaging fragile marine ecosystems.
Ospar's measures are largely the result of a spat between Shell and Greenpeace after the pressure group occupied Shell's Brent Spar – a floating oil storage buoy at which tankers would load up on crude – to stop it being sunk and disposed of at sea in 1995. "The legislation that came into effect after Brent Spar is what drives North Sea decommissioning," says Neilson.
Ospar demands the massive superstructure of a platform has to somehow be removed and returned to shore for recycling. This "topside" includes the entire working core of the oil or gas rig, the drilling, production and processing modules, the helicopter deck and the accommodation for the crew.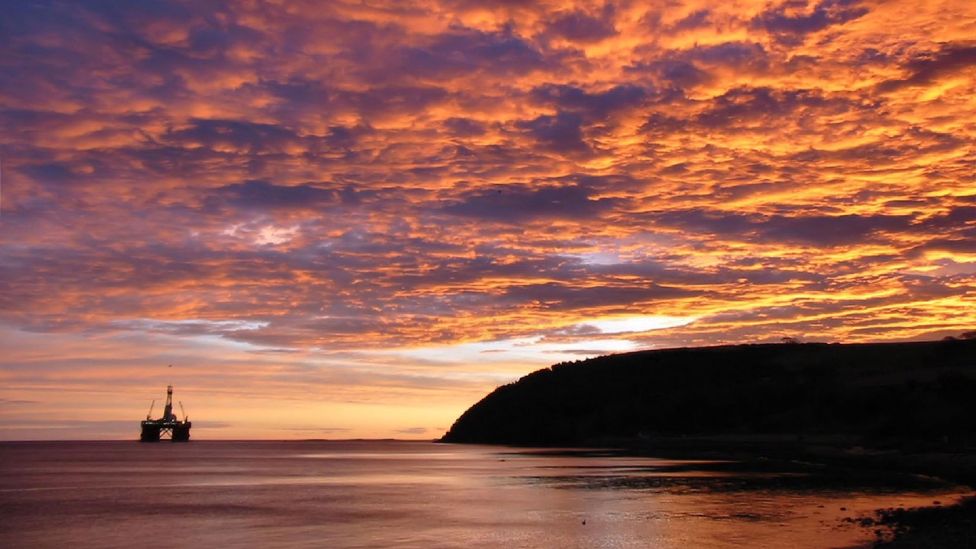 Disposing of an sea-based oil rig is a particularly challenging job for engineers (Credit: Getty Images)
Next, the rig's subsea support structure has to be dealt with. This can be either an ultra-heavy "gravity-based" concrete foundation that may include concrete oil storage cells. Or it could comprise a substructure of massive steel legs and a braced steel frame – a combination dubbed the "jacket".
The rig's support structure has to be completely removed if it weighs less than 10,000 tonnes – but if the platform is heavier, and was built before 1999 before removal was considered part of rig designs, oil and gas companies can try and make what's called a "derogation" case allowing them to leave much of it in place.
Because they are built to withstand hurricane force winds and the most turbulent of high seas, however, there is nothing remotely simple about breaking up and removing an offshore platform. Doing so at the required scale will require a panoply of technologies over the next couple of decades, some of which have yet to be invented.
Our structures weigh 300,000 tonnes, the same as the Empire State Building – Duncan Manning, Shell 
And that scale is profound: there are currently 470 oil or gas rigs and 3,000 pipelines in need of decommissioning – and 5,000 wells that need plugging with cement to depths of thousands of metres. The topsides weigh typically in the tens of thousands of tonnes – with, for example, Shell's Brent Delta platform's topside weighing in at a cool 24,000 tonnes.
To get across the scale of the problem the industry likes comparisons with buildings. The removal of nine Norwegian rigs from the Ekofisk field, for instance, involves removal of 113,500 tonnes of steel – "equivalent to the weight of 54 London Eyes", says the Royal Academy of Engineering. However, that pales compared to just one of Shell's concrete-legged structures in the Brent field. "Our structures weigh 300,000 tonnes, the same as the Empire State Building," says Duncan Manning, decommissioning manager for Royal Dutch Shell's Brent field.
The first job highly unglamorous job in the decommissioning process, says Manning, is to plug the well. "To do that, the platform mills out the steel casing in the well tube so that there is a rock-to-rock barrier that prevents any hydrocarbon leakage when the cement hardens," he says.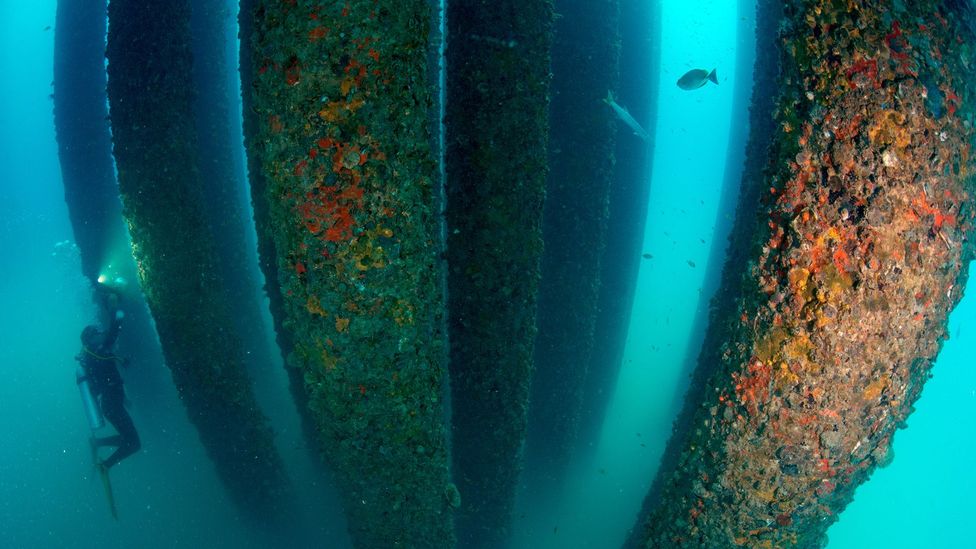 The rigs' bulk descends far below the surface, making break-up difficult (Credit: Getty Images)
If there is no rig currently above a well, because the rig has moved on to another more productive one, a mobile drilling platform called a 'jack-up rig' is parked over it to do the job. It's pricey though: using a jack-up rig doubles the cost of plugging the well.
Then there are three major ways to remove the heavyweight topsides. The first is a method the industry dubs "piece small" in which the rig's own crane plucks the superstructure apart, dropping the scrap metal on a barge that takes the pieces to a shore-based recycling centre.
"The second method is called reverse install," says Manning – which, as its name suggests, is a backward rig building process. "Rather than take off small bits of at a time you take off larger modules with a very large floating crane moored next to the platform. You then float those complete modules on a much bigger barge to recycling."
What seems to be happening is that oil and gas companies are being allowed to leave the ultra-heavy concrete structures on the seabed
The third method, which Shell will be using on its Brent Delta platform, should be a quite a spectacle: the whole 24,000 tonne topside is to be removed in a single lift operation using a specially-designed series of cranes placed between the bows of a giant catamaran – effectively two oil tankers welded together, so that one bow can come alongside each side of a rig (shown in a video here). Once the rig is in the slot between the bows, the crane's lifting arms slide beneath the topside and snatch it off. At least, that's the theory.
The huge vessel, weighing just under a million tonnes and almost half a kilometre long, was built in South Korea for Dutch offshore vessel operator Allseas Group. Now called Pioneering Spirit, after its name was changed from that of Nazi war criminal Pieter Schelte, it allows some 97% of the topside to be recycled. "You have to weigh up the cost of this method versus the cost of having an enormous crane offshore," says Manning.
Once that megaship has taken the topside off, the gravity structure and/or the full metal jacket has to be dealt with. What seems to be happening is that oil and gas companies are being allowed to leave the ultra-heavy concrete structures on the seabed while getting rid of most of the metalwork above it, at least to a depth whereby ships can pass over it unhindered.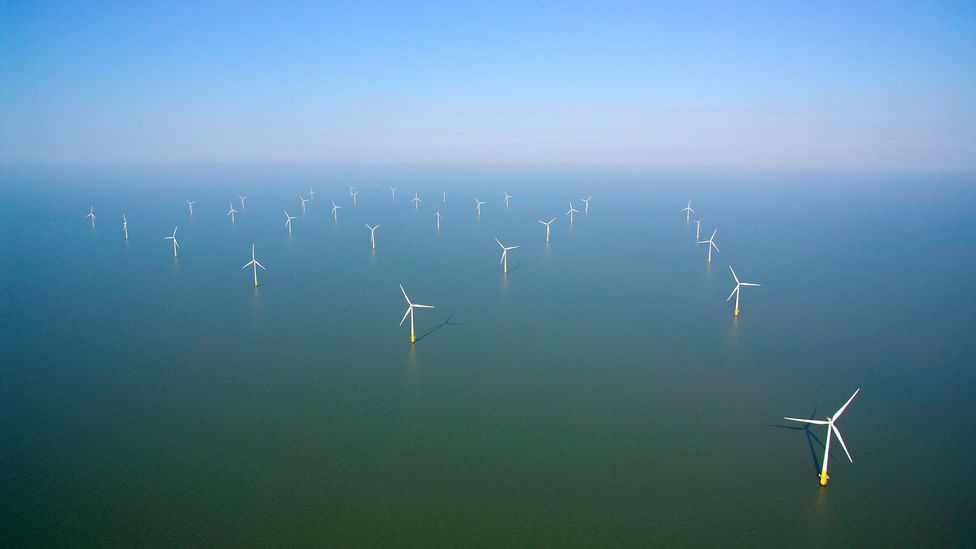 Wind turbines will one day have to be dismantled aswell (Credit: Getty Images)
That's what happened in BP's North West Hutton field. "Once BP had removed the topsides there they cut the jacket up and cut down to the level of the concrete piles in the seabed, which they were allowed to leave," says Neilson. Shell is hoping to do the same with its three gravity structures in the Brent field.
It's in the underwater environment that many subsea cutting technologies come into play, using abrasive water jets, hydraulic shears and diamond saws, optionally attached to robot submarines, or remotely operated vehicles (ROVs).
A diamond saw comprises a wire coated in ultra-hard industrial diamond crystals and it runs between a series of spools. "It's very like hack sawing but it can cope with very large cuts," says Neilson. The diamond saw is also used to sever the steel legs from the topside – but to do that it has to make cuts in a castellated profile, like on a castle battlement – so that the topside does not slip off sideways once all the cuts are made but before the crane can lift it.
Against all other cutting methods, lasers promise less-unwieldy, smaller, lighter and less power-hungry methods
For the future, better, faster techniques are going to be needed if the North Sea is ever to be cleared. Neilson's group at the University of Aberdeen, alongside Peter Gledhill of local firm Deep Ocean Limited, are working on perfecting faster, more efficient laser-cutting techniques for subsea structures.
One of their ideas is to make use of fibre lasers – which allow many optical fibres carrying laser light to be grouped together to achieve the desired level of cutting power. "It has some huge advantages over other techniques," says Neilson. "You can put three to four kilowatts of power down a single 0.2-millimetre wide fibre. You can cut quite a lot with that."
Against all other cutting methods, lasers promise less-unwieldy, smaller, lighter and less power-hungry methods, Neilson adds. But for now it is a research idea. At Shell, Manning says, lasers have also been considered.
Once the North Sea's rigs are history, however, the tools used to deal with them may find a new target: those offshore wind turbines. Ospar covers any "human activity that might adversely affect" the North Sea's marine environment, and so they too will one day reach their end of their service lifetimes and need recycling.
"Somebody will need to look at it," says Neilson. "Anything that is put in needs to be taken out."
Join 600,000+ Future fans by liking us on Facebook, or follow us on Twitter, Google+, LinkedIn and Instagram.
If you liked this story, sign up for the weekly bbc.com features newsletter, called "If You Only Read 6 Things This Week". A handpicked selection of stories from BBC Future, Earth, Culture, Capital, Travel and Autos, delivered to your inbox every Friday.