BBC Future spent two days with the Duke of Cambridge and the medics who he flies to some of Britain's worst emergencies – and discovered what working on the base is really like.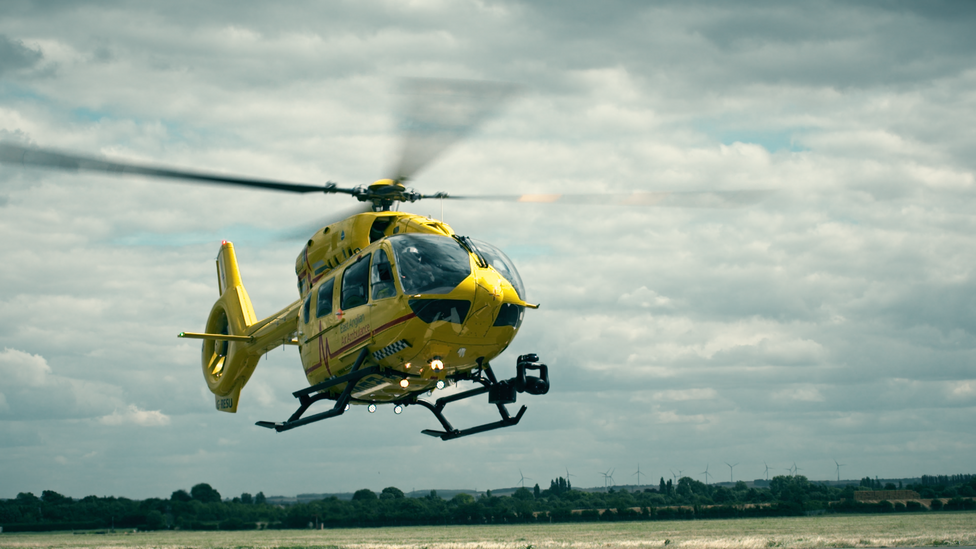 I look forward to coming here every day, whether it's 5:30am or going to bed at 2am. The shift work is exciting… And the fact that I love working in a team. That's something that my other job doesn't necessarily do. – Prince William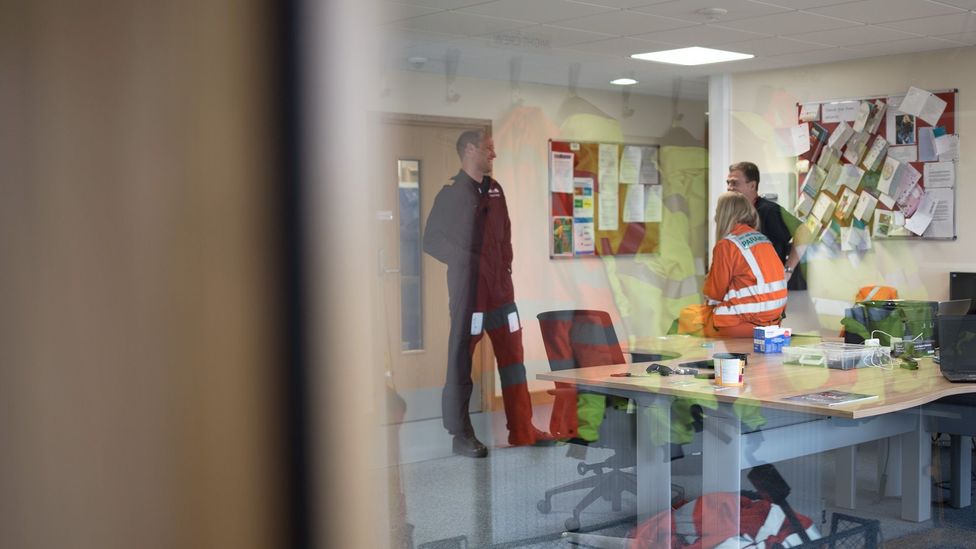 (Credit: Olivia Howitt/BBC Future)
Discover an inside view of the East Anglian Air Ambulance and the Duke of Cambridge's role, including:
The banter and teasing that brings them together (and how no-one on the team is exempt)
How the team reacted to William starting the job… and what it's like working together now
The adrenaline-pumping moment the phone rings – and what happens in the four minutes between the call and lift-off
The intricate, fast-paced work that begins when the helicopter lands at an emergency
How both the medics and pilots cope with the challenge of seeing serious trauma day in, day out
The story of the road accident they thought no-one could survive
The unique difficulties of saving a patient's life in flight
What patients really think about being picked up by the future king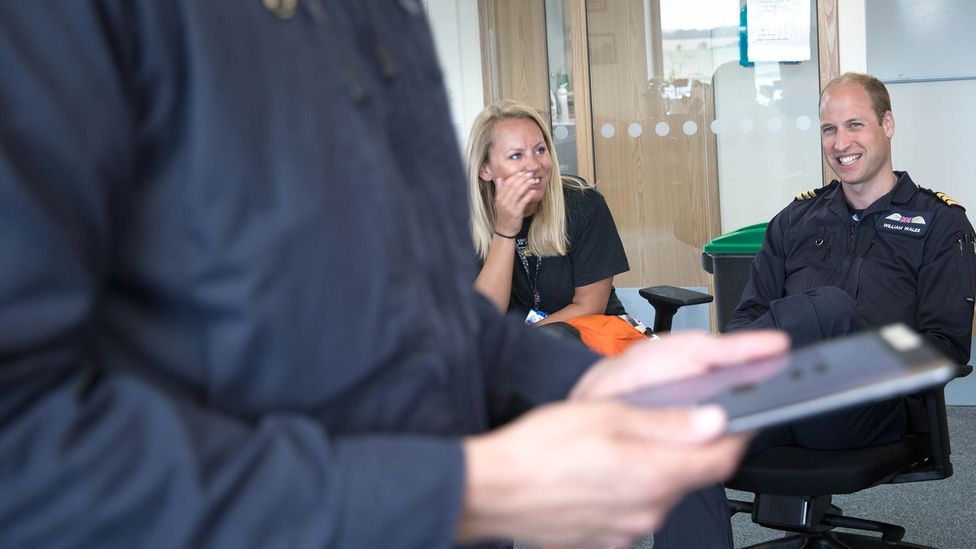 (Credit: Olivia Howitt/BBC Future)
You can learn a lot about someone from how they take their coffee. For the pilots and medics at the East Anglian Air Ambulance base, it's filtered, frequent and poured into coffee mugs personalised with nicknames. The most famous pilot's moniker? "Will.I.Am".
This might not be the usual name associated with Prince William, Duke of Cambridge, but this isn't a usual work environment. Flying a fast-response helicopter to emergencies is a job of extremes: in order to perform in the most stressful moments, the team must foster close camaraderie, support and familiarity in the quieter ones. Any formalities would only get in the way. "When I put my air ambulance hat on, and I come here and I fly, I'm one of the team," says William. Off base, he will always be the future king. But on base – where his flight-suit badge reads "William Wales" – he's a pilot.
Between calls, the duke and his colleagues not only prep, train and debrief; they chat, share parenting tips, and trade playful insults. It means when those emergency calls come in, they have a close understanding of each other's roles and personalities – and that this group of talented, highly trained professionals can mobilise fast to save lives.
Air Ambulance - Waiting Games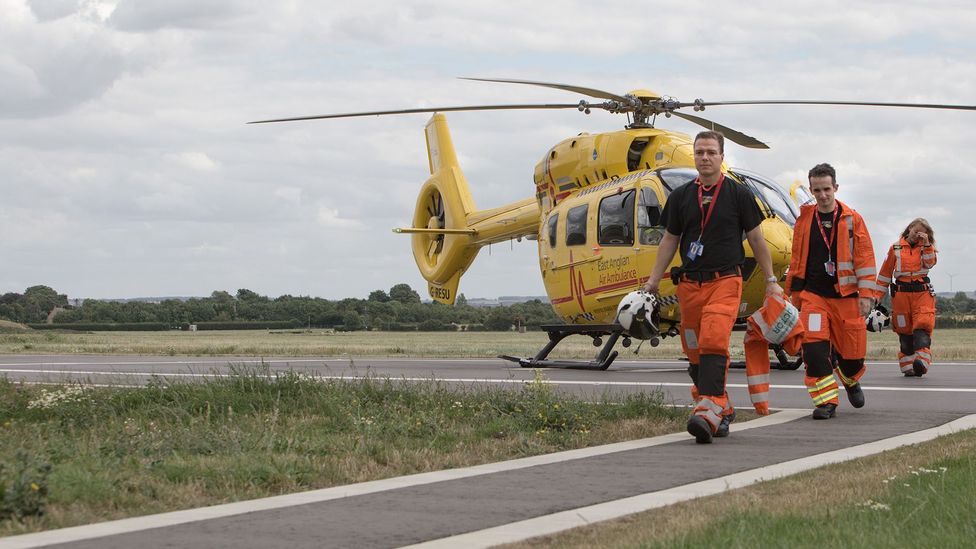 (Credit: Olivia Howitt/BBC Future)
The first emergency call comes in just after lunch. Until now, it's been a quiet morning at the EAAA base in Cambridge: readying the aircraft, checking medical kit, briefing the team, waiting.
But when the red phone rings, the blare loud enough to be heard across each of the office's two storeys, the conversations and coffee cups are abandoned. A medic answers the phone and scribbles notes on the purpose-made plastic sewn into his trousers. One of the co-pilots – the Duke of Cambridge – strides out the door, starting the aircraft. Three minutes later, the helicopter, nicknamed 'Anglia Two', rises into the air with two medics on board.
This particular incident doesn't turn out to be much: Anglia Two returns 45 minutes later. But it's only Monday. This week, like so many others, brings one trauma after another. A car that rolls over in Ely, imprisoning a passenger inside. A woman who falls from a building in Suffolk. A Land Rover struck by a train in Stretham. A teenager thrown from her horse during a race.
For the most part, these cases are the worst of the worst. Of the 2,000-plus ambulance calls per day in East Anglia, the prince and medical team are tasked with responding to just 1%. Still, that adds up: in the last year, the EAAA's two helicopters have flown 1,507 missions.
"What this aircraft brings is… a 'critical care' paramedic and… doctor to the scene – a lot faster than you could possibly do by road or by any other means," says William. "It's effectively bringing a hospital [emergency department] to the casualty."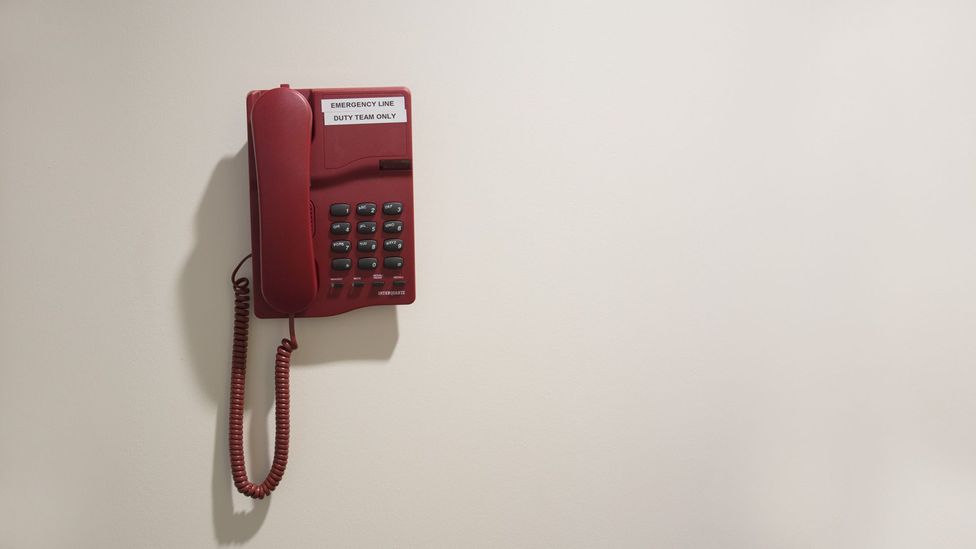 (Credit: Olivia Howitt/BBC Future)
When a call comes in, two red phones ring simultaneously: one upstairs, one downstairs. The sound launches a choreography as quick as it is precise. No more than four minutes elapse between first ring and lift-off.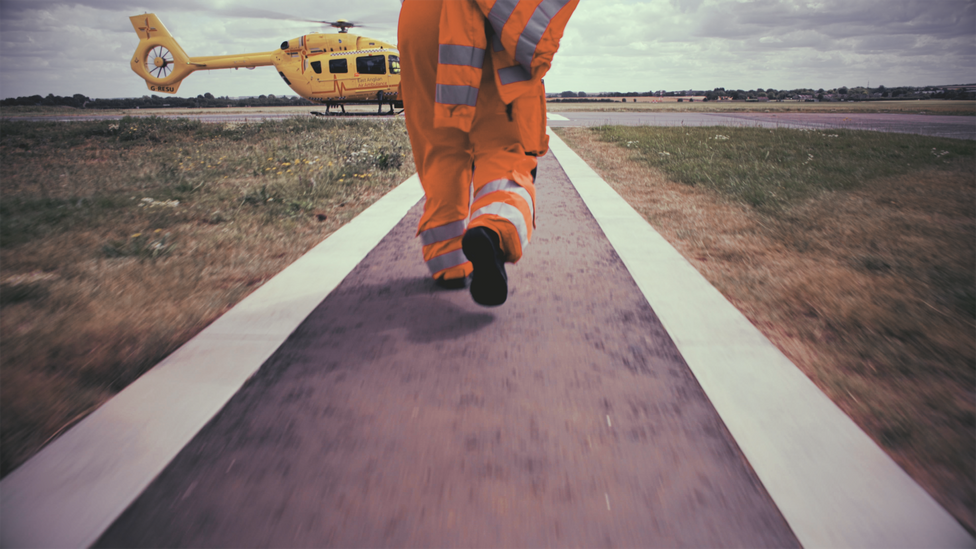 I remember thinking, 'I can remember all of that stuff... Why are they showing me how to put a seatbelt on?' Then the phone goes and you're out there struggling with this seatbelt and it's back to front and upside down. – Adam Chesters, doctor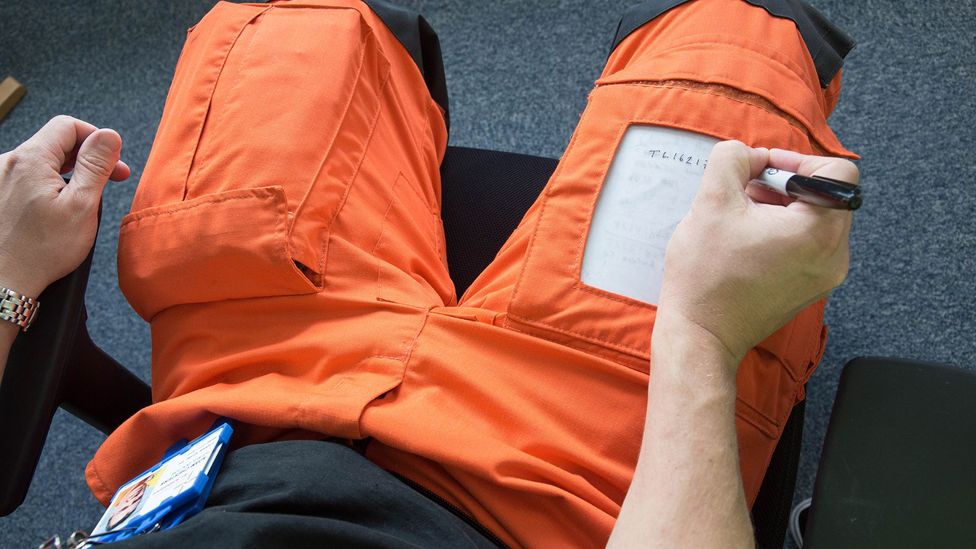 (Credit: Olivia Howitt/BBC Future)
"If the phone goes and we're airborne in four minutes, it could be five, six minutes of flying, on scene for one minute, and then opening a chest and doing open heart surgery two minutes after that. So from you and I talking, in 11 minutes' time, we could literally be sewing up a hole in someone's heart. It's why we don't have our kit scattered around all over the place… Everything's in my pockets, ready to go." – Adam
Here are some of the things in a medic's pockets…
Pen
Pair of scissors, used to cut a patient's clothes off to assess injuries or for chest surgery
Three-way tap, with an extension to make it easier to access a patient's vein in a cramped helicopter
Scalpels with retractable blades
Nasopharyngeal airways, which go up a patient's nose to open the airway
Spencer-Wells forceps, usually for accessing the chest cavity
Flight board with items like patient paperwork, anaesthetic checklist and business cards
Vials of drugs, which are pre-drawn and ready to go
Tube of £150 cash, sealed with tape, in case the team gets stuck somewhere
Torch
Ear defenders
Ambulance service radio
Phone with a rugged case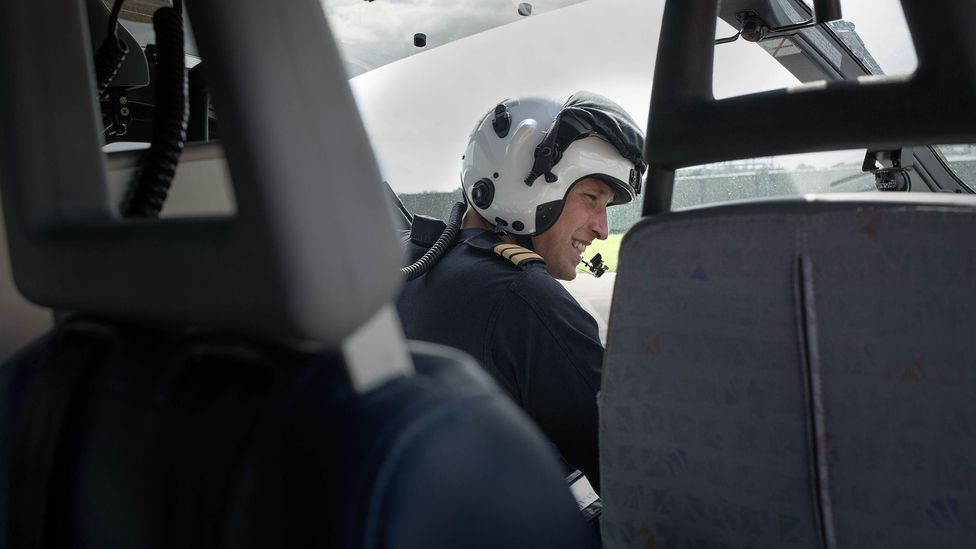 (Credit: Olivia Howitt/BBC Future)
Our main aim is just to get [the medics] there as safely and as quickly as possible. And then they take over and do all the hero stuff — William
Air Ambulance - Pilot Prince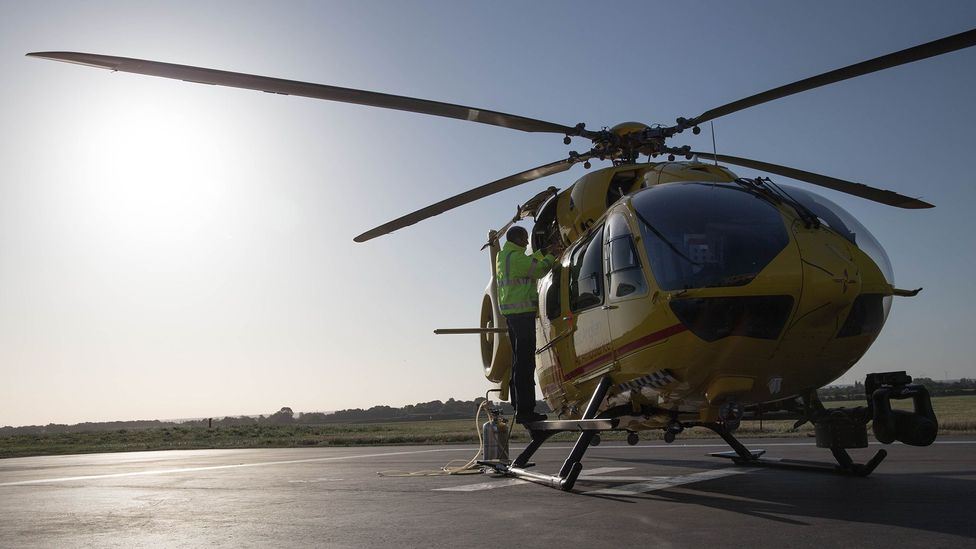 (Credit: Olivia Howitt/BBC Future)
Air ambulances straddle a tricky line. Too small, and there isn't room on board for a medical team, patient, and gear, including a stretcher – or enough room to easily get to the patient in flight. Too big, and the more awkward it is to land, especially in some of the trickier environments that are required – like carparks or playgrounds.
"It's got to be a bit of a balance between getting an aircraft that's capable and big enough but also that can land anywhere," says William. "The problem is the bigger you get, the more lift and the more noise, the more downdraft, you get. Particularly downdraft, because if you have to land in a small, built-up area, you're going to batter the fences around you, playgrounds, whatever it might be – and it gets a lot more risky.
"And sometimes, if you turn up and the job's been cancelled, or the casualty is not that unwell, you end up creating more casualties just with dirt in the eye, or whatever."
The pilots say the model they fly, Airbus's H-145, is the best of both. It has a maximum speed of some 145 knots (about 170mph). Inside, the 4.6m-long cabin has room for four passengers, a stretcher – and, unusually, two pilots. That frees up one pilot to fly, the other to navigate, watch out the window and make decisions about where to land – key since they're usually landing in spots like carparks, motorways and sport grounds.
It also helps that the helicopter is computerised. And the four-axis autopilot is "a serious treat," says William. "It can fly itself effectively right down to landing. With airplanes we have been able to do that for a long time, but helicopters have been a bit slow, because it's obviously a completely different aeronautical ability."
Says Dave Kelly, the senior pilot at the Cambridge base: "If the aircraft is flying itself, then that leaves me to do my job, which is to land. And to do my recce properly."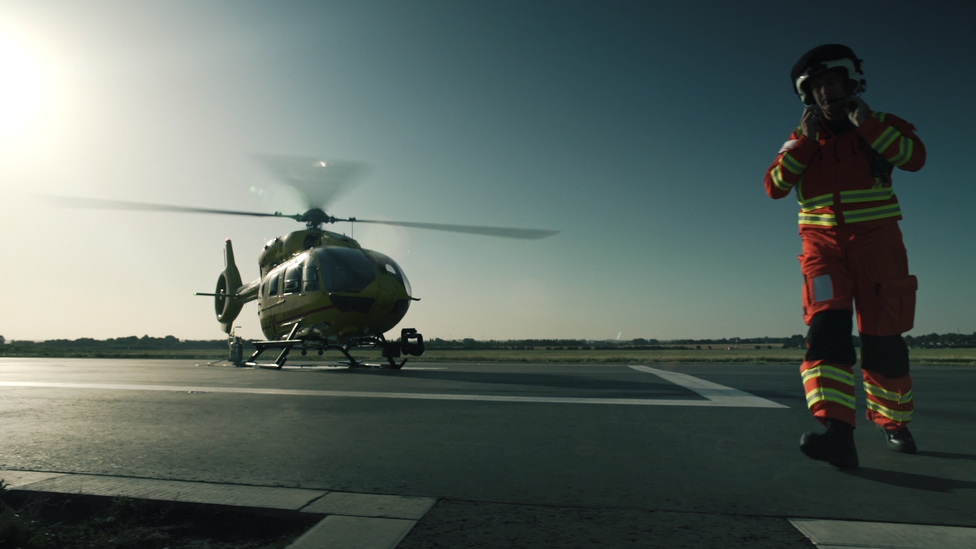 East Anglia is larger than 5,000 square miles – and yet the crew can fly anywhere within the region in 25 minutes.
Air Ambulance - 'On the Ground'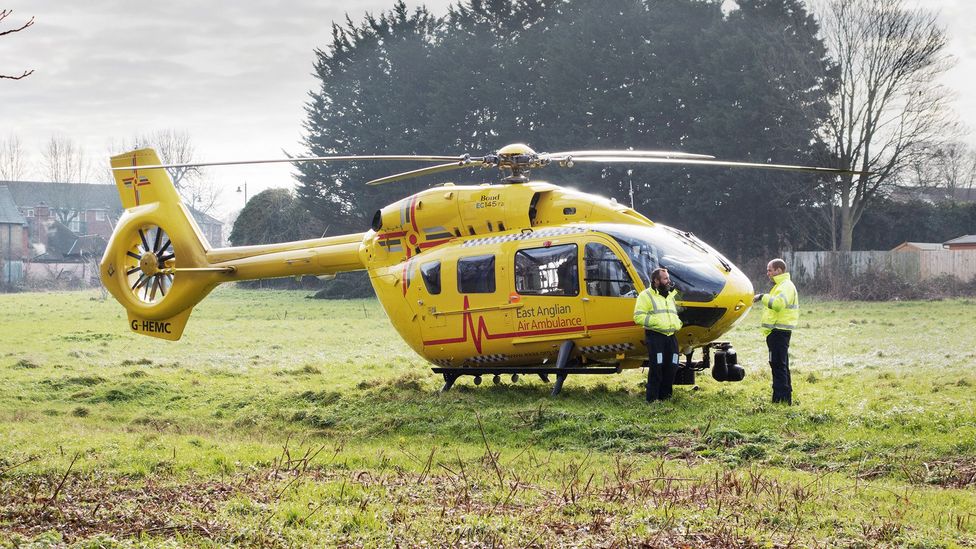 Patients aren't always flown to the hospital from the scene. But if they are – about half the time – the medics then have to deal with a whole new set of challenges. They're crawling around inside the helicopter, almost crab-like, to get to the patient. They're speaking over an intercom. Cues they'd normally be able to hear – like a monitor beeping – they can't.
"It's a very different environment," says Jemma Varela, who's been a paramedic with the EAAA for seven years. "You miss out on a lot of little cues and things that you can't have because you've got a huge helmet on that's making your head heavy, making you hot. And you can only hear through your earpieces."
"And the adrenaline control," adds Adam. "As soon as that phone goes, the heart rate goes up – and when you get stress and that adrenaline response, it can limit your motor skills. You can get a shake. Something as simple as putting a needle in someone's veins to give blood or provide an injection can become a cripplingly difficult task. Add to that the noise, the vibrations, the motion sickness. It is quite a challenge to condition yourself out of that."
Tougher still is when a patient takes a turn for the worse. A procedure like re-inflating the lungs by making an incision under the armpit, common enough in trauma medicine, for example, isn't something you'd choose to do in the small, vibrating cabin of a helicopter. If the crew can, they'll land.
Those types of situations are extreme, but they happen – because the cases the team deals with are extreme. In the last year alone, the EAAA has treated patients injured by accidental drowning (4), assault (40), falling (149) and fires (12), from accidents involving horses (33) and poisoning (27) – to name a few. But the single largest trauma category they deal with is road traffic collisions, with 405 patients seen last year.
Air Ambulance - "There are things you can't unsee."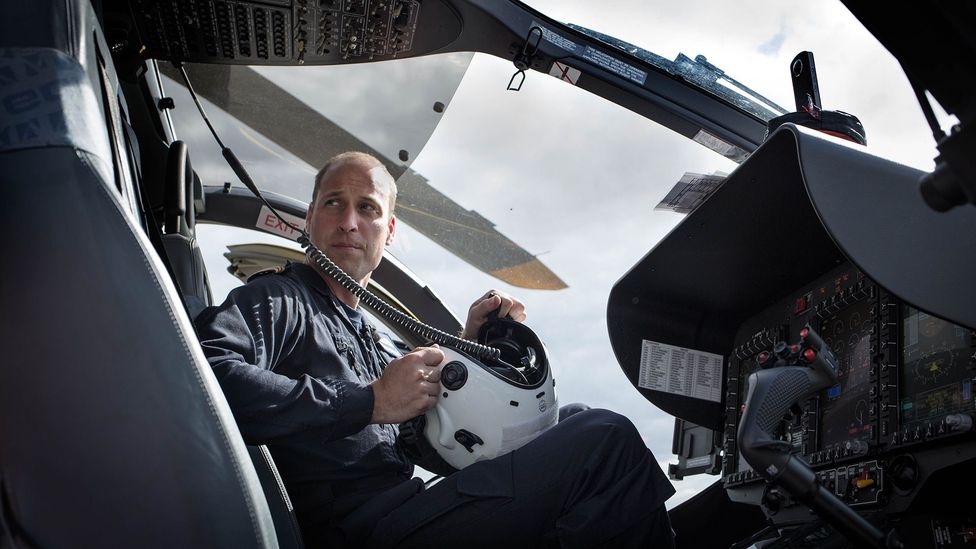 (Credit: Olivia Howitt/BBC Future)
You'd think that patients might do a double-take when they see William arrive. "I was a little bit anxious of some of that when I first started, because I didn't want to bring any chaos or any unhelpfulness to the scene," he says.
The reality couldn't be further from the truth. Bystanders might be tempted to take a surreptitious photo. But given the severity of the incidents that the team responds to, the patients themselves are often unaware of who's around them. Even if they are conscious, the fame of one of the team members isn't exactly their first concern. "They don't really care who turns up, as long as they're getting the care and the help they need," William says. "If they have noticed that I'm there at all, then they just crack on and realise there's a job going on and someone's not well. At the end of the day that's the most important thing – that the person who is unwell gets the right treatment."
Medic Jemma tells a recent story that captures how easily William blends in: paramedics from a road ambulance were already on scene, and at one point, she says, they were standing shoulder-to-shoulder with William, helping with the stretcher. Later, she joked with them about whether it made them nervous.
They looked at her in surprise: they'd had no idea he was even there.
Air Ambulance - the Patient's Story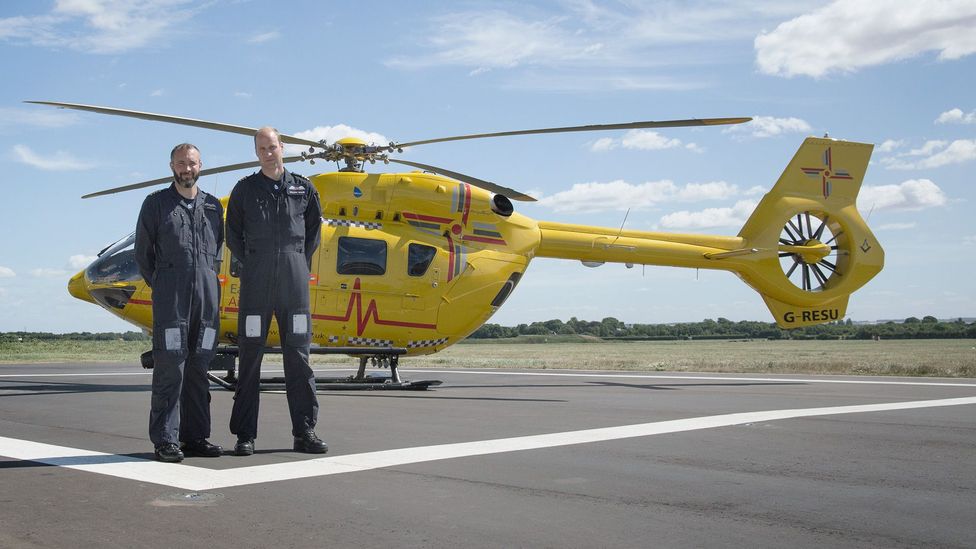 (Credit: Olivia Howitt/BBC Future)
Picture William in his role with the Royal Family, and the images that come to mind are likely wreathed in regalia and ceremony. In his cardinal-red uniform, greeting his bride in Westminster Abbey. Or standing with his family beside the Queen, watching over the Trooping the Colour. That makes up part of his working life. But the other part is spent in a high-vis, fluorescent-yellow jacket in the Cambridgeshire countryside, scraping along the pavement on his back to get under a helicopter engine for a check, hoisting medics over fences, carrying stretchers. He seems as comfortable unspooling a fuel hose as he does greeting a huge crowd from the Buckingham Palace balcony.
If that weren't the case, the EAAA wouldn't function. Saving patients' lives requires speed, skill, calm and communication, as well as an unhesitating willingness to jump in, a generosity of spirit, a sense of responsibility. Against that background, a royal upbringing plays no role. What matters is getting there fast enough to save somebody: being with a person in their worst moment, stopping the clock before death comes, and, at the end of it all, giving back a life.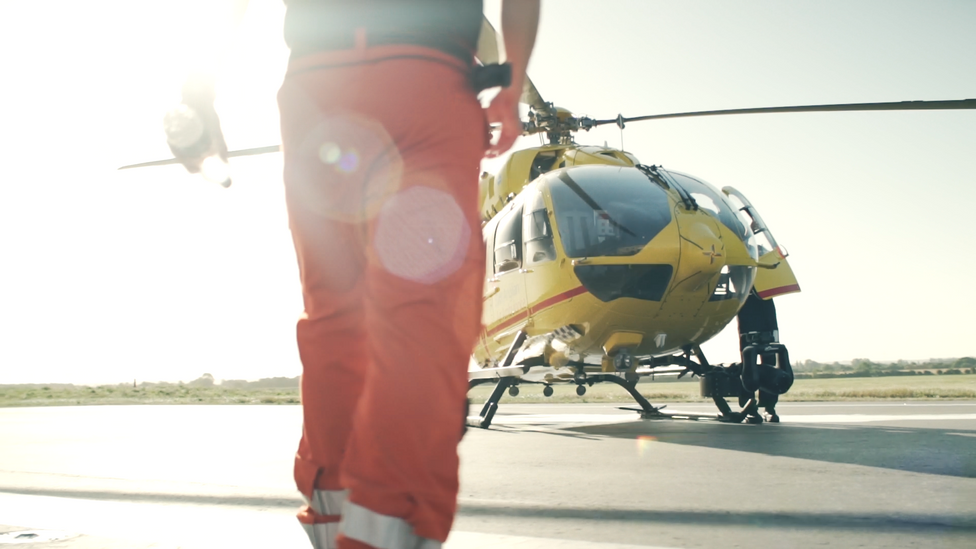 Reporter, writer and web producer: Amanda Ruggeri
Video director, video editor and camera: Adam Proctor
Stills photographer: Olivia Howitt
Camera: Alan Stockdale, Foundlight Productions
Producer and editor: Richard Fisher
Editor: Daniel Fisher
Managing editor: Jonathan Fildes
Music: Audio Networks
With thanks to the team at the East Anglian Air Ambulance and Babcock Mission Critical Services Onshore