Social media is just the latest marketplace where sex is bought and sold. But a new generation of sex workers are finding their fans are interested in more than just their bodies.
Like anyone in the oldest profession, Cortana Blue sells intimacy. The difference is that she sells it via social media. Since setting it up last year, 1,000 people have bought a lifetime's subscription to her Snapchat account. For that, her fans regularly get to see her naked. But they also get access to her daily life. "You get to chat with me whenever you want," she says.
Social media is just the latest marketplace where sex is bought and sold. But the new generation of sex workers setting up shop are finding that their fans are as interested in their shopping trips, bad jokes and pets as much as their bodies.
To some researchers, this new type of trade is intriguing because it speaks to a broader trend in the way social media is changing our interactions. "If you look with a microscope at what's happening in the sex industry it tells us a lot about what's happening with our relationships in the wider world," says Teela Sanders of the University of Leicester in the UK.
Even outside the sex industry, social media is blurring the distinction between those we do and don't have a 'real' relationship with. Celebrities like Kim Kardashian and Taylor Swift have armies of devoted followers who pore over their Instagram updates. But apps like Snapchat that encourage one-to-one messaging can make some relationships feel more personal – and even reciprocal.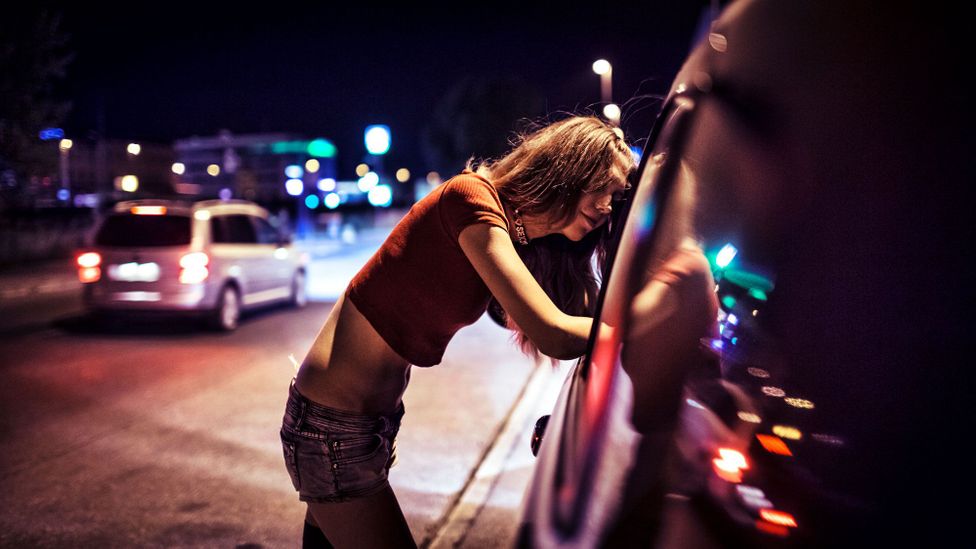 Social media is just the latest marketplace where sex is bought and sold (Credit: iStock)
The internet changed what it meant to be a sex worker, says Sanders, who has researched the sex industry for more than 15 years. Sex work once meant exchanging sex for money but now there are many degrees of sexual interaction – from physical contact to interacting via a screen – that encourage people who would ordinarily never have considered entering the sex industry to take part.
"You get sex workers who will do traditional escorting, and they top up their income through webcamming or phone sex," says Sanders. "You get some people who do all of it, and you get some people who don't do the direct contact."
The sex industry tells us a lot about what's happening with our relationships in the wider world
Webcamming arrived soon after the advent of the web. "Camgirls", as female performers are known, became minor celebrities (there are male webcam performers, but their numbers are few in comparison).
Live "cybersex" shows took off in the late 1990s largely because of their immediacy compared to pre-recorded pornography, and the fact that there was a level of basic interaction between performer and viewer. Sanders also points out the number of people using sex workers went up because interacting via a screen rather than in person is psychologically easier. "People can say they're not doing anything wrong or feel guilty about ruining their relationships," she says.
In the last few years, the sex industry has followed its customers onto social media. One of the most popular social apps is Snapchat, a messaging service where you can temporarily share photos and video, before they disappear after a short period of time.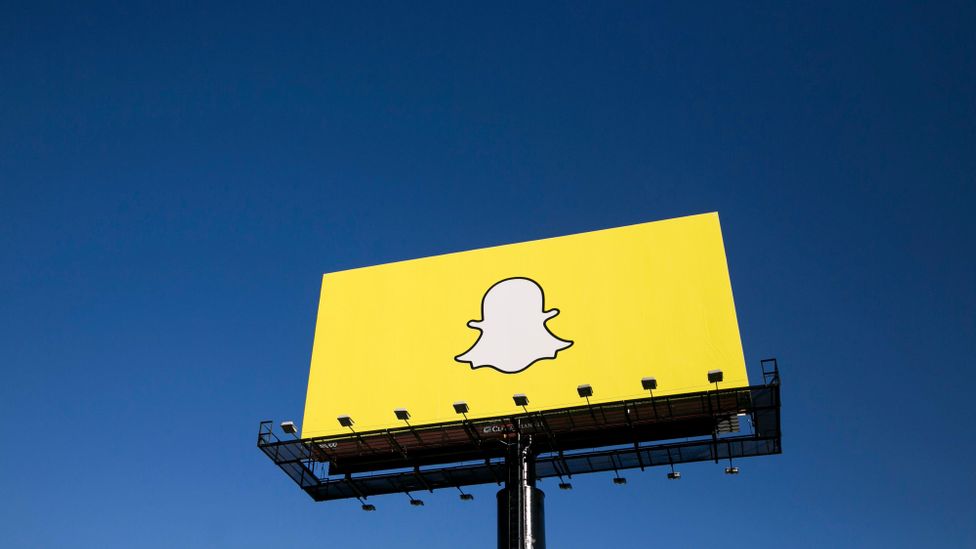 Snapchat claims more than 150 million users are active on the app each day (Credit: Alamy)
Snapchat's parent company, Snap, is working on an initial public offering that could value it at $25 billion (£20bn). Exact user numbers are hard to come by, but Snapchat claims more than 150 million users are active on the app each day, and analytics company Nielsen says 41% of 18- to-34-year-olds in the United States use the app regularly. A survey by Verto Analytics estimated that 51% of British users are under the age of 35.
Momoka Koizumi is another of those 150 million daily users. Based in the US, 23-year-old Koizumi became a camgirl when she started university. At the time, she juggled lectures with a job at a college bookshop. "I used to like it because I loved working with books," she says. "But I hated working in retail and answering to a boss. It was time-consuming, exhausting and unrewarding."
Her fiancée suggested starting a career as a webcam model. "It works out because I'm finally able to make my own schedule and ensure that I am being treated the way I deserve," she says.
Koziumi sells lifetime access to her Snapchat account for $45
She quickly realised that success would require canny marketing skills – and a social media presence. "I scrolled through dozens of profiles of some of the most successful camgirls I could find and discovered that all of them had a Snapchat account," she says.
Webcam models sell access to their private Snapchat accounts, where they post a mix of sexual and non-sexual content. As much as 10% of Koizumi's income every month now comes from fans buying Snapchat subscriptions.
One of the main reasons Koizumi felt comfortable working in the sex industry was that interactions took place with the protection of a computer or phone screen. She recently tweeted her embarrassment at wearing a short skirt out in public. "I keep tugging it down," she wrote – "but I can sit naked in front of 100 people."
In much the same way that many who use the services of  prostitutes desire companionship as well as sex, people who buy such a Snapchat subscription are after more than sexual gratification. The app gives them round-the-clock, intimate contact with their favourite camgirls.
Social media gives fans round-the-clock, intimate contact (Credit: Getty Images)
"As well as there being this commercial interaction through technology, there's intimacy," says Sanders.
Koziumi sells lifetime access to her Snapchat account for $45, to be paid in the form of an Amazon gift card (Blue charges $50). She makes a point of posting at least 10 things each day for her followers – only half of which will contain explicit content.
"My Snapchat is how my fans get to know me the most," she says. She talks to her fans when she is streaming live via her webcam, but they will just see her sitting in her room. Social media lets her tease glimpses of her everyday life. "On my Snapchat they can see me at school, on the go, or being a dork at home," she says. "They also see my cats much more than they do on webcam and my cats are a big part of my life."
Grant Blank of the Oxford Internet Institute agrees that Snapchat probably offers a more personal connection than traditional webcam modelling because of its always-on nature. But it's not that simple.
My fans can see me at school, on the go, or being a dork at home – Momoka Koziumi
There are two points of view, he says. On the one hand, you might become so comfortable you forget you are broadcasting to other people who are not physically present. On the other hand, you might argue that people are always aware of their audience and so you are never revealing your real self, just varying performances, depending on who you are talking to.
"All social media accounts are curated," says Blank. "You're paying attention to what's on there, and not just posting absolutely any picture of video." Camgirls on Snapchat are just offering a more explicit version of the show we all put on.  
And keeping that show going is hard work, says Koizumi. Her webcam broadcasts go out on a rough schedule that gives her two days off a week. Updating her social media accounts is a full-time job, seven days a week – even when she is ill. "Since I've started my Snapchat account I don't think there has ever been a day when I haven't posted at all," she says.
Blue also puts many hours into her work. "I spend a good portion of my day on Snapchat," she says. "If I'm not posting photos and videos I'm replying to everyone's messages, which can be very time-consuming."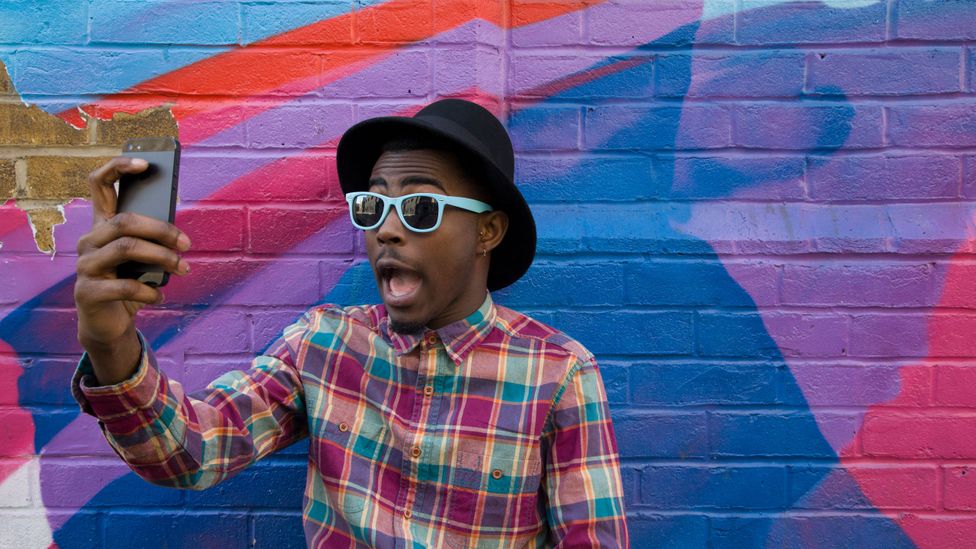 Some argue that we are always aware of our audience online and never reveal our real selves - we put on different performances depending on who we talk to (Credit: Getty Images)
Snapchat is 24-year-old Blue's best-selling social media offering. But she also sells access to her account on Kik, another instant messenger service, and even her phone number. "I really enjoy showing fans that deep down I'm just a normal person who does normal daily things," she says. "I'm not just some woman getting naked for money."
And the hard work seems to pay off. "I feel like most people pay for the sole purpose of seeing me naked," says Blue. "But they come back in a couple of weeks and say: 'Wow, I can't believe how real you are.'"
The success sex workers are seeing on social media has attracted the middlemen. Companies are being set up to act as brokers and provide management for people wanting to sell access to their Snapchat accounts. One, SeeSnaps, based in the UK and registered in July 2016, has signed up 40 models who sell access to their Snapchat profiles through the website. SeeSnaps takes a 20% cut of all subscriptions – bought in 30-day blocks – which vary in price from $19.99 (£16) to $37 (£30). Other websites offer similar services.
The success sex workers are seeing on social media has attracted management companies
Selling access to Snapchat accounts without Snapchat's written permission is technically a violation of the app's terms of service, however. Posting pornographic content is too. Yet given the Snapchat's reputation as a "sexting" app, many of Snapchat's 150 million users are probably flouting its terms of use every day.
BBC Future Now asked Snap for its view on selling access to Snapchat accounts. A spokesperson declined to comment but provided links to the app's community guidelines and terms of service, which state that accounts can be deleted for breaching terms of use.
Blue's Snapchat account has been reported and deleted twice since she started it in January 2015. "I rebuilt my account both times," she says. Indeed, some sex workers contacted for this article declined to talk about their use of the app because of concerns that raising awareness could result in a crackdown on its use.
But sex workers have long worked at the margins of legality – and many would argue that non-physical interactions should be encouraged, rather than outlawed, as a safe way for sex workers to make money.
After all, there is no longer anything unusual about conducting intimate relationships online. Daniel Miller at University College London, who studies the impact of webcams on human interactions, takes it as given that video-based interactions carried out over the internet can be as intimate as face-to-face human contact – and perhaps more so. "It's entirely possible that Snapchat allows a form of intimacy that other methods don't allow," he says.
For Blue, that feeling of intimacy goes both ways. "I enjoy having that private connection with a fan that no one else gets to experience or see," she says.
She likes to know what they're up to, what they look like, how they spend their time. "I really like my fans to know that I'm there for them if they want to chat about their day, send me funny memes or bond over video games and cats."

Keep up to date with Future Now stories by joining our 700,000+ fans on Facebook, or follow us on Twitter, Google+, LinkedIn and Instagram
If you liked this story, sign up for the weekly bbc.com features newsletter, called "If You Only Read 6 Things This Week". A handpicked selection of stories from BBC Future, Earth, Culture, Capital, Travel and Autos, delivered to your inbox every Friday.