A
At first glance, Drumintoul Lodge looks like the Scottish country home of a well-heeled family. And it is. Nestled in the foothills of Scotland's Cairngorms, the graceful stone house and estate – originally a Victorian hunting lodge – both belong to the family of the 17th laird of Rothiemurchus.
But if the private lane to the lodge isn't enough to keep out trespassers, another detail might: on the side of the dirt road are two armoured metal cylinders, sided with corrugated metal.
Dating to the 1940s, both were built in case of a foray by Nazis onto the site.
"That's the first guardroom there," says Johnnie Grant, laird and 13th Earl of Dysart, as we rattle over the dirt lane in a Range Rover. "They had two, so if that one got overpowered, there's another one."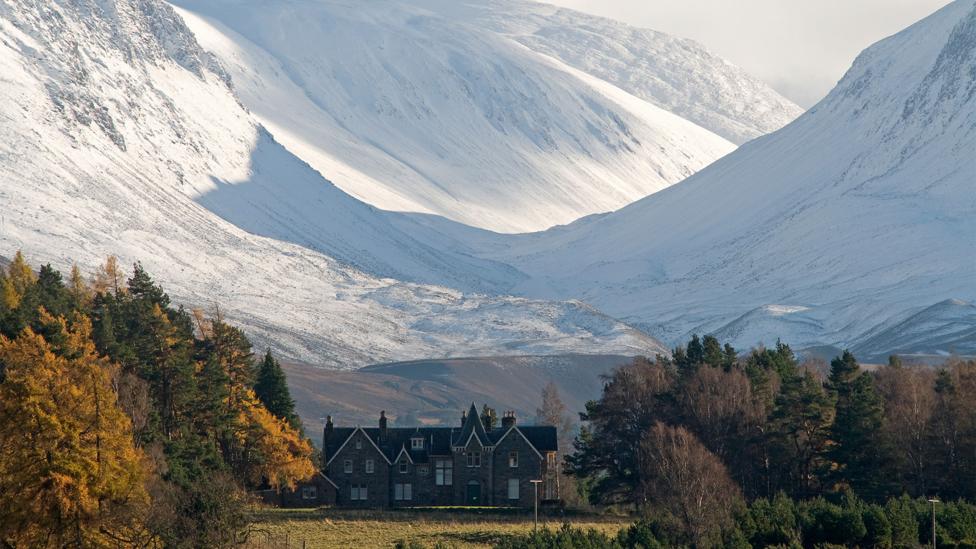 Nestled in the foothills of the Cairngorms, Drumintoul Lodge seems a surprising location for a World War Two commando school (Credit: Alamy)
It's hard to imagine an area that would seem to be less of a target than the Cairngorms. Located in the eastern Highlands, Britain's largest national park is as sleepy as it is spectacular. With four of the UK's five highest mountains, thick forests and often-arctic conditions, the park is home to fewer than 20,000 people; most visitors come for wildlife and sport – particularly skiing.
But in World War Two, Drumintoul and two other sites nearby, Glenmore Lodge and Forest Lodge, played a significant role in resistance against the Nazis.
The Special Operations Executive (SOE) ran training schools across Britain for Allied resisters of all nationalities. The network was considered so fearsome that the Germans referred to it as the "International Gangster School".
But it was at the Norwegian training camp in the Cairngorms, called STS 26, that the secret agents of Norwegian Independent Company 1 were trained in sabotage and guerrilla warfare. And it was here that they planned and practised what is often considered the most successful single act of SOE sabotage: the daring, James Bond-esque destruction of the hydroelectric plant thought to be necessary to Nazi Germany's ability to develop the atomic bomb.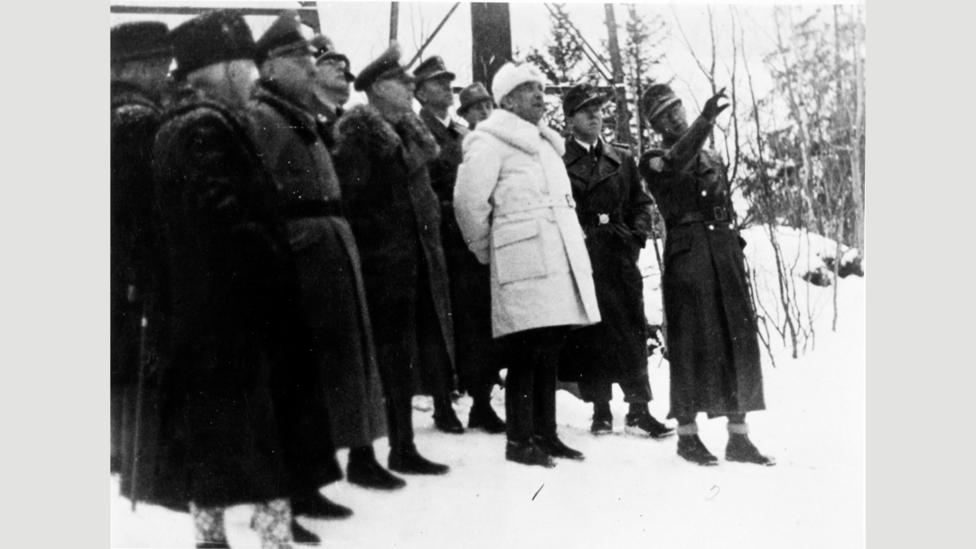 Germans assess the site of the hydroelectric plant after it was sabotaged by Norwegian agents (Credit: Norway's Resistance Museum)
Like the other training camps, STS 26 was kept secret and locals weren't allowed to set foot on the site. (Though the Norwegians did sometimes leave: Norwegian veteran Erling Lorentzen remembers going to nearby Nethy Bridge for dinner and Aviemore for dancing on Fridays). Although the Germans knew of the schools, it was of the utmost importance that they be kept in the dark about specific operations and identities of the agents. The men who trained here faced significant risk: Hitler's Commando Order of 1942 stated that any Allied agents be executed immediately without trial (a war crime for which obeying officers were later found guilty at the Nuremberg Trials).
Even worse, adds Johnnie's wife Philippa Grant, who has spoken with many STS 26 graduates, "if the Nazis discovered what they were doing, back in Norway, not only could their relatives have been killed, but their whole villages".
Courageous company
Now 93 years old, Lorentzen is one of the surviving members of the company, commonly known as Kompani Linge after its first leader Captain Martin Linge, and a graduate of STS 26. He was 17 when he joined the military to fight the German invasion of Norway; by 1942, already a well-established member of the resistance, he was tracked down by the Gestapo and had a narrow escape to Sweden, then to Scotland, where he spent nearly a year training. When Lorentzen returned to Norway, he worked both as an organiser of the resistance and a saboteur. By WWII's end, at 23 years old, he had become the military leader of a section numbering 800 people.
"I remember Scotland very clearly because when I arrived at the airport, I said out into the dark, 'Oh, it's so good to be in England!'," he says now with a chuckle. "And I got a very clear response out of the dark: 'You are not in England, sir, you are in Scotland!'."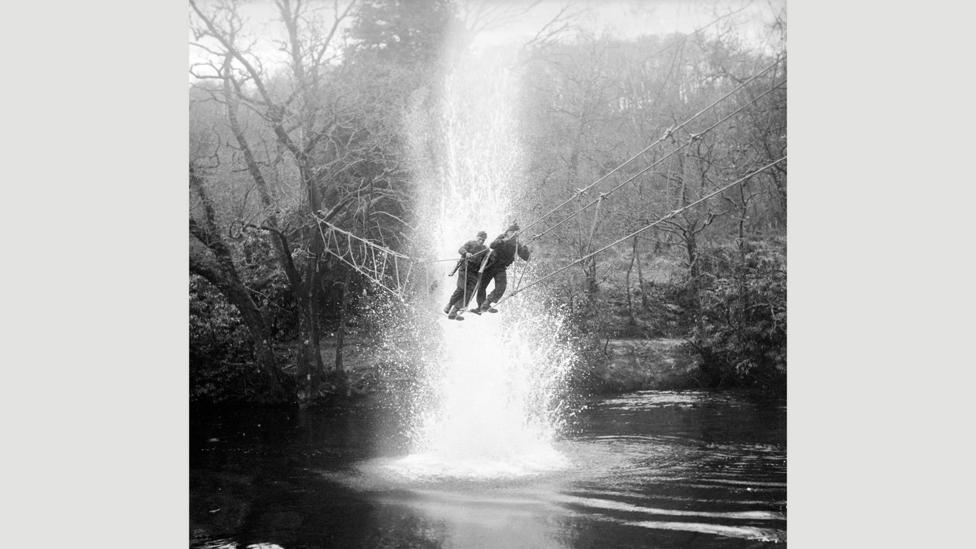 British Commandos cross a river under simulated artillery fire at a training school in Achnacarry, Scotland, in January 1943 (Credit: Imperial War Museum)
Like other members of Kompani Linge – which reached around 500 men by the end of WWII – Lorentzen also trained at sites elsewhere in the UK, including taking commando courses at Arisaig in the west coast of Scotland. In the Cairngorms, he stayed at both Glenmore and Forest Lodge, where he remembers the programme as being "relatively tough". "At Glenmore, we had daily training programmes: shooting with pistols, rifles and machine guns. Also 'silent killings' and physical training, like running and gymnastics," he says.
For others, like Lorentzen's friend – and Norway's most decorated World War Two hero – Gunnar Sonsteby, who stayed at Drumintoul, the focus was on explosives. "Day and night we practiced laying charges in all sorts of places and calculating how much explosive we should need to accomplish various tasks," Sonsteby wrote in his memoir Report from #24. Returning to Norway, he went on to become one of country's most prolific saboteurs, blowing up offices that produced draft cards and factories of arms and explosives.
One benefit of the area around Drumintoul was that it was crisscrossed with defunct railway lines originally laid for transporting lumber, which the agents could blow up. Until recently, the evidence of these practice explosions could even be seen along the shoreline of nearby Loch Morlich, a placid loch that is one of the main draws for tourists to Aviemore.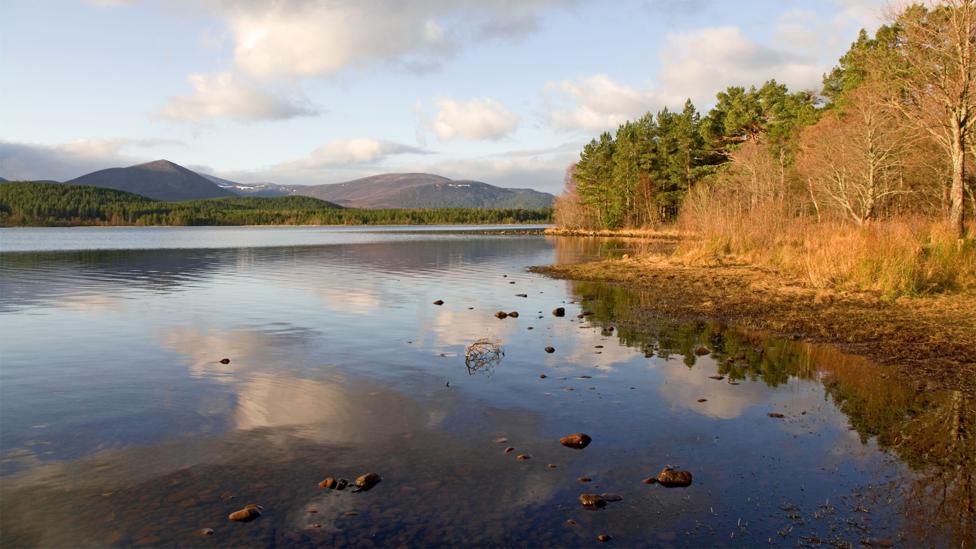 Until recently, it was not uncommon to find the remnants of Molotov cocktails in peaceful Loch Morlich (Credit: Alamy)
"A colleague I know who runs the water sports centre down here said to me, a few years back, that people kept bringing in big chunks of iron which they'd dug up on the beach," says Nigel Williams, head of training at the Glenmore Lodge sport centre (different from the original Glenmore Lodge of STS 26 fame). "It was bits of railway line that had been blown up into pieces. They also found loads and loads of broken bottles; they were Molotov cocktails."
The camps also were meant to instruct some agents on how to train other members of the resistance, which by WWII's end numbered some 40,000 in Norway.
Although there were SOE schools across the UK, the Cairngorms was chosen for training Kompani Linge because of its geography. The first site for the Norwegians had been located near Henley in the gentle hills of Oxfordshire.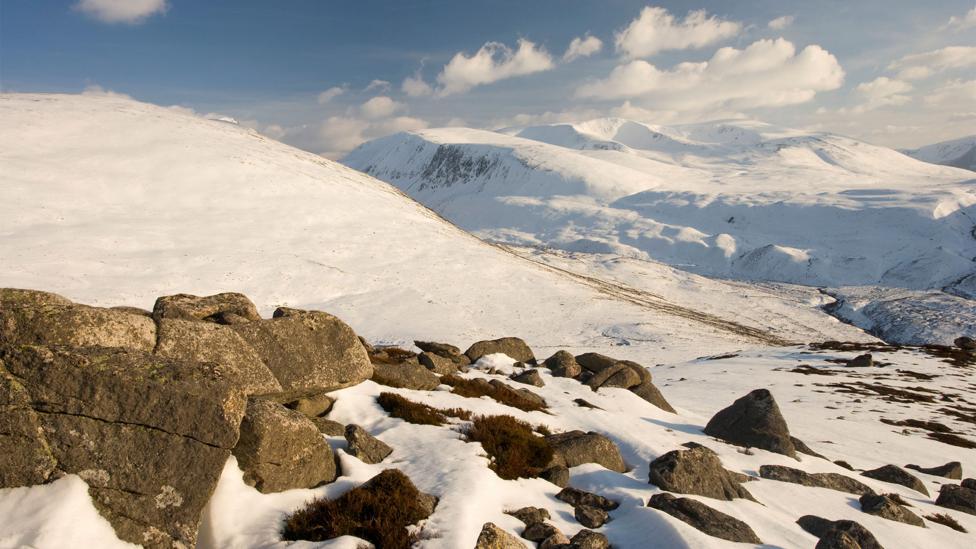 Scotland's Cairngorms national park shares many features with Norway's landscape (Credit: Alamy)
That didn't exactly mimic the characteristic landscape of Norway, points out Tony Insall of Kings College London, who is writing a book on Anglo-Norwegian collaboration in the resistance. Almost twice the size of Great Britain, by World War Two, Norway had only a couple of million people scattered across its wild, arctic landscape in small settlements.
"Organising a resistance there was quite different to what it might have been in some of the smaller, more densely populated countries like France or Holland," Insall says. "They needed people who were capable of being resilient and resourceful and really, physically, very tough. Living outside in winter and surviving in winter required skills altogether different from what you might have needed in the south of France or somewhere else."
The landscape of Cairngorms, on the other hand, is more similar to Norway than any other part of Britain. As well as its rugged mountains and its snow, which sometimes can be found even in summer, the Cairngorms has a sweeping upland plateau similar to Norway's Hardangervidda national park.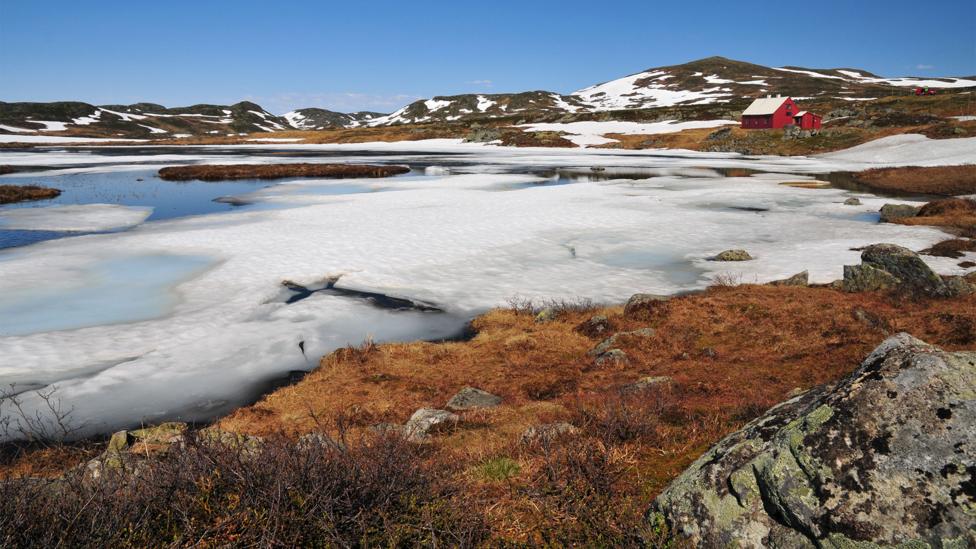 An iced-over lake in Norway's Hardangervidda national park, home of the famous Telemark Raid of 1942 (Credit: Alamy)
That became an especially useful feature for one operation in particular: the famous Telemark Raid of 1942, also known as Operation Gunnerside, which took place in Hardangervidda itself.
Heavy lifting
Memorialised in Thomas Gallagher's book Assault on Norway (later renamed The Telemark Raid) and by the 1965 Kirk Douglas movie The Heroes of Telemark, the operation went down in history as the greatest contribution of SOE to the war. It was also the greatest success of Kompani Linge.
By 1942, the Allies believed that Germany was close to developing the atomic bomb. In particular, they were attempting to procure enormous amounts of "heavy water" – a liquid that, because it slows down neutrons produced by fission in a uranium pile, was thought to be one main way to make the bomb.
There was just one hydro-electric plant in the world that could make heavy water in large quantities. And that plant was Vemork, on the outskirts of the town of Rjuken, Norway.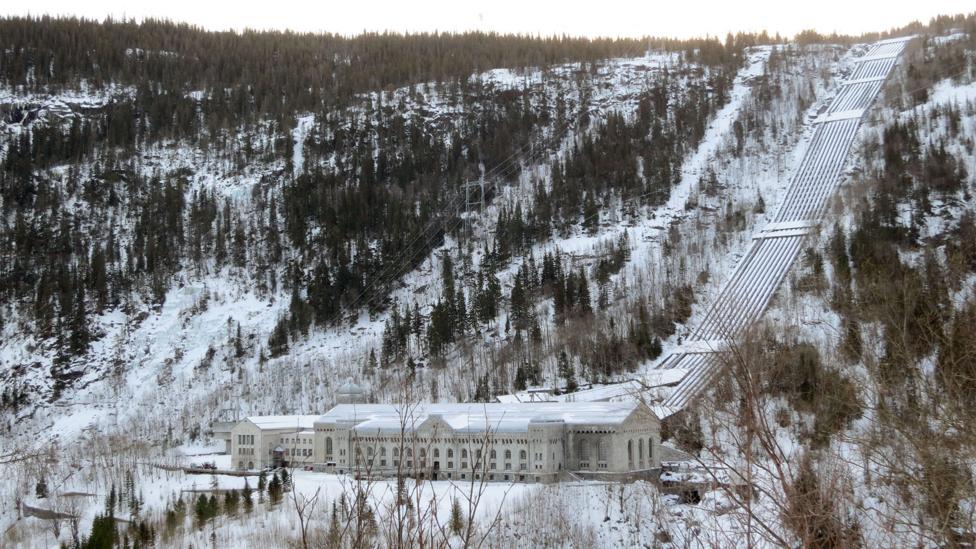 The Vemork plant faced a 200m ravine which was left less guarded, as it was thought to be near-impossible as an approach (Credit: Alamy)
The operation's goal was to take out the Vemork plant, but trouble began early. In October 1942, an advance party of four agents was dropped in Norway. They were meant to be met by a British party, but the second party's gliders crashed far from their target and the survivors were shot by Germans – who, tipped off, put additional security around the plant.
As the first four agents held out in the mountains, near freezing and starvation, the SOE hastily trained members of Kompani Linge in Scotland to send over.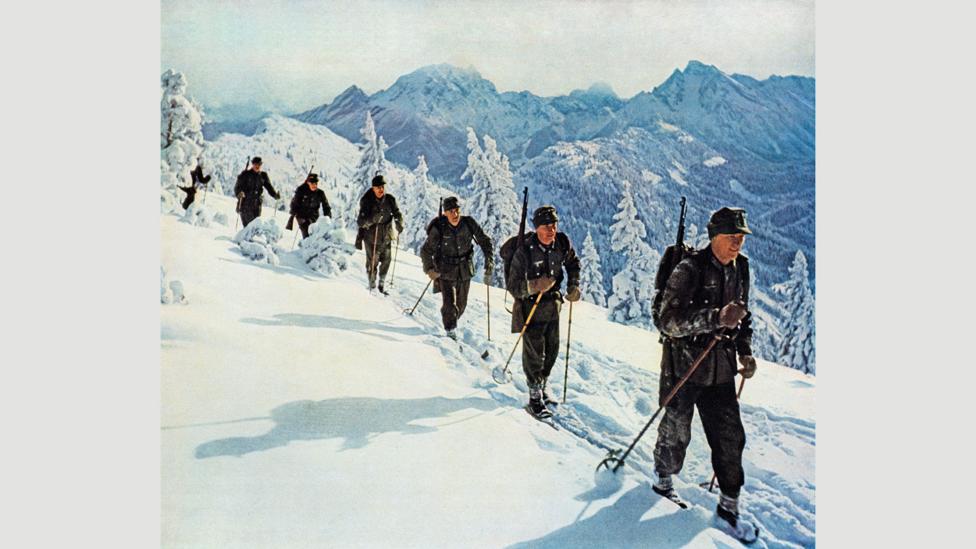 Germany's Wehrmacht Mountain Troops traverse the Norwegian mountains on cross-country skis in 1941 (Credit: Alamy)
Kompani Linge's agents arrived in late February 1943 and searched the area on cross-country skis for the advance party. Finding them, they set off for the plant. Its less guarded side faced a 200m (660ft) ravine. The commandos climbed down, forded the half-frozen torrent and climbed up the sheer rock wall to the plant – all while carrying heavy arms and equipment. Breaking in and laying explosives without firing a single shot, they were able to destroy the entire supply of heavy water.
Remarkably, all 11 agents survived, five of them by crossing 400km (250 miles) to Sweden on skis.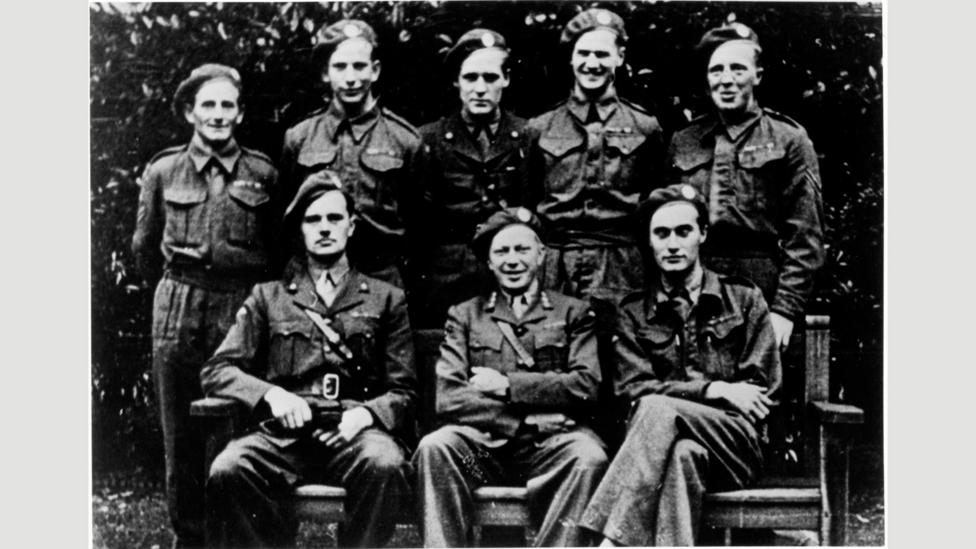 Remarkably, the agents of the Gunnerside operation made it to safety (Credit: Norway's Resistance Museum)
It was exactly the kind of daring endeavour that showed what training at STS 26 could help accomplish.
Gunnar Sonsteby trained in Aviemore at Drumintoul under the agents who had led the Telemark raid. "Most of [the instructors] had experience with the work and conditions in Norway, and that was a tremendous advantage," he wrote. "Here I met Joachim Ronneberg and others of the famous heavy-water operation and the advance party that had gone to Hardanger Vidda to prepare the action. They were both there as instructors."
The agents training at Drumintoul even used the estate's small loch to practise for one of Kompani Linge's other most significant operations. In 1943, the Nazis decided to move heavy water production from Vemork to Germany. Kompani Linge agents slipped onto the passenger ferry being used for transport and placed explosives on board. The SF Hydro sank on Lake Tinn not far from Rjukan, killing eight German soldiers and 10 civilian passengers, along with sinking the store of potassium hydroxide – necessary for heavy water's distillation.
In preparation for the raid, the agents built (and blew up) a model of the ferry on Drumintoul's small loch.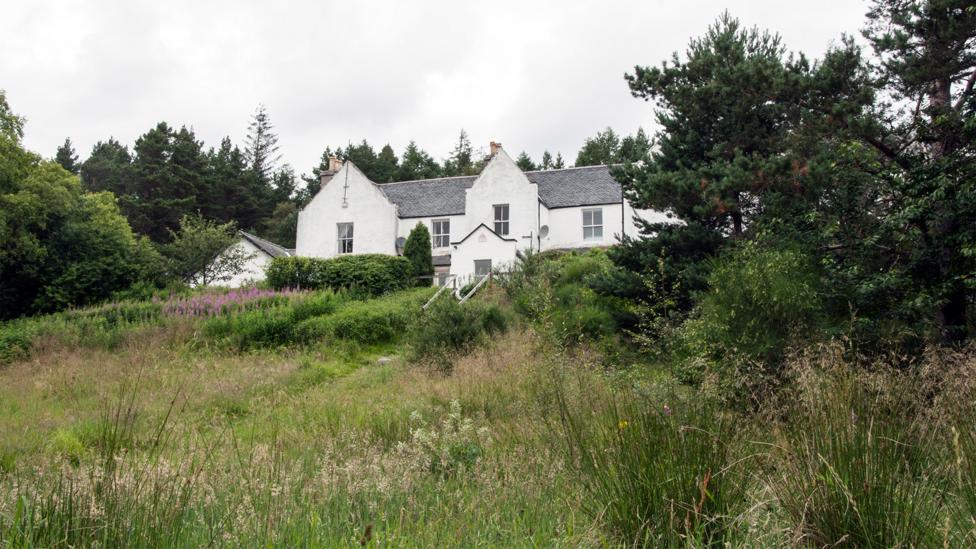 Glenmore Lodge, one of the three schools that made up the STS 26 site, today is a youth hostel (Credit: Amanda Ruggeri)
Today, Drumintoul, purchased by the Grants in 1960, is a family home while Glenmore Lodge is a youth hostel. Few of the tourists who come to Aviemore today know of STS 26 or the daring men who trained there – though many do come to ski, an industry that developed only after the agents introduced the practice to locals.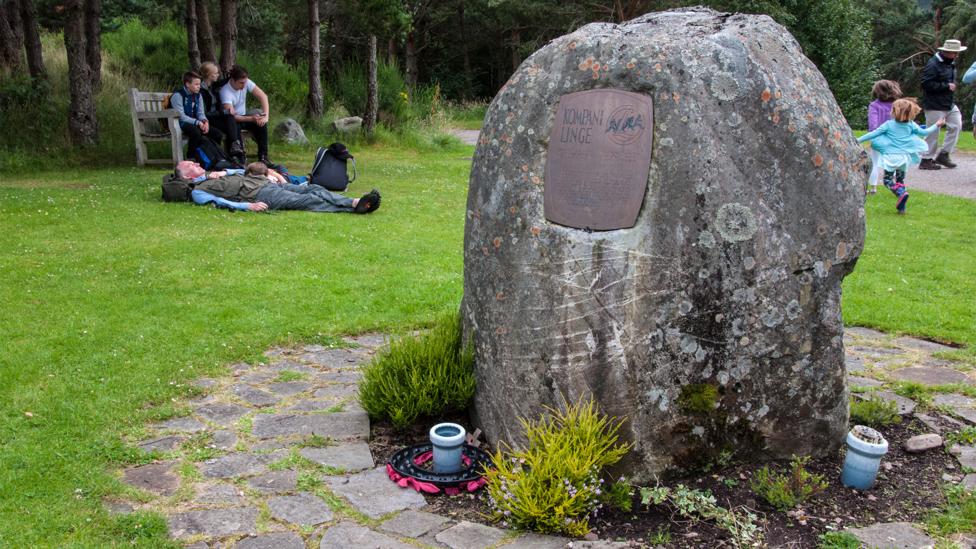 A memorial to Kompani Linge stands outside the Glenmore Visitor Centre; inside, a small exhibition commemorates their work (Credit: Amanda Ruggeri)
But the effect of these Scottish training camps still reverberates in Norway today. "I talk to groups every week. If they're Norwegian [visitors], they've always, always heard of them. Basically, it's their Battle of Britain," says Philippa. "We regard Drumintoul and what went on there as Norwegian history, not ours."
Correction: An earlier version of this article used an incorrect name to refer to the Telemark raid; as it was accurately identified in an image caption, it was Operation Gunnerside, not Gunnersby. We regret the error.
This story is a part of BBC Britain – a series focused on exploring this extraordinary island, one story at a time. Readers outside of the UK can see every BBC Britain story by heading to the Britain homepage; you also can see our latest stories by following us on Facebook and Twitter.
Join 600,000+ Future fans by liking us on Facebook, or follow us on Twitter, Google+, LinkedIn and Instagram.
If you liked this story, sign up for the weekly bbc.com features newsletter, called "If You Only Read 6 Things This Week". A handpicked selection of stories from BBC Future, Earth, Culture, Capital, Travel and Autos, delivered to your inbox every Friday.