Dabbawalas deliver hundreds of thousands of meals on foot and by bike in one of India's busiest cities every day. The new wave of food-delivery start-ups wants to know how they do it.

BBC Future has brought you in-depth and rigorous stories to help you navigate the current pandemic, but we know that's not all you want to read. So now we're dedicating a series to help you escape. We'll be revisiting our most popular features from the last three years in our Lockdown Longreads.  
You'll find everything from the story about the world's greatest space mission to the truth about whether our cats really love us, the epic hunt to bring illegal fishermen to justice and the small team which brings long-buried World War Two tanks back to life. What you won't find is any reference to, well, you-know-what. Enjoy.
Every morning, six days a week, Kiran Gavande tours the Lower Parel neighbourhood of Mumbai on his bicycle collecting lunchboxes called dabbas from his customers. Over the next few hours Gavande and his fellow dabbawalas – "ones who carry the box" – will criss-cross the busy city multiple times delivering hundreds of thousands of home-cooked meals to workers in time for lunch.
In the last few years, online food-delivery companies like Deliveroo and Uber Eats have made having specially prepared food brought to your desk seem like the height of app-based luxury. Similar start-ups are gaining popularity in India too. But dabbawalas have been doing it for 125 years – and the newcomers have much to learn.
The dabbawala make their rounds
Watch the dabbawalas deliver lunches in the bustling streets of Mumbai.
Despite relying on an unskilled workforce, a two-tier management system and nothing more high-tech than Mumbai's train network, this 5,000-strong cooperative is recognised as one of the world's most efficient logistics systems. They make a tidy side-line hosting executives from delivery giants like FedEx and Amazon. Even Richard Branson has spent a day learning their secrets.
Unlike Deliveroo and Uber Eats – or India's home-grown equivalents, such as Swiggy and Runnr – dabbawalas do not deliver restaurant food. Instead, they pick up home-cooked meals – mostly from the customers' own houses – and deliver them to their workplace in time for lunch.
Even Richard Branson has spent a day learning the dabbawalas' secrets
"We don't like apps," says event organiser Rashmika Shah, who hires Shivaji Sawant to deliver a dabba to her husband at the Mumbai stock exchange. "We've known this person so long we know he'll do a proper job."
The service is not only reliable, it's cheap – roughly 800 rupees a month (less than £10). "People think it's a luxury getting food delivered to their office," says Subodh Sangle, coordinator of the Mumbai dabbawalas. "But we make our service available to everyone from the security guard to the CEO."
Most dabbawalas are quick to dismiss their new digital rivals. "There's no competition. They won't be able to keep up with the service we provide," says Gavande. "There's only one Mumbai dabbawala."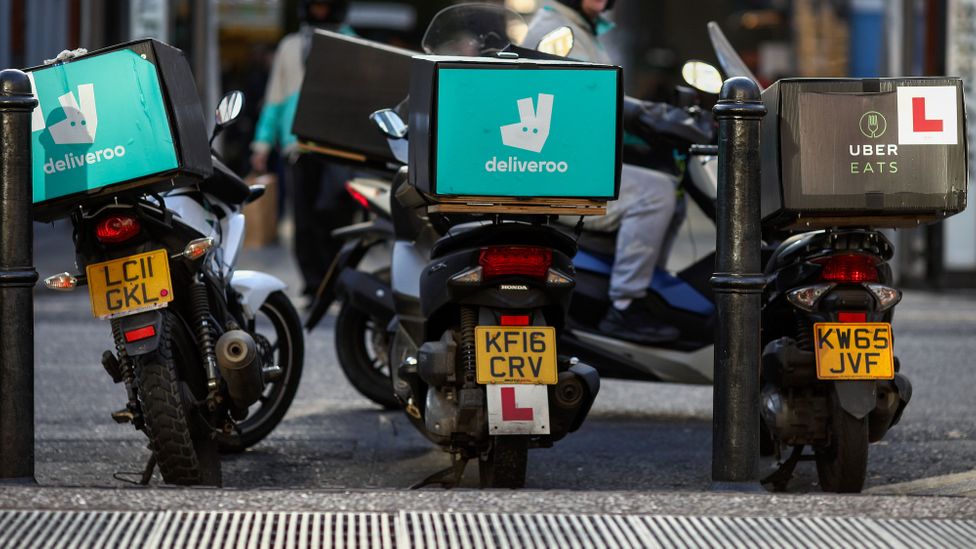 Most dabbawalas are quick to dismiss their new digital rivals: "They won't be able to keep up with the service we provide" (Credit: Getty Images)
It's hard to argue. The organisation runs its low-cost service at a very high level of performance. A 2010 study by the Harvard Business School graded it "Six Sigma", which means the dabbawalas make fewer than 3.4 mistakes per million transactions. With deliveries to and from roughly 200,000 customers each day that translates to little more than 400 delayed or missing dabbas in a year.
Timeliness is crucial. Lunchboxes have to reach the client by 13:00 every day and it can take up to three hours to deliver them. The whole city can be affected by late deliveries, says Sangle. Dabbawalas are waved through by members of the public and traffic police alike. "If you see a dabbawalla in the street, you will give way," he says.
Timeliness is crucial. The whole city can be affected by late deliveries – Subodh Sangle
The delivery schedule also has built-in buffers. If a delivery is due at 13:00, the dabbawala will aim for around 12:00 – even if the destination is only a quarter of an hour away, says Sangle. "That allows him to improvise if there are mistakes." For every 15 to 20 dabbawalas there is also always someone on stand-by in case one of them gets delayed.
Despite the tight schedule, most of the time dabbawalas appear surprisingly relaxed, joking and chatting as they sort their dabbas. But when the next stage of the process nears, there is five minutes of sudden intense activity.
At 12:45 a dabbawala races around the corner on a bike and rushes shouting into an office building. "You wanted to see a panicked dabbawala, there you go," says Sangle. The dabbawala was late by his own standards but the customer was probably never aware of the hiccup, he says.
Following them around for the day is tough work. Sometimes I get distracted and when I turn back the group I'm shadowing has gone. Strict timekeeping even extends to customers – if the full lunchbox is late for collection in the morning more than two or three times, they are dropped.
Secrets of the dabbawala code
Watch a dabbawala explain the unique code that gets each lunchbox to its destination.
Each dabbawala has a single collection and delivery area. At mid-morning they tour their neighbourhood on foot or by bicycle collecting an average of 30 dabbas. These are sorted at a local office or railway station and each dabbawala gets on a train with the dabbas heading for their delivery area. On arrival dabbas coming from all over the city are sorted again before being loaded onto bicycles and handcarts for the final leg.
This complex series of exchanges relies on an esoteric alphanumeric code scrawled on each lunchbox – indecipherable to the uninitiated but designed to be easily understood by all dabbawalas.
A dabbawalas' commitment to the job is partly because it pays well – roughly 12,000 rupees (£140) a month, a good salary in India for what is essentially unskilled labour. The fame of the dabbawalas also gives the job a certain prestige. This can lead to perks like discounted mobile phone subscriptions and scholarships for a dabbawala's children funded by organisations keen to be associated with the respected network.
Many dabbawalas worship Vithala, a Hindu god who teaches that giving food is a great virtue
And as a cooperative all dabbawalas are equal partners with supervisors called mukadams who are elected. "You don't have to say 'Salam, sir' or 'Yes, sir' to anyone," says dabbawala Anil Bhawagat.
But there are also more profound reasons for their dedication. The dabbawalas belong almost exclusively to the Vakari community, which worships the Hindu god Vithala. Vithala teaches that giving food is one of the greatest donations you can make. "The dabbawalas say we are getting a golden chance to walk the path of spirituality while earning our bread," says Sangle.
Even so, as the convenience of app-based delivery services catches on, will the dabbawalas keep up? Food delivery is firmly in the sights of India's new breed of tech entrepreneurs, says Pankaj Jain, a partner at US start-up accelerator 500 Start Ups.
But he thinks any threat is some way off. The sector has yet to get going, he says. Part of the problem is that companies just assumed they could transplant business models from Silicon Valley to India.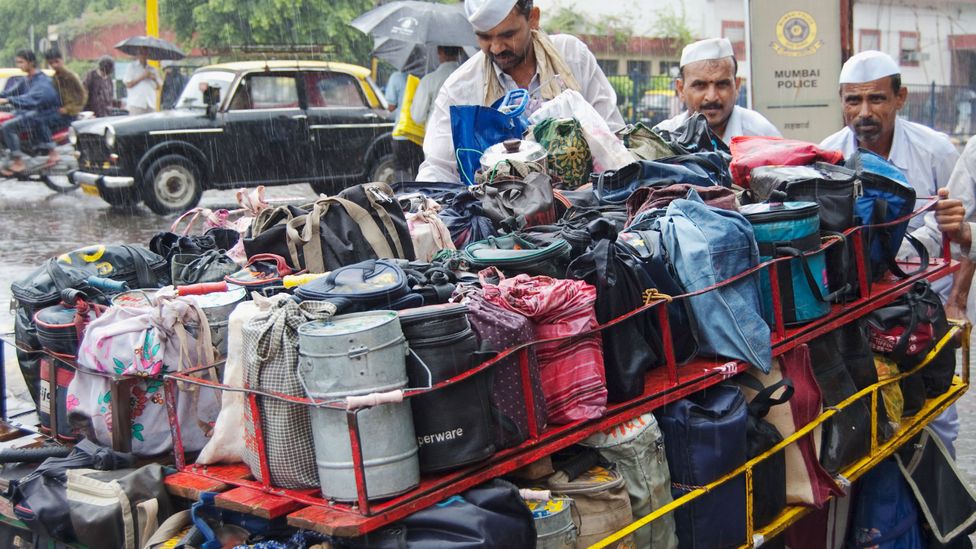 Lunchboxes coming from all over the city are loaded onto bicycles and handcarts for the final leg of their journey (Credit: Getty Images)
Many burned through investor cash making fancy apps and offering discounts in pursuit of market share rather than building reliable supply chains and a solid business plan, says Jain. He thinks food-tech businesses could learn from the "strong fundamentals" of the dabbawalas. "I think food delivery 2.0 in India is going to be dabbawalas on tech," he says.
He's not the only one. Both Swiggy and Runnr, two leading tech-powered food delivery companies, have tapped the dabbawalas for their expertise. Bangalore-based Runnr has built its delivery service using a similar crowd-sourcing model to ride-sharing companies like Uber.
Food delivery 2.0 in India is going to dabbawalas on tech – Pankaj Jain, 500 Start Ups
Co-founder and CEO Mohit Kumar says they contacted the dabbawalas to get some pointers when they expanded into Mumbai a year ago. The company has also signed up around 200 dabbawalas to work part-time after they finish their lunchtime deliveries.
One of the lessons Runnr learned was how to navigate Mumbai. The way Google Maps divides the city into neighbourhoods does not take traffic into account, but years of experience had taught the dabbawalas where the bottlenecks were. "No other system has this level of data for each locality," says Kumar. "That really helped us get our delivery times down."
As well as its on-demand service, Runnr is now experimenting with regular lunchtime deliveries to big offices in Bangalore – putting it in more direct competition with the dabbawalas.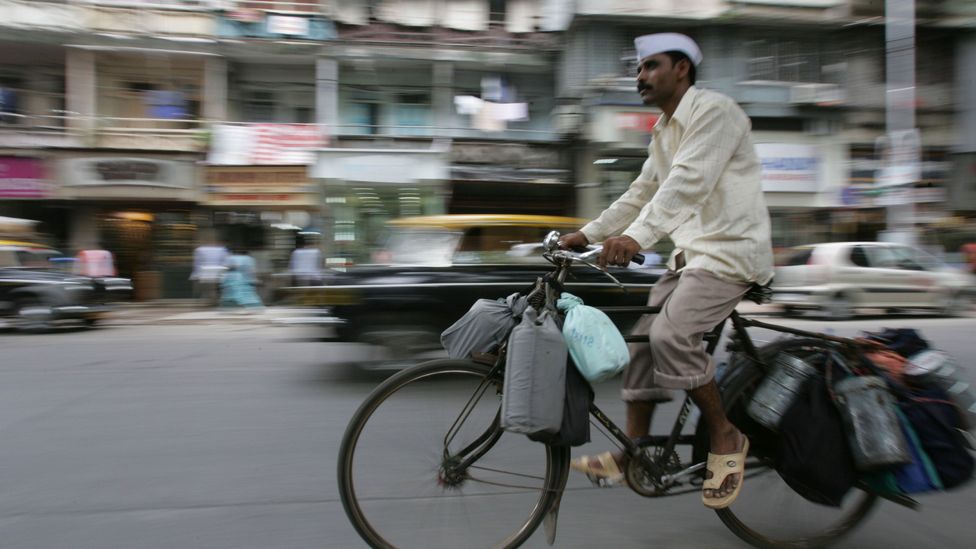 On the crowded streets of Mumbai, trains and bicycles are quicker than cars and motorbikes (Credit: Getty Images)
A pre-ordered delivery must arrive on time, however. "It's more mission critical," says Kumar. "Like the dabbawalas we are trying to build a system that is extremely fault tolerant." That includes extensive driver training, a rigid schedule and aligning driver incentives to reward punctual delivery rather than number of orders.
Kumar thinks adopting more technology could help the dabbawalas. Combined with local knowledge, mapping technology could help create better delivery routes that can be adapted quickly as customers join and leave. If Runnr decides to launch scheduled lunchtime deliveries in Mumbai, Kumar says he would consider partnering with the dabbawalas.
Pawan Agrawal is not so sure that the dabbawalas will be quick to adopt new tech, however. A motivational speaker on management topics, Agrawal did his PhD on the dabbawala network and now gives lectures to businesses around the world about how to apply some of the organisation's processes. Agrawal points out that many dabbawalas are over 50 and there is no retirement age. "I think it will take time," he says.
The dabbawalas are talking to e-commerce giant Flipkart about handling their deliveries
But their low-tech approach could be a strength. The dabbawalas offer a different service to the digital start-ups. "You cannot order home cooked food online," he says. And on the crowded streets of Mumbai, trains and bicycles are quicker than cars and motorbikes. Dabbawala Gangaram Hemade agrees: "If you're on a motorbike you have to follow all the rules and parking is a problem. This way we can move anywhere even in heavy traffic."
Dabbawalas are not afraid to embrace new opportunities, however. They are talking to Indian e-commerce giant Flipkart about carrying out last-mile deliveries. And one group is working with start-up Raw Pressery to deliver health juices on-demand.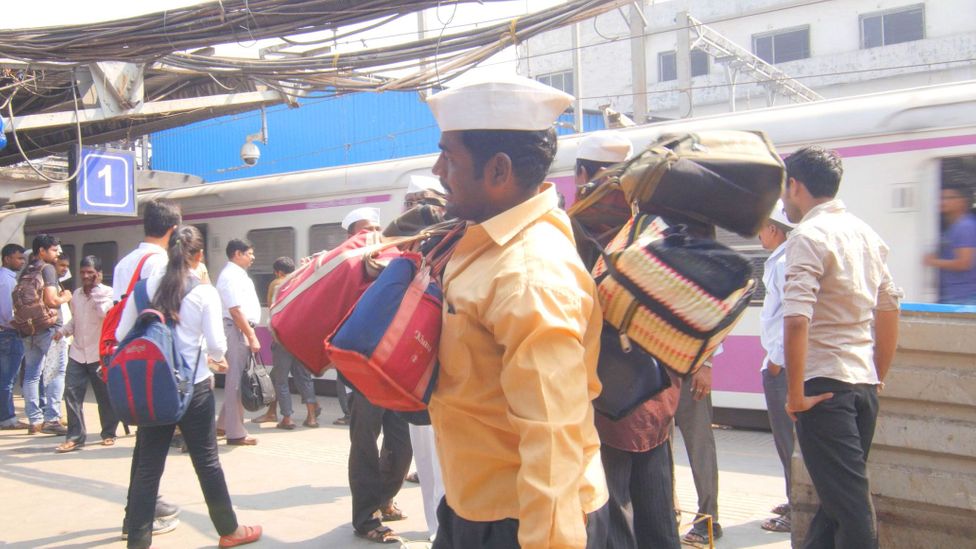 Despite more collaborations with online start-ups, the dabbawalas do not expect their core business to change (Credit: 42fps Productions)
According to Sangle, the healthy-eating craze in India is good for dabbawalas as food companies are turning to them for delivery. Profits from these newer ventures are bumping the dabbawalas' salaries up from 12,000 to 20,000 rupees a month, he says.
Still, Sangle does not expect the core business to change. For one thing, he thinks the dabbawalas' spiritual connection to the job will always give them an edge. "New companies give their customers good offers but they're just interested in capturing the market," he says. "The dabbawalas have deeper reasons for doing it. Serving their customers is like serving their god."

Keep up to date with Future Now stories by joining our 800,000+ fans on Facebook, or follow us on Twitter, Google+, LinkedIn and Instagram.
If you liked this story, sign up for the weekly bbc.com features newsletter, called "If You Only Read 6 Things This Week". A handpicked selection of stories from BBC Future, Earth, Culture, Capital, Travel and Autos, delivered to your inbox every Friday.