What happens to an economy when a country has a sudden and unexpected influx of tourists? Iceland offers intriguing lessons about the impact on cities, the environment and even food supply.
A girl scoops up a huge dollop of sticky white mud and ladles it into the hands of her friend, who smiles and gasps as it spills back into the water. Dozens of people are here, neck deep in a heated pool of soothing seawater. The late November air temperature is around 0C but the lagoon is like a hot bath. An electronic display at the exit to the changing rooms reads 38C. People apply mud masks and video themselves on smartphones encased in little plastic pouches.
The Blue Lagoon is well known to Iceland's visitors. The artificial pool, warmed by a nearby geothermal power plant, is particularly arresting at night. Huge clouds of steam billow into the starry black sky above the crowds of British, French, American, Russian and Chinese holidaymakers who have all come here to soak.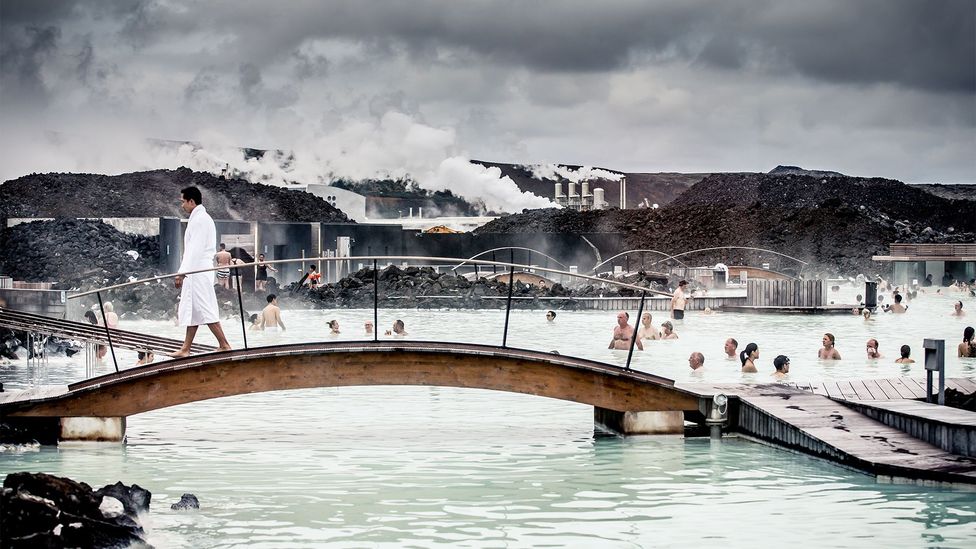 The Blue Lagoon has long been one if Iceland's most popular attractions. The artificial pool is warmed by a nearby geothermal power plant (Credit: Getty Images)
Iceland's hot pools have long been popular. But the number of people visiting the country has increased dramatically in the last few years. Iceland has a population of just over 330,000. Last year, around 1.7 million tourists came to visit. And the numbers are expected to continue rising. Iceland is experiencing a tourism boom that has taken it by surprise – and the influx is changing the once isolated country in interesting ways.
After the 2008 financial crisis, the value of the Icelandic krona fell heavily. As part of its economic recovery, Iceland made deliberate efforts to attract foreign visitors. But even those responsible for marketing Iceland abroad have been struck by the numbers. "I don't think anyone could have expected this," says Inga Hlin Palsdottir at Promote Iceland, a PR organisation for the country.
Iceland is experiencing a tourism boom that has taken it by surprise
What's going on? In many ways, Iceland provides a snapshot of several shifts going on in the world: a move everywhere towards service industries like tourism, which now supports one in 11 jobs on the planet; fluctuations in national economies that have knock-on effects at home and abroad; and the impact of cheaper and more available air travel.
The uptick in visitors may also partly be down to people's growing awareness of the country. Iceland has been in the news quite frequently in recent years. There was the financial crisis that broke its banks and sent the country into political turmoil. There were the eruptions of its Eyjafjallajökull volcano in 2010, which grounded flights across Europe. And last year Iceland's football team won fans around the world when it reached the quarter-finals in its first ever appearance at the European Championships.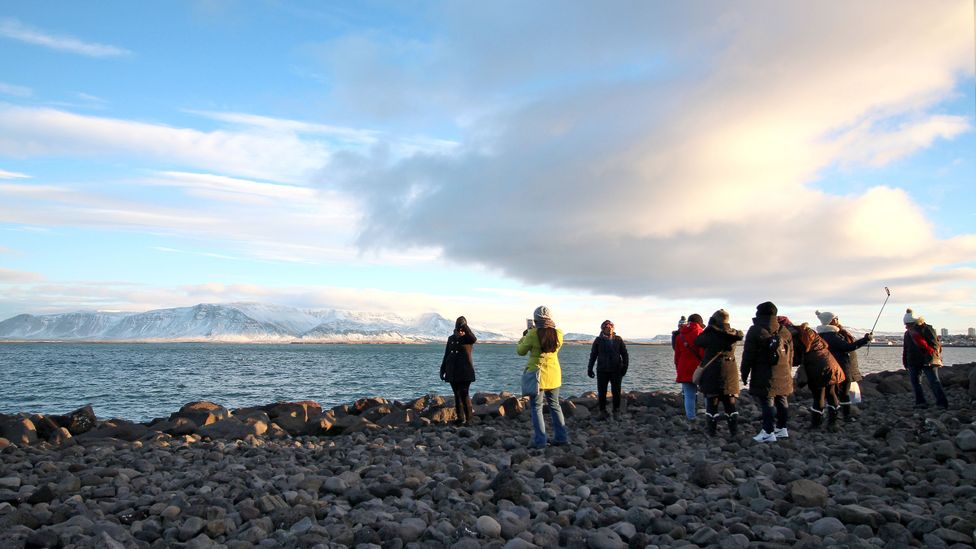 Iceland has a population of just over 330,000 – last year, around 1.7 million people came to visit (Credit: Chris Baraniuk)
But one of the biggest factors has surely been the growing availability of low cost airline tickets from Europe and the United States. Passenger numbers at Keflavik International airport have grown steadily over the last 10 years. In 2016 alone the number of people passing through the airport leapt by 40%, from nearly five million to nearly seven million.
In 2016 the number of people passing through Keflavik airport jumped by 40%
In particular, Icelandair's offer of a free stop-off in the country for passengers travelling across the Atlantic has had a big effect, says David Goodger at analysts Oxford Economics. "People are breaking their trip to spend a few nights in Iceland itself," he says. "They've done a very good job at selling into that market." Other stop-off destinations for flights between Europe and the Far East have pulled the same trick. "It's what the likes of Dubai and Singapore did very successfully a few years ago."
The effect of tourist spending is clear, especially in Reykjavik. "Look at this area here," says Palsdottir, gesturing out of the window of a trendy hotel in Reykjavik's marina. "During the financial crisis, this was a dead area."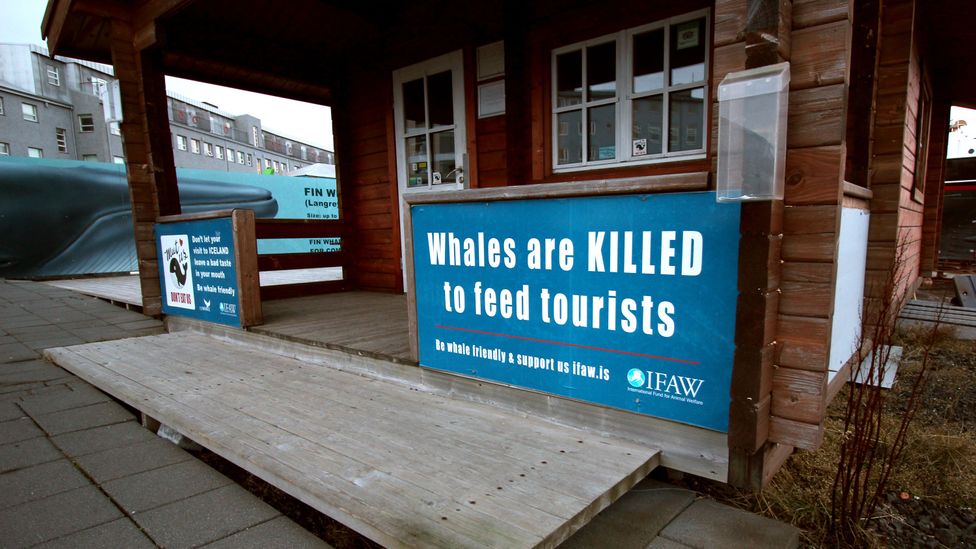 Minke whale meat is popular with some tourists – but tourism is not a driving factor in Iceland's whale-hunting quota, as this sign suggests (Credit: Chris Baraniuk)
Elsewhere in the city, work to accommodate the visitors continues. A huge building site just 10 minutes' walk away will soon be home to a brand new, five-star Marriott hotel opening in 2018. At Keflavik airport, a billboard boasts to travellers that it is getting a 7,000 sq m extension. Even the Blue Lagoon is being made bigger.
The range of attractions tempting visitors like these is growing, too. In 2014, a new tour was launched where tourists can pay to be driven to a remote glacier and then walk through an ice-tunnel drilled into its glassy bulk – the longest artificial ice-tunnel in the world. In their second year, the tunnel had 22,000 visitors – 50% more than expected.
But all these visitors need feeding. One of the local food industry's biggest current challenges is meeting the demands of tourists who expect to be able to order everything from sauteed asparagus to Waldorf salads on a whim.
Iceland's McDonald's restaurants closed down in 2009 when it became too expensive to import ingredients
In Iceland, which must import much of its food, that's not easy. The sharp fall in the value of the krona in 2008 made importing fresh food prohibitively difficult. One impact of this was the closure of all three McDonald's restaurants in the country. The person running the franchise said the cost of importing necessary ingredients had simply become too high.
Yet even the demise of a fast-food franchise has become a tourist attraction. The "last McDonald's in Iceland" – a burger and fries bought on 30 October 2009, the day before the restaurants closed – is on display in a local hostel. Visitors are invited to take a selfie with the surprisingly well preserved meal. For anyone who can't make it to Iceland, there is a live webcam feed.
With imports reduced, people turned to locally-produced fruit and vegetables grown in geothermally heated greenhouses. One local farm decided to try and cash in on the tourist boom a few years ago with a horse show, but visitors were more interested in the tomatoes, says Gudridur Helgadottir at the Agricultural University of Iceland. "They always thought this would be about the horses but interest in the greenhouses grew and grew," she says. "So they decided to open up a restaurant."
Some locals worry that Reykjavik will soon look like any other large city in Europe, with lots of new hotels (Credit: Chris Baraniuk)
Many businesses have benefited from tourism. A chef at a tiny ramen bar in Reykjavik – which sits next to the construction site for a new guesthouse – is cheerful about the changes. "If they get cold watching the seals, they can come and have my soup."
But not everyone is happy. Later, one local says she worries that Reykjavik will soon start to look just like any other large city in Europe, with the proliferation of steel and glass hotels.
Increasing demand for accommodation could also cause problems for locals. The government recently took steps to limit the availability of Airbnb rooms, for instance. The fear was that residents faced being pushed out of hotspots like downtown Reykjavik due to rising house prices.
The government has taken steps to limit the availability of Airbnb rooms
Another concern is the impact of so many foreign visitors on the largely pristine environment. Salome Hallfredsdottir works for the Icelandic Environment Association. Last August, she drove to Landmannalaugar, a stretch of terrain at the edge of a lava field in the country's highlands. But as she arrived, she was greeted by the sight of hundreds of parked cars and far more tourists than she'd ever seen at the spot. "I was pretty shocked," she says.
Hallfredsdottir is particularly concerned about the impact on the highlands, which she calls "the only untouched wilderness left in Europe". There is a heated debate about whether all of the highlands should be designated as a protected area.
One problem is off-road driving, says Hallfredsdottir. It only takes one driver to leave tracks in the dirt for others to think the route is an official one, she says. The damage caused to young plant life and rocky formations can be considerable. "We don't want every part of the highlands to be accessible," says Hallfredsdottir.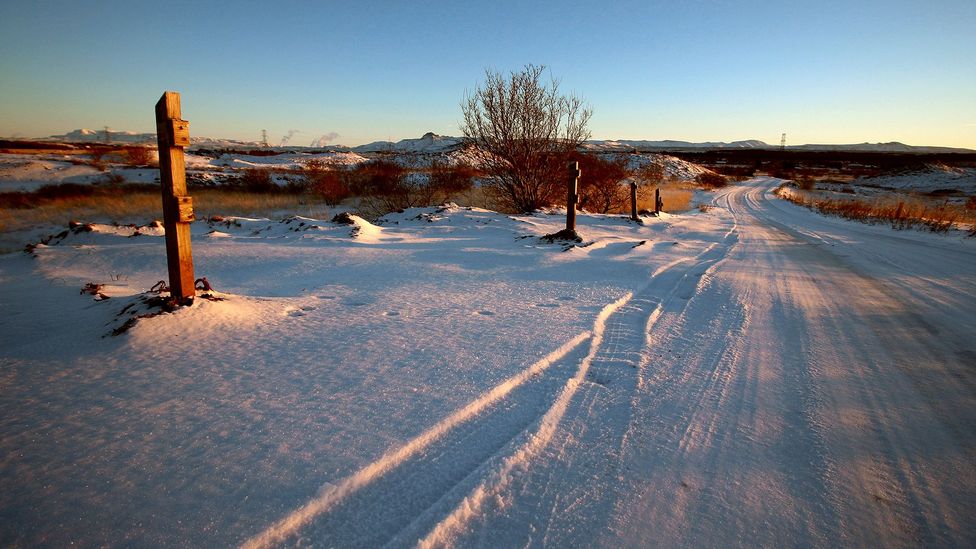 It only takes one driver to leave tracks in the snow for others to think the route is an official one (Credit: Chris Baraniuk)
She also wants to see a rise in the number of rangers, who can keep tourists to the appropriate trackways and paths, and also intervene when necessary to prevent littering and other negligent behaviour.
No-one has yet worked out how to pay for an expansion of facilities and staff at natural attractions, however. One proposal, a "nature pass" that would have cost 1,500 ISK ($14) per person for access to previously free sites, was rejected by Iceland's parliament in 2015. However, at one of the most popular national parks, Thingvellir, visitors at least now have to pay to use the car park.
Advocates of Iceland's flourishing new industry are convinced the influx is positive overall, however. "We will all benefit in the end," says Palsdottir. "We will get better roads, we will get better paths."
Could Iceland's tourist boom just be a bubble?
But could Iceland's tourist boom just be a bubble? The sector has grown to rival fishing as one of Iceland's major industries, generating around 5-6% of GDP – roughly double what it is in most other European countries. Iceland's yo-yoing currency is a risk, however. A recent fall in the relative values of pound sterling and the US dollar has meant that the two biggest groups of visitors – the Americans and British – have suddenly found their trips cost them more.
"Our modelling shows that there is a clear relationship between currency movements and tourism performance," says David Goodger at Oxford Economics in the UK. The current expectation is that Iceland's tourism industry will continue to grow, even if it does so at a slower rate. But that is not a given.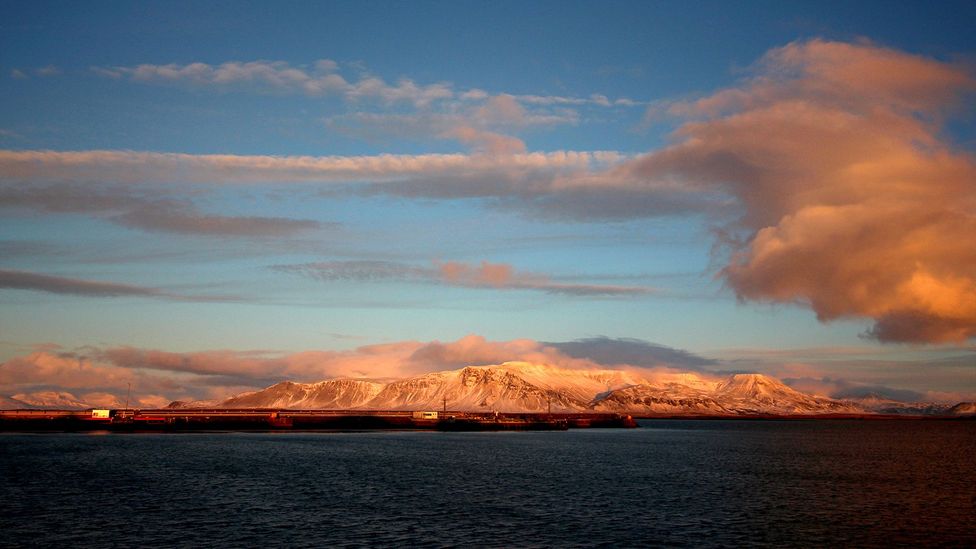 The current expectation is that Iceland's tourism industry will continue to grow, but that is not a given (Credit: Chris Baraniuk)
"Large shifts in currencies could completely undermine that," he says. "If they become a much more expensive destination then, we could definitely see that reversing." In other words, Iceland's tourism bonanza – which surely helped strengthen the krona – could end up undoing itself if prices continue to rise relative to other countries.
But the crowds aren't going anywhere just yet. Back at the Blue Lagoon, one visitor pipes up to her friends: "It would have been even more awesome if there had been fewer people."