How do you build a massive infrastructure project meant to bring Britain into the future… and not destroy the stories about its past? Two new railway lines are trying to figure it out.
S
Sitting in a train seat and watching the outside world whiz past, you're unlikely to think about the sacrifices that were required in order to make your journey more convenient: a beloved building here, a medieval graveyard there.
Yet it's an unfortunate reality that engineers and planners must make tough decisions before expanding a transport network. Figuring out what important buildings, archaeological artefacts and cultural heritage to save, what to excavate and what to demolish can be complex – and fraught with controversy.
These dilemmas have been brought into sharp focus by two of the UK's ongoing transport megaprojects: Crossrail, a giant tunnel network beneath London, and HS2, which will link the capital to northern England by high-speed rail.
In a few years' time, passengers will ride these networks oblivious to the destruction that was required to build them. But as BBC Britain discovered, there are a few silver linings, too: these projects have unearthed intriguing archaeological finds that may not have emerged otherwise.
See our video on the archaeological finds unearthed by Crossrail below:
London's hidden archaeology
Crossrail, which is wrapping up its building phase now, is currently the largest construction scheme in Europe. The 73-mile (118km) line runs through the heart of London. That location doesn't just entail grappling with the logistical issues provided by a densely-packed urban environment – like how to build around the infrastructure and transport links already in place. (In one particularly tricky section at Tottenham Court Road, for example, Crossrail was tunnelled between the London Underground's Northern line and station… leaving just 31in [80cm] of padding on either side). It also means dealing with more than 2,000 years' worth of artefacts, buildings, even human burials.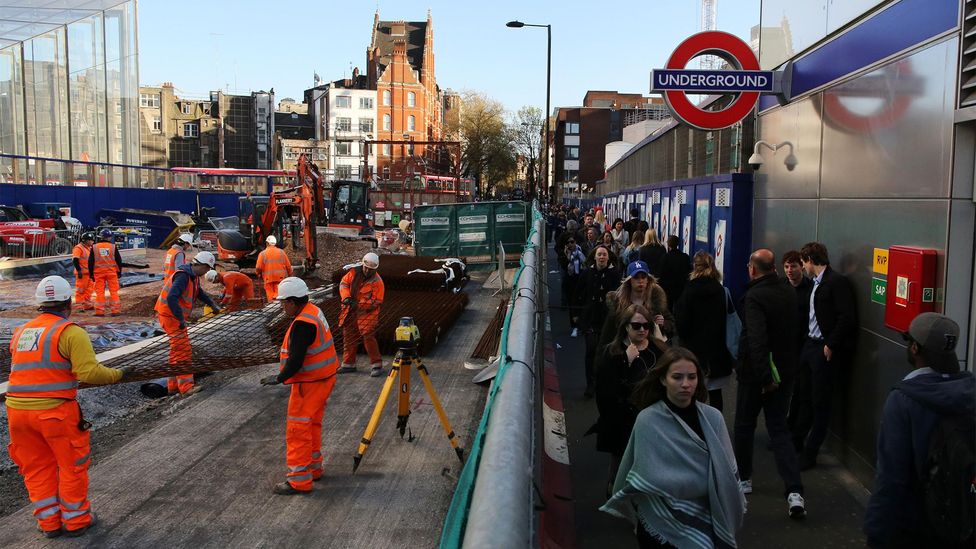 Among the trickiest areas for Crossrail engineers was this one at Tottenham Court Road (Credit: Alamy)
Re-routing to avoid a much-loved building or archaeological site can be all but impossible. As Crossrail's head archaeologist Jay Carver puts it: "It's got to go from A to B, via the right places. It's no good having a station out of town where no one can get to it." Speed, of course, is another issue. A high-speed railway won't work with a line that curves and wiggles all over the map.
Dig deep
While the Crossrail line runs deeper than the archaeological layer, the entrance shafts and stations do not. And moving a station slightly further north or west to avoid one site often would mean affecting another.
One example was Crossrail's Tottenham Court Road ticket hall in the West End of London, which had an added challenge: as a station interchange which had to link the Northern line and Crossrail underground, it had little scope to move. As a result, Crossrail demolished some buildings for the interchange – including the much-loved Astoria Theatre, a cinema-turned-concert-venue built in 1927 that hosted headliners including Oasis, Nirvana and U2.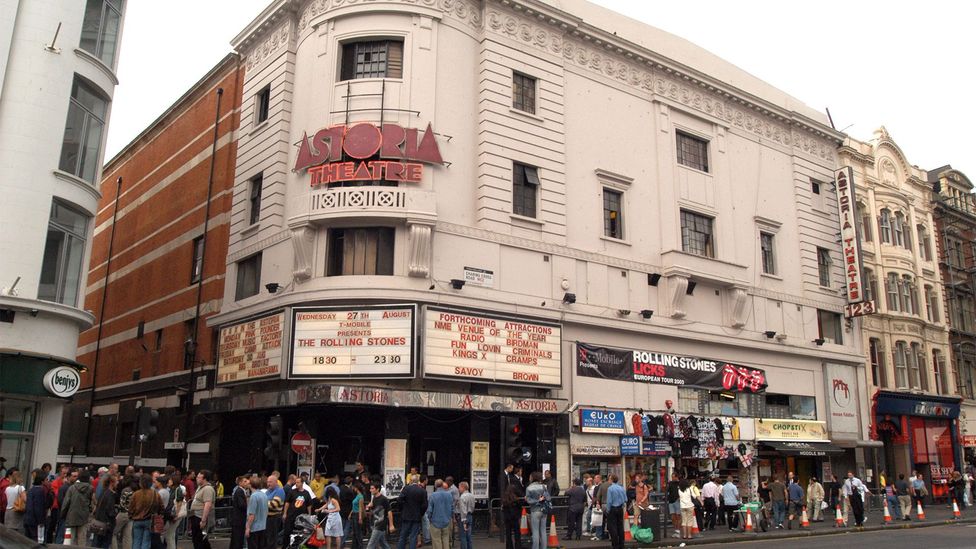 Crowds gather outside of the now-demolished Astoria Theatre for a Rolling Stones concert in 2003 (Credit: Alamy)
The Astoria wasn't a listed building, which made it more vulnerable. Still, Carver notes, "for most sites – even for sites which are scheduled or protected by UK law, such as a scheduled monument or a listed building – there is always an opportunity to apply for the demolition of that asset. There's a legal process you can go through... If you can justify the public good outweighs the heritage significance, whereas it has to be quite a strict weighting, then you can demolish a protected asset." One protected building Crossrail demolished was the Grade II-listed 96 Dean Street; like the rest, it first was investigated archaeologically and any outstanding architectural pieces, like staircases, went to a national art collection.
For historic buildings which weren't demolished, there were still concerns. Chief among them was whether vibrations from Crossrail's 1,000-tonne, 495ft (150m) long tunnel boring machines (TBMs) might cause damage.
Engineers stand before a tunnel boring machine just after it broke through at Whitechapel underground station in 2014 (Credit: Alamy)
Delicate buildings were fitted with sensors to detect tiny movements, feeding information of any shaking back to a control room. "Hundreds of buildings were monitored like they were in intensive care," says Carver. The sensors didn't turn up any trouble, although at one house – Soho's Georgian-era St Barnabas House – workers removed a statue standing in the foyer during tunnelling, just in case.
The parting memento the company is giving to engineers shows just how integral that process became: the gift includes one of the now-retired sensors.
As Crossrail, due to open in 2019, finishes up, eyes are turning to HS2, which will connect London to Birmingham in its first phase.
Since much of the line runs through rural England, demolishing or damaging buildings is less of an issue (though critics have objected to the risks to the rural landscape as well as potential noise). But the sheer length of the line – whose 140-mile (225km) section from London to Birmingham is less than half of the entire Y-shaped route – still encounters a myriad of important, and delicate, sites, ranging from 19th-Century burial grounds to Iron Age earthworks.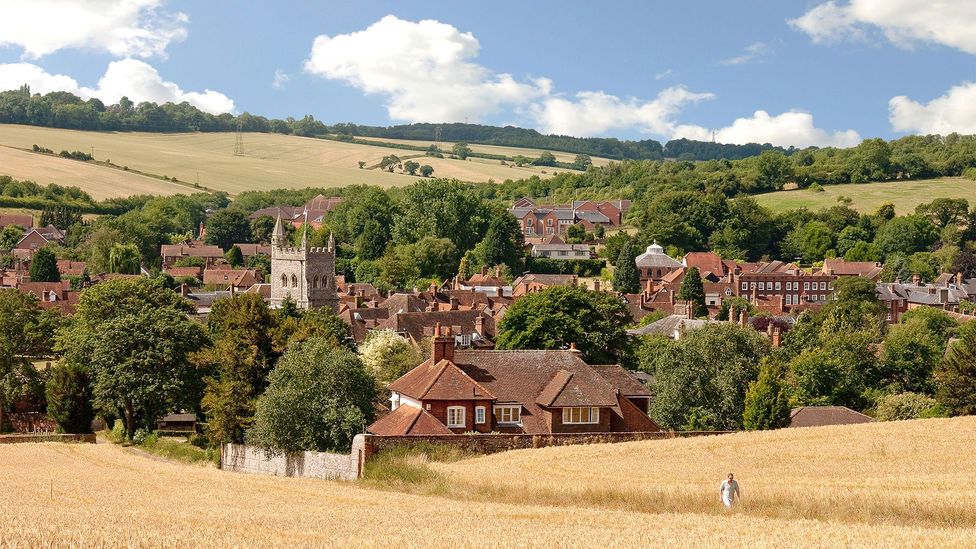 The old town of Amersham, Buckinghamshire is one village that may be put at risk by HS2; the route will skim along its outskirts (Credit: Alamy)
Perhaps surprisingly, in some ways HS2 is at a disadvantage compared to Crossrail. When determining which sites might be affected by this kind of project, the first step is an intensive review of maps and documentation – records of which London, of course, has plenty. Even though that review was then followed by on-the-ground investigations, like drilling boreholes to extract archaeological layers or digging test pits, the amount of information archaeologists already know about London means "you're not really going to find a surprise in terms of what you find where", says Carver.
We do as much as possible before we even need to put a spade in the ground – Helen Glass
Much of the land around HS2, though, isn't developed and hasn't been investigated. So HS2's archaeologists are taking a different approach.
"We've done geophysical surveys, aerial photography, Lidar [remote sensing using light]," says Helen Glass, HS2's head archaeologist. "We do as much as possible before we even need to put a spade in the ground.
"[But] there are still always, as a detailed design progresses, gaps in knowledge to be filled in – because obviously, before we've got permission to build the railroad, we can't excavate from London to Birmingham 'just in case'."
In rare cases, more information has led planners to change the route. An early scheme for HS2 had the line cutting close to a yet-unexcavated ancient Roman villa, for example, and through the location of the Battle of Edgcote – one of the bloodiest battles of the Wars of Roses and the possible home to a mass grave. It also went through the grounds of the Georgian Edgcote House, used as a setting in the 1995 television series of Pride and Prejudice. (Though the building is Grade I-listed, its gardens and grounds are not).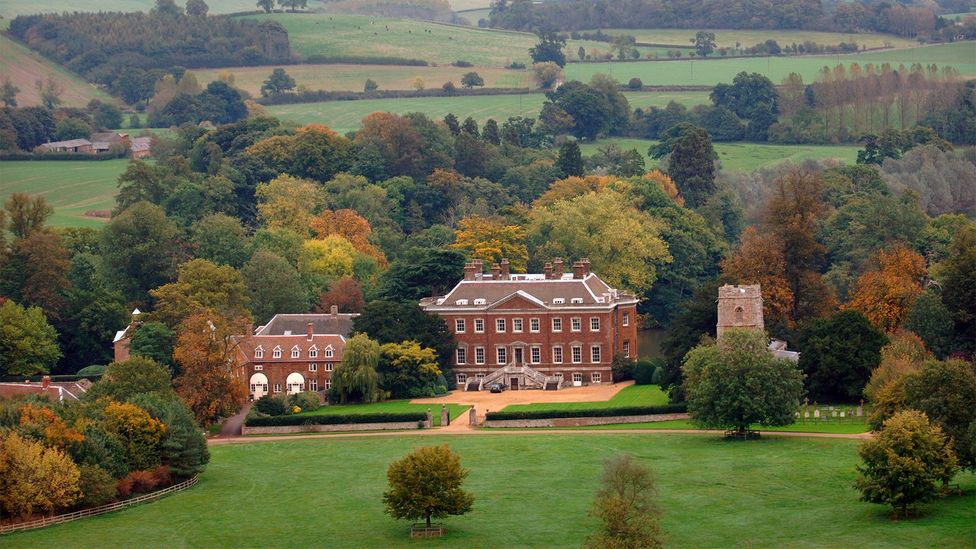 Initial plans to route the HS2 line through the grounds of Edgcote House, shown here, later were changed (Credit: Alamy)
After input from groups like Battlefields Trust and Historic England and finding that the Roman villa was larger than it previously seemed, HS2's route was moved further from Edgcote's sites. The proposed line still clips the battlefield's north-east corner, says Simon Marsh, the research and threats coordinator of Battlefields Trust: "This seems to be considered one of those wholly exceptional situations on the basis that putting curves into high-speed rail prevents it being high-speed." But, he notes, archaeological work should be done before the line is built – so there will be an opportunity to test for any artefacts first.
A more intractable challenge has been Grim's Ditch in Buckinghamshire. Thought to date back nearly 3,000 years, it remains unclear if the ditch is a territory boundary or something else, not least of all because the ditch has never been excavated before. Because of its 18km length, "there's no choice really but to cut across it", says Andy Brown, the planning director for Historic England in the South East. "Rather than trying to fight that – because cutting across a long monument doesn't do it grievous harm; it's harmful, but not grievous – it's about seizing the opportunity to understand it how it was built, when it was built."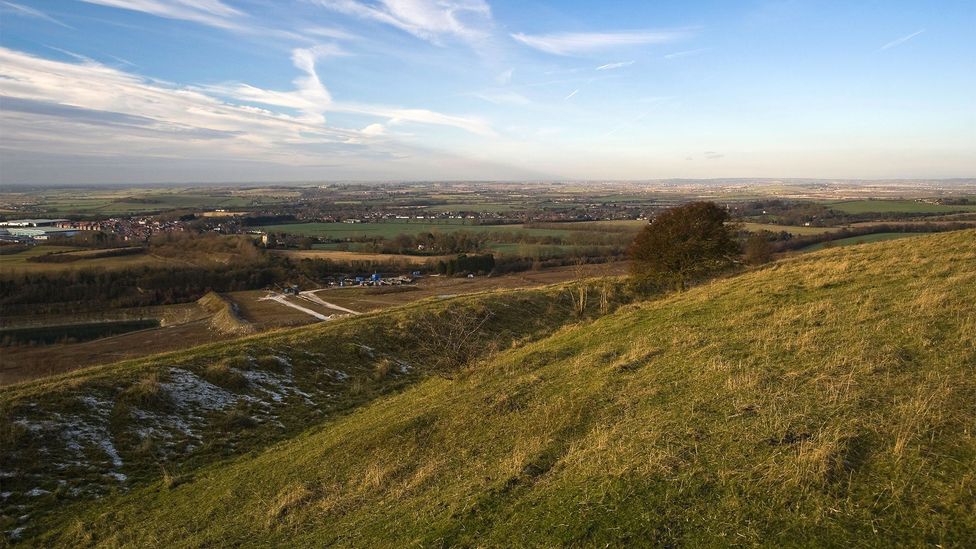 Grim's Ditch will be excavated for the first time in advance of HS2's construction (Credit: Alamy)
The Grim's Ditch excavation points to the potential upside of what happens when projects cut through archaeological sites. Excavation is an inherently destructive process. But of course it is one that can provide clues to an area's history, people and culture. As the Museum of London exhibition Tunnel: The Archaeology of Crossrail shows, Crossrail uncovered everything from Tudor-era bowling balls to skulls found, mysteriously, without their skeletons.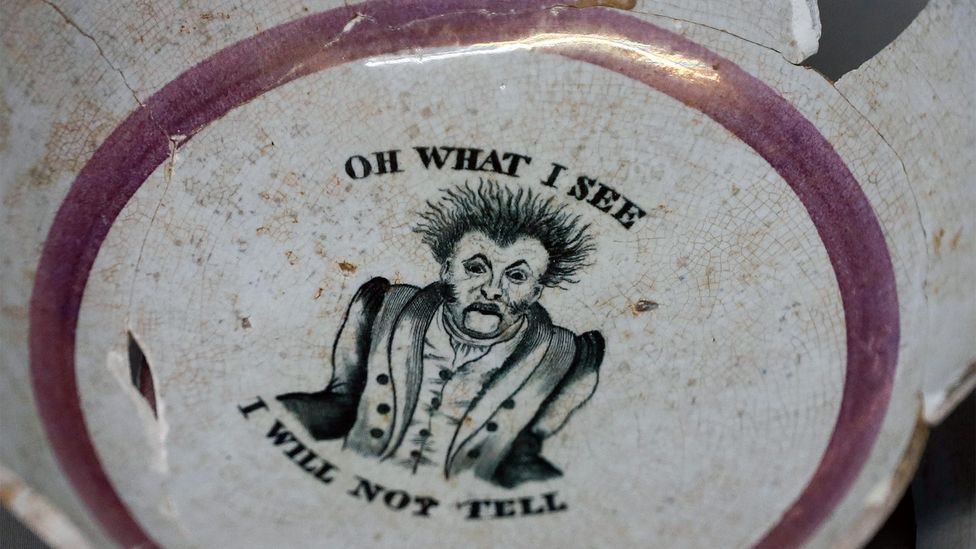 One of the more amusing finds from Crossrail's excavations was this 19th-Century chamber pot, found beneath a Victorian house in Stepney Green (Credit: Alamy)
Now, Crossrail is passing the mantle of major archaeological investigation (and even its archaeologists: Carver soon is moving from Crossrail to HS2). "This will be the biggest archaeological investigation programme in the UK, bar none," Glass says of HS2.
We're trying to marry what is a very academic discipline with actually delivering a railway – Helen Glass
Some of the investigations that could be especially informative also are the most controversial – like the excavations of St James' Gardens, a cemetery used in the 18th and 19th Centuries in London, or the abandoned cemetery of Stoke Mandeville, which may have been used for 700 years. But as Crossrail demonstrated with the skeletons of plague victims found at both Charterhouse Square and Liverpool Street, by using both osteological techniques and modern DNA analysis on the exhumed skeletons, there is the opportunity to understand more about everything from how diets changed to family relationships. Human remains are "always one of the hardest archaeological sites to see disturbed" says Jim Williams, senior science advisor for the East Midlands at Historic England. "When we do disturb them, I think it's important to make the most of that opportunity."
Glass agrees. Her team is going into excavations with specific questions to ask in advance – just as academic researchers would.
"Our research and delivery strategy is, rather than just gathering data, focusing on specific questions," she says. "We're trying to marry what is a very academic discipline with actually delivering a railway."
This story is a part of BBC Britain – a series focused on exploring this extraordinary island, one story at a time. Readers outside of the UK can see every BBC Britain story by heading to the Britain homepage; you also can see our latest stories by following us on Facebook and Twitter.
Join 600,000+ Future fans by liking us on Facebook, or follow us on Twitter, Google+, LinkedIn and Instagram.
If you liked this story, sign up for the weekly bbc.com features newsletter, called "If You Only Read 6 Things This Week". A handpicked selection of stories from BBC Future, Earth, Culture, Capital, Travel and Autos, delivered to your inbox every Friday.