Self-service tills mean headaches for some shoppers, but bring convenience – and a few unexpected benefits – for others.
E
Earlier this week, BBC Future published a story about shoppers' disdain for self-service checkouts: many people find them poorly designed and irritating to use. While these machines are a scourge for many store-goers – even driving some of them to theft – what about those who actually like the do-it-yourself devices? What about the shoppers who prefer humanless convenience to face-to-face interactions? Indeed that was the case for a number of BBC Future readers responding to our article on Facebook.
Make no mistake, shoppers definitely use self-checkouts – prompting more companies to install them in their stores. By 2020, the market size of the global self-service kiosk market is expected to reach $18 billion, and the number of installed units will grow from around 240,000 globally to 468,000 between 2016 and 2021.
There are lots of reasons why customers might prefer self-checkouts
There are lots of reasons why customers might prefer self-checkouts on each Tesco or Walmart run. For some, they're faster and easier than waiting in a queue, and avoid having to depend on the performance of a human employee. (They're desirable for companies, too, as they save money on hiring human staffers.)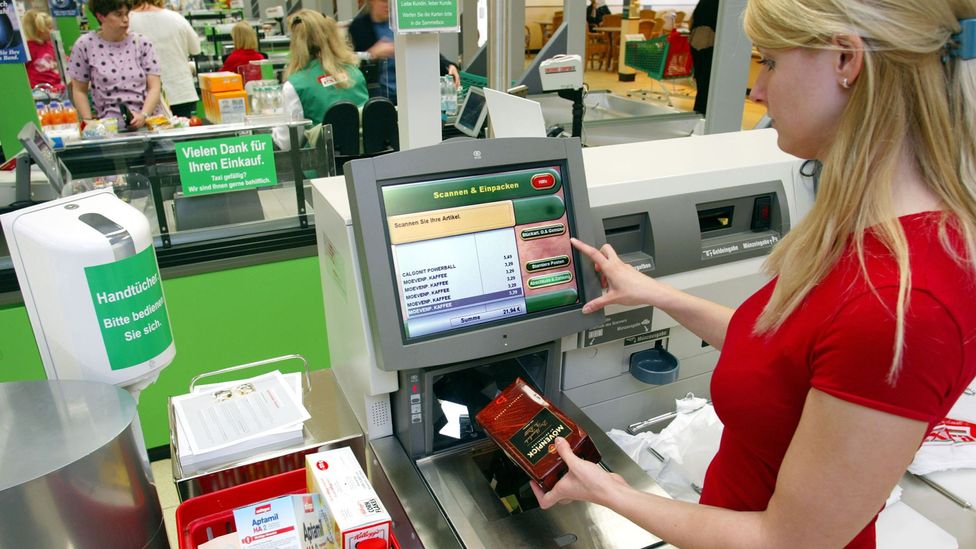 Some shoppers find self-checkouts irritating, whilst others think they're more convenient than interacting with another human at the till (Credit: Alamy Stock Photo)
But some customers prefer the robotic tills for more reasons than just speed. There are psychological factors at play, too.
In an interview with Harvard Business Review, Ryan Buell, an assistant professor at Harvard Business School, pointed to one study of a liquor store that switched from traditional cashiers to self-service kiosks, finding that "the market share of difficult-to pronounce items increased 8.4%".
"The researchers concluded that consumers might fear being misunderstood or appearing unsophisticated in front of the clerks," Buell told HBR. "Changing to self-service removed the social friction."
Self-service kiosks not just give us more customisation options – but they also free us of any side-eyed judgment one might possibly endure from a living, breathing employee.
In the HBR piece, Buell points to a pizza chain that rolled out online ordering to its customers: "The customers who were ordering online ordered food with 3% more calories, and also gave 14% more [special] instructions compared with the average purchase over the phone. They concluded that customers' desire to avoid negative judgment of their eating habits drove the change."
Plus, our society is increasingly guided by new service technologies that effectively ditch the human middle man (or woman) in between the customer and the good or service – whether that's at the supermarket or elsewhere.
Online food delivery services like Seamless eliminate the need to physically go to a restaurant and interact with waiters and maitre d's and other human staff – you order your meal online instead and wait for it to be delivered to your door.
The MIT Sloan Management Review points this out: "Kiosks, websites, mobile apps, and other self-service technologies now let service businesses streamline transaction processes."
Consumers are not running away from self-service options, just poorly implemented ones
But what about when shoppers bemoan the clunky, glitchy technological navigation of self-checkouts? After all, there are only so many times you can re-scan a hard-to-read barcode before you go crazy. "Consumers are not running away from self-service options," the MIT piece argues. "Just poorly implemented ones."
Still, despite skyrocketing increases in automated tills around the developed world, customer preference still boils down to the individual customer.
I was recently in a McDonald's in Queens in New York City. It sported four big, glowing touchscreens that catalogued the entire menu. These kiosks let you place an order and customise every last drop of milk in your coffee to every extra slice of cheese on your burger. I tried it and liked it – it was easy to use, I got to skip the queue, could confirm with 100% accuracy that my order was how I wanted it, and even had my food brought to my table as though I were at a sit-down restaurant. I wasn't the only one using the kiosks, either.
And yet? There was a young mother with her daughter at the kiosk behind mine. "I don't like these things – they make me nervous," the woman narrated to her toddler. After a couple minutes of fiddling on the screen, she gave up. "Let's just do this instead," she said, and headed to the human cashier to order – where there was no queue.
Join 800,000+ Future fans by liking us on Facebook, or follow us on Twitter.
If you liked this story, sign up for the weekly bbc.com features newsletter, called "If You Only Read 6 Things This Week". A handpicked selection of stories from BBC Future, Earth, Culture, Capital, and Travel, delivered to your inbox every Friday.