Our planet is already feeling the effects of climate change, but it's also poised to cause irreversible shifts in the ways we work, and the skills that employers need.
W
When we think of climate change, most of us think of environmental consequences like rising sea levels, elevated temperatures and melting glaciers.
In some parts of the world, like south Florida or the mountains of Switzerland, those shifts already are affecting daily life. In Miami, for example, wastewater treatment plants are being re-built higher, seawalls raised and car parks designed with flood gates – not only in response to flooding today, but with an eye to the sea levels of tomorrow.
But experts say that those effects may only be the tip of the (melting) iceberg. Climate change is shaking up everything from finance to health. As a result, it isn't only urban planners in at-risk areas who will have to shift their framework for planning for the future. From financial planners to farmers, civil engineers to doctors, an increasingly wide range of other professionals are likely to find their industries affected.
That means there may be another consequence of climate change that often gets overlooked: what it means for your career.
"Everyone is going to need to understand [climate change] the same way you'd assume everyone in business needs to have some fluency in social media today, or that everyone would able to use a computer 20 years ago," says Andrew Winston, author of the book The Big Pivot: Radically Practical Strategies for a Hotter, Scarcer, and More Open World.
Everyone is going to need to understand [climate change] the same way you'd assume everyone in business needs to have some fluency in social media today - Andrew Winston, author
Because it is difficult to know exactly how dramatic the effects of climate change will be, it is hard to know just how much it will affect various industries. But some of the changes already are being seen. Climate-related disasters like droughts and hurricanes, for example, are hitting pocketbooks and insurance premiums – even for people living on the other side of the world. Meanwhile, the complicated supply chains of a globalised retail industry mean that a disruption in one place can cause consequences elsewhere. That was shown recently when earthquakes hit Japan in April 2016, damaging plants that sold parts to Toyota and forcing the auto giant to suspend production.
Climate change is forcing us to pivot to renewable energies like solar, which fuels job demand in those sectors (Credit: Alamy Stock Photo)
Even the health industry may be affected. As well as affecting the availability of clean water and food, warmer weather is increasing the vulnerability of areas already at risk of diseases like malaria and dengue. The recent Zika epidemic may have been exacerbated by warmer weather patterns. Between 2030 and 2050, the World Health Organisation predicts that climate change will cause roughly 250,000 additional deaths per year.
"One of the most interesting things that hasn't been talked a lot about, but that there's a lot of work on in WHO and NIH, is what's coming at us in terms of disease, and how the weather is changing and spreading diseases and epidemics faster," says Michelle DePass, dean of the Milano School of International Affairs, Management, and Urban Policy at the New School in New York. "We might listen to the BBC to hear all about Ebola and other things, and not quite grasp that we are very, very vulnerable to [these kinds of epidemics] here in the United States, as well, because of what's happening with climate."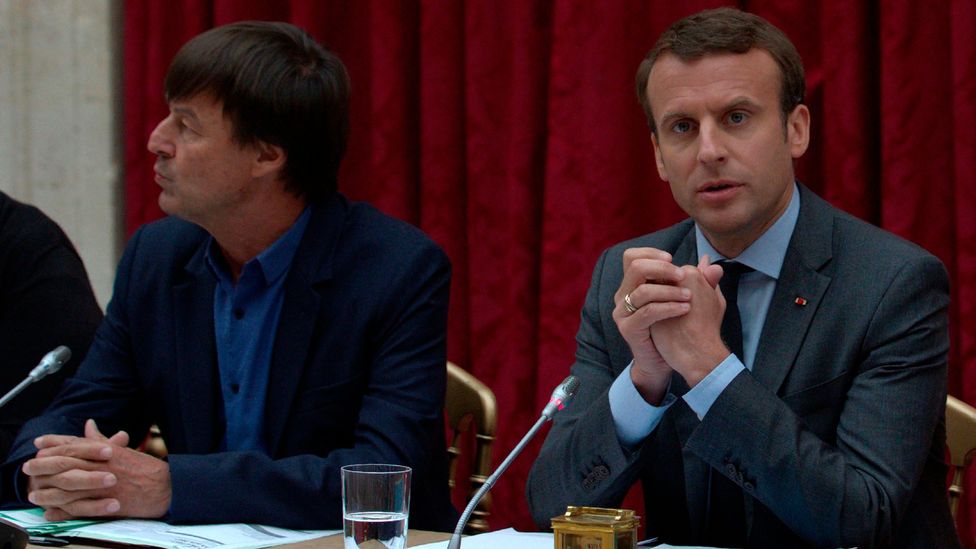 French president Emmanuel Macron has voiced interest in attracting scientists, researchers and other highly skilled workers to France to fight climate change (Credit: Getty)
In fact, this year, the World Economic Forum's Global Risks Report, which draws on assessments from 750 experts, found that one of the five biggest risks faced by the world in 2017, in terms of potential impact, is weapons of mass destruction. All of the four others are climate-related: extreme weather events, water crises, major natural disasters, and failure of climate-change mitigation and adaptation.
We don't have the right people with the right skills in the right places - Daniel Kreeger, executive director, Association of Climate Change Officers
Despite the size of the challenge, fewer employees are trained in incorporating climate patterns in their planning for the future than should be, says Daniel Kreeger, executive director of the nonprofit Association of Climate Change Officers. (One of ACCO's initiatives is to run training and credentialing programmes in climate-related skills). "We don't have the right people with the right skills in the right places," he says.
He points to one example: civil engineering. "We don't expect to get monster inundations of rain, and then drought for six months. We expect to get periodic, smaller amounts of rain. So our systems aren't equipped to deal with larger rainfalls," Kreeger says. "When those parameters change, you need a workforce to deal with those changes.
"Well, our civil engineers haven't been trained to deal with climate change in their training. Our urban planners, our city managers, our architects. Nobody's been taught this stuff."
Hiring climate
Right now, the top 10 most-desired skills for getting hired, according to LinkedIn's data analysis, all have to do with tech: think cloud computing, SEO marketing and web architecture. In the same way tech has transformed today's workforce, some say that climate change could transform tomorrow's.  
One industry that already shows some of that evolution is energy. According to data provided by job listings search engine Indeed, in the first quarter of 2014 in the UK, job postings in the renewable energy sector – made up of bioenergy, geothermal, hydroelectric, solar, and wind – accounted for a third (32.9%) of all energy-sector job postings in the first quarter of 2014. In 2017, that had risen to over half of all energy sector job postings, or 51.5%.
Our civil engineers haven't been trained to deal with climate change in their training. Our urban planners, our city managers, our architects. Nobody's been taught this stuff - Daniel Kreeger
Although these numbers are UK-specific, the same pattern of a shift to renewables was seen worldwide, says Tara Sinclair, Indeed's senior fellow and an economist at George Washington University.
Those changes have been the result of a variety of factors, including the fall in oil prices and competitiveness of natural gas: over the same three years, job postings for oil and coal in the UK fell from two-thirds (66.5%) of the energy sector to under half (47.7%).
But it's also a result of how both employers and job-seekers are becoming interested in mitigating emissions and climate change, says Sinclair. After oil prices declined several years ago, she says, jobs in the oil industry dropped off, as did job-seekers' interest in them.
"Part of it is there are fewer opportunities, and people respond to that they know what the landscape of the labour market is, broadly," she says. "But also there does seem to be this increasing attractiveness of green economy jobs."
In the same way that many people from the oil and gas industry have been able to transition into green energy, says Sinclair, many employees already should have skills which are transferable to climate change-specific issues. Take production and supply chains.
Many employees already should have skills which are transferable to climate change-specific issues
"Generally, planning production differently around potentially volatile weather phenomena, etc, is going to be a piece of the skill set you'd be required to have", Sinclair says. "But I don't see that that's so much different than planning around other sorts of destructive phenomena, whether they be political or anything else. I don't think that as new skill we haven't seen before."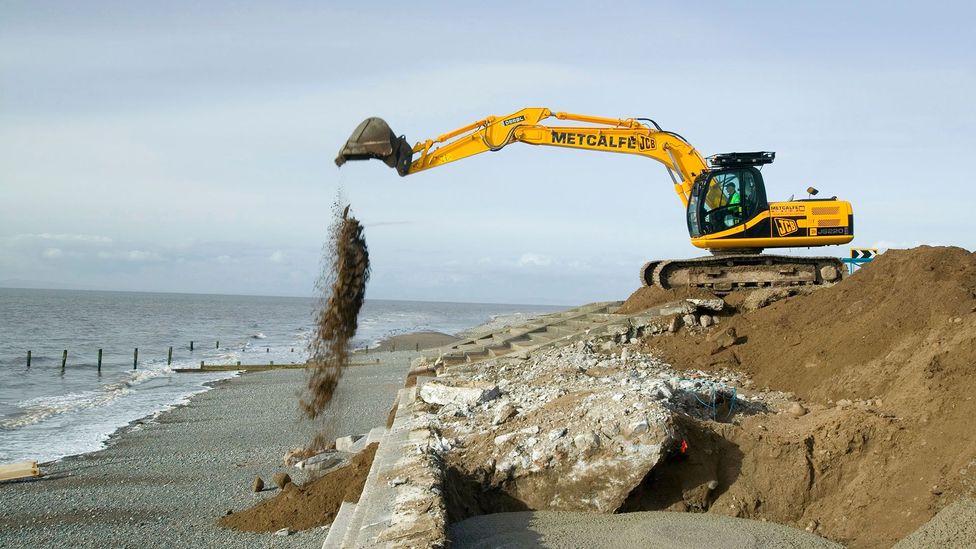 Seawalls are being built and repaired in coastal areas that face rising sea levels due to climate change - which requires able-bodied workers (Credit: Alamy Stock Photo)
Money talks
It remains to be seen how much climate change will affect the expected skill sets for employees in industries less immediately affected by climate change than, say, civil engineering or catastrophe bonds.
But even companies in industries that would appear to be less directly affected by climate change are tuning into the issue.
Winston, who consults with a variety of businesses to help them get ahead of global trends – one of which is climate change – points to Unilever. The mega-corporation, which makes everything from Dove soap to Magnum ice cream, has pledged serious action on a variety of sustainability initiatives – including sourcing 100% of its energy for production from renewable sources by 2030 (it already cut its carbon emissions by 43% from 2008 to 2016). Other companies are working on similarly ambitious initiatives: Coca-Cola, Ikea and Walmart also have committed to 100% renewable energy.
If it seems odd that companies seem to be talking the kind of talk heard more at NGOs, it shouldn't. For one, it appeals to consumers. Recent research by Cone Communications, a PR agency for consumer brands, found that 87% of Americans said they would purchase a product because of a company's alignment on an issue they cared about. It also attracts would-be workers: nearly two-thirds of millennials – the generation that will make up half of all US employees by 2020 – said they take a company's social and environmental commitments into account when weighing a job offer.
But it isn't just about brand appeal. As Unilever outlines on its site, cutting waste and energy use, for example, means cutting both costs and exposure to price volatility. (The company says it already has shaved €700 million in costs since 2008 in this area alone).
Corporate interest in climate change mitigation is also, of course, out of concern for global economic health. One 2016 study found that simply the effect of rising temperatures on workers' productivity, particularly in already-warm climates like Asia and Africa, could cost the global economy more than $2 trillion by 2030.
"The change in discussions in corporate boardrooms, and companies in general, on climate has been pretty profound," says Winston. "There isn't a large company in the world that isn't talking about sustainability or climate. It's just not possible to operate your business without talking about this."
Those factors may help explain why executives of companies from Goldman Sachs to Facebook expressed anger at President Trump's announcement to withdraw the US from the Paris Climate Agreement. Some US CEOs, including Walt Disney's Bob Iger and Tesla's Elon Musk, resigned from the president's advisory board in protest.
Another signifier of how much corporations are not only taking climate change seriously, but also valuing climate-related skills, is in the salaries they're paying people with that kind of expertise.
In 2016, a survey of employees working in the corporate responsibility and sustainability sector, most of whom were in North America or Europe, found that the average salary was £61,000 ($87,000 in 2016 values); 12% of respondents earned £100,000 ($143,000) or more. Even in the UK, where the average salary was under that at £57,000, the average corporate responsibility professional pulled in twice the amount of the average full-time UK employee – who in 2016 made £28,000.
Another signifier of how much corporations are not only taking climate change seriously, but also valuing climate-related skills, is in the salaries they're paying people with that kind of expertise
Still, 63% of the same professionals in the study had a master's or doctorate. "Frankly, they are underpaid relative to the expertise and value that they offer," writes director of SystemiQ Jeremy Oppenheim in the study. One explanation, he says, is that "not enough companies still fully appreciate the economic value which the sustainability team brings to their business."

Similarly, says Winston, in their search for potential employees, most human resources departments, particularly in the US, seem to be behind in terms of how much they are weighing potential employees' climate change competencies. "It's lagging given the scale of the challenge. That's because, for so many years, people thought it was political. You wouldn't get in trouble saying 'Hey, everyone should be trained in social media', but you could if you were saying, 'Hey, everyone should be trained in climate change," he says.

"But," Winston adds, "that's changing." And that shift is already happening, he says – with or without US participation in the Paris Agreement.

 --

Join 800,000+ Future fans by liking us on Facebook, or follow us on Twitter.

If you liked this story, sign up for the weekly bbc.com features newsletter, called "If You Only Read 6 Things This Week". A handpicked selection of stories from BBC Future, Earth, Culture, Capital, and Travel, delivered to your inbox every Friday. 

;