There's art hidden all around us, on ambulances, pill packets, and in hospitals, that can mean the difference between life and death.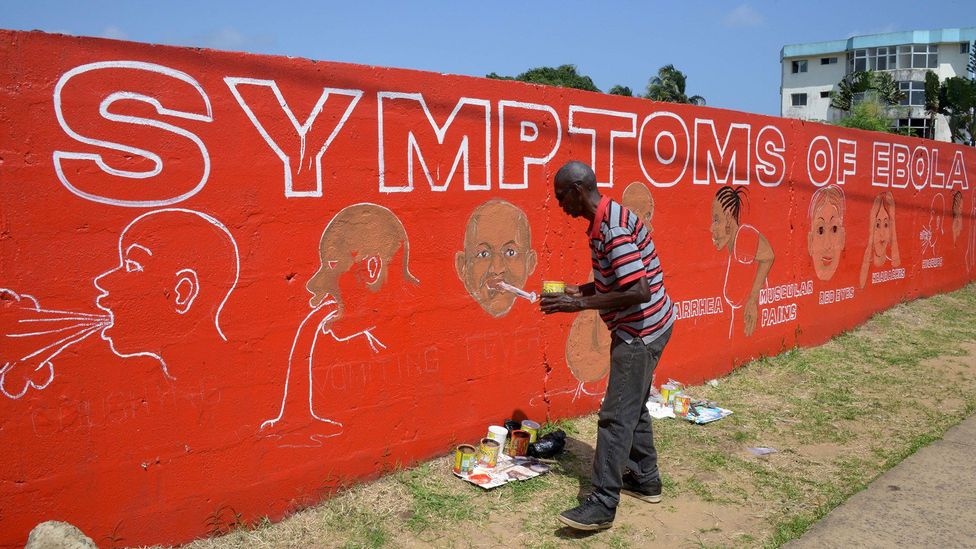 A street artist painting an educational mural about Ebola (Credit: Getty Images)
This mural was painted by street artist Stephen Doe at the peak of the Ebola outbreak in 2014. When the virus was reported in March of that year, it had already been stealthily killing people for several months. By September, it had spread to five countries and at least 2,296 people were dead.
But efforts to educate the public faced a major obstacle: illiteracy. In Liberia alone, the population speaks 30 languages and only 43% can read and write. Instead, information was displayed graphically – on flyers, billboards, posters, pamphlets and hand-painted murals.
"They were trying to find an immediate and visual way to communicate the symptoms, so that they were unmissable" says Rebecca Wright.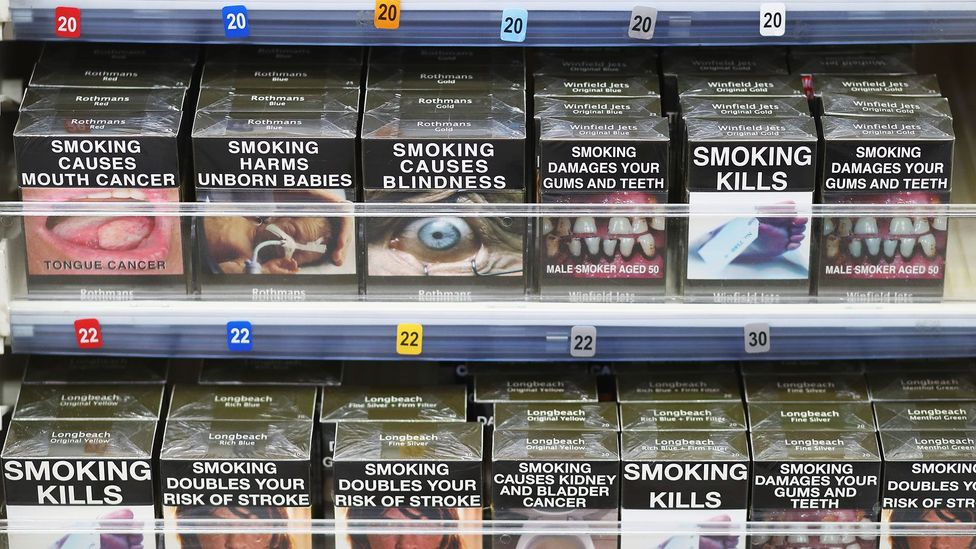 Australian cigarettes in plain packaging (Credit: Getty Images)
Australia made history in 2012 as the first country to introduce plain packaging for all tobacco products.
To make sure they got it right, the Department of Health and Ageing hired market research company GfK Blue Moon with an unusual mission in mind: to find the ugliest colour in the world.
After seven studies involving 1,000 smokers, the researchers chose a particularly nauseating shade of brown known as Pantone 448C, or 'opaque couché'. It was associated with death, tar and dirt – and now it's been coupled with cigarettes, too.
"The interesting thing is that even though we talk about it as 'unbranded' packaging, it's still designed," says Wright.
Smoking is Slow Motion Suicide advert (Credit: Biman Mullick, Cleanair)
This poster was designed by Indian artist and educator Biman Mullick, who founded the anti-smoking organisation Cleanair in 1972.
A couple of years earlier, Mullick had been teaching at an art school in the UK. In an era where nearly half of the population smoked, including many of his students, Mullick became concerned about the effects of passive smoking and designed a series of posters encouraging his students not to light up in his classrooms. The school asked him to take them down – but he didn't give up.
"His message was that smoking affects us all. He put his life savings into spreading it," says Wright. By 1984, he had distributed 186,000 posters and his achievements were eventually recognised by the World Health Organization.
"It was really borne of a personal passion for spreading the anti-smoking message before it was fashionable," says Wright.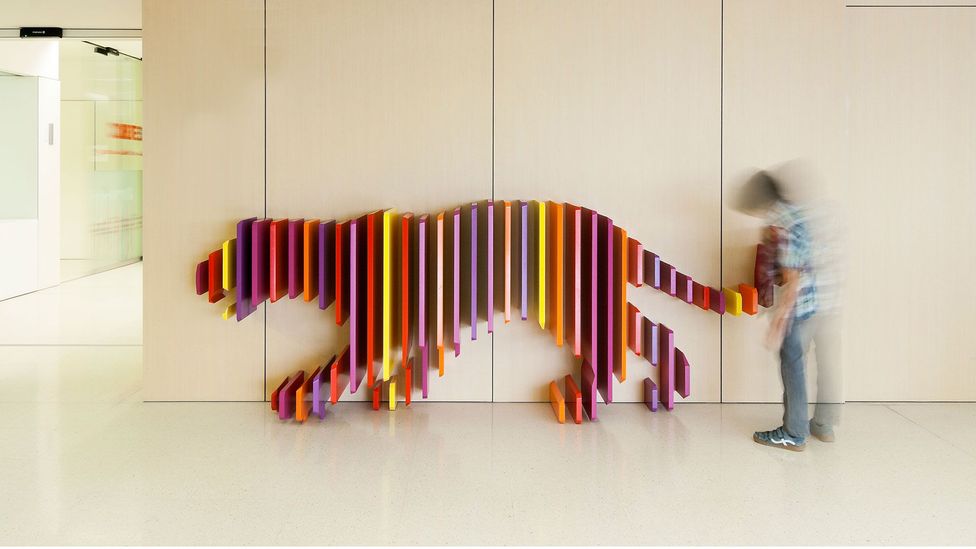 Tiger, Hospital Sant Joan de Déu, Barcelona (Credit: Rubio Arauna Studio, Rai Pinto)
Except for a few rare examples, children's hospitals didn't exist until the 19th Century. Instead, children were lumped in with everyone else, staying in oversized beds and being treated as miniature adults. Today doctors know that not only do children have radically different biology – they get different diseases and often need different drugs to treat them – but they need a child-friendly environment, too.
This was exactly the aim of a project at Hospital Sant Joan de Déu in Barcelona, headed by designer Dani Rubio Arauna.
"They transformed a sterile hospital environment into an interactive game of hide-and-seek," says Wright. Tigers, jellyfish, elephants, flamingos and rhinos are divide up rooms, stalk the hallways and emerge from the walls. "Instead of lonely and intimidating, now the ward feels warm, social and playful."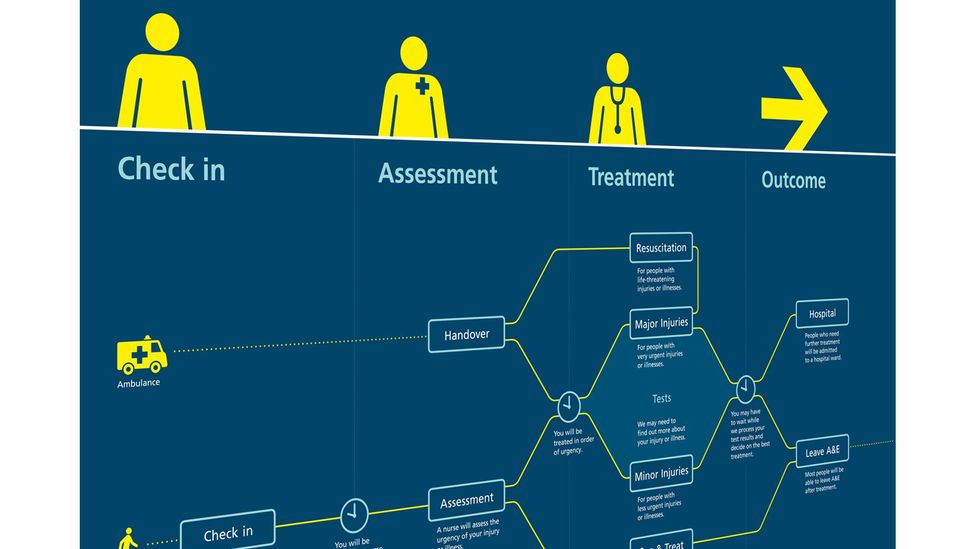 Sign from the design project "A Better A&E" (Credit: PearsonLloyd)
The UK has a violence problem. It's been estimated that, every year, violence and aggression towards hospital staff costs the NHS at least £69m ($93m). Waiting times at A&E have been increasing every year, adding to the frustrations of patients who are often already anxious, confused and in pain when they arrive.
So back in 2013, the Department of Health put out an open call, inviting designers to do something about it.
The solution, pioneered by design studio PearsonLloyd, involves a series of panels which give patients basic information about what to expect as soon as they step through the door. "They're even on the walls – they meet patients throughout their visit, to make them feel confident and reassured," says Wright.
During trials at hospitals in London and Southampton, the project reduced violent incidents by 50%.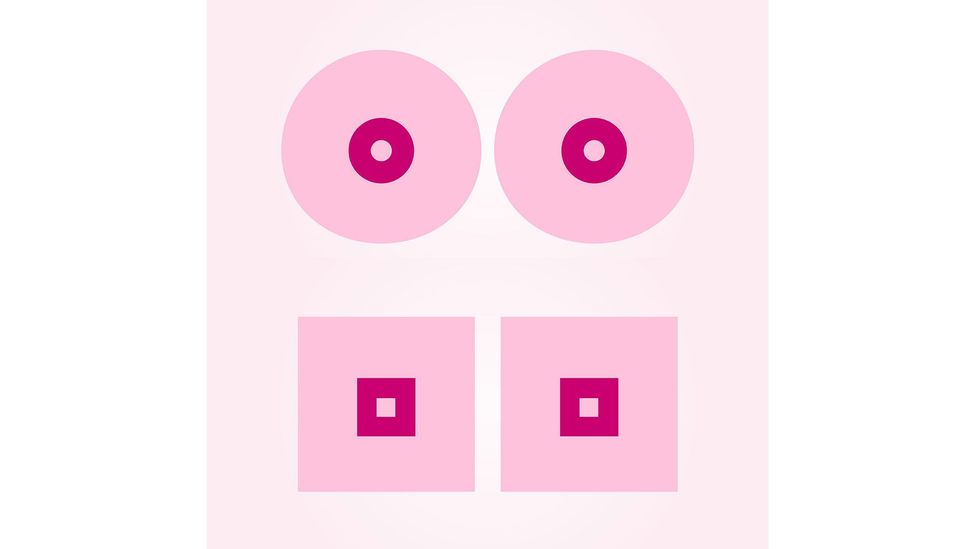 Breast cancer awareness advert (Credit: Cancerfonden, 2016, Sweden)
In 2016, the Swedish Cancer Society caused quite a storm. They released an animated video that explained how to check yourself for signs of breast cancer. The advert was promptly removed by Facebook, whose algorithms had deemed it offensive.
Though Facebook apologised for its error, the charity issued an open letter to the social media giant. They had already solved the problem, they said, by simply taking the rounded breasts and making them square.
"It was a remarkably simple way to circumvent Facebook's beady eye," says Wright.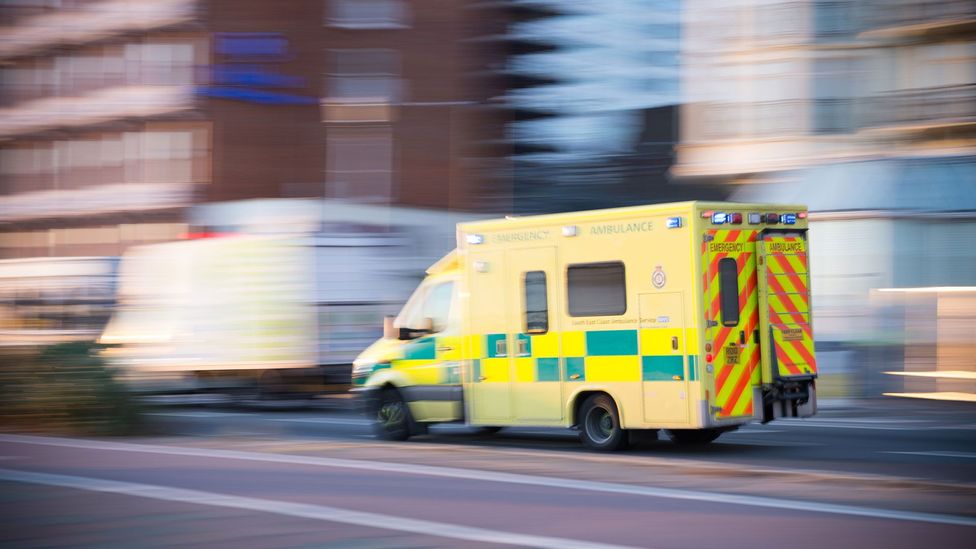 An ambulance racing through traffic (Credit: iStock)
Some works of graphic genius are less easy to spot. In fact, there's art hidden all around us – and some of it is helping to save lives, every day, without us even registering it.
"Battenberg" markings are named after a beloved British cake. First popularised in the 19th Century, a Battenberg is covered in marzipan all over and when cut, reveals a pink and yellow check pattern. It's so distinctive, back in the 1990s it was borrowed to maximise the visibility of traffic vehicles in the UK.
"The colours depend on the vehicle, but to a UK audience this pattern instantly says 'emergency services'," says Wright. Today reflective Battenberg strips are used across Europe.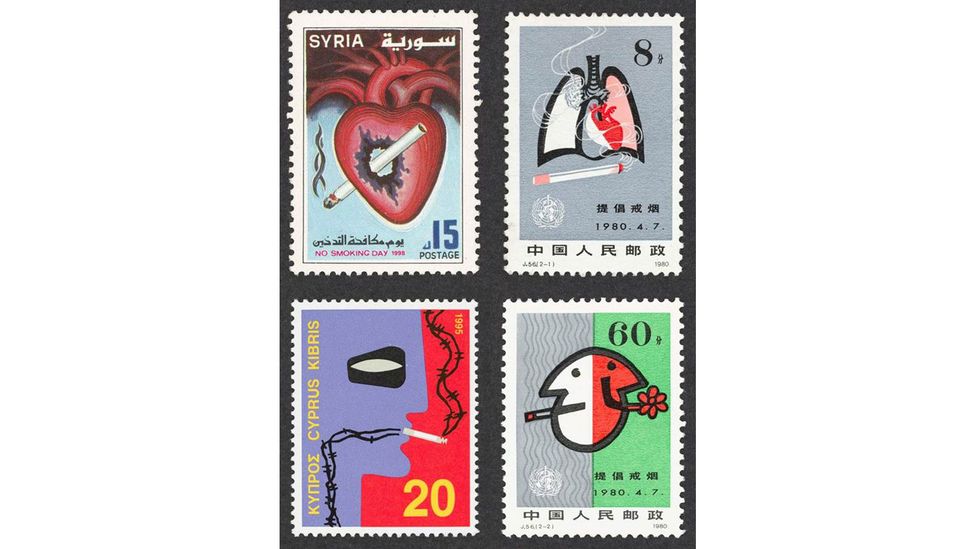 Selection of anti-smoking stamps from around the world (Credit: Wellcome Collection)
It's said a picture is worth a thousand words – and if anti-smoking campaigns are anything to go by, it's hard to disagree.
Since images of the grotesque tumours, corpses and tar-riddled lungs of those who smoke were introduced to cigarette packaging, numerous studies have proven their power at getting people to quit.
But graphic design doesn't always have to be so… graphic. Because they're relatively cheap to produce and widely distributed, stamps are ideally placed to communicate public health messages.
"The best examples are dramatic and eye-catching," says Wright. "They are like miniature billboards." As of 2000, 65 countries had issued anti-smoking stamps or other postal items.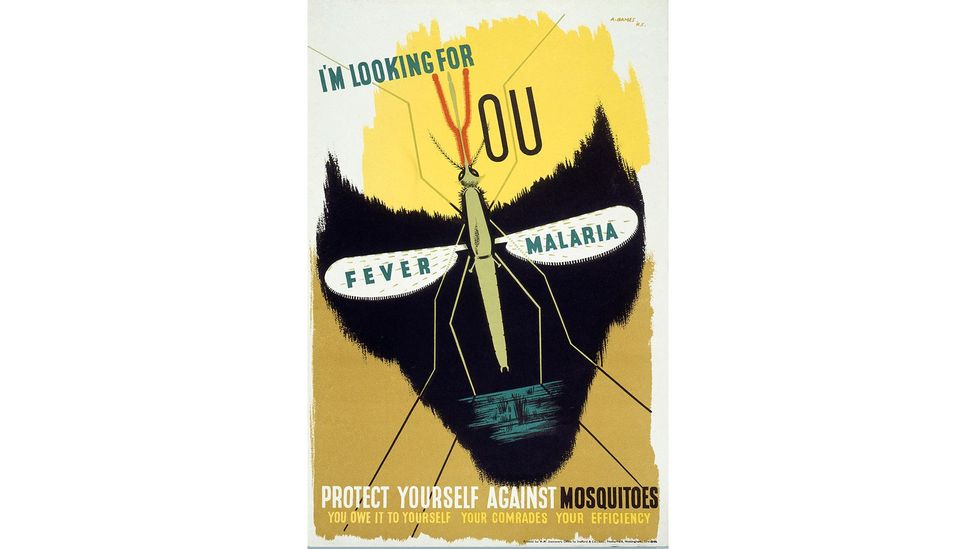 Anti-malaria poster by Abram Games, 1941 (Credit: Estate of Abram Games)
Abram Games was a master of graphic persuasion. He worked for the British government during World War Two and became famous for his stylised images and clear, commanding typography.
This poster was commissioned to encourage soldiers to protect themselves from mosquitoes. "His motto was maximum meaning, minimum means," says Wright. "He had this wonderful way of integrating images and lettering to make the message more striking. The words on this poster form a really sinister, skull-like shape."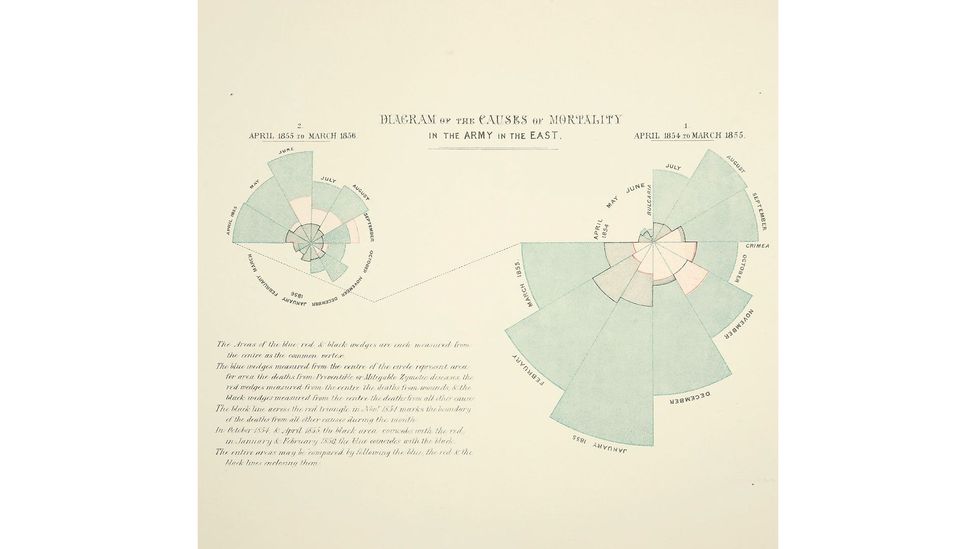 Florence Nightingale's map of soldier mortality during the Crimean War (Credit: Alamy)
Florence Nightingale's mortality map
This map was created by Florence Nightingale in 1858. Inventing nursing as we know it wasn't enough for this Victorian icon – no, she went and pioneered educational maps, too.
"This is a really important piece in terms of information design," says Wright. At the time, Nightingale was managing the care of soldiers injured in the Crimean War. Crucially, she noticed that most soldiers weren't dying from their wounds, but from the infections they contracted in military hospitals afterwards.
These were preventable, by improving nutrition, ventilation and shelter. But first Nightingale needed a powerful way to communicate the problem to politicians. "So, she collected all her own data and made a diagram," says Wright.
It's known as the Rose Diagram and it continues to be used to this day.