Your online activity could one day be helping to generate hot water. Erin Biba visits Sweden to see an ambitious – and profitable – green energy project in action.
Untold World
Untold World is a special series from BBC Future that covers technology's global impact, far beyond Silicon Valley. Discover more stories about how technology is profoundly changing underreported communities the world over.
"The cloud" is a real place. The pictures you post on Instagram, the happy birthday wishes you leave on Facebook pages, and the TV shows you stream on Netflix aren't living in a nebulous ball of condensation in the sky. They live on a massive series of servers – all connected together in rows and towers in giant warehouses.
Few people have ventured into these data centres. But in the Swedish capital Stockholm, I went inside these information labyrinths, and discovered that they're not just housing data. All the heat they give off is helping to warm homes in the city of over 900,000 people. How does it work? And could it create a new business model for the tech industry worldwide?
Inside the labyrinth
Walking through a data centre you notice a few things. The air is cool and dry. And there's not a dust bunny to be found. The rows of server towers are covered in thousands of blinking lights and there are rarely any people. Everywhere you look across the ceiling and underneath the removable floor tiles are masses of cables running in every direction.
Imagine the heat that your laptop generates, but multiplied across an entire warehouse  
But most of all, it's really loud. That's because computers get hot – and it takes a lot of fans to keep them cool enough to operate properly. Imagine the heat that your laptop generates, but multiplied across an entire warehouse: thousands of computers all connected together running non-stop, doing complicated tasks, 24-hours a day, seven days a week.
Cooling mostly involves cold water and a lot of fans blowing cool air in and sucking hot air out. The heat is usually tossed out as waste.
But heat is energy. That's why Sweden decided to use it to heat people's homes.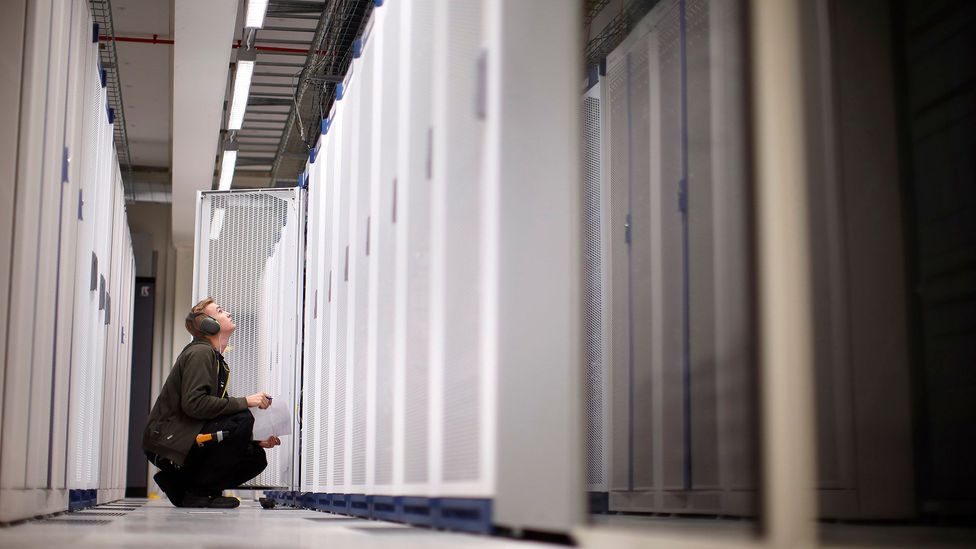 Cities across the world are figuring out how to use wasted heat from data centres as bonus energy (Credit: Ericsson)
In Stockholm, the project is called Stockholm Data Parks and it runs in partnership with the city's government, Fortum Värme (the local heating and cooling agency), and others. Various major Stockholm data centres take part, and the number is growing as more businesses look to bolster climate conscious reputations, and make money from a new business model. Recently, the programme announced partnerships with data centres run by major international businesses Ericsson (a builder of cellular networks that also helps broadcast BBC TV channels) and clothing retail chain H&M.
Here's how it works most of the time in Stockholm: cold water feeds through pipes into the data centre, where it's used to create the cold air they blow on their servers to keep them from overheating. The water, which has been heated by the cooling process, then runs back out of the pipes and into Fortum's plants where it is distributed for heating.
Sweden isn't the only country to embrace this idea. It's happening in small-scale projects in places like Finland, where one data centre's heat has been used to warm homes in a small city since last year. There are also programmes in the US, Canada, and France.
But Sweden's decision to scale it up to this size across the country is an unprecedented experiment.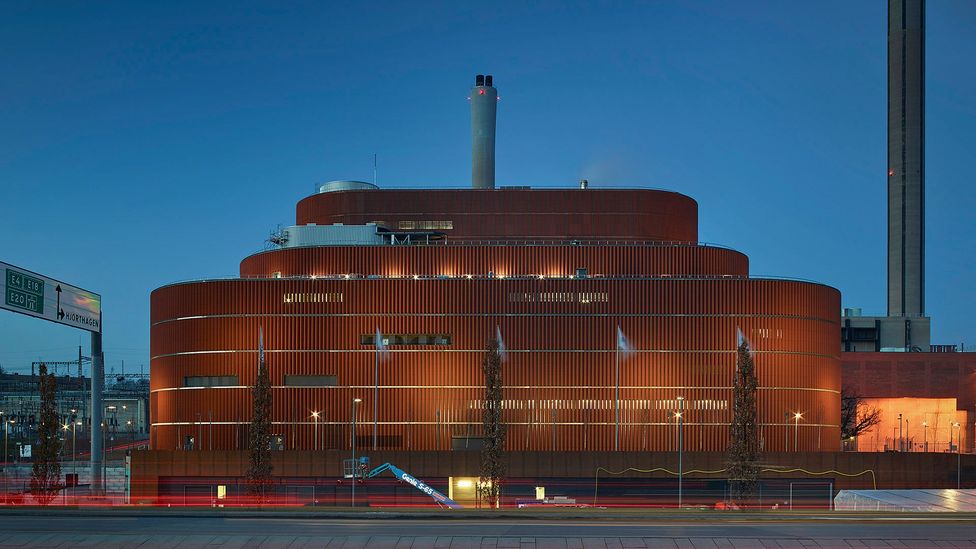 Fortum, a Swedish cooling and heating agency, just opened a new heat generation facility that helps warm homes (Credit: Fortum Värme)
Stockholm Data Parks is expecting to generate enough heat to warm 2,500 residential apartments by 2018, but the long term goal is to meet 10% of the entire heating need of Stockholm by 2035. 
According to Data Centres By Sweden – which is launching Stockholm-like projects across the country – only 10 MW of energy is needed to heat 20,000 modern residential apartments. The typical Facebook data centre, for example, uses 120 MW.
One of the main incentives for companies to join the programme in Stockholm is financial  
One of the main incentives for companies to join the programme in Stockholm is financial – they get to sell their waste heat. Fortum also provides free cold water for their cooling.
At Interxion, a company whose data centres support mobile gaming apps and other cloud-based software, the cost/benefit analysis was so promising that they're building a whole new facility for heat capture. "It's not philanthropic," says Mats Nilsson Hahne, the company's head of business development. Quite the contrary, says Peder Bank, managing director of the company's Nordic arm, "We're trying to turn it into a secondary business."
Still, Interxion is sharing their engineering plans for their new business model publicly with any data centre that wants to set up shop in Stockholm. Asked why they would give their competitive advantage up, Bank reinforces the Swedish attitude about fighting climate change: "There's a higher purpose in this than competition. A global purpose," he says. "If I'm able to protect the higher agenda and do my business I should do that. If I am able to attract business to the region I should do that and then I should compete after. I don't see a mismatch. We're all living on the same planet."
Data centres, stark warehouses full of cables, give off a lot of heat that's being used to warm homes (Credit: Ericsson)
Sweden has been embracing greener energy ideas like this for a while. According to Stockholm city climate manager Björn Hugosson, it's because the country has few natural resources. "We don't have any fossil resources in our ground. We don't have oil wells or coal mines," he says.
Today, Sweden has 2,057 hydropower plants, according to the World Energy Council, which account for 40% of their energy use. The rest mostly comes from nuclear power, which is in the process of being phased out, and some coal, which is imported to the country's one coal plant from Russia, which will be eliminated in the next five years (likely by 2020). The country hopes to be 100% fossil-fuel free by 2040.
Sweden also produces almost zero waste in the form of garbage. Its citizens recycle more than 99% of their household waste and only 3% ends up in landfills. The country burns about 70% of its waste to produce energy and they import garbage from neighbouring countries to help meet the energy demand they've created since the garbage burning programme started.
That said, they're not the greenest energy user in the world. That title belongs to Iceland, where 86% of all energy use comes from renewable resources. And though Sweden manages to be 100% fossil fuel free on some days when the weather conditions are just right, their neighbour Denmark hits that goal more regularly thanks to the massive amounts of energy they generate from windmills. (So much, in fact, that Denmark sells its energy overages to neighbouring countries.)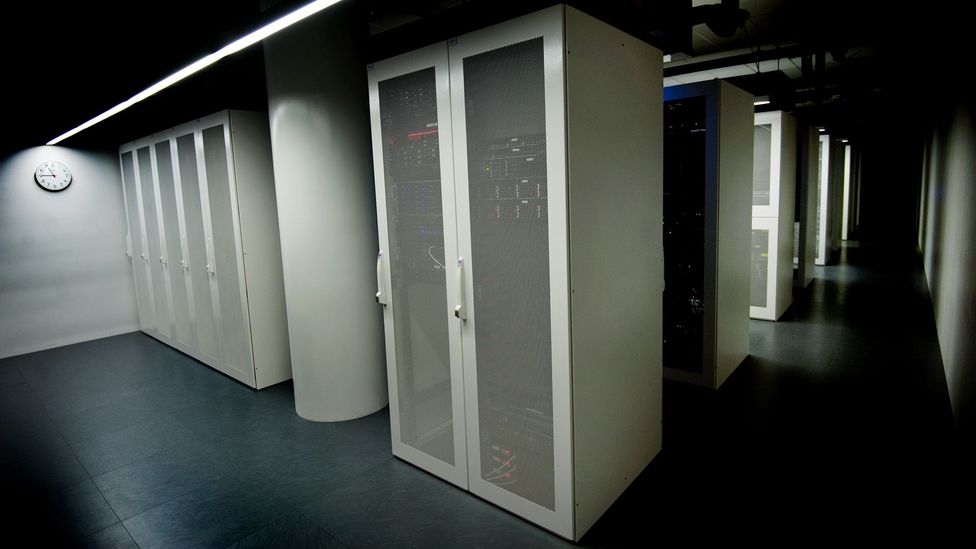 Data centres connect computer networks and allow us to use the internet and cloud-based services. But more cities are using them as energy sources, too (Credit: Fortum Värme)
So, could Sweden's ambitious heat capture and reuse plan take off elsewhere? Perhaps, but it would need other changes to happen first. It works because the the country's citizens rely on the government to provide them with the hot water they use to heat their homes.
Called "district heating," the programme began in Stockholm the 1950s when homes were largely heated by oil. Fortum Värme started piping hot water to hospitals. When the oil crisis hit in the 1970s, the heating system expanded into homes across the country. Today Fortum sells heat to about 12,000 buildings or 90% of the city of Stockholm. At first, the heat they provided was generated by coal, but today it comes from biofuel: wood pulp left over from production by the country's massive forestry industry, brought in to Stockholm on ships. And because Swedes recycle everything, they also reuse hot water after it goes down the drain.
Only 10 MW of energy is needed to heat 20,000 modern residential apartments  
"Take a shower, the water that goes down the drain would get cleaned, treated, and pumped in the sea. The fish gets warmer but they don't appreciate it," says Jonas Collet, head of media relations at Fortum. "We figured 30 years ago that's a waste. We could reuse that water."
So if other cities wanted to follow Stockholm's lead, they'd need the underground piping infrastructure in place and the business model of providing heat to its residents.
This isn't impossible. Quite a few cities around the world are doing this, including many in Canada, New York City, and almost the entire country of Iceland.
But it shouldn't be seen as a panacea either. Bo Normark, a member of the Royal Swedish Academy of Engineering Sciences and a smart grid advisor to a slew of green energy companies, cautions that he believes Sweden's programme might not be infinitely scalable. Eventually the country won't need more data centres to join in.
"People are overestimating the need for heat. We will have a surplus of heat. We can export electricity. We can't export heat," Normark says. But, he adds, "in Stockholm it works because the city is fast-growing. There's monetary value in the heat." 
And when new data centres start showing up to the fast-growing city they can get started working just as quickly. The culmination of the work by Stockholm Data Parks is found in four major data park sites around the city that are tied into the clean energy grid and equipped with a plug-and-play setup for companies to connect into the cool water delivery and heat recycling system. The first, already completed, is in the city's "Silicon Valley," a neighbourhood called Kista, and currently houses data centre companies like Interxion. Two more are parks upcoming in 2018 and a fourth in 2019. All data centres need to do is show up and plug in.
"We're changing the economics of the whole industry," says Johan Börje, Head of Marketing Data Centre Cooling and Heat Recovery at Fortum Värme. On top of that the Swedish federal government, recognising the benefit of the initiative, this year lowered the electricity tax on data centres. Sweden doesn't want data centres to have an excuse to make their homes elsewhere in Europe.
Still, for now the developed world relies on data centres – and that demand will continue to grow. Without them, none of our devices would function and none of our information would move. And that means more and more of these technological libraries are going to be built around the planet. They can keep our digital world moving while drawing clean energy and recycling their waste at the same time – in Scandinavia and beyond.