What makes a space comforting and uplifting? Emily Dawling meets the interior designer behind a patients' sanctuary, showcased at the UK's Northern Design Festival.
A
Among the standout events at the UK's recent Northern Design Festival  was the showcasing of a cancer-care centre that combines elements of design to foster patients' wellbeing. Maggie's Centre is located in the green grounds of Freeman Hospital, Newcastle, and this year joined forces with the festival to spread awareness about the centre, its architecture and interior design, and how these help make Maggie's an uplifting sanctuary for many.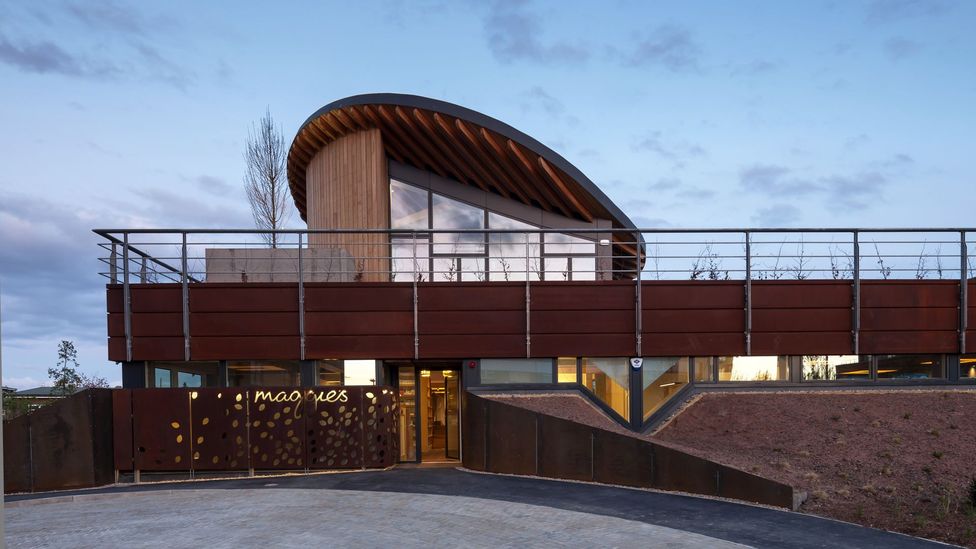 Maggie's Centre, Newcastle was designed by architect Cullinan Studio, the interior was created by David Wallace, and the art adviser was Mara-Helen Wood.
There are 19 centres currently in the UK, all built in the grounds of NHS cancer hospitals, as well as one in Hong Kong, with seven new facilities in the process of construction. All provide free practical, social and emotional support to patients with cancer, as well as to their family and friends.  
The award-winning Newcastle building was designed from concept through to completion by Cullinan Studio architects. It has an average of a hundred visitors to their centre each day, and more than 80,000 visits have been made to the centre since it opened in 2013. The organisation Maggie's Centres is named after Maggie Keswick Jencks. Jencks was a writer, artist and garden designer who lived with advanced cancer for two years, during which she used her experience to create a blueprint for a new type of care. The result is Maggie's Centres which are built around her belief that "people should not lose the joy of living in the fear of dying." She believed buildings have the ability to uplift people, and co-founded the project before she died in 1995.  
Access to nature contributes to mental wellbeing, according to a recent study for the UK Government. (Credit: Maggie's Centre)
There is some evidence that architecture can affect patients' recovery times.
According to Dr Ellen Fisher, vice president of academic affairs and dean of the New York School of Interior Design, who was quoted in an article on cancer.net: "an environment designed using the principles of evidence-based design can improve the patient experience and enable patients to heal faster, and better."
"Design elements such as a comfortable place for the family in the patient's room, a sink in the room, control over lighting, temperature, and air flow, all assist in healing," she added. "The design of the physical environment also has a substantial impact on the caregivers through creating more efficient and productive work areas, better support in the patient rooms, and the proper design of settings to mitigate medical error."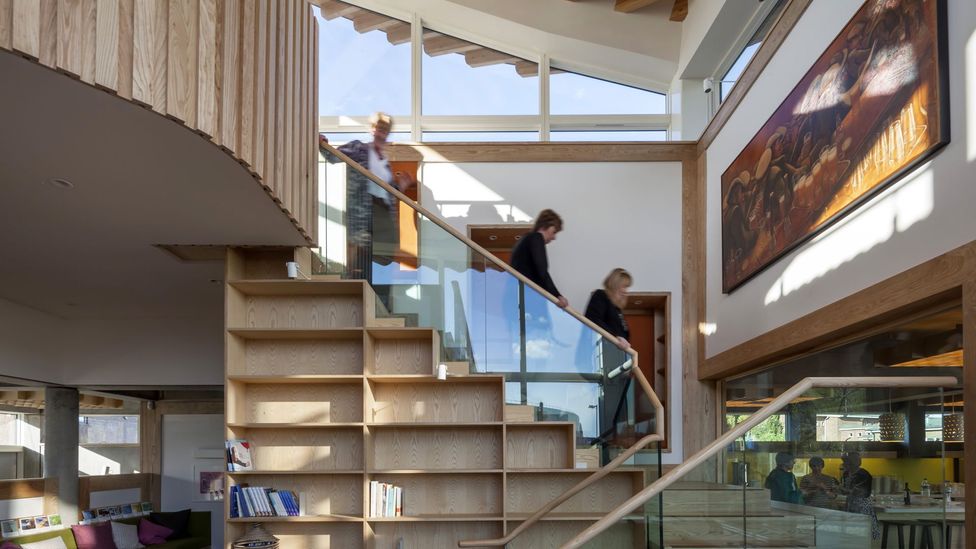 The interior of the centre is designed to feel welcoming. "It is unlike a clinical environment, " says David Wallace. "It feels very domestic" (Credit: Maggie's Centre)
Maggie's widower, Charles Jencks, who is a landscape designer, architectural historian and co-founder of Maggie's Centres, also spoke of the importance that architecture has on wellbeing in a 2013 study, saying that "architecture creates the ambience and frame of mind for the carers, who then pass it on to the patients. And in that sense, architecture is key." 
Design for life
Renowned architects Frank Gehry, Zaha Hadid and Richard Rogers are among those who have worked on the Maggie's Centres buildings.
BBC Designed spoke to the interior designer of the Newcastle project, David Wallace, about how he set out to bring his experience working with residential interiors to make Maggie's as homely, familiar and as comfortable as possible: "It looks like a house, though unlike most houses, it is quite literally embedded in its landscape. The landscape was designed by Sarah Price, and the garden is visible from everywhere within the building." 
Everything that the visitor to the centre encounters is reassuring, honest, stimulating - David Wallace
In the Foresight Mental Capital and Wellbeing project carried out by the UK Government Office for Science, it was found that "access to nature and the 'natural' are significant contributors to individual mental capital wellbeing. The significant factors contributing to mental capital and wellbeing relate to our sensory stimulation: that is what we see, smell, touch, taste and hear.'"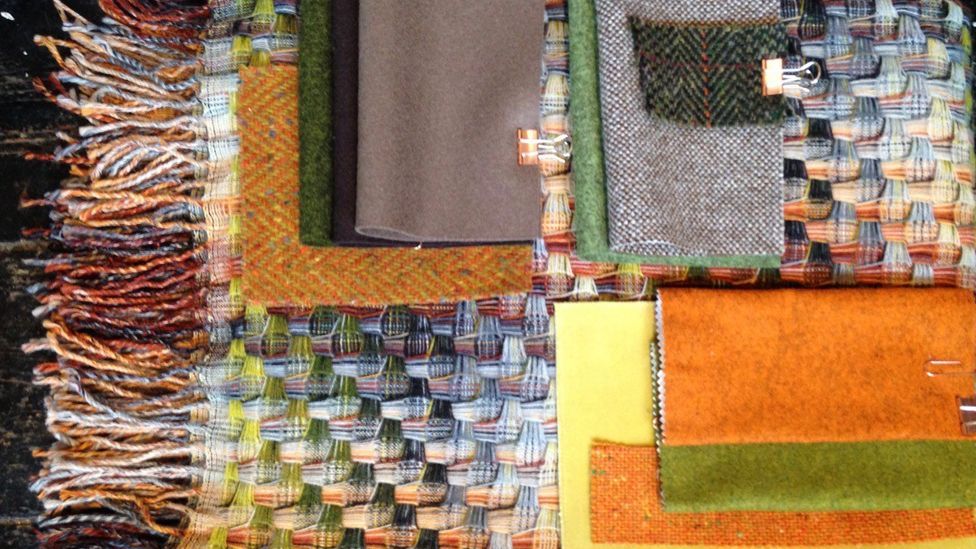 The palette for the textiles in David Wallace's interior was partly inspired by the beech hedge, hornbeam and Ballerina tulips in the centre's garden
Wallace has used natural materials in his design, including wood, leather and wool, he says. "In this centre, there are many hard surfaces - raw concrete, CorTen steel - and then the planting - a beech hedge, hornbeam, buxus, Ballerina tulips in spring. All of these elements directed me towards a certain palette."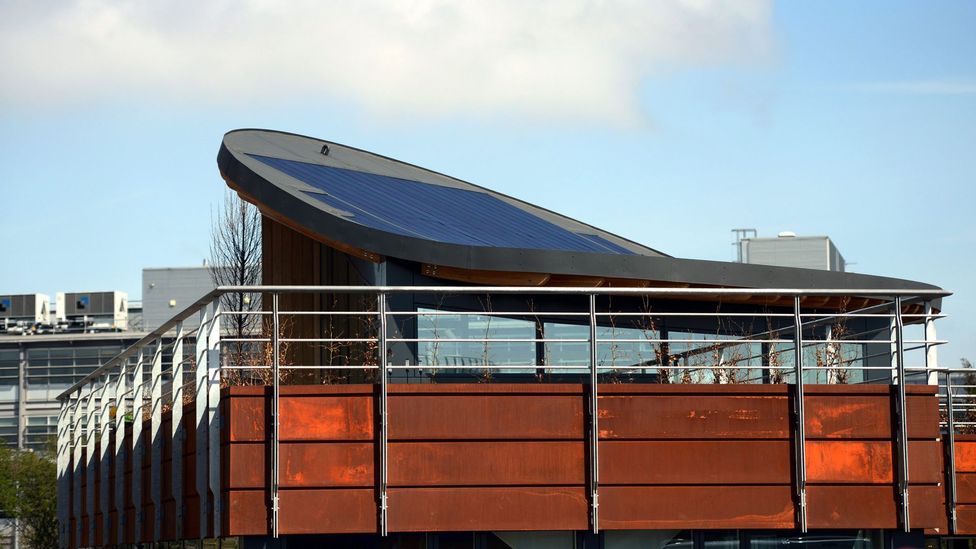 Elements of design are combined at the centre to help foster patients' wellbeing. (Credit:Maggie's Centre)
"Everything that the visitor to the centre encounters is reassuring, honest, stimulating. There is a place to rest at the entrance - to pause, to be welcomed and to take in the surroundings. The interior is unlike a clinical environment. It feels very domestic - there's no signage, for example. The textiles are interesting and colourful. The experience is disarming, human." 
To comment on and see more stories from BBC Designed, you can follow us on Facebook, Twitter and Instagram.
If you liked this story, sign up for the weekly bbc.com features newsletter called "If You Only Read 6 Things This Week". A handpicked selection of stories from BBC Future, Culture, Capital and Travel, delivered to your inbox every Friday.