You could be forgiven for thinking that making mechanical timepieces is a dying art – but there are still people learning to build watches by hand. Chris Baraniuk visits a workshop to find out what it takes.
D
Down a rain-soaked alley in Birmingham's jewellery quarter, I find a simple green door. There is no sign, no obvious marker. Just a small, brass "2", the studio number, which is modestly affixed to the front. Hidden inside is a frankly magical little place – a watchmaker's workshop run by Craig and Rebecca Struthers, a husband and wife team.
Rebecca welcomes me into the largest of three rooms – a warm space filled with antique bits of furniture and bookshelves. The walls are painted dark green, a shade labelled "Dragon Song" that caught Rebecca's eye when the duo were decorating. Archie, a young Staffordshire terrier, snoozes on his blanket. It has the feel of a Victorian study, but the old factory building housing the studio gives nothing away to the passer-by.
"All of our clients at the moment are pretty much word-of-mouth," says Rebecca when I ask if this layer of mystique is intentional. "So they feel like they've 'found' us. Then they come out to our location – our workshops have very much been designed to fit in with that."
Each watch is priced at £50,000 and to produce all five will take two years
To many, the whole industry of watchmaking, repair and restoration may seem equally inconspicuous, perhaps even obscure. The Struthers (pronounced Struh-thers), however, are among a few who are keeping old skills and practices alive. Now, they are about to embark on the production of their first five complete watches for clients. Each watch is priced at £50,000 and to produce all five will take two years. As well as the case, dial and hands, they'll also be making the internal movement – the system of gears and springs at the heart of any mechanical watch.
But it has taken 15 years for the Struthers to reach this point – with their fair share of ups and downs on the way. For anyone wanting to become a watchmaker in the 21st Century, there are plenty of hurdles to overcome. How, then, does one do it?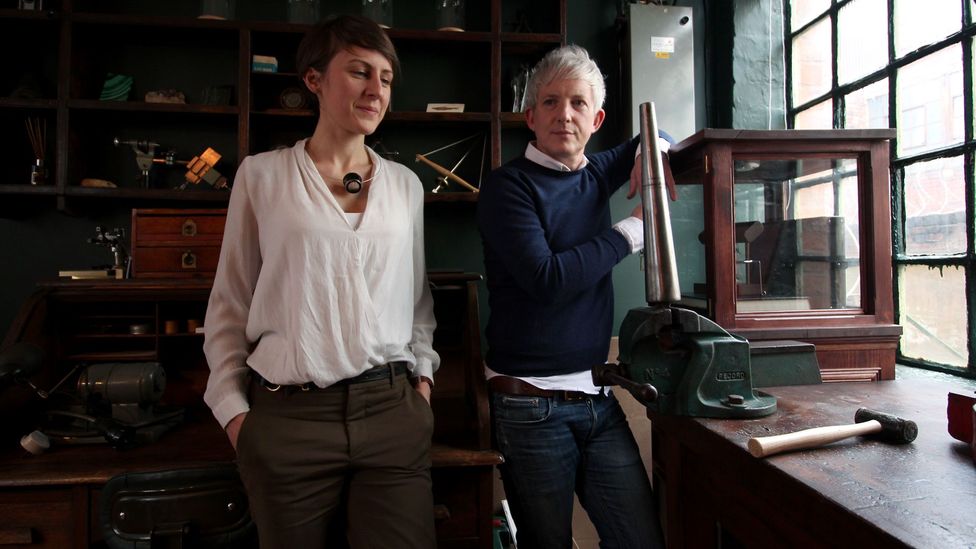 Craig and Rebecca Struthers, a husband and wife watchmaking team (Credit: Chris Baraniuk)
Rebecca was just 16 when she applied to study a two-year course at the School of Jewellery at Birmingham City University. Back then, she had no idea that watchmaking was a career, but students studying horology, the art of making clocks and watches, suggested it might be a good fit for her. It was around this time, in 2004, that she first met Craig. He had begun a course run by the British Horological Institute (BHI) that was also based at the School of Jewellery.
A current BHI veteran and tutor, Alan Burtoft, tells me that there are just a handful of places in the UK where budding watch- and clockmakers can do this sort of course. There's the British School of Watchmaking in Manchester and the BHI offers various programmes, including distance learning, for example. Then, there is a clock restoration course at West Dean College near Chichester and some classes offered by Epping Forest Horology Centre near London.
"It's not a very well-known or advertised trade to go into," admits Burtoft.
Rebecca found this out fairly quickly when she tried to find horology courses that weren't based at Birmingham City University. "They were just like, 'No, you can't do horology here'," she remembers.
She trained in various crafts useful to her trade, however – from diamond grading to silversmithing. And she says she was able to "tailor" a history of art and design masters to suit a horology theme in order to take her studies further. After that, she completed a PhD in horology as well.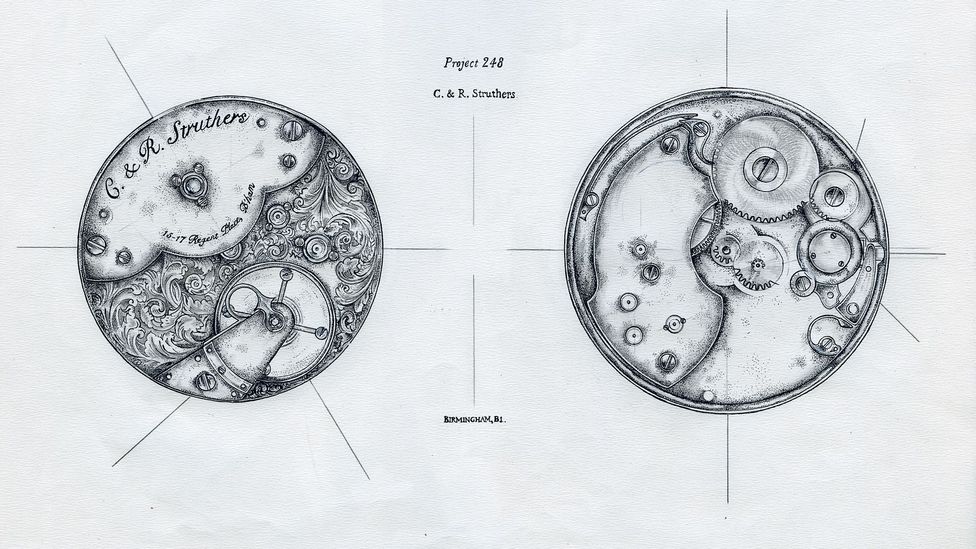 A drawing for one of the Struthers' watch designs (Credit: Chris Baraniuk)
Craig came to his studies a little later, having already worked for a spell in government IT – which he freely says he "absolutely hated".
"I was ready to do anything," he adds.
While both were learning, they were also able to work in related fields. Struthers' first job in the watch industry was in a jewellers in Birmingham.
"It was a really good opportunity to start seeing how people buy watches," she recalls.
As for a full-blown watch-making project, however, that didn't come until 2013 when the pair won the Lonmin Design Innovation Award for their pendant watch, named "Stella", crafted in platinum. They were already repairing and restoring watches by this point, but making a completely original case and dial of their own was a huge challenge. After submitting their design, they only had 10 weeks to pull it off. "It was this mad moment," remembers Rebecca.
Nearly five years later, this gradual build-up of experience and know-how is beginning to pay off. The five clients who have signed up to buy their first five watches made from scratch have agreed to pay half the cost of each in advance ­– £25,000.
"We're aware it's quite a big ask, we've got some incredibly loyal and supportive clients," says Rebecca.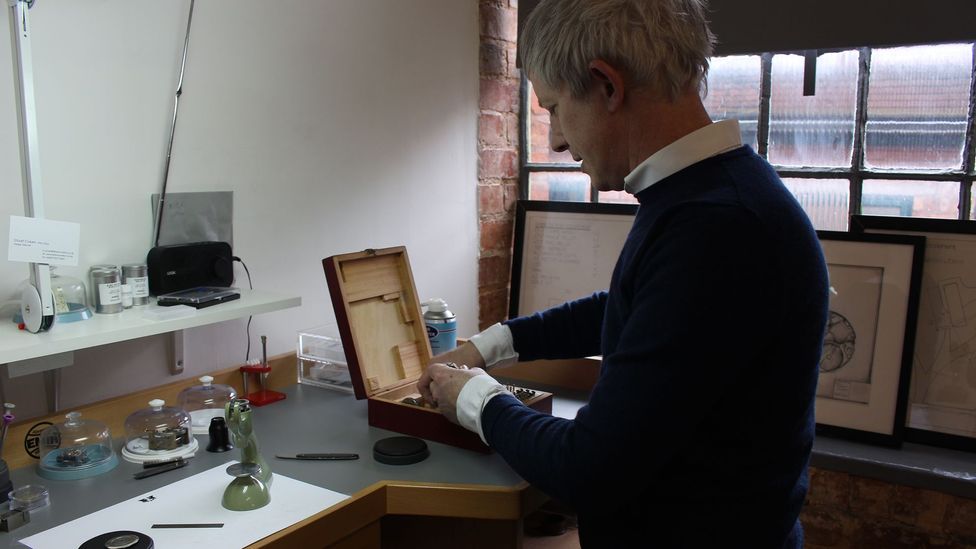 Inside the Struthers' studio, which is relatively hidden from its surroundings outside (Credit: Chris Baraniuk)
Investment allows them to plan for this special project, but it also enables them to employ an apprentice – an enthusiastic 19-year-old named Heather Fisher, who is currently studying for her degree in horology.
It's quite satisfying as well when you finally get a watch ticking. That's the best part isn't it?
Her A-levels were art, textiles and computing – "not really related to it so much", she tells me. But now that she's learning how to service watches, by taking them apart, cleaning and fixing any broken parts inside, she seems to have found her vocation.
 "I like more practical stuff; being hands-on," she says. "It's quite satisfying as well when you finally get it ticking," she adds with a laugh. "That's the best part isn't it?"
Fisher points out that apprenticeships are hard to come by – her classmates generally have had to contact jewellers or watch restorers directly to ask if they can take them on. The Struthers themselves seem to have used as many avenues as possible to improve their knowledge of the craft.
That resourcefulness is, in fact, evident in almost everything they do. Craig eagerly shows me around his workshop, where drawers are stuffed with tools he has found on Ebay or at scale modellers' fairs. "These two tools were rescued from the floor of someone's shed," he says, pointing to two electrical lathes. Some of his tools are practically antiques themselves – dating back to the late 19th Century.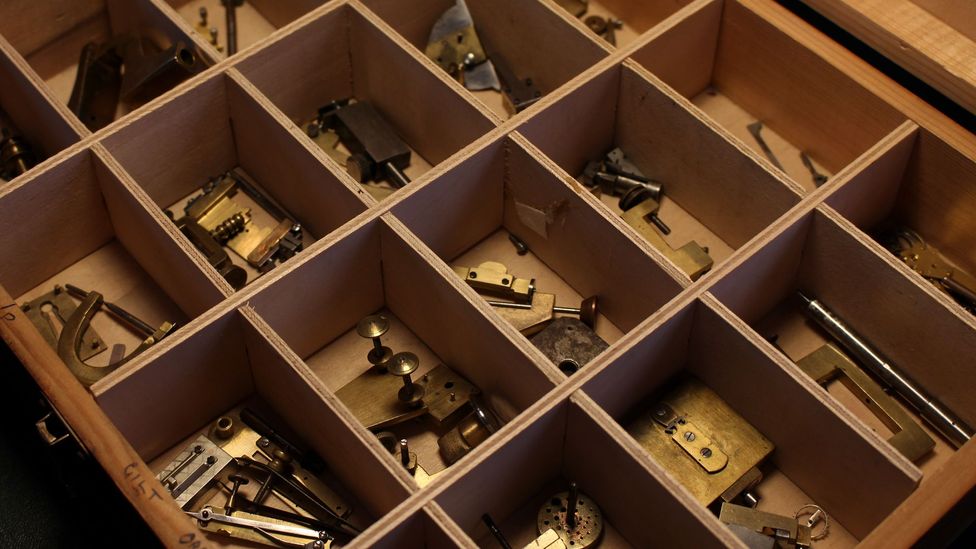 A drawer of watchmaking tools and parts used by the Struthers (Credit: Chris Baraniuk)
He flicks open a drawer in his workbench and points to a compartment with what looks like about 40 files. Each one produces a finish of varying roughness on metal. There are boxes of components, tools for picking watches apart, and widgets for drilling or bevelling holes. He jiggles a box with tiny rings made of gemstones that supply the coloured "jewel holes" on the outside surface of watch movements. These are often visible via transparent panels on the back of the case.
There are boxes of components, tools for picking watches apart, and widgets for drilling or bevelling holes
"Occasionally I might break a jewel, not often," he says. "It can be a nuisance because they're not readily available – especially certain sizes, so you have to be really careful."
He's even met an Austrian engraver via Instagram who will work on their series of five watches over the next two years. The Struthers have designed a William Morris-style, curled leaf pattern to decorate one side of the movement.
Alan Burtoft at the BHI has seen his fair share of students seek out apprenticeships or entry-level jobs at servicing centres in the UK and further afield. Despite the relative obscurity of the trade these days, there are still jobs to be had, he says.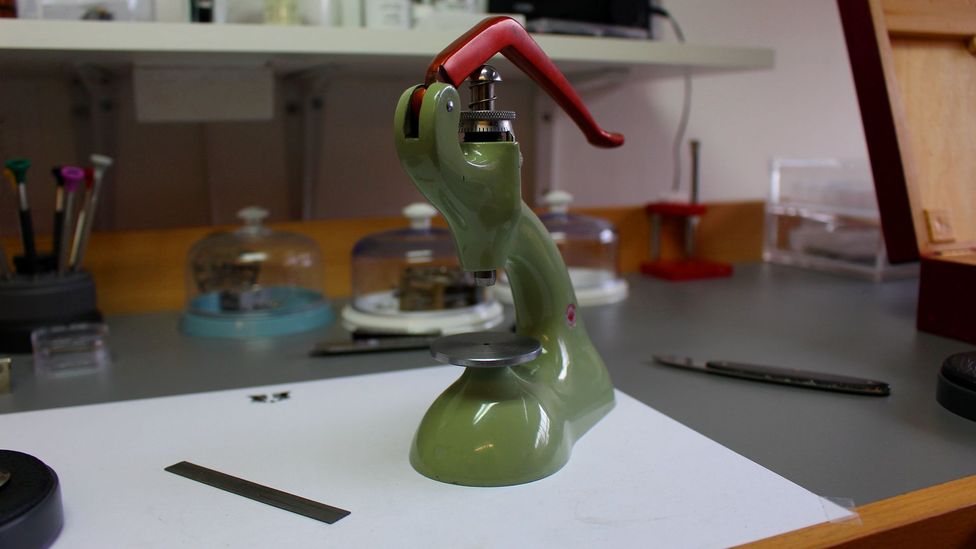 Many of the tools used by the Struthers were found on Ebay or at scale modellers' fairs (Credit: Chris Baraniuk)
"There's quite a demand for skilled watchmakers and clock-making," he explains.
"People say that watchmaking skills are a dying art – to a certain extent they are, but there are still people making watches by hand."
He thinks the vast majority of students he's taught have found employment that makes use of the skills they've learned.
One of the most straightforward routes into the industry, he says, is to do a horology course of some kind and then gain a few years of experience at a servicing centres, perhaps one run by a large Swiss brand. That provides additional experience without much business risk. Trying to kick off your own watchmaking outfit immediately is trickier, given the additional complexities of running your own business, he says.
Rebecca Struthers points out that vintage or antique watch restoration – something she and her husband do regularly – is a good way to begin learning skills that could one day make you a watchmaker in your own right.
"If you can make any part for someone else's watch, you can do it for your own," she says.
Before anything else, though, it seems you have to discover – no matter your age – that you are fascinated by the intricacy of watchmaking. Looking around the Struthers' smoky-green studio, I see ancient tools peppered on little shelves here and there, and a library of watchmaking books stashed on the shelves. It's hard not to be sucked in yourself.
Join 800,000+ Future fans by liking us on Facebook, or follow us on Twitter.
If you liked this story, sign up for the weekly bbc.com features newsletter, called "If You Only Read 6 Things This Week". A handpicked selection of stories from BBC Future, Culture, Capital, and Travel, delivered to your inbox every Friday.