The islands of the Brahmaputra are remote, unmapped, under threat — and home to 2.5 million people. BBC Future travelled with a visiting hospital boat to see what is at stake.
M
Monai Doley is telling me how he cures snake bites.
We are standing in a paddy field: scorching sun, cloudless sky. This is the island of Bhekeli 1 in Assam, north-eastern India.
Doley, tall and broad-shouldered, head shaved, tells me the Cal Bikal snake is particularly dangerous. To cure its bite, Doley rinses his mouth with local rice beer (an antiseptic of sorts), ties a tourniquet above the wound, and then puts his mouth to it. "I suck the poison away, spit it out," he says. Next, he applies a herb paste. The tourniquet stays on for six hours. Afterwards, healthy blood will re-circulate, he says.
Doley learned these skills (not to be attempted at home) as a youngster from visiting fishermen. But snakes were not the only risk he faced.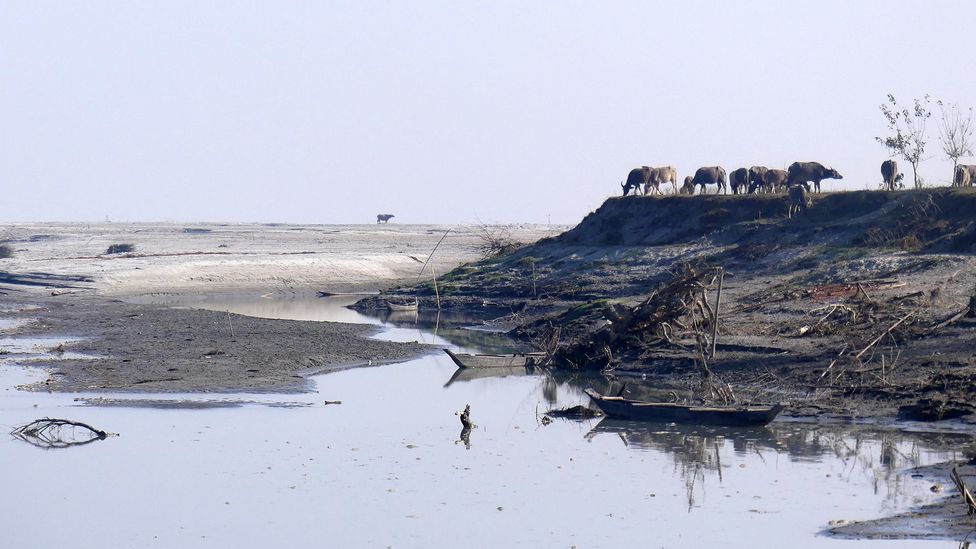 Despite its tranquillity, the Brahmaputra is a massive river whose volume is outdone only by the Amazon and Congo (Credit: Jules Montague)
"The Brahmaputra River was far away at first. But in 1987, the floods arrived from the hills," he says. He and the family were forced to flee to the other side of the island. But the danger is not over. "We are ready to escape at every moment."
You might also like:
• How a city that floods is running out of water
• Miami's fight against rising seas
• The last places on Earth without internet
I'm visiting Bhekeli 1 with the Brahmaputra Boat Clinic, a team delivering healthcare along these riverine islands (known as 'saporis' or 'chars'). Often little more than sandbars, the saporis form through deposition of huge volumes of silt carried by the river from the Himalayas. About 2.5 million people – some 8% of Assam's population – call these islands home.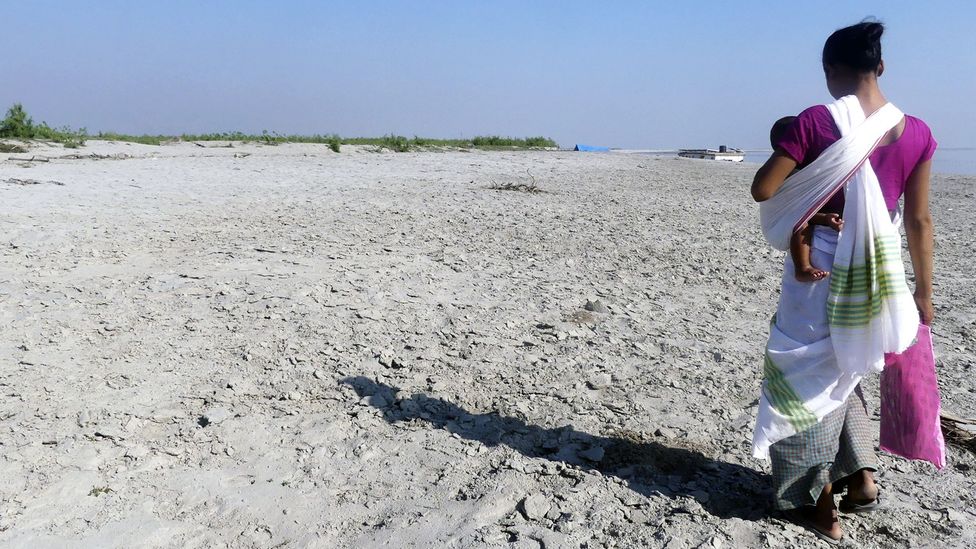 Some 2.5 million people call the islands in India's Brahmaputra River home (Credit: Jules Montague)
The Brahmaputra lives in their rituals and religions, nourishes the soil and sustains them far away from the ever-developing Assamese mainland. But it also has the power to destroy and to displace. Thanks to climate change, the threat of floods, erosions, and even earthquakes still looms – and is getting more acute. That makes the sapori people, who have dwelled here for hundreds of years, at risk of losing their homes, livelihoods and their lives.
I'm here to understand what lies ahead for the sapori people. To do that, I need to begin with the river.
*
Dense fog delayed our departure from Nimati Ghat riverbank that morning, but as the view cleared, the Brahmaputra seemed impossibly calm. Tall, feathery-white reeds of wild sugarcane – kohua bon – swayed gently on the riverbanks.
We are hundreds of kilometres from the river's source, Tibet's Angsi Glacier. Beginning as the Yarlung Tsangpo, the river winds through the Himalayas, Arunachal Pradesh, and next Assam. Then it gathers force and depth. At times its banks are 10km apart. It charges through Bangladesh to unite with the Ganges and Meghna, ending its 2,880km course at the Bay of Bengal.
There have been 25 major floods since 1950
Today's tranquillity is deceptive. The Brahmaputra's volume is outdone only by the Amazon and Congo. Add to this heavy rainfall (its valley receives over 100 inches annually) and inevitable monsoon floods and landslides, and it brings families perched precariously on roofs, livestock and crops destroyed, relief camps crowded. There have been 25 major floods since 1950. Across India, more than 11,000 people died in 1977 alone. In July 2012, two million were left homeless, only for more floods to follow that September, when another 1.5 million lost their homes.
The sapori people suffer most, as vulnerable as the islands themselves.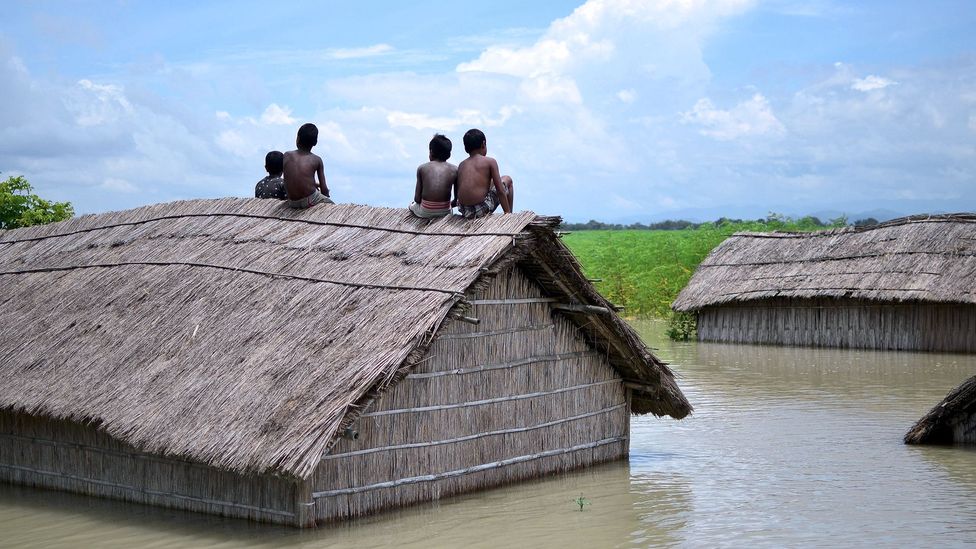 Children sit on the roof of a submerged home after a 2016 flood of the Brahmaputra River in South Kamrup, India (Credit: Getty Images)
One innovation to help them is the boat clinic, which I am travelling with for the week. After one of these floods, journalist Sanjoy Hazarika heard the story of a pregnant young sapori woman who died before reaching a mainland hospital.
And so began his idea for the Brahmaputra Boat Clinic: a mobile medical unit that can reach the islanders not only in emergencies, but to provide the kind of basic, routine care like immunisations that the sapori people, disconnected from the mainland's infrastructure, usually have lacked.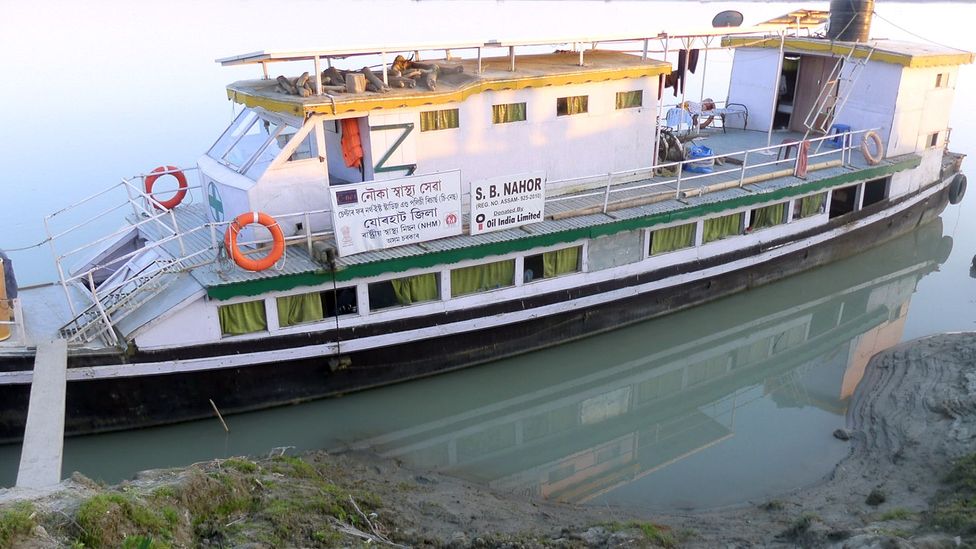 Today, 15 'hospital boats' like this one provide medical access to the sapori people (Credit: Jules Montague)
Hazarika, who is also a researcher, policy analyst, and film-maker, began in 2005 with one boat and a World Bank award of $20,000. Today 15 boats operate in 13 districts of Assam with 250 staff. Now operating with a public-private partnership model (the principal stakeholder is the National Health Mission of the Government of Assam), the Boat Clinic's teams reach 350,000 people every year.
*
Back on Bhekeli 1, we walk towards the village. The islanders here are from the Mishing tribal group. Their homes, called 'chang gars', stand on stilts at least five feet from the ground with an adjustable bamboo platform to defend against flooding. Underneath, black pigs doze peacefully. A rusted water pump stands by pails of stagnant water. Blue fishing nets hang from each doorway next to barrels of dried fish, namshing.
"Oh baido, doctor ahila," shouts community worker Jitu Dutta, announcing the clinic's arrival.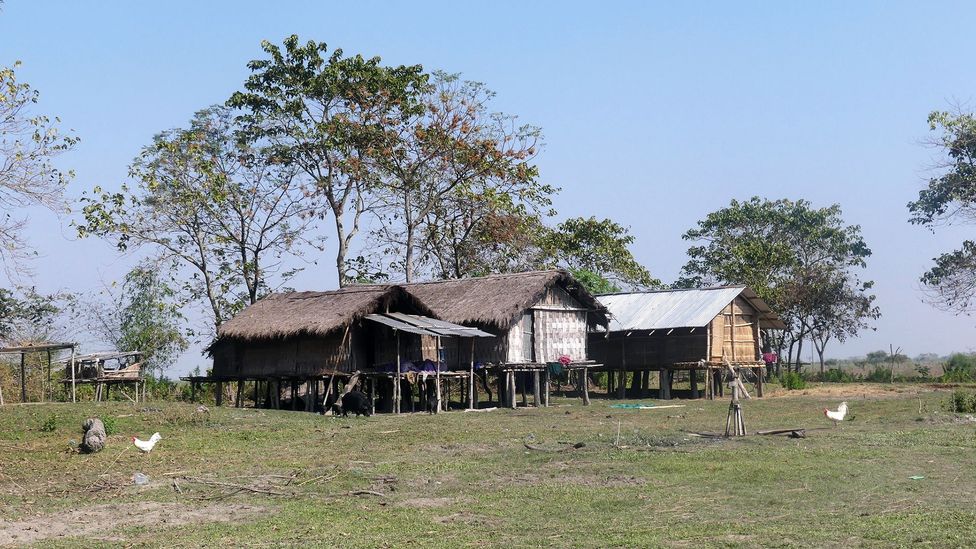 The islanders' homes stand on stilts to defend against frequent floods (Credit: Jules Montague)
Families slowly emerge, the children caked in dust and barefoot. Kajal, four months old, is snugly fastened to her mother Somti in a sling. Dutta notices an oozing sore on her elbow and encourages Somti towards the medical tent.
Another patient, Tikshri Pegu, is 70 years old, she thinks. Her spine impossibly bent, she had a stroke in her 20s. "I was like a dead person: my right arm died too." She sought black magic – 'Tantra Mantra', the islanders call it. Treatments called for massages with red chilli and mustard oil, chants and prayers. Tikshri's right hand remains lifeless but she works in the fields even now.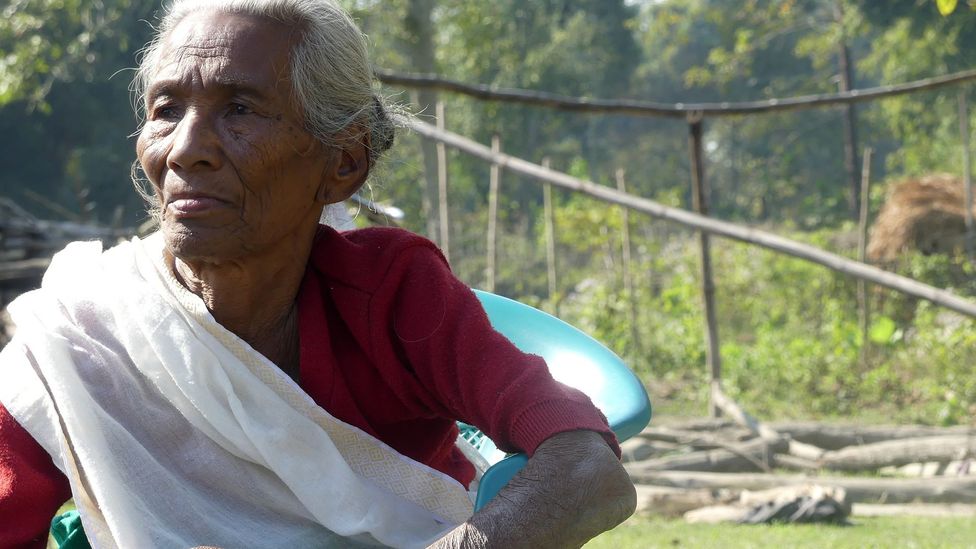 Tikshri Pegu, who had a stroke in her 20s, is one of the islanders to receive care from the hospital boats (Credit: Jules Montague)
Tantra Mantra has been outlawed since then, but indigenous remedies remain, often administered by a traditional healer or bej: the green stem of bamboo is rubbed over cuts, the fruit of the sínggung (a red silk-cotton tree) is chewed for dysentery. So too are the leaves of boga bahak (a nut shrub) for whooping cough. Roots of the durun bon herb  are administered to snake bites.  For presumed tuberculosis, the seeds of the joni shrub are ground with pestle and mortar – two teaspoons twice a day.
Back at the water's edge, a small crowd has gathered at the medical tent. Medications for scabies, malaria, dysentery, high blood pressure and diabetes are available. Those dozing pigs have a lot to answer for – tapeworms from undercooked smoked pork are common among the islanders – and so tablets against 'pellu' are popular. Some patients seek immunisations and family planning advice. A midwife provides antenatal and prenatal care. There are lab tests for anaemia, malaria, and syphilis. Dr Saika presses his stethoscope to a child's wheezing chest and prescribes an inhaler. Sometimes, patients are referred to the mainland, but there is no need today.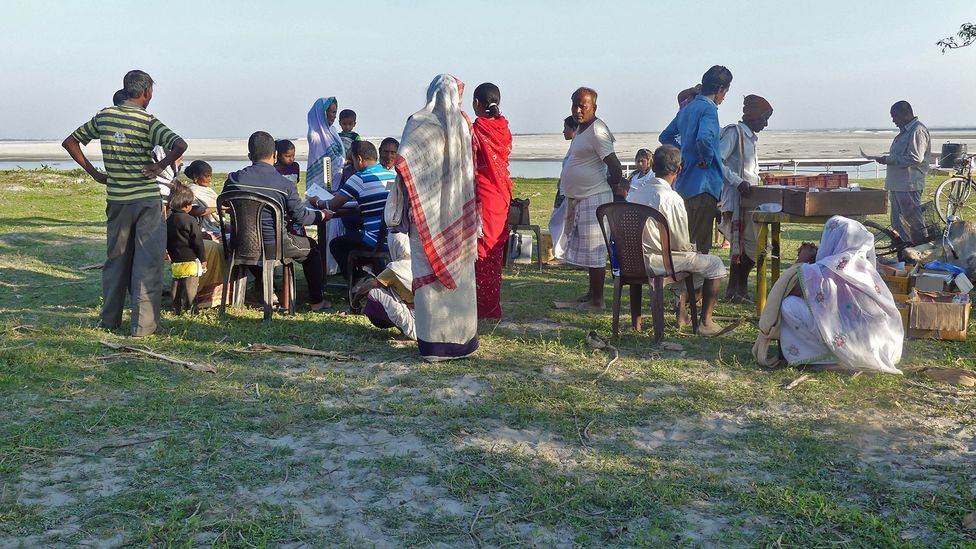 The islanders come to receive care from the medics (Credit: Jules Montague)
The sun sets: time to head back to the boat where daal and chicken curry await the crew. After eating, we crawl under mosquito nets, falling asleep as the Brahmaputra softly laps the sides of the boat.
*
We simply sense the river – Bipul Payeng
Boatmaster Bipul Payeng, 34 years old, has sailed the Brahmaputra for two decades. GPS is useless here, he says. "We simply sense the river." He shows me a laminated map printed last year. Three islands are marked in yellow – Bhekeli 1, 2, and 3. The people of Bhekeli 3 fled months ago, their island eroded. The map is already out of date.
The 1950 Independence Day earthquake (8.6 on the Richter scale) killed around 1,000 people and changed the Brahmaputra's course forever. Some 45 billion tonnes of silt were carried downstream, populating the riverbed and emptying onto banks. Even now, the river carries one of the world's highest sediment yields, higher still during floods. Since the earthquake, the river bed has risen by up to 10 metres and continues to widen.
Silt leaves the land fertile, but now the river has become braided – one channel turns into many, the water eroding the river banks as it goes.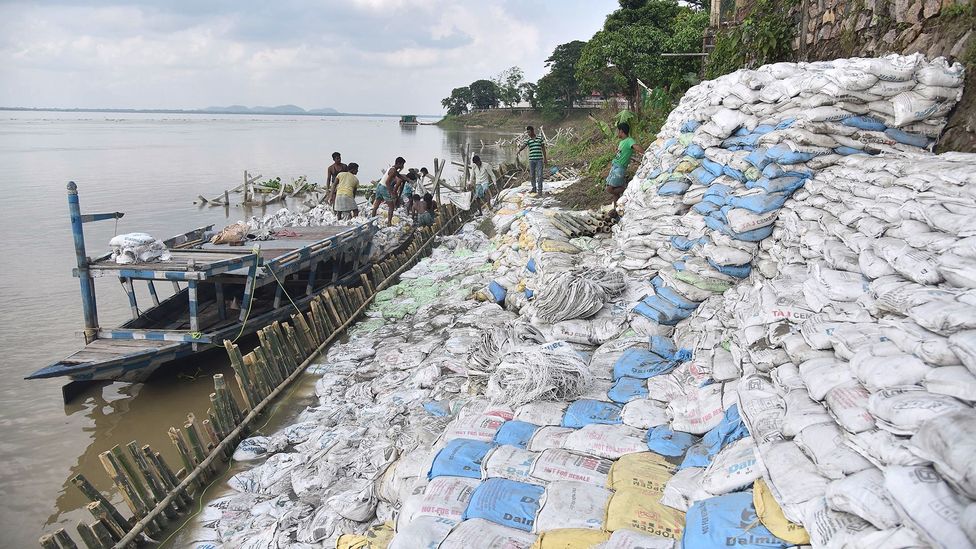 Labourers pile sand bags to try to protect a bank of the Brahmaputra from erosion in Guwahati (Credit: Getty Images)
Erosion has decimated more than 2,500 villages, 18 towns, countless cultural heritage sites and entire tea gardens
Between 1954 and 2008, the total area of erosion in this region was 427,000 hectares, 4% of the plains of Assam. Since the earthquake, erosion has decimated more than 2,500 villages, 18 towns, countless cultural heritage sites and entire tea gardens. Nearly half a million people have been affected. Between 2005 and 2010 alone, 880 villages and almost 37,000 houses were completely eroded. Even the school on Doley's island tumbled into the water earlier this year.
Other dangers loom, including plans for dams that potentially could divert the Brahmaputra's course. Rising temperatures are shrinking the glaciers of the Himalayas and the Tibetan plateau, accelerated by air pollution, which could cause more flooding. In some places, the state government's plan on climate change predicts a 25% increase in flooding and 75% in droughts, along with additional erosion, mudflows and avalanches predicted.
Also at stake is the region's delicate ecosystem. Its wetlands, tropical rainforests, grasslands, bamboo orchards and tea gardens thrive on the river's fertile basin. Assam's two World Heritage Sites, Kaziranga and Manas, are famously home to the one-horned rhino as well as tigers, elephants, leopards, water buffalo, swamp deer and golden langurs. At least 346 animals at Kaziranga died in the 2017 floods including 15 rhinos, one Royal Bengal tiger and four elephants.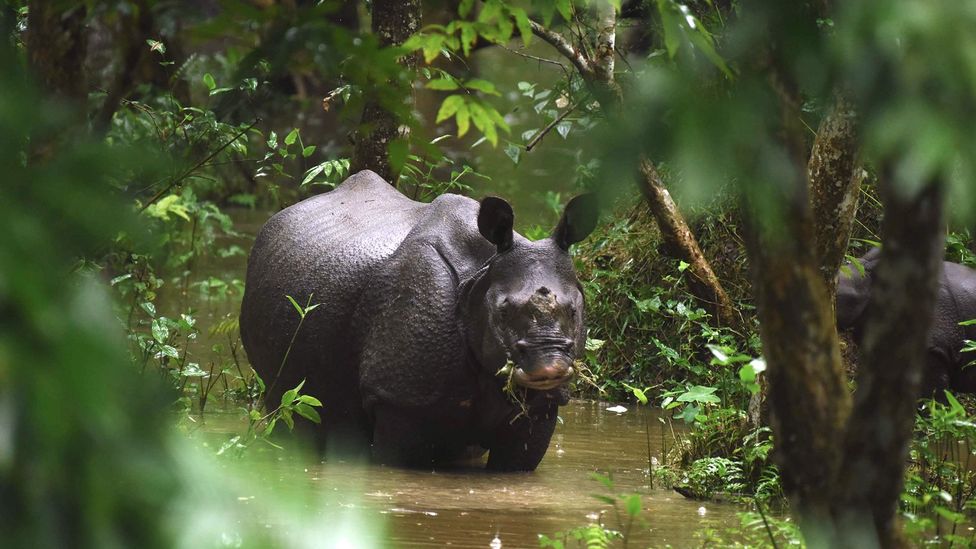 A one-horn rhinoceros swims through flood waters in Kaziranga National Park in July 2017 (Credit: Getty Images)
Suddenly, there is a cry from Payeng: "Xihu, xihu!" (Dolphin, dolphin!). A Ganges River dolphin leaps through the air. We are fortunate to catch this glimpse. The dolphin is officially endangered, facing threats across the Ganges and Brahmaputra: pollution, entanglement in fishing nets, dams that split up populations and reduce prey, and harvesting for dolphin oil. Conservation projects are encouraging fishermen to use alternative baits, but only 1,200 of these river dolphins remain throughout India, less than 300 in the Brahmaputra.
Our sighting gives some hope, though. The dolphin sits at the apex of the aquatic food chain and so its very presence signals a healthy ecosystem and biodiversity.
But there is little room for complacency. The Yangtze river dolphin was declared functionally extinct in 2006 solely due to the actions of humans, including overfishing, dam-building and ship collisions. The Ganges River dolphin also remains vulnerable.
There are more than 220 ethnic groups in the Brahmaputra Valley with at least 45 languages
Over the following few days we travel to more sandbanks, clambering over rotting logs and parched earth. Dust swirls. We visit other Mishing tribes and sometimes other groups, too: Deoris, Boros, Rabhas, Lalung – there are more than 220 ethnic groups in the Brahmaputra Valley with at least 45 languages and many more religions, laws and customs.
The younger generation occasionally seek work on the mainland, usually in the service industry, but the agricultural sector remains the mainstay of employment. And so, as long as the land is endangered, its people are, too, their fates entwined. They speak of erosion time and time again. "We must fight it," says Payeng. Otherwise, the saporis will wash away. "This is a land war."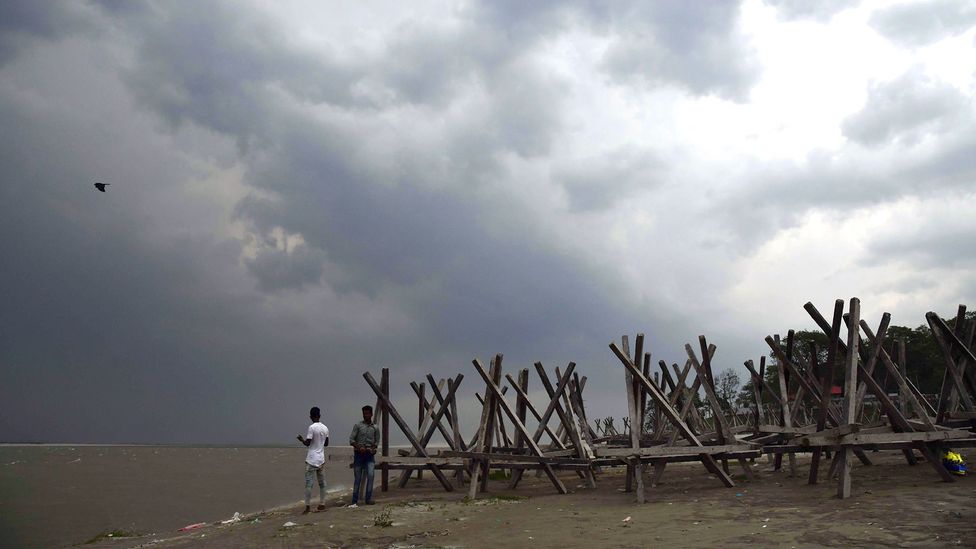 Some of the structures like this one, built against erosion, actually could make matters worse (Credit: Getty Images)
That war is complex. Embankments, constructed against floods, actually could worsen erosion – whether by confining the river's course, increasing the water's velocity or simply shifting problems from one area to another. Dredging is another proposal: the latter is claimed to battle erosion through increasing the river's water-carrying capacity but could equally change the river's course and faces enormous technical challenges. Costly geo-textile tubes used to stabilise a river bank at Majuli were washed away within a year. Stone spurs divert strong currents, thus protecting one location but potentially triggering erosion downstream. Boulders and sand bags protect receding river banks but are hardly infallible. Anti-erosion efforts need to address other factors, too – especially deforestation, dams, and climate change.
We are only one of the many species living in these ecosystems, privileged to share space with them – Sanjoy Hazarika
Hazarika is struck that those championing various anti-erosion strategies rarely ask the people living on the islands and river banks for their opinions. It's not just about people of course, he says. "We must be mindful of one simple issue: we are only one of the many species living in these ecosystems, privileged to share space with them."
Payeng later tells me of a Mishing folk story, Patukari Tuyub, the Dolphin Maiden. One version has a young girl, Yakasi, being drowned by her neighbours: dressed in black, a wooden pestle attached to her back, two brooms tied to her hands, she is pushed into the river. She returns as a dolphin, the story goes, those brooms became her fins. And so the Mishing see the river dolphin as their long-lost daughter, to be revered and protected at all costs.
As we watch another dolphin somersault alongside the boat, Yakasi is still with us. But her future and the future of her people depends on decisions made on the mainland. Onto to the next sapori we go. We have no map to guide us, but Payeng will surely get us there. Today, there is safety in the river's serenity, and security in this knowledge of his. And despite our fears for the future of the Brahmaputra and its people, that will have to do for now.
Join 800,000+ Future fans by liking us on Facebook, or follow us on Twitter.
If you liked this story, sign up for the weekly bbc.com features newsletter, called "If You Only Read 6 Things This Week". A handpicked selection of stories from BBC Future, Culture, Capital, and Travel, delivered to your inbox every Friday.