A small Colorado town is using its hot springs for an unusual purpose: growing food year-round. And with geothermal energy in abundance, this could be a model used across the US.
T
The tomatoes aren't cooperating. Instead of growing up the trellis, the plants are weaving all over the garden bed and arching, menacingly, toward a young grapevine. On a hot August afternoon, Pauline Benetti and Diane Kelsey are trying to coach the fruit upward by tying its stems to the wood-and-metal trellis.
It's high season for the juicy red spheres, but these two volunteers – both shorter than the vines they're trying to wrangle – aren't just struggling with these plants for the final farmers' markets of the summer. They want to train the tomatoes to grow in the right direction inside this greenhouse all year long.
Their work is part of a five-year effort by the Geothermal Greenhouse Partnership (GGP) in Pagosa Springs, Colorado. The volunteer-run nonprofit, in coordination with the south-west Colorado town, is transforming the world's deepest geothermal hot spring into something much more than just a travel destination: it's using the renewable energy source to grow food year-round for the community.
Pagosa Springs is well-known in the western United States for its unique approach to geothermal energy, which is energy harnessed from the Earth's heat. Geothermal food growing, though, is a new enterprise.
You might also like:
• How vertical farming reinvents agriculture
• Are forgotten crops the future of food?
• The most extreme geothermal plant in the world
In the centre of the small downtown, on the banks of the San Juan River, sit three conspicuous, geodesic greenhouses, each 42ft (13m) in diameter. They stand in stark contrast to the old-timey buildings on the road above. All will house gardens, but each has a different mission.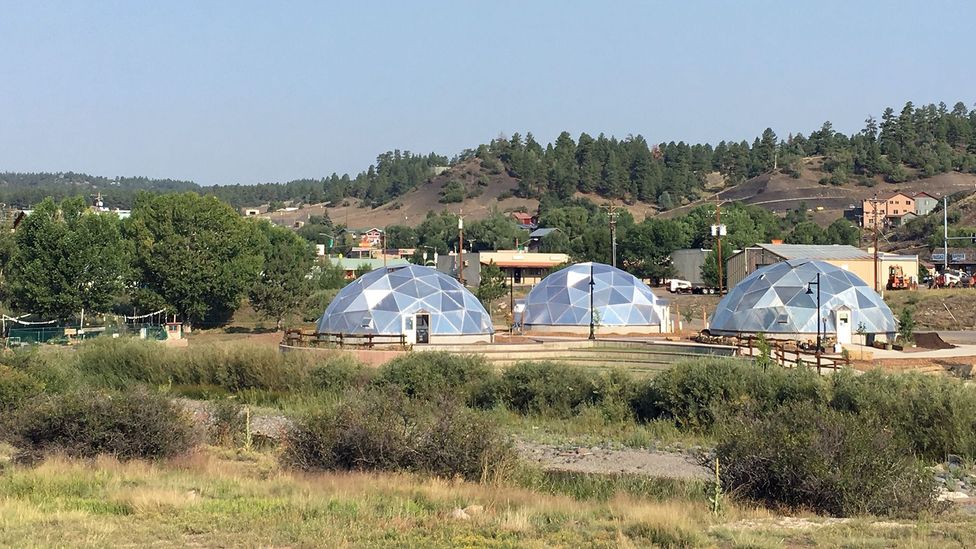 The project's three greenhouses use geothermal energy to help grow plants even in Colorado's cold-weather months (Credit: Daliah Singer)
The first, the Education dome, was built in 2016. It is the only one of the trio that's currently operational. Volunteers stop by to prune and plant every day; more than 300 students have visited the site to learn about the plants and to practice their maths or science skills; and the public is welcome from 11:00 to 14:00 on Tuesdays and Saturdays.
"Everything we do is [focused on] teaching sustainable agriculture to the next generation and growing food year-round – which is pretty special" at an altitude of 7,150 feet (2,180m), says Sally High, a former environmental educator and GGP board treasurer.
The geothermal water comes from town wells via a lease agreement with Pagosa Springs. A heat exchanger inside each greenhouse uses the geothermal liquid to heat domestic water, which is piped through the floor of the greenhouse in cold-weather months. The geothermal fluid then resumes its natural path.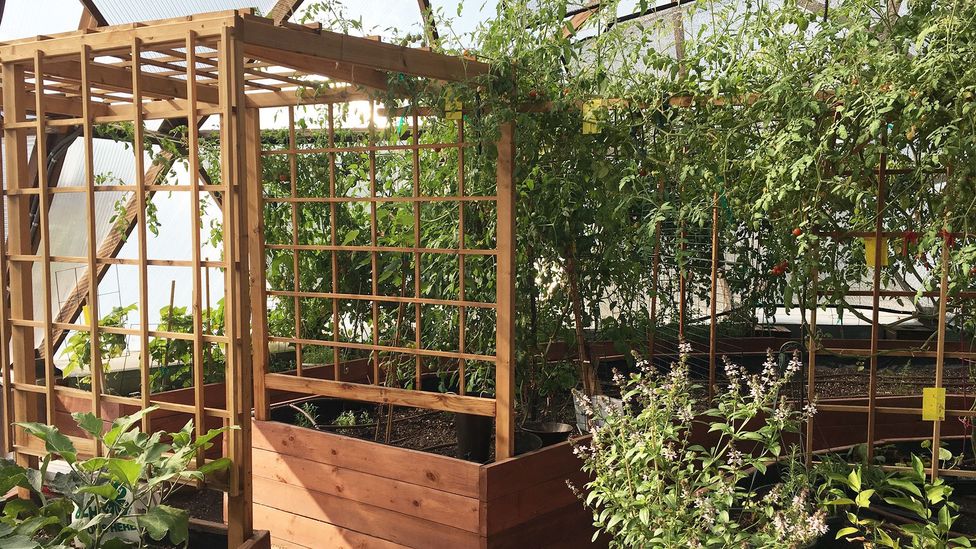 Inside of the Education dome, volunteers prune and plant every day (Credit: Daliah Singer)
The closed-loop system is as close to non-consumptive as possible – meaning almost no water is consumed during the process, with most of it returning to the ground – and allows the greenhouse to maintain a consistent temperature that ranges from 58F (around 14C) on the coldest winter nights to 90F (32C) on a sweltering summer day. (A pond, fans, misting system, and windows also help regulate the temperature.) That means the squash, kale and beets can grow in any month – a major benefit in a high-elevation mountain town where the average frost-free growing season spans less than 80 days.
The method will be similar in the Community Gardens greenhouse, which is expected to open before the end of 2018. Local civic organisations and community groups, such as food banks and veteran-focused associations, will have their own garden beds in which they'll grow food to help feed their communities.
The Innovation greenhouse, slated to open in 2019, has a different purpose. It will house an aquaponic growing environment, raising fish and plants together in a symbiotic system in which  the fish waste acts as a food source for the plants while the plants filter the fish's water, one that uses about one-tenth of the water required for conventional soil growing. It's a controlled environment, so the dome will be closed to the public except during special demonstrations or tours.
Our geothermal resource is underused and undervalued – Sally High
"Farmers' markets are seasonal. This takes Colorado's agriculture [towards being] very local and year-round," says High, who sees Pagosa's greenhouse endeavour as both an economic and tourism driver for the town. "Our geothermal resource is underused and undervalued."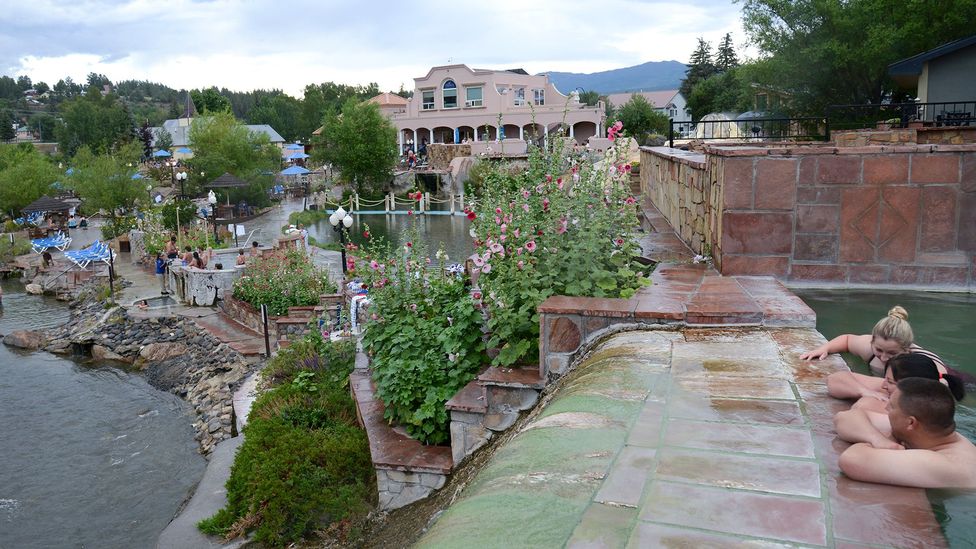 First discovered in the 1800s, the hot springs are popular for therapeutic purposes (Credit: Getty Images)
The Ute Indians first discovered the area's therapeutic waters in the 1800s. More than a century later, in 1982, the town, with help from the US Department of Energy (DOE), launched a geothermal heating system that uses the geothermal water to provide heat to about 60 local businesses and residences and melt snow on the sidewalks in the small downtown. (There are around 20 such systems in the country, including in Boise, Idaho, and San Bernardino, California.)
"It's a 24/7/365 power source; it's not intermittent, like solar or wind," High says. "This direct-use project… it's absolutely replicable."   
Pagosa Springs isn't alone in growing food geothermally. But the process is still rare in the US. In its most recent look at geothermal direct-use installations in the country, which dated to February 2017, the National Renewable Energy Laboratory (NREL) counted just 29 greenhouses.
"One thing that's unique about geothermal is, in addition to the ability to provide power, it can provide these other services to a community that allow them to be more self-sustaining," says Katherine Young, NREL's programme manager for geothermal energy.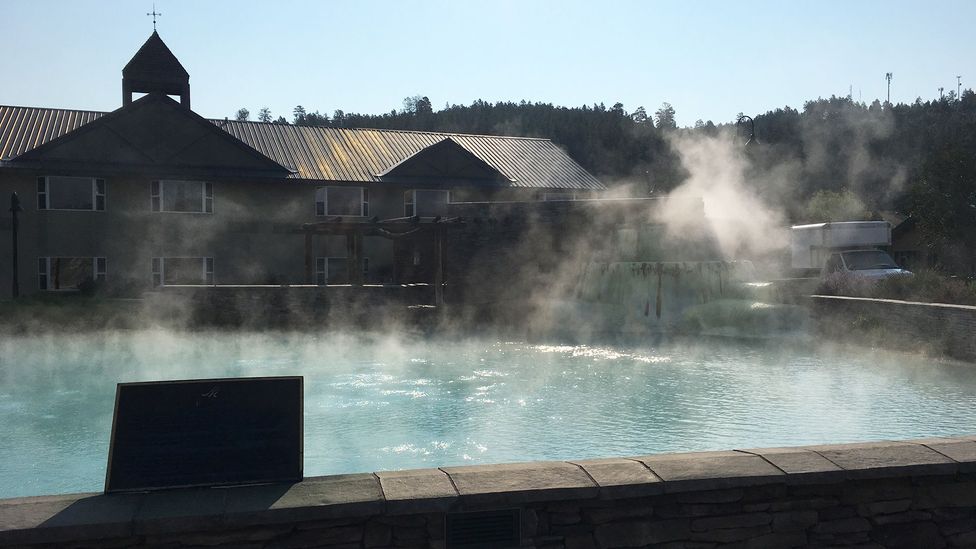 Since 1982, the hot springs have been used to provide heat to buildings in downtown Pagosa Springs (Credit: Daliah Singer)
Most conversations about geothermal energy focus on Iceland, where the natural resource accounts for about 25% of the country's total electricity production and where 90% of homes are heated geothermally. Other European countries have access to mostly intermediate- to low-temperature geothermal resources, which restricts them somewhat, as higher heats are better suited to electricity production. Even so, at least 13 countries tap into them for greenhouses, among other uses.
But the US hasn't fully realised its geothermal potential. According to the DOE, "the US leads the world for installed geothermal capacity, with more than 3.7 gigawatts" – most of which is concentrated in the West. But a 2006 Massachusetts Institute of Technology study found that technology investment could open up access to more than 100 gigawatts in the next five decades, providing more than 10% of the country's electricity demand. (The DOE announced a $4 million [£3.1m] investment in six deep direct-use feasibility studies last year.)
There's a ton of heat everywhere beneath the US, and it can be harnessed – Katherine Young
"There's a ton of heat everywhere beneath the US, and it can be harnessed everywhere," Young says. "It can play a significant role in the US energy economy."
Thus far, the GGP project has been primarily grant-funded – including a recent $174,500 (£135,000) infusion from the Colorado Water Plan and Colorado Water Conservation Board – and volunteer-driven. But as the final domes inch closer to completion, the team wants to hire a site manager, its first employee. Funds will come from private donations as well as by selling produce from the Innovation dome to local restaurants and at farmers' markets. (Visitors can also buy tomatoes and lettuce from the Education dome on the two days a week it's open; some of that produce winds up at the farmers' markets, too.)
This past summer, vegetables grown in the Education greenhouse's salad garden were part of the meals in the free summer food programme for kids in need. Community events at Centennial Park, where the greenhouses sit, have ranged from cooking classes to breakfasts to educational speakers.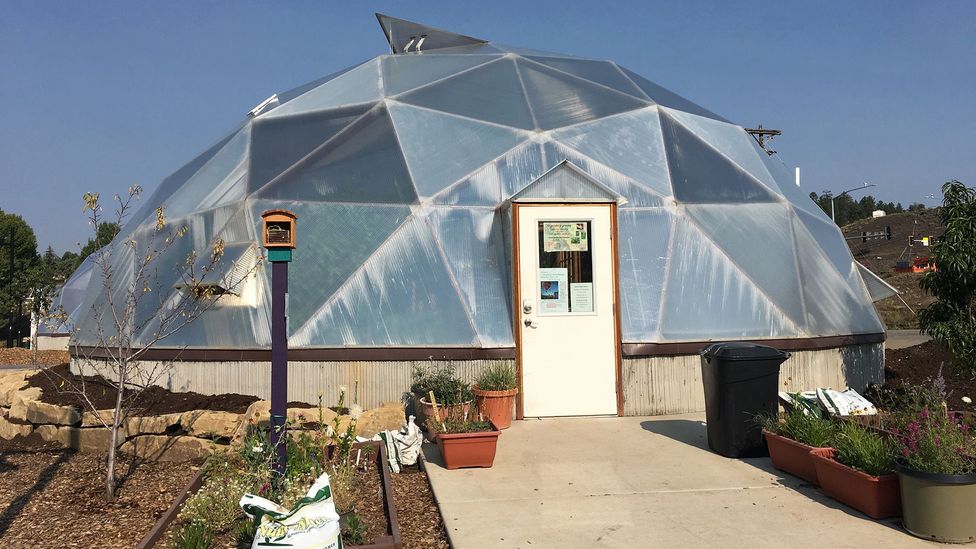 Vegetables grown inside of this greenhouse helped feed local children this summer (Credit: Daliah Singer)
For local youth like Tucker Haines, the Education greenhouse affords more than just an opportunity to learn about eating – and growing – fresh foods. Every Monday last school year, the 13-year-old would walk from Pagosa Springs Middle School to the GGP park. His maths teacher thought hands-on learning might help the formulas and fractions finally click with the students. Tucker and his classmates measured the garden beds and plants and kept calendars which outlined when the seeds were going to germinate; they also planted and harvested kale, red cabbage and cauliflower. "My regular math class I couldn't quite understand," Tucker says. Suddenly, though, the numbers started to make sense. "It made math enjoyable," says his mother Nancy Haines.
Tucker's experience is the kind of broader community benefit High and the rest of the GGP were hoping for when they set out on this mission a decade ago. "It's this living laboratory that we have right smack in the middle of town," says Cindy Schultz, Pagosa's associate planner. "It gives people a sense of what's possible."
Join 900,000+ Future fans by liking us on Facebook, or follow us on Twitter or Instagram.
If you liked this story, sign up for the weekly bbc.com features newsletter, called "If You Only Read 6 Things This Week". A handpicked selection of stories from BBC Future, Culture, Capital, and Travel, delivered to your inbox every Friday.