Crying babies need to be rocked to sleep – and parents lose countless hours of shut-eye because of it. But what if the baby's cot could rock itself? Step forward the Snoo…
M
Many new parents would agree: one of the biggest shocks to the system – apart from the enormous responsibility of caring for a new life – is lack of sleep. Consistently poor sleep can put a strain on the strongest of parental partnerships and can lead to serious health issues such as post-natal depression.
Even if your new bundle of joy is that rarest of things – 'a good sleeper' – it is inevitable that parents of newborns will have interrupted nights, just like many generations before them. Can we look to 21st-Century technology to help soothe this age-old problem?
The futuristic-looking Snoo – a cot that automatically rocks your baby to sleep – is one such possible technological solution. It's an attempt to recreate the sensations, noises and cocooning environment of the womb. But is it any match for human interaction?
You might also like:
When it 'hears' crying, Snoo chooses the best white noise and rocking motion to calm an unsettled baby. The manufacturers claim that its "womb-like sensations add an hour or more to a baby's sleep". This, understandably, is (soft, soothing) music to exhausted parents' ears.
And it can provide reassurance too. A special sleep sack, which attaches to the bed, swaddles the baby, but also keeps them securely sleeping on their backs. This position is recommended by the American Academy of Pediatrics,  the UK's NHS and charities such as The Lullaby Trust, which advises that "sleeping your baby on their back… is one of the most protective actions you can take to ensure your baby is sleeping as safely as possible."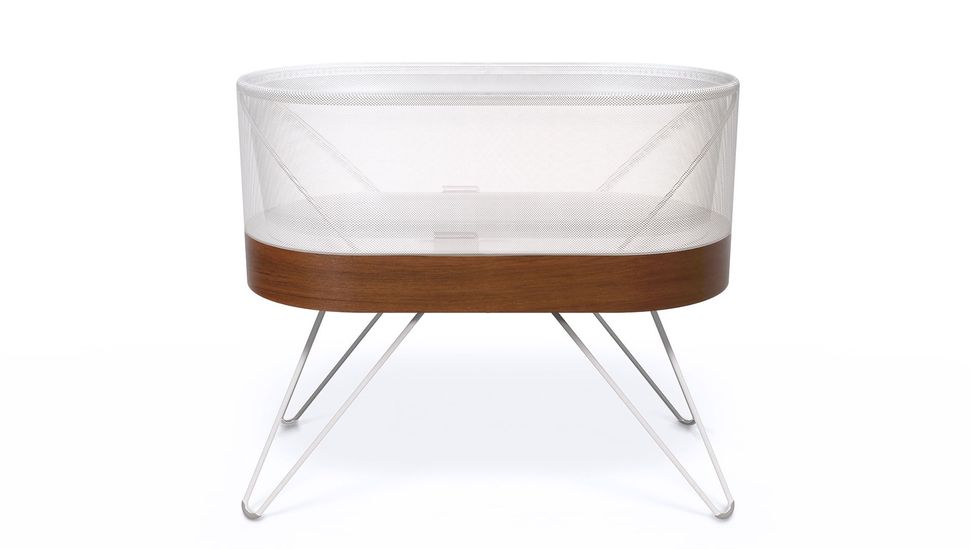 Designer Yves Behar says the aim was to create an object that wasn't overly technical or complicated (Credit: Fuseproject)
Sleeping on the front is thought to be a major risk for Sudden Infant Death Syndrome (Sids). Though rates of Sids in the UK have thankfully declined by more than a third over the past 10 years, more than 3,500 babies still die from it in the US every year. It is an understandable worry for the parents of newborn, so technology that can alleviate any concerns might be welcomed.
The Swiss designer behind Snoo, Yves Béhar, is particularly proud of his invention because, he says, it is truly changing lives. "It is technology with a deep sense of humanity as it performs an important service for parents and babies alike."
Babies only have one principal method of communication at their disposal: crying
Snoo is undoubtedly a clever design. Béhar says "the first objective was to bring a new technology without being disruptive or overly technical". The minimalist design successfully conceals sensors, robotics and microphones, all the while enclosing the baby in soft, washable materials. It's practical but is still aesthetically pleasing.
The makers of Snoo describe it as a "personal helper – ready to soothe your baby 24 hours a day, seven days a week" allowing parents to get on with everyday tasks – though it is not designed to be used unsupervised. Although the notion of having a virtual nursemaid constantly at your service might be appealing, it might also create a slight sense of unease. Can technology truly replace the human touch or parental instinct?
Mariana Pestana, co-curator of The Future Starts Here at the V&A Museum in London says of Snoo: "On the one hand it seems like an extraordinary invention and very practical for parents, but it also makes us uncomfortable about the fact that we are trusting technology with the task of taking care of our own babies."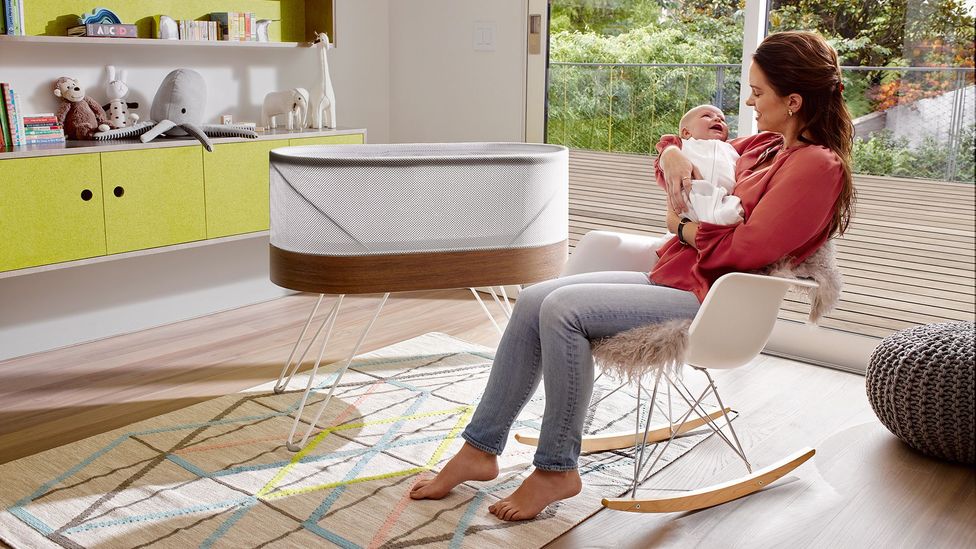 The Snoo is meant to be used when an adult is still close to hand (Credit: Fuseproject)
Technology is increasingly at our service in the home – whether it's 'knowing' our preferred room temperature or recognising our faces – but how much do we want to entrust care to 'smart home' devices? These, says Pestana, "give us the illusion of care, to a certain extent. They make us feel cared for... but by algorithms and formulas and technological objects". Without emotion and empathy, they can never really care.
Babies only have one principal method of communication at their disposal: crying. A baby's cry can mean many things, such as 'I'm hungry', 'my nappy needs changing' or 'I want some attention'. How can a machine ever distinguish between these need states? And if a baby is crying because, for example, it is unwell or scared, do its parents necessarily want to avoid being alerted to its cries?
Possibly as a way of addressing potential concerns, Snoo is designed so that if the baby is still crying after three minutes, the unit will stop so that a real person attends to the child. 
Many parents welcome a technological helping hand
Technology in various forms has been used through the years to help parents care for their babies – from lo-tech baby slings  or a simple motorised swing chair to a state of the art video monitor that allows parents to keep an eye on their little ones. Many parents welcome a technological helping hand, and Snoo certainly boasts many enthusiastic testimonials from parents hailing it as a game changer. Some companies are even making Snoo available as an employee benefit, and there are hospitals researching its effectiveness through clinical studies.
The University of Kentucky has used Snoo on over 150 withdrawal babies. "Every parent loves the bed. I find babies in the Snoo sleep quietly." says Lori Shook, the head of the university's neonatal abstinence sydrome unit.
Béhar strongly believes that "technology should be designed to work alongside humans. The role of design is precisely to define what this relationship between human and machine needs to be: to enhance our human ability rather than replace it."
It's often said that it takes a village to raise a child, and many bleary-eyed parents will gratefully take any help they can get. But what happens when technology gets so clever that you don't necessarily need the help of the villagers any more?
--
Join 900,000+ Future fans by liking us on Facebook, or follow us on Twitter or Instagram.
If you liked this story, sign up for the weekly bbc.com features newsletter, called "If You Only Read 6 Things This Week". A handpicked selection of stories from BBC Future, Culture, Capital, and Travel, delivered to your inbox every Friday.