Delhi is set to become the world's biggest city within the next decade, but it already faces crippling water shortages. How can it hope to support more inhabitants?
T
The tuk-tuk rocks and splashes through the mud, and my guide for the day, Jaswinder Kaur, giggles. "I don't trust this driver," she says. "But I trust God!"
We are on our way to Jai Hind camp, home to about 1,200 families in the south of Delhi, India. Here, more than anywhere else in the Indian capital, life revolves around water. Tankers carry water to the camp seven times a day and, until recently, filling up a couple of 50-litre tanks was an ugly game, explains Kaur, who works with the Forum for Organised Resource Conservation and Enhancement (Force), a charity trying to improve sanitation and access to clean water in India.
Fights often broke out around the vehicles in the past, meaning only the strongest would secure enough water to last their families for a few days. This left the elderly, sick and marginalised ethnic groups with little water to drink, bathe or wash their clothes.
You might also like:
• How a city that floods is running out of water
• Jordan's plan to turn its desert green
• How to save Louisiana from drowning
In Jai Hind, things are slowly improving. The camp is classified as a 'notified slum', which means that the government acknowledges its presence on public land and commits to take care of sanitation, water drainage systems, food supply and other basic needs of the local population. Here, the public administration teamed up with another charity, WaterAid India, to build a community toilet block – reducing the problem of open defecation, improving women's safety and water efficiency.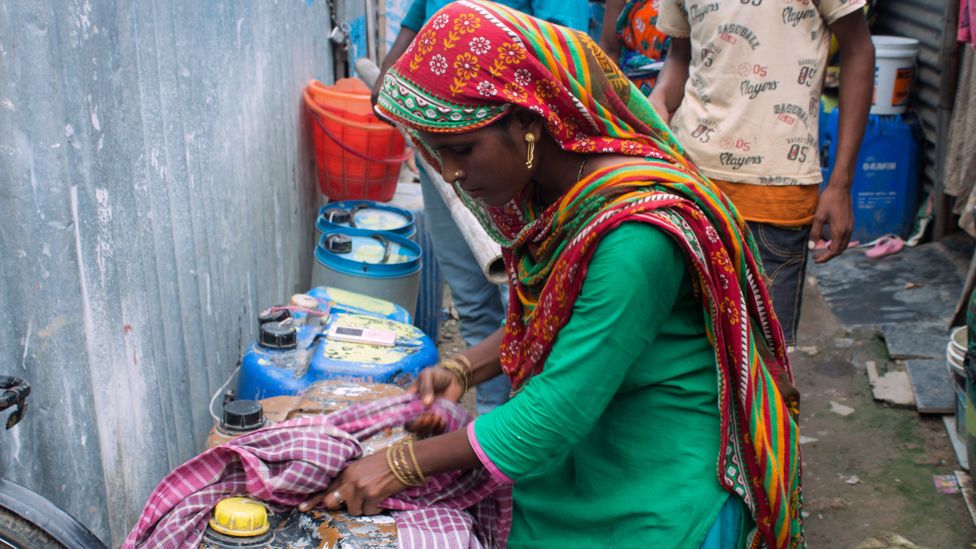 Fatima demonstrates how to carry heavy water containers by wrapping a cloth around the top for grip (Credit: Lou Del Bello)
At the centre of the building sits a small apartment where Fatima, a willowy, resolute woman who greets us with a cup of hot chai, lives as part of her role as toilet manager. Her job is relatively well paid, and between training people on how to use the toilet and keeping the space clean she has time to run a small tea stall while she keeps an eye on the complex.
"I have four kids and running a family of six requires a lot of money," she says. "My children are growing up and I want them to have an education, and ultimately live a better life than the one I am leading".
Managing the new community toilet is helping her achieve that, but Fatima, who only uses her first name, is not only working for the benefit of her own family. Her role is to fix some of the systemic problems affecting the diverse, multi-faith and multiethnic Jai Hind community.
She has devised a system to make sure all families in the camp have equal access to water. Each household is given a numbered slip that they present at the tanker to receive their fair share, and then they must then wait until the following week for a top up. As she proudly shows me the registry, she explains how conflicts over water have gone down since her idea was implemented.
Fairer distribution of this precious commodity has already changed thousands of lives for the better
While a fairer distribution of this precious commodity has already changed thousands of lives for the better, as Fatima walks me through the narrow passages between makeshift homes, a small church and crammed little shops, it becomes clear that water still occupies a major space in the mind of Jai Hind's residents. They need more of it, but water can also be their enemy. During the monsoon season – from mid-July to mid-September – rainwater accumulates without adequate drainage systems, turning the ground into a patchwork of toxic puddles that harbour diseases such as malaria, dengue and chikungunya.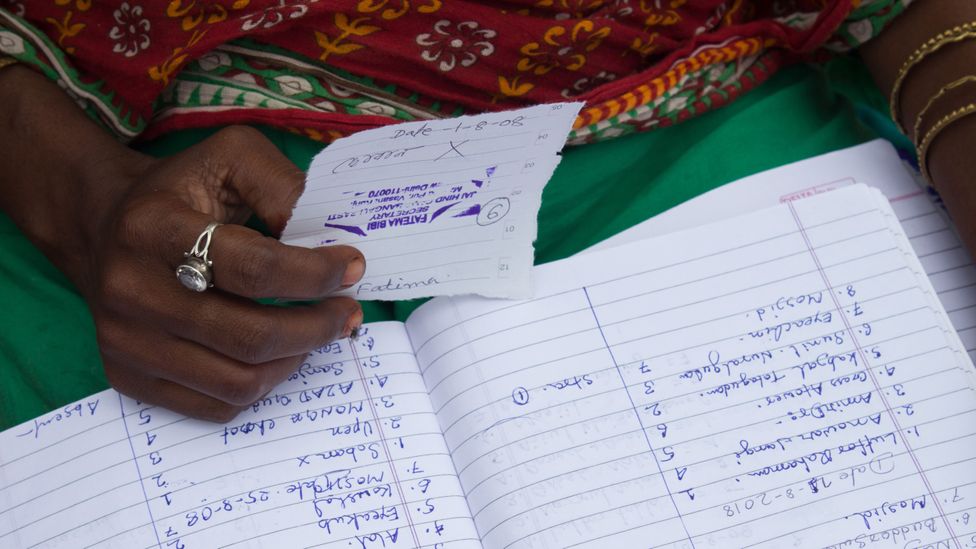 Fatima's registry helps her keep track of who has collected water from the tankers to ensure everyone gets their fair share (Credit: Lou Del Bello)
As I leave the camp in the pouring rain, Kaur points at rows of sleek buildings that tower over the shacks of the camp. In Delhi, slums and luxury complexes often sit next to each other, she explains, because local women need the housekeeping jobs offered by wealthy families, and the middle classes also increasingly need domestic help.
Troubled water
Even though Jai Hind seems to be the polar opposite of the image of a bustling, progressive Delhi that its authorities prefer to project, its woes reflect the whole capital's troubled relationship with water.
A recent report by the government-sponsored think tank the National Institution for Transforming India (NITI Aayog) warns that 21 Indian cities, including Delhi, Chennai, Bengaluru and Hyderabad are poised to run out of groundwater by 2020, affecting 100 million people. While this doesn't mean that the capital is going to run dry, as it receives water supply from neighbouring states, "Delhi is currently pulling too much water out of the ground and we are not putting back a sufficient amount", says Amitabh Kant, chief executive of NITI Aayog.
The study he spearheaded looks at how various Indian states fare in managing their water resources, a subject that "cuts across many governmental departments" and includes issues as diverse as soil management, irrigation practices, sanitation, water contamination, rural drinking water and urban water supplies. Counterintuitively, it finds states that are traditionally water scarce, such as Gujarat, Madhya Pradesh and Andhra Pradesh, are better at providing drinking water for urban and rural people, and employing rainwater harvesting and advanced irrigation techniques, among other measures. Conversely, north eastern states, which enjoy more abundant water resources, are scoring poorly in the composite index designed by the study. Delhi sits at the heart of this region, between Haryana and Uttar Pradesh.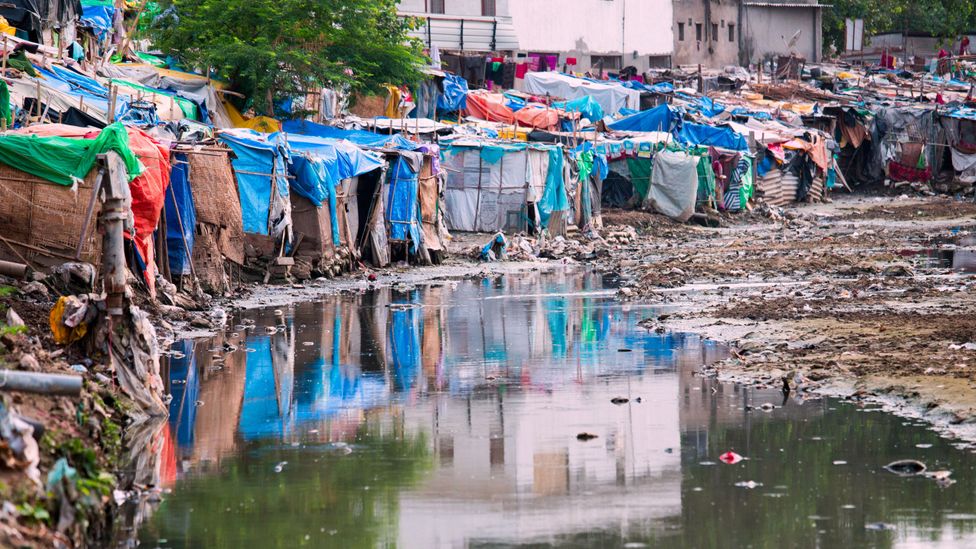 Without adequate drainage, standing water in Delhi's slums can become a breeding ground for disease (Credit: Alamy)
"This report is about naming and shaming," says Kant, who believes that putting each state's performance in the public domain will compel local administrations to take action. "These are states to which 50% of the population and agriculture basket belongs, and therefore, if they do not do well, food security is at risk for the whole of India."
As Delhi expands, its fragile water system is on the brink of collapse
Under this scenario, Delhi could be one of the first victims. Currently the second biggest city in the world with 29 million inhabitants, it is projected to become the world's biggest urban centre by 2028. But as Delhi expands, its fragile water system is on the brink of collapse. The city is heavily dependent on the water it receives from upstream neighbouring states, which can lead to political tensions, particularly in the hottest, driest seasons, when supply regularly falls short.
"In the long run, be it the case of Delhi or any big city, indiscriminate pumping that exceeds the natural recharge rate will only accelerate the depletion of water stored in aquifers," says Priyam Das, associate professor at the University of Hawai'i and an expert on water governance. "As climate changes, so will weather patterns and surface water flows, so regulation of groundwater to protect freshwater resources could be key to averting a water crisis."
This scenario, Das says, "is rather apocalyptic, but, if it does play out, it could trigger serious unrest over scarce resources. Conflict over water is not new but we may even witness scarcity-induced violence at an unprecedented scale."
Water mafia
Despite the looming threat, "nobody monitors where and when wells are drilled, even if in theory you would need permissions", says Asit Biswas, global water resources expert and visiting professor at the Indian Institute of Technology in Bhubaneswar. "Even if there's a problem, you pay someone a few hundred rupees and the problem goes underground."
Biswas is not referring to the wells, but rather the darker side of the water industry in India. He speaks of the "water mafia" that plagues Delhi as an open secret. Part of the political class has no interest in changing the status quo, he says, because "it benefits from the existing system."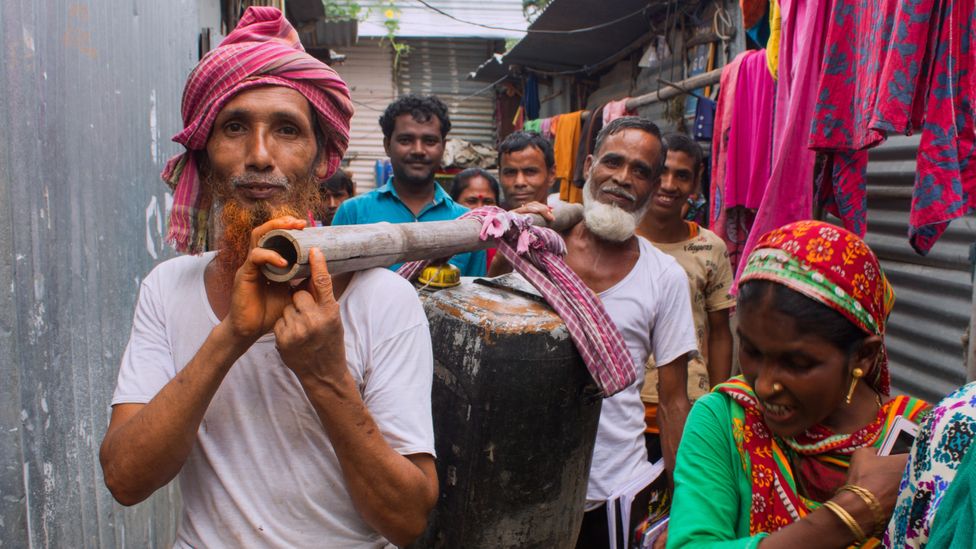 Carrying water through the camps after collecting it is a laborious task (Credit: Lou Del Bello)
"The scarcer the water, the higher the demand for water from private providers," Biswas explains. "What happens is that some politicians or officials within the Delhi Jal Board (the government agency responsible for drinking water supply in the region) use public tankers to sell water as a private enterprise."
The main victims of this alleged racket are disenfranchised communities living in 'non notified slums', informal settlements mostly populated by migrants that are not officially recognised by the government and don't receive any practical support. They have to pay for their daily water supply out of their own pockets, as well as living in constant fear of being evacuated.
What became known as the "water tanker scam" in India throughout 2016 and 2017 allegedly involved a number of senior government officials believed to have used their public position for illicit profit. Although an official investigation was opened, various sources told BBC that Delhi is still plagued by a fraught relationship between public and private water services. When contacted by the BBC, neither the Jal Board and the Central Bureau of Investigation would comment on the issue.
Delhi's water crisis is inexorably tied to its population boom, fueled by migrants moving to the city from nearby states. The majority end up in settling in the sprawling slums. According to the latest government census in 2012, more than a million people were living in Delhi's slums at the time, and the number is likely to have increased dramatically over the intervening six years.
Water guardians
Tucked away in the industrial area of Kirti Nagar, in west Delhi, a small migrant community offers a glimpse of an alternative future, where water is equally distributed and reaches people's homes, even in a slum. Here, porches are decorated and old buildings are painted in blue, yellow and pink. A group of brightly dressed women show me around, and tell me how water is now delivered to their front door for a few hours each morning and in the evening through taps connected by a network of pipes that reach every corner of the complex. This is one of the first notified slums in Delhi where the government is supporting such a sophisticated water supply system.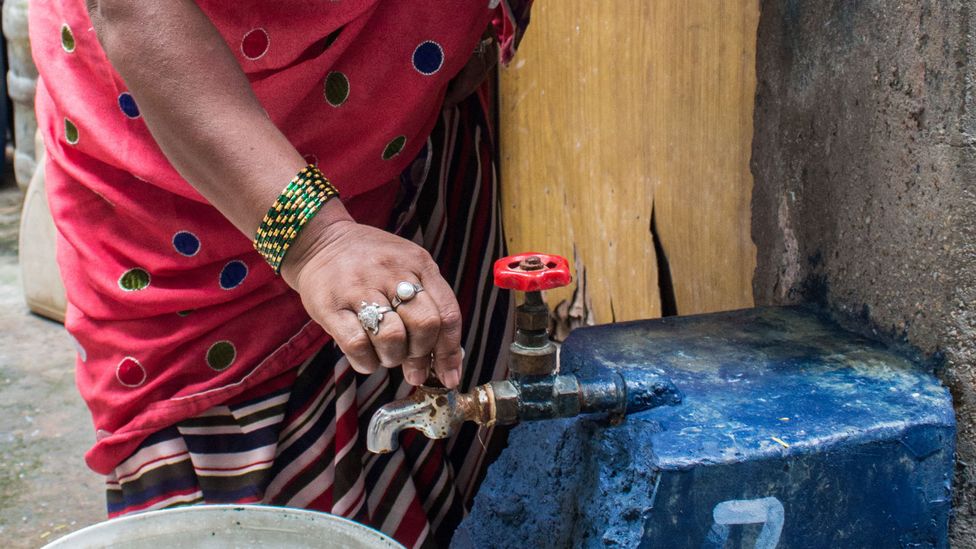 Special taps with double valves help to prevent leaks from the water pipes in Kirti Nagar, west Delhi (Credit: Lou Del Bello)
Shy at first, Krishnavati, who also only uses her first name, agrees to show me how the taps work – demonstrating the special design meant to withstand misuse and potential damage. Each tap has two valves, so if one breaks the water doesn't spill and the system keeps working.
Before the water came to her house, Krishnavati says, the long journey to fetch it was always in her mind and would take up several hours a day. Now she can just open the tap and wait for her bucket to fill up while she carries on with housework. "Water quality has also improved," she says. "While before we used to catch diseases from time to time, this doesn't happen anymore."
While before we used to catch diseases from time to time, this doesn't happen anymore – Krishnavati
Krishnavati and her friends are the guardians of the water networks. They are responsible for keeping the pipes and taps functional, notifying the authorities if something breaks or there is a potential contamination. In slums it's not uncommon for people to break the pipes and install a motor to pump more water towards their homes. It's something that authorities outside the complex will struggle to detect and fix, which gives the women a special role to play in fostering a sense of collective ownership of this precious resource.
The system is still far from perfect. Experts agree that intermittent water supply means that the pipes will deteriorate faster, more water will be wasted and ultimately the costs will be much higher than if water was continuously available through the system. But the experiment is proving a success, and not only because it prevents water shortages and reduces the risk of disease in a deprived area. It is also mobilising people to take pride in their community and fight for the common good, something that can deliver change in many other fields too.
One of the most unusual aspects of water management in Kirti Nagar is that there is no one person in charge of overseeing it all – a position that could be open to the sorts of corruption described elsewhere in the city. As I say goodbye, Kaur points to a wall that has been painted with the names of all the women working on the project. "Our strength is working as a group" she says. "If everyone is a leader, the leader never dies."
Join 900,000+ Future fans by liking us on Facebook, or follow us on Twitter or Instagram.        
If you liked this story, sign up for the weekly bbc.com features newsletter, called "If You Only Read 6 Things This Week". A handpicked selection of stories from BBC Future, Culture, Capital, and Travel, delivered to your inbox every Friday.