How did a fantastical animation featuring a giant plush toy and a cat in the shape of a bus capture the imagination of the world?
I
In the 1988 animated film My Neighbor Totoro, by Miyazaki Hayao, two children move to the Japanese countryside with their father to be nearer their mother, who is recovering in hospital from an illness. Although it is set in the 1950s, it seems indefinably out of time. The rhythm of the place is pastoral; the children are plunged into the blazing greens and ancient insect chants of the natural world. The old house they move into is inhabited by a flock of soot sprites who look like black dust bunnies. They aren't unfriendly but they are shy, and they leave to find another empty house.
Fantasy sits alongside reality so easily that the distinction loses meaning.
Sometime after, Mei, the younger daughter, sees two bipedal pear-shaped apparitions that look vaguely mammalian, and she follows them to the base of a tree. This is the lair of Totoro, a very large spirit that looks like an obese plush toy and seems to have the same mass as an elephant, although it can float if it wants. The children lend Totoro an umbrella in a rainstorm and they become friends. Mei gets lost and Totoro and his spirit entourage, including the Catbus (a huge cat that is also … a bus), help find her. They find out that their mother will be home from the hospital soon. The end.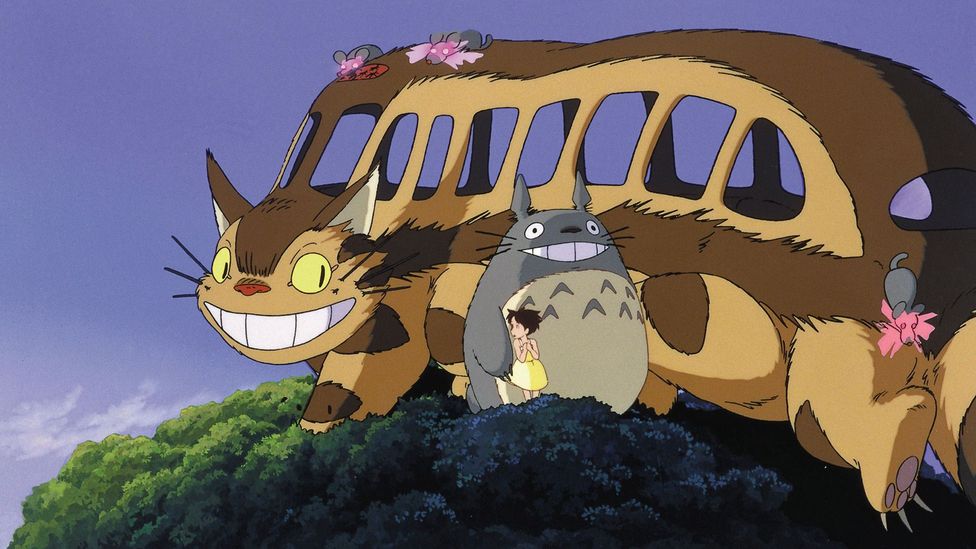 Catbus is one of Totoro's entourage in the 1988 anime film My Neighbour Totoro (Studio Ghibli)
Fantasy and reality
Totoro demonstrates many of the main attractions of anime. The artwork is densely detailed and stunning, it deploys a spectacularly freeform imagination, and although this particular example centres on children (it is sometimes mistakenly called a kids' film), its sensibility is far-reaching and intelligent, and likely to appeal to everyone. Rather than being relentlessly kinetic, its tone can be slow and contemplative, and it requires an attention span. The film has many ambiguities which are not resolved. The mother's illness isn't sugar coated. The contradictory emotions of childhood – fear, boredom, sadness, wonder – are all explored. Fantasy sits alongside reality so easily that the distinction loses meaning.
More from Japan 2020:
Japan's enduring love of goldfish in art
The rise of 'Japandi'
The grandmother whose craft went viral  
Clearly we're nowhere near Kansas anymore, but there is something about anime that makes you want to linger in the Japanese version of Oz forever. Totoro, like all the singular creations of Miyazaki and his Studio Ghibli, has a devoted and growing following. "My Neighbor Totoro is the greatest film I have ever seen," says Helen McCarthy, an expert on anime and an editor of the definitive reference book Anime Encyclopedia "That's my all-time number one." When the aberrant and influential creative genius Terry Gilliam chose his 50 greatest animated films, he also put My Neighbor Totoro at number one.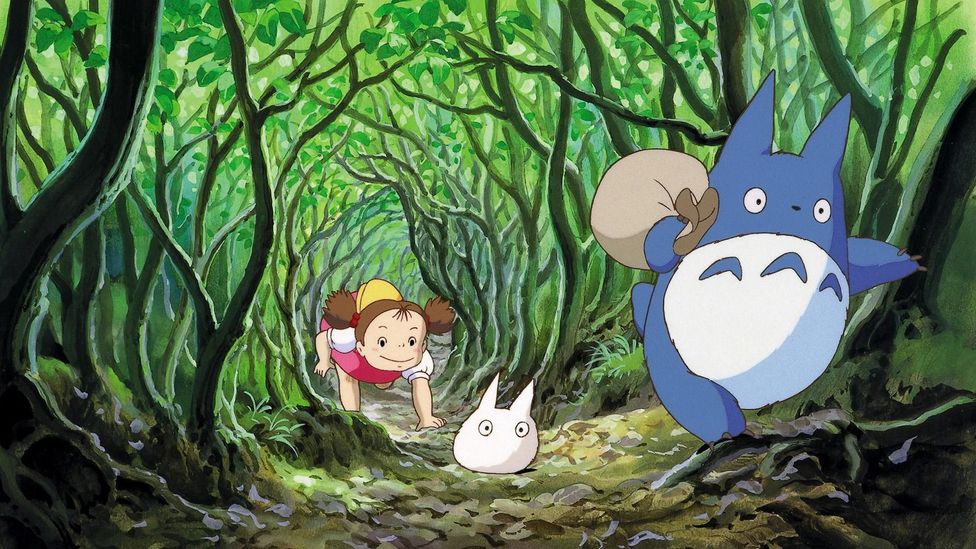 My Neighbour Totoro is sometimes mistakenly called a kids film (AF archive/Alamy)
Even if you come to anime as a novice, you are likely to have heard of Ghibli. The studio frequently appears on critical lists of superlatives. Another of Miyazaki's projects, Spirited Away (2001), is the highest grossing film inside Japan and the highest grossing anime film internationally. It also won an Academy Award for best animated feature. For a while it lost its top spot internationally to Shinkai Makoto's Your Name (2016), another film revered globally as an anime masterpiece, but recaptured it after it was released in China.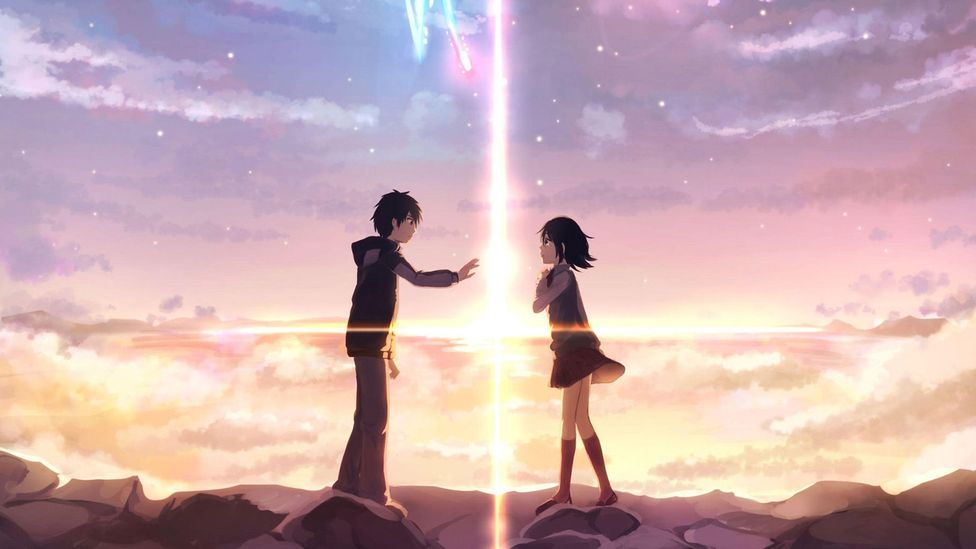 Shinkai Makoto's Your Name is another globally revered anime film (CoMix Wave Films)
And yes, it is possible to buy an actual plush toy of Totoro. Anime is becoming big business, as it spreads its tendrils into merchandise, games, and live action film, and backward into manga, comic books, and graphic novels. (Many anime began life as graphic books.) A 2017 live-action film translation of another anime holy of holies, Ghost in the Shell (Oshii, 1995), fell flat – suggesting that if you move too far away from anime's native medium and its creative and cultural founts, you are asking for trouble.
Getting in on the action
Anime and its sister printed art form, manga, used to be considered geeky (the Japanese say otaku) pastimes, but clearly they are moving into the global mainstream. The streaming colossus Netflix (current subscriber base approximately 150 million across 190 countries) is throwing its weight behind animation: it is buying in large amounts of anime films and series, investing in their production, creating its own animation. Netflix won't discuss viewer figures, but the anime market is certainly 'robust'. According to John Derderian, who is director of Netflix's anime content, Netflix launched approximately 30 original anime in 2018.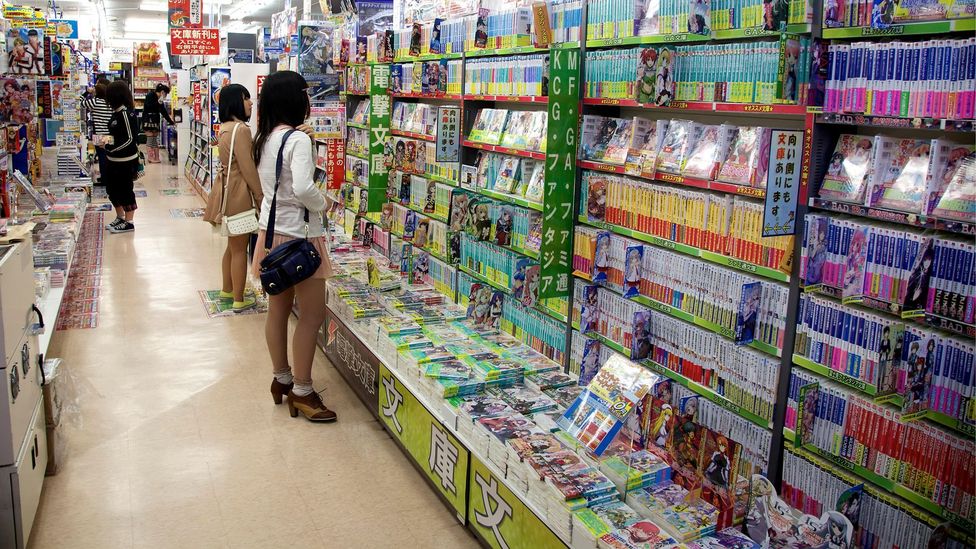 Japanese manga and anime is now big business (Roberto Fumagalli/Alamy)
There are many more in the pipeline, across the streaming platforms. Netflix proudly trumpets its headline anime series, produced in partnership with leading Japanese production companies and creatives (Anima, Sublimation, David, Production IG, Bones, and more).
According to the LA Times, in 2018 Netflix spent around $1 billion, or 11 per cent of its original content budget, on animation; by 2022 that investment is expected to reach $5 billion, or 15 per cent. Similarly Amazon Prime Video's $0.3 billion figure for 2018 is expected to rise to nearly $2 billion in 2022.
Animation frees imagination from the constraints of physical possibility
This isn't purely a matter of Japanese animation aesthetics storming international bastions. Ever since The Simpsons debuted in America in 1989, it has become increasingly obvious that there is a demand for more adult-oriented animation. (The Simpsons didn't have a fully adult consciousness – it caused controversy when Bart used mildly subversive phrases like "eat my shorts!" – but some of its humour was aimed at adults, who could enjoy the series alongside their kids.) Japanese anime wasn't widely available globally until the internet age. With the development of streaming services and the expansion of 'niche' markets, anime's imaginative scope and complexity have come into their own. The anime tradition may provide the bump that animation as a category needs to move into the creative mainstream.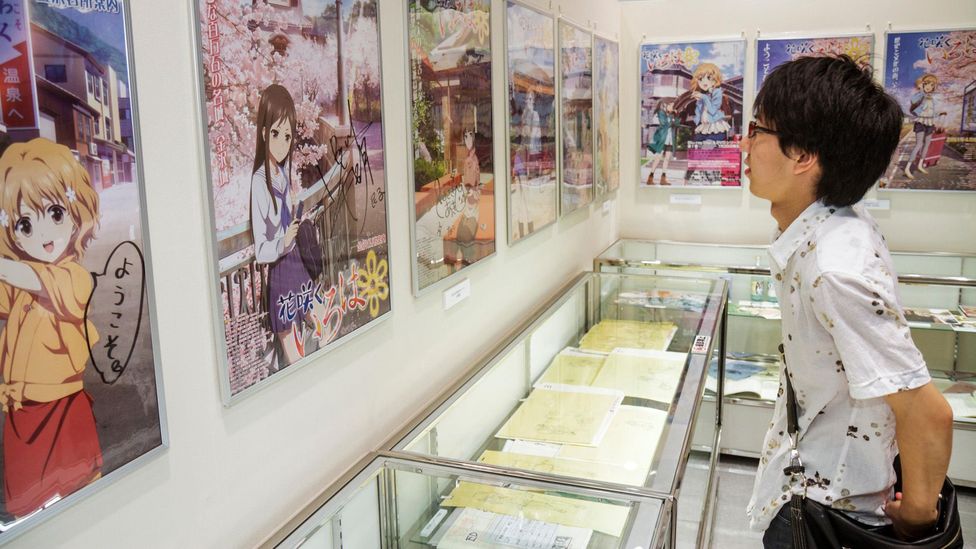 Anime continues to inspire younger generations (Alamy)
As McCarthy points out, "The wonderful thing with animation is that origination costs are just paint and imagination", in contrast to traditional film-making, even in the age of computer technology, where personnel, infrastructure, and technical costs mount rapidly.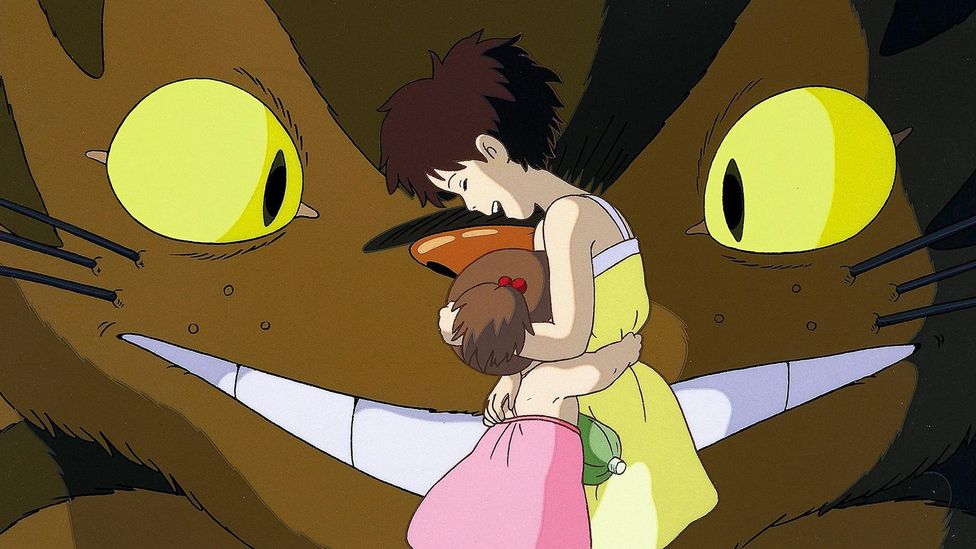 Sisters Mei and Satsuki navigate the fantasy world created in My Neighbour Totoro (Allstar Picture Library/Alamy)
"Animation frees imagination from the constraints of physical possibility," McCarthy continues. "Your actors can look like whatever you want; no costume or setting is too expensive; no special effect is too risky. For some reason, Western animators didn't really exploit that freedom to the full until anime made an impact [in the West]." In a lot of places, until recently, animation was considered to be the province of children, and everyone was aiming for (and missing) another Snow White and the Seven Dwarfs, the 1937 film that became one of the prototypes of 'Disneyfication', the sanitised world of commercial kids' films.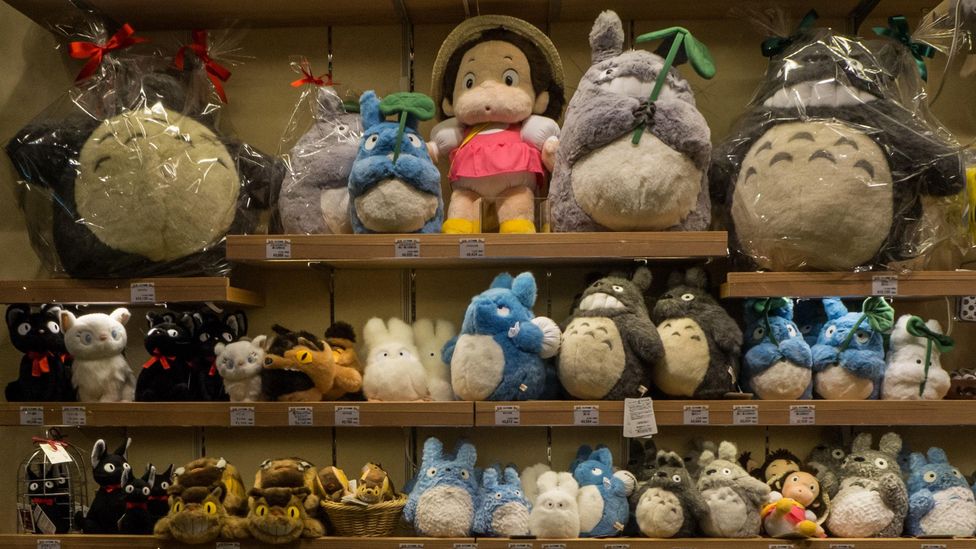 My Neighbour Totoro plush toys at a Studio Ghibli store in Nagoya (Kim Long/Alamy)
We seem to be entering an era in which fantasy is one of the dominant modes of entertainment. The fuss surrounding the success of the TV series Game of Thrones is a case in point: before that time, fantasy was thought to be a nerdy minority market; but since Daenerys and her dragons took to the screen, every TV company worth its salt is commissioning an epic fantasy blockbuster. There are two ways of looking at this. You could say that in the world we inhabit, people are hungry for escapism. Or you could say that people are thrilled by high-quality fantasy film and TV that feeds their imaginations. Either way, anime is in a good position to capitalise. 
Must-see anime
Anime expert Helen McCarthy's top recommendations
My Neighbour Totoro (Miyazaki, 1988)
Summer Wars (Hosoda, 2009)
Tokyo Godfathers (Kon, 2003)
Legend of Galactic Heroes (1988–97)
Jojo's Bizarre Adventures (1987–present)
Any short film by Mizue Mirai
And if you liked this story, sign up for the weekly bbc.com features newsletter, called The Essential List. A handpicked selection of stories from BBC Future, Culture, Worklife and Travel, delivered to your inbox every Friday.