Milk drinkers are turning their backs on dairy in favour of plant-based milks billed as kinder to the planet. Are they all more sustainable than cow's milk?
You don't need to go far today to find some kind of plant-based milk. Soy and rice milk are no longer confined to the dusty shelves of health food stores, and other substitutes like oat, coconut, and even hemp milk are now widespread in coffee shops and supermarket aisles.
While in the past those who opted for almond rather than dairy milk might have done so to take a stand for animal rights or because they're lactose intolerant, many people are now switching to plant-based milks in response to the growing climate crisis. So which one is actually best for the environment? And how do they stack up against dairy in terms of nutrition?
The good news is that most – perhaps all – non-dairy milks come out better than cow's milk when you look at their carbon emissions, how much land they take up and how much water they use.
Joseph Poore, a researcher at the University of Oxford, published a study in 2018 which looked at the environmental footprint of some food and drink. Later he extended the analysis to include plant-based milks, looking at the impact of soy, oat, rice, and almond milk on the environment. He found that all of those plant milks fared better than cow's milk.
Read more from BBC Good Food on The Vegan Factor
In terms of carbon emissions, almond, oat, soy, and rice milk are all responsible for around a third or less of the emissions dairy milk puts out, with almonds the lowest of the bunch at 0.7kg per litre, followed by oat (0.9kg), soy (1kg), then rice (1.2kg). Dairy milk is responsible for 3.2kg of emissions per litre of milk.
Land use shows an even more dramatic split, with nine square metres of land needed to produce just a litre of dairy milk, compared with less than a one square metre for plant-based milks, ranging from 0.3 sq m for rice milk to 0.8 sq m for oat milk.
Even almond milk, a notorious water-hogger, takes less water to produce than dairy – needing on average 371 litres of water per litre of milk produced, compared to dairy milk's 628 litres. Rice milk follows shortly behind, needing 270 litres of water per litre of milk. Soy and oat, on the other hand, need just 28 and 48 respectively.
In fact, for some plant milks, the environmental impact of the crop itself is almost negligible in comparison to dairy. "The environmental impact of the milk itself, the soy milk and the oat milk for example, is so small that it is actually the packaging and the transport that becomes the dominant component," says Poore.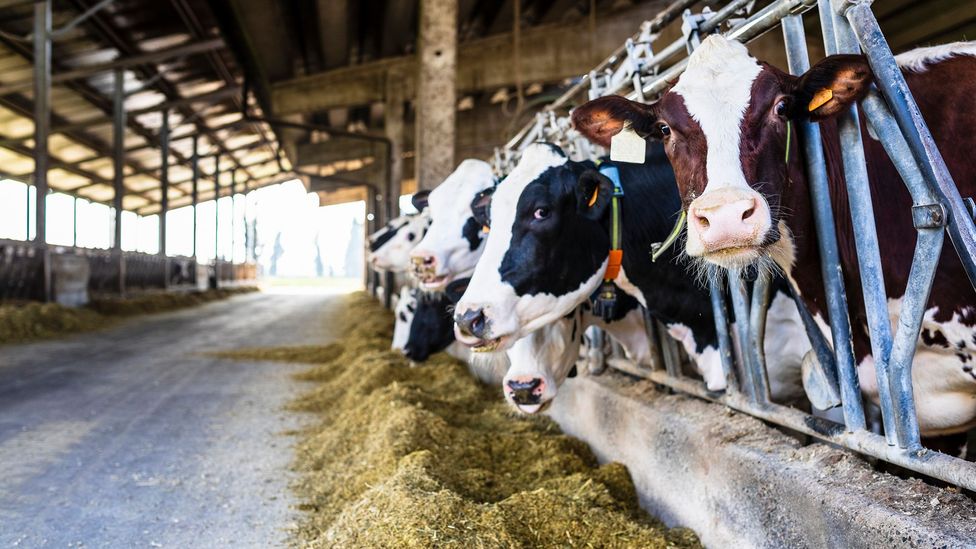 Dairy milk can come with a high price in terms of emissions and the land and water it requires (Credit: Getty Images)
Of course, there are individual variations within each of these averages.
Where soy is grown in the world has a big impact on the crop's environmental impact, for example, with deforestation for soy production in countries like Brazil wreaking havoc on the local environment and the crop's own emissions. But the majority of soy that ends up as milk is grown in Europe, North America and China, says Poore, rather than South America. You can be relatively certain that the soy milk in your morning porridge hasn't contributed to cutting down trees in the Amazon.
Those who want to do some extra due diligence could check what the company producing their preferred brand of soy milk says about the issue. Many publish their own standards or sign up to external commitments like the Roundtable on Responsible Soy when it comes to sourcing soya beans: Alpro, for instance, say they only buy beans directly from farmers so they can trace their origin, and that most of the soy that goes into their milk comes from France.
Almonds, too, can vary in their environmental impact, especially when it comes to fertiliser and water use – but the most destructive kind of almond farming is becoming more common.
Demand for almonds is growing incredibly fast - Joseph Poore
Traditional almond farming methods found in the Mediterranean basin – places like the south of Spain, Greece, and Italy – see the nuts grown on older, established trees, planted relatively sparsely, and fertilised by sheep that graze the land. "Those systems typically don't need any irrigation water," says Poore. But in California, which produces 80% of the world's almonds, intensive almond farming sees trees planted closer together, sprayed with more pesticides, and doused with irrigation water.
This water-hungry system is spreading as our love of almonds grows. "It's a fundamentally different production system, and that's the dominant norm now," says Poore. "Demand for almonds is growing incredibly fast, so to service all this demand production is ramping up, and the only way we can meet the demand is intensification."
That means intensive methods are now in use in countries like Spain, too – so even if you know the almonds in your milk haven't come from California, that doesn't mean they haven't guzzled up a lot of water before they ended up in a carton in your fridge.
To tackle the lack of transparency around the environmental impacts of all of our food, Poore would like to see labels on our food and drink that outlines its environmental impact. "Food is a driver of almost all of our environmental problems from biodiversity loss to water, to pesticide toxicity," he says. Highlighting this at the point at which people are buying that food would help consumers who increasingly want to take those things into account.
To go organic or not
Once you've decided on your specific variety of plant milk, you might also have to decide whether you want to choose organic. Organic farming comes with some clear environmental benefits – including increasing biodiversity and soil quality  – but its overall impact on the planet is not wholly clear cut.
A 2012 review by Hanna Tuomisto, an associate professor in sustainable food systems at the University of Helsinki, Finland, and colleagues found that while organic farming generally has positive impacts on the environment per unit area, that doesn't necessarily translate to being better for the environment per unit of eventual product – so a carton of organic oat milk isn't necessarily a better choice than a non-organic one. That's largely because organic farming uses more land to produce the same amount of crop as conventional farming. For example, in some cases oats grown conventionally can have double the yield of organic-grown oats, and conventionally-grown soybeans can yield around 40% more. Globally, organic farming has around 20% lower yields than conventional farming.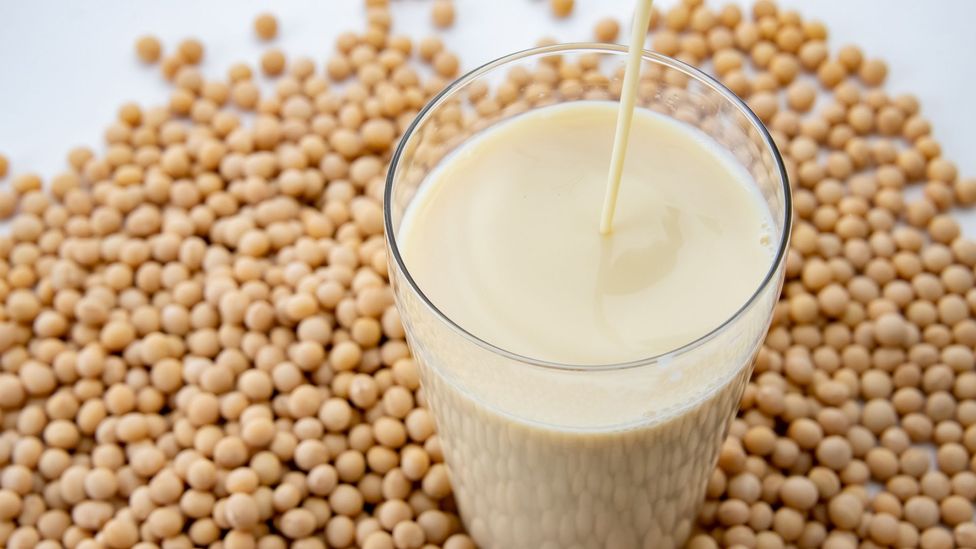 Soya milk has the most protein of the widely available milk alternatives (Credit: Getty Images)
This problem of land use was echoed in a study published last year, which concluded that if all farming in England and Wales went organic, carbon emissions from food in the UK would likely rise. That's not because the individual farms would produce more emissions, but because more land elsewhere would be needed to grow enough food to feed the same number of people, as yields dropped after the switch. "If [organic farming] means that we need more land for food production, it means we can use it less for other purposes," says Tuomisto. "If we need to clear land from forests for agriculture, then that would reduce the carbon stocks that the forests keep."
But any negatives of organic farming today could in the future be outweighed by its benefits. Organic farms tend to store more carbon in their soil than conventional farms, says Tuomisto, which is important for soil quality – and soil quality can help protect farms against extreme weather events. Even though organic farming may produce lower yields in a given year, in the future it could result in a better average yield over many years, accounting for periodic floods and droughts that devastated entire crops, she says.
In terms of protein, soy milk is the only one that really compares
And while weighing up the evidence on organic versus non-organic plant milks, you might want to take into account that buying organic is one way you can signal you care about the planet. "If a consumer wants to show that they are interested in sustainability and they care about other things than only the price, then basically that's the way of showing it to the markets: by buying organic products," says Tuomisto.
Got protein?
Of course, environmental impact is only part of the equation when deciding which plant-based milk to switch to. How do vegan milks compare to cow's milk nutritionally?
If you're just adding a splash of milk to coffee, the macro and micronutrients in your milk might not be such a big consideration. But if you're looking to replace a large part of your diet – or your child's diet – it's something you'll want to look at more closely.
In terms of protein, soy milk is the only one that really compares. Its protein levels are comparable with dairy milk, with 3.4g per 100ml for soy versus 3.5g per 100ml of cow's milk, on average. Other plant-based milks like almond, rice, and coconut contain much less protein compared to soy, whereas relative newcomers hazelnut, hemp and oat milk tend to sit somewhere in between.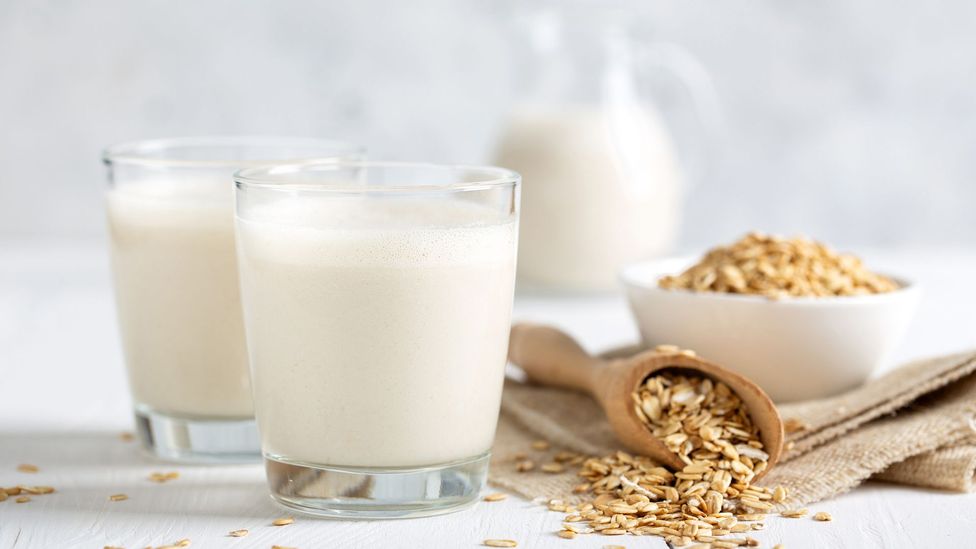 Oat milk has only a round a third of the emissions of cow milk (Credit: Getty Images)
However, not all protein in food is created equal. A number known as the digestible indispensable amino acid score (DIAAS) indicates the quality of a protein based on its amino acids – the building blocks of proteins – and how well humans digest them. Cow's milk has a higher protein quality score than soy, but only slightly. The protein quality in other plant-based milks tends to be lower.
"What I would say, based on the study, is that soy milk is the best substitute for cow's milk out of the non-dairy beverages at this time," says Sarita Singhal, a pediatric gastroenterologist at Connecticut Children's Medical Centre and assistant professor of pediatrics at the University of Connecticut, who published a study comparing various plant-based milk alternatives to cow's milk in 2017.
Some newer milk alternatives, like a variety of plant milk made of pea protein, match cow's milk even more closely in terms of nutrition, she says. "This new alternative is very promising as its nutritional composition is almost similar to cow's milk," she says.
We still don't know enough about how much we benefit from some of the nutrients in non-dairy beverages
Singhal became interested in the nutritional side of non-dairy milks when she realised some of her patients and their families were making the switch to milk alternatives without thinking through the potential health consequences.
Plant milks all tend to have less fat, especially saturated fat – with the exception of coconut milk – than dairy milk. For adults, that may be a bonus. For young children, that's not the case – in the UK, the NHS advises parents give children full fat cow's milk from age one to two, and then semi-skimmed milk until they are five, because skimmed milk doesn't contain enough fat for young children.
Frustratingly, beyond broad brush nutritional information, we still don't know enough about how much we benefit from some of the nutrients in non-dairy beverages, says Singhal. That includes vitamins and minerals like calcium, vitamin B12 and vitamin D when they are added through fortification. "We don't know how much nutrition really you are getting from these, especially for children," she says. "It doesn't make sense to just switch to non-dairy beverages without being aware of what you're getting from those."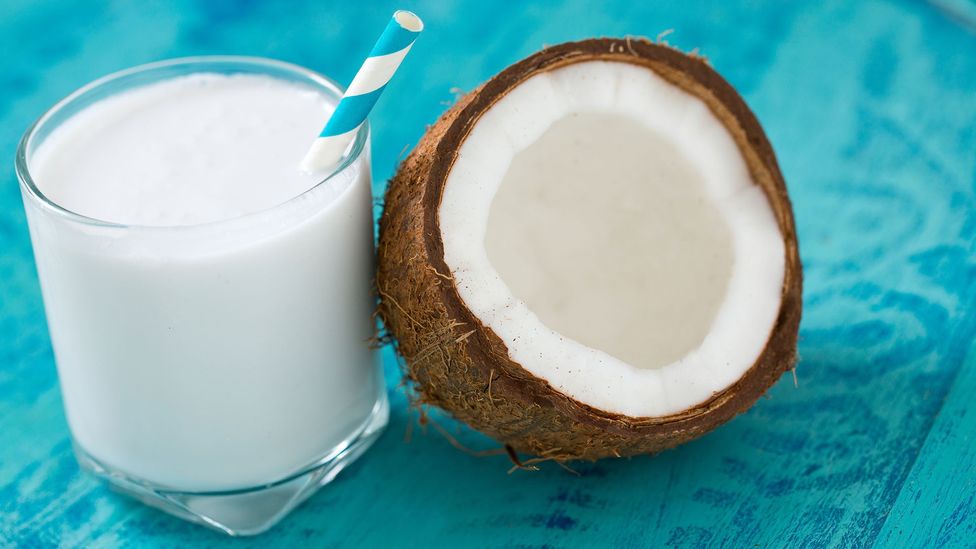 Coconut has emerged as one alternative as some people move away from cow milk (Credit: Getty Images)
While it's clear that fortification of some foods can make big differences in health at a population level, exactly how much of each specific nutrient we're getting from fortified plant milk, for example, is an open question. "Bioavailability is different for fortified nutrients in different beverages," says Singhal. In other words, a nutrient being in a food isn't enough on its own – we need to know how it interacts with other substances in that food, and what actually happens when it gets into our bodies. Plus, it's worth being aware that organic milk alternatives generally can't be fortified in the first place due to strict standards.
Despite this, some of us will still want to switch from dairy to plant milk, whether that's for environmental or ethical reasons.
All of these factors mean that choosing your milk substitute will largely come down to individual circumstances. Someone who wants to get a decent amount of protein from their milk might choose soy. If you're not getting enough vitamin B12 elsewhere in your diet, it might make sense to opt for something fortified to up your intake, while being aware that it may not solve the problem entirely.
But if the rest of your diet is well-balanced, and you just want a really good flat white that hasn't seen the inside of a cow and won't break the planet, it's fine go for whichever one you prefer the taste of – safe in the knowledge that, environmentally-speaking, whatever you choose will have less of an impact on the planet than dairy.
--
Join one million Future fans by liking us on Facebook, or follow us on Twitter or Instagram.
If you liked this story, sign up for the weekly bbc.com features newsletter, called "The Essential List". A handpicked selection of stories from BBC Future, Culture, Worklife, and Travel, delivered to your inbox every Friday.