The rise of the electric three-wheeler could help to reduce India's emissions and improve air quality, but how can this niche vehicle compete on Delhi's busy streets?
T
The sleek Dwarka metro station towers against the industrial landscape of Delhi, a busy stop on the city's modern train network, which moves millions of people every day. Just outside, the road is bustling with rickshaws, ready to drive passengers to their next stop for as little as 20 rupees (21p). Moving on three wheels is a popular way of navigating the Indian capital and other major cities, where huge traffic jams mean you can get stuck at any point of the journey if you are traveling by car. 
For long distances, you can hop on an "auto" rickshaw powered by a conventional engine; for a short trip there are pedal and electric rickshaws. And while e-rickshaws are still a relatively rare sight, the humble three-wheeler is ushering in India's electric revolution.
You might also like:
In regions such as Europe and China, cars dominate the electric vehicle market. In contrast, "Indian electrification is not a car story at all. It's an e-rickshaw and a two-wheeler story," says Akshima Ghate, a lead researcher at the non-profit Rocky Mountain Institute based in Delhi. This perhaps isn't surprising as car ownership in India is low, at around 20 cars per 1,000 people, compared with more than 800 per 1,000 in the United States.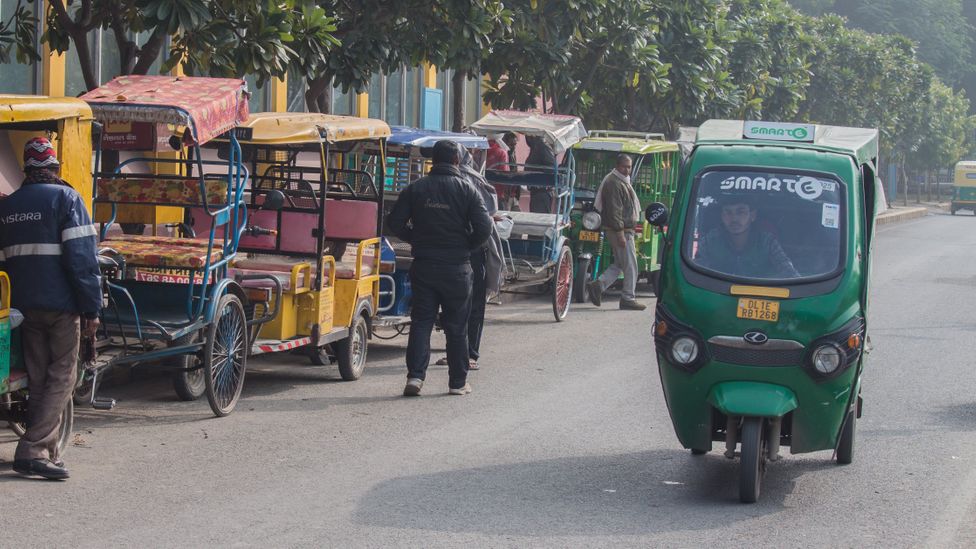 Rickshaws are a popular vehicle to take passengers on the final leg of their journey (Credit: Lou Del Bello)
Transitioning to electric mobility is a particularly appealing prospect in India because it addresses several problems at the same time – air pollution first and foremost. Every year, new scientific evidence puts the contribution of air pollution to early mortality into sharper focus; the State of Global Air report estimates that in 2017 alone, air pollution contributed to 1.2 million premature deaths in India. The life of a child born today in India will be an average of two years and six months shorter than it would have been without toxic air, due to the increased risk of conditions such as cancer, lung and heart disease, according to the State of Global Air. Children in buggies and prams also receive a higher dose of air pollution than adults due to their low elevation above the ground.
And there are other motivations besides health for a transition away from conventional engines. "From a policy perspective," Ghate says, "there are energy security concerns. We cannot afford to continue staying reliant [on] oil imports, it's too risky for a big economy in a big country like India." 
Until recently, she explains, electric vehicles and the charging infrastructure needed to support their circulation were a luxury that only rich countries could afford. Now, "the falling cost of technology is making them a feasible option", she says. Currently, however, the bulk of the energy that powers India's grid still comes from fossil fuels, so "clean" electric vehicles are still associated with those emissions.
Even so, electric vehicles are typically more carbon-efficient than those with an internal combustion engine over their lifetime. In the case of electric cars this figure has been found to depend on factors such as how much an area's grid uses renewable energy or fossil fuels, as well as how much use the vehicle gets (due to the additional aluminium, copper and lithium required to manufacture an electric vehicle).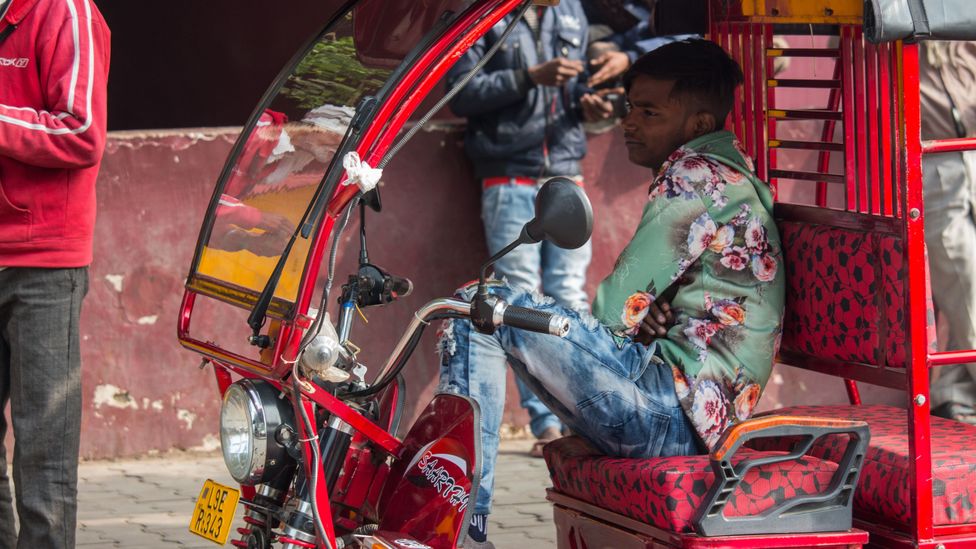 Car ownership in India is low compared with nations such as the US, with smaller vehicles making up a higher proportion (Credit: Lou Del Bello)
But, in Delhi, there has been little hesitation in the uptake of electric rickshaws – already there are thought to be more than 1.5 million on the streets in India. At Dwarka station, drivers are busy getting enough passengers on board to start the ride. An electric rickshaw can carry up to four people. These small rickshaws cover what is known as the "last mile" – the short distance connecting mass-transport stops to travellers' end destinations, be that another station, a nearby office or home. 
"E-rickshaws have emerged as a source of employment for many poor urban households," says Shri Prakash, a transport and urban governance expert with the Energy and Resources Institute in Delhi. "They are light, low powered and reach a normal speed of 10-15kmph (6-9mph). With a shorter trip length than autos, that are able to carry passengers up to 15km at higher speeds, e-rickshaws serve a unique and well-established market niche."
With today's clear sky, you can almost forget that Delhi still is one of the most polluted cities in the world, albeit one that on most days just keeps moving despite the smog. Passengers and drivers alike ditch pollution masks, which feel stuffy and don't protect you anyway, as many put it. Electric mobility may help solve this crisis, but on the ground it's mostly a business opportunity.
A small group of drivers enjoying a break from the traffic explain that an increasing number of start-ups are encouraging the uptake of e-rickshaws by renting vehicles for as low as 15 rupees (16p) per day. One company paid their drivers a generous daily rate of 800 rupees (£8.49) – which is about double the average for urban workers – for a limited period of time to encourage them to join the scheme.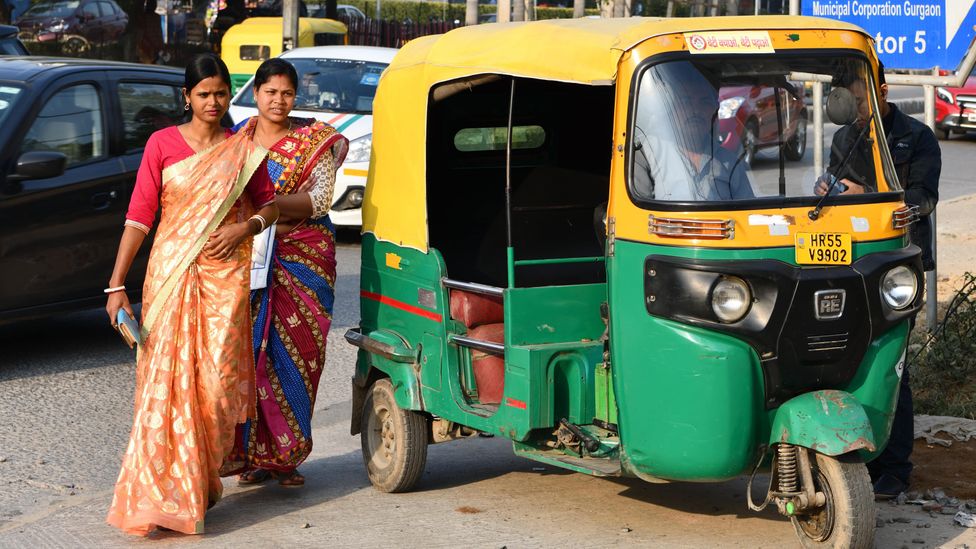 There are more than 1.5 million electric rickshaws in India already, but they are still far outnumbered by conventional auto-rickshaws (Credit: Getty Images)
I meet SK Mahapatra at the charging space he manages for the company SmartE, where tens of modern three-wheelers are parked in line. They will hit the road once fully charged, which takes four to five hours from empty. SmartE loans e-rickshaws for around 350 rupees a day and the driver keeps whatever he makes on top of that. Mahapatra says that the current model is working well and the charging point now caters to 140 vehicles, having started with just 20. While the current last-mile business is profitable, he says, it's difficult to predict how e-mobility will evolve, because e-rickshaws are more expensive that the conventional autos and many operators can't afford the upfront cost. 
Entrepreneurs in India are at work to change that. Rosemary Pierce-Messick is the executive director of the Bangalore-based Three Wheels United, a social enterprise that provides loans to drivers who want to purchase their own vehicle. Most drivers just rent their autos for a few hours a day, she says, but if they owned their own auto they could work for longer. "If you own a vehicle, you are close to doubling your income," she says, "and the financing that we are offering means that the payments [our clients] are making are about the same as what they would pay if they were renting." Three Wheels United uses behavioural data, collected through a mobile app and face-to-face conversations, to estimate the reliability of each client and tailor the repayment plan, minimising the risk of default.
The rickshaw, the vehicle of the poor, is where electrification began in India – Anup Bandivadekar
Another challenge is that e-rickshaws take a long time to recharge. "As well as high costs, the challenge [to the spread of e-rickshaws] is the long refuelling time and the fear that one may suddenly run out of charge," says Chetan Maini, co-founder of SUN Mobility, a start-up that designs swappable batteries and is partnering with manufacturers across the country to deploy the technology.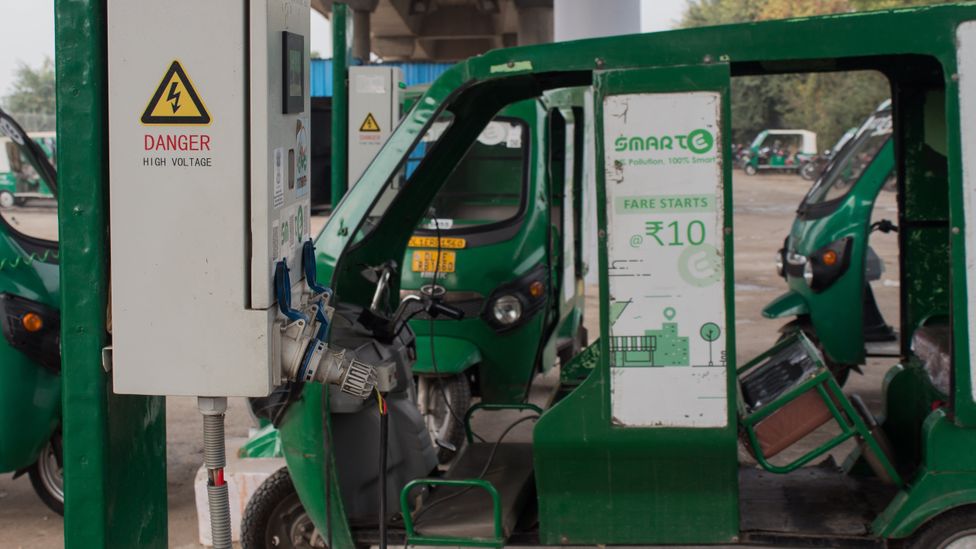 Charging an electric rickshaw from a flat battery can take hours, but swapping batteries is a way to cut down wait time for drivers (Credit: Lou Del Bello)
With this system, users only rent the battery and replace it with a full one when they run out of charge. This way, they save on high battery costs and on charging times, because swapping takes only a couple of minutes. While the system still needs a supporting infrastructure, the same way conventional electric models need a network of charging points, one swapping station can cater for more than 150 vehicles in one day.
Another potential solution is solar-assisted electric rickshaws that have inbuilt solar panels. Various models proposed over the years by researchers including Sunita Chandel of the Women Institute of Technology Dehradun, India, and Priscilla Mulhall of the Illinois Institute of Technology in the US. However, solar-assisted vehicles are not intended as a replacement for autos but rather an aid to pedal-powered rickshaws.
"The rickshaw, the vehicle of the poor, is where electrification began in India," says Anup Bandivadekar, India lead with the International Council on Clean Transportation in San Francisco. "The segment grew organically without any intervention [from government] and a whole ecosystem emerged.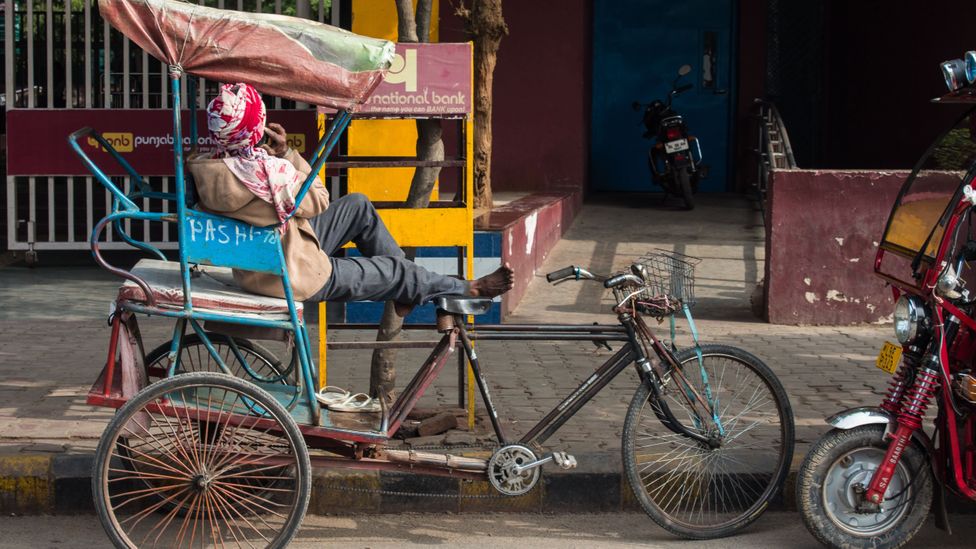 Rickshaws are seen as a much more relevant player in the electrification of transport in emerging markets, such as India's (Credit: Lou Del Bello)
"What's happening in India is unique," he adds, "but at the same time what happens here will tell us the tale of what may happen in other emerging markets in the world." India, he explains, won't try to follow other more advanced, richer economies that are dominated by cars, "but it might show the path to other developing countries."
Not only are rickshaws a favourite mode of transportation in India, but they are also widespread across South-East Asia and Africa, where they are often known as Bajaj, after the Indian manufacturer. "These vehicles are already very common," Bandivadekar says, "and while they currently run on petrol, as electrification starts to happen in India, it's going to then expand there."
--
The emissions from travel it took to report this story were 7.7kg CO2, travelling by taxi. The digital emissions from this story are an estimated 1.2g to 3.6g CO2 per page view. Find out more about how we calculated this figure here.
--
Join one million Future fans by liking us on Facebook, or follow us on Twitter or Instagram.
If you liked this story, sign up for the weekly bbc.com features newsletter, called "The Essential List". A handpicked selection of stories from BBC Future, Culture, Worklife, and Travel, delivered to your inbox every Friday.