Our modern world is dependent upon natural resources extracted from the ground, but there could be another source of rare and valuable metals by giving our houses a spring clean.
W
With so many of us now stuck in our homes during the pandemic, long-postponed jobs such as clearing out the loft or attic may seem like a good way of keeping the monotony at bay. Perhaps sorting through the "drawer of junk" in the kitchen or cleaning out that over-stuffed cupboard in the spare room are rising up your to-do list. If you need a little extra motivation for the spring clean, though, there's probably treasure hidden in there.
Locked inside the old products we hoard in dusty corners are valuable metals and minerals. These are the same, much-needed natural resources that our modern world runs on. Collectively, our homes and backyards are an "urban mine" filled with these essential materials that are just waiting to be dug out.
Around the world there are millions, if not billions, of unused electronic devices in our homes – old mobile phones, neglected games consoles, ancient stereos, outdated computer equipment and defunct printers to name a few. Each of these contains copper, silver and even gold, along with a wide range of valuable rare earth elements.
You might also like:
• Why the world is running out of sand
• The quest to make a material harder than diamonds
• The foods that will last forever
The key, however, is getting people to get rid of their old devices in a way that means these metals can be extracted, recycled and reused.
But before you start your own treasure hunt, a quick caveat: some local authorities are currently asking people not to create more rubbish at a time when refuse collection services are over-stretched. So, view this more as an opportunity to sort your hoard into neat piles, for recycling later. (Learn more about why social distancing is so important.)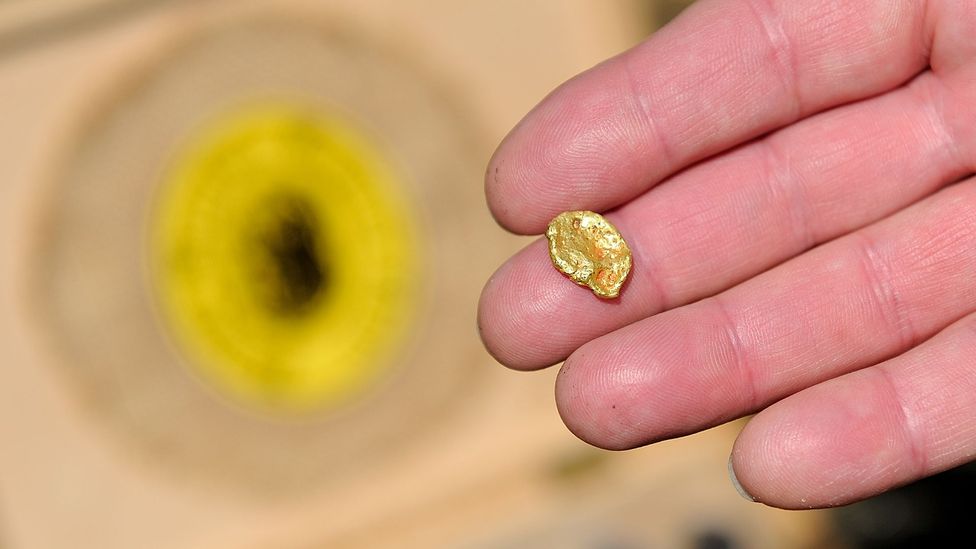 It is possible to get more gold from a tonne of smartphones and electronic waste than from a tonne of ore (Credit: Getty Images)
Once we emerge from the pandemic crisis, however, some believe that we can use this huge repository of metals to shift our attention from mining raw materials from the ground to digging through the urban mine instead. By retrieving the materials hidden inside our old devices, it may be possible to recycle and reuse them in new devices without having to dig up anymore.
As recycling becomes more "efficient and less expensive and consumers become better informed about correct disposal", says James Horne, project manager of the WEEE Forum, an EU-funded recycling organisation, so "urban mining becomes a progressively more viable option".
The metal from six million mobile phones and almost 72,000 tonnes of waste electronics was extracted to make around 5,000 gold, silver and bronze Olympic medals
To get just a taste of what can be achieved, we can look at the medals for the Olympic Games in Tokyo, which are now expected to be held in the summer of 2021. Between April 2017 and March 2019, the metal from six million mobile phones and almost 72,000 tonnes of waste electronics was extracted from devices donated by people all over Japan to make around 5,000 gold, silver and bronze medals.
Urban mining in this way has the potential to help us build a more sustainable future while also reducing our reliance upon metals dug up in mines half a world away.
For decades, we have been rapidly depleting our planet's finite resources through raw material mining, over-consumption, and throwing our goods into landfill. According to some estimates, if all 7.8 billion people on Earth consumed the same level of materials as Europeans, we would require 2.8 planet Earths. A US lifestyle for all would require five planet Earths.
Digging up all this material takes a heavy toll on the environment. The extraction industries are responsible for around 40% of the world's carbon emissions and about 10% of biodiversity loss, according to the UN's own Global Resources Outlook. Over the last 50 years, material extraction has tripled. Many resources are now becoming harder to find, more expensive, and the environmental costs of extraction ever greater.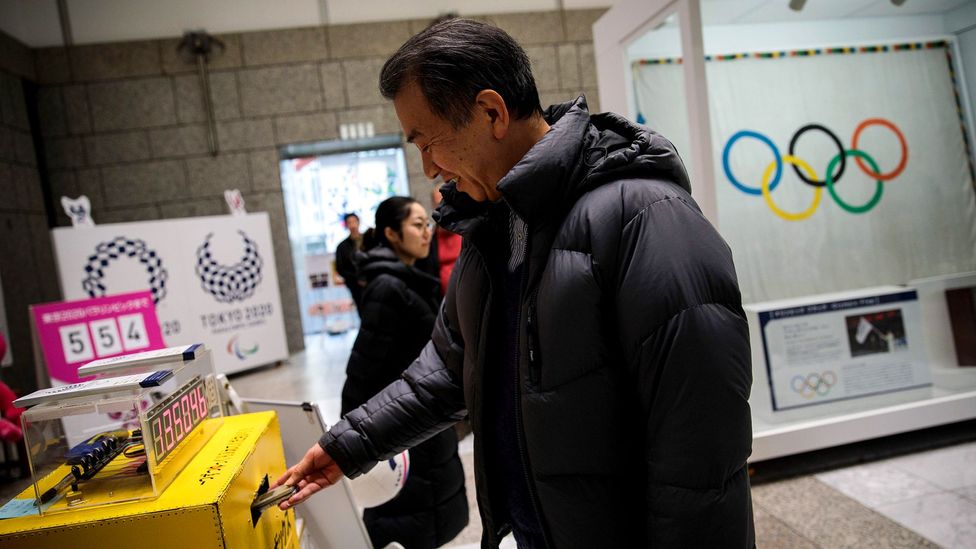 People from all over Japan donated their old electronic devices to provide metal for 5,000 gold, silver and bronze Olympic medals (Credit: Getty Images)
Horne says that the urban mine not only includes electrical devices but potentially, "any items or materials in existence, in warehouses, shops, businesses, homes, that are… unused or no longer fit for purpose".
So, have we really already extracted all that we need? And is there enough above ground in the "urban mine" to make traditional mining unnecessary?
E-waste (or "WEEE", which stands for waste electrical and electronic equipment) is of most interest, because the old phones, laptops, kitchen goods, televisions and other devices we have lying around contain the precious metals – such as gold, silver, palladium and copper – we need to make new electronic devices.
Globally, the world produces as much as 50 million tonnes of e-waste a year – the equivalent to 6,000 Eiffel Towers – and it is growing 3-4% annually. In 2016, Asia generated the largest amount of e-waste – 18.2 million tonnes (Mt) of it, while the Americas produce 11.3Mt, Africa creates 2.2Mt, and Oceania generates 0.7Mt. While the smallest in terms of total e-waste, Oceania was actually the highest generator of e-waste per inhabitant, throwing out 17.3kg per person, compared to Africa's 1.6kg.
Metals are infinitely recyclable without losing their properties – Marjolein Scheers
Europe is the world's second highest producer of e-waste, throwing away around 12.3Mt of electronic equipment and batteries a year. Hidden inside is 330,000 tonnes of copper and 31 tonnes of gold. And because older equipment typically contains more of these metals than newer devices, if we were to reclaim all of this, it would be more than enough to manufacture the 14.3Mt of new electronic equipment and batteries that Europeans purchase annually. It is estimated that to produce a year's worth of new equipment for Europe would require 2.9Mt of plastic, 270,000 tonnes of copper, 3,500 tonnes of cobalt and 26 tonnes of gold.
It raises the tantalising prospect of simply reusing the materials we have already dug rather than pillage the Earth even further.
Among those hoping to make this a reality is Umicore, a former mining company in Belgium that has transformed into one of the world's largest recycling companies in an attempt to tap into the urban mining market. Its main focus is on batteries – including those from electric vehicles – primarily to retrieve the copper, nickel, cobalt and lithium. "Metals are infinitely recyclable without losing their properties," says Umicore spokesperson, Marjolein Scheers. "[They] can then be sold or used in new battery materials," she explains.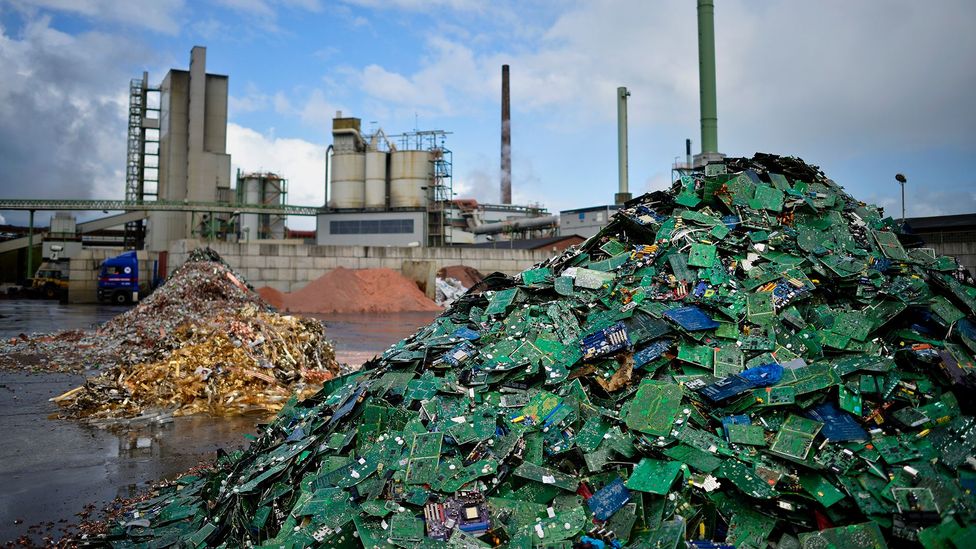 Europe creates huge piles of electronic waste that contain enough metals to make new devices purchased by its citizens (Credit: Getty Images)
Umicore doesn't publicly share how much it recycles each year, but claims "we have a capacity of 7,000 tonnes for battery recycling, that equals 250 million mobile phone batteries, two million e-bike batteries or 35,000 EV batteries".
One metal that is currently in high demand is cobalt, a crucial component of lithium-ion batteries for smartphones and electric cars. Cobalt prices rose over 300% in the period from 2016-2018. Yet, over 60% of the world's cobalt supply comes from the Democratic Republic of the Congo, where it has been strongly linked with child labour and environmental degradation. Recycling existing batteries could therefore play an essential part in "the sourcing of sustainable cobalt", says Scheers.
Recovering all the end-of-life portable devices collected by EU citizens over the past 20 years would, she says, "generate enough cobalt to [produce] at least 10 million electric vehicles".
From one tonne of mobile phone batteries, Umicore claims it can extract between 135-240kg of cobalt, depending on the generation of phone – modern smartphones have more. They say they can also reclaim 70kg of copper and 15kg of lithium from the same handsets. Even once the battery has been removed, the electronics inside a phone can surrender around 1kg of silver and 235g of gold per tonne of devices. This compares very favourably to primary mining, which only averages 100g of silver in each tonne of mined ore, and 2-5g of gold per tonne of ore.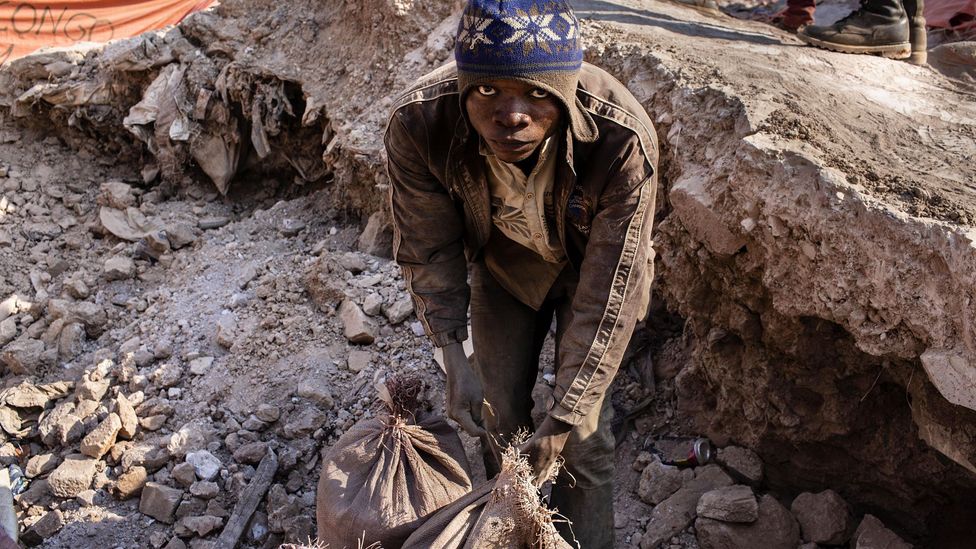 Mining for metals like cobalt from the ground is a dangerous and dirty job, often in countries far away from the electrical devices it is used in are bought (Credit: Getty Images)
It makes the "urban mine" far richer in high value materials per tonne than traditional metal ore mines. And, according to Sintef, the Norwegian research institute, urban mining requires 17 times less energy to retrieve these metals than needed to obtain virgin materials. Research examining discarded television sets in China also showed that large amounts of gold and copper could be obtained at less than the cost of mining the metal from the ground.
That's the theory. In practice, however, "we are a long, long way from achieving this" for critical raw materials, says Horne. "Firstly, not all WEEE is recycled. At present the rate is 35% in the EU. Secondly, not all the elements are currently extracted… due to the treatment processes employed. For example, the recovery rate for [precious metals] contained in the WEEE recycled in Europe in 2014 was just 1%."
The EU hopes to increase this, however, but only expects to reach 5% by 2020 and 20% by 2030. "Even if these targets are achieved, we are still some distance from being able to supply the quantities required [to meet demand]," says Horne.
The other challenge is how to get at the "ore" in the urban mine in the first place. The myriad of devices, cables, chargers and transformers that make up the most valuable part of the urban mine are not just conveniently piled up in one place, awaiting a digger. Instead they are widely dispersed, often hidden and hard to access. Retrieving its precious materials is less about mining, and more about harder, complex chemical engineering, community services and education.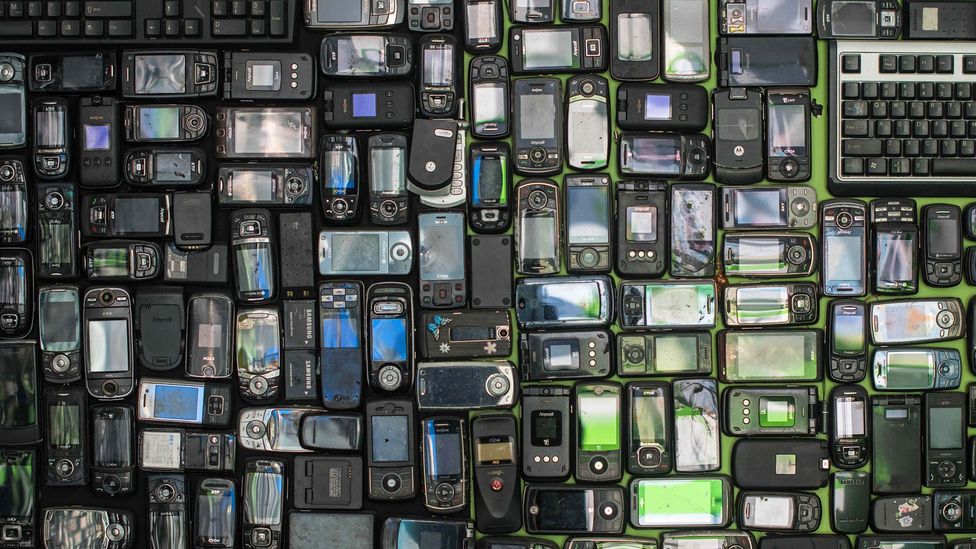 It is tantalising to think we could use the materials our old electronic devices to make new ones without the need to mine (Credit: Getty Images)
"Currently one third of WEEE in the EU is being reported by compliance schemes as separately collected and appropriately managed," explains Ana Maria Martinez, an expert in metal production and processing at Sintef. "The remaining WEEE is either collected by unregistered enterprises and properly treated, collected by unregistered enterprises and improperly treated or even illegally exported abroad or disposed of." Consumer awareness, she says, is a barrier. We horde our old electronics, waiting for a day that never comes when we may need them again.
A survey of households in the UK by the Royal Society of Chemistry revealed that more than half had at least one unused electronic device languishing in their home, and 45% had up to five. If extrapolated, it suggests there could be as many as 40 million unused gadgets in people's houses. The WEEE Forum estimates that the average European has 248kg of electronics (both waste and in-use) at home, including 17kg of batteries, says Horne.
The collection points for WEEE readily exist in the EU, for example, through kerbside recycling or return-to-retailers schemes. "However, this does not seem enough for the society to [return its] recyclable products," says Martinez. The US, meanwhile, has no national law for managing e-waste, leaving it as a state issue. Only 25 states actually have laws for electronic waste, with California becoming the first to introduce them in 2003.
At Umicore, Scheers argues that, good collection will always be key.
"For portable electronics such as mobile phones, the vast majority stays in drawers at home," she says. "The challenge is to motivate people to hand them in for recycling. Collection is a collective challenge."
The question is whether we are happy with buying cheap goods that come with a high ecological and human cost
However, there is another way to reduce raw material extraction: using less stuff in the first place. In the so-called waste hierarchy of "reduce, re-use and recycle", we too easily forget about the first two and focus on the latter.
In order for urban mining to ever have a chance of replacing conventional mining, "it is not simply a case of increasing recycling", says Horne. "There needs to be progress in a lot of related areas to enable raw materials to be used more efficiently and as part of a circular economy. For example, through increasing product lifespan, changing consumer attitudes towards ownership and consumption, evolving approaches to manufacturing and retail of items, and ensuring ease of reuse."
It may be schemes that superficially have nothing to do with mining – such as the EU's incoming "right to repair" which requires manufacturers to make longer-lasting appliances and supply spare parts – that play a crucial part in urban mining's future.
In the meantime, throw-away devices remain exactly that: thrown away. They end up in landfill or boxes in garages, cellars and attics.
"The prices in the market of primary materials [from primary mining] can be very cheap when mines are situated in Africa or China," says Martinez. The question is whether we are happy with buying cheap goods that come with a high ecological and human cost, or are willing to reduce, re-use and recycle what we already have.  
Maybe now is the perfect time to reassess our own relationship with electrical goods, e-waste, and "reduce, re-use and recycle" within the context of our own homes. There's gold in your cupboards. In fact, there's a veritable periodic table of elements to be found.
Retrieving it could be one of the most environmentally friendly actions you can do without having to leave the house.  
* An earlier version of this article incorrectly stated that the extraction industries are responsible for half of global carbon emissions and 90% of biodiversity loss, according to UN's Global Resources Outlook. The article has been corrected with the figures from the report. A figure for the amount of electronic waste collected by Japanese authorities for the Olympic medals was also inaccurate. It has been corrected from 72 million tonnes to 72,000 tonnes.
--
Join one million Future fans by liking us on Facebook, or follow us on Twitter orInstagram.
If you liked this story, sign up for the weekly bbc.com features newsletter, called "The Essential List". A handpicked selection of stories from BBC Future, Culture, Worklife, and Travel, delivered to your inbox every Friday.