Smartphone contact-tracing technology has played a role in easing lockdown in China, and other countries are following suit. But are contact-tracing apps all they're cracked up to be?
W
With Covid-19 showing no signs of slowing its spread across the globe, public debate is moving on from how to stop the virus in its tracks, to how we can adapt and live through this outbreak.
Societies have been enormously altered by the efforts to control the epidemic, with long-lasting repercussions for the economy and for individuals. As a widely available vaccine for coronavirus is still more than a year away, governments worldwide are considering ways to bring some semblance of normality back to the world a little sooner.
One option coming under close scrutiny is using mobile technology to trace people thought to have Covid-19, and those they may have passed the disease on to.
You might also like:
Contact-tracing apps follow the movements of a person's smartphone using technology such as Bluetooth low-energy sensors. The Bluetooth sensors in mobile phones would "see" when someone came within close proximity of anyone who reports that they have the symptoms of Covid-19, or who has tested positive for the virus. If a user spent more than a certain amount of time next to someone who thinks or knows they're positive, they would be warned.
Another key benefit of the apps is that they could be a way to warn people retrospectively when they have had contact with someone who was asymptomatic or didn't know they had Covid-19 at the time. It's possible to do contact tracing the old-fashioned way, through interviews with the patient, but this is time consuming, laborious, and relies on fallible human memory. Then there is the additional problem that a person won't remember or know how to identify a stranger they passed in a shop, for example.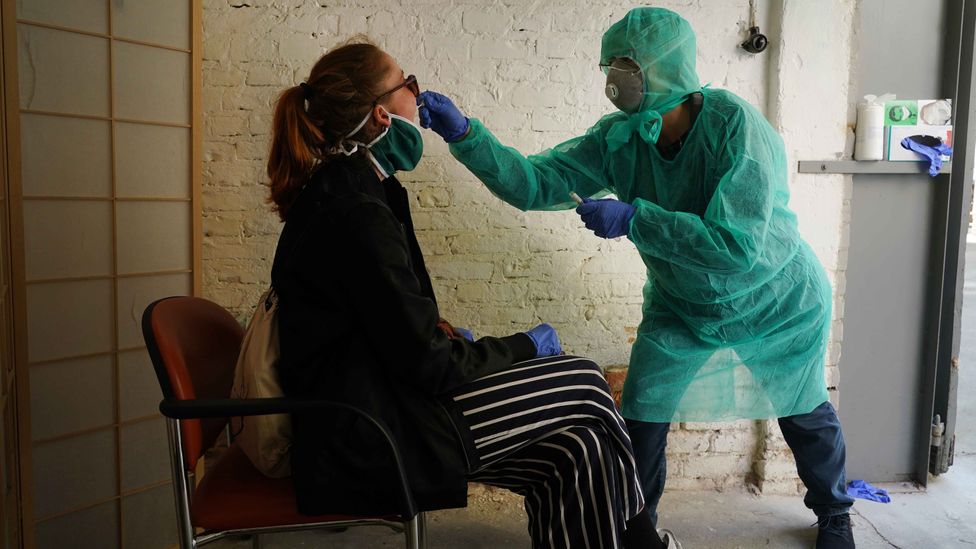 Efforts to get life back to normal well before a vaccine for Covid-19 is available could mean employing apps to track your movements and contacts (Credit: Getty Images)
If contact-tracing apps fulfilled this potential, then there could be the potential to ease lockdown, largely limiting it to those who have symptoms, the people who have had contact with them and those at particularly high risk of death from the virus. In theory, life could start to look more normal again for everyone else.
Lifting lockdown
Bluetooth is being used rather than location data, powered by GPS, the global positioning system, because GPS is not possible to use without breaching privacy laws in most democracies. It's also a significant drain on mobile phone batteries and, more fundamentally, isn't accurate enough based on what we think we know about the transmission of Covid-19. "There are lots of problems with it," says Michael Veale, lecturer in digital rights and regulation at University College London. "It doesn't work in multi-storey buildings, for one thing."
Whereas Bluetooth low-energy records "contacts" between people (or their phones), rather than their location at all times, and is more precise.
Apple and Google announced in mid-April they were developing contact-tracing technology using Bluetooth. In May, they plan to release APIs – or ways in which programmers can access applications and data – that would make it easier for countries and companies wanting to develop contact-tracing apps to use this data to make apps. Crucially, it would allow Apple and Android phones to interact with each other.
That will soon be followed up by building Bluetooth-based contact tracing into each phone's operating system. The companies are saying it would be an opt-in system, but would be more robust and easier to access for users who wanted to participate.
And at the same time countries around the world have announced that they are developing their own tools. France, the United States and the UK have all announced plans for contact-tracing technology to be deployed to monitor the spread of Covid-19. A pan-European group of researchers across eight countries is also coding similar apps. This follows the implementation of similar apps in China, Singapore and South Korea, which have allowed those countries to start to relax lockdowns designed to slow the spread of coronavirus.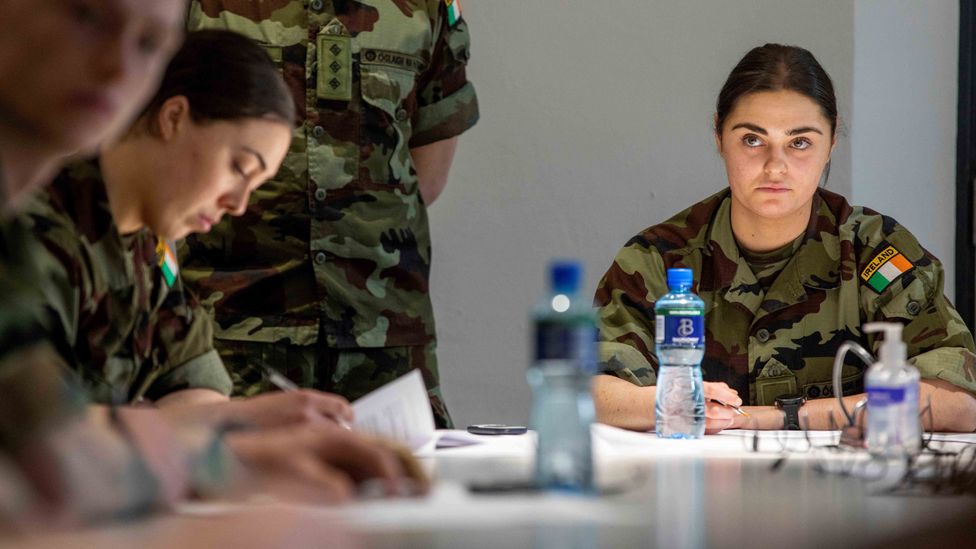 Contact tracing is possible to do manually, as cadets in Ireland have done during the outbreak, but it is a time-consuming and imperfect process (Credit: Getty Images)
"They could play a role in overall policy of opening up society after the covid-19 lockdown," says Natali Helberger, professor of information law at the University of Amsterdam's Institute for Information Law. But it isn't a perfect solution. "Apps are suggested and understood by many people as the magical silver bullet to opening up society again, which they're not. We don't know how effective they are, we don't know what the side effects are, and we know apps alone can't be a solution to this."
The thing that keeps us safe is lockdown – Phil Booth
That's something Phil Booth, co-ordinator of Medconfidential, a medical data-protection lobby firm, agrees with. "The virus doesn't care about technology," he says. "The virus only cares about transmission." Booth worries that people will think of their mobile phones, replete with contact-tracing apps, as a shield against Covid-19, in the same way that health authorities across the world worry that non-surgical face masks are providing people with false confidence that they're protected against the virus.
"If mobile contact tracing isn't effective, then the necessity test isn't met, and they can't be justified, says Jennifer Cobbe at the University of Cambridge's department of computer science and technology. "But equally, even if they are effective, if there are other, less intrusive ways to do the same kind of contact tracing and get the same kind of idea of what's going on, then those other ways should be preferred."
Given these concerns, contact-tracing apps are not a simple replacement for lockdown. "The thing that keeps us safe is lockdown," says Booth. "The thing that reduces the reproduction number of the virus is the extent and severity of its lockdown. No-one has shown that contact-tracing apps by themselves have anything like that effect."
Testing times
And yet countries across the world are mulling over introducing them to their population, in part because of the fear that a longstanding lockdown would have on our societies and economies. But those who are doing it well recognise that app-based solutions need to be just one part of a broader solution, rather than a standalone saviour.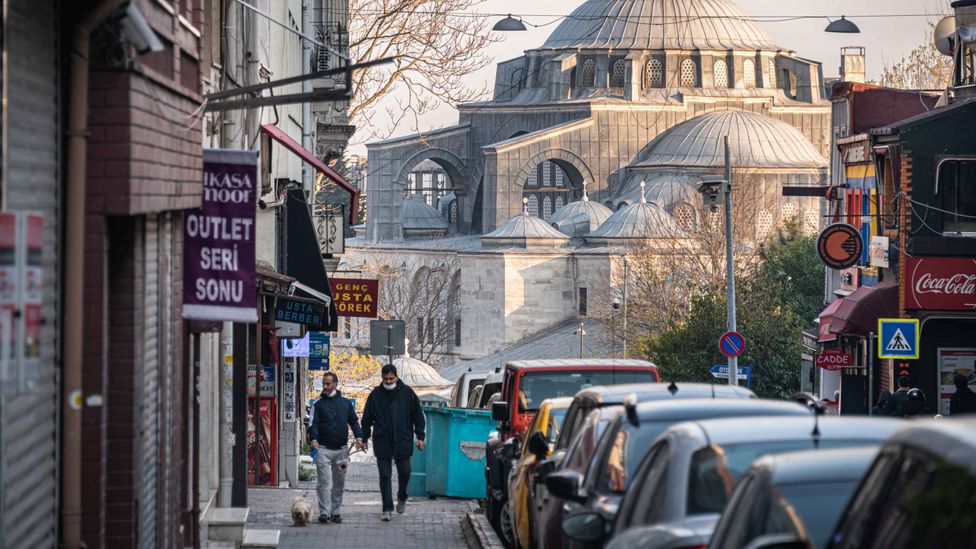 If someone has spent time in close proximity to someone who suspects they have Covid-19 or tests positive for it, they would get a notification (Credit: Getty Images)
"Contact tracing only really helps when you have the availability of mass testing," says Booth.
Plans for the UK's contact-tracing app to have two levels of alert for those who may have come into contact with a Covid-positive person add complications. Users of the app, which is being developed by NHSX, the health service's digital innovation unit, will be able to self-report themselves as having coronavirus without having a test, sending a "yellow" warning to anyone who has come in contact with them.
Some people will, with best will in the world, over-report symptoms, creating false positives, and some won't report at all for fear the data might somehow be used to discriminate against them – Lilian Edwards
But that's a potential "nightmare", says Helberger. "Think about hypochondriacs," she says. "Personally, at the moment I'm coughing. I think I have everything."
Lilian Edwards, professor of law at Newcastle University, agrees that the problem of self-reporting without testing is fundamentally unreliable. "Some people will, with best will in the world, over-report symptoms, creating false positives, and some won't report at all for fear the data might somehow be used to discriminate against them," says Edwards, who has put forward the draft text of a bill to protect privacy amid rollout of contact-tracing apps.
Then there's the people at the other end of the spectrum. A small but significant number of people believe that the coronavirus remains no less dangerous than seasonal flu, despite an ever-rising death toll. Their complacency could kill, particularly if they downplayed or didn't report their symptoms or test results.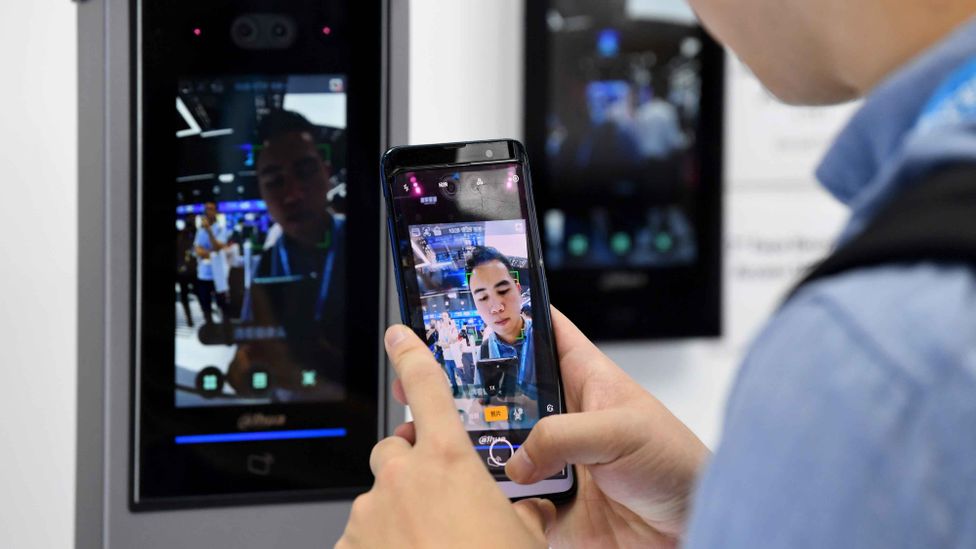 If people set too much store by the data gathered by contact tracing apps, the result could be poor and harmful decisions (Credit: Getty Images)
"There's no way to rely on the data," says Helberger, and the potential impact of being led by incomplete or incorrect data could be hugely damaging. "People could be sent home and lose their jobs," she says. Others could use it as a way of causing harm to others. "If you want someone to fall ill, you could falsely report and stay long enough in their proximity. So many things can happen."
Cultural differences
There's also the worry about implementing such a fundamental shift in our society at breakneck speed. "Contact tracing and immunity passports are all really apps for the next pandemic," says Booth. "This is, at best, the research and development in human experimentation phase." Trusting technology companies who have previously proved willing to misuse data could be a risky proposition.
And for a number of liberal democracies, it requires a fundamental shift in how we interact with each other, our rights to privacy and our connection with the state.
The leaders in developing contact-tracing apps for Covid-19 are countries like China, Singapore and South Korea. "They've all made a decent fist of a contact-tracing app," says Booth.
Singapore's TraceTogether app has been hailed as a paradigm for how to develop and roll out such technology since it was released in March. But a recent blog post by Singapore's government digital services senior director, Jason Bay, who oversaw the app's creation, put paid to the idea that contact-tracing apps are an unvarnished success. Just one in six Singaporeans downloaded the app – which was not enough. One study from Oxford University found that in order to be effective, contact-tracing apps would need to be used by 60% of the population.
"You cannot 'big data' your way out of a 'no data' situation. Period," wrote Bay. "Any attempt to believe otherwise, is an exercise in hubris, and technology triumphalism."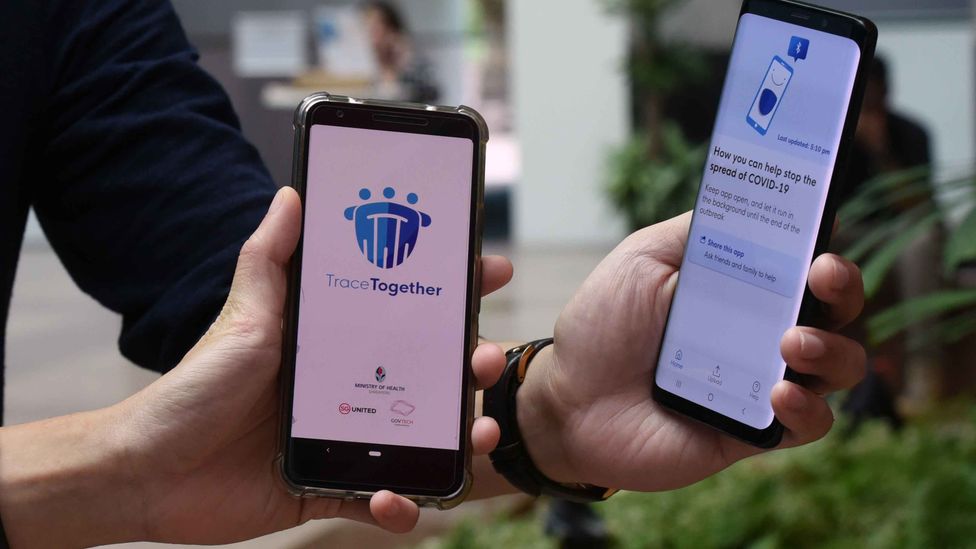 The TraceTogether app has been heavily criticised for basic design flaws (Credit: Getty Images)
In part, the Singaporean app was so underused because of a design flaw; it required users to keep their phones unlocked in their pocket and the app open at all times. "If you use Candy Crush on the Metro, TraceTogether will stop," says Veale.
One of the reasons why I like to live in the Netherlands is because I know these freedoms are highly respected there – Natali Helberger
And in China, Health Code is an app that determines whether you can go out and mingle or if you're defined as Covid-positive. The app, which was developed by the Chinese government and runs on several platforms including Alipay and WeChat, is not a big a departure from the norm in China, when seen in the context of the country's broader social credit system. In this system, small bits of data about your life, such as your health history and willingness to pay bills on time, can determine access to many services – even down to whether you can board planes and trains or not. So in China, contact tracing has been a part of everyday data gathering by the state, with a very high penetration of the population.
An app's usefulness will depend partly on the infrastructure used to roll it out – ready-made in China's case – and also on what is seen as acceptable in that society.
Just as some western liberal democracies have struggled to maintain as severe a lockdown as authoritarian China has, so it's likely that members of the public in areas such as Western Europe and North America are less likely to install an app on their phone that tracks their every movement. "One of the reasons why I like to live in the Netherlands is because I know these freedoms are highly respected there," says Helberger.
Some European countries are trying to quell that criticism, and to win over a sceptical public. Germany is developing its own contact-tracing app that has strict limits on its use. "We did not want to recreate the situation in some Asian countries where people are completely exposed," Chris Boos, one of the developers of Germany's app, told the AFP news agency. Legislation that German politicians have introduced to implement contact-tracing apps also contains an explicit sunset clause that says the measures introduced need to stop being implemented with immediate effect once the crisis is over.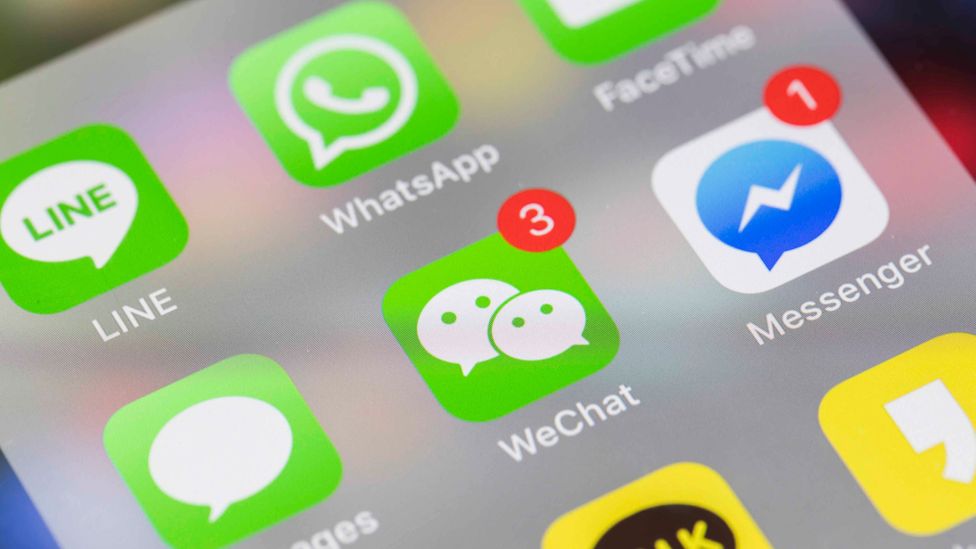 Plenty of apps gather data on our location and movements, but it is hard to get enough data on a population level for effective contact tracing (Credit: Getty Images)
Gaining the public's trust is important to reach the threshold for efficiency of contact-tracing apps. In many countries, uptake is going to be hindered by public scepticism about being tracked. But there's also a more fundamental issue, too: only 15 countries in the world have smartphone penetration that would allow them to meet that level, even if everyone who owned a smartphone installed such apps.
"No one wants to deter any of the incredible efforts going on to protect us from and defeat the coronavirus epidemic," says Edwards. "However, there are clear worries that any contact-tracing app, to play a real part in this fight, must command the trust and confidence of both the public, so they install it and use it, and the medical community, who need to gather good quality data."
We will soon find out whether the apps currently planned will meet this high bar.
--
As an award-winning science site, BBC Future is committed to bringing you evidence-based analysis and myth-busting stories around the new coronavirus. You can read more of our Covid-19 coverage here.
--
Join one million Future fans by liking us on Facebook, or follow us on Twitter orInstagram.
If you liked this story, sign up for the weekly bbc.com features newsletter, called "The Essential List". A handpicked selection of stories from BBC Future, Culture, Worklife, and Travel, delivered to your inbox every Friday.