Confined to our homes with little else to do, it is tempting to turn to the bottle for entertainment, but rather than making us feel better, it may be doing us harm.
T
The world has been plunged into a vortex of uncertainty with the arrival of the Covid-19 pandemic. With governments urging people to stay at home to help control the spread of the disease and the prospect of varying levels of "lockdown" for months to come, most of us are searching for ways to help us cope with this "new normal".
There have been reports of a spike in alcohol sales suggesting that many are lubricating this strange reality with booze. In the UK, sales were up by 22% in March and in the US they have risen 55% compared to the same period last year.
"I'm coming out of this global pandemic either a master chef or an alcoholic," one meme on social media quipped. Ina Garten, an American celebrity chef, posted a video online mixing up a jumbo sized pitcher of cosmopolitan because "you never know who's gonna stop by… wait a minute no one is stopping by", she laughs, with a knowing twinkle in her eye, before pouring the cocktail into an oversized martini glass. And to fill the pub-sized gap in people's social lives, many are joining online happy hours for a virtual clink of glasses, safe in the knowledge they won't have far to fall into bed after one too many afterwork drinks.
You might also like:
• Why its hard to be rational about Covid-19
• How personal contact is set to change
• Why we can never go back to 'normal'
But are some of us drinking too much while we face this crisis?
Behind the joking and humour, there is a darker reason turning people towards the bottle. We are in a period of collective anxiety, with little idea of when it might end. Across the world people are getting sick and many are dying. Healthcare services and frontline workers are under enormous pressure and many of us are separated from our loved ones. There is a palpable feeling of fear, frustration and worry.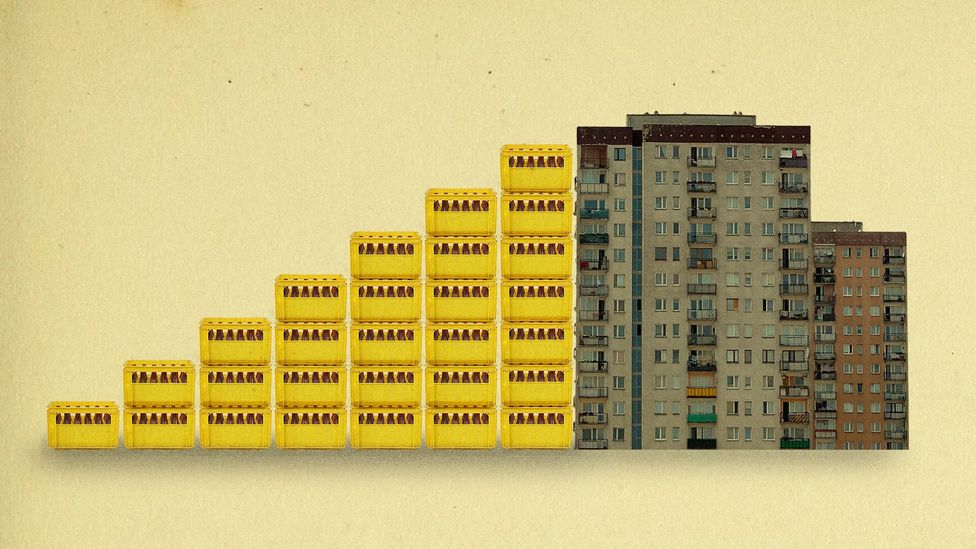 Sales of alcohol in many countries have seen a spike in the weeks since lockdowns began (Credit: Alamy/Javier Hirschfeld)
Working on the front line, working from home, working while home-schooling children, living alone, losing someone you love or your job. Regardless of the reasons people might turn to alcohol in an attempt to decompress, the truth is that both physiologically and psychologically, the soothing effect – particularly when under stress – is short lived.
"In the moment, it feels like relief and we feel better," explains Annie Grace, author of This Naked Mind: Control Alcohol. "Our blood alcohol level rises and things feel slower; our mind relaxes and there's some disorientation and euphoria."
But the relief is transient, she says, as "20-30 minutes later the body starts to purge the alcohol, because that's what the body does with toxins, and as the alcohol leaves our blood we start feeling uncomfortable and even more stressed".
Booze brain
It comes down to a complex web of neuroscience. Alcohol affects some of the brain's messengers or "neurotransmitters" – gamma-aminobutyric acid (GABA), which is an inhibitory neurotransmitter, and glutamate, which is an excitatory one. When we drink, the alcohol supresses the release of glutamate, which usually increases neuronal activity while also increasing the production of GABA, which normally reduces the activity of neurons. In short, our bodies and brains slow down the more we drink, leading us to become disoriented and uncoordinated.
Instead of reducing their anxiety over the medium term, alcohol actually makes the anxiety worse – Michael Farrell
While this neurological hijack is happening, alcohol also affects the brain's pleasure and reward centre, stimulating the release of dopamine – the neurotransmitter that makes us want more. That's why it's so hard to stop at "just the one".
According to the Michael Farrell, director of the National Drug and Alcohol Research Centre at the University of New South Wales in Sydney, "people will often take alcohol to take the edge off their anxiety in the short term….[but] the paradox of it is, if people are taking it for that, instead of reducing their anxiety over the medium term it actually makes the anxiety worse. It's like a bounce back effect."
What day is it anyway?
The seriousness of the Covid-19 situation isn't the only factor at play here. "A lot of people, in truth, use alcohol as a fairly functional social coping strategy," says Farrell. "Most of us when we go into a strange room would be more comfortable after having a drink than beforehand."
But this health crisis is far from normal, and it might be increasing the temptation to binge-drink.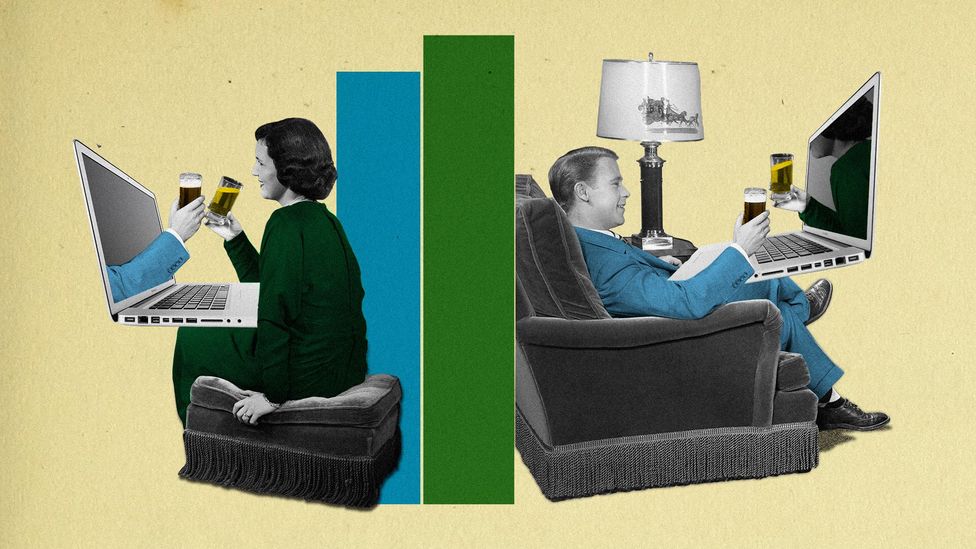 With their usual social lives disrupted, many people are joining others online to enjoy a drink in their own homes (Credit: Getty Images/Javier Hirschfeld)
Many people across the world are in lockdown in confined spaces and high levels of panic-buying has been widely reported across the world. With that, Farrell explains, comes a "hoarding mentality" and along with toilet paper and non-perishable goods comes alcohol. If it's there, readily available, you are more likely to drink it.
Another contributing factor is that our regular routines have imploded. Many are working from home, no longer commuting or sitting in an office, weekdays and weekends melt into each other without the social markers to differentiate them. With that, the usual rules that people set for themselves when it comes to alcohol have been thrown into disarray.
Stephanie (not her real name) is a civil servant in the Midlands of England. "I tend to think of myself as a fairly level-headed, responsible adult," she says. "I try to be good and only have a drink or two at the weekends."
But like many of us she is feeling overwhelmed even though she limits her consumption of news, and the rules she has set for herself are slipping. "After a 12 hour work day, I find myself reaching for a nice cold beer to quench my thirst and help me unwind – even if it's Tuesday night," she says.
Breaking the rules
These yardsticks we set are entirely individual. It might be drinking only on the weekend, not drinking alone or at home. "It's the same thing as [knowing] not to pour vodka onto our cornflakes," says Farrell. "Because you know if you are doing that it's probably time to see your local alcohol and drug service."
If all our friends are posting about their 'quarantinis' and their Zoom happy hours, it's very easy for us to justify drinking even when it isn't serving us – Annie Grace
But for Annie Grace the point at which you start questioning your drinking habits doesn't have to come so far down the road. "We can always convince ourselves that it's not a problem yet," she says. "We can always compare ourselves to someone who's drinking more than us."
Social media has a lot to answer for in this context, Grace says. "[It] is the perfect example of what's called confirmation bias, which means we look for evidence around us to validate that what we are doing is normal.
"If we already have that part of our brain that is saying having a drink will help us feel better and then we go to Facebook and all our friends are posting about their 'quarantinis' and their Zoom happy hours, it's very easy for us to justify drinking even when it isn't serving us."
Seeing our friends posting about their what they are drinking in lockdown can normalise potentially harmful behaviour (Credit: Getty Images/Javier Hirschfeld)
Instead, she urges people to be honest with themselves and start exploring their motivations for drinking and how it truly makes them feel. Her own experience highlights the inner turmoil that can come from drinking.
Grace developed post-partum depression after the birth of her second son and started to "self-medicate" with alcohol. "Stress fed the drinking and the drinking fed the stress," she says. "Adding to all of it was a whole level of cognitive dissonance because I was not happy with how much I was drinking and that internal conflict increased my stress which added to my drinking even more."
Our shields are down
While the health dangers of excessive drinking are fairly well publicised, perhaps one more relevant effect in the midst of a health crisis is that alcohol consumption lowers our immune systems' ability to fight off infection.
And recent research from researchers in Italy suggests that even moderate drinking may increase the risk of being infected with Covid-19 and also that it can aggravate the infection.
Gianni Testino, from the Alcohological Regional Centre in Genoa, Italy, who led the study says alcohol use "increases the risk of viral infections and the risk of bacterial overlap in the respiratory site".
"Drinkers have more serious lung infections with assisted ventilation needs," says Testino.
Trying to 'take your mind off the constant stream of news about Covid-19' is likely to be put yourself at greater risk of the effects of the coronavirus
In research yet to be published, he and his colleagues have also shown that alcohol may increase levels of the ACE-2 protein the coronavirus uses to enter the body's cells.
Concern over the way people are turning to alcohol during the pandemic – including inaccurate claims circulating that booze can even protect you from Covid-19 – has led the World Health Organization to issue a two-page statement on the topic.
"Avoid alcohol altogether so that you do not undermine your own immune system and health and do not risk the health of others," it advises. "Heavy alcohol use is a risk factor for acute respiratory distress syndrome (ARDS), one of the most severe complications of COVID-19."
The Royal College of Psychiatrists in London has also warned that drinking more than 14 units of alcohol a week – equivalent to six pints or six glasses of wine – while trying to "take your mind off the constant stream of news about Covid-19" is likely to be putting yourself at greater risk of the effects of the coronavirus.
The disruption and fear caused by the coronavirus pandemic has led to a degree of collective anxiety (Credit: Getty Images/Javier Hirschfeld)
Being acutely intoxicated is also bad news for those in confined domestic spaces. Farrell says that apart from an increase in alcohol-related accidents, there's a higher likelihood of conflict. "If someone is already short fused and in a difficult relationship alcohol is often paraffin on a fire to these sorts of situations," he says.
The United Nations has warned of a surge in domestic violence across the world during quarantine, with calls to helplines in China up threefold compared to the same period last year. In the Lebanon and Malaysia, the number of calls doubled. Domestic violence-related deaths during lockdown were reported in the UK, France, Spain, Japan and Italy, among other countries.
There are also concerns that this shift in our drinking behaviour could have implications further down the line. "Acute social change it's always associated with destabilised behaviour," says Farrell. With so much of our lives being disrupted – economically, sociologically, psychologically and physically – could we be picking up drinking habits that will be hard to shift?
Moving online
Some countries, such as South Africa, India, Sri Lanka and Greenland, are so concerned about the growth of alcohol use during lockdown that they have banned the sale of alcohol altogether. But this is not without its problems. For those with serious alcohol addiction, withdrawal symptoms can range from tremors, hallucinations, seizures and even lead to fatalities. In India, several people have died either from taking their own lives because of the lack of alcohol or drinking poisonous pure methyl-alcohol – found in anti-freeze and paint thinners – out of sheer desperation.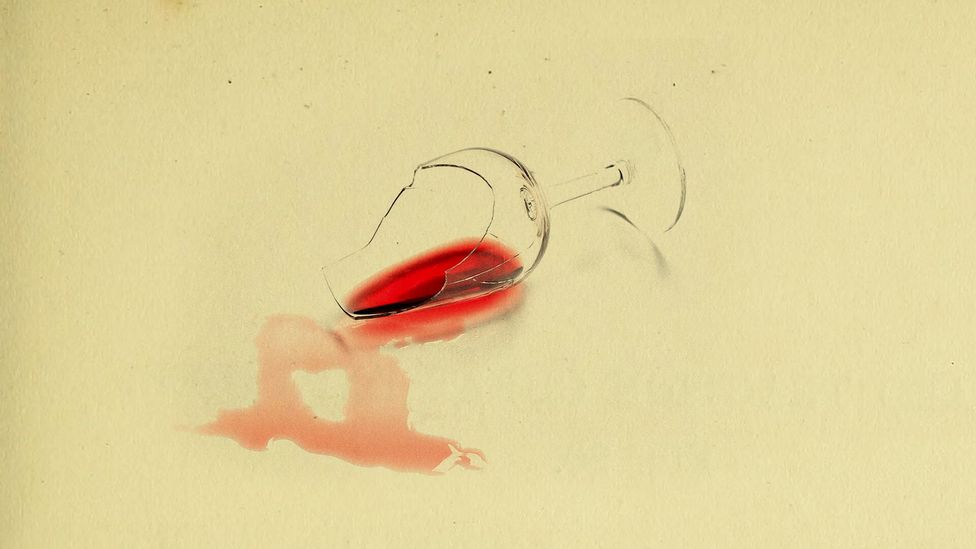 There are concerns that rising levels of drinking may go hand-in-hand with increased domestic violence (Credit: Alamy/Javier Hirschfeld)
But even where alcohol is available, the figures don't necessarily tell the full story. Matt Parker, a senior lecturer in neuroscience at the University of Portsmouth in the UK, is running a research group on stress and alcohol use. He points to a recent study from Alcohol Change UK which showed that a third of people were consuming less alcohol, and only a fifth were drinking more. "This is particularly alarming as it would seem that the spike in alcohol sales is being driven by a relatively low proportion of people," he says.
For those who are in recovery or already struggling with alcohol dependency, this could also potentially be a triggering time.
Parker's research has shown that people who have particular traits that put them at risk of addiction (particularly people who are 'impulsive', meaning they have difficulties acting in a reflective manner), are more at risk of stress-induced alcohol use. "A particular worry is people that have struggles with addictions, either currently or in the past, as there is a possibility that they could 'relapse'," he says.
The good news is that there is still help available for those that want it.
It would seem that the spike in alcohol sales is being driven by a relatively low proportion of people – Matt Parker
Farrell explains that many of the more traditional recovery services (such as Alcoholics Anonymous) are going online to offer support. He hopes that more people might engage with these sorts of services rather than going to a face-to-face meeting, which can act as a barrier to people seeking help – especially in the age of Covid-19.
"It takes something like 15+ years from the time a person develops a significant alcohol problem to seek help," he says. Farrell hopes that increased availability of online interventions might help people to change their drinking habits much sooner.
With luck, most of us will find other ways to cope with the changes in our lives that do not involve alcohol. Annie Grace certainly believes it may be an opportunity to improve ourselves.
"Hardship elevates people," says Grace. "It is through pressure and intensity that we are forced to grow and that can be a really beautiful thing."
--
As an award-winning science site, BBC Future is committed to bringing you evidence-based analysis and myth-busting stories around the new coronavirus. You can read more of our Covid-19 coverage here.
--
Join one million Future fans by liking us on Facebook, or follow us on Twitter or Instagram.
If you liked this story, sign up for the weekly bbc.com features newsletter, called "The Essential List". A handpicked selection of stories from BBC Future, Culture, Worklife, and Travel, delivered to your inbox every Friday.