Costa Rica has the ambition to reach net zero-carbon by 2050. It's gone a long way already, but how will its polluted capital clean up?
C
Costa Rica – an ecological paradise of sandy beaches, protected tropical forests and pristine waterfalls, right? Include its 99% renewable electricity and bold plans to reach net-zero emissions by 2050, and the country is often considered one of the greenest there is.
But for those familiar with its capital, San José, a different picture emerges. The reality of life here in the heart of the country's central valley can feel far less eco-friendly. San José's streets are typically full to brimming with cars, daily traffic jams and often-unreliable public transport.
Under lockdown, which in Costa Rica has seen strict limits imposed on when people can use their cars, traffic has slowed significantly. But as restrictions start to be lifted, the question arises as to whether San José can become a cleaner and less car-dependent city in normal times.
Costa Rica continues to reap the carbon benefits of decades-old hydroelectricity and forestry policies, but it has so far made little progress on limiting the climate impact of its transport sector – responsible for 54% of Costa Rica's greenhouse gas emissions. With some cities around the world working to reduce the need for cars in the city since the pandemic, and others anticipating a surge in traffic – which way will San José go? Given Costa Rica's self-promoted image as the "decarbonisation lab" of the world, the stakes for the city are particularly high.
You might also like:
The country's car ownership rate is the third highest in Latin America and rising, with an increasing impact on people's daily lives: one report found rush-hour commute times in San José centre had increased by more than 40% since 2015.
"I think we as Costa Ricans have a very aspirational view of having our own vehicles," Claudia Dobles, Costa Rica's first lady, told a hall full of people working in low carbon policy at an event in San José on safe and sustainable mobility in December.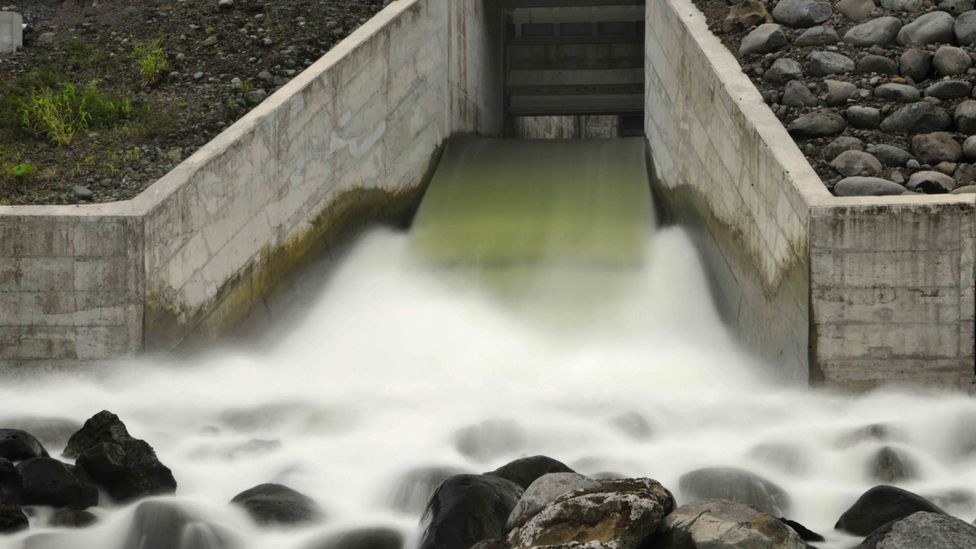 Hydroelectric dams helped Costa Rica reach 99% renewable energy in 2019 (Credit: Getty Images)
Dobles is an architect and urban planner who has spearheaded the country's low carbon transport plans. "We need to have a serious, deep national dialogue on what are the real challenges that we face in public transport," she said. "What is the vision we have for Costa Rica, how do we really want Costa Rica to get itself around?"
I've seen those bikes in some of the poorest communities. I think it's awesome that kids now have access to a bike that they can rent – Federico Cartin Arteaga
How to reduce car use in favour of low-carbon mobility is a challenge many other highly congested cities around the world face. It's a more pressing question than ever in the light of social distancing, as people move towards individual means of transport. Global emissions from transport are expected to grow at a faster rate than those from any other sector, but transport has often been neglected in climate plans that focus principally on decarbonising electricity.
Fortunately, many living in Costa Rica's capital are already fighting for a greener, more liveable city. After a decade of campaigning by cyclists, some cycle routes have begun to appear on streets, and there is an effort to build a connected network of lanes.
Since the coronavirus lockdown began, bicycles have also become a more common sight on the road, and bike sales have reportedly increased. "A lot of people will have at least tried it and got familiar with the terrain and then liked it," says Andrea San Gil, environmental engineer and founder of the Centre for Urban Sustainability, based in San José. "Hopefully, they might just stick to it."
A current push in reaction to the coronavirus pandemic is a proposal to install temporary bike lanes and widen pavements. "It's basically trying to just do the same as a lot of other cities have done: to widen sidewalks, close roads and just redistribute space so that people can cycle and walk more and do it safely," says San Gil, who helped put forward the proposal. "But of course, everything is complicated and bureaucratic."
New legislation that came into force in December obliges the Costa Rican authorities to assess the feasibility of building non-motorised infrastructure whenever they make road improvements. Perhaps more importantly, it also obliges municipalities to build cycle lanes into new motorways.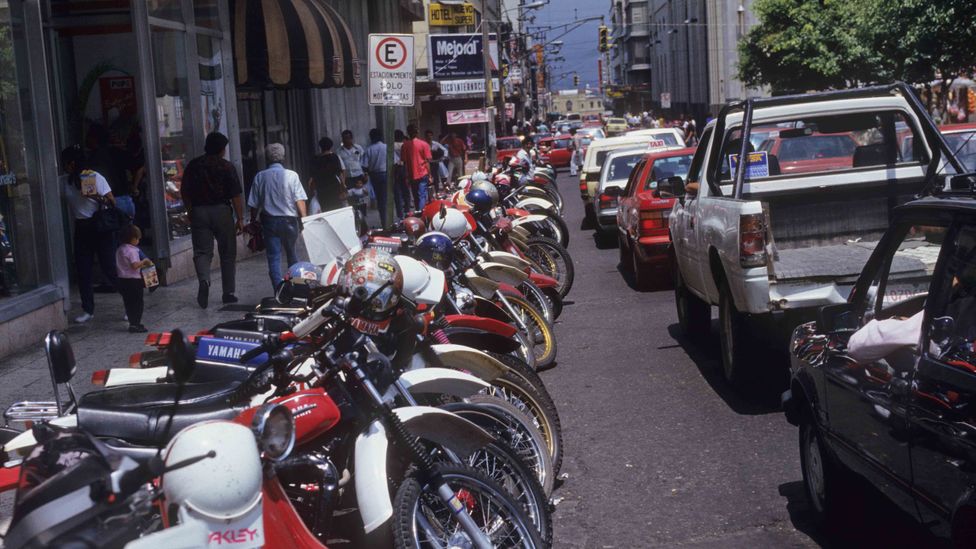 Vehicle ownership contributes to San Jose's problem with carbon emissions from transport, as well as urban congestion (Credit: Getty Images)
"The last 10 years have been a big change, especially in infrastructure," says David Gomez, a Costa Rican mobility consultant.
Gomez is the founder of Bicibus, which provides people in San José with advice on how to ride their bikes in the city. He is also part of a small but dedicated group of activists who have been pushing urban cycling in the city for more than a decade. These came together in groups such as A Bikepath for San José, formed in 2010, which helped to bring the city's first urban cycleway into being.
Two major changes have come in the past decade for cycling in the city, says Gomez: "The construction of cycleways and, more recently, the deployment of a public bike system, Omnibikes, which have proven to be a game changer."
That is the proposal, that we stop turning our backs on the river and gain access to these beautiful places as public space – Margarita Chaves Sibaja
Omnibikes, a dockless e-bike firm that charges per journey, launched in November 2019, becoming the first bike share scheme in San José. "I've seen those bikes in some of the poorest communities," says Federico Cartin Arteaga, an economist and urban planner who was also a major candidate in San Jose's mayoral elections in February 2020, ending up in second place. "I think it's awesome that kids now have access to a bike that they can rent."
The municipality of San José had been floating the idea of launching its own public system, but recently adopted Omnibikes as its official bikeshare system. This has helped to expand the number of bikes in the system, but at a price. An Omnibike costs $26 (£21) per month or $1.60 (£1.30) per hour. "That is definitely excluding a good number of potential bike users," says Gomez. For comparison, a typical short-distance bus fare in San José sits at around 50 cents (41p).
There is still a long way to go on cycling. While the urban cycle route has helped cyclists by emphasising their right to use the road, it remains a single east-to-west corridor. "Once we have a fully connected network, inter-provincial and everything, then I think we'll start seeing an increase in ridership and of course, an impact in carbon emissions," says Gomez.
Rutas
Making it possible for people to get out of their cars and onto their feet and bikes is one thing, but it's another to make such a move an appealing option. Rutas Naturbanas (literally "Nat-urban Routes") is a riverside greening project that aims to build a 25km (15.6 mile) path along the two main rivers crossing San José, Río Torres and Río María Aguilar, founded by Cartin Arteaga.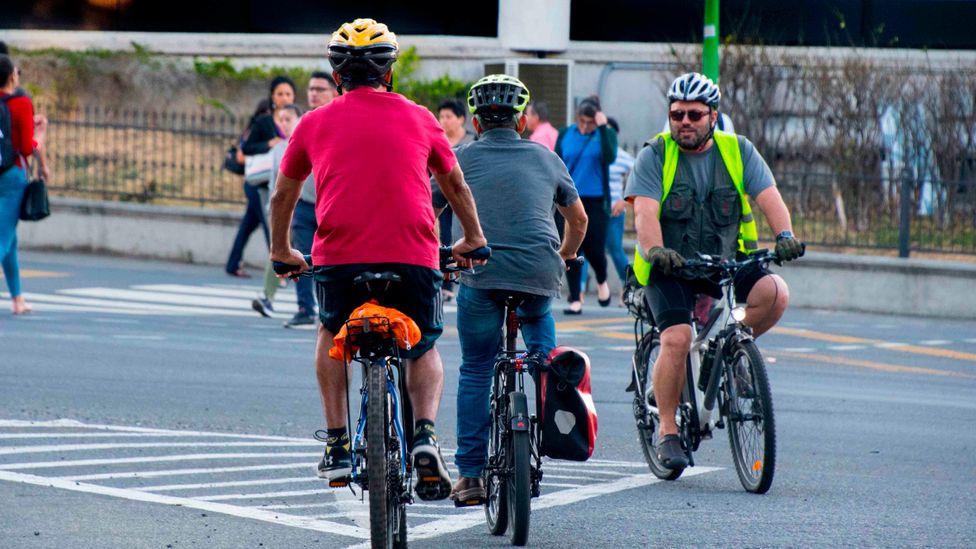 Creating more bicycle lanes and promoting a cycling culture is one way to reduce reliance on fossil-fuel-powered vehicles in San Jose (Credit: Getty Images)
While older generations of "Josefinos" fondly remember swimming in these rivers, they have become polluted and inaccessible to today's generation. "Rivers weren't really the centre or the protagonist in the city, they were really kind of on the back burner," says Cartin Arteaga, who left the project while he was running for mayor.
He says he was attracted to the idea of a riverside walkway due to its combination of environmental protection – a core value for Costa Ricans – and urban mobility. Rutas Naturbanas aims to create a clean and safe walkway along the river where people can commute by foot or bike or simply enjoy nature and wildlife in the city.
We have an inventory of many species of birds, mammals, amphibians and reptiles living in these spaces. But we have been destroying these areas – Margarita Chaves Sibaja
One sunny morning long before lockdown, I joined a tour of the walkway led by Margarita Chaves Sibaja, the project's partnership director. Chaves Sibaja proudly escorted the group along the tiny 400m (1,320ft) stretch constructed so far, settling on a picnic blanket to talk with me.
"We are making these rivers visible and creating shared-use roads so that people can move around the city on foot or by bicycle through safe spaces," she says. "[At the moment] we cross the city and do not see the river. That is precisely the proposal, that we stop turning our backs on the river and gain access to these beautiful places as public space, where additionally many species of animals and plants are showing a very high resilience."
She points over to where a family of sloths, rarely if ever seen in the city, are residing. "We have an inventory of many species of birds, mammals, amphibians and reptiles living in these spaces," she says. "[But] we have been destroying [these areas] precisely because of the lack of urban planning."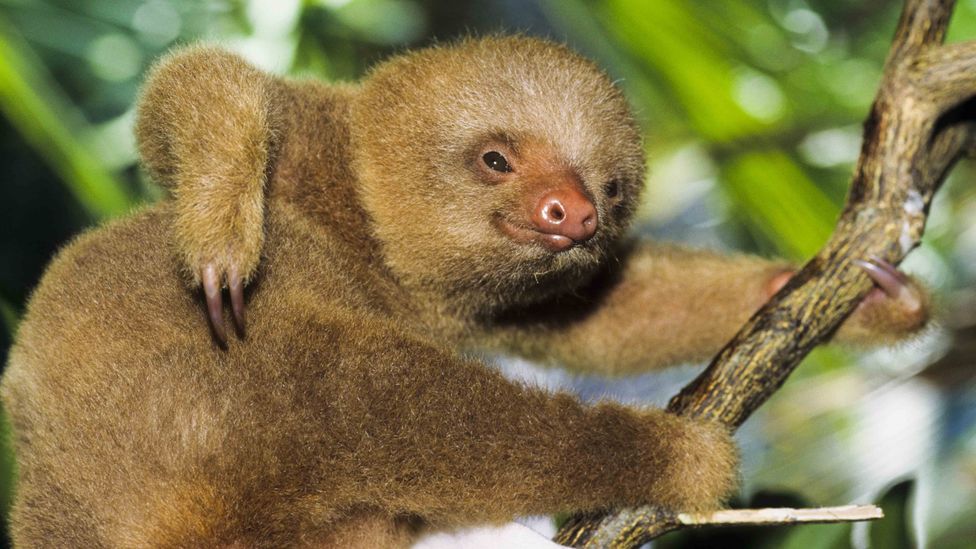 Sloths are found in many parts of Costa Rica, but rarely in its capital - except in a few hidden spots (Credit: Getty Images)
The project still has a long way to go to complete its vision of a 25km urban riverside walkway. While it has already secured permission to develop two more stretches of 1km (0.6 miles) and 2.5km (1.6 mile), this has not been easy. Regulation of urban areas is complicated in Costa Rica, with much of the nearby land owned by a mishmash of different landowners. "We were literally knocking on doors to see who these people were," says Cartin Arteaga. The riverside is also protected as a biological corridor by law, preventing new construction alongside it.
But the government is supportive of these types of schemes, even naming Rutas Naturbanas as one of the actions taken in the first year of its National Decarbonisation Plan. The government has also pledged to restore 20% of the rivers in San José and its surrounding area by 2050 and to have built a network of pedestrian walkways that also serve as biological corridors.
Rutas Naturbanas has already been valuable through its ability to allow people to imagine the city working differently, says San Gil. "I think they have a very good use of imagery and modelling and renders to make people imagine how riversides could be used in a better way," she says. "I think that's something that Costa Ricans need, especially if they've never gone out of Costa Rica, to see how the city could look if we made all of these improvements."
Green transport
San Gil is also focused on a different battle: public transport. She tells me she is trying to get people "pissed off" about San José's inefficient and poorly funded public bus system. "I'm trying to mention it in every chance I get when I talk," she says. "If we're going to talk about decarbonisation, changing the buses is much more significant than changing to electric cars. The most vulnerable people are the ones who use the bus."
Public transport in Costa Rica is run by concession: the government puts individual routes out for tender, but the state does not subsidise transport. Bus companies have gained political power and been resistant to forming a connected, electronic payment system, leading to a confusing knot of different routes. Arrival times can be unreliable, and even information on individual routes is hard to come by.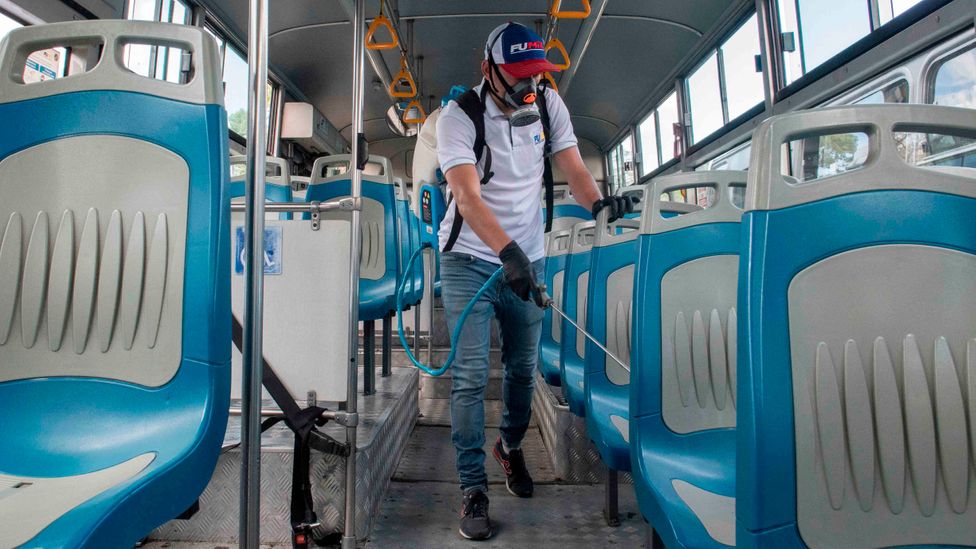 During the coronavirus pandemic, the bus service in San Jose has been running at limited capacity with increased cleaning to maintain safety (Credit: Getty Images)
"There's a lot of things that don't make sense at all because they haven't been planned," says San Gil.
The bus system is largely conceived as a service that requires no infrastructure, adds San Gil, and thus receives a bare minimum of public funding. "The state does not invest in terminals or central stations bus stops, information for users or segregated bus lanes," she says. "You get only roads and no other investment in anything else that's not roads."
During lockdown, rules implemented on public transport include strict disinfection protocols, masks for drivers and buses running at maximum 50% capacity. "One of the things that would reduce the contact between at least the drivers and the passengers would be electronic payment," says San Gil. "But we've dragged that around for decades now, I don't see it happening yet."
Some things are moving, if slowly. San José now has several bus lanes, a novelty in the country, even if none runs for more than a kilometre or two. "It's all these chunks here and there, but they haven't really connected them into a network and that needs to be done for it to reach full potential," says Gomez. "That is a big, big changer, because it will make travelling by bus faster than travelling by car.
Perhaps the most exciting project in the works, though, is a scheme to build the country's first electric passenger train. A pet project of first lady Claudia Dobles, this aims to link to other cities in San José's wider metropolitan area – and hopefully help to cut traffic on some of the most congested routes into the city centre.
There is already a train running this route, but it is noisy, infrequent and runs on petrol. The new electric train will be low carbon, run every five minutes in rush hour and use an electronic payment system. There will also be a push to link it up to other parts of the city via a network of buses, pedestrian access and cycle routes, says Gomez, who will be working with the train authority, Incofer, on exactly that.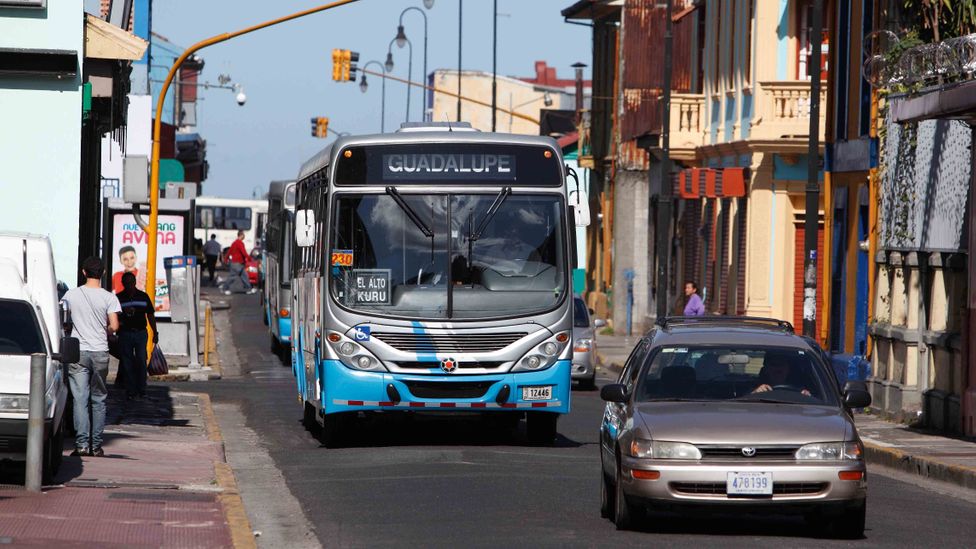 The public bus service in Costa Rica leaves a lot to be desired, but the gradual introduction of bus lanes in San Jose is gradually improving it (Credit: Alamy)
"It's a huge deal," says Gomez. "The fact it will increase capacity by more than 10 times what we have right now on the current train is definitely going to attract a lot more riders. Higher capacity, more frequency, more stops in between and a longer reach – all those things make it a very likeable system."
The government is also hoping large infrastructure projects such as the electric train will help the country recover from the financial impacts of the coronavirus pandemic by providing jobs. Costa Rica had seen only 10 deaths from the virus at the time of writing, but lockdown has hit its economy hard, particularly in the tourism sector.
The electric train line has so far secured a $550m (£445m) loan for the train, although this still needs to be approved by its Congress where the current government has a minority. The remaining $1bn (£808m) funding needed to build the train will be invested by whichever private company is chosen to run it. The first stretch of the train is scheduled to be running by 2025, but Gomez estimates it could be up to a decade before the line is completed. In the meantime, Costa Rica has recently bought eight new trains to run on the original track. "That's a good intermediate step. It's at least going to challenge us to feed that train because it'll have more capacity," he says.
Other factors are changing the landscape of public transport in San José, too. Younger generations are increasingly using taxi apps such as Uber and DiDi. This gives people the flexibility to chop and change which transport they use and avoid drink-driving, says Gomez, although it also likely takes away riders from public transport.
The government, meanwhile, is strongly promoting electric cars, which doubled in number on Costa Rican roads last year. Still, the total is just over 1,000 and is unlikely to solve the congestion problem.
If you happen upon one of Costa Rica's gleaming tourism brochures, you are more likely to see a beach on the front page than a picture of San José. But with nearly half of Costa Rica's population living in the capital and its surrounding urban agglomeration, it's here the changes will need to begin if the country is to become truly zero carbon.
--
Jocelyn Timperley is a freelance climate change reporter. You can find her on Twitter @jloistf.
--
The emissions from travel it took to report this story were 0kg CO2: the writer interviewed sources remotely. The digital emissions from this story are an estimated 1.2g to 3.6g CO2 per page view. Find out more about how we calculated this figure here.
--
Join one million Future fans by liking us on Facebook, or follow us on Twitter or Instagram.
If you liked this story, sign up for the weekly bbc.com features newsletter, called "The Essential List". A handpicked selection of stories from BBC Future, Culture, Worklife, and Travel, delivered to your inbox every Friday.