More of us are wearing face masks to protect against the novel coronavirus. How do they alter our interactions with others?
I
It was a windy Sunday afternoon in early May 2020, and Samar Al Zayer was riding on the train in Amsterdam with her husband. They were travelling to visit her mother-in-law when a commotion broke out in their carriage. An elderly woman was agitated that a family of three had chosen to sit close to her and wanted them to move. 
As Al Zayer and her husband watched the row unfold, she was reminded of something from her childhood days growing up in Dhahran on Saudi Arabia's eastern coast.
"Stephan and I were both wearing face masks and I noticed he was trying to read my expression through my eyes a bit more than usual," recalls the 33-year-old clinical psychologist. "I said to him, 'This is how we used to communicate with people who wear veils.'"
Today, more than 50 countries mandate wearing masks in public. Many citizens in countries without strict regulations wear them anyway to protect themselves and others from catching coronavirus. (Read more about whether you should wear a face mask.) And in many countries, particularly in Asia, wearing masks – to guard against pollution, for example – was already the norm.
You might also like:
In countries newer to the practice, some people are struggling with having something covering our faces. "It's hard to breathe with a mask on" and "I can't have a proper conversation because my words sound muffled" are two common complaints. Charities have also warned that members of the deaf community and others with hearing problems may struggle if face mask wearing becomes common and widespread.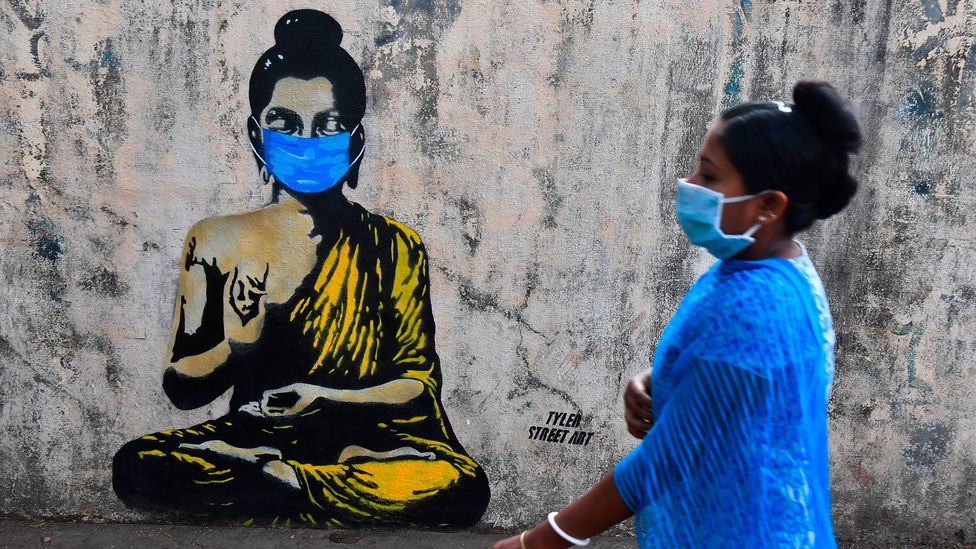 People around the world are wearing face masks to protect against the novel coronavirus (Credit: Getty Images)
But millions of women around the world wear face veils every day with few apparent problems with hindered communication. Obviously, a face mask differs significantly from a niqab or burka. A face mask is worn for medical reasons; a niqab or burka, a cultural or religious one. The two have very different meanings and motivations for the wearer.
Still, they all obscure parts of our face. What can we learn from women who veil their faces about how to communicate effectively? And do masks really impede our interactions with others as much as we may think? 
Humans tend to process faces as a whole, rather than focusing on individual features
In general, humans tend to process faces as a whole, rather than focusing on individual features, says psychologist Rebecca Brewer, who studies the role of facial expressions in the way we communicate emotion at the Royal Holloway University of London. "When we cannot see the whole face, such holistic processing is disrupted."
This holds true even in cultures, such as Saudi Arabia, where veiling is the norm, says Brewer. People still develop holistic processing skills because certain people, like men and children, do not cover their faces. And the women who do wear veils don't do so all the time, removing them at home or in female-only company.
Since our earliest days, human beings have been incredibly attuned to reading the facial expressions of others. This ability likely conferred upon us an evolutionary advantage, Charles Darwin posited in his 1872 book The Expression of the Emotions in Man and Animals. Learning how to read emotions from a face could aid social interaction, reduce misunderstandings and help a group function efficiently and harmoniously for the greater good.
Our eyes and mouth tend to be the most expressive parts of our faces (Credit: Getty Images)
When it comes to studying faces, the eyes and mouth are the most informative regions because they tend to be the most expressive. We subconsciously analyse their combined movements to figure out what someone is trying to tell us. Even so, each feature alone can communicate certain emotions especially well. The mouth region, in particular, is good for expressing feelings of happiness. Concealing this area can be problematic when wanting to come across as approachable and friendly – which might explain why a number of healthcare workers on the frontline have taken to adhering smiley-faced pictures of themselves onto their medical gowns in a bid to ease patient anxiety.
But relying on faces, partial or otherwise, can be misleading, cautions Aleix Martinez, an electrical and computer engineering professor at Ohio State University. Martinez is studying how we recognise facial expressions in order to teach machine learning algorithms to do the same. "We don't have to be happy to smile, and we don't always smile when we're happy," he points out. In fact, studies have shown that there are 19 different types of smiles – only six of which are associated with feelings of happiness and pleasure. The rest we use when we are scared, embarrassed and in pain, among other scenarios. 
The key to correctly interpreting facial expressions is to study body posture, body motion and context, he says. To illustrate his point, Martinez refers to two cropped pictures. In one, a young woman is frowning, tears pooling in her eyes. In the other, a red-faced man, brows furrowed, has his mouth open wide in an apparent scream. She looks terribly sad while he looks like he's going to kill somebody, says Martinez. But upon zooming out, you'll see that the pictures are of a star-struck fan and an ecstatic football player who's just scored a goal. 
Those, however, are extreme, emotionally charged scenarios. In such instances, faces are a poor gauge of underlying emotion.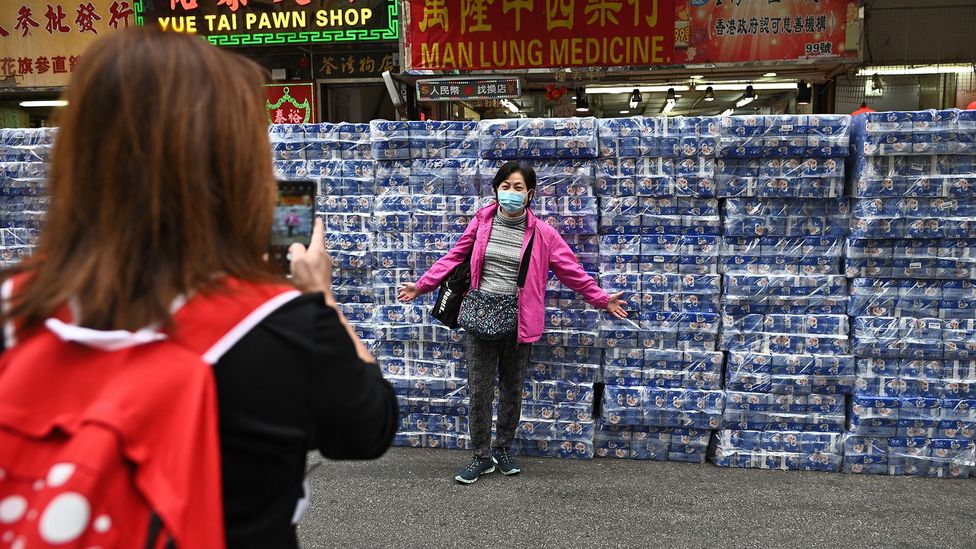 The key to correctly interpreting facial expressions is to study body posture, body motion, and context (Credit: Getty Images)
Under normal circumstances, facial expressions form part of a coordinated package of cues – including hand gestures, body language, words, pitch and tone, and even face colour – acting together in a congruous way to convey message and intent.
The fact that you're wearing a mask or that you have your face covered should not prevent others from understanding what you're trying to express non-verbally – Aleix Martinez
"As long as you have access to other cues, you're pretty much safe," says Martinez. "The fact that you're wearing a mask or that you have your face covered should not prevent others from understanding what you're trying to express non-verbally."
Al Zayer found this true of her experience living in Saudi Arabia. While she herself didn't cover her face, many of her aunts and colleagues did. "I would be a bit more aware of their non-verbals, keeping more eye contact to understand how they were feeling, to try and pick up on some sort of emotion. I would be more attentive to their tone and hand gestures as well," recalls Al Zayer. "It wasn't hard, but it was very different."
Maria Ali, 34, a homemaker from Rawalpindi in Pakistan who wears a niqab, agrees. She says she has never had any problems communicating with other niqabi women, even ones who are strangers. "With their gestures and voice, you can understand what they mean."
Ali and Al Zayer's experiences show that the onus does not have to lie on the person wearing a mask or face covering to make themselves heard – listeners can make any adjustments needed, too.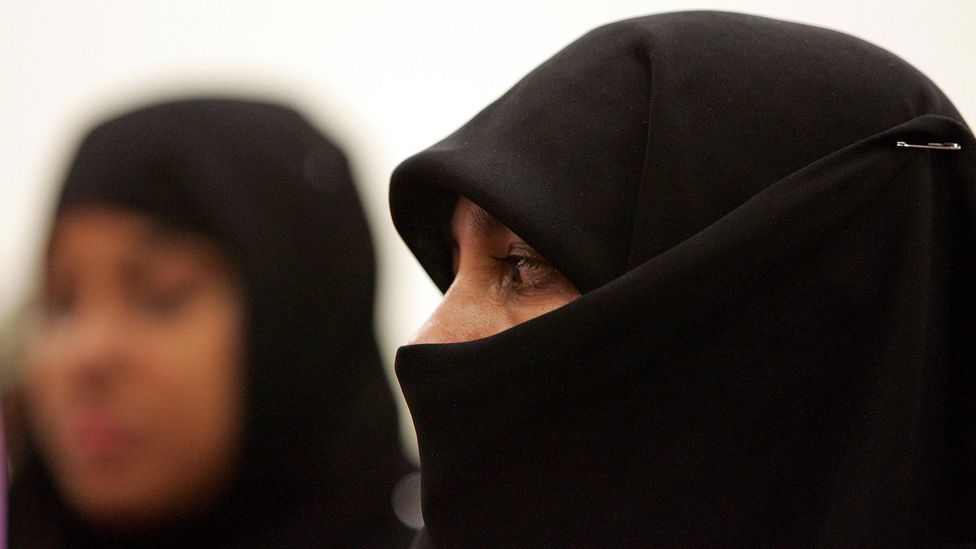 The onus does not have to lie on the person wearing a face covering or mask to make themselves heard – listeners can make adjustments, too (Credit: Scott Barbour/Getty Images)
Even so, other women say they have learnt to adjust their communication styles in subtle ways. "I tend to speak with greater vocal inflection when I'm veiled," says Marium Zafar, 23, a college student who lives near Atlanta, Georgia. "I vary my tone and pitch to clearly convey my feelings."
Over the years, I've learnt to use my eyebrows quite expressively – Marjaan Ali
Marjaan Ali, 23, from Thuwal, Saudi Arabia observes that her facial expressions differ when she has the niqab on. "I'm a bit more exaggerated," says the recent graduate. "And I've noticed that over the years, I've learnt to use my eyebrows quite expressively."
The eyes, the part of the face that remains unobscured even with a niqab or mask on, can also be incredibly revealing. Just ask Shakespeare: "the eyes are the windows to the soul". Psychologists believe that people can infer the mental states – emotions, beliefs, desires, intentions, etc. – of others by simply looking at their eye region, in what is known as "theory of mind". The concept forms the basis of the popular Reading the Mind in the Eyes test, which is commonly used to assess whether someone might have autism, Asperger Syndrome, borderline personality disorder, or other neurodevelopmental conditions.
For people with hearing difficulties, though, having the mouth covered is still a major barrier. At least 5% of the world's population has disabling hearing loss, and reading a person's lips and facial expressions can be an important part of communicating, even for those who use sign language. In some countries, volunteers and charities have been attempting to overcome the problems that face masks present to people with hearing difficulties by creating transparent windows in the masks. The charities believe that giving the transparent masks to staff working on public transport, in hospitals and behind counters could help to prevent people in the deaf community from becoming excluded.
Having a mask on also can sometimes feel like there is a physical barrier between you and the person you're communicating with. That's especially true if you're trying to have a deep, meaningful conversation with someone rather than a fleeting interaction at the grocery store, says sociologist Harris Ali from York University. "I think in these instances there's a natural tendency – in an almost unthinking manner – to take off the mask to speak." (In the case of the novel coronavirus, that is, of course, exactly when you shouldn't remove your mask).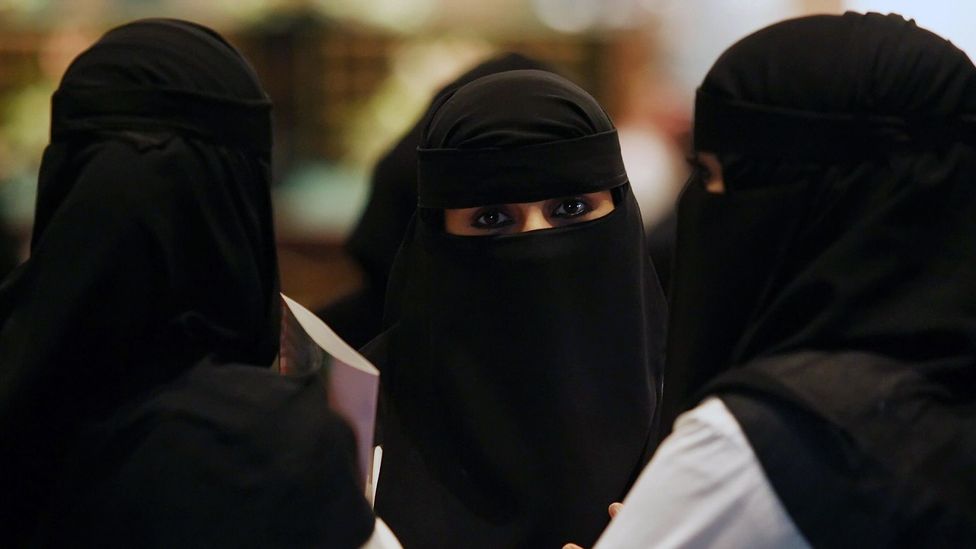 Women who wear a niqab say that a niqab is much more comfortable than a medical face mask (Credit: Hassan Ammar/AFP/Getty Images)
Women who cover their faces, though, say this isn't necessarily the case – and much of that might be because their face coverings tend to be more comfortable. "I don't think a face mask and a niqab can be compared 100%," says Ali from Thuwal. Masks are usually made from multiple layers of melt-blown fabric and plastics such as polypropylene, and are fitted tightly over the nose and mouth. Niqabs, by contrast, are thin pieces of cloth that are secured over the nose, but hang loosely over the chin and jaw region.
"The feeling of wearing it is very different," says Ali. "I find my face gets very hot when I wear a face mask, whereas with the niqab it generally doesn't."
As the pandemic continues, the face mask looks unlikely to leave anytime soon. Given that reality, it might also be a case of learning to adjust for all of us. If you find yourself struggling, psychologist Al Zayer has this advice to offer: "Over-communicate – use more words than you normally would, and ask more questions, to make sure you're correctly picking up on the other person's emotions. Learn how to use your other senses and body language, too."
--
As an award-winning science site, BBC Future is committed to bringing you evidence-based analysis and myth-busting stories around the new coronavirus. You can read more of our Covid-19 coverage here.
--
Join one million Future fans by liking us on Facebook, or follow us on Twitter or Instagram.
If you liked this story, sign up for the weekly bbc.com features newsletter, called "The Essential List". A handpicked selection of stories from BBC Future, Culture, Worklife, and Travel, delivered to your inbox every Friday.