With half of the world's new buildings to be constructed in China – how can it build them better?
I
In the north of Beijing, not far from the "Bird's Nest" National Stadium, a four-storey orange building hums quietly. It doesn't look too different from the other buildings on the campus of China Academy of Building Research, or from the millions that rise up every year in China. Yet, it is running on only one-fifth of the total energy used by similar office buildings in the capital city.
The building is part of a movement to make China's buildings more sustainable. By some estimates, almost half of the world's construction will take place in China in the coming decade. The country already builds two billion sq m of new floorspace each year – if laid out over a single storey, that would cover 1.3 times the size of the entire footprint of London. It's an extraordinary figure, especially when you consider that worldwide, the buildings and construction sector accounts for around 39% of carbon dioxide emissions released from energy use and industry.
Over the years, China's rapid economic growth has significantly increased buildings' energy use and posed a significant challenge for the environment. From 2001 to 2016, the primary energy consumption in China's building sector more than doubled, reaching the equivalent of just under a billion tonnes of coal. And the carbon cost of constructing buildings in the first place, including the raw materials and energy used throughout the supply chain, makes up around a fifth of China's carbon emissions.
"What China needs to do is to ensure people's life quality continues to improve but not at the expense of a speedy rise in buildings' energy consumption," says Zhu Yingxin of Tsinghua University, a researcher who has developed green architecture standards in China.
How can China go about this enormous task?
You might also like:
One of the most visible ways that architecture is becoming greener in China is the most literal one – through vegetation-rich tree-covered buildings.
Italian architect Stefano Boeri has been a pioneer of the vertical forest. Since debuting the Bosco Verticale, a pair of verdant high-end residential buildings in Milan, Boeri and colleagues have turned to China for their next vertical forest, to be built in Nanjing, the capital of Jiangsu province in the East of the country. 
Planting trees in cities would be helpful to counter the new high-rises' CO2 emissions, as well as reducing urban air pollution. But, in China's dense urban areas where space is often at a high premium, the appeal of creating forests that spread upwards, not outwards, is becoming an increasingly attractive option.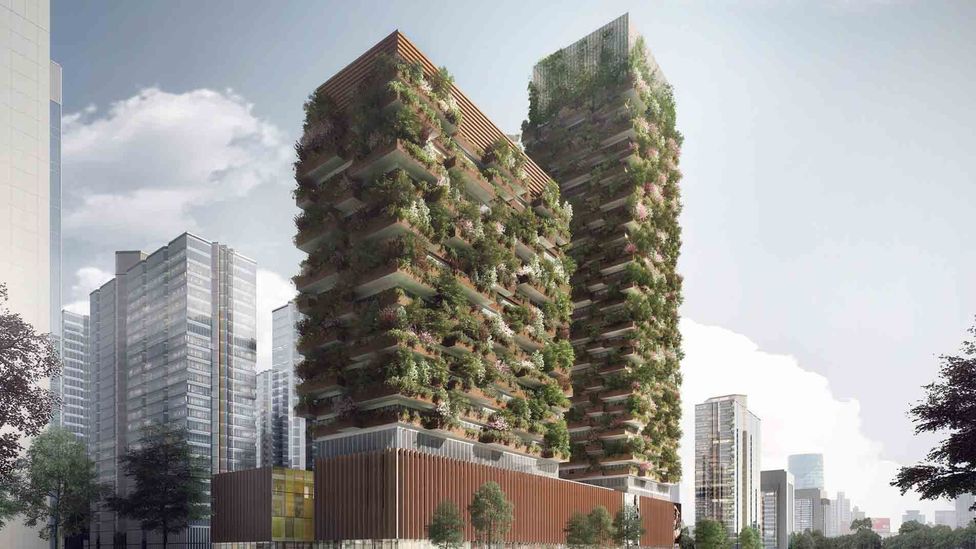 Building greenery into high-rises maximises the opportunity for forests in urban areas where space is at a premium (Credit: Stefano Boeri Architetti)
Nanjing's two green towers were set to complete in late 2020, but the project has been delayed by the pandemic. The buildings will harbour 2,500 shrubs and more than 1,000 trees on their facades. Right now, some 600 trees from local species, such as Chinese photinia, cherry trees and ginkgo, are growing in a suburban nursery, destined for the towers' walls. They will be grown to a height of six to nine metres, before they are ready to be taken to the site.
Yibo Xu, who is a partner at Stefano Boeri Architetti and leads its Shanghai office, explains that the trees will go through wind-tunnel experiments to test their strength before workers install them on the towers' terraces and balconies, where they will improve the microclimate and biodiversity. The experiments simulate the winds the trees might face at different heights of the building, to make sure trees are put at a safe height for their size, lowering the risk of them falling down during storms.
Cement alone releases 8% of the world's global carbon emissions each year
Many provinces in China have introduced policies that encourage making greenery an integral part of high-rises. In Zhejiang province, for example, a building with "sky garden balconies" can exempt these green spaces from its total floor area when calculating the plot ratio. This ratio is a building's gross floor area (of all floors) to the size of the plot that the building sits on. Lower plot ratios mean more livable environments, and so the property can be sold for a higher price. It's quite a practical incentive, Xu says.
But to get the full effect, you can't just add vegetation to a building here and there, notes Malaysian eco-architect Ken Yeang. Instead, greening a building requires careful planning, to make sure that the trees are well connected with others of their species nearby, to ensure a continuous habitat that benefits animals, birds and insects.
Although green buildings like this require a great deal of planning, to the architects, it's worth it. "We have many tools nowadays if we want to reduce the production of CO2," Boeri says. "But we only have one way to absorb the CO2 already produced." That's drawing carbon down from the atmosphere and storing it in another form – the most efficient mechanism for which is vegetation.
It's an admirable sentiment; but the vertical forests in Nanjing are expected to absorb just 25 tonnes of CO2 every year – about the same as 10 round-trip flights from Beijing to London. But even if vertical forests become widespread, it will take a lot more to make a dent in the carbon emissions of China's construction industry.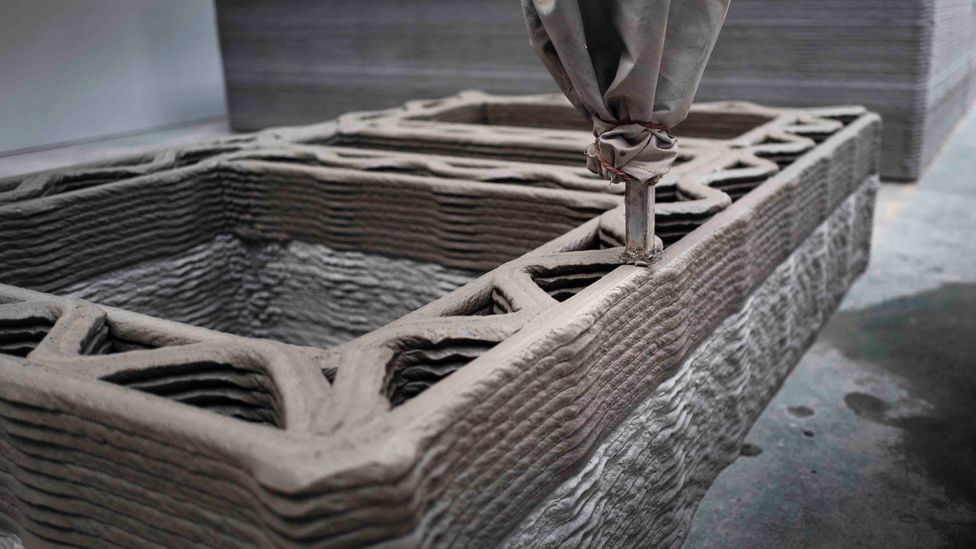 The 3D-printing construction company WinSun uses recycled materials in the "ink" to print its structures (Credit: Winsun)
Sourced from places like steel mills, coal plants and urban construction sites, solid wastes are sorted, granulated and processed into the ink that feeds the 3D printer
One way to get this figure down is to use recycled construction materials. About 170 miles (270km) away down the Yangtze River, which flows from Nanjing to Shanghai, a company called WinSun has been turning recyclable materials into a cluster of 3D-printed buildings, claimed to be the largest of its kind.
WinSun is the brainchild of Ma Yihe, a mechanical engineer turned entrepreneur. With Ma's 3D-printing technology, only nine workers are needed to work on the seven buildings in that cluster – a job that would traditionally take a 200-people team. Tonnes of wood panels are saved too, because a 3D printer has no need for scaffolds.
At the center of this cluster of buildings is WinSun's sustainable 3D printing "ink". Sourced from places like steel mills, coal plants and urban construction sites, various solid wastes are sorted, granulated and processed into the ink that feeds the 3D printer. This substance is not entirely second-hand though, as it also requires a certain amount of desert sand, as conventional concrete does. The steel mill wastes are the easiest to process, Ma says, and can be used for up to 60% of the building ink.
From recycle to reuse
Better still than grinding down waste materials to create a new building is to repurpose one that already exists.
In China's Xiong'an New Area, about 60 miles (100km) south-west of Beijing, a deserted clothing factory has been repurposed into an office building. Liu Heng, director of the Green Architecture Design and Research Institute, is the architect behind the project. He kept the major structures of the old factory, created new floor surfaces with pieces of old glass, and used chunks of old cement from the building to build walls in the yard outside.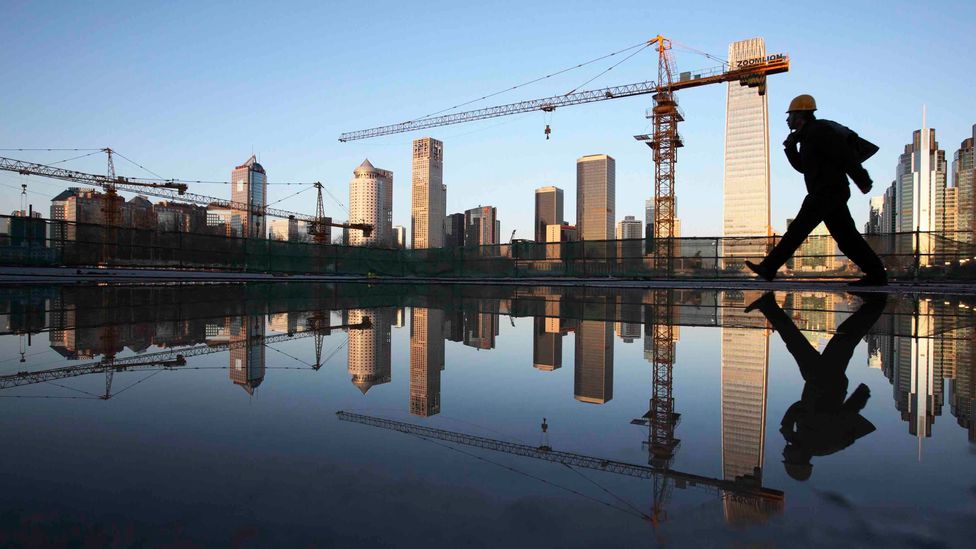 The emissions from construction, including use of raw materials, was equivalent to burning one billion tonnes of coal in 2015 (Credit: Reuters)
The most important renovations were for energy efficiency; for example, Liu installed a "curtain wall" to form an all-around corridor where the air in that space reduces heat exchange between the outside environment and the main office. A staff member working in the center once told a TV reporter that in one winter the building stayed around 18C without heating. The coldest month in Beijing has an average temperature of -3C.
Liu agrees with Ma that 3D printing would allow a better future for architecture, because of its speed, its need for fewer laborers, and its potential to minimise construction waste. "If they use certain materials to enhance the 3D printed house's insulation properties, that would be even better," he adds.
Finding ways to use of the structure and design of a building to heat or cool it without mechanical means – known as passive design – is something that Beijing-based architect Dong Mei has been exploring for almost 20 years. One of her major projects was to design a teaching building for Peking University in Beijing in 2005 – the year that China issued its first guideline on developing energy-efficient public buildings.
The building has a central corridor that acts as a light well over five floors, to reduce the need for artificial lighting. It also helps to reduce electricity usage, serving as warm greenhouse in winter and a source of ventilation in summer. The corridor uses an automatic system that turns lights on and off in the building's classrooms based on students' movement. Dong had plans, too, for a retractable shading system for the building's facade, to control the amount of sunlight warming the building.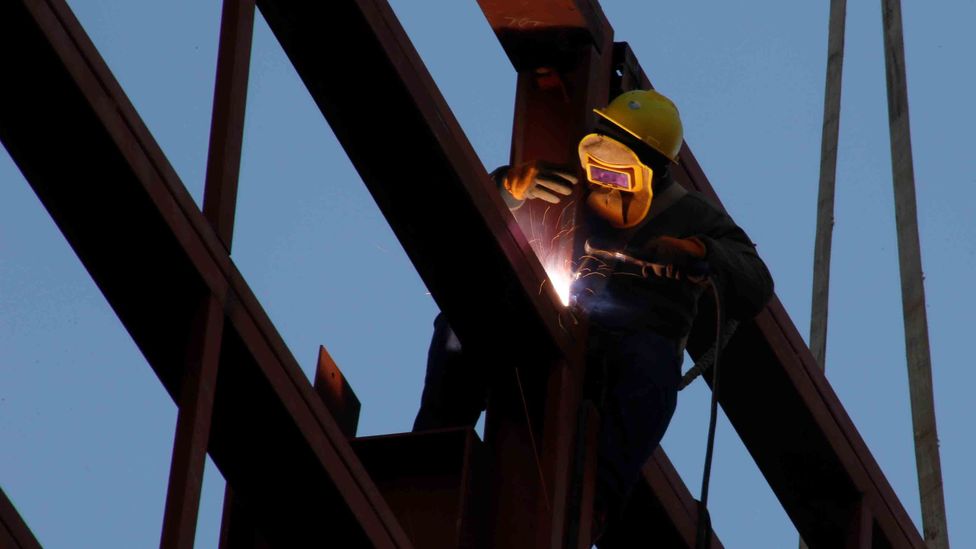 Technologies that have successfully helped buildings in the West have a lower carbon footprint won't necessarily have the same effect in China (Credit: Reuters/Thomas Peter)
It was an ambitious project, and Dong's final touches didn't make it through to completion as the university believed the retractable shade would be too complicated to build. To this day, Dong regrets not attempting the shading system. "Our calculation showed that the shade could reduce the air conditioning usage for cooling by more than one month each year," she says.
Such resistance is something that resonates with others wrestling to realise their green solutions. "Refusal to try something different" is one challenge Malaysia's Yeang points out when asked about his experience doing business in China. The 3D-printing entrepreneur Ma Yihe says he too has encountered similar issues when negotiating with traditional architectural companies.
Many truly passive designs, which use no fuel for heating or cooling, already exist in China's traditional houses
The slow acceptance of novelty can be a challenge, but in other respects it might also be an advantage. China's energy consumption per building unit is still much lower than countries in the West, says Tsinghua University's Zhu Yingxin. The difference is down to cultural and behavioural differences, she says, such as a preference for natural ventilation and a tendency to use moderate rather than icy AC.
Given this preference for low-energy means of temperature control, if those working in China's building sector simply copy the west's energy-saving practices – which usually mean a tighter mechanical control of the indoor environment – it would lead to an unnecessary rise in energy consumption instead, Zhu says. To practice green architecture in China, technologies need to be designed that best suit the local conditions, she adds, from climate to culture.
Many truly passive designs, which use no fuel for heating or cooling, already exist in China's traditional houses. There are the thick-walled cave dwellings (Yaodong) on the Loess Plateau in China's north, and the ancient Huizhou courtyards in the south. These courtyards help to regulate temperature via the stack effect, in which warm air rises through a tall space and draws a draught of cooler air in below.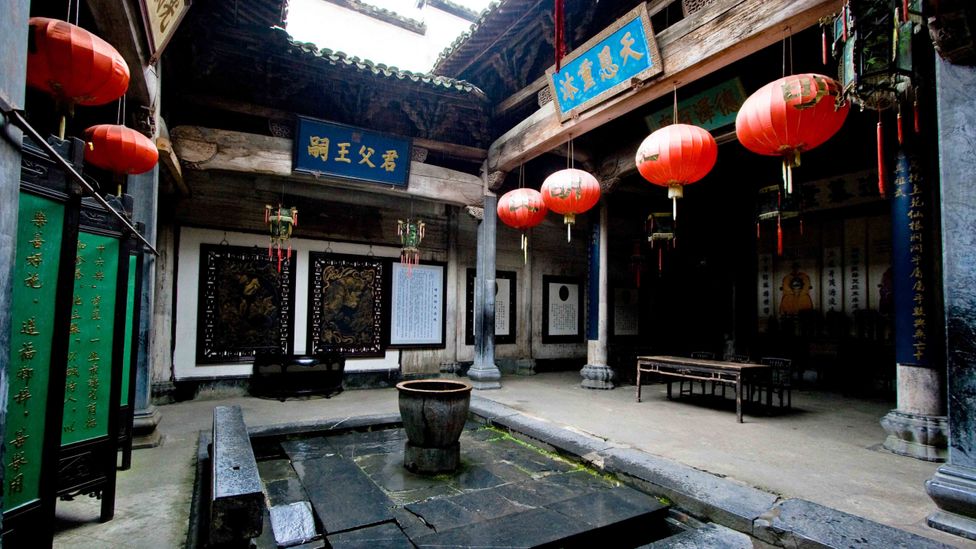 Traditional courtyards with a central well can help regulate temperatures without using mechanical means (Credit: Alamy)
Architects can use modern technologies to further improve such designs, says Zhu, such as adding ceiling windows to a courtyard to trap heat in winter – the same principle that Dong used in her glass-ceilinged corridor design. Sometimes, even with all the benefits of modern technology and innovative architecture, the designs of the past have all the inspiration you need.
Zhu is optimistic about the sustainable development of urban architecture in China, which she says has been one of the key areas promoted by the government and the industry. As of the end of 2018, China had more than 10,000 architectural projects certified as "green". A three-star rating system uses a checklist to assign points to buildings based on their land, energy, water and materials savings, as well as the building's indoor environment quality, among other features.
It's not a foolproof system, Zhu notes, as most of these certificates are only based on building design, rather than how the building actually performs in the real world – but it can be seen as indicative of a trend. In 2017, China set a goal to have 50% of all its new urban buildings certified as green by the end of 2020.
The rate of urban development in China is fast, but so too can be the pace of change. If half the world's construction is indeed to happen here this decade, then raising the bar for sustainability could have an outsized impact on emissions from the built environment worldwide.
--
The emissions from travel it took to report this story were 0kg CO2: the writer interviewed sources remotely. The digital emissions from this story are an estimated 1.2g to 3.6g CO2 per page view. Find out more about how we calculated this figure here.
--
Join one million Future fans by liking us on Facebook, or follow us on Twitter or Instagram.
If you liked this story, sign up for the weekly bbc.com features newsletter, called "The Essential List". A handpicked selection of stories from BBC Future, Culture, Worklife, and Travel, delivered to your inbox every Friday.