In central Kenya, hail the size of boulders can devastate a farm in a matter of minutes. How do you rebuild a life after such a destructive hailstorm?
T
The best way to describe an intense hailstorm is like being caught in a violent riot, says Jane Nderu, a farmer in central Kenya. One does not know where the next teargas shot or hurled stone will land. The intensity of hailstorms can range from showers of small pellets to boulders much larger than a fist. Such hailstorms only used to occur at the start of the rainy season, Nderu says, but now they are happening any time of the year.
Hailstorms have always been a part of life in Kenya, but many farmers have noticed the problem worsening. Peter Muniu, another farmer from central Kenya, also notes changes in hailstorms in the 37 years he has lived here. "Not only have the hailstorms become irregular but the falling objects have become bigger," he says.
The latest hail shower struck at the beginning of January 2020, leaving his village littered with icy boulders. "Initially we would know when the hailstorms would come and be prepared. But these days it is very difficult to predict their arrival," says Muniu. "This is bad for farmers like us who grow crops in open fields."
You might also like:
During a good season when there are no weather extremes, Muniu's quarter-acre parcel where he grows snow peas can yield as much as 100kg (220lb) of the vegetables at harvest. But when a hailstorm strikes, it can either uproot maturing plants, or make ripe beans appear as if they have been visited by disease, he says. A farmer can only use the damaged pods as feed for livestock.
One pressing question is whether these hailstorms are linked to climate change. It's a complex question to answer, according to Ali Ramtu, the senior acting director in charge of meteorological services at the Kenya Meteorological Department. This is because there are many factors involved during the formation of hailstorms, such as the level of moisture rising into the atmosphere in a particular area, the intensity of wind currents and temperature ranges.
Elsewhere, in the Netherlands, modelling studies have suggested that hailstorm damage to outdoor farming could increase 25-50% by 2050. But while such long-term forecasting studies in Kenya are scarce, some changes have already been noted, says Ramtu. "As seasonal patterns become erratic... there has been an increase in irregular hailstorms over the last decade due to increased warming," he says.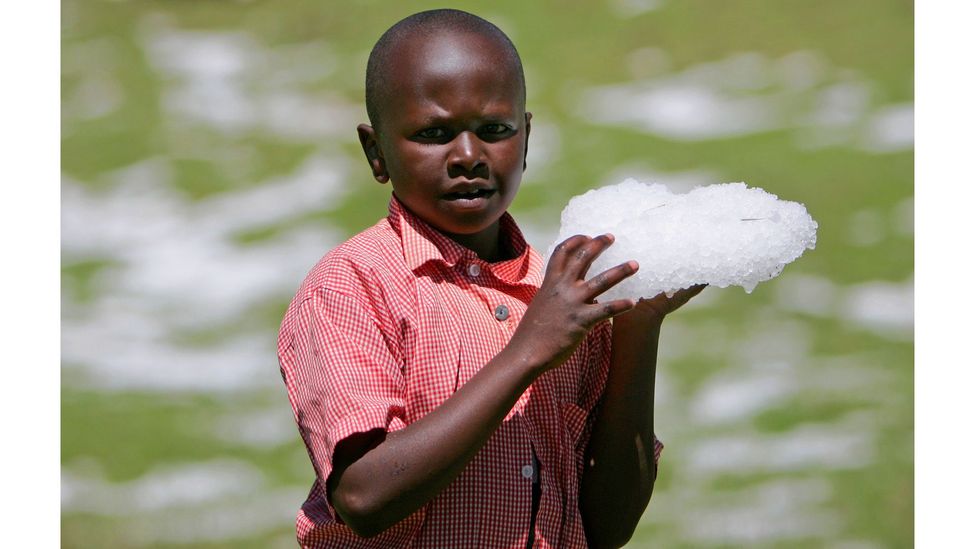 Hailstorms have become more unpredictable in Kenya in recent years (Credit: Reuters)
James Wangugu, from Mutamaiyu village in central Kenya, almost gave up farming in 2018, after growing snow peas for more than 20 years, because of the unpredictable hailstorms. "There are times I do not harvest anything because all my crop is damaged," says Wangugu.
Farmers of central Kenya and the rift valley region have tried several options to build resilience against irregular hailstorms, including growing fresh produce in greenhouses. But even the greenhouses are often torn open upon impact by the icy rocks, and pulses like snow peas only thrive when grown on open fields.
Realistically, the only option when a crop is devastated by hailstones is to start again. That requires funding that a smallholder might not have.
Wangugu was troubled by these irregular strikes because when he lost his harvest, he had very few options. He had to sell his produce to raise money for supporting his family and buying seed for the next planting season, but mainstream banks refuse to lend to smallholder farmers because they consider them a high-risk group. "Even when you have an account with a bank and offer a land title deed as collateral, they [banks] refuse to lend money," says Wangugu.
But some institutions have started to offer "smart loans" to farmers like Wangugu to help them rebuild their farms. Millicent Omukaga, the head of operations at government agency Agriculture Finance Corporation (AFC), describes the loans as "alternative collateral". This means farmers do not have to attach their land or property as security for them to qualify for financial support. All they need is to be members of an active local farmers' group.
"Smallholder farmers are the backbone of agriculture in Kenya," says Omukaga. "But they have small farms where some of these parcels do not belong to them but to their ancestors. Others are in [land-sharing] schemes. Hence they are not able to stand on their own when exposed to vulnerabilities linked to climate change," says Omukaga.
The loans can be distributed in several different ways. One is to pay directly to farmer groups, who together are seen as more likely to be able to repay the loan. The second is where a farmer group enters into a contract with a local retailer that can supply them with seeds and fertiliser. Here, AFC gives loans to farmer groups through the retailer. Then the farmer sells produce to the retailer at a discounted rate. This arrangement ensures the farmer services the loan with the produce while the retailer repays it directly to AFC, and also supplies the farmers with the materials they need.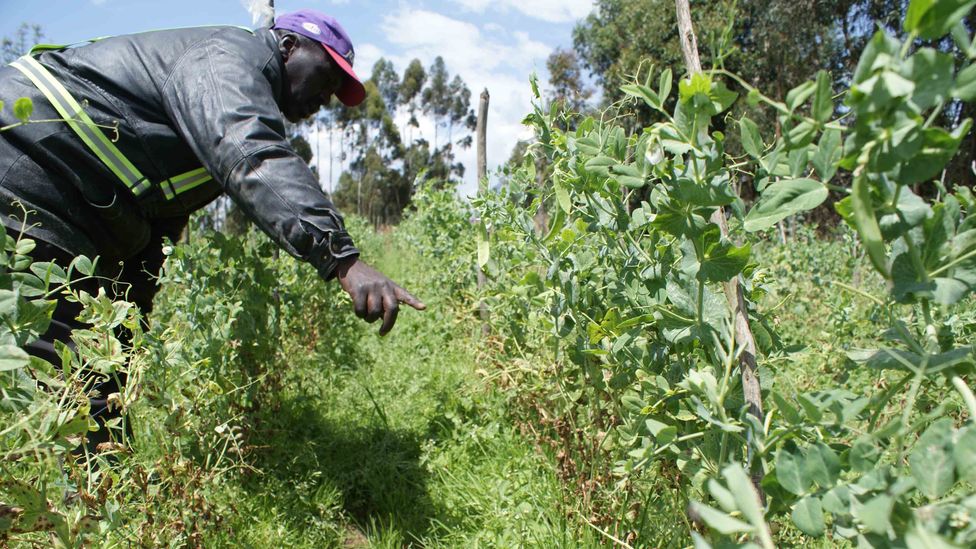 Peter Muniu, a farmer from Mutamaiyu village in central Kenya, points to part of his damaged crop of snow peas (Credit: David Njagi)
These days, James Wangugu does not seem worried as he empties a pile of damaged snow peas into a garbage bin inside a collection center in Mutamaiyu village. Wangugu is a member of his village's farmers group, the Mwendi Kurima (which means "passion for farming" in English). "The problem here has always been capital to start again." He now has enough funding to recover from hailstorm damage and poor yields, he says.
The uptake of these kinds of loans by farmers troubled by the effects of climate change has been picking up pace in Kenya since 2015, according to Rhoda Kigotho, a consultant with liaison development associates, a social enterprise in Kenya. The AFC, for example, has given such loans to more than 94,000 farmers in Kenya so far. The success of these loans, says Kigotho, comes from lenders working with the government and international charities, such as World Vision, Alliance for a Green Revolution in Africa and the International Fund for Agricultural Development.
On its own, the government seems to be indecisive on how it can help its farmers recover from climate linked disasters, says Kigotho. Kenya established a national disaster risk-management bill in 2016, aimed at creating a disaster fund to help Kenyans recover from extreme weather events. Four years down the line, the bill is yet to be enacted into law. "Without a disaster-recovery policy, farmers experiencing losses due to weather extremes cannot push the government to help them," says Kigotho. "This has caused suffering, destitution and despair."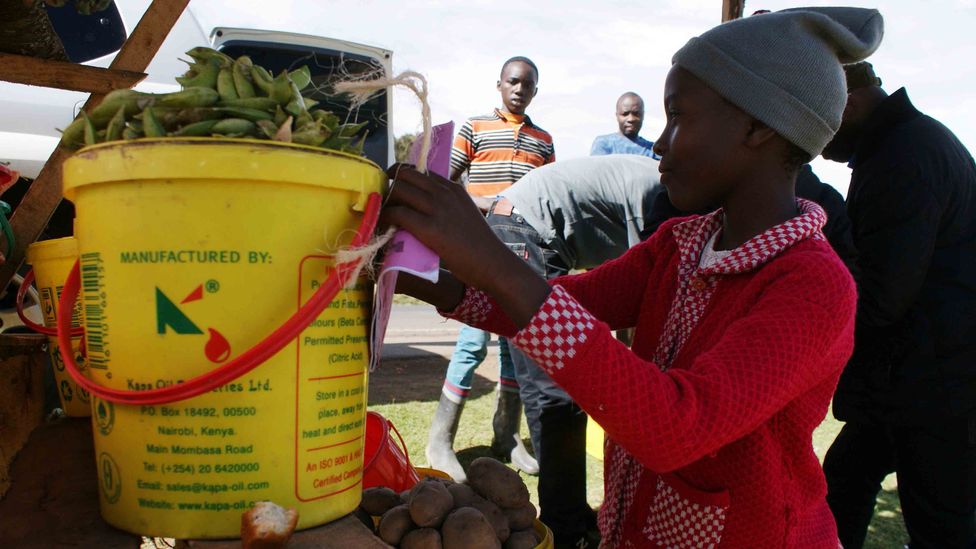 There is no effective physical protection for outdoor fresh produce in Kenya, so the solution for farmers is ensuring they are able to start again (Credit: David Njagi)
Another option being considered is a frost and hailstorm insurance package for farmers in eastern Africa. The German Corporation for International Cooperation has been investigating the prospect, but Joseph Chegeh, the portfolio manager at Agriculture and Climate Risk Enterprise, says this could take years to develop because of the difficulty in tracking when hailstorms may strike and the question of their link to climate change.
While loans are helping to build resilience among farmers, they aren't enough, says Muniu. A greater number of remote weather stations in villages would help keep farmers alerted about erratic weather, he says, and to take precautions when they are able to. "It is not only hailstorms that make us experience losses. Prolonged drought, floods and frostbite are also a big problem to our crops here," says Muniu.
While extreme weather events are by their nature unpredictable, what does look certain is that farmers like Nderu, Wangugu and Muniu are likely to see more of them as the climate crisis progresses. That certainty makes it look like an economic safety net is set to become an ever more crucial part of life in rural Kenya.
--
The emissions from travel it took to report this story were 19kg CO2. The digital emissions from this story are an estimated 1.2g to 3.6g CO2 per page view. Find out more about how we calculated this figure here.
--
Join one million Future fans by liking us on Facebook, or follow us on Twitter or Instagram.
If you liked this story, sign up for the weekly bbc.com features newsletter, called "The Essential List". A handpicked selection of stories from BBC Future, Culture, Worklife, and Travel, delivered to your inbox every Friday.