Fifty years ago, Hong Kong's landmark harbours were brimming with filth. It took a controversial project tunnelling under the crowded city to make the waters safe.
F
From the 1970s and well into the early 2000s, Hong Kong's Victoria Harbour reeked. Unprecedented growth might have turned the territory – whose name ironically translates into English as "Fragrant Harbour" – into an economic tiger, but a growing population, as well as industrial and agricultural expansion, transformed its harbour into a cesspool.
It was filled with human excrement and effluent from farms that raised pigs and chickens, as well as untreated water loaded with chemicals and metals from textile and metal-plating industries located in the New Territories. Tests would show that the water had high levels of coliform bacteria, including E. coli, an indication of pollution due to faecal contamination, which made the water a health hazard.
In 1989, the government revealed in a policy paper that of the two million tonnes of sewage and industrial wastewater generated by Hong Kong every day, just 10% received some kind of biological treatment; 40% received partial treatment and was released through submarine pipes extending tens of metres beyond the seawall. The remaining 50% went straight into the sea, close to shore, with no treatment of any kind. Many areas in the territory were also developed without proper sewage mains, and four in five sewage treatment facilities didn't meet required standards.
Virendra Anand lived on a boat in the Causeway Bay Typhoon Shelter from 1991 to 1993. "Back then, those of us who had boats never needed anti-fouling, which would normally be needed every two to three years to prevent barnacles from sticking to the hull," says Anand, whose company was involved in what would become the Harbour Area Treatment Scheme. "The joke was that nothing stuck to the boat because we were floating on sewage."
You might also like:
The 1989 paper would eventually form the basis for an ambitious, three-stage system where sewage would be collected from different parts of Hong Kong and sent back to a proposed treatment plant to be built on Stonecutter's Island, on the western side of Victoria Harbour.
But it was a controversial project. China claimed the disposal scheme, due to cost $1.55bn at the time, was too expensive and would have a negative impact on the marine environment in the Pearl River Delta. Some local environmentalists said the treatment didn't go far enough, and that it was dangerous to send partially treated effluent back into the sea. But China's opposition also triggered concern from conservationists like Joanna Ruxton, who were worried that the project would stall after the 1997 handover, because the perception at the time was that China would not prioritise environmental protection.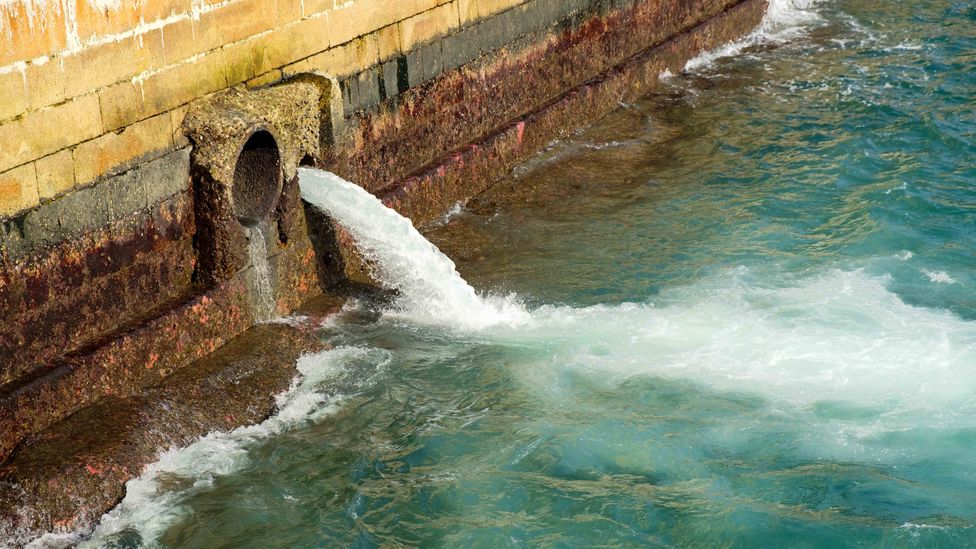 In the 1980s, half of Hong Kong's sewage and industrial wastewater went straight into the sea without being treated (Credit: Getty Images)
Despite political opposition, construction of the disposal scheme tunnel system began in 1995, although it encountered challenging geological conditions – the tunnels were to be built into hard granitic and volcanic rocks. The project was suspended in December 1996 because contractors were struggling to carry out the work. Critics accused Hong Kong's Drainage Services Department of carrying out inadequate site surveys that failed to account for pre-existing underground structures. By that time, researchers studying pollution in Victoria Harbour noted that bacterial levels in the water were similar to those found in raw sewage.
After this false start, the project restarted in 1997, but the formidable challenges it faced had not gone away. The tunnels needed to avoid the labyrinth of Hong Kong's Mass Transit Railway system, cross-harbour tunnels, building foundations and the underground network of gas pipes, telecommunications wiring and electrics. As a result, the sewage tunnels would have to be built between 70 to 160m below sea level, which put them at risk of groundwater flooding. In order to get around these challenges, contractors made use of a "drill and blast" method, while building structures to keep fault zones and fractured ground stable at the same time. In all, contractors made use of about 2,000 tonnes of explosives to get the job done.  
Immediately after a period of heavy rain, the sea becomes a horror story. Rainwater washes out every nullah or open drain on every hillside – Stephen Davis
When the initial tunnelling was completed in 2001, Hong Kong had a 23.6km network of interconnected tunnels within which a sewage conveyance system could be built, and a treatment plant at Stonecutter's Island ready for action.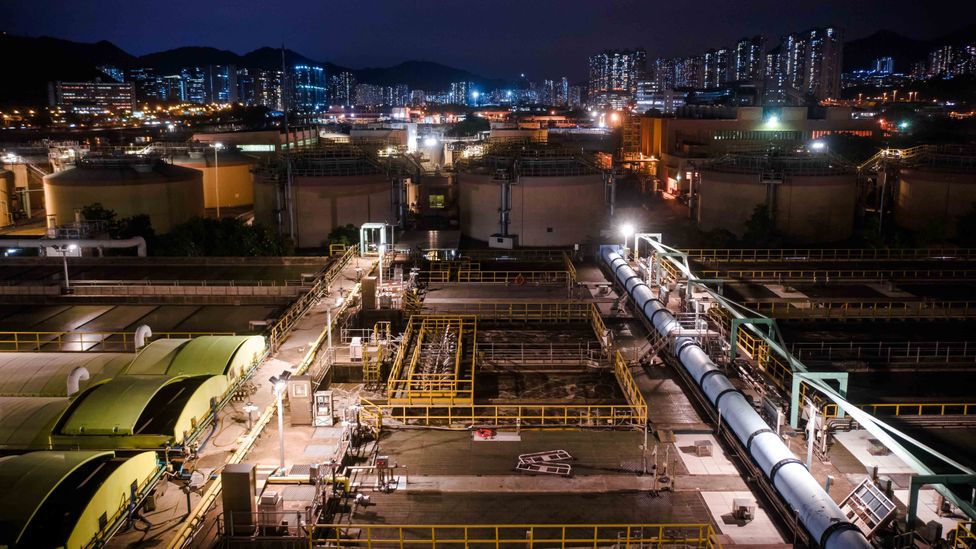 The drainage system beneath Hong Kong was thought to be prohibitively expensive and impractical given the dense network of underground tunnels already there (Credit: Getty Images)
It brought immediate relief to the pungent Victoria Harbour. The upgrade of treatment works, and the vast network of underground sewer pipes removed 70% of organic pollutants, and 80% of suspended solids. The first stage of the project saw a 50% reduction in E. coli. The start of the second stage, which was completed in December 2015, saw the construction of an additional 21km of underground pipes, linking up the remaining sections of the territory to the sewage treatment facility. In all, the project added a critical, 45km long, 160m deep, sewage conveyance system to the territory's existing sewage system. Today it channels 93% of the territory's effluent to Stonecutter's Island for treatment.
The average E. coli count in Victoria Harbour in the period 2016-2018 was 92.5% lower than it was between 1997-2001, notes Kenneth Leung Mei-Yee, a professor at the Swire Institute of Marine Science at the University of Hong Kong. That change allowed swimmer Edie Hu to hit the water in 2018, to become the first Asian woman to complete a 45km swim around Hong Kong island for charity. Hu didn't report any ill effects from her considerable time the water.
But, so far, the project is only half done. The Hong Kong government decided to shelve the next phase of the project in 2017, which had called for the building of a secondary biological treatment facility. Instead it is looking to deal with pollutants that come from storm drains and illegal discharge, which flow straight into Victoria Harbour.
"Plenty of sea-borne pollution is triggered by heavy rains that washes everything out of the urban drainage system," says Stephen Davis, marine historian at the University of Hong Kong. "So immediately after a period of heavy rain, the sea becomes a horror story. Rainwater washes out every nullah or open drain on every hillside, and these are full of plastic bags and sweet wrappers, so all the refuse is washed out onto the surface of the sea or just under it." Aside from single-use plastics, there is also marine refuse, oil spills from ships that go to and from the container terminal, decaying algae, as well as sediments found near drainage outlets and in the seabed.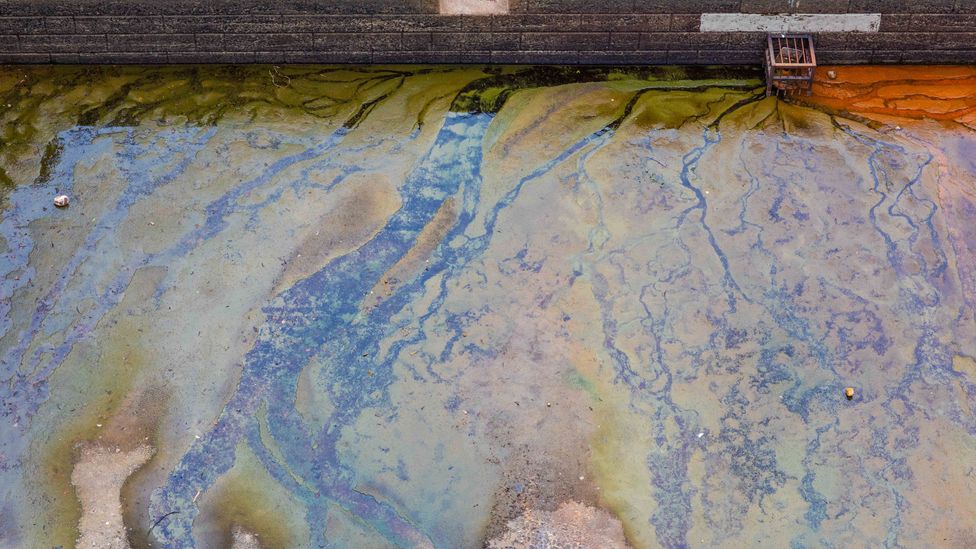 Oils, algae and other pollutants like plastic often find their way into Hong Kong's waterways after a storm (Credit: Getty Images)
Then there are also the challenges posed by heavily populated regions up the Pearl River Delta. Experts like Davis and Leung are wary of what the tides bring. "When the high tide comes, water from the eastern side of Hong Kong with clean water comes into the harbour. But during the low tide, discharge from the Pearl River Delta can make its way into the harbour, having a direct impact on the harbour's water quality," Leung said.
Christine Loh, former undersecretary for the environment, believes it is possible for Hong Kong to keep its waters clean, but the territory needs to look at the bigger picture. "Victoria Harbour, like any body of water, has to be seen in context. All activities can cause pollution and environmental disruptions. Local pollution can be better controlled but disruptions that are caused through physical changes, such as reclamation, must also be looked at," says Loh. "Reclamation can cause changes in water flow, which can in turn lead to dead zones."
Loh also stressed that Hong Kong can't do this alone. "China's policies relating to the ocean economy need to be taken on board by Hong Kong," she says, so that the way coastal infrastructure is planned makes sense across the region.
It may have taken decades, and billions of pounds to get this far, but the results of the intricate tunnelling work to create the drainage system are palpable. In place of water little cleaner than raw sewage, the waters around Hong Kong now somewhere that the brave can swim, at least when the tide is right.
--
The emissions from travel it took to report this story were 0kg CO2, as the writer interviewed sources remotely. The digital emissions from this story are an estimated 1.2g to 3.6g CO2 per page view. Find out more about how we calculated this figure here.
--
Join one million Future fans by liking us on Facebook, or follow us on Twitter or Instagram.
If you liked this story, sign up for the weekly bbc.com features newsletter, called "The Essential List". A handpicked selection of stories from BBC Future, Culture, Worklife, and Travel, delivered to your inbox every Friday.