One of the most robust laws on climate change yet has been created in Denmark. Can legislation really make failing to act on climate change illegal?
I
Imagine this: it's 2030 and a country has just missed its target for cutting carbon emissions, that was set back in 2020. People are frustrated, but several governments have come and gone since the goal was set. "Don't blame us," the current government says. "We didn't take the decisions that led us here."
The short-term cycles of government can be a real problem for climate change. Even if climate goals are laid down in law, there can often be few concrete measures to stop a succession of governments from taking decisions that collectively end up with them being missed.
But a new and ambitious climate law recently passed in Denmark tries to find a way around this problem, and some of the other common pitfalls of climate laws. It makes Denmark one of a small number of countries beginning to provide new blueprints of how government can genuinely tackle climate change. Its law could turn out to be one of the closest things yet to a law that would make climate change – or at least the lack of effort to stop it – genuinely illegal.   
You might also like:
In January 2019, a petition was launched for a climate law that would bring Denmark in line with the Paris Agreement. After one week, it had been signed by more than 50,000 people – around 1% of Denmark's population.
The demands of the petition failed to gain overall parliamentary support at the time, but became part of a growing climate movement that swept Denmark last year, along with much of the world. By the time Denmark's election arrived in June, climate change had become a top election issue.
"The parties kind of overbid each other in their climate ambitions in order to win the election," says Birgitte Qvist-Sørensen, general secretary of DanChurchAid, one of a group of NGOs behind the petition.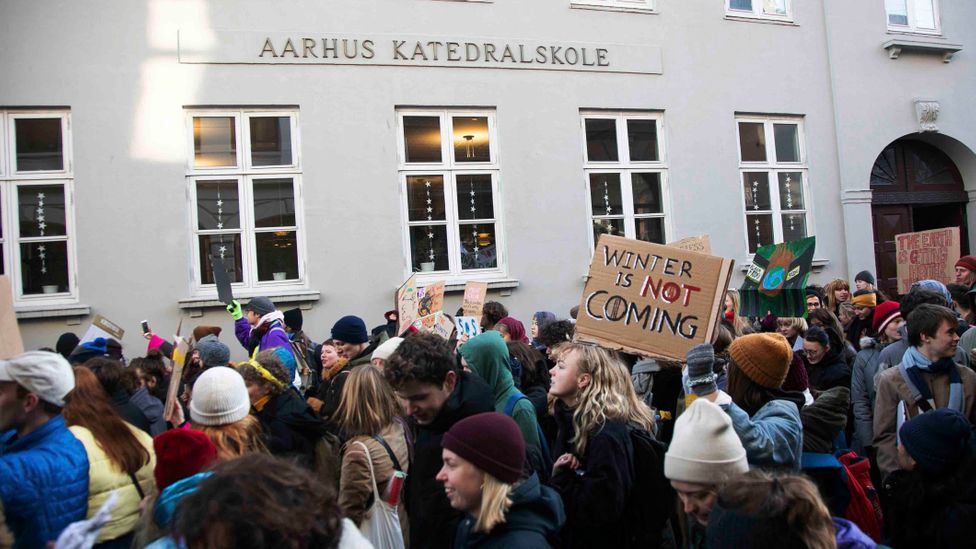 Theoretically, Denmark's new law means the government could lose its majority if it fails to meet its climate targets (Credit: Getty Images)
Once in office, Denmark's new government, a coalition of left-wing parties led by the Social Democrats, began work on an ambitious climate law, which came into force in June. It is one of the strongest laws of its kind in the world, because it avoids five big pitfalls of climate laws elsewhere.
1. An enduring solution
How can a climate law avoid the scenario of a country setting a goal 10 or 20 years into the future but failing to actually meet it?
Policies to cut emissions are needed years ahead of time to meet climate goals. "It's about more than just setting a target," says Tessa Khan, a climate lawyer with Dutch environmental law charity Urgenda. "It's also about making sure that governments are taking the measures in the interim that are necessary to reach that target, and to make that a legally binding process."
If you're not on track, the parliament can say, 'Well, sorry, you're not on track so you don't get a majority.' In theory, that will lead to a government having to step down – Dan Jørgensen
The UK government, for example, has for years neglected the strong policies needed to set it on course to meet its climate targets in the next 12 years. "What we have [in the UK] is a case where the government can set a budget, come up with a plan which isn't good enough, and then ignore that plan and not need to update it," says Jonathan Church, a lawyer with the activist legal charity ClientEarth. "Actually, you need the legal weight of whatever law it is to be focused on when those actions are taken."
The Danish law has several safeguards to this end. Every year, the government will need to find a majority parliamentary approval of its global and national climate strategies. "The government will be held to account every year by the parliament," says Dan Jørgensen, Denmark's climate and energy minister. "If you're not on track, the parliament can say, 'Well, sorry, you're not on track so you don't get a majority.' In theory, that will lead to a government having to step down."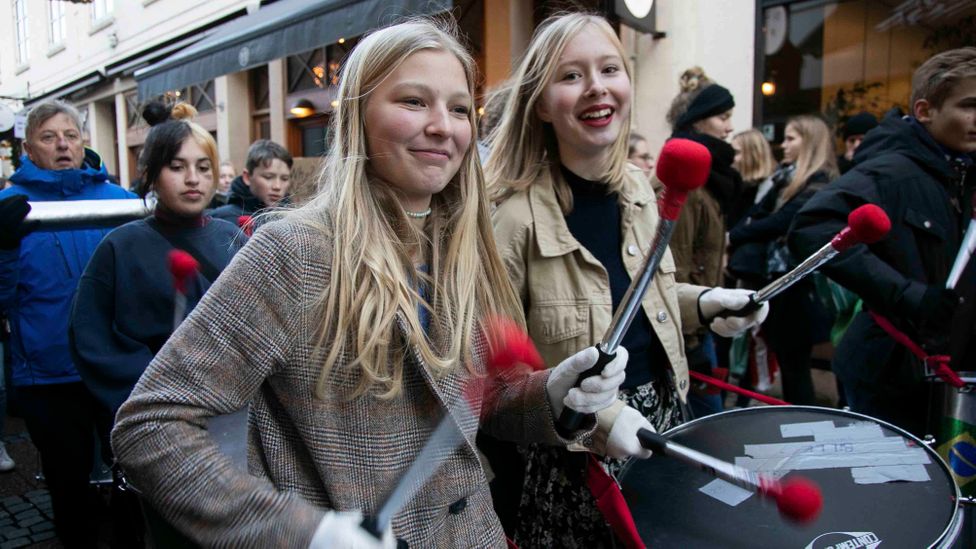 Climate change rose quickly up the political agenda in Denmark in 2019, and an ambitious climate law followed in 2020 (Credit: Getty Images)
Of course, if there were a drastic change to the parliamentary make up, this cross-party consensus system could fail. "Technically it's a risk, but in reality [for Denmark], no," says Qvist-Sørensen, noting that there are so many parties in the parliament that even a big change to one would leave a majority in favour of action.
But what happens when a new government comes in – will it be held to the same standard?
As governments come and go, laws often can too. Climate ambitions by one government can be at risk if a future government does not support them – as seen in the US when President Donald Trump entered the White House and reversed many of his predecessor's environmental initiatives.
Denmark has tried to minimise this risk by negotiating cross-party support of its climate law. Eight of the 10 parties in the Danish parliament – who together make up around 95% of seats – ultimately voted for the law (members from two small parties voted against it).
"Even if we run into a financial crisis again, even if political parties change and climate won't be as high on the agenda as it is right now, the law we've made now makes sure that the progress on fighting climate change will not stop," said Jørgensen.
This cross-party support also helps to provide the market certainty needed for companies to invest in low-carbon technologies. "If the markets are to react they need to be sure it's not just a good idea that's in fashion right now," said Jørgensen. "They need to be sure it will last."
2. Fair share
Another key difference in Denmark's new law is its evidence-based approach to what share of the global emissions cuts it is responsible for.
Global emissions will need to halve in the next 10 years to keep the world on track to limit temperature rise to 1.5C – a key aspirational goal of the Paris Agreement, which nearly all countries have signed up to. The goals behind climate laws claiming to be in line with the Paris Agreement must therefore be based on the science of what needs to be done, not what is deemed "possible" to do given current technologies.
Developing nations have historically contributed fewer greenhouse gas emissions, which is one factor considered when calculating each country's "fair share" (Credit: Getty Images)
Calculating the "fair share" of emissions reductions needed from each country is complex and varies depending on the method used for divvying out responsibility. Countries have acknowledged, though, that rich nations with more historic emissions should be required to cut their emissions faster than poorer countries who have emitted less. (Read more about who is really to blame for climate change.)
Countries with credible climate plans therefore need to make a genuine attempt to calculate their fair share. This is what Denmark has done, finding that it should reduce emissions 70% by 2030, based on 1990 levels. This legally binding science-based target is the backbone of its new law.
So far Denmark has reached just a 35% drop in emissions, so it has its work cut out over the next 10 years, including immediate action to reduce emissions now and support to development the tools needed to achieve deeper emissions reductions towards the end of the 2020s.
This means the new law is different in committing Denmark to stretching beyond its current capabilities. "With all the knowledge and technology we have today, no matter what we do, we cannot reduce [emissions by] 70% in 10 years," says Qvist-Sørensen. "Here they've set a target that means that we don't have all the answers yet."
Denmark's new law also aims for "net-zero" emissions by 2050, although its "fair share" to reach this target would actually be closer to a 2040 deadline, says John Nordbo, senior advocacy adviser on climate at humanitarian aid non-profit Care Denmark.
This view is shared by other Danish NGOs, but it is more important to focus on a target of 2030 says Qvist-Sørensen, as that goal will have more influence on the decisions being made now. "Hopefully politicians will scale up the ambition before this decade is over, and revise the year for climate neutrality," she says.
3. Net zero
Global emissions will need to reach "net zero" around mid-century to stay on track for 1.5C, according to the International Panel on Climate Change (IPCC). Any greenhouse gas emissions still occurring in 2050 will need to be balanced out with the same amount of emissions removal from the atmosphere.
This concept of net zero emissions may have its challenges, but a vision for long term emissions cuts will always be an essential part of any credible climate target. A flood of new "net-zero" climate goals have been set in recent years, including by the UK, France, Sweden, New Zealand, the EU at large and states within the US including California and New York. Suriname and Bhutan have already achieved net-zero emissions.
Other countries have even earlier targets than Denmark's goal for net zero by 2050. Norway, for instance, plans to become "climate neutral" by 2030. The catch? This target is not enshrined in law, and Norway plans to meet it by buying emissions "offsets" from other countries. Norway's domestic emissions are actually higher today than they were 30 years ago.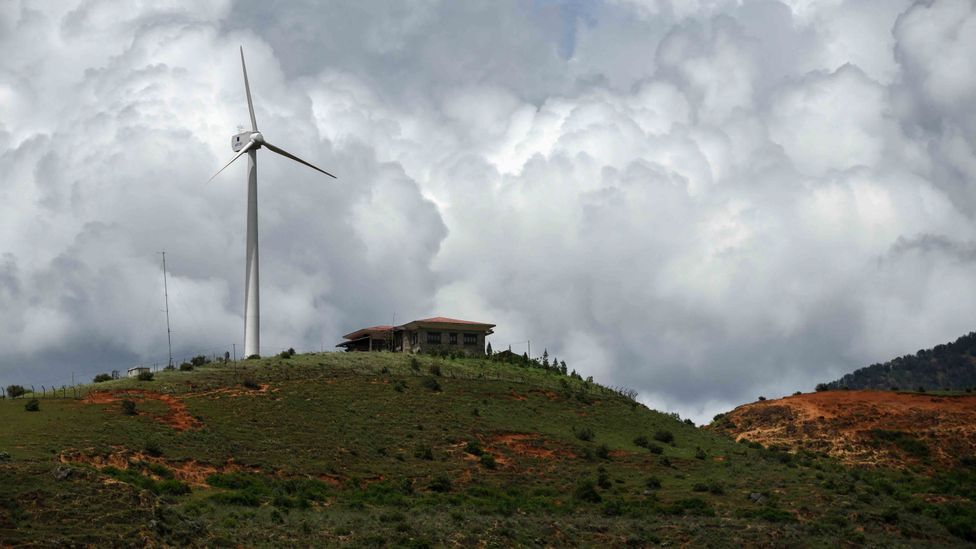 Some countries, such as Bhutan, are already at net-zero emissions – or have gone past that goal to carbon-negative (Credit: Getty Images)
This is an important caveat to any "net zero" climate target. Those who support using offsets say they allow emissions to be cut in the cheapest possible way, but others argue they unfairly allow rich countries to buy their way out of the climate problem, and that it is hard to guarantee offsets are permanent – newly grown trees can be cut down again at some point, after all – or would not have happened anyway.
So while the date of Denmark's net zero target isn't as ambitious as it could be, its promise to achieve all emissions cuts within its own borders helps to give it credibility. "We say that if all countries just bought credits, then we wouldn't have the development that we need," says Jørgensen. "We need technological advances. We need a system where rich countries can't just buy their way out."
Other countries have adopted a mixed approach to offsetting in other countries: Sweden, with a net-zero target for 2045, has said at least 85% of cuts will be within its own borders, but other measures can be used for the remaining 15%.
4. In it together
Climate change is a global problem – if it is not tackled everywhere, it will affect everyone. The modern world is also incredibly intertwined: products – and resultant emissions – made in one place are actually consumed in another, while sharing green technologies across borders can also help other countries reduce their emissions.
Many arguegovernments need to do more than cutting emissions strictly within their borders. "It's of course quite arbitrary to only hold states and governments accountable for the emissions that their territory produces," says Khan. "I think it's really important to make sure that those aspects of greenhouse gas emissions aren't omitted from any climate change law, and that countries are really politically honest about their full responsibility for the problem."
Many countries skirt around this issue in their climate laws, but Denmark's new law has a commitment to support other countries in cutting their emissions. It requires climate change to be integrated into foreign development aid and trade policy, and for the climate impacts of Danish imports and consumption to be considered.
"This means: what kind of climate funding do we give? How much money do we give to whom? Which bilateral co-operations have we got?" says Jørgensen. "We also acknowledge that okay, well, even if we reduce 70%, we are also a country that, on the negative side, imports a lot of goods from other countries that creates pollution, CO2 emissions. It's a way of trying to institutionalise a part of a climate policy that's difficult to set targets for."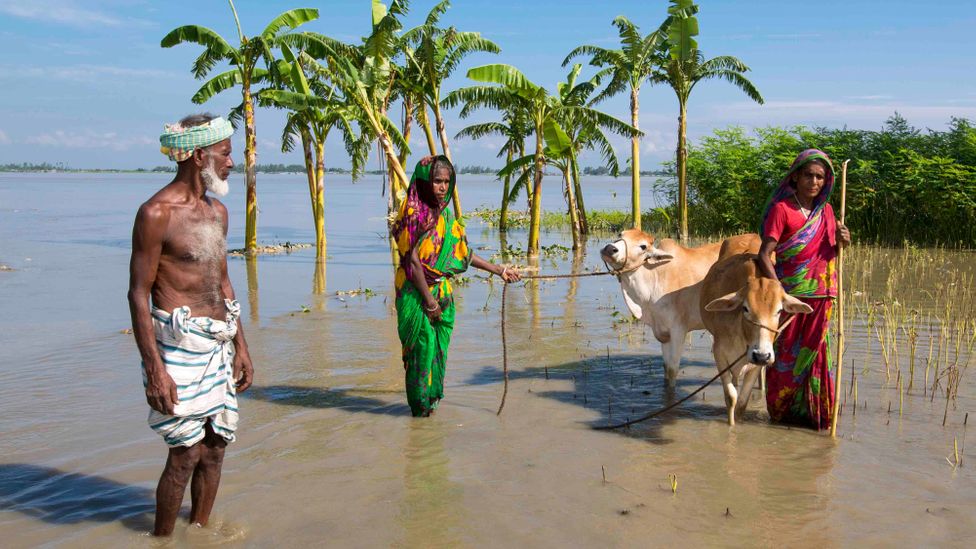 As well as contributing less greenhouse gas emissions, many developing nations, such as Bangladesh, are more vulnerable to the effects of climate change (Credit: Getty Images)
The details of exactly how this international dimension will work are now being negotiated in parliament. However, so far the law does not fully address the global pledge by rich countries to provide $100bn (£80bn) per year in climate finance to poorer countries, says Nordbo. The fair share of this for Denmark would be around five billion Danish Krone per year, he adds – around $700m (£560m). "The law doesn't say anything about climate assistance at this level," he says.
5. Green lens
Denmark's law also has a safeguard to make sure positive climate efforts in one part of its government aren't undermined by those in another.
Governments are notoriously bad at "green-checking" their decisions. Often some departments support investment in fossil fuels or road building even while others are pushing clean energy and transport. The UK government, for example, has had a climate change law in place since 2008, but has been criticised for not considering environmental impacts of its spending decisions and for funding fossil fuels abroad.
As climate change moves up the political agenda, an all-hands-on-deck approach is increasingly being prioritised. New Zealand's government, for instance, said last year that all its major decisions will now be made through a climate change lens.
Denmark's law likewise aims to ensure all policies support green sustainable development. It establishes a standing committee on "green transformation" to screen the sustainability of all policies, says Jørgensen. "We see this as a transformation of the Danish society that's so big that it's not just my ministry, it's all ministries, including the foreign affairs ministry," he adds. "They are also responsible for the global strategy that needs to be put forward every year."
Denmark is also making efforts to include businesses and the public in its plans. A "public climate council" of 99 people will be invited to discuss potential climate plans. Thirteen "climate partnerships", each led by a different sector, were tasked with coming up with solutions to reduce emissions in their industry. "So actually, [the government] have put the private sector to the test, but are also saying on the other hand that the private sector really wants to be put to the test," says Qvist-Sørensen.
The partnerships ask each sector how they can contribute, "while also reminding them, a Social Democratic government is not afraid of using the taxation-toolbox", tweeted Magnus Hornø Gottlieb, an advisor at Danish multinational power company Ørsted. The sectors, ranging from agriculture to aviation, recently gave their recommendations to the government. "Some of them are quite interesting, I must say," says Qvist-Sørensen.
When laws fall short
Climate laws are becoming an increasingly common tool for countries to tackle climate change. But what if governments fail to create them in the first place? In this case, courts are proving to be a powerful mechanism to force governments to take action.
In one especially noteworthy ruling in 2015, a court in the Hague ordered the Dutch government to cut its emissions by at least 25% within five years. The case, brought by Urgenda, was based on the legal obligations of the government to exercise a duty of care to Dutch citizens.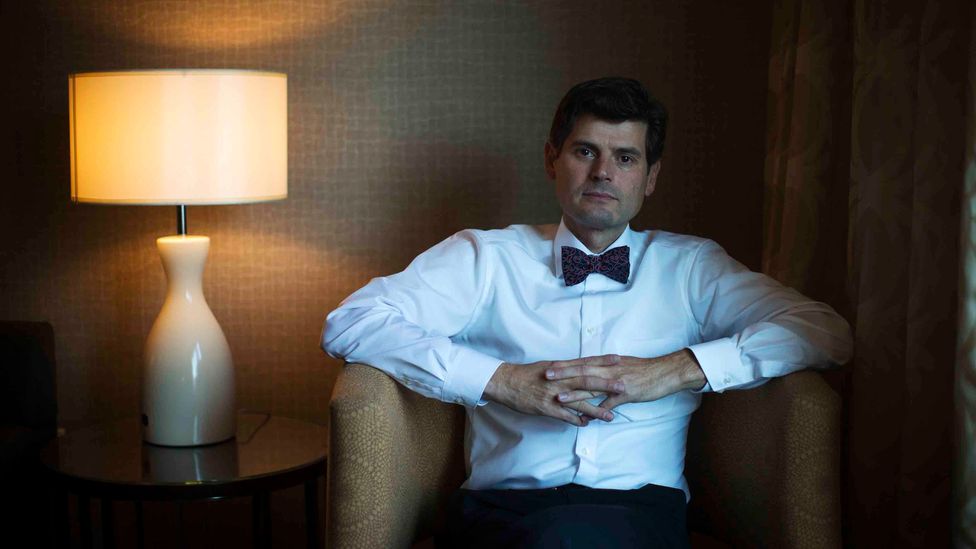 A number of climate lawsuits against governments have already been successful, such as Urgenda's landmark 2015 ruling, which was led by Roger Cox (Credit: Getty Images)

This was the first time a court had ordered a government to reduce its economy-wide greenhouse gas emissions by an absolute minimum amount, says Khan, who joined Urgenda in 2016.

Since 2015, the number of climate litigation cases has skyrocketed. In March, a UK court of appeal said plans to expand Heathrow Airport were unlawful because they failed to take the Paris Agreement into account. Climate youth lawsuits have been launched in the US, Canada, Colombia and South Korea for violations of their constitutional rights – and several have won.

Denmark itself also has a movement trying to get climate change into its constitution, says Qvist-Sørensen, which has only been changed twice in the past 100 years. This could open up the door for a parallel process to hold it to account alongside its climate law.

What the Urgenda case proved, says Khan, is that the impacts of climate change, whether already here or forecast to arrive, are illegal because governments have an obligation to protect their residents from harm to their livelihoods, health and housing.

So could climate change ever be made illegal? Protections could certainly always be strengthened, but in many ways we already have the commitments and tools needed to hold governments accountable.

As Khan puts it: "There are already a lot of laws that we could be using to address the climate crisis, that we just aren't."

--

The emissions from travel it took to report this story were 0kg CO2: the writer interviewed sources remotely. The digital emissions from this story are an estimated 1.2g to 3.6g CO2 per page view. Find out more about how we calculated this figure here.

--

Join one million Future fans by liking us on Facebook, or follow us on Twitter or Instagram.

If you liked this story, sign up for the weekly bbc.com features newsletter, called "The Essential List". A handpicked selection of stories from BBC Future, Culture, Worklife, and Travel, delivered to your inbox every Friday.

;