Before antiseptics were invented, a trip to the hospital might kill you – even if you survived the surgery. A handful of visionary doctors realised what the cause was.
B
By the 1860s, with a skilled surgeon in a modern European hospital you had about an eight-in-10 chance of surviving an operation. But your odds of leaving hospital alive were about 50/50.
Infection and disease ravaged hospital wards. As surgeons moved between patients examining wounds and probing gangrenous tissue, they couldn't understand why so many in their charge were dying. The condition became known as hospitalism – today we would call it sepsis or blood poisoning – and medical staff surmised it was caused by bad smells, or a miasma, permeating the air.
"There was no sense of cleanliness or the risk of infection that we understand today," says Rowan Parks, a consultant surgeon and vice-president of the Royal College of Surgeons of Edinburgh.
"Surgeons wore their outdoor coats, the bed linen wasn't washed regularly, they carried their instruments around in their pockets – concepts that we find horrifying today were normal."
Some surgeons even proudly reused bandages and dressings between patients, preferring not to waste valuable hospital resources.

You might also like:
With increased mechanisation and the growth of the railways, industrial injuries were common. As a result, the vast bulk of surgery involved removing limbs. If, for instance, a patient suffered a compound fracture, where bone penetrated the skin, the wound would almost certainly become infected. A surgeon would have little choice but to amputate. Although operations were now being carried out under anaesthetics, outcomes were, if anything, worse.
During his first four years as professor of surgery in newly built wards at the Glasgow Royal Infirmary, Joseph Lister's mortality rates were about average. He knew that around half his patients would die. Unlike many of his colleagues, however, Lister was determined to do something about it.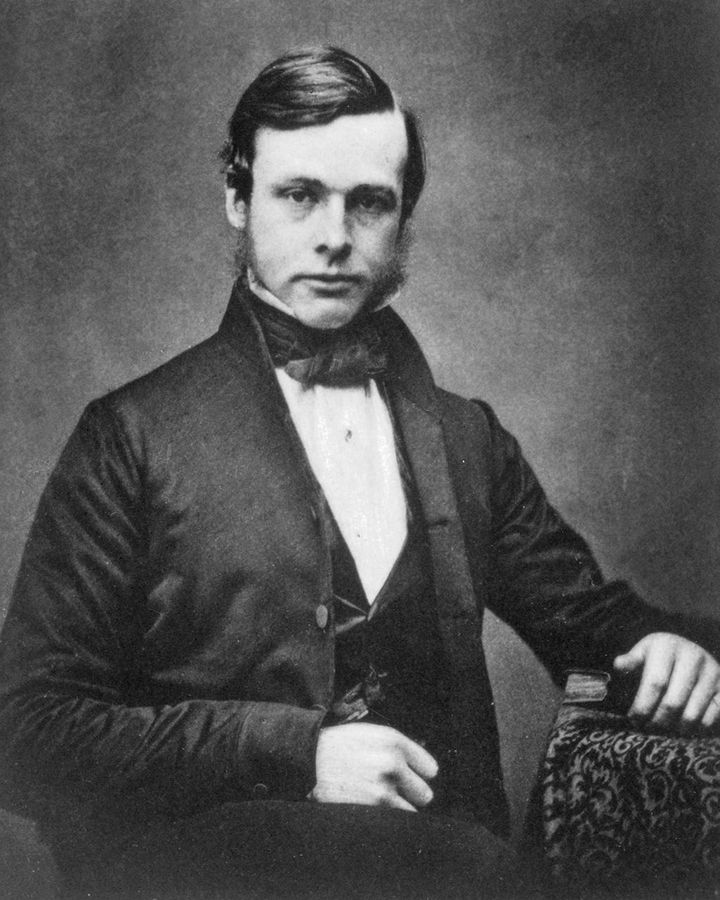 Joseph Lister realised the same invisible agents which caused putrefaction were also killing his patients (Credit: Science Photo Library)
"He was a serious and dour man – I don't think he would have been much fun at a dinner party – but he always wanted to improve humanity's lot in life," says Steven Kerr, librarian at the Royal College of Surgeons of Edinburgh. "If half his patients are dying from post-operative infection that can be improved, that was his motivation."
Lister was also an amateur scientist and – thanks to lessons from his father – skilled in microscopy. In his spare time, he set to work examining infected tissue in frogs, discovering that gangrene was a process of decomposition. This rotting only seemed to occur when damaged flesh was exposed to the air. But was it the air itself or something in the air that was causing infection?
Lister realised it was these same invisible creatures that were killing his patients
A colleague, chemistry professor Thomas Anderson, helped Lister discover the answer when he introduced him to experiments conducted in France by Louis Pasteur.
In his most compelling experiment, Pasteur took a flask of liquid that would normally be expected to ferment and sterilised it using heat. The container's s-shaped glass stem allowed air to enter but would trap any airborne particles in its bend. The liquid in the flask remained sterile. Pasteur surmised that these particles were germs – micro-organisms that caused decay.
Lister realised it was these same invisible creatures that were killing his patients. Now he had to work out a way of sterilising wounds. Heat was out of the question but a chemical, carbolic acid, that was being used to combat the smell of sewage in cess pits, looked promising. In the manner typical of a 19th Century surgeon, he decided to try the theory out on a patient.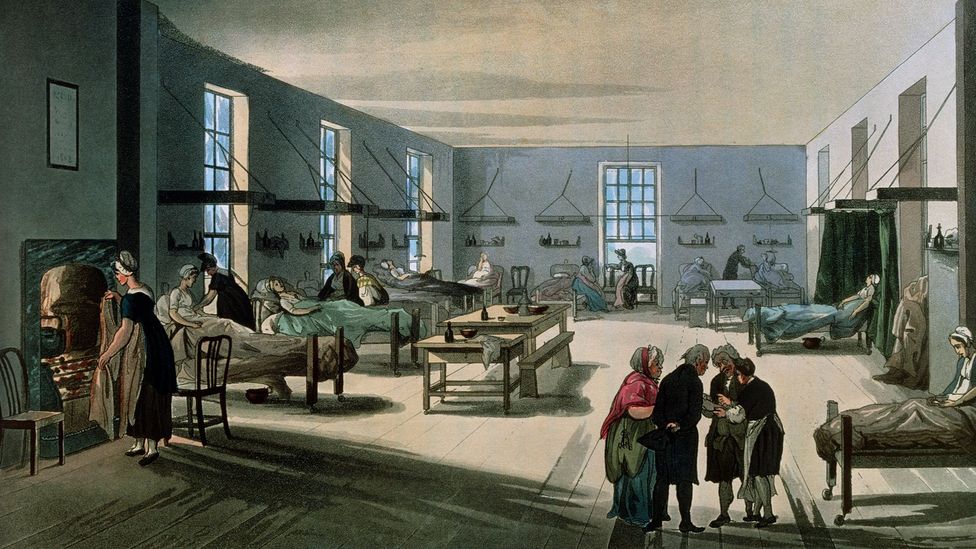 Hospitals in the 19th Century were so unsanitary that many patients died not from surgery but from the poor levels of hygiene (Credit: Science Photo Library)
James Greenlees, aged 11, had been run over by a cart. He was admitted to hospital on 12 August 1865 with bone protruding from a one-a-half-inch long wound on his lower left leg. Using splints to set the bone, Lister ordered his staff to dress the wound in lint dipped in carbolic acid. This was covered in a sheet of tinfoil to prevent the acid from evaporating.
Four days later, Lister examined the wound again. Rather than the gangrenous flesh he would normally expect to see, the wound was clean – the only redness caused by the acid. Whereas in the past, James could have expected to have had his leg amputated, after six weeks of care, he was discharged from hospital fully cured.
One of the greatest tragedies in the whole bloody history of surgery is that basic cleanliness in hospitals and antiseptic techniques were not adopted sooner. The procedure of sterilising hands and instruments between patients had actually been pioneered some 20 years earlier in Vienna by Hungarian physician, Ignaz Semmelweis.
His instructions proved unpopular with doctors and his theories were largely ignored by the Austro-Hungarian medical establishment
Working at a maternity hospital with appalling mortality rates, Semmelweis concluded that doctors were spreading infection by carrying "cadaverous particles" from autopsies to their examination of live patients. Although he did not understand that these particles were microorganisms, Semmelweis slashed the death rate in expectant mothers by insisting that staff wash their hands in bleach.
But his instructions proved unpopular with doctors and his theories were largely ignored by the Austro-Hungarian medical establishment. Frustrated with his failure to have his ideas adopted, his anger spilled over into his publications, which read as a bitter polemic to the way he was treated.
Eventually, he was committed to a mental hospital where he died within days of – ironically – blood poisoning. There is no evidence that Lister ever read his work.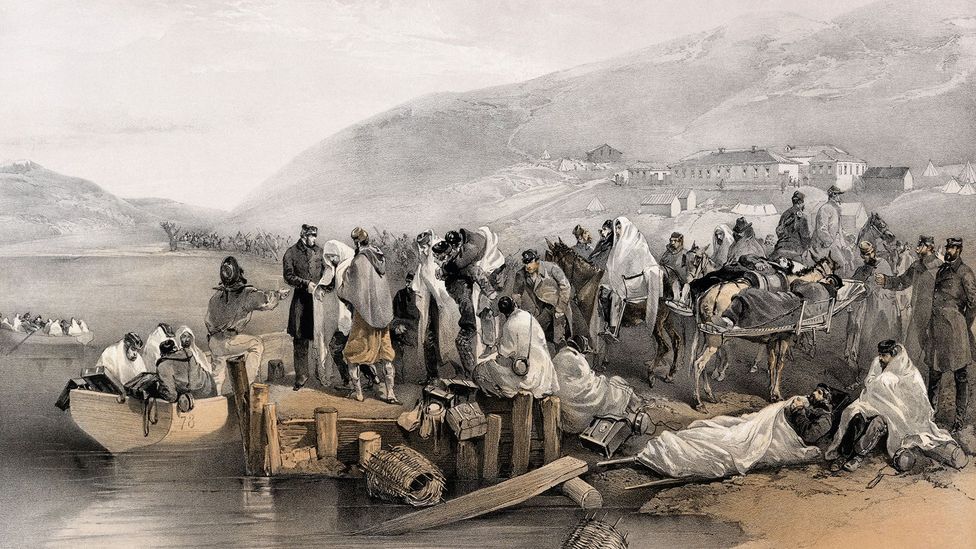 In the Crimean War, many of those wounded on the battlefield later died due to filthy conditions (Credit: Getty Images)
Fortunately, the other hero of the story in the battle against hospital infections was more persuasive.
"Florence Nightingale was first and foremost a brilliant communicator," says Anne Marie Rafferty, president of the Royal College of Nursing.
In 1854, Nightingale was tasked by the British government with improving conditions for injured soldiers during the Crimean War. When she arrived at the hospital in Scutari, in what is now Istanbul, the scene was chaotic. Wards were filthy, food was scarce and there were few staff to provide care.
Nightingale not only set about coordinating supplies and improving conditions, but she collected, compiled and communicated statistical data back to Britain to prove the worth of what her team was doing.
The rules of hygiene she developed are as relevant then as they are today during the Covid-19 pandemic
"She was able to show that soldiers were dying more frequently from basic neglect and want of care than from the ravages of the battlefield," says Rafferty. "The needless loss of life really touched her soul."
The rules of hygiene she developed were as relevant then as they are today during the Covid-19 pandemic. "She sets out social distancing between beds, the importance of handwashing, hygiene and ventilation, as well as how to make patients feel comfortable and cared-for."
Although Pasteur and Lister were yet to investigate the science of disease, Nightingale was ahead of them all, applying the principals of the Victorian sanitation movement – which brought clean water and sewage to Britain's cities – to improve cleanliness. In fact, the biggest transformation in her hospital mortality figures came after a leaking sewage pipe in the hospital was fixed.
In Glasgow, after his success with dressings, Lister turned his attention to operations. As well as washing his hands and instruments in carbolic, he developed a contraption to envelop the operating table in a spray of carbolic steam. He also introduced catgut stitches (actually made from sheep's intestines) which dissolved in the body. By the time he published his results in the Lancet medical journal in 1867, Lister's mortality rates had been transformed from 45% to 15%.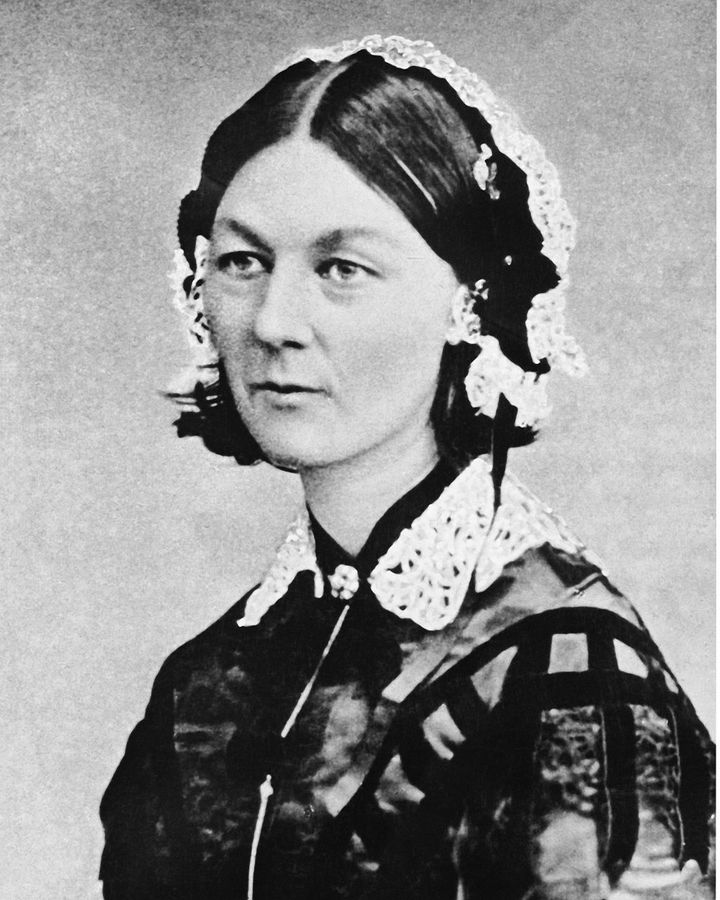 Florence Nightingale's insistence on clean bedding and handwashing vastly reduced deaths in military hospitals (Credit: Getty Images)
With the success of Nightingale's reforms and Lister's new surgical techniques, you might have imagined every hospital and surgeon around the world would immediately adopt them. But you would not have reckoned for the intransigence and arrogance of the 19th-Century medical establishment.
Although Nightingale's methods were widely incorporated into the design of new hospitals, "Listerism" and the theory that disease is spread by germs was derided as nonsense and the use of carbolic dismissed as unnecessarily unpleasant.
"James Spence, nicknamed Dismal Jimmy because he quarrelled with everything, didn't agree with Lister's techniques," says Kerr. "When his patient died, he suggested that Lister's new catgut suture was responsible, but his assistant wrote to the Lancet saying it was surgical error." The whistleblowing assistant was summarily dismissed.
The principles of antisepsis probably did more to improve surgical standards and outcomes than anything in the history of surgery – Rowan Parks
Eventually Lister had to demonstrate his techniques in London before people around the world accepted them. By the mid-1870s, most surgeons had hung up their blood-stained operating coats for the final time, and begun routinely washing their hands before operations and sterilising their instruments.
Lister's practice of operating in a haze of carbolic was abandoned when it was realised that it would be better if surgeons worked in clean theatres with clean hands, gloves and – eventually – masks.
"The principles of antisepsis probably did more to improve surgical standards and outcomes than anything in the history of surgery," says Parks, who today operates in the Edinburgh hospital where Lister spent much of his career.
"Lister is often referred to as the father of modern surgery, because he laid the foundations for future surgical and operative care – to think that such a step change in surgery occurred in the hospital where I work is phenomenal."
* Richard Hollingham is a science and space journalist, feature writer for BBC Future and the author of Blood and Guts, A History of Surgery.
--
Join one million Future fans by liking us on Facebook, or follow us on Twitter or Instagram.
If you liked this story, sign up for the weekly bbc.com features newsletter, called "The Essential List". A handpicked selection of stories from BBC Future, Culture, Worklife, and Travel, delivered to your inbox every Friday.