Sea otters were locally extinct in British Columbian waters in Canada, until a plane containing a romp of otters arrived and set off a population boom – with unintended consequences.
O
Otters do not usually fly. But if sea otter elders in Checleset Bay told floating bedtime stories to modern day pups, they might tell of their ancestors' bizarre flying adventure.
Beginning in 1969, sea otters from Amchitka and Prince William Sound in Alaska were packed onto planes and flown on a long journey south. Canadian and US biologists had a plan – one they didn't discuss with First Nations. Sea otter biologists hoped these otters would start a new colony in the forest-fringed waters of Checleset Bay, British Columbia. Otters were not entirely new on this section of windswept Pacific coast, but prior to these transplants the last sea otter seen in Checleset Bay was in 1929, just before it was shot.
It wasn't just this remote British Columbian bay where sea otters disappeared. Prized for their luxurious warm pelts, sea otters along vast stretches of the north Pacific Rim were decimated by the European fur trade of the 18th and 19th centuries. Historic population sizes, like the otters themselves, are fuzzy. But global estimates suggest sea otters numbered 150,000-300,000 in the early 1700s. By 1911, when an international treaty afforded the creatures some protection, they had shrunk to around 2,000. Now, the original Alaskan otters released into British Columbia waters have grown from a population of 89 to more than 7,000.
In fact, the reintroduction of these early romps of otters has arguably been too successful, bringing a number of unintended consequences for British Columbia's coastal First Nations.
Tipping the balance
As otter populations have grown – first slowly, now apace – other species they feed upon have been driven to scarcity, including the crabs, clams, abalone and shellfish that coastal First Nations communities formerly relied on. Rebounding otters are now so abundant that on some sections of British Columbian coast they are exhausting their own food supplies. That food squeeze lowers the survival of pups, driving pioneering males to seek food elsewhere. Females track behind causing the sea otter population to spread out and recolonise available habitat, explains Jenn Burt, a marine ecologist at Simon Fraser University who has been studying sea otters alongside First Nations collaborators.
You might also like:
Otter pressure is being felt most keenly by the Kyuquot/Checkleset First Nations who live at the epicentre of otter abundance: the site of their initial reintroduction. Before the otters returned, clams of many sizes and species were abundant on local beaches, recalls Saqᵂistl Hilda Hanson, an Elder of the Kyuquot/Checkleset Nation. "It was the best clam beach that ever was," she said at a research workshop in 2018. Now that sea otters have returned, the clam cupboard is bare.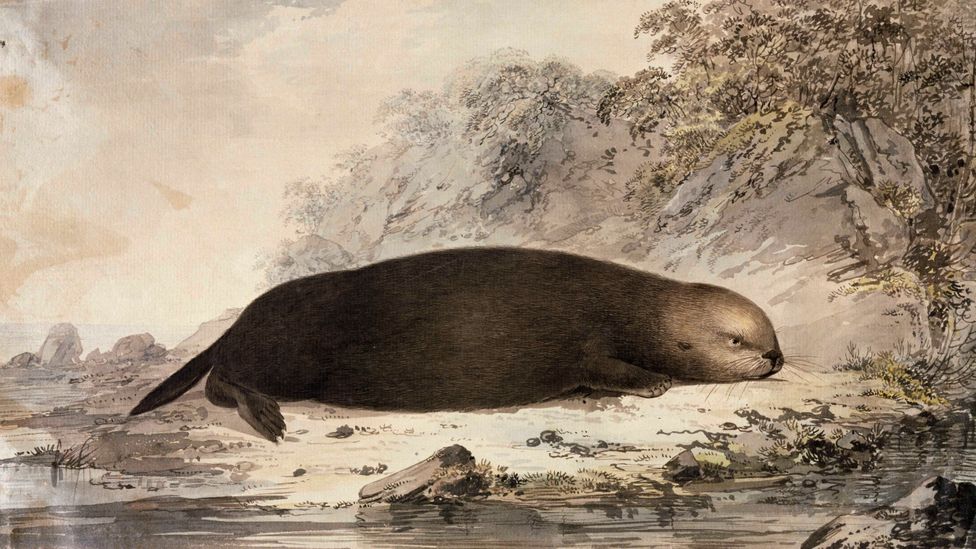 The fur trade of the 17th and 18th centuries destroyed otter populations in parts of Canada, so to revive them otters were flown in from elsewhere (Credit: Getty Images)
There's something most sea otter research has neglected: their coexistence with the humans that, pre-fur-trade, shared their habitat for thousands of years
For coastal First Nations in remote places like Kyuquot – at least five hours travelling time by dirt road, highway and boat from the nearest town – this has a huge impact. For these remote communities, "the supply of local shellfish is the grocery store – and has been forever", says Burt. The loss of clams, sea urchins, crabs and other edible species easily harvested from the beaches year-round is felt acutely. It contributes, she says, to "a huge shift in food security and health".
Diving deep
Plenty is known about sea otter ecology. Iconic sleek swimmers, they bob on the waves by floating on their backs like humans lolling in a pool. One of the few marine mammals to use tools, sea otters pry loose and crack open hard-shelled prey like mussels using rocks like hammers and chisels underwater and on their bellies. These predators often feature in ecology students' first lessons about keystone species and the waterfall of effects triggered by their extinction from communities – knowledge that emerged only after British Columbia's otter reintroductions, and something scientists call an ecological cascade. But though sea otters have been the darlings of many a scientific study, there's something most sea otter research has neglected: their coexistence with the humans that, pre-fur-trade, shared their habitat for thousands of years.
This is an imbalance that First Nations knowledge holders and Elders, and a team of scientists led by Burt during her doctoral studies, are seeking to redress. To navigate the profound ecological shift from too few to what some argue is too many otters, their research took a human-centred look at solutions for smoothing the waters. To do that, they first had to understand the long history of otters on the British Columbian coast, and these mercurial animals' relationship with humans.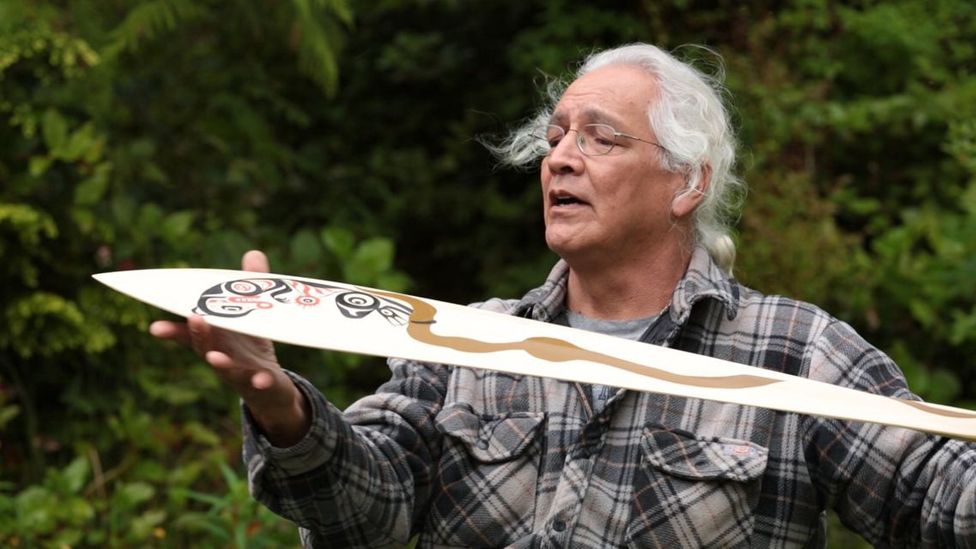 First Nations of British Columbia's coast have a long history that is intertwined with that of sea otters in the area (Credit: Ilja Herb)
Otters are voracious shellfish eaters. And for at least 10,000 years, long before colonisation, British Columbia's coastal First Nations harvested shellfish and managed otter populations too. University of Victoria archaeologist Iain McKechnie and his collaborators have gleaned evidence supporting this linked history from ancient coastal settlement sites. Looking within middens – ancient rubbish heaps – at the quantities of sea otter bones relative to those of other animals harvested by First Nations, they examined trends over time to estimate the abundance of otters. Geochemical information from the otter bones, with clues from stable isotopes of carbon and nitrogen, revealed the otters' diets of the distant past. Chemical analysis revealed consistent diets over 5,000-plus years. That, suggests McKechnie, means otters were well fed and eating the things they liked to eat for centuries, until the fur trade upset the balance.
In pre-colonial times, McKechnie's work suggests, otters in coastal British Columbia never reached such high densities that competition drove them to look for new things to eat, like fish. That contrasts with what is happening with some modern-day otters, like those in California's Monterey Bay and the Aleutian Islands in Alaska. A consistent diet over time, says McKechnie, suggests that people coexisting with otters "were actively hunting and managing their landscapes".
Before European colonisation of the British Columbia coast, Burt's research collaborator Wii-tsts-koom Anne Mack, Hereditary and elected Chief of Toquaht Nation, explains that for the Nuu-chah-nulth First Nation, otter fur robes were a status symbol. "That's how they would distinguish the chiefs," Mack says. For the Haida, another Pacific coastal First Nation, head chiefs wore and lined beds with otter fur too, says Haida matriarch and scholar Kii'iljuus Barb Wilson. Long before the fur trade accelerated and led to some 99% of the animals being wiped out, sea otters were a culturally and economically important resource.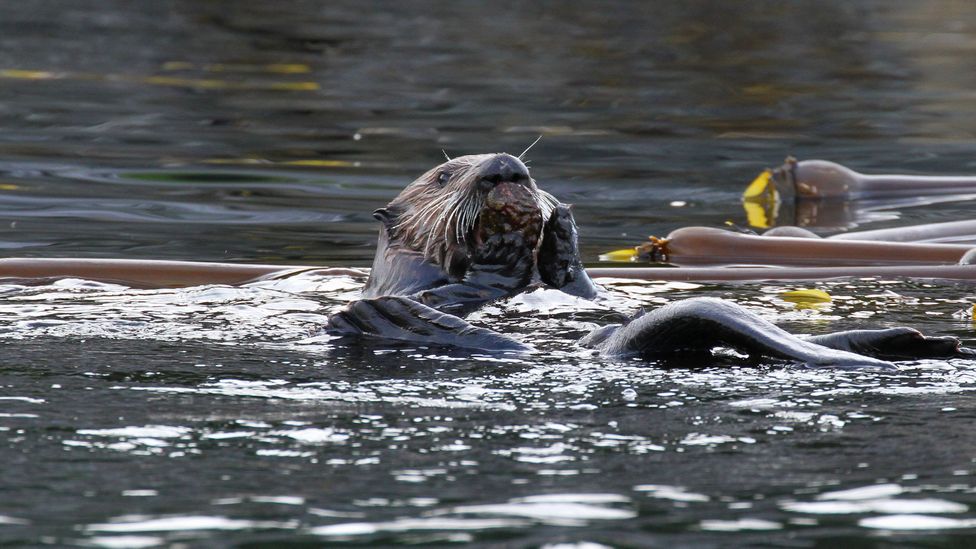 A revival of sea otters in British Columbia might be welcomed by some, but their burgeoning numbers are threatening the species they feed on, such as abalone (Credit: Stef Olcen)
First Nations developed multiple ways of managing sea otters, their co-competitors for shellfish. Beyond hunting otters for pelts in boats with paddles specially designed to quietly slip through kelp, they also defended the shoreline. It was the job of one family to dissuade hungry otters that attempted to rob shellfish, says Hup In Yook Tom Happynook, Huu-ay-aht Hereditary Whaling Chief of the Nuu-chah-nulth Nation. "My grandfather used to say that to deter the sea otters from coming onto the beach, they would kill a couple of them and anchor them… so that the sea otters that were coming in would see their cousins had been killed," says Happynook.
"Prior to colonialism being put upon us through the Fisheries Act and the Indian Act, our Hereditary Leaders had control over specific territories," says Wilson. Controlling the area came with the responsibility for looking after everything in the territory. "That included the people, because people are very much a part of what is the ecosystem," she says.
Clam gardens – watery raised beds along the coast that created sheltered waters for shellfish cultivation – also had stone walls perhaps just high enough to impede otters climbing in for a feast. Department and Fisheries and Oceans (DFO) sea otter biologist Linda Nichol explains that while a river otter "can scoot around on the land quite well", the hind paws of sea otters have "elongated to create flippers so they are quite awkward on land". Nichol grew up around the Strait of Georgia, the protected narrow stretch of Pacific between Vancouver and Vancouver Island. She was a young child when sea otters were reintroduced to Checleset Bay.
Checleset Bay otter numbers didn't immediately take off. At first they struggled to adapt. By 1977, the original 89 had dipped down to 70. Somehow, just as sleeping otters cling to kelp, their population hung on and then began to grow. Similar translocations of Alaskan otters to the Washington and Oregon coast were not as successful. Colonies of otters in Oregon eventually blinked out, with sea otters in that state now found only in aquaria.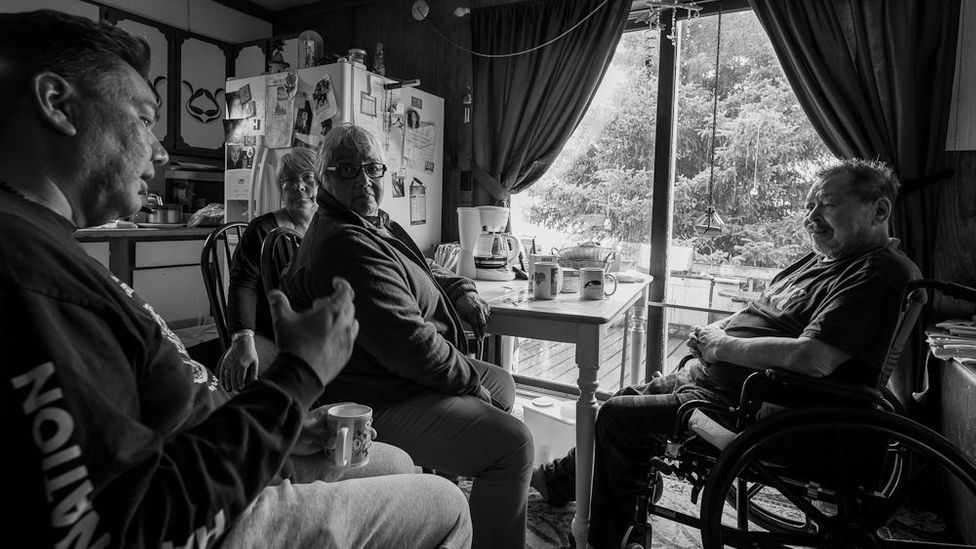 Research projects on sea otters with First Nations collaborators could lead to a fairer and more sustainable approach to managing otter numbers along the coast (Credit: Ilja Herb)
On the island shores of Haida Gwaii , some 300km north-west of Checleset Bay, otters have been absent for a century but in recent years there have been periodic sightings of solitary otter males cruising by. With local reliance on shellfish, there is strong motivation to seek sea otter management solutions before more arrive along with their voracious appetites.
As Burt's collaborative study notes, First Nations were never consulted prior to British Columbia's Checleset Bay sea otter reintroductions. "In that era there was a real recognition of major declines in species… and an overarching desire, where possible, to turn those things around," says Nichol, who joined DFO in 2001 as part of a group monitoring otter recovery. Acknowledging the reintroduction era as one of disconnection with indigenous people, at that time, "a full grasp of the ecosystem shift that results from sea otters was also not yet well recognised", she says.
Smoothing the waters
This story of sea otter conservation is part of a legacy of colonial-style conservation, says Anne Salomon, a socio-ecological systems researcher at Simon Fraser University, and originator of a broader Coastal Voices multimedia project, working with Burt and multiple First Nations. Protecting nature from people by treating humans and nature as separate rather than integrated, she elaborates, prioritises the well-being of an endangered species at the cost of impoverishing indigenous people who coexisted successfully with otters for millennia before Europeans arrived, historically managing numbers so that they, like the otters, could benefit from the shellfish bounty of the shores.
Through Salomon and Burt's research collaboration, combining indigenous knowledge and Western science, they are aiming to chart a middle ground, broadening the conversation surrounding sea otter recovery, says Salomon, "to one that focuses on social-ecological resilience and boldly addresses issues of equity, justice, and inclusivity".
To launch their more recent examination of otter-human interactions in British Columbia, Salomon and Wilson, her early partner on the project, wanted to gain the blessing of Hereditary Chief Councils of the Nuu-chah-nulth, Haida and Heiltsuk First Nations. Arriving in the massive room to present their research idea for review by assembled First Nation leaders, Salomon remembers feeling intimidated by the responsibility of forging positive relationships across cultures, the success of the project hanging in the balance. Wilson recalls turning to her to whisper "I'm so scared," and Salomon whispering back "at least you're First Nations!"
The Hereditary Chiefs did give their blessing for the research to proceed. That affirmation led to the group's 2014 workshop bringing together archaeologists, scientists, leaders and representatives from 19 First Nations across British Columbia and Alaska to discuss otter, shellfish, kelp and humans interactions and brainstorm coexistence solutions. Discussing the past, present and future, the researchers then surveyed attitudes and ideas of adults aged 19-96 in one Alaskan and one British Columbian community, places with contrasting timelines of rebounding otter coexistence.
First Nations are essentially in a never-ending battle of trying to assert their indigenous rights to manage resources – Jenn Burt
The people of the Kyuquot/Chekleset First Nations, living where biologists had introduced otters in the 1970s, had the least favourable view of the otters. "I feel like sea otters have more rights than I do," says Skil Hiilans Allan Davidson, Hereditary Chief of the Haida Nation, one of Burt and Salomon's coauthors. But in the Sugpiaq villages of Port Graham and Nanwalek, attitudes towards sea otters, which re-established there naturally in the 1950s, were more neutral or even positive.
Though attitudes differed depending upon time since otter arrival, solutions suggested for improved coexistence converged on a desire for valuing indigenous knowledge, increasing indigenous authority and governance, and shared learning between indigenous communities around resource decision-making.
The Sugpiaq people already hunt limited numbers of sea otters under a waiver to the US Marine Mammal Protection Act (1972) permitting hunting for processing and fashioning into handicrafts. But in Canada, despite otters reaching an abundance where the Species at Risk Act technically permits a First Nations licence to hunt otters for food, social or ceremonial purposes, a tense relationship between Canada's Federal Department of Fisheries and Oceans and coastal First Nations has thus far not led to sanctioned sea otter hunting. That, this new research argues, needs to change, with First Nations rights to non-wasteful sea otter hunting part of new path forward.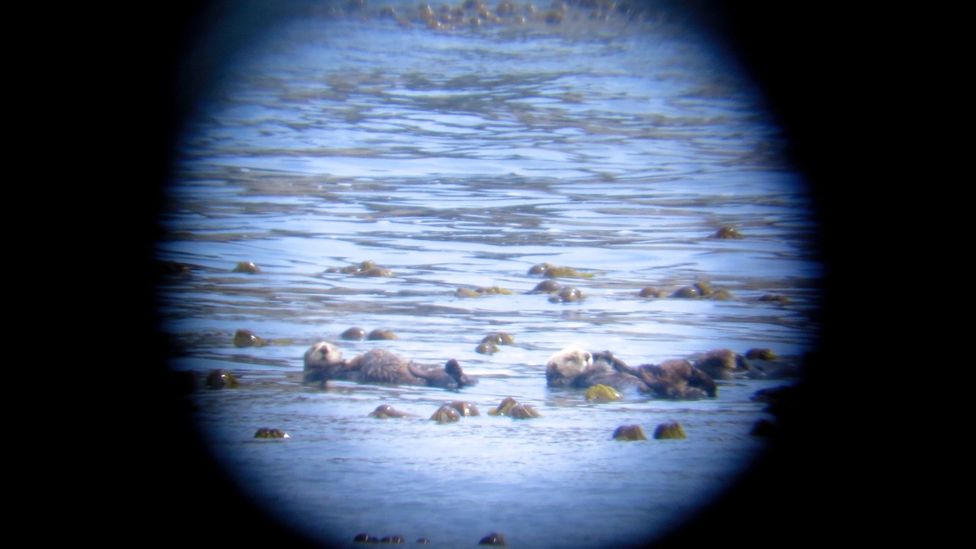 The tenacity of the sea otter over centuries is thought to be down to its diversity of prey and ability to learn (Credit: Jenn Burt)
"First Nations are essentially in a never-ending battle of trying to assert their indigenous rights to manage resources," says Burt. Though British Columbia was the first Canadian province to sign the United Nations Declaration on the Rights of Indigenous Peoples (UNDRIP) into law in 2019, it has yet to be endorsed at a national level.
"Each time we want to have one of the things we did pre-history… we have to go to court, and it's dragged on for decades," says Wilson. Canada has enacted blanket laws like the Fisheries Act and Indian Act that generically undermines rights of indigenous peoples to resource sovereignty on traditional territories. Yet in regaining the recognition of resource rights and sovereignty, "each nation has to go separately", says Wilson. "It's like having a bully at school."
Swimming forward
Though a return to their once widespread global distribution is still not secured, in its ability to come back, the sea otter is a remarkable story of resilience, says Angela Doroff, scientist with the International Union for Conservation of Nature's sea otter specialist group. Sea otters have some special traits that have made a comeback possible. These, she says, include "its diversity of prey, its ability to learn and share learning".
Shared learning, it appears, benefits otters and humans alike. From the beginning of the project, "we have all been willing to learn from each other and trust each other," says Salomon. That positive relationship fostered between First Nations and Western scientists around study design, focus, and implementation, "is not typically done in science or resource management," argues Salomon. "It ought to be. It needs to be," she says.
Towards more harmonious sea otter-First Nations coexistence, Wilson sees collaborations between scientists and indigenous communities as "the kind of outside the box [solutions] that we have to do".
From a purely species-driven ecological perspective, the sea otter boom along the British Columbian coast might seem like a simple success story. Otters were locally extinct. Now they are thriving and recolonising. But setting aside that narrow, colonialist conservation lens, a more complex picture emerges. The story of rebounding otters, notes Burt, "is a narrative where the costs and benefits differ depending on what perspective you come from".
With First Nations increasingly leading research efforts, the next chapter of the story could benefit from a new view: that the humans that have lived alongside otters for millennia are an important thread not separate from, but woven into the rich fabric of Pacific coast ecosystems.
--
The emissions from travel it took to report this story were 0kg CO2. The digital emissions from this story are an estimated 1.2g to 3.6g CO2 per page view. Find out more about how we calculated this figure here.
--
Join one million Future fans by liking us on Facebook, or follow us on Twitter or Instagram.
If you liked this story, sign up for the weekly bbc.com features newsletter, called "The Essential List". A handpicked selection of stories from BBC Future, Culture, Worklife, and Travel, delivered to your inbox every Friday.
--
Lesley Evans Ogden is @ljevanso on Twitter.