Will people alive today leave fewer heirlooms? William Park explores how attitudes to antiques have changed – and what that might mean for our descendants.
T
The ko-imari style of porcelain dates from the 17th Century but is still loved in Japan. When Hikaru Maeda opened her antique business 40 years ago, demand for these old plates and bowls was good – and continues to be strong today.
With porcelains as delicate as this, over the years, it is natural to expect that some plates will be broken. What is interesting about ko-imari is that breakages to a certain extent don't matter. Of course, the price of the plate will decrease, but its sentimental value might not change. Perhaps this is why the style still proves popular.
There is a specific way of repairing ko-imari, called kintsugi, which involves sealing cracks with lacquer that is then coloured with gold or silver dust. It creates an appearance of veins of rare metal running through the porcelain. The result can be even more beautiful than the original.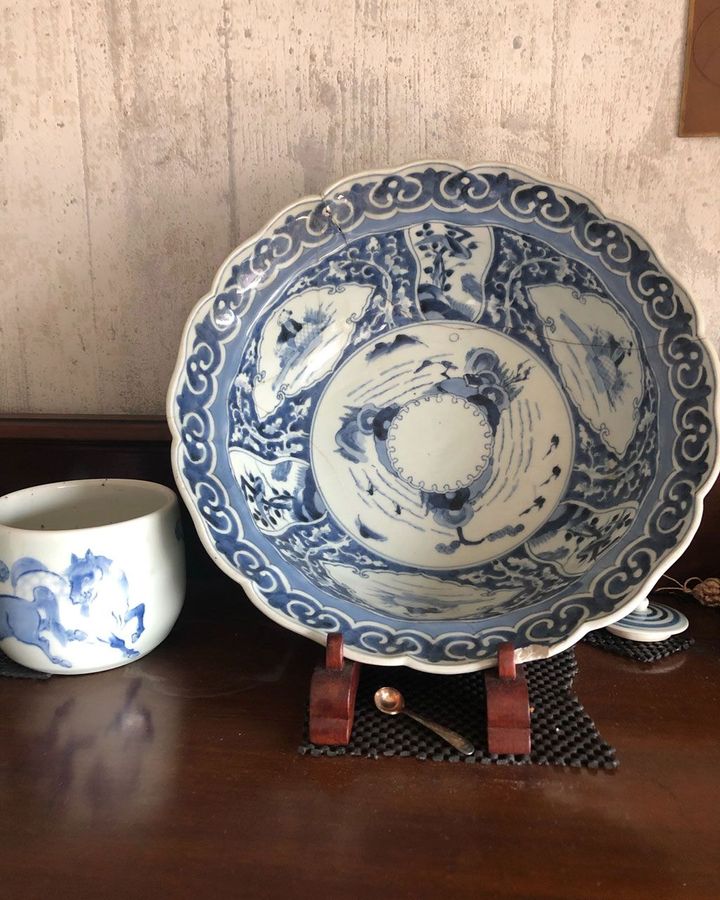 Maeda's 400-year-old ko-mari plate has been repaired several times, but to her it still brings joy (Credit: Hikaru Maeda)
"I myself have broken a plate valued at around 200,000 yen ($1890;£1,500) and have repaired it two, three times," says Maeda. "I both use it and enjoy it as an artifact of beauty." Ko-imari is so highly prized in Japan because its aesthetics can be enjoyed in daily life without too much worrying about wearing it out.
There might be another reason Japanese people are more relaxed about the aging of antiques – the patina that collects on their surface, the small chips and cracks bring their own joy. Naturally, there is a word for that: wabi-sabi.
"Wabi-sabi, is a complex philosophical concept," says Vasiliki Tsaknaki, a postdoctoral researcher and teacher in interaction design at the Royal Institute of Technology (KTH) in Sweden. "The philosophy has its roots in Zen Buddhism. The way I understand it, some things are impermanent, incomplete and imperfect – and there is a joy that comes from observing that decay. Wabi-sabi to me has also to do with a humble value and preciousness that comes by the fact that these things show vulnerabilities and fragility."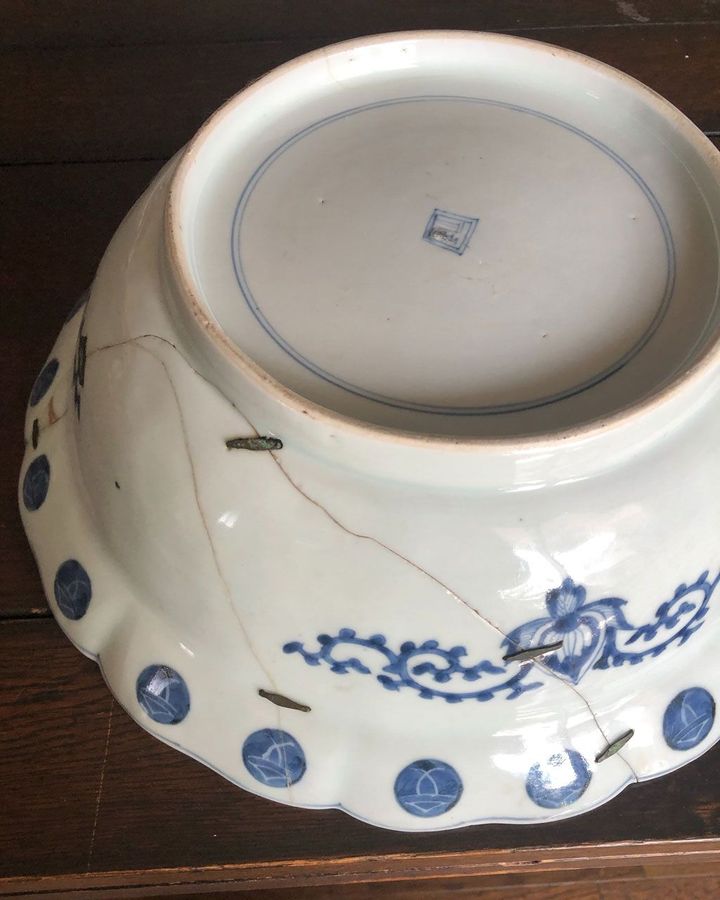 These kintsugi repairs were made 50 years ago (Credit: Hikaru Maeda)
Ko-imari is just one example of the curious and varied ways we treasure old objects. In the West, by contrast, many porcelain antiques are found inside glass cabinets, never to be touched.
The way we value antiques also differs over time, depending on the fashions and cultural norms of the moment. So, how are attitudes to antiques evolving today? And might the disposable and digital age we live in produce fewer heirlooms for future generations?
You may also like:
Traditionally, objects at least 100 years old were considered antique – that was the minimum threshold put in place by the most prestigious antique fairs and showrooms. But as demand for antiques has been in steady decline in the West for decades, values have changed. In 2009, the Winter Show, a high-end New York antique fair, relaxed their rules to include objects manufactured up to 1969, adjusting to incorporate the fashion for mid-century furniture. Later, in 2016, they set no minimum age limit at all, because contemporary objects were more sought-after.
In the 2018 Winter Show, a modern, 7ft-tall (2.1m) porcelain "medallion" retailing at $250,000 (£198,500) was described by the fair's director as "probably one of the most Instagrammed pieces in the entire fair", showing how buyer tastes have changed and success of antique dealing is now measured.
"Since 2000, the world of antiques has suffered a dramatic downturn and in retrospect, I can understand why," says Caroline de Cabarrus, an interior design consultant in the UK. "By the 1990s, the worldwide demand for English antiques had pushed prices to unprecedentedly high levels. This encouraged inferior quality, mass-produced Georgian-style reproductions to appear on the market." Soon these became ubiquitous for furnishing kitsch pubs, B&Bs and hotels. So instead of antiques, many interior designers turned to neutral flat-pack furniture.
Flat-pack now dominates the cheaper end of the market. Over the past few decades, the growth of low-cost self-assembly furniture has been dizzying, fuelling a disposable culture where items are regularly replaced, rather than cherished for generations.
The world of antiques has suffered a dramatic downturn and in retrospect, I can understand why
A fashion for minimalism in recent years has also contributed to the decline of antique demand, says de Cabarrus. "Living spaces were shrinking as house prices increased. Bare floorboards, neutral coloured walls and a few pieces of Scandi flat-pack became the narrative 'du jour'. Built-in storage caused a mass redundancy of antique wardrobes and chests of drawers, which are now gathering dust in the backs of country warehouses."
Meanwhile for many people, regularly moving for work or changing apartments has meant keeping hold of fewer home furnishings, argues Tsaknaki. "We don't buy so many physical things. You don't want to carry so much stuff."
So, while there may still be niche, high-end designers selling objects that endure, with so many people favouring cheap, replaceable homeware over heirlooms, it begs the question of whether our descendants will be left with nothing from us. And if that's the case with furniture, it may also apply to another category of items now populating our homes: technology.
Planned obsolescence
For many people, some of their most expensive possessions – apart from cars or property – are not antiques. They are often phones or laptops, which have a limited shelf life, their longevity shortened even more by broken parts and sluggish software.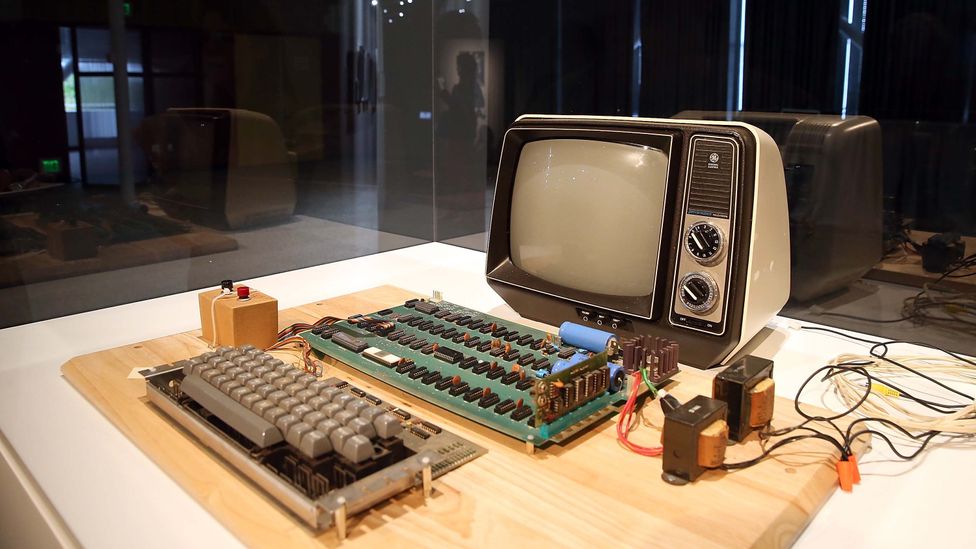 An Apple-1 computer similar to this one sold for over $900,000 (£690,000) (Credit: Getty Images)
Compounding this short lifespan is planned obsolescence, a practice at least 100 years old. The tactic was made infamous by the Phoebus Cartel, a group of manufacturers from the US, UK, Germany and elsewhere, who agreed to start manufacturing light bulbs with lifespans limited to 1,000 hours.
Previously, light bulbs were made with thick, robust filaments capable of lasting for many years or even decades. At the start of the 20th Century, only the wealthiest could afford to have their homes fitted with electrical wires and light bulbs. Once rich customers' homes were fitted out, these companies had nothing left to sell them. So, they agreed to install light bulbs with equally short lifespans in order to generate repeat custom. The cartel was eventually busted after an investigation, but the practice lives on. Some of the largest present-day technology companies have lost lawsuits for intentionally slowing the performance of their phones, for example, to encourage users to buy new ones.
Part of the success of planned obsolescence relies on buyers not being able to repair their technology. Compared to Maeda's 400-year-old plate, handed down through generations, attempts by technology companies to void warranties if the owner repairs the product themselves look cynical. But "right to repair" rules, which will come into place across the European Union in 2021, will prevent manufacturers from withholding tools and parts that will allow customers to make repairs.
The repairability of technology is part of the resurgence of interest in analogue. Film cameras, record players and retro watches have all seen an increase in second-hand sales. Antique clocks and vintage musical instruments – considered hi-tech in their day – are another example of fixable analogue devices.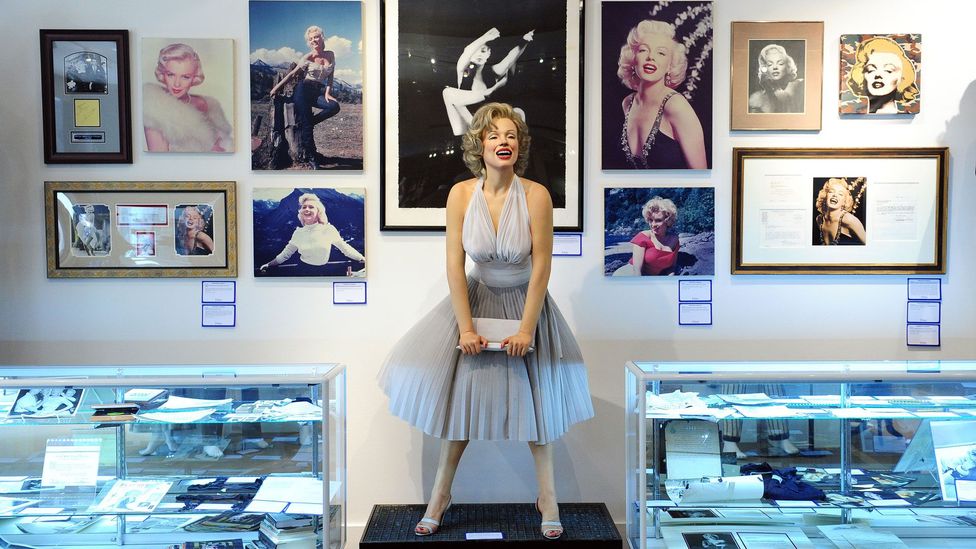 Monroe memorabilia has largely declined in fashion as younger generations hold her celebrity in lower esteem (Credit: Getty Images)
While sales of early models of digital technology sell as collectors' items for thousands to hundreds of thousands of dollars, at the moment that's all they are – something to collect. Outdated software, dwindling battery performance and incompatibility has meant they have limited usability. It's unlikely then that our descendants will be prizing our iPhones and computers without the ability to replace parts. And collectors' items can lose their value as fashions change over generations. Elvis Presley and Marilyn Monroe memorabilia, for example, is dropping in value as younger people ignore their celebrity.
Digital heirlooms
As part of a design project, Tsaknaki made technology which incorporates materials that wear and tear like leather and metals. These designs are supposed to be repairable – when a piece wears out it can easily be sourced again and replaced. But she was also keen to see if the decay of the materials made them more aesthetically pleasing.
But what happens to the data stored in our technology? In a digital world, many of our "possessions" are also not physical anymore – photos, videos, text exchanges. It might be that we value intangible things the most now, says Tsaknaki. "Nowadays we move towards valuing services. We value the content in the phones a lot. If I am about to lose my phone I am super sad and stressed about its content – photos you might lose and connections because we don't keep physical address books."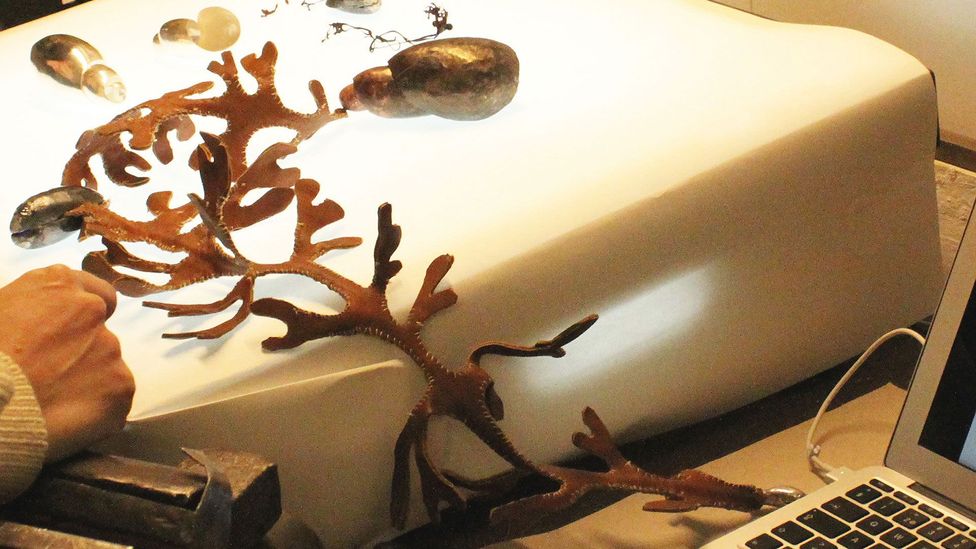 Tsaknaki's design for computer speakers was made with leather and metal to look like seaweed and shells (Credit: Vasiliki Tsaknaki)
Tsaknaki warns that we don't know what this means for digital heirlooms – how do we pass them on, and can they decay? No form of digital storage lasts forever. If well-kept, cassettes are thought to last a few decades and CDs a century or more, but high temperature and sunlight will shorten their lifespans. Digital files are not future-proof either. Bit-rot will degrade files over time.
Tsaknaki recalls a personal experience that made her reflect on the ephemeral nature of digital possessions. "I have lots of hard drives that I store content from 12 years of my life," says Tsaknaki. "At some point I plugged in a hard drive on my laptop and I was about to use some photos from uni and something was wrong with the file – all the photos were corrupted in a way… it was a digital collage, there was something about part of the photo being destroyed and some were combined.
"It happened through the system or some sort of glitch when I was copying the photos. Is it some kind of patina, maybe?"
Re-use resurge
For younger generations, the environmental impact of constantly replacing goods could lead to a change in attitudes towards disposable possessions. Tsaknaki notes the increase in "maker" communities and the popularity of DIY videos online. For de Cabarrus, it is cause to be optimistic about the future of antiques.
"It seems illogical to buy mass-produced modern furniture when the 200-year-old skilfully hand carved antique pieces now compare so well in price," says de Cabarrus. "There is also the recycling and carbon footprint debate. Although many companies are now careful to use wood from approved sources, illegal logging still continues."
Perhaps in time we will come to value our technologies as a longer-term investment, even if only sentimentally
De Cabarrus says it is the under 35s who are showing the most interest in antique furniture now for these reasons. She says that antiques can be as innovative and space-efficient as anything you can buy from a modern store.

"As to which antiques are likely to retain value, it is very difficult to predict with the vagaries of the market. For the majority, the best advice is to buy a piece that gives you pleasure every time you look at it or sit on it."

Under the right to repair rules, perhaps in time we will come to value our technologies as a longer-term investment, even if only sentimentally. Will we see a resurgence in nostalgic 90s technology, or will working examples of these items only become more scarce? The repairability is surely important because what purpose does technology have if you cannot use it?

In a disposable age, so many of our possessions currently end up in landfill. But imagine if more of the objects you own could be like Maeda's 400-year-old plate, lovingly restored and enjoyed through the generations – despite their age and imperfections.

--

Join one million Future fans by liking us on Facebook, or follow us on Twitter or Instagram.

If you liked this story, sign up for the weekly bbc.com features newsletter, called "The Essential List". A handpicked selection of stories from BBC Future, Culture, Worklife, and Travel, delivered to your inbox every Friday.

;