Bison and wolf populations are reviving in parts of Europe, in an effort to return some of the landscape to wilderness – but these large beasts are not always welcome.
I
I stumble past long grass, whipping mosquitoes away from my legs, as I enter a clearing. "The deer have been eating all the young trees here, so they haven't managed to grow," my guide tells me, gesturing to the shrubbery in front of us. We carry on walking and the trees suddenly become taller and denser.
"It looks like they don't graze here as much," he says. "Probably because there's dead wood on the ground. It makes it harder for them to get away if there are wolves in the area."
"Is that a good thing?" I ask.
"It's neither good nor bad," he replies. "It's just what nature intends."
My guide is Stefan Schwill, one of Germany's leading proponents of rewilding. This method of conservation aims to let large areas of land return to wilderness – in other words, a state of zero human intervention. This may require a bit of manipulation to begin with, but the aim is to eventually step back and let nature do what it wants. Schwill currently works as board director of Rewilding Oder Delta, a rewilding project founded in 2015 by several environmental NGOs that covers 250,000 hectares (965 sq miles) at the northernmost part of the German-Polish border. I've joined him for a walk through the German side, in the state of Mecklenburg-Vorpommern.
It's only a matter of time before more bison come. And so, we need to prepare the local people – Stefan Schwill
To mark the end of a turbulent year, we are bringing back some of our favourite stories for BBC Future's "Best of 2020" collection. Discover more of our picks here.
"The goal is to bring 2% of the surface area of Germany to wilderness state," Schwill tells me. However, in densely populated western Europe, it's difficult to find suitable space – only 0.6% of Germany could be classed as wilderness so far. The area we're walking through is a rare find – it was once used for agriculture, but a dyke broke in 1995, flooding the fields and making them useless for farmers.
So far today I've seen a plethora of wildflowers, multiple types of butterfly, beaver dens and even several white-tailed eagles, which nature enthusiast Schwill expertly spots on the horizon. But Schwill has, quite literally, even bigger dreams for the species he would like to see in the area. "Part of my vision is to let large mammals come back," he says.
You might also like:
Just the other side of the border there are 13 free-living bison herds and a number of elk. In 2017, one wild male bison crossed into Germany and was immediately shot dead by panicked authorities. Young elk also regularly wander into Germany, and are starting to do so more regularly. "It's only a matter of time before more come," says Schwill. "And so, we need to prepare the local people."
An ecosystem that has many different species and systems in place can bounce back more easily from any disturbances – Andrea Perino
The fact that these animals are currently living freely in western Poland is something of a feel-good story. Bison used to roam across most of Europe, but were hunted extensively by humans – the last wild bison was shot dead in 1919. However, a small population remained in captivity and in 1954 some were released into eastern Poland. Since then, they have been reintroduced to several other countries, including the Netherlands, Switzerland and one part of western Germany. A small number of elk have always lived Poland, where a ban on hunting means they have increased in numbers too. Lynx have also recently been reintroduced to the Polish side, and have been tracked close to the border.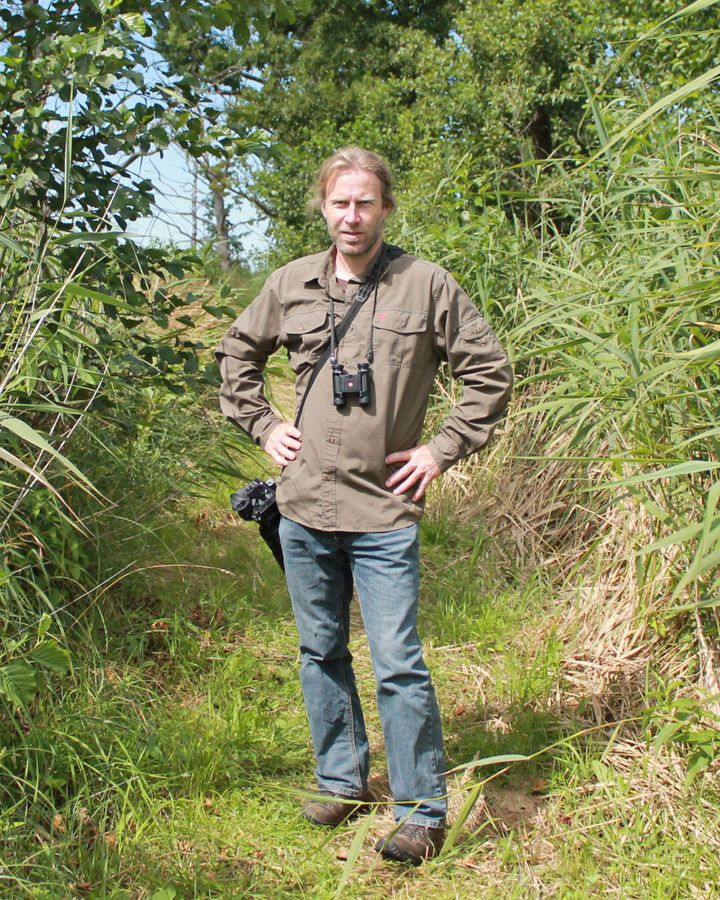 Stefan Schwill would like to see the proportion of wilderness in Germany increase from its current 0.6% to 2% (Credit: Jessica Bateman)
Although there is something almost fairytale-like about the idea of swathes of land turning wild and being overrun by majestic beasts, it's not just about romantic nostalgia. Rewilding's proponents believe it can help protect our ecosystems from climate change.
"If done right, [rewilding] can increase what we call the ecological resistance of an ecosystem," says Andrea Perino, a science policy coordinator at the German Centre for Integrative Biodiversity Research who studies the effectiveness of rewilding. "An ecosystem that has many different species and systems in place can bounce back more easily from any disturbances." For example, if there are several species in an area fulfilling the same task, the ecosystem has a better chance of not collapsing if one of them is killed off by rising temperatures.
And according to Perino, although large mammals are not the most important aspect of rewilding, they do help increase biodiversity. Large carnivores such as wolves or lynx alter their prey's behaviour, making them more competitive. And large herbivores, such as bison, maintain open grassland space by grazing on young trees. This is particularly important in central and western Europe, as much of the land has been farmed for centuries. When humans withdraw from an area, trees tend to overtake – bad news for the many species that prefer field conditions. But if large herbivores are around, a patchwork of forest and open space can be naturally maintained. This variety of habitats results in better biodiversity and, in turn, greater overall resilience.
There are many examples of where a species has been reintroduced and they have caused lots of unexpected problems – Andrea Perino
Animals can be actively reintroduced from captivity into the wild, as has already happened elsewhere in Europe, or allowed to come back naturally – a practice known as "passive" rewilding. Perino is a fan of the latter. "Personally, I think it's less risky," she says. "There are many examples of where a species has been reintroduced and they have caused lots of unexpected problems." She gives the example of Australia, where the introduction of non-native species such as rabbits and red foxes has led to populations growing out of control and causing damage to both agriculture and native species.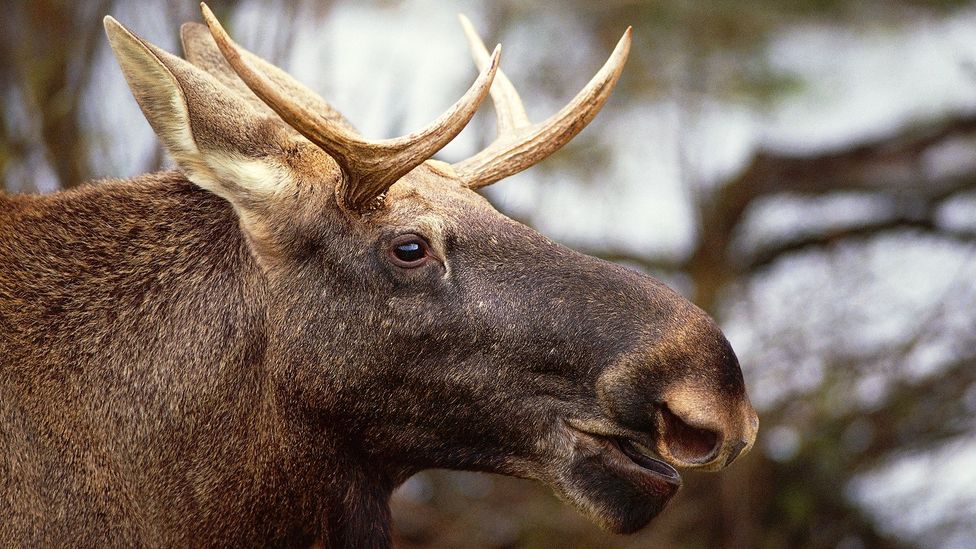 The elk is one of the largest herbivores in Europe, besides the bison, but it is known to cause damage to crops (Credit: Getty Images)
Schwill and his team are choosing to take the passive approach on the German border, letting the animals wander across themselves rather than actively encouraging them. "We know from other areas that active reintroduction causes a lot of problems," he tells me.
Over in the state of North Rhine-Westphalia, a herd of bison were actively reintroduced in 2013, on land belonging to a local aristocrat. However, this herd is unable to survive without help from humans. "The issue is that the population isn't linked to other areas," says the project's scientific coordinator, Kaja Heising. There is no way for bulls to freely reach females from other herds, thanks to the distances, roads and cities in between. So to prevent inbreeding, they would need to be transported elsewhere.
"The last option is to take them out lethally," Heising continues. "And this is what we were forced to do, as we couldn't find another area to transport them to."
Kylie Wirebach, a research assistant at Allegheny College who has studied the viability of land in central and eastern Europe for supporting bison herds, explains that inbreeding can be catastrophic for the animals. "It can lead to genetic problems, such as infertility, and make them more susceptible to disease," she explains. At the moment, she says central and western Europe in general lack the huge spaces needed to support free-living herds. However, "there are organisations that create 'habitat corridors' so that animals can reach different, protected areas".
"So, it might not be that an area's unsuitable, but that it needs more work and investment," she says.
As well as avoiding this scenario, Schwill believes passive rewilding will limit clashes with local people. "One of the main questions is, who do the animals belong to? If they cause damage, then who pays?" he says. "This doesn't exist if they come back themselves."
And Schwill is right to worry about this – so far, the return of other large mammals has proved a politically divisive issue in Germany. As well as the reintroduced bison, Germany has seen huge increases in wolf, beaver and grey seal populations over the past few decades as a result of hunting bans. Two wolfpacks live close to the Oder Delta area, and we spot their droppings at one point during our walk.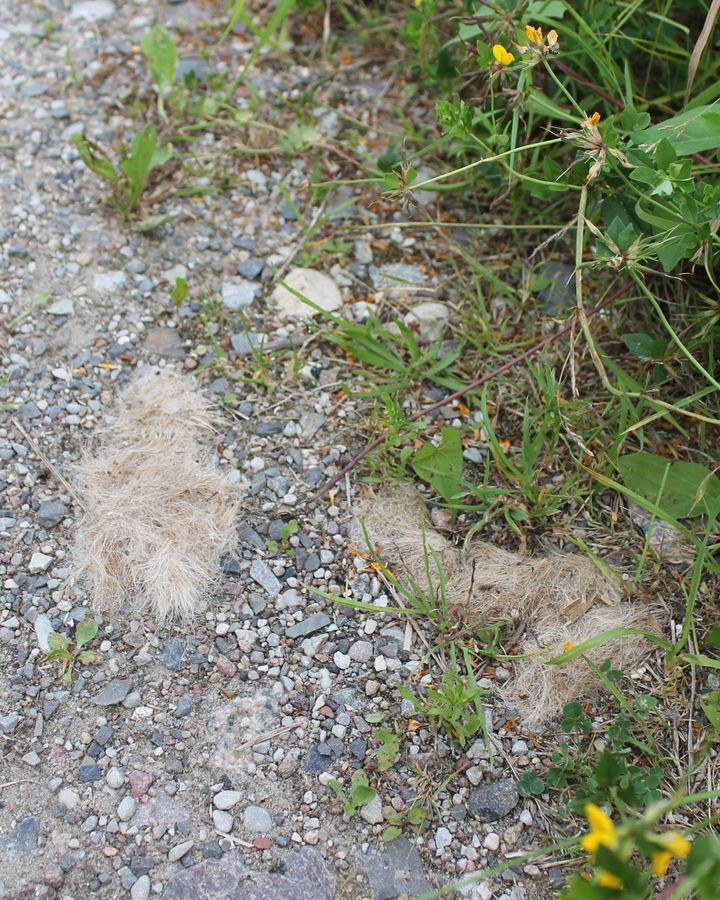 The remnants of wolf droppings show the presence of these divisive animals in Germany near the Polish border (Credit: Jessica Bateman)
These animals cause problems for farmers, who suffer from livestock and field damage, and for fishermen whose nets can be destroyed by seals. Hans Witte, a farmer who lives in the village of Fiedland, around 35km (22 miles) south-west of the rewilded site, explains over the phone that 20 hectares (49 acres) of his land have become unusable due to beaver digging. He also says there is a wolfpack living in his area, which has attacked his neighbour's livestock. "That makes you feel extremely uncomfortable," he says. "The way I see it, a wolf that does that has to be destroyed. And I think the same thing about beavers."
Some people are excited about these animals coming back, but others are very scared – Jonathan Rauhut
He expresses exasperation at authorities and conservationists, adding that he believes they should have kept the animals on protected land. "Now we have them everywhere and no one is taking care of the situation… The landowners have to bear all of the consequences and are not compensated properly."
On top of this, Witte says there was recently an elk in his neighbourhood that had wandered across from Poland, and he is worried about the threat posed to humans. "[Elk and bison] are a huge danger to cars and other vehicles," he says. "They are not normal wild animals for us here."
Wolves are a particularly sensitive topic in the old East Germany, where hunting was legal prior to reunification with the West in 1990. There have even been anti-wolf protests in Brandenburg, the state neighbouring Mecklenburg-Vorpommern. There are worries that if elk and bison cause extensive crop damage – as they do in other countries where they are present, such as the US – there will be similar clashes in Mecklenburg-Vorpommern.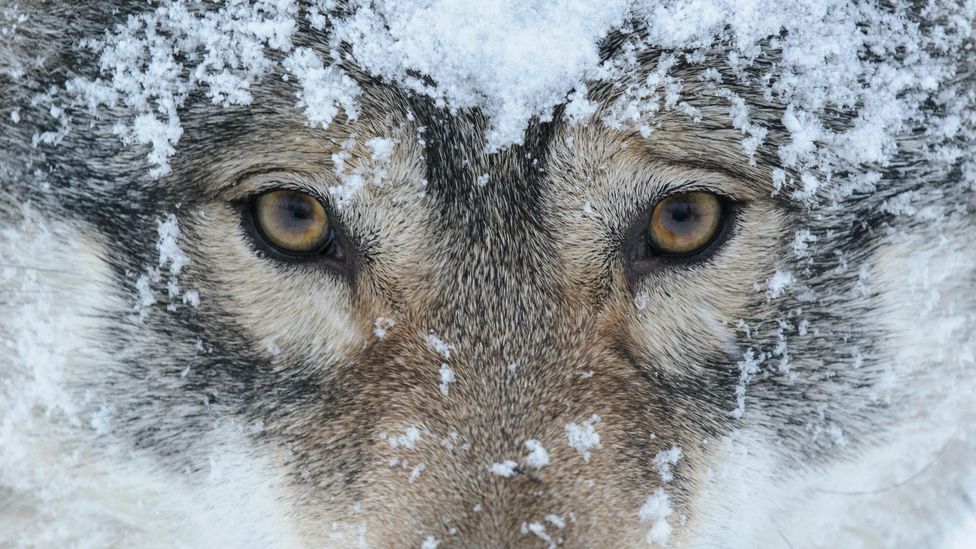 Livestock farmers can be reimbursed for losses caused by wolves, but the process has been criticised as bureaucratic (Credit: Alamy)
The discomfort around rewilding is something that the far-right AfD, the second-largest political party in the Mecklenburg-Vorpommern state government, has picked up as a campaign issue, opposing the return of the wolf to Germany. "I can only speculate, but I can't see why they wouldn't jump on other large mammals like they have with the wolf," says Perino. Schwill adds that the AfD is quick to oppose changes that would result in the loss of agricultural land, and also denies climate change.
Shifting local perceptions of rewilding will be a big factor in whether Schwill's vision materialises. I speak with his colleague, Jonathan Rauhut, who is working on developing coexistence workshops that will be presented to the German authorities. "Some people are excited about these animals coming back, but others are very scared," he tells me.
Rauhut believes the answer may lie on the Polish side of the border, where bison and elk exist peacefully alongside humans. He plans to bring German authorities across to meet their Polish counterparts, so they can learn how they deal with issues such as crop damage and traffic collisions. Rauhut also hopes to take them to spot some free-roaming animals, so they can get used to them.
Some techniques used in Poland could be easily adapted, such as collars which track members of large herds so authorities can intervene if they get too close to busy roads or farmland. Others will require legislative changes. "In Poland, all damages are paid by the state, and this should happen in Germany," Rauhut says. Currently, the large volume of privately owned farm and forest in Germany means that compensation mechanisms "do not make sense yet".
The German state currently compensates farmers for livestock killed by wolves, but according to Perino "there are bureaucratic hurdles – someone needs to come and assess whether it was definitely a wolf that killed your animals". She adds that farmers can also get financial assistance for electric fences and guard dogs, but "it's sometimes ignored [by environmentalists] that all this requires labour, and I think it's important to acknowledge that".
Ultimately, conservationists believe people's acceptance of large mammals may come down to whether they see them as an economic threat or benefit. Mecklenburg-Vorpommern is the second poorest state in Germany, and the main industries here are agriculture and tourism. Rising sea levels and sinking coastal land are making farming more expensive, as land has to be drained more regularly.
"The future for this region is in nature tourism," one local nature guide, Gunter Hoffmann, tells me when I meet him in the main square of Anklam, the nearest large town. "When people see that the animals can benefit them, things will change. But I think it will take a new generation." Nature safaris are becoming increasingly popular on both sides of the border. In other eastern German states, such as Saxony, dedicated wolf tours are also becoming commonplace.
Overall, there may be even deeper reasons that explain why large mammals are better accepted in Poland, which will be difficult to recreate In Germany. "There is research suggesting that if you grow up with these animals, you are more accepting of them," says Perino. "I think [these animals' history in Poland] is why people are more relaxed." As to whether environmentalists' dreams of humans and large mammals living together side by side in Germany, we'll have to wait and see what happens when they next wander across the border.
--
The emissions from travel it took to report this story were 18kg CO2, travelling by train and car. The digital emissions from this story are an estimated 1.2g to 3.6g CO2 per page view. Find out more about how we calculated this figure here.
--
Join one million Future fans by liking us on Facebook, or follow us on Twitter or Instagram.
If you liked this story, sign up for the weekly bbc.com features newsletter, called "The Essential List". A handpicked selection of stories from BBC Future, Culture, Worklife, and Travel, delivered to your inbox every Friday.