Numerous vaccines are made using the cells, which were taken from a foetus in the 1960s. But their use has also created a moral dilemma.

In 1612, the streets of Paris were alive with a tantalising rumour – that a man had achieved immortality.
His name was Nicholas Flamel, and though he had been born in France nearly 300 years earlier, he was credited with authoring a book about alchemy, published that year. In it, he claimed to have successfully made the philosopher's stone, a mythical object which allows its owner to turn base metals to gold and produce the elixir of life. 
As the legend of Flamel's immortality spread, people began to report seeing him out and about. Even Isaac Newton, widely regarded as one of the most brilliant minds who ever lived, believed the tales. He took the book extremely seriously, and devoted a large part of his professional career to studying its contents.
Alas, it wasn't true. The real Flamel was no alchemist – he had worked as a scribe, and died in 1418 at the respectable age of 88. The book had been written by someone else. 
The quest for immortality took another blow in 1961, this time in a modern laboratory in Philadelphia.
You might also like:
For decades, scientists had thought that the roughly 37.2 trillion cells that make up our bodies would keep dividing – and thus replenishing themselves – forever, if only they were given the chance. 
Then a young American scientist, Leonard Hayflick, made a discovery which shocked the world. It turns out ordinary human cells can only divide between 40 and 60 times before they undergo a violent, pre-determined death. This strict cut-off is known as the "Hayflick limit", and it has two important consequences.
Firstly, our current lifespans might not just be constrained by the way we live our lives – our diets, and so on. Instead, it's possible that there are built-in limits to how old it's possible to get. In fact, if you multiply the number of cells in the human body by the average time it takes for cells to reach the Hayflick limit, you end up with 120 years. The oldest person who has ever lived, Jeanne Calment, made it to 122 years and 164 days – uncannily close.
Secondly, it's difficult to find cells that scientists can grow in the laboratory – an essential step in the production of many drugs and vaccines. Because cells are mortal individually, if you grow them in a petri dish, sooner or later they will stop dividing and die.
This is the story of the cells that helped to overcome this obstacle, and their controversial origins at a clinic in Sweden. Why are they so special? And how can we justify continuing to use them given the way they were obtained?
A hidden crisis
Before Hayflick's discovery, scientists had got around the division limit by continually replenishing their cell supplies with fresh ones from new animals, or using cancerous cells – since cancer doesn't play by the same rules as healthy tissue, and will keep growing indefinitely. But scientists were urgently in need of another way.
In the 1960s, the polio vaccine used in the United States had been hit by calamity.
In total, the cells are likely to have saved 10.3 million lives from deadly diseases (Credit: Andrew Brookes/Getty Images)
Some vaccines are made by growing viral particles in cells, and then killing or weakening them so that they can't cause disease. These inactivated particles become the active ingredient – the part that teaches the immune system what to look out for. 
For decades, the polio vaccine had been made in cells taken from monkey kidneys, some of which – it was later discovered – were infected with a virus, simian virus 40 (SV40). Though today vaccines are extensively filtered, and don't contain any material from the cells they're grown in, between 1955 and 1963, it's been estimated that up to 30 million people were infected in the United States alone.
The contamination is thought to have occurred because the cells were usually grown fresh from monkeys – as opposed to from a stock of laboratory cells – and SV40 is a common infection in the most widely used species, the rhesus macaque.
Over the ensuing years, frozen vials of the cells were flown to hundreds of laboratories across the world
Whether the introduction of the virus had any medical consequences is still under question – as is the possibility that it is now spreading to people who were never vaccinated. In the laboratory, the virus has been shown to be carcinogenic, and a possible link between the virus and several types of cancer, from brain cancer to lymphoma, has been investigated, but there isn't yet definitive evidence either way.
Nevertheless, it suddenly became necessary to find an alternative supply of cells.
An anonymous woman
Then in 1962, Hayflick made another discovery. "Without it, you and I might not even be alive," says Stuart Jay Olshansky, an expert in biodemography and gerontology at the University of Illinois, Chicago.
It began when a nameless woman who was three months pregnant had a legal abortion in Sweden. As the author Meredith Wadman wrote in her book, The Vaccine Race: Science, Politics and the Human Costs of Defeating Disease, the foetus wasn't incinerated, buried or thrown away – instead it was wrapped in sterile green cloth and sent to the Karolinska Institute in northwest Stockholm.
At the time, Hayflick was sourcing the cells he used for his research from this institution. In his laboratory at the Wistar Institute in Philadelphia, he managed to incubate some of the tissue in several glass bottles at 37C (98F). He added an enzyme to break down the protein that bound the cells together, as well as "growth medium", a solution which contained the nutrients they needed to divide. After a few days, he was left with a continuous sheet of cells.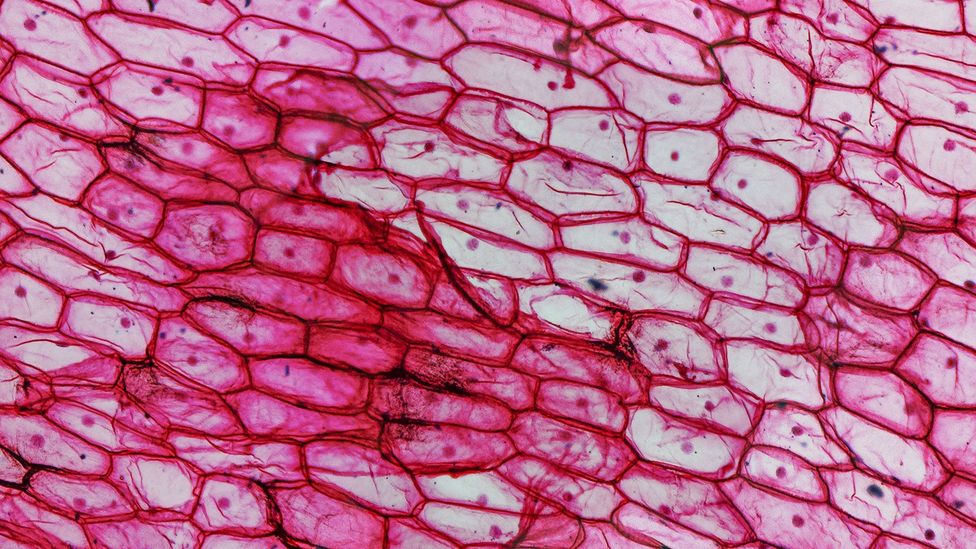 There has been some controversy over the use of cells produced in this manner (Credit: Claudio Divizia /EyeEm/Getty Images)
One of these cells eventually turned into the cell line "WI-38", which stands for Wistar Institute foetus 38.
Over the ensuing years, frozen vials of the cells were flown to hundreds of laboratories across the world, WI-38 is now one of the oldest and most widely available cell lines on the planet. As Hayflick has noted previously – although perhaps rather insensitively – as early as 1984, WI-38 had become "the first cultured normal human cell population to ever reach voting age". Today the cells are routinely used to make vaccines against polio, measles, mumps, rubella, varicella zoster (chicken pox), herpes zoster, adenovirus, rabies and Hepatitis A.
Why are the cells so special? And how can we justify continuing to use them?
An unlimited supply of cells
Soon after Hayflick discovered that cells are mortal, he realised that if you siphon some off each time they divide and freeze them, a single source can theoretically provide an almost unlimited supply – around 10,000,000,000,000,000,000,000 (10 sextillion) in total.
And though WI-38 cells are mortal, because the cells had divided relatively few times when they were collected, they can be grown for longer before they reach the Hayflick limit. Most WI-38 cells have 50 divisions left, which each take 24 hours to complete, so they can be grown continuously for 50 days before you need to start again.
Though there are hundreds of cell lines available in the United States, WI-38 makes up the majority of the cells used
Another reason WI-38 has become so ubiquitous is that a quirk of the American legal system at the time of its discovery: it wasn't possible to patent living things. This means their use was never restricted, and scientists around the world were able to share them freely with colleagues.
Though there are hundreds of cell lines available in the United States, WI-38 makes up the majority of the cells used, together with just one other.
"MRC-5" cells, named after the initials of the Medical Research Council where they were collected, were obtained from the lungs of another three-month-old foetus. This time the abortion happened in England in 1966 for "psychiatric reasons".
WI-38 was fundamental for the development of vaccines against polio, measles, mumps, rubella, varicella zoster (chicken pox), herpes zoster, adenovirus, rabies and Hepatitis A, as well as in the production of many early vaccines. Today it's still used to make the rubella vaccine – part of Merck's measles, mumps and rubella (MMR) jab – and Teva's adenovirus vaccine for the US military.
Finally, foetuses are thought to be the "cleanest" possible source of cells, since they are less likely to have picked up any viruses from the outside world which might contaminate vaccines or confound the results of experiments.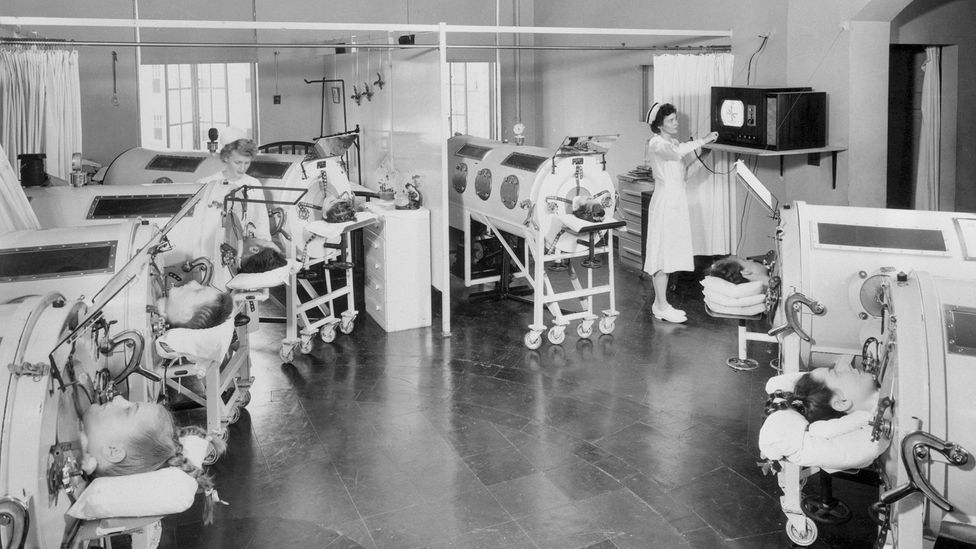 Polio once left people with lifelong conditions, but has been effectively killed off in the wild thanks to a vaccine (Credit: Getty Images)
Back in 2017, Hayflick asked Olshansky to quantify exactly how many lives the cells had spared until that point. By comparing the global prevalence of certain infectious diseases in the 1960s, when the cell line was discovered, with the prevalence of  infectious diseases then, he calculated that vaccines made with WI-38 may have prevented around 4.5 billion infections. In total, the cells are likely to have spared 10.3 million lives.
"Not everybody dies from these diseases. But if you survive, you might survive disabled," says Olshansky. "My wife and I, we have a very close friend of ours who is suffering from the consequences of a polio exposure as a child today."
Though there hasn't been a single case of polio in the United States since 1979, a significant number of people are still thought to be living with the after-effects. This includes potentially hundreds of thousands with "post-polio syndrome", in which muscles slowly weaken and shrink. One man, 74-year-old Paul Alexander, is still trapped in an iron lung. He was paralysed by the virus in 1952 at the age of six.
You have to think, well what about the ethical consequences of not using the cell line? - Stuart Jay Olshansky
There has been some controversy surrounding the origins of the cell line, however.
Apart from the fact that some people feel uncomfortable about its links to abortion, the woman whose foetus the cells came from, who Wadman has named "Mrs X", did not consent to its use. In fact, she didn't even know about it until years later, when she was contacted by someone from the Karolinska Institute who was hoping for a more detailed medical history. 
The incident is unlikely to happen again today, because human tissue is regulated in the United States. Any material collected is subject to the Common Rule – a set of ethical standards introduced in 1981, which researchers must comply with in order to receive federal funding. Chief among them is the requirement for informed consent.
However, the rule doesn't apply retrospectively, and there are many examples of tissue which was effectively stolen and continues to be used to this day.  
The issue was first brought to the public attention by the 2010 book, The Immortal Life of Henrietta Lacks, about an African-American woman of the same name who unknowingly had cells taken from a cervical tumour and turned into the popular cell line HeLa in 1951. So far, the cells have contributed to over 70,000 studies, and led to the discovery that the majority of cervical cancers are caused by the HPV virus. However, while Lacks' descendents are generally proud of what her cells have achieved, some have been critical that others have profited from them, when her own family has not. (Learn more about the immortal cells of Henrietta Lacks.)
The 'immortal' cells of Henrietta Lacks
Genetic insight
These ethical transgressions have become even more problematic with the advent of affordable genetic sequencing. Human cell lines contain human DNA – and WI-38 will share 50% of its DNA with the foetus' mother. In this light, the cell line is considered by some as potentially representing a privacy risk.
A person's genetic sequence can provide insights into their familial risk of disease, ancestry, intelligence, and potential lifespan. In fact, even in cases where informed consent is obtained, there is still some debate about the ethics of using human tissue – because genetic material is familial by nature, and this decision could potentially affect many other relatives other than the one who provided it.
One way to deal with these concerns is to involve the family in decisions about when and how their genetic information is used. For the HeLa cell line, there have been some efforts to achieve this. Back in 2013, the National Institutes of Health came to an understanding with Lacks' relatives, and set up a  panel with three family members to review requests to access the full genome. By then, a German team had already published the full sequence on the internet.  
Despite these concerns, the benefits of using the cells are widely thought to vastly outweigh them, and many religious organisations which are otherwise anti-abortion have publicly announced their support for the use of vaccines manufactured this way when no other alternatives exist, including the Catholic Church, although it did express a need for alternative sources of vaccines. 
The connection between the chilling origins of many cell lines and the benefits they provide is perhaps most striking in the development of the rubella vaccine. Though it's produced in WI-38 cells to this day, its early development relied heavily on cells taken from several different aborted foetuses – many of which had been aborted for the very reason that their mother was infected with the virus.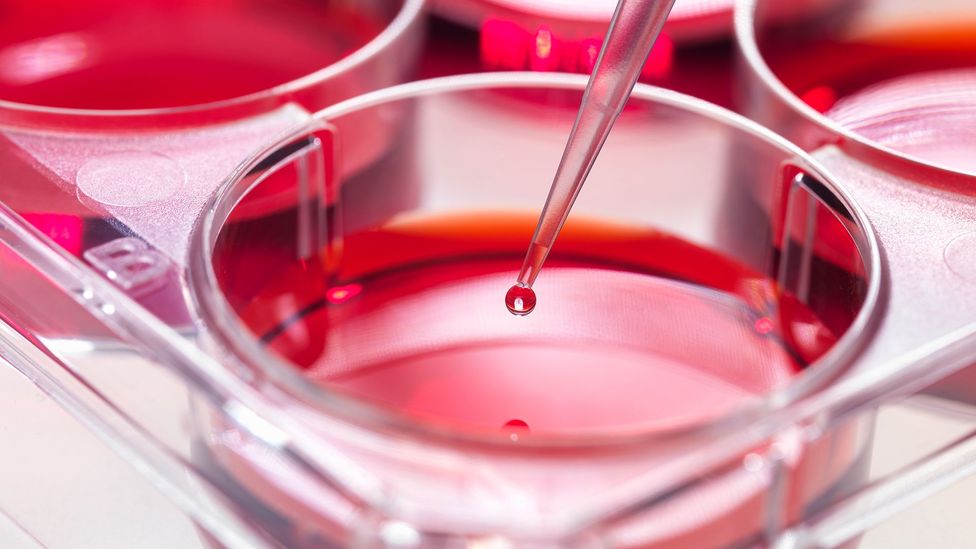 The cells from WI-38 were never restricted, which means they could be shared freely with scientists around the world (Credit: Andrew Brookes/Getty Images)

Rubella can cause a number of serious consequences during pregnancy, such as stillbirth and miscarriage. If a woman is infected early on, she has a 90% chance of passing the virus to her unborn child, where it can lead to "congenital rubella syndrome" and a constellation of health problems, from brain damage to hearing loss.

"You have to think, well what about the ethical consequences of not using the cell line?" says Olshansky. "Just keep in mind that they are a critical link in the chain, in the development of viral vaccines." 

Four centuries on from the publication of Flamel's book, and his fans might be disappointed to hear that no one has made it to 300, let alone discovered the secret to living forever. But though the Hayflick limit currently seems like a formidable barrier for people, it's no longer such a problem for scientists. Ironically, their efforts to overcome it in cells have arguably helped to keep more of us alive than research into immortality ever has.

This article has been amended to clarify that WI-38 is one of the oldest cell lines in use, rather than the oldest, and which vaccines it is used to produce today.

--

Join one million Future fans by liking us on Facebook, or follow us on Twitter or Instagram.

If you liked this story, sign up for the weekly bbc.com features newsletter, called "The Essential List". A handpicked selection of stories from BBC Future, Culture, Worklife, and Travel, delivered to your inbox every Friday.

;