A sargassum bloom the width of the Atlantic Ocean caused havoc on beaches, but locals in Mexico and the Caribbean are fast finding ways to turn the seaweed invasion to their advantage.
I
In the summer of 2018, an almost incomprehensibly large mass of stringy brown seaweed appeared in the Atlantic Ocean. It stretched from one coast to the other, from the shores of West Africa to the Gulf of Mexico. Spanning 8,850 kilometres (5,000 miles), the seaweed bloom, known as the great Atlantic sargassum belt, was the largest ever recorded. Researchers analysing satellite images of the bloom estimated its mass to be more than 20 million tonnes – heavier than 200 fully loaded aircraft carriers.
While the 2018 event was a record, sargassum blooms have been a nuisance in the Atlantic for some years, where they harm coastal biodiversity, fisheries and the tourism industry in the Caribbean and Mexico. Barbados declared a national emergency in June 2018 after its shorelines were engulfed by sargassum.
And it is a problem that appears to be getting worse in the Atlantic. After analysing 19 years of satellite data, researchers at the University of South Florida found that since 2011 the sargassum bloom has appeared annually and is growing in size.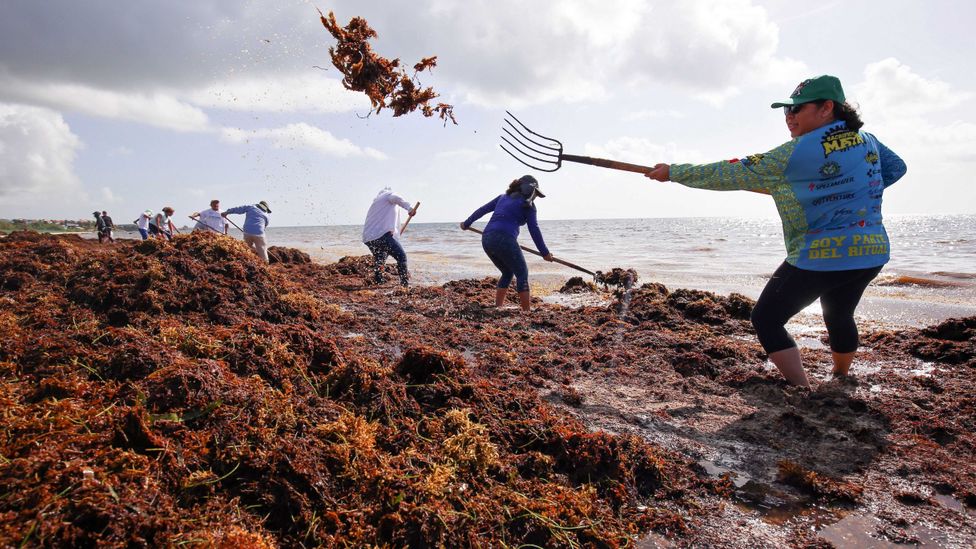 Residents of Mexican coastal towns face a daunting task to try to clear the mounds of sargassum by hand (Credit: Getty Images)
"2011 was a tipping point. Before that we did not see much sargassum. After that we are seeing recurring, massive sargassum blooms in the central Atlantic," says Mengqiu Wang of the University of South Florida, one of the team who discovered the Atlantic-spanning bloom in 2018. The blooms are at their largest in June and July, she says.
You might also like:
Other researchers, such as Elizabeth Johns of the US's National Oceanic and Atmospheric Administration, agree that 2011 was a tipping point for sargassum in the Atlantic, suggesting future blooms are likely to be even larger. Indeed, a Caribbean research cruise in autumn 2014 recorded sargassum concentrations 10 times that of the 2011 event, and 300 times greater than any other autumn in the previous 20 years, according to research by marine scientist Amy Siuda and colleagues at the Sea Education Association, Woods Hole in Massachusetts.
While the exact causes for the boom have yet to be pinned down, Wang's team believes that a number of environmental factors are contributing to the sargassum explosion. Among them are abnormal ocean currents and wind patterns linked to climate change.
The destruction of the Amazon rainforest is also thought to have fueled the growth of sargassum. As huge swathes of the rainforest are cut down, it is replaced with heavily fertilised farmland. The fertiliser ends up in the Amazon river and eventually in the Atlantic where it floods the ocean with nutrients such as nitrogen. Records show during the large 2018 bloom there were higher levels of nutrients in the central Atlantic region where the sargassum grows compared with 2010, says Wang.
When scattered across open water, sargassum – sometimes known as the "floating golden rainforest" –  serves as an important breeding ground for turtle hatchlings and a refuge for hundreds of fish species. The problem comes when sargassum washes up on the beach and starts to rot, emitting hydrogen sulfide – a gas that smells like rotten eggs. "It is a good vegetation in the ocean, on the beach it turns into something bad," says Wang.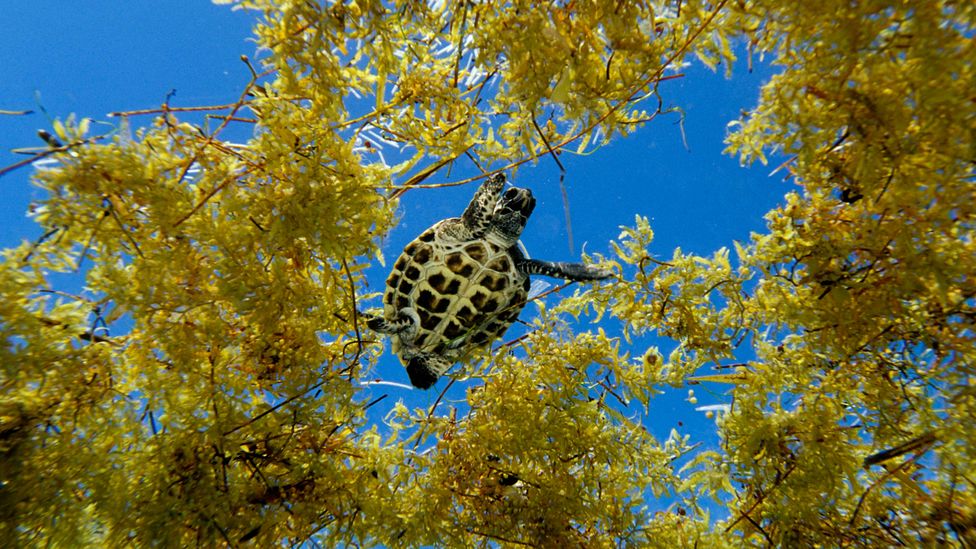 In open water, sargassum provides a crucial habitat for fish and other marine animals – but on shore it can make it harder for turtles to spawn and hatch (Credit: Getty Images)
The pungent smell and unsightly appearance are driving tourists away from beach resorts in the Caribbean and Mexico's Yucatan peninsula – a blow to the region's economy, which relies heavily on tourism. In 2018, Laura Beristain Navarrete, mayor of coastal town Playa del Carmen in Mexico, told a local newspaper that tourist numbers in the region had fallen by up to 35% due to sargassum.
Removing the seaweed from the beaches is a costly and time-consuming process. In 2019, Mexico's president, Andrés Manuel López Obrador, estimated that clearing all the sargassum that year would cost $2.7m (£2m) and enlisted the country's navy to help with the massive clean-up.
Besides its catastrophic impact on tourism, sargassum is also a public health concern, says Wang. When it decays, it attracts insects that can cause skin irritation, while hydrogen sulphide exposure from rotting sargassum has been linked to neurological, digestive and respiratory symptoms.
The stranded seaweed poses a serious threat to marine wildlife too. The huge piles of seaweed prevent turtles from nesting and ensnare dolphins and fish in the coral reefs. "Sargassum can suffocate coral reefs by covering them and decimate breeding grounds for turtles," says Mike Allen, a marine scientist from the University of Exeter who has developed a cheap way of converting sargassum into biofuels and sustainable fertiliser.
Allen and a team of researchers from the universities of Exeter and Bath devised a process called hydrothermal liquefaction (HTL), which uses high pressure and temperature to split wet biomass into four components: a bio oil that can be upgraded to biodiesel, water-soluble organic compounds used to produce fertiliser, carbon dioxide (which the researchers say they aim to capture rather than release into the atmosphere) and char, a solid material containing all the metals found in the seaweed, which the team also plans to recover at a later stage.
"I liken it to 'geology in a tin'," says Allen. "Because the pressures and temperatures are so high, we can put pretty much anything in there. We can convert plastic alongside the [sargassum] biomass in the same process," he says. Nylon fishing nets tangled in the coral reefs are also turned into fertiliser.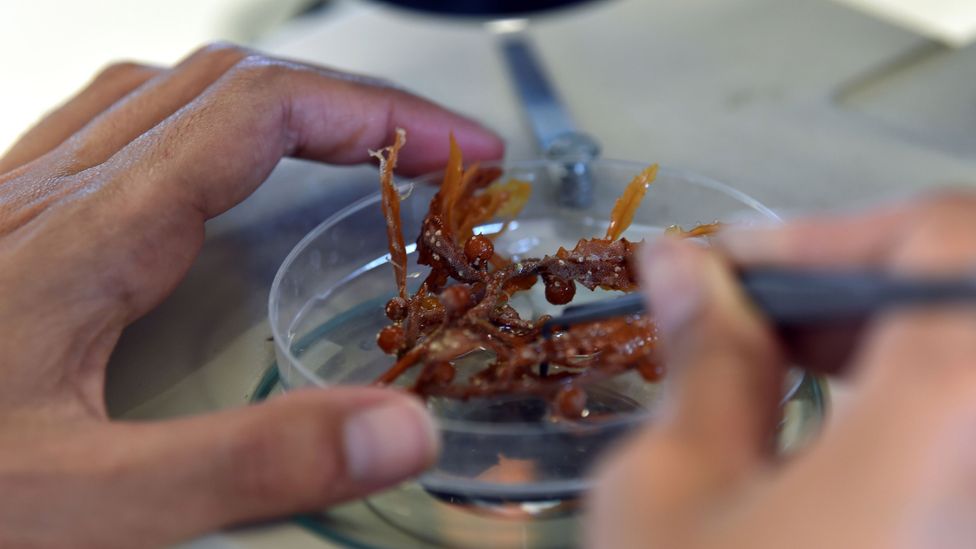 Researchers believe the growing sargassum blooms are down to a combination of changing ocean and wind currents, and the deforestation of the Amazon (Credit: Getty Images)
There are some drawbacks, though. The process is energy-intensive and runs on fossil fuels, says Allen, though heat from the process can be recovered and reused to improve efficiency.
The project is still in the research phase and the researchers have converted 100kg (220lb) of sargassum to date but Allen hopes to scale it up and partner with companies and governments to tackle the issue. The aim is to find a solution to the sargassum problem that is economically viable and supports the local community. "What we are trying to do is make the clean-up of contaminated areas profitable, so that there is an incentive to do it, improve quality of life and protect the environment," says Allen.
In parts of Mexico and the Caribbean, locals are taking the matter into their own hands and finding innovative ways to turn the environmental disaster on their coastlines into a sustainable economic opportunity. Some are turning sargassum into materials from paper to building materials. In Playa del Carmen, for example – one of Mexico's most popular tourist destinations – a community group is tackling the sargassum invasion by turning it into soap.
The Biomaya Initiative, an organisation established to deal with the sargassum glut, hires local residents to collect the foul-smelling seaweed from the beaches, and then cleans it to remove metals and plastics. Then women living in nearby villages, that date back to the Maya period, mix the processed sargassum with glycerin and honey to make soap which they sell for $2 (£1.50) a bar to hotels, hospitals and shops in the area.
"As a community we decided to do this to protect the planet and take care of our beaches," says Gonzalo Balderas, founder of Biomaya Initiative. In the past three years, tourist numbers have plummeted due to sargassum in Playa del Carmen, Balderas says. "It's supposed to be a dream beach."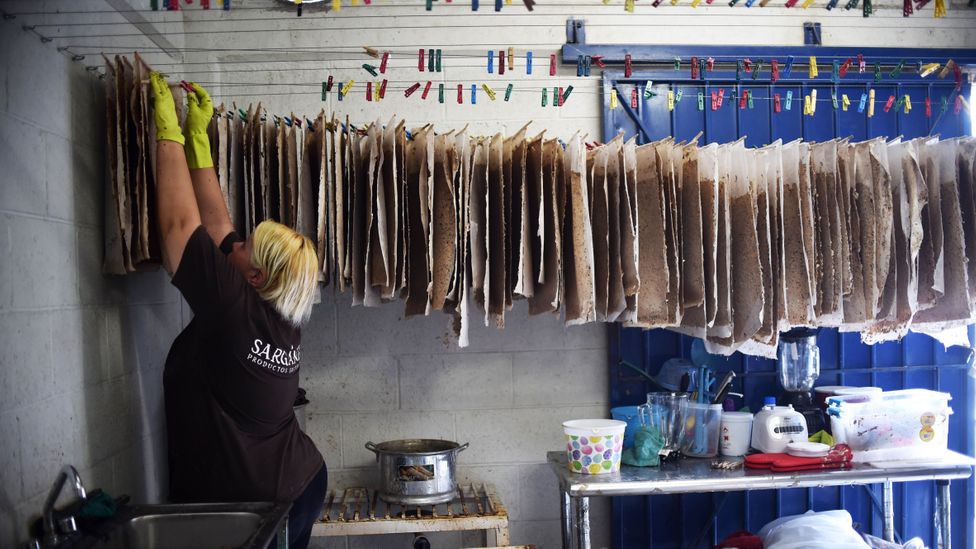 Entrepreneurs are finding an increasing number of ways to turn the sargassum glut into something useful – such as paper (Credit: Getty Images)
While in St Catherine's, a coastal community in south-east Jamaica, Daveian Morrison is using sargassum to produce animal feed. Morrison founded Awganic Inputs in 2018 after receiving reports of sargassum piled 15ft (4.6m) high on the beaches. "It affects local tourism and leisure activities and suffocates fish and turtle hatchlings," says Morrison. "I figured it is time for action."
Morrison wanted to solve two major problems in Jamaica: sargassum and the lack of affordable fodder for goats, a local delicacy. The country currently imports $15m (£11.3m) of mutton and goat meat each year. "Our goats look very lean as they do not consume enough minerals. Sargassum has many nutrients, minerals and salt," he says.
Awganic Inputs buys sargassum from local collectors and dries, cleans and shreds the seaweed while it is still fairly fresh, before mixing it with crop biproduct to produce fodder for goats. For the more rotten sargassum, it is turned into charcoal and sold for use in cosmetics.
Awganic Inputs recently carried out a pilot project, converting 544kg (1,200lb) of sargassum into goat feed and selling it to farmers for $0.26 (20p) a kilogram. The response was very positive, Morrison says. While the coronavirus pandemic has stalled production for now, Morrison hopes to scale up and start selling cheap sargassum feed across Jamaica next year. "Many people see sargassum as a nuisance," he says. "They are glad that something is happening with it."
Such efforts to tackle the sargassum glut are undoubtedly small compared to the overwhelming mounds decomposing on Atlantic beaches. Goat feed, soap and biofuels won't make much of a dent in these heaps any time soon, but they are a sign of coastal resilience – and of local economies adapting to turn a rotten mess into something of use, whatever the changing oceans wash up.
--
The emissions from travel it took to report this story were 0kg CO2. The digital emissions from this story are an estimated 1.2g to 3.6g CO2 per page view. Find out more about how we calculated this figure here.
--
Join one million Future fans by liking us on Facebook, or follow us on Twitter or Instagram.
If you liked this story, sign up for the weekly bbc.com features newsletter, called "The Essential List". A handpicked selection of stories from BBC Future, Culture, Worklife, and Travel, delivered to your inbox every Friday.