Most research on human psychology focuses on Western societies, but the way people in the West think can be traced to changes in family structures in the Middle Ages.
U
Upon entering a psychology laboratory, you and a small group of other participants are tasked with matching a line to one of three other lines of varying lengths. Participants are asked in succession to state aloud which of these line segments have the same length. Sometimes the others' choices are the same as yours. But occasionally they all seem to agree with each other but not with you.
When it's your turn to voice your judgments, do you go along with your peers, or stick with your initial assessment?
It could depend a great deal on where you are from.
This experimental task, which has fascinated psychologists and undergraduates alike since the mid-20th Century, shows that an important fraction of people will conform to the inaccurate responses of their peers. This occurs even when the judgement is easy: when people are alone or answer first in a group, they give the correct answers more than 98% of the time.
Such findings raise two questions. First, despite entering the textbooks as how "people" think, nearly all studies examining this effect were conducted among US students. Yet social commentators, going back to at least Alexis De Tocqueville, have noted that Americans are particularly individualistic and independent. So, are Americans good psychological representatives of Homo sapiens more broadly, as the textbooks imply? Second, why was this result so striking to both researchers and their students?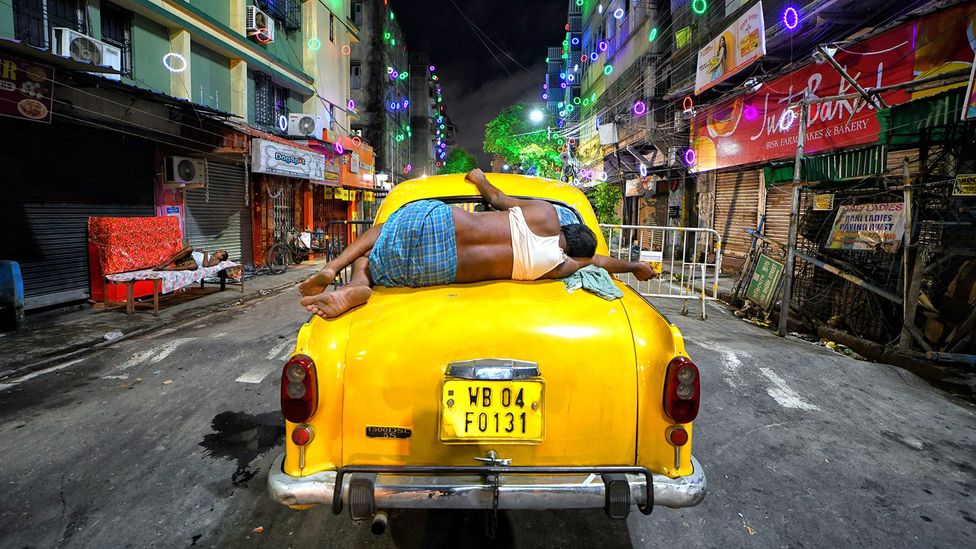 In some cultures being a non-conformer is seen as a sign of creativity while in others it is seen as a sign of bad behaviour (Credit: Avishek Das/Getty Images)
To tackle the first question, researchers in the 1990s analysed studies using the experiment described above – known as the Asch Conformity Task – from 17 different countries. They found that the participants from the US hold down the low end of the global conformity distribution. While students in places like France and North America go along with their peers about 20% of the time, those in Ghana and Fiji support their peers about half the time. Other populations, including students from Japan, Hong Kong and Lebanon, fall somewhere in between.
Research lead by the cognitive scientists Jennifer Clegg, Nicole Wen and Cristine Legare at the University of Texas, Austin, further illuminates these patterns and may help explain why conformity was so eyebrow-raising to psychologists. The research team had adults in both the US and Vanuatu, in the South Pacific, watch two videos of children making a necklace. In both videos, the child first watched a demonstrator make a necklace, then were given a chance to make their own. However, in one of the videos, the child assembled a necklace that precisely matched the one made by the demonstrator in its bead colours and sequence. In the other, the child produced a necklace with a different sequence of coloured beads.
When asked which child was "smarter", 88% of adults in Vanuatu pointed to the "conformer", compared to only 19% of US respondents. When asked why they selected the non-conformers as "smarter", the adults in the US explained that the child was "creative".
Calling someone a 'conformist' is a compliment in many places, but not in the US
When asked who was better behaved, 78% of adults in Vanuatu thought the conformer was better behaved while less than half (44%) of US respondents felt similarly. Instead, most Americans (56%) thought the conforming and non-conforming children were equally well-behaved.
This underlines the fact that calling someone a "conformist" is a compliment in many places, but not in the US.
You might also like:
Conformity, however, is not some idiosyncratic case of cultural difference, but represents the tip of a psychological iceberg. The database that dominates our understanding of human psychology derives primarily – approximately 95% of it in fact – from populations that are Western, Educated, Industrialised, Rich and Democratic (Weird), and these Weird populations turn out to be distinct in many ways.
Unlike much of the world today – and most people who have ever lived – Weird people are highly individualistic, self-obsessed, guilt-ridden and analytical in their thinking style. They focus on themselves – their attributes, accomplishments and aspirations – over relationships and roles. When reasoning, Weird people tend to look for abstract categories with which to organise the world. They simplify complex phenomena by breaking them down into discrete elements and assigning properties – whether by imagining types of particles, pathogens or personalities.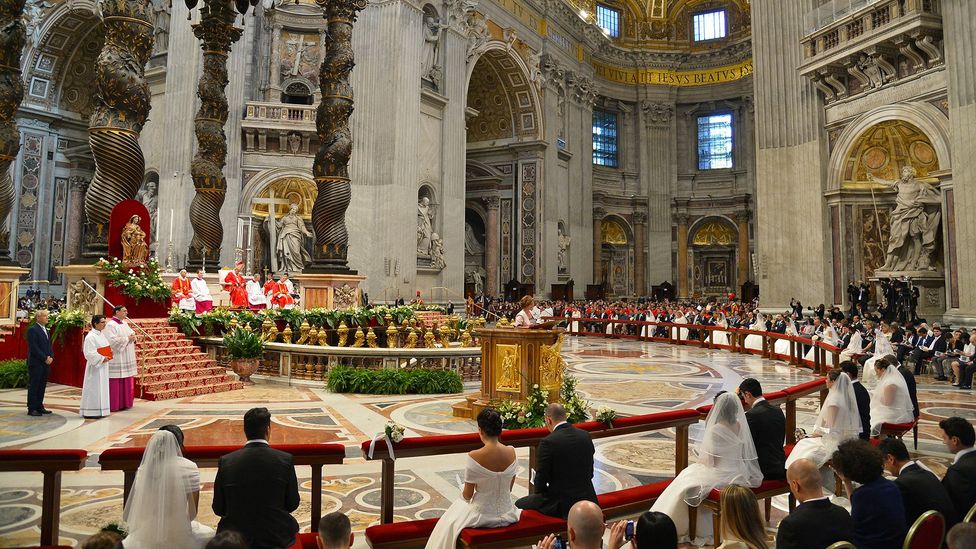 European patterns of marriage and family structure have led to different ways of reasoning compared to other parts of the world (Credit: Alberto Pizzoli/Getty Images)
Despite their seeming self-obsession, Weird people tend to stick to impartial rules and can be quite trusting, fair and cooperative toward strangers. Emotionally, Weird people are relatively shameless, less constrained by the eyes of others, but often wracked by guilt as they fail to live up to their own self-imposed standards.
Where did these psychological differences come from and why are European populations, along with their cultural descendants in places like North America, at the extreme end of these global distributions?
A growing body of research traces these psychological differences to the structure of families – what anthropologists call kin-based institutions. This work suggests that our minds calibrate and adapt to the social worlds we encounter while growing up. Until recently, most societies have been undergirded by intensive kin-based institutions built around large extended families, clans, cousin marriage, polygamy and many other kinship norms that regulate and tighten social life. These institutions persist in many parts of the world today, especially in rural areas.
By contrast, many European populations have been dominated by monogamous nuclear families – a pattern labeled the "European Marriage Pattern" by historians – since at least the end of the Middle Ages.
The structure of our family networks plays a central role in explaining global psychological diversity
Testing this idea, analyses reveal that people from societies rooted in more intensive kin-based institutions show greater conformity, less individualism, more holistic thinking, fewer guilty experiences and less willingness to trust strangers. These patterns emerge whether we compare countries, regions within countries or second-generation immigrants from different backgrounds living in the same place. As the first and often the most important institution we humans encounter upon entering the world, the structure of our family networks plays a central role in explaining global psychological diversity.
But why do families organise themselves in such different ways across societies, and why were European families already peculiar by the end of the Middle Ages?
While the diversity of kin-based institutions found around the world has been influenced by many factors, the European Marriage Pattern traces primarily to a religious mutation. Beginning in late antiquity, the branch of Christianity that evolved into the Roman Catholic Church began to gradually promulgate a set of prohibitions and prescriptions related to marriage and the family. The Church, for example, banned cousin marriage, arranged marriage and polygamous marriage. Unlike other Christian sects, the Church slowly expanded the circle of "incestuous" relationships out to sixth cousins by the 11th Century.
Despite often facing stout resistance, this enterprise slowly dissolved the complex kin-based institutions of tribal Europe, leaving independent nuclear households as a cultural ideal and common pattern.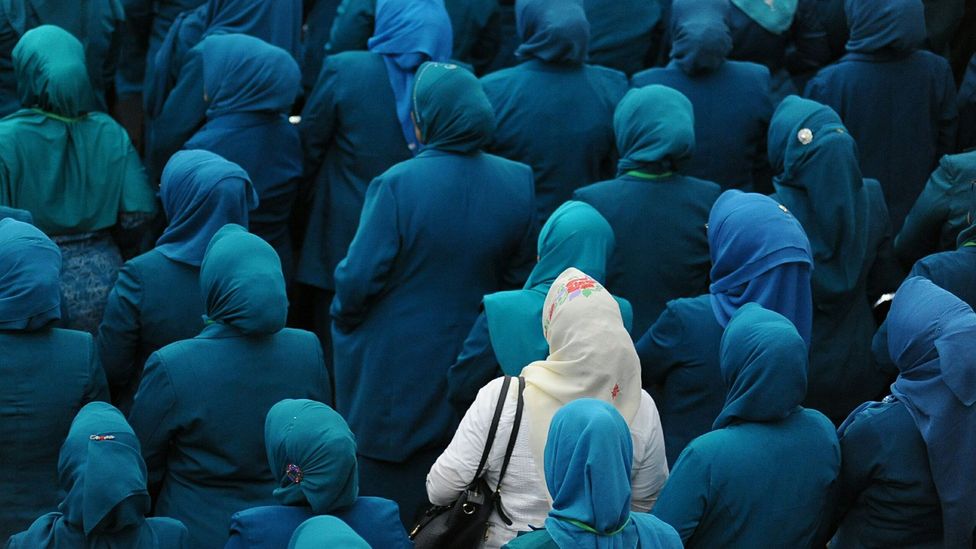 Levels of conformity differ around the world, so why is 90% of human psychology research based on populations in the West? (Credit: Herwin Gunadi/Getty Images)
To test the idea that the medieval Church has shaped contemporary psychological variation, it is possible to exploit the unevenness of this historical process by tracking the diffusion of bishoprics across Europe from AD 500 to 1500. Analyses show that Europeans from regions that spent more centuries under the influence of the Church are today less inclined to conform, more individualistic and show greater trust and fairness towards strangers.
Globally, national populations with longer historical exposures to the Church not only show weaker kin-based institutions, but are psychologically "Weirder" today.
Most of us might prefer to think of ourselves as independent, rational thinkers. But how we think, feel and reason – including our inclinations toward conformity and preferences for analytical explanations – has been shaped by historical events, cultural heritages and incest taboos that stretch back centuries or even millennia.
Understanding how history has shaped our minds is part of exploring and embracing our diversity.
* Joseph Henrich is a professor of Human Evolutionary Biology at Harvard University and author of The WEIRDest People in the World: How the West became psychologically peculiar and particularly prosperous.
--
Weird West
This article is part of our Weird West series. Back in 2010, a team at the University of British Columbia pointed out that psychology research contains a major flaw: much of it is based on samples entirely from Western, Educated, Industrialised, Rich and Democratic – or Weird – societies. The researchers often assumed that their findings would be applicable to people anywhere. But when they did a review, the university team found that from reasoning styles to visual perception, members of Weird societies are, in fact, "among the least representative populations one could find for generalising about humans". 
From the mainstream media to academia, however, it remains common to see the Weird as "normal" – or at least as a "standard" against which other cultures, and people, are judged. In this series, we dig into what this looks like in everyday life. What habits and ways of thinking are common in Weird societies that people living elsewhere in the world might find, well, weird? And what does this tell us, not only about cultural differences, but about ourselves? From when we shower to how we shop, this series re-examines the behaviours often taken for granted – and explores how the "standard" is rarely the best, or only, way.
--
Join one million Future fans by liking us on Facebook, or follow us on Twitter or Instagram.
If you liked this story, sign up for the weekly bbc.com features newsletter, called "The Essential List". A handpicked selection of stories from BBC Future, Culture, Worklife, and Travel, delivered to your inbox every Friday.