It might not be the most obvious way of reducing your carbon footprint, but how you save, invest and give away your money can make a difference to the climate.

What immediately comes to mind when thinking about the impact you have on the climate? Is it the flights you take? Or journeys in your car? Or perhaps the food you eat?
What about your money?
The links between your personal finances and the climate emergency are perhaps less intuitive than these other examples. The cash in your bank account, pension, and personal investments may not seem to be a direct cause of greenhouse gas emissions. But the financial institutions you invest with and give your business to could be having a big impact on the environment. As a consumer with money to invest, the decisions you take about what to do with it can be surprisingly important.
For most people, banks are the places that most frequently deal with their money. But many banks are also well-documented financiers of the climate crisis.
You might also be interested in:
Between them, 35 of the world's major banks – many of them household names – have provided $2.7 trillion (£2tn) to fossil fuel companies since the Paris Agreement on climate change was adopted at the end of 2015, according to a 2020 report from Rainforest Action Network and five other non-profits. They found this fossil fuel financing had actually grown each year since the Paris agreement.
Many of these banks also offer current and savings accounts to ordinary customers, although this does not typically mean your money is being used for fossil fuel investments. This is because, in most countries, consumer banking arms of banks are separated from their investment arms. The money sitting in your bank account is instead normally used for loans to other customers, such as mortgages, rather than investments.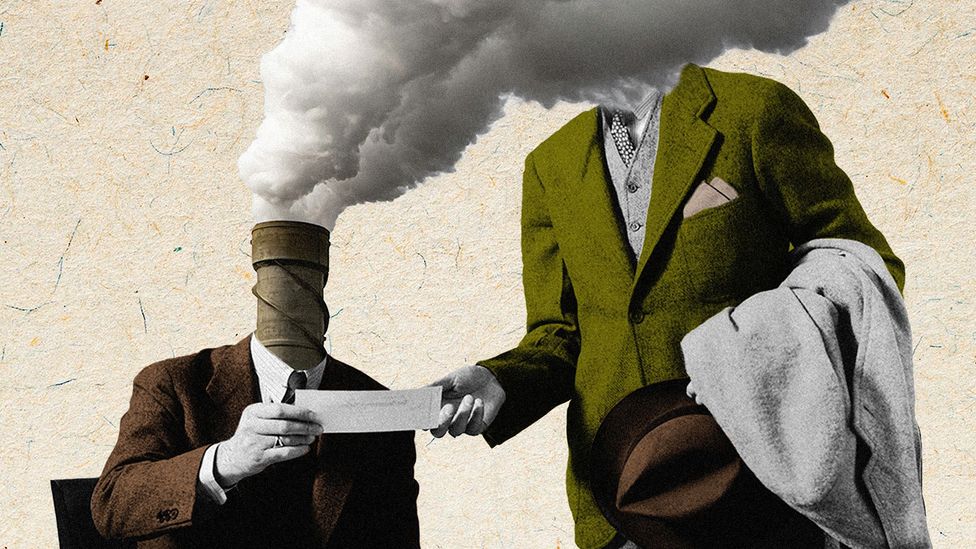 While most people worry about how far they drive or fly, they often overlook their savings as a contributor to climate change (Credit: Javier Hirschfeld/Getty Images)
"Retail banks are ringfenced by law from investment banking," says Alex Money, director of the Innovative Infrastructure Investment programme at the University of Oxford's Smith School of Enterprise and the Environment. "This basically means, from a bank's point of view, they can't use money that customers are giving them on deposit to then speculate or take market positions with that money."
But this does not mean that you as an individual customer are powerless to influence the investment behaviour of your chosen bank, says Louise Rouse, a capital markets campaigner and consultant to various non-profits.
"Banking institutions want to maintain retail bank divisions, that's important to them," she says. "It's also how they build brand identity, it's how they build social licence, which gives them political power and so on. So, individuals indicating that a bank's climate performance is an important factor for them in their choice of bank will have an impact."
A good place to start is to research your bank's policies.
You have the ability to say to them that you would prefer that they didn't fund climate change in the way that they're doing – Louise Rouse
The Rainforest Action Network report names the top funders of fossil fuels and assesses many banks' climate policies. The non-profit BankTrack, which co-authored this report, also has detailed information on many banks on its website, including lists of which banks exclude financing for Arctic oil and gas companies or for tar sands, where thick bitumen is extracted before being converted into fossil fuels and associated products.
There are a number of high-profile campaigns attempting to put pressure on banks to change their investment strategies. Over the past year, several banks have begun to make some, albeit still insufficient, moves on climate, says Rouse, with increasing customer awareness about the links between these banks and climate change "no doubt" an influencing factor.
As larger groups, customers can exert more influence over the institutions they bank with. "I would encourage a broader consumer frame, rather than just 'how is my money fuelling the problem?'" says Rouse. "Because you've chosen to bank with who you have, you actually have the ability to say to them that you would prefer that they didn't fund climate change in the way that they're doing."
Another approach is to influence the bank from within. Groups such as ShareAction, a charity that promotes responsible investment, have been coordinating shareholders at major banks to file resolutions aimed at phasing out investments in fossil fuel energy companies.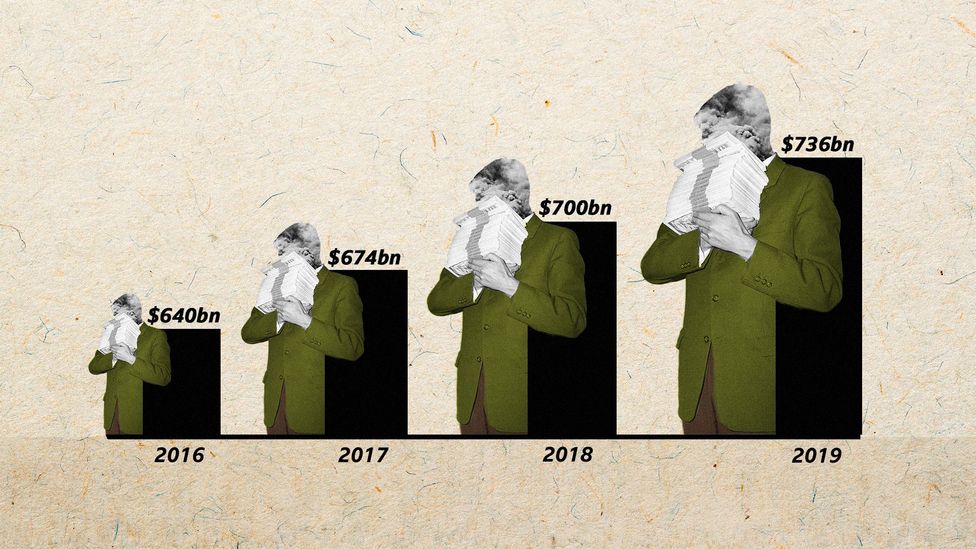 Global financing for fossil fuels has risen in recent years despite international agreements to reduce carbon emissions (Credit: RAN/Getty Images/Javier Hirschfeld)
For those who lack the financial power to invest in banking shares, however, you could also consider moving to a different bank if you are unhappy with your current bank's policies.
"People tend to vote with their feet really about some of these things if they feel strongly enough about it," says Money.
There are an increasing number of new, small banks marketing themselves as ethical and funders of solutions. Alternatives to banks, such as credit unions or building societies, are also often less likely to be funding fossil fuels due to the way they invest. Non-profit website Ethical Consumer outlines two key things to consider when choosing an ethical savings account: clarity and transparency about how the bank will invest your money, and whether it is a "mutual" – i.e. owned by depositors rather than shareholders.
Another important way of using the power of your money to benefit the planet is through your pension. An estimated $47tn (£34tn) are invested in the world's pensions, according to the Thinking Ahead Institute's latest Global Pension Assets Study, and accounts for roughly half of all the money invested in the global financial system.
Less than 1% of assets in the world's largest 100 pension funds were invested in low-carbon solutions in 2018
"The weight of our pensions within the global economy and the financial system is enormous," says Michael Kind, campaigns manager at ShareAction. "The biggest and the most important players really are big pension funds."
However, most people tend to know very little about their pension and typically leave their money in default funds likely to be at least partially invested in fossil fuels. "We've found that most people don't even know their pension is invested," says Kind. "And where they do know that their pension is invested, they assume it's invested sensibly and well."
In reality, less than 1% of assets in the world's largest 100 pension funds were invested in low-carbon solutions in 2018, according ShareAction's research. Just 15% had a policy to exclude fossil fuels in some way from their investments and 65% had no formal climate policy at all.
Engaging with your pension and how the money in it is invested can have a big impact, especially if others do the same. "Our pensions are like a huge structural lever within the world economy," says Kind. "Collectively, if we all took action, [the shift] would be enormous. Individually, one at a time, less so."
But checking where your pension fund is currently invested is not always easy. This information is not always openly available and you may need to ask for it, although pension providers sometimes provide a "fun fact" sheet online listing the top 10 investments for each fund. This lack of transparency may be slowly shifting – in the UK, for example, pension funds are set to be forced by law to disclose their climate risks.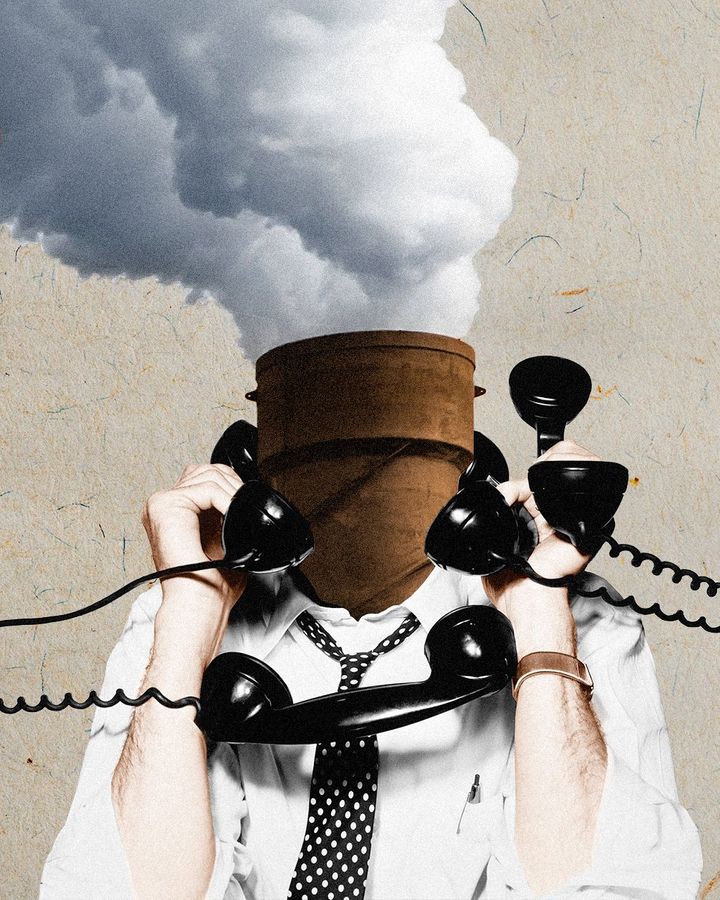 As a group, customers can have a surprising influence over what banks choose to invest in (Credit: Javier Hirschfeld/Getty Images)
Often, there is an option to switch personal pensions into an ethical fund, which typically screens out some fossil fuel companies. The top holdings in many of these are Facebook and Amazon, notes Kind.
The cost of being in an ethical fund can also be slightly higher than the default fund, due to the extra research and due diligence needed to establish which companies are ethical, in which case we also need to ask ourselves whether we feel these extra fees involved are worth it.
"There's a kind of overarching point, which is: what's the point in saving for a pension if you're not going to have a planet to retire on?" says Kind.
It's also worth noting that some ethical pension funds hold onto shares in certain companies in order to engage in "stewardship" – actively using ownership of a company to improve its practices.
Interest in sustainable investment is rising fast – a record $20.6bn (£15.1bn) was put into sustainable funds in the US in 2019
"When considering whether a pension is ethical or not, it's helpful to look at both the companies it invests in but what it's also doing with the investments that it has," says Kind. "You have a lot of power as someone who owns a company to change the way that company works."
In some cases, your money may be in a defined benefit scheme, which gives you less control to switch to an ethical fund. In this case, ShareAction encourages people to speak to their employer about any concerns that their money may be being invested irresponsibly.
Employers themselves have the power to select a different provider or work with the pension provider to build new funds, says Kind. "That's really powerful because it's not just you switching your money then, it's your entire workplace, which is potentially hundreds of people."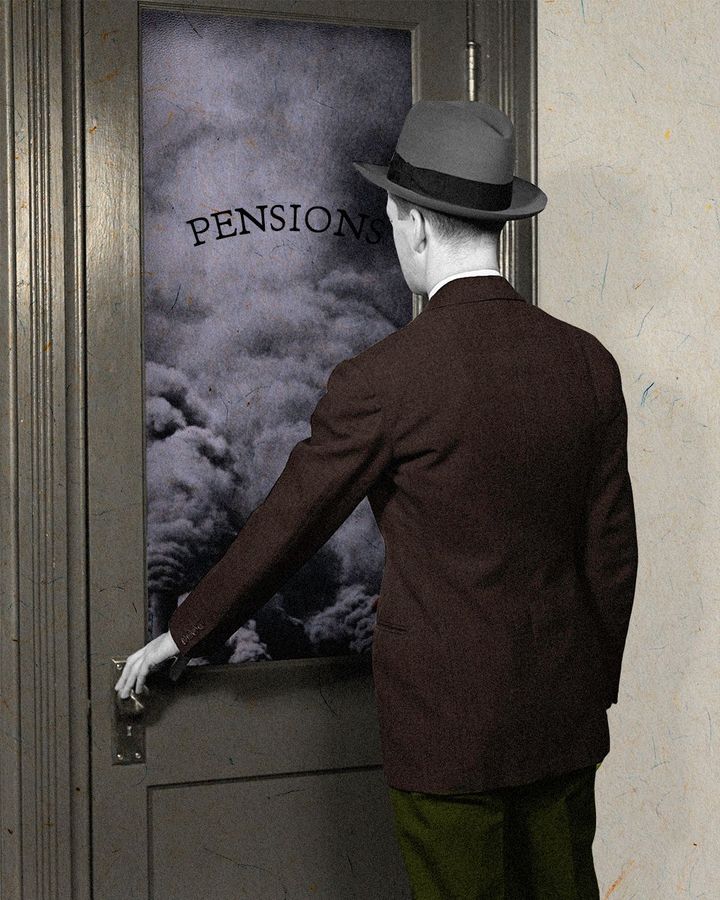 Very few pension funds currently have policies that exclude fossil fuels from their investments (Credit: Javier Hirschfeld/Getty Images)
Caroline Hopper, a copywriter and previously a campaign adviser at the Make My Money Matter pension campaign, became concerned about her own pension investments after reading a report about responsible investing at work. After some digging around in her pension, she discovered its top 10 holdings were in FTSE 100 companies, including British American Tobacco, Royal Dutch Shell and BP. "They're things that I didn't want to be investing in," she says.
She initially switched to the ethical fund offered by the same pension provider, but began finding that many of her colleagues at work were also concerned. In response, her employer decided to offer a more diverse option.
"They got a financial advisor in to set up what's effectively a personal pension for each one of us, but our employer still contributes into it," says Hopper. "Some people used the chance to consolidate other pensions, but a lot of us ended up with what we now consider to be much more sustainable funds, which are also performing much better."
Investing in solutions
For people with these more flexible pensions, or looking to invest money themselves in another way, a whole world of sustainable finance opens up.
Interest in sustainable investment is rising fast – a record $20.6bn (£15.1bn) was put into sustainable funds in the US in 2019, nearly four times as much as the previous 2018 record, according to data provider Morningstar.
Beside the ethics of avoiding contributing to climate change, there is also an increasing awareness of climate risk – the threats posed to some investments both by the physical impacts of climate change and by future policies to tackle emissions. Even BlackRock, the world's largest money manager in charge of an enormous $7tn (£5tn) in assets, is recognising this now: its chairman Larry Fink last year wrote to clients warning about climate risk and outlining plans "place sustainability at the centre" of its investment approach.
Growing numbers of financial institutions are making sustainability and tackling climate change an important part of what they do (Credit: Javier Hirschfeld/Getty Images)
Impact investments, which specifically aim to have a positive impact on the world, are also on the rise. Intermediary platforms such as Nutmeg and Hargreaves Lansdown allow small-scale investors to align their money with their own priorities, while sites like Ethex and Tickr specifically channel investments into companies trying to make a positive difference.
Green donations
Charities are responsible for a huge amount of investment. The 86,000 charitable foundations in the US hold around $870bn (£640bn) in combined assets, and while a small percentage of this is spent each year, much of it remains invested on Wall Street. If you are donating to charity, could your donation end up being invested somewhere you don't want it to be?
A host of institutions across the world have now committed to divest from fossil fuels. It may be worth checking if the recipient of your donation is one of them and, if not, if it is taking action on climate in another way, such as stewardship.
It's probably wise to let the bank, university or other institution know about your concerns or the reason you are switching
Another consideration, especially if donating to a university, is what your money will be used for. "If people are making donations to universities, which, for example, are undertaking loads of research for fossil fuel companies, they may decide they wish to give their money elsewhere, or to earmark their donations for departments which are researching solutions to climate change," says Rouse.
It may also help to find out if the institution also accepts money from fossil fuel companies in case that influences where you choose to donate.
In all these situations, it's probably wise to let the bank, university or other institution know about your concerns or the reason you are switching.
Who knows – it may just help to shift their gauge a little more towards climate action too.
* Jocelyn Timperley is a freelance climate change reporter. You can find her on Twitter @jloistf.
--
Smart Guide to Climate Change
For most BBC Future readers, the question of whether climate change is happening is no longer something that needs to be asked. Instead, there is now growing concern about what each of us as individuals can do about it. This series, our 'Smart Guide to Climate Change', uses scientific research and data to break down the most effective strategies each of us can take to shrink our carbon footprint.
--
Join one million Future fans by liking us on Facebook, or follow us on Twitter or Instagram.
If you liked this story, sign up for the weekly bbc.com features newsletter, called "The Essential List". A handpicked selection of stories from BBC Future, Culture, Worklife, and Travel, delivered to your inbox every Friday.