One small, plucky animal has an outsized ability to transform its environment, helping to replenish river ecosystems even in the desert.
A
As we head towards the end of another extraordinary year, BBC Future is taking a look back at some of our favourite stories for our "Best of 2021" collection. Discover more of our picks here.
Standing at the edge of a precipice, under a scorching sun in eastern Utah, you can see nothing but the state's infamous red rocks and towering buttes for miles. No trees to offer welcome shade, the only vegetation being dry scrub that clings to the flat, dusty plains, while the sheer cliffsides are barren of life. But if you happen to glance down at the dizzying depths of the canyon that lies at the bottom of the desert sandstone mountains, you'd see a lush oasis, blooming with green vegetation, the Price River snaking through the rock even on the hottest of summer days. And if you scrambled down, and watched patiently for long enough, you might even spot some beavers – the very architects of this thriving wetland landscape, smack bang in the middle of the desert.
Getting these beaver populations to thrive in Utah's desert landscape has been a challenging task for Emma Doden, a masters student in translocated beaver ecology at Utah State University. Doden and several other researchers set out to reintroduce beavers to the drought and fire-stricken land. Water shortages are severe here, and much of the river ecosystem is degraded. Doden's primary goal is to restore the quantity and quality of water in eastern Utah, whose waterways sustain an array of wildlife, riverbank vegetation and endangered fish species.
"In desert environments, water can be very limiting, but it serves as the lifeline to so many species that live out there, including livestock," she says.
As the world heats up and extreme weather becomes more frequent, scientists have been rushing to reintegrate beavers into struggling ecosystems and dry landscapes
Water shortages in the region have been made worse by river degradation, caused by irrigation, pollution and mismanagement. Seeing the effects of this played a large part in Doden's drive to bring beavers back to Utah.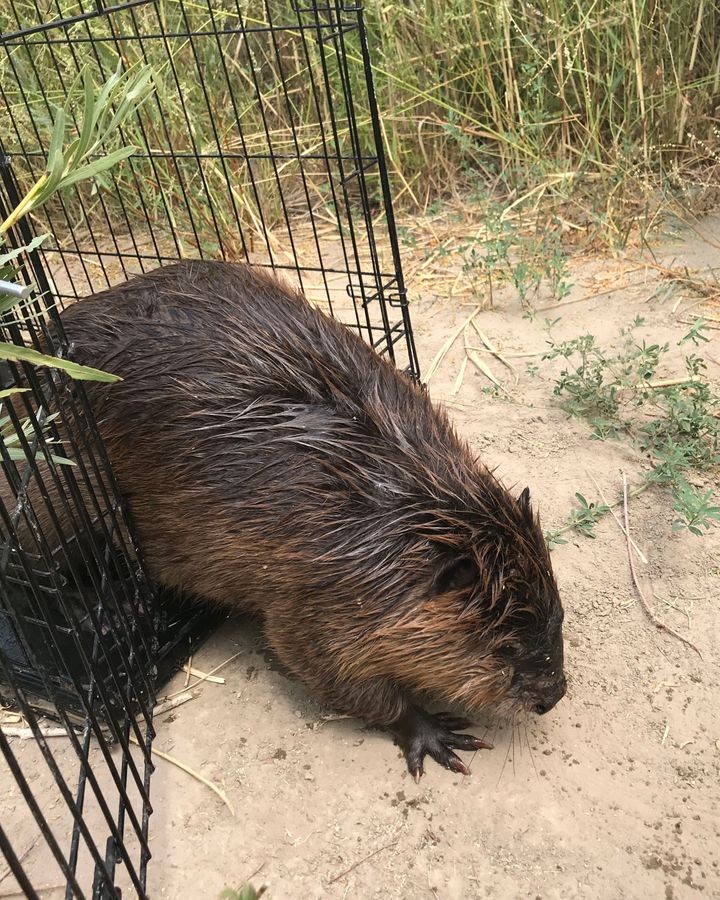 The beavers Doden released as part of her study were often rescued from conflict situations with humans, and would otherwise have been put down (Credit: Emma Doden)
Beavers used to be a prevalent species worldwide, ranging from Scotland to Spain, Syria to Russia, Canada to Mexico. The fur trade of the 1500s to 1800s saw the creatures hunted to almost extinction, but a recent resurgence of research and lobbying by conservationists has seen their numbers climb again. One study estimates global numbers to be around 10 million – still a far cry from times when they numbered 100 million in North America alone.
The animals are best known for their skill at building dams in rivers, which create wetlands and standing ponds. These changes in the watershed contribute to a number of improvements in the environment, including better stream quality, leading to healthier fish populations; carbon capture via the shallow ponds which hold back silt and sequester the gas; increasing resistance against wildfires; and providing a habitat for other animals. All this contributes to their status as a "keystone" species, essentially defined as an animal that multiple other species rely on within an ecosystem.
As the world heats up and extreme weather becomes more frequent, scientists have been rushing to reintegrate beavers into struggling ecosystems and dry landscapes.
For Doden, relocating beavers into the desert posed some unique challenges. The availability of water being the obvious one. The drought was so bad last year that one of Doden's study sites completely dried up.
"And the intense heat," she adds. "In the summertime it can be above 100F (37.8C) for weeks or even months at a time. And so we initially tried to avoid relocating animals during the hottest months."
In these desert systems, beavers hide out in their burrows all day, and come out at night.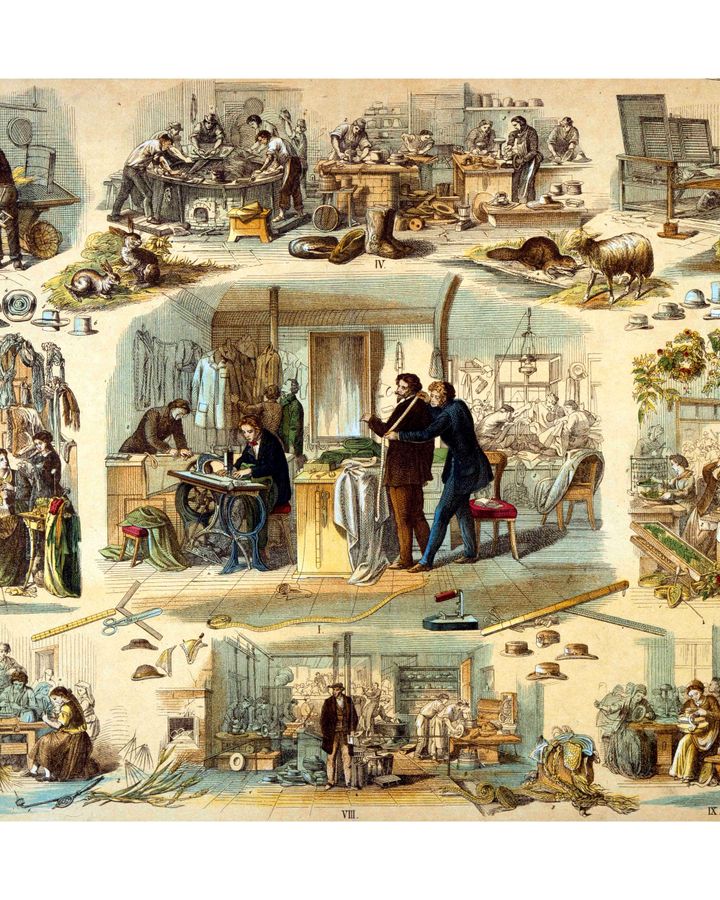 The fur trade that thrived from the 16th to 19th Centuries decimated beaver populations, which never fully recovered after the decline of hunting (Credit: Getty Images)
Doden's focus is on two rivers in Utah: the Price and San Rafael rivers, both of which flow through some of eastern Utah's driest areas. She specialises in passive river restoration, meaning there is no manmade manipulation of the landscape. It's also the most straightforward, as introducing artificial dams – known as "dam analogues" – requires a permit from Utah's environmental agency. "What's interesting is I have this original study of what happens when you put in beavers without any additional structural support."
The river system already had some beavers, though their populations had been badly reduced by the North American fur trade. "We believed the system could support a lot more beavers," Doden says, "and we wanted to supplement it with translocated beavers."
When I say I work with beavers in the desert, it definitely raises eyebrows. They forget there are waterways here – Emma Doden
The area where Doden and her colleagues are carrying out their work has been relatively understudied when it comes to beavers, she noted. Research has been carried out into areas that flood and forested or marshy regions, but little has been done in terms of desert landscapes. Another unique aspect of Doden's work is she has used existing resident beavers as a baseline to compare behaviour, movements, space use, survival, and dam building capabilities with the new translocated beavers, to see how they can settle in and adapt.
"We wanted to see if these translocated beavers would ultimately be contributing towards restoration efforts," says Doden.
Many of the beavers came from the university's beaver rehabilitation and relocation centre, which captures nuisance animals across the state. They go through a three-day quarantine before they are released, to prevent the spread of invasive diseases, and are tagged with a microchip, as well as a radio transmitter, so Doden can track their movements.
"The ultimate goal is to get them to build dams," she says. "The dams are what are going to increase habitat complexity and restore water."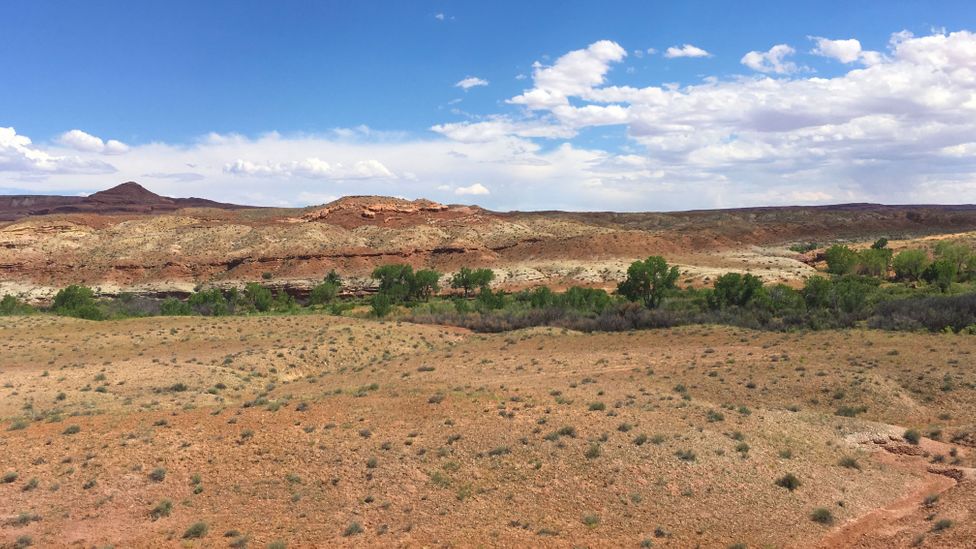 Rivers through the Utah desert provide a narrow strip of lush vegetation, a promising habitat for beaver translocation (Credit: Emma Doden)
Doden's first trial was in May 2019, followed by a second in 2020. In total she translocated 47 animals, all from "conflict situations", to live near nine already-existing individuals. "We're taking those animals that would have otherwise been euthanised, and hopefully using them to do some good."
But not all of the newly introduced beavers settled into their new homes. "We did see some mortality," she remembers. Some beavers were unable to adapt to the heat, experienced stress related to relocation, and some were killed by natural predators. "And quite a few moved from the targeted restoration area. They didn't all settle down to build the dams. But that's to be expected, you're not going to have 100% success."
What Doden and her team did see, however, was dams being built in areas they had never been before.
"A few of these beavers stuck where we put them. And even the ones that didn't – we had some move 20km [12 miles] downstream, which is pretty far for a small little animal – they are probably still helping the system, as the river is so degraded."
The desert conditions are "a little harsher" for translocated beavers. "There's more limited resources, the vegetation is patchy, so it makes sense that we're seeing individuals move long distances," she says.
The following season, Doden released more, after feeling confident that the newcomers were not negatively impacting the small existing population. "By putting more of these neighbours into the system it's hopefully helping to reach restoration goals more quickly and on a wider scale."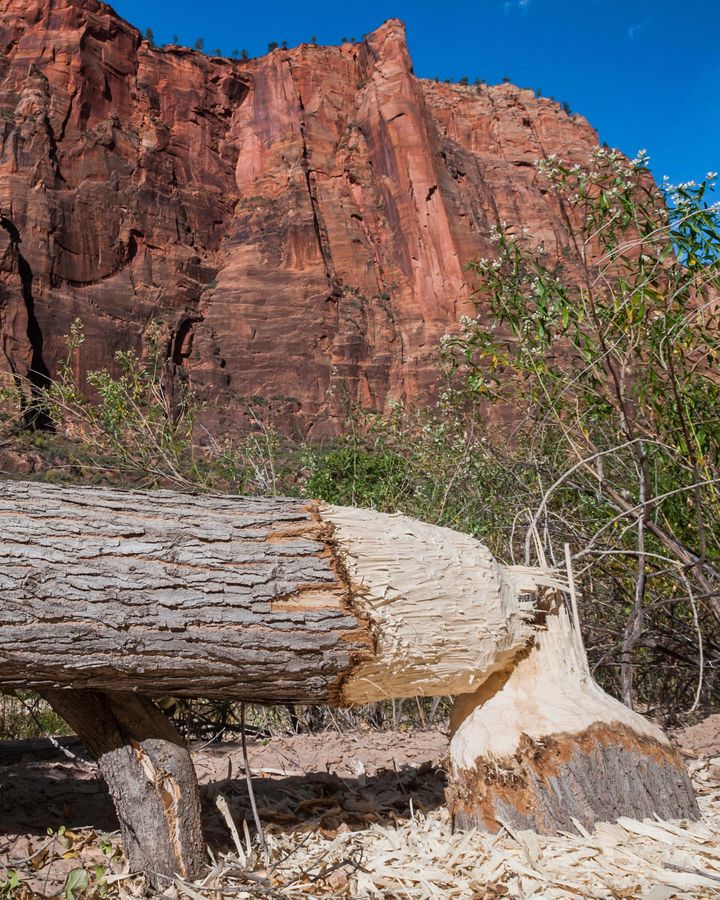 In building dams for themselves, beavers change the local environment for many animals that share their habitat (Credit: Alamy)
As Doden is finishing up her masters, she's handing the reins over to another student, who will continue to do translocations in the same area for the next two years. Now permits to build dam analogues have been obtained too, they'll start to add those into the landscape too, in the hopes of a higher success rate. The artificial structures help attract beavers as a lot of the work has been done for the creatures already. The beavers can then build on top of these manmade dams, rather than having to construct their own from scratch.
Just one beaver dam can improve water quality, as well as acting as a firebreaker for the surrounding land
"I guess the everyday person would be surprised to know there are beavers in the desert," Doden acknowledges. "When I say I work with beavers in the desert, it definitely raises eyebrows. They forget there are waterways here."
Whatever the success rate, Doden is keen to point out that these animals would have otherwise been killed. "So we're giving them a second chance."
Fires and fish
If beavers can be persuaded to stay put, their impacts can be wide-reaching. Just one beaver dam can improve water quality, as well as acting as a firebreaker for the surrounding land.
North America is facing an intense battle against wildfires, which raged across the American West in 2020 – including in Utah – burning 8.8 million acres (3.6 million hectares) of land, and could be even worse this year.
Beavers, some scientists believe, could provide the key to reviving watersheds and mitigating wildfire risks. In a paper published last year, Emily Fairfax found that areas where beaver dams were present were better at surviving wildfires than regions without beavers.
"I thought that beaver dams would work sometimes," Fairfax says of the creatures' impact on wildfire-ravaged regions. "But in every one of the sites I studied, if there was a dam, the land was protected from fire."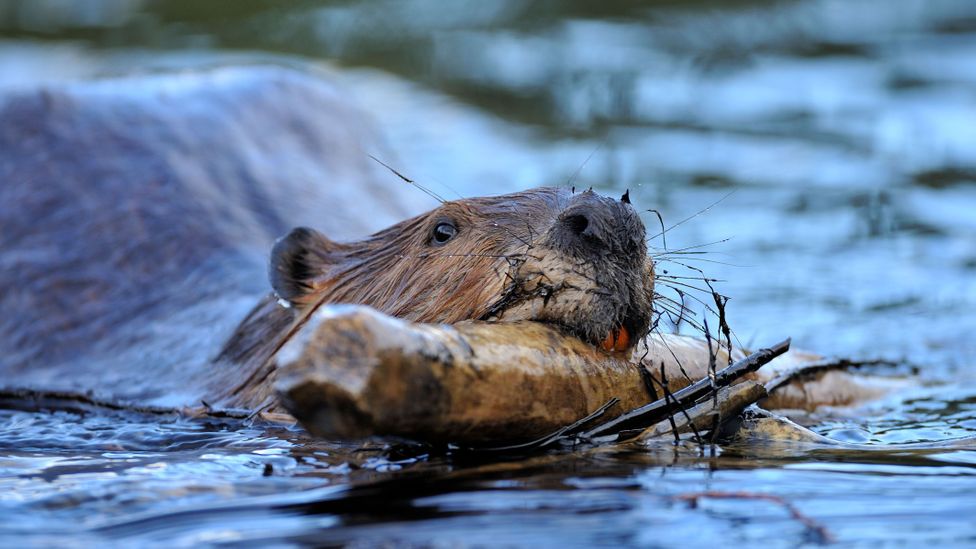 Beavers are versatile, historically widespread animals that can survive in a number of different climates (Credit: Alamy)
Beavers are in high demand too in Northern California, along the Klamath River, where the Yurok Tribe has been working on intense river restoration. Sarah Beesley is a biologist for the tribe, and has been working on building beaver dam analogues to attract beavers back onto the land. But it has been a long road to bring the river back to a point where it would be viable for beavers to survive.
"We have a lot of work to do to get these streams back into shape, and enough for the beaver to actually move in and start dam building and recolonising," she says. "A lot of the streams have been straightened and channelised and are just too swift and not very conducive for dam building."
Our very existence depends on this healthy river – Barry McCovey
The Yurok Tribe, whose land is in the Lower Klamath Basin, is actually moving the riverto "put more wiggles into it", Beesley explains, in order to slow the water down. The eventual goal is both to attract beavers and restore the river to its natural flow. (Read more about the benefits of "slow water")
Beesley's team has been building dam analogues along small coastal watersheds, which the biologist says are "critically important right now". Last summer, their efforts enhanced the amount of surface flows for small juvenile salmon that were being reared in the West Fork Creek tributaries of the Klamath River, as well as rescuing fish out of drying regions and transporting them up to the healthier habitats. "By enhancing surface flows, we're able to provide better survival conditions for those juvenile fish," says Beesley.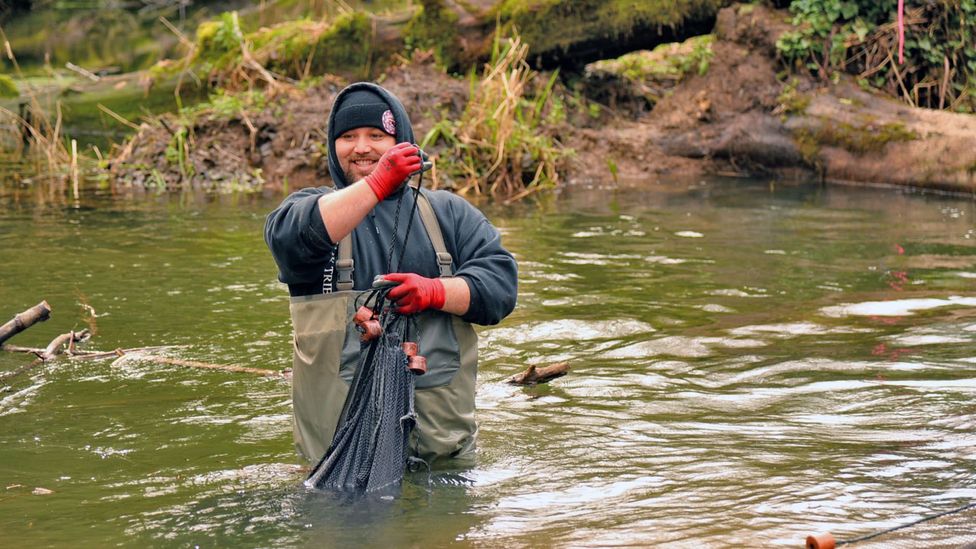 Members of the Yurok Tribe depend closely on the salmon of the Lower Klamath Basin, and monitor the river to track fish populations (Credit: Matt Mais)
Salmon are an integral part of Yurok life. The tribe, which is also known as the Yurok People, depend on salmon as both a source of food and income, and the fish is a key part of their heritage and cultural traditions. This year, due to drought and water shortages in the Upper Klamath Basin, millions of juvenile salmon died, meaning the tribe has been left without a viable food source for the year.
Since May of this year 70% of the juvenile salmon measured in the river were dead. "It's traumatic and devastating," says Barry McCovey, a Yurok Tribe member and director of its fisheries department. "Our very existence depends on this healthy river."
So Beesley and her team's work to restore the river, and the role beavers play in restoration, has become even more vital. Following the building of dam analogues, the Yurok's scientists have been monitoring the fish with electronic tags to track their survival and movements, and have seen "really positive results".
"When we put those analogues in there, we are creating more water for the fish to survive," Beesley adds. This summer, Beesley is focusing on Upper McGarvey Creek, and will be building more analogues to hopefully save more juvenile salmon.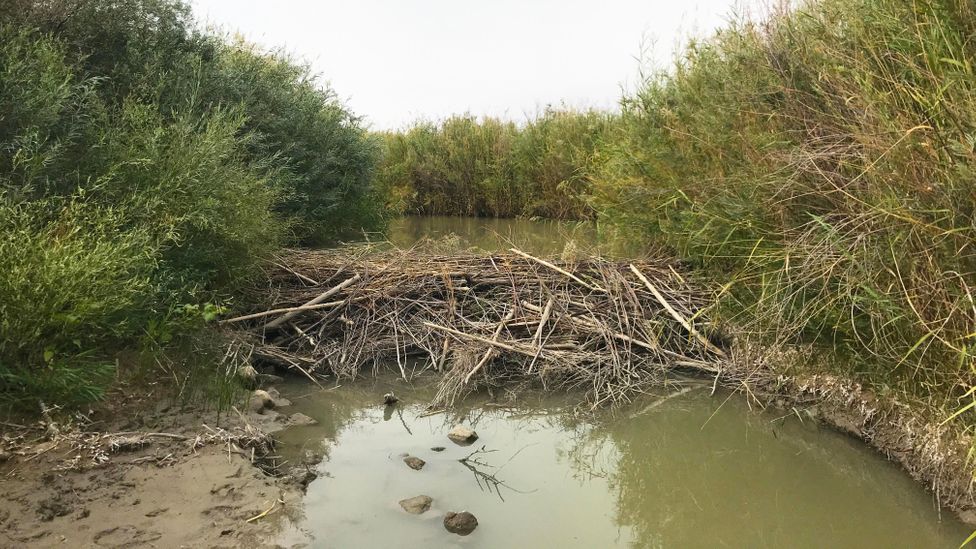 After the release of beavers, Emma Doden began to see dams built where they had never been built before (Credit: Emma Doden)
It's still a learning process, she says, and the jury is still out on whether dam analogues will help beavers in the Klamath River. The team puts cameras on the dams to monitor how the beavers react to them. "One of the big questions still is: if a human builds a dam will a beaver adopt it? Manmade dams are very different from how a beaver would build it, so it can be very hit or miss."
Dams on the Danube
While the dam analogues are being constructed in Utah and Northern California, in the Danube Delta in Central Europe, another kind of dam is being removed to clear the way for beavers.
In late 2019, 10 dams and other manmade structures were removed on the Kogilnik, Kagach and Sarata Rivers, in the upper part of the Sasyk lagoon on the territory of the Danube Biosphere Reserve in Ukraine, to restore rivers to their free-flowing state. The effort appears to have worked. In March this year, a reserve employee found a large number of felled willow trees – one of the species beavers love to gnaw on – he followed their trail to discover a beaver's dam.
Max Yakovlev, a researcher for the reserve, believes the beaver came over from neighbouring Romania. "Whether beavers settle down in the Ukrainian Danube Delta, only time will tell," he says. "But it's incredibly nice to witness such beautiful and cute animals returning to their home after such a long absence.
Beavers play an important part in the ecosystem. Beaver houses – both occupied and abandoned – provide shelter to other animals; the structures formed by beavers create nesting spots for waterfowls, and the fallen trees attract other mammals.
"The presence of beavers is positively reflected in the lives of many residents, especially mink and otters. Furthermore, their activities increase the productivity of reservoirs, the waters are clearer and fish supplies are increasing."
The beavers along the Danube may have returned of their own accord, but in other areas of Europe people have taken a more active approach to reintroduce them to the landscape.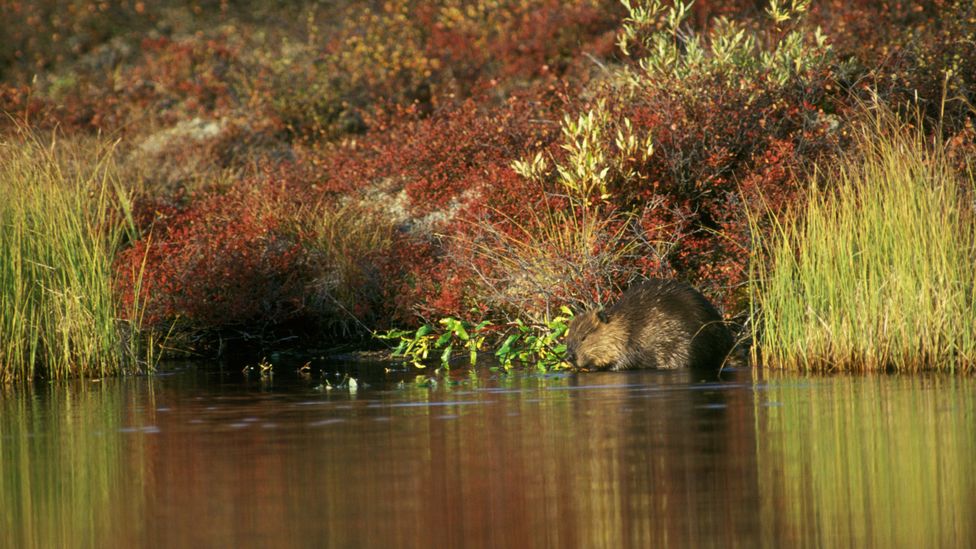 Beaver numbers are being boosted in Europe as well as North America through reintroduction schemes (Credit: Getty Images)
After 400 years of absence, the creatures are being reintroduced to counties across the UK, from Scotland all the way down to Devon. In the UK there is particular interest around how beaver dams can decrease the impacts of floods – experts estimate by up to 60% – as the structures reduce water flow. The Environment Agency has predicted the UK will need to spend £1bn ($1.4bn) a year to protect homes from flooding, as climate change means extreme rainfall becomes more common. Since 2015, the government has already spent £2.6bn ($3.6bn) on flood defences.
Around 200 wild beavers were discovered on the River Tay in Scotland back in 2001, and since then, scientists have been scrambling to conduct controlled releases throughout the UK to study their impact on the environment.
"No one officially knows how the beavers got to Scotland – or England," explains Richard Brazier, director of the Centre for Resilience in Environment, Water and Waste at the University of Exeter, who has been working on beaver monitoring since 2013.
Reintroducing a species is naturally a delicate balancing act, particularly when they can cause damage to property by damming culverts, flooding roads and blocking irrigation, leading to flooded fields and infrastructure. They're so unpopular among farmers, in fact, that there's a whole YouTube community dedicated to filming themselves dynamiting beaver dams with explosives.
"We do have farmers – and fishermen – who are very keen to see beavers coming back, who recognise they are great for fish and the livestock and irrigation," Brazier says. "But there is a group who doesn't want to see beavers back in the landscape, and one of the key things has been knowing where farmers are coming from, knowing what their concerns are, and engaging with them. It's an ongoing process and we're working with them to manage any negative impacts.
"It's about learning to live with these animals again in a renewed co-existence."
Beavers might well incur costs to landowners, but Brazier believes they can be addressed by providing adequate compensation for any flooded fields higher in the watershed. He believes it's a small cost in comparison to that of other flooding prevention, or the value of the other benefits that beavers bring such as water quality improvement, carbon storage and enhanced biodiversity.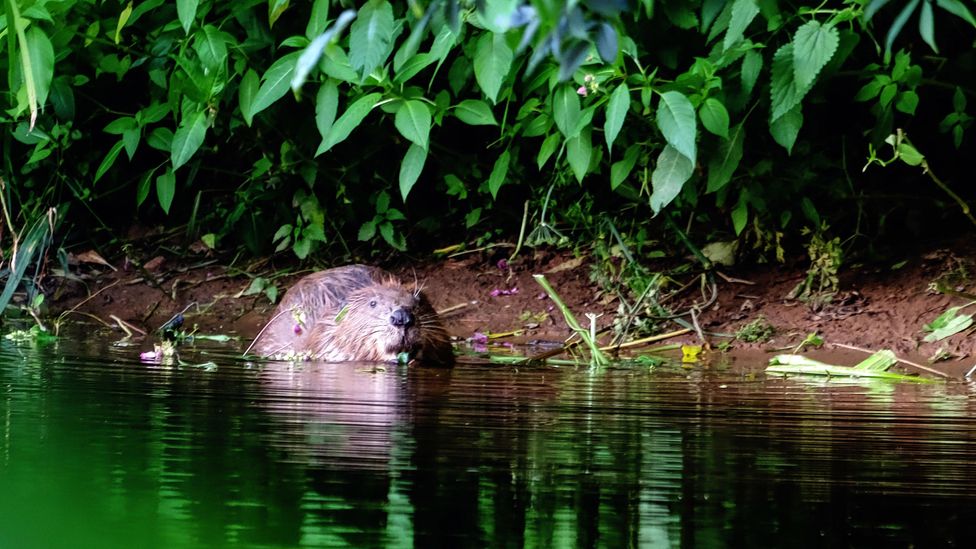 In the UK, have been shown to reduce the severity of flooding – though there have also been concerns raised about their impact on farmland (Credit: Getty Images)
In 2008, a family of beavers were found on the River Otter in East Devon – the first time in 400 years beavers had been spotted in England. When they gave birth to kits in 2014, the government initially planned to remove them from the river, considering them an invasive species. However pressure from conservation groups persuaded the government to allow scientists – led by Brazier – to turn the site into a five-year trial to monitor the beavers' effects on the landscape.
The results showed the beavers created 13 ponds along a 183m (600ft) stretch of stream, storing well over 1,000 tonnes of water. The ponds trapped 15 tonnes of carbon and one tonne of nitrogen – a fertiliser that in excess is detrimental to water quality. The water entering the site was thick with runoff, washed into the stream from farm fields during heavy rains, but the network of dams acted as a filter, cleaning the water of fertiliser.
At the end of the trial, scientists found fish populations were 37% higher in beaver ponds than elsewhere along the river. During flooding events, peak water flows were lower along dammed areas. And other wildlife, including teals and water voles, were also doing better than before the trial.
"The real surprise for me was the effect they had on flooding," Brazier explains. "The dams slowed the flow of water and really reduced the impact of flooding downstream. And then, of course, in drought periods the ponds still held water, and so the stream kept flowing even though it hadn't rained for weeks."
And, he adds, because there is water all year round, the aquatic life is better able to survive. "That's been a massive bonus for biodiversity."
The results showed such a marked improvement that in August 2020, the government granted permission for the beavers to stay permanently, the first time a native mammal had been reintroduced to the country. In nearby Somerset, meanwhile, the first beaver kits for 400 years have been born in Exmoor.
With beaver releases happening in South Downs, Wales, Cornwall and Cheshire, across the pond in Utah, Idaho and on Indian Reservations in California, Washington and Oregon, and even more on the horizon, many more of us could soon be feeling the effects of beavers flourishing in the wild.
--
The emissions from travel it took to report this story were 0kg CO2. The digital emissions from this story are an estimated 1.2g to 3.6g CO2 per page view. Find out more about how we calculated this figure here.
--
Join one million Future fans by liking us on Facebook, or follow us on Twitter or Instagram.
If you liked this story, sign up for the weekly bbc.com features newsletter, called "The Essential List". A handpicked selection of stories from BBC Future, Culture, Worklife, and Travel, delivered to your inbox every Friday.