For some Indian enthusiasts, vintage typewriters aren't outdated pieces of machinery – they're practical and cherished possessions.
I
In a small room, painted a light shade of pastel pink, nearly a dozen men and women are hard at work, hunched over desks that line the walls, their fingers flying at a frenzied pace over clattering keys. The soothing rhythm of typing punctuates the incessant drone of traffic.  
For the last six years, in the heart of one of the busiest streets in the Southern Indian town of Madurai, Dhanalakshmi Bhaskaran has been teaching typing skills in shifts to hundreds of students every day, running an institute powered entirely by 20 manual typewriters.
The Umapathi Typewriting Institute, named after her son, can teach you typing in three languages – English, Hindi and the local language of Tamil. The typewriter they use, a model called Facit, is more or less unchanged since it was launched in the late 1950s. Bhaskaran's students come from all walks of life, she says. Some are still in high school, intent on learning typing to give themselves an edge in a competitive job market. Others are professionals vying to secure jobs in government-run offices. There are a few young mothers too, drawn to her classes with the hope of re-starting their careers after having children.
The institute is one of many government-approved centres for typing – at the end of the course, students are enrolled in exams conducted every six months. If they pass, the certificates that are issued are helpful for jobseekers.
But in a world where mechanical technologies have long been superseded by digital ones, and where laptops, computers and even tablets are now more affordable than ever, why would anyone invest in their typewriting skills?
You might also like:
For job seekers who don't have access to laptops or personal computers at home, learning typing on a manual typewriter can be a lifeline, says Bhaskaran. "Once you've trained on this machine, you can really improve your typing speed and avoid mistakes. And it's easy to transfer those skills to the computer," she says. A typewriter's portability is practical and prized, too. After lockdown restrictions eased, students could socially distance as they typed, something that may not have been possible had they been instructing people on larger computer systems, says Bhaskaran.
In 2009, Godrej & Boyce, one of the last Indian companies to manufacture typewriters, decided to stop production. At the time, many predicted that the manual typewriter, which once held pride of place in India's homes and offices, would finally grow obsolete – a dinosaur consumed by digital technology.
And yet, a decade later, in the winding alleyways of India's small towns and even in the heart of its larger cities, the manual typewriter still thrives.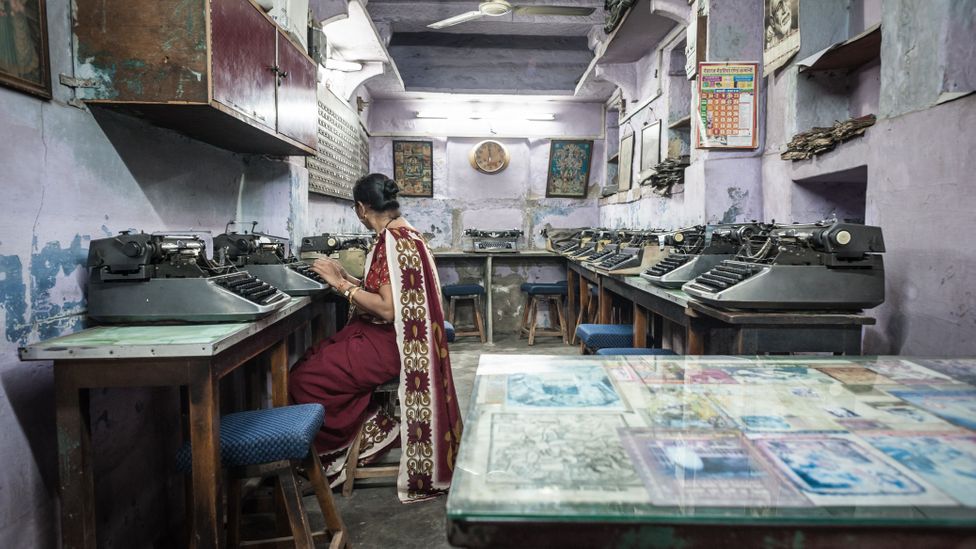 Honing your typing skills on a typewriter is high-stakes, because mistakes can't be easily corrected – so it's a great way to learn to type with precision (Credit: Alamy)
Rajesh Palta is the owner of Universal Typewriters Co. He has been refurbishing and selling typewriters from his store in New Delhi's Kamla market since 1954. "As a family, we've been in the business of typewriters for more than a hundred years," he says. His family business was even featured in a book that chronicled the journey of the typewriter in India: With Great Truth and Regard: A Story of the Typewriter in India.
"While the mainstream use of typewriters in India is already dead, there is a very specific demand that dealers are catering to now," says Palta. And that demand comes from professionals as well as from nostalgia-driven collectors for whom the typewriter represents a magical piece of the past.
Palta has painstakingly restored century-old typewriters for people from across the country. Like vintage cars, a typewriter's value skyrockets only when it is fully functional, he says, but restoration often involves great attention to detail, and it can be tricky.  "A refrigerator is huge in comparison but has only one-tenth of the parts of the manual typewriter," he says.
Sometimes, spare parts for specific models are unavailable because manufacturing has ceased. In these cases, Palta specialises in outsourcing the production of any spares that clients may require to repair their machines. But the parts need to be perfectly made. "If the typewriter's parts aren't properly fitted, it won't work," he says. Often, a single missing component can cost 10 times its original price to manufacture and replace.
Palta also issues an age certificate for every machine he sells, though this can often involve some degree of sleuthing. "Each typewriter has a unique serial number embossed on the body of the machine, like the engine number of a vehicle. We refer to online portals and check for the date in which the serial number is issued," he says.
Some of Palta's regular clients are avid collectors, and have been sending him machines to restore for years. One such client is Maharaja Jayendra Pratap Singh, a member of the former royal family of Balrampur in the Northern Indian state of Uttar Pradesh. He has 11 typewriters in his collection – including a couple of Godrej Prima, a Lettera 32 and a rare model of Hindi typewriter that belonged to his aunt and was in use in the 1950s.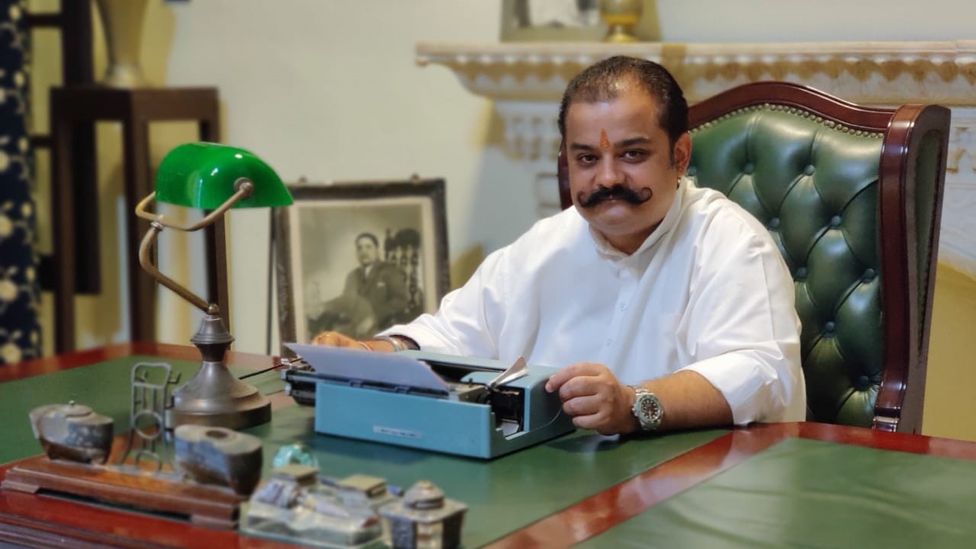 In India, vintage typewriters are highly prized – and some brands are collector's items (Credit: Maharaja Jayrendra Pratap Singh)
Singh's love for typing began when he helped his father with his correspondence, but he soon realised that a computer's easy access to spell-check could make for lazy penmanship. He transitioned to the typewriter because he wanted to improve his creative writing skills and bought his first one, an Olympia, in 2013.
"Initially, it was difficult to learn to type on it," says Singh. Getting the alignment of the letters right was a challenge and it took him nearly a year of practice to learn to type proficiently. Today, he uses the typewriter for his personal correspondence and to note down the minutes of business meetings. After the festival of Raksha Bhandan this year (falling on August 11, where the sister ties a sacred thread on the brother's wrist to celebrate their bond as siblings), he typed a personal note to each of his sisters, whom he says were very touched. "I love the impression of the letters on paper – computer printing is never the same. A type-written note makes everything more special," Singh says.   
For creative writers, the typewriter is a means to quell wayward thoughts, and block the distractions that the digital world may bring, as they will their ideas to march to the dance of their fingertips.
But for many professionals in India, learning to type on old machines isn't as romantic. Typewriters can be relentless and unforgiving – often there is no scope for correction. Making a single mistake would mean that the work needs to be re-done, says Jeyaram Viswanathan, who runs a Human Resources consultancy in the Southern Indian city of Coimbatore. Viswanathan started his professional life in 1979, as a stenographer for a local chemical company. Much of his work involved typing out documents manually.
For senior citizens living in India, the typewriter remains a source of deep nostalgia
"We used a specialised eraser [when we made a mistake] – it was bright turquoise, round with a hole in it – that could help with minor corrections," says Viswanathan. "But if you rub too hard, you'll end up with a hole in the paper."  
However, errors are few and far between for trained professional typists, says Bhaskaran. "Our students can't pass the exam if they make a single error. Learning to type on a typewriter teaches you accuracy."
And there's another more pressing reason that Indian bureaucracy still doggedly sticks with typewriters: records are more permanent. Typewriting lasts. "Certain important government documents are still typewritten because the ink never fades, unlike computerized printouts," says Murugavel Prakash, who trains 300 students in typing at the Sri Krishna typing institute that he runs in Madurantakam, near the Southern Indian city of Chennai.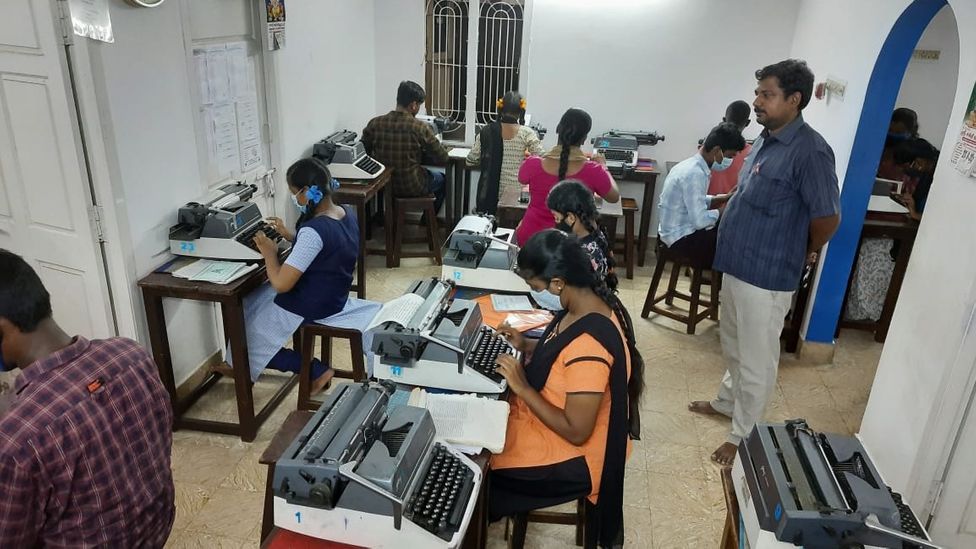 In India, acquiring typewriting skills can help people to be more employable (Credit: Murugavel Prakash/Sri Krishna Typing Institute)
Prakash left a university job as an assistant professor in civil engineering after his father passed away in 2012, to take over the reins of the institute. It was started by his uncle in 1954 and currently has 80 machines, mostly Godrej Prima and Remington 14s. He and his wife offer hourly sessions through the day from 7am to 8pm.  After being overwhelmed with requests during successive coronavirus lockdowns, he even started a Youtube channel to help the housebound learn more about typing.  
One of the most prominent areas where manual typewriters had been employed in the past were outside the country's courtrooms, where legal documents were typed out and often translated into Indian languages. Across the country, an estimated 2,000 typists sat outside courts in 2014, their typewriters sheathed in tarpaulins and often left unattended under the shade of big banyan trees. The cities of Kolkata and Delhi are particularly well-known for their court typists. They made it possible for litigants to have instant access to paperwork, particularly handy when there were power outages, which were frequent in the past.
However, recent years have seen a steep decline in these numbers, says Palta, though courtroom typists still exist. "There used to be a thousand typists outside the chambers of court in Delhi, but today, that number is just 14 or 15," says Palta.  While many predicted that this decline in court typists would mean the death of all typewriters too, the tradition of manual typewriting in India still survives.
Perhaps because the typewriter has been so inextricably tied with iconic moments in Indian legal and political history, it's unlikely to fade from the public consciousness anytime soon. One example is the machine's role in the Bhawal Sanyasi case – one of India's most notorious and melodramatic of criminal conspiracies.
On August 25, 1936, in what is now modern-day Dhakka, Bangladesh, Additional Districts and Sessions Judge Pannalal Bose got ready to deliver a verdict for a case that had relentlessly gripped the attention of pre-independent India.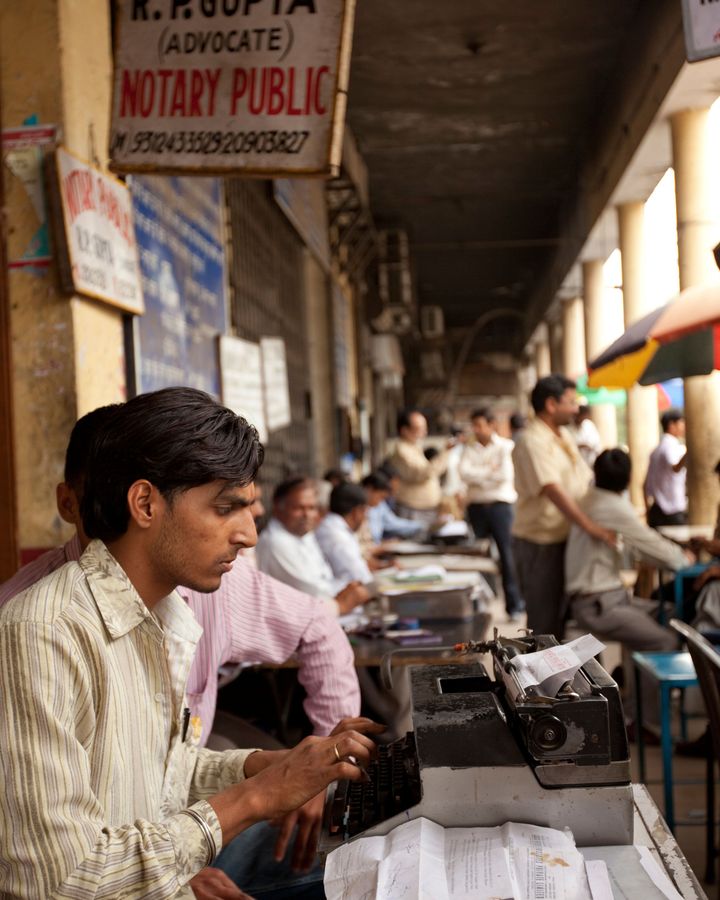 There are still a large number of court typists in India, who sit outside legal offices and type up case notes on their typewriters (Credit: Alamy)
It's easy to see why the case received such attention – it had all the elements of a wild, unforgettable potboiler. A decade after Ramendra Narayan Roy, the prince of Bhawal – one of the largest and wealthiest estates in Bengal (now Bangladesh) – died of poisoning, people whispered about his mysterious reappearance. A man who looked exactly like him had resurfaced near the estate, but he had no memories of his former royal life. Instead, he was a sanyasi, a holy man believed to have renounced the world.
Rumours had been swirling since his death about how a hailstorm had prevented his funeral. Those involved in the cremation had reportedly been compelled to take refuge from this sudden downpour, only to find that the body had gone missing. With the wife refusing to acknowledge the sanyasi as her late husband, and later challenging him in court as an imposter, the case went down in history for its notoriety.
Judge Bose famously locked himself away for three months, to deliberate over and type out the 531 page judgement himself, word for captivating word, on a Remington Rand Portable, which his family has since preserved. When he declared that there was no proof of Roy's earlier death and ruled that the sanyasi was indeed the young prince, the judge, who faced threats to his safety, had to flee to Kolkata with his wife and his eleven children. Among his possessions was the typewriter that recorded the judgement. (To add to the mystery, two days after the judgement was ruled in his favour, the sanyasi-prince died after visiting a temple to give thanks.)
For senior citizens living in India, the typewriter remains a source of deep nostalgia.
In November 2019, months before Covid-19 gripped the country, Palta restored a 90-year-old typewriter for a family in the Southern Indian state of Karnataka. It was in bad shape when it was sent to him, broken and rusted, he says. The family was so delighted that he'd been able to fully restore it, they sent him a photograph with the typewriter on their laps as they sat around a sofa. The caption read "Glad to have our family member back home with us." 
--
Join one million Future fans by liking us on Facebook, or follow us on Twitter or Instagram.
If you liked this story, sign up for the weekly bbc.com features newsletter, called "The Essential List". A handpicked selection of stories from BBC Future, Culture, Worklife, Travel and Reel delivered to your inbox every Friday.